Let's Wrap up the Week with a bit more...ummm...STAR WARS!
EDITOR'S NOTE: A WEE BIT MORE STAR WARS TO ROUND THINGS OUT FOR THIS FINE WEEK....
FIRST UP, EARLY REPORTS START TO COME IN......A ROTS REVIEW BY DIRECTOR/FANBOY KEVIN SMITH.
Kevin Smith Reviews 'Revenge of the Sith'
Kevin Smith has posted an early review of 'Revenge of the Sith' on his website.
Spoiler Warning & Strong Language:It goes without saying that the review will contain spoilers, but there's also some strong language in the review.
To check it out go to: http://viewaskew.com/news/sith/

EDITOR'S NOTE: I DIDN'T READ IT (AVOIDING SPOILERS….AND STRONG LANGUAGE…NATCH). BUT THE LAST LINE…SKIMMING AHEAD, LOOKING FOR NUMBERS OF STARS OR WHATEVER….."SITH DOESN'T HAPPEN. SITH RULES". SOUNDS GOOD, HUH DWEEBPALS?!
George Lucas 100 Greatest Americans Nomination
George Lucas has been nominated for the Discovery Channel's "GREATEST AMERICAN" series: Millions of people from across the country have nominated 100 people they think should be named the Greatest American, and these nominees will be profiled as part of the four-part weekly primetime series starting Sunday, June 5 on the Discovery Channel hosted by Matt Lauer.
Visit Greatest American on AOL or www.AOL.com/GreatestAmerican to see the list of 100 nominees and to tune in Sundays in June, starting June 5th at 8:00 pm.
In addition, be sure to check out www.GreatestAmericanBlog.com where you can post thoughts on who should be named the Greatest American.
The Discovery Channel is also sponsoring the Greatest American Road Tour, which started this week in Boston.
The Road Tour features a Greatest American tour bus that will be making stops in cities and towns across the country as part of a grassroots campaign to let people know about the nominees for Greatest American.
At each stop, Americans will be encouraged to watch the shows in June and express their support for who they think is the Greatest American through old-fashioned Get-Out-the-Vote campaign events featuring Greatest American buttons, stickers and other giveaways.
There will also be impersonators of some of the nominees and fun activities for children and families.
Attendees will also have the opportunity to write a short blog entry essay or give a video testimonial on who they think deserves to be the Greatest American.
The Road Tour will be promoting the upcoming series at Discovery Channel stores and at local festivals in cities across the country including, Memphis, Kansas City, Houston, Los Angeles, Springfield, Illinois, Chicago, Washington, D.C. and Philadelphia. EDITOR'S NOTE: OF COURSE, THE LIST INCLUDES ALL SORTS OF LAME PEOPLE, AND SKIPS A LOT OF WORTHIER ONES. AND ITS SENSE OF HISTORY SEEMS TO BE MYOPIC AND MODERN, AT BEST. BUT HEY, WHO CARES?! UNCLE GEORGE MADE THE LIST, BOGUS AS IT MIGHT BE!

Thank You George A Million Times Over!Posted By
With the final installment of Star Wars just a month away, fans are turning out in droves, not just to line up to buy movie tickets, but for the opportunity to thank the man who brought the saga to life on the big screen.
A new web site — ThankyouGeorge.com — has been established with the goal to provide millions of fans with an easy means to sign a tribute to George Lucas in celebration of Star Wars — a story that has taken six movies and nearly three decades to tell.
"It is evident by the numbers of fans logging on to ThankyouGeorge.com that Lucas has touched lives, fueled imaginations, and brought generations of people together," said Dan Madsen, spokesperson for the ThankyouGeorge.com. "We feel it is fitting to pay tribute to him and the momentous completion of the Star Wars saga."
Star Wars fans from all over the world can visit ThankyouGeorge.com to sign the official tribute free of charge.
In addition to adding their name to the letter, fans are encouraged to write a personal note about what Star Wars has meant to them over the years. S
tar Wars actor Mark Hamill was the first to thank Lucas on the website, "I would like to thank George Lucas for rekindling the childhood imaginations of those of all ages, and for showing us that artistry and integrity are not mutually exclusive." EDITOR'S NOTE: CLASSY AND SWEET. MR. HAMILL IS STILL DA BOMB! (LUKE GIRLS UNITE!!!)
Fans will also be able to view the notes of gratitude from others and discuss their experiences on message boards and blogs.
Later this year, a bound copy of the tribute will be presented to Lucas as a heartfelt token of appreciation.
ThankyouGeorge.com will be an online hub where fans can organize and coordinate Star Wars community events using a variety of tools, including a group emailing service, event listings and community boards.
The web site is encouraging fans to count themselves among those who are thanking Lucas by wearing special red "Thank You, George!" logo t-shirts (available at the site). EDITOR'S NOTE: OH NO. I FEEL THE INTENSE LURE OF THIS. VERY GROOVY, AND POSSIBLY A MUST HAVE? I WONDER IF THE PROCEEDS BENEFIT ANYONE? (I MEAN, OTHER THAN THE PEOPLE SELLING THEM. A CHARITY?)
UPDATE UPDATE UPDATE: I JUST CHECKED THE WEBSITE. T-SHIRTS ARE $12. IF WE ORDER 5 AT ONCE, THE PRICE GOES DOWN TO $10 A SHIRT. BUTTONS (THAT SAY "THANK THE MAKER" GIGGLE) ARE $10 FOR 10 BUTTONS. THERE DOES NOT APPEAR TO BE A CHARITABLE TIE-IN.
ANYONE WANT TO ORDER BUTTONS OR SHIRTS WITH ME?
"Many fans were there at the beginning 28 years ago and have followed the Star Wars journey through the years with friends and family, to its culmination. This is a unique opportunity for them to mark the event by signing the tribute and wearing a visible symbol of gratitude and appreciation," said Madsen.
For more information, visit ThankyouGeorge.com.
# # # NOTE: Dan Madsen served as the President of The Official Star Wars/Lucasfilm Fan Club for 13 years. During his time as President, Madsen founded the official fan magazine, the Star Wars Insider, organized the first Official Star Wars Celebration event in Denver, CO in 1999, and received a cameo role in Star Wars Episode One: The Phantom Menace.
More International Coverage for Episode III
Here are some more magazines offering featured coverage of Star Wars: Episode III Revenge of the Sith from around the world.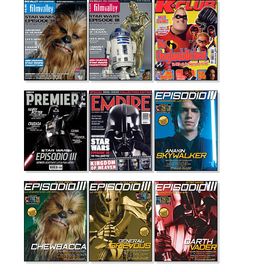 The May issue of Film Valley, a monthly movie magazine from Holland, features a nine-page special devoted to Revenge of the Sith, available in two covers showcasing classic characters: the droids R2-D2 and C-3PO, and Chewbacca.

In Australia, Darth Vader looms large on the cover of the 50th issue of Empire magazine (May, 2005). Inside is Ian Freer's article that goes behind the making of Revenge of the Sith, with quotes from Producer Rick McCallum, Visual Effects Supervisor John Knoll, and snapshots from the Hyperspace webcam. EDITOR'S NOTE: THIS IS THE MAGAZINE THAT HAD THAT POLL OF ALL THINGS STAR WARS (FAVORITE CHARACTER, FAVORITE POSTER, ETC). SO THE RESULTS WILL BE IN THIS ISSUE. AND FOR THOSE LUCKY ENOUGH TO LIVE IN ENGLAND, SOME SPECIAL VERSIONS OF THIS MAGAZINE WILL HAVE A SOUND CHIP IN IT, AND THE VADER COVER WILL MAKE HIS DISTINCTIVE RASPY SOUND. (COOL!)

For young fans in Germany, the May issue of the digest-sized K-Club magazine comes in an oversized printed polybag, featuring Anakin Skywalker. Inside, you'll find a Star Wars Top Trump card, and an article featuring the characters, story, and cool toys of Episode III.

In Mexico, the regular edition of Cine Premiere magazine #125 features an exclusive interview with George Lucas, and Darth Vader poses triumphantly on the cover. In addition, Cine Premiere is also printing a Star Wars: Episode III special with four different covers: Anakin Skywalker, Darth Vader, General Grievous and Chewbacca.
Disney Adventures Episode III Feature
The May 2005 issue of Disney Adventures, a monthly digest with news about movies, music, books, video games, and comics; has a Star Wars 3 special.
On sale May 3 to 23, the issue has 3 full pages of Star Wars glory, and a chance to win a trip to Disneyland, Disney World, and a Disney Wonder cruise.
Plus, the winner gets to meet Boba Fett, Darth Vader, and more; Plus get a "Star Wars Surprise".
The issue is available near the register at stores like Wal-Mart and Target. It cost $3.50 USA $4.50 CAN.

Wookiees Invade Nickelodeon Magazine



Pick up the May issue of Nickelodeon Magazine to get a sneak peek at Revenge of the Sith!

This issue is chock full of interviews with your favorite actors from Star Wars, full-color photos, fun Star Wars ads and more, including an exclusive Yoda pull-out poster.

Actor Hayden Christensen talks about dueling with lightsabers and becoming Darth Vader, while actor Peter Mayhew reveals what it's like to play everyone's favorite Wookiee -- Chewbacca. Costume Designer Trisha Biggar explains what it's like to make outfits for not just Jedi, but also non-human shaped aliens.

Not only are there great interviews with the cast and crew of Revenge of the Sith, but Nickelodeon Magazine also asked game developers and testers from the new LEGO Star Wars game to talk about funny things they found out about the game such as Jar Jar's reaction to different weapons, and how to make chairs dance to the cantina band music from A New Hope.

One of the coolest parts of this issue is the pull-out poster of Yoda that reads "This Room is Protected by The Force -- But sadly, not cleaned up by it."

EDITOR'S NOTE: ALL BY ITSELF, PROBABLY WORTH THE PRICE OF THE MAG, EH?!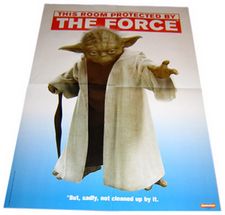 The May issue of Nickelodeon Magazine is out on newsstands now.
EDITOR'S NOTE: LOTS MORE TO COME (STAR WARS AND ALL THAT OTHER STUFF). HAPPY WEEKENDING, DWEEBPALS!