Oh my golly....is it Thursday AlREADY!?
Editor's Note: And here's what I want to know...WHY ISN'T IT FRIDAY YET?!
In a burst of circle-of-life (or something), let's being AND end with "Lost" stuff ---
LOST Season 3 poster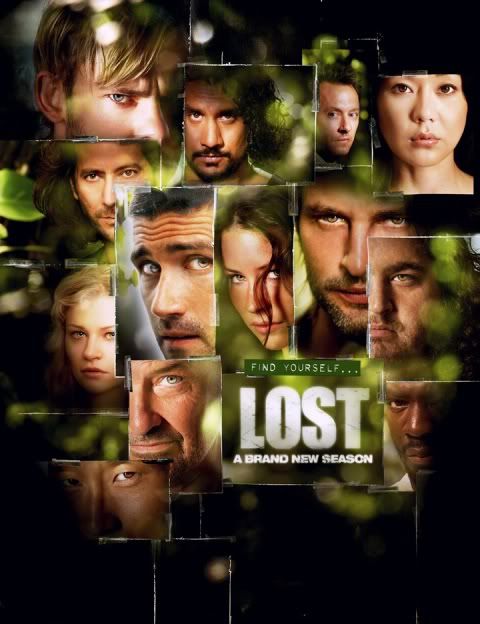 ABC has released a new promo poster for the upcoming third season of the hit TV show LOST.
LOST will begin on Wednesday, October 4 at 9pm ET.
USA Renews The 4400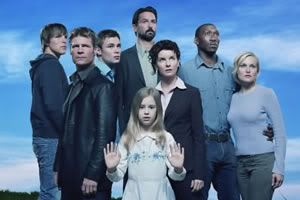 The USA Network has ordered a fourth season of THE 4400 which will contain 13 one-hour episodes.
The series, which garnered an Emmy nomination, will return to USA Network in summer 2007, with production scheduled to begin in Vancouver in early 2007.
The 4400 will air its third-season finale on Aug. 27 at 9 p.m. ET/PT.
The 4400 was created by Scott Peters and Rene Echevarria. Ira Steven Behr, Scott Peters, Maira Suro and Perry Simon are executive producers. CBS Paramount Network Television produces the show, which stars Joel Gretsch and Jacqueline McKenzie.
Yahoo To Preview New TV Shows
AS A FIRST STEP TOWARD revamping its flagging TV section, Yahoo this week launched a new site devoted to the fall prime-time lineup.
The new area, Yahoo TV Fall 2006 Preview, includes detailed information about 34 of the major networks' prime-time television shows, including summaries, cast pictures, and in many cases, clips from the programs.
The section also will include streams of entire episodes of at least two shows before their network debut. CBS will make the pilot episode of "Jericho" available on the Yahoo site from Sept. 13 until its air date one week later. The pilot of NBC's "Heroes" also will be available from Sept. 18 until its broadcast premiere on Sept. 25. In addition, Fox will make the pilot of "Vanished" and season premiere of "Prison Break" available on Yahoo following their on-air debuts.
The site marks a stepped-up effort to appeal to TV-watchers--a group that no longer flocks to Yahoo the way it once did. "
We're trying to create more immersive, engaging and dynamic destinations for TV users
," said Karin Gilford, who on Monday began serving as general manager of Yahoo Entertainment.
Editor's Note: Ok, so it boosts yahoo visits. But what does it do to TV viewing, I wonder?
As recently as last year, when Yahoo streamed the debut of WB's "Supernatural," the portal was one of a very small number of companies to openly offer streams of TV shows online.
But competition for the TV audience grew far more intense in the last year, as all of the major networks began experimenting with online distribution of their shows. Nost notably, ABC offered ad-supported streams of four TV shows--"Lost," "Desperate Housewives," "Alias," and "Commander in Chief"--for several months earlier this year. In addition, CBS created a broadband channel "innertube," which will offer streams of "CSI: Crime Scene Investigation," "CSI: Miami," "CSI: NY," "Jericho," "NCIS," "Numb3rs," and "Survivor."
Last month, Yahoo drew 5.6 million unique users--marking a 14 percent drop since July of 2005, according to comScore.
The major networks, meanwhile, went from no discernible traffic to millions of visitors a month in that time. CBS Web sites, for instance, drew 4.9 million visitors last month, while NBC.com drew 4.6 million visitors, and ABC drew 3.5 million; none of those destinations were measured by comScore in July of 2005.
Yahoo TV also faces increasing competition from Internet rival AOL, which earlier this year began streaming a host of old TV shows on in2TV. AOL last month drew 8.9 million users to its TV section, marking a 27 percent year-over-year, while TV.com's traffic soared 25 percent.
For now, the Yahoo Fall TV section is running house ads, but the company's sales force is talking with marketers about sponsorships, Gilford said. The section also contains links to individual Yahoo pages about the TV programs; those pages currently carry ads.
Gilford added that those individual pages also will likely be tweaked. "
We want to make better use of some of the great media assets we have, like photos and clips of the shows
," she said.
TBWA\C\D Plans 'Disruptive' Oscar Push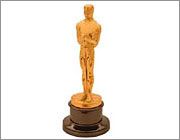 Omnicom Group's TBWA\Chiat\Day, hired last week to promote the Academy Awards telecast next February, has promised a
"disruptive
" campaign from Spike Lee, who has been signed to direct the TV effort, said Carisa Bianchi, agency president.Beth Harris, director of marketing at the Academy of Motion Picture Arts & Sciences, said the commercials would also represent the first campaign promoting the telecast to come entirely from a traditional ad agency.
The concept for the Lee campaign came from Jack Fund and Rob Schwartz, creative director and executive creative director, respectively, at the Playa del Rey, Calif., agency.
"The Oscars are one of the great, iconic brands,"
said Bianchi. "
It really fit our DNA as an agency and the kind of prospects we want to work with. We pitched a 'disruptive' idea. We're going to try to create buzz."
Bianchi would not elaborate, and Lee declined comment.
Editor's Note: Ah. So the fact that the word 'disruptive' has a negative conotation is either A) something we should be concerned about, or B) Ad talk BS that means absolutely nothing.
Harris said the upcoming campaign would involve "
unique media opportunities
"
Editor's Note: More adtalk BS....
including mobile, interactive and Internet advertising.
"The campaign will be very different than anything we've done for several years
," she said. "
For instance, it will contain no show footage from previous years. It is conceptual and aspirational, about how film bonds us together and how pervasive it is in our lives.
"
Editor's Note: Oh merciful heavens, do these people ever ever LISTEN to themselves? Wading so DEEP, we are very likely going to DROWN.....
Marketing the Oscar telecast "
has evolved over the years, but in the last three or four we've wanted to expand the efforts and start looking off the ABC network—at outdoor [advertising], for example,"
Harris said.
Past Oscar campaigns were created "
mostly in-house
" and often focused on the gala's host.
"
That was a challenge because that always [was disclosed] too late, especially for the number of stations that carry the telecast,
" said Harris. "
So we've gotten more sophisticated in the things we want to do.
"
Telecast producer Laura Ziskin is considering in-show branding, and the academy is evaluating proposals for co-branded consumer promotions, she said.The academy spent more than $1 million advertising the show last year, per TNS Media Intelligence.
Editor's Note: We are now leaving the Advertising Malarky universe, and travelling to movies and Harry Potter, things less fantastical and more down-to-earth.
Jessica Stevenson joins HARRY POTTER 5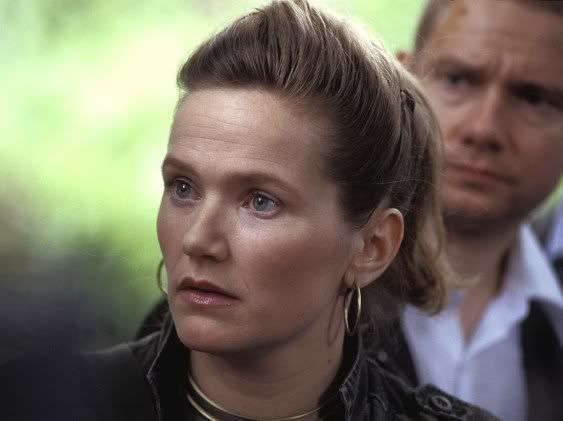 According to
Harry Potter Fan Zone
, Jessica Stevenson has been added to the cast of the upcoming Warner Bros. film HARRY POTTER AND THE ORDER OF THE PHOENIX.
Stevenson will play Mafalda Hopkirk, a witch from the Improper Use of Magic Office.
The film synopsis reads:
With their warning about Lord Voldemort's return scoffed at, Harry and Dumbledore are targeted by the Wizard authorities as an authoritarian bureaucrat slowly seizes power at Hogwarts.
Daniel Radcliffe, Rupert Grint and Emma Watson will all be back to reprise their roles as Harry, Ron and Hermione. Also signed on to reprise their roles are Robbie Coltrane, Ralph Fiennes, Michael Gambon, Brendan Gleeson, Jason Isaacs
Editor's Note: Hello sexy evil man!
, Gary Oldman, Alan Rickman, Maggie Smith, Emma Thompson, Julie Walters, David Thewlis, Fiona Shaw, Richard Griffiths, David Bradley, Robert Hardy and Mark Williams. Helena Bonham Carter has also signed onto the film. A long list.
HARRY POTTER AND THE ORDER OF THE PHOENIX will be released on July 13, 2007.
Paul Bettany joins the fantasy INKHEART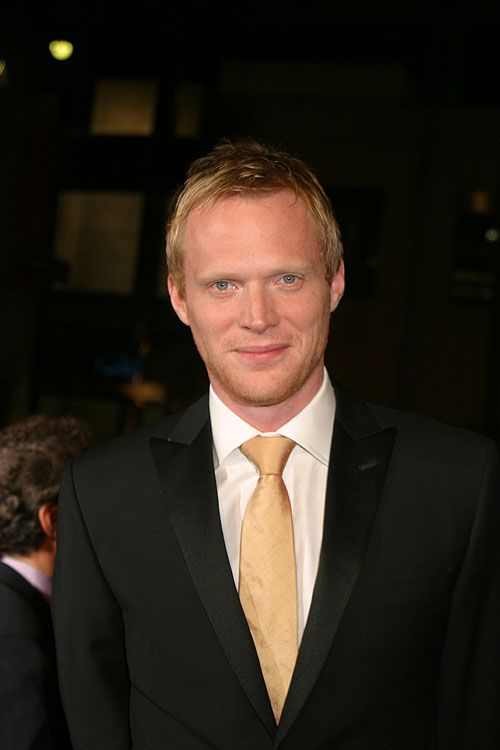 According to Variety, Paul Bettany has joined the New Line family fantasy INKHEART. He will join Brendan Fraser in the cast of the film.
INKHEART will follow a girl whose father has the power to bring characters from books to life by reading aloud. When a villainous ruler and his band of rogues from a children's fable kidnap the man, his daughter and her friends, both real and imaginary, must rescue him.
Bettany will play the role of Dustfinger, a fire-eating performer. Fraser's playing the father and the young girl has not been cast as of yet.
Iain Softley will direct the film which is based on the book of the same name. The book spent 19 weeks on the New York Times Children's bestseller list.
THE TAILSMAN scoop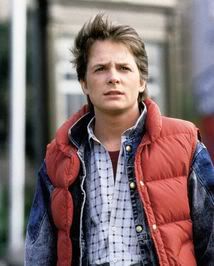 Scooper Squirrel
Editor's Note:

Scooper Squirrel

? Shucks, I wish

I'd

come up with such a cool name!!!
wrote me today regarding the upcoming DreamWorks movie THE TAILSMAN.
Squirrel wrote, "
Michael J. Fox - who was in here recently to meet on a new "Atlantis" project - might be returning to acting. One of the bosses here said he's up for a role in a film called "Talisman", about a man trying to save his mother from a Talisman.
"Steven Spielberg, who he did BTTF with, is apparently involved with it - in some capacity. I have no idea - either do they - whether he's going to be playing the main role, or just a role, it was something he apparently mentioned in a meeting....in conversation... and nothing more was said of it."

"Never heard of the film, so I don't know whether he's good for it or not, and I don't even think it's happening here at Disney, but thought this would interest."
THE TAILSMAN follows young Jack Sawyer who enters a parallel world known as the Territories in search of a powerful tailsman in order to save his mother from certain death.
The film is based on a Stephen King novel of the same name and will be produced by DreamWorks.
Nolte, Suvari headed to 'Pittsburgh'
Nick Nolte, Mena Suvari and Jon Foster have been added to the cast of "The Mysteries of Pittsburgh," the first film from independent financier Groundswell Prods.
The three join the previously cast Sienna Miller and Peter Sarsgaard.
Rawson Marshall Thurber ("Dodgeball: A True Underdog Story") is writing and directing "Mysteries," which is based on the debut novel by Pulitzer Prize-winning author Michael Chabon. Filming is expected to begin Sept. 5 in Pittsburgh.
Foster will play Art Bechstein, a recent college graduate trying to escape the clutches of his mobster father (Nolte). The story follows the last summer of Art's youth as he falls into a love triangle with Jane (Miller) and Cleveland (Sarsgaard), a charismatic couple who draw him into a series of exhilarating adventures that ultimately pit him against his father. Suvari will play Phlox, Art's eccentric part-time girlfriend and boss at a discount book chain.
Editor's Note: Phlox....wasn't he a regular character on Star Trek? (giggle).
ERAGON Poster Released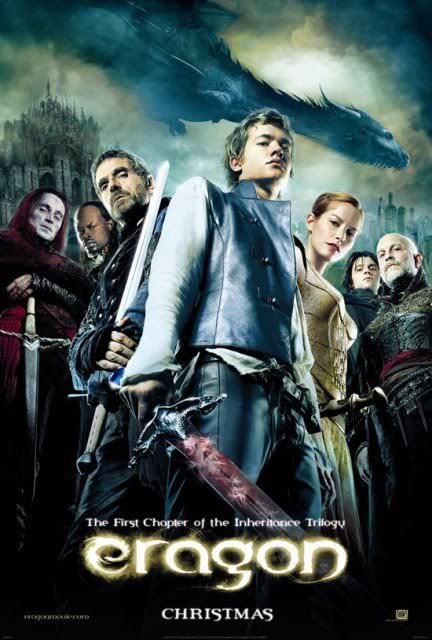 The poster for the upcoming 20th Century Fox film ERAGON has been released.
The film, which has a budget of about $100 million, will be released on December 15, 2006 and is currently in post production.
The film follows a farm boy in his homeland of Alagaesia who happens upon a dragon's egg -- a discovery that leads him on a predestined journey where he realizes that he's the one person who can defend his home against an evil king.
ERAGON was directed by Stefen Fangmeier and stars Edward Speleers (Eragon), Sienna Guillory (Arya), Garrett Hedlund (Murtagh), Djimon Hounsou (Ajihad), Jeremy Irons (Brom), John Malkovich (King Galbatorix) and Robert Carlyle (Durza).
Editor's Note; In other words, marvelous adult actors with 'chops', and pretty teens with.....umm.....prettiness.
Chris Wedge to direct THE LEAF MEN AND THE BRAVE GOOD BUGS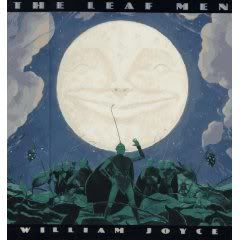 Chris Wedge (Ice Age) will direct the upcoming animated film THE LEAF MEN AND THE BRAVE GOOD BUGS for 20th Century Fox Animation.
The film is described as an epic adventure centering on ancient elfin magic, the book follows a troop of brave bugs who march off to save a garden, where they encounter an evil spider queen and must summon the mythical Leaf Men to save the day.
Editor's Note: And here I thought it was going to be a FANTASY.
The movie is based on a childrens book by William Joyce. Wedge is best known for his work on ROBOTS and ICE AGE.
'Monster' attacks again in 3-D
Sony Pictures is high on 3-D. The company will re-release its summer animated film "Monster House" for a two-week 3-D engagement before Halloween.
Editor's Note: You guys who saw this already...worth seeing in 3-D?
Set to bow Oct. 6, the film, from exec producers Robert Zemeckis and Steven Spielberg, will have a two-week 3-D engagement on Real D screens nationwide. Sony plans to release the film on more than 100 screens in advance of its DVD release, set for Oct. 24.
"Monster" will come off the limited screens before Buena Vista unveils "Tim Burton's The Nightmare Before Christmas" on Oct. 20.
Editor's Note: Which is most DEFINITELY worth seeing in 3-D!
"
Now we get the opportunity to see 'Monster' in 3-D in the theater to remind people what a good movie it is before the DVD comes out
," Sony's president of distribution Rory Bruer said
Editor's Note: Or everyone can ignore it AGAIN?
LOST Action Figures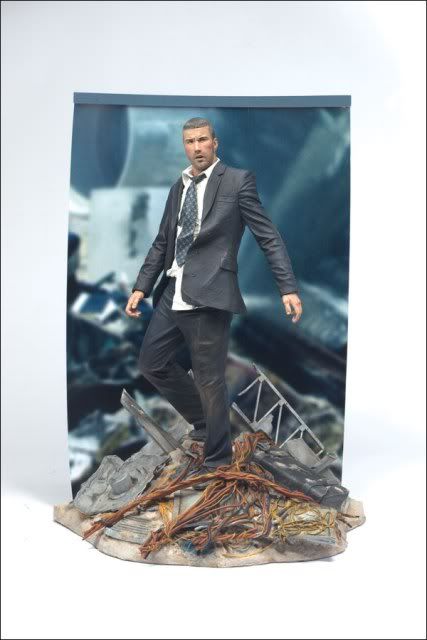 McFarlane Toys has announced they will be producing a series of six inch action figures based on the characters from ABC's LOST.
Editor's NOte: Maybe I should give these to my dog, and he can bury them somewhere in the backyard......and no one will know where they are! (pretty good sculpt, by the way....on that Jack toy above).
In the first of the series, the figures will include: Jack, Kate, Locke, Hurley, Charlie and Shannon -- plus a deluxe boxed set re-creating The Hatch.
Editor's Note: Not that I'm going to buy them (6-inch toys can't play with my 3 and 3/4 inch SW toys), but shouldn't there be a Sawyer in the f irst batch?
LOST Series 1 is scheduled to reach stores in November 2006.