A thespy moment....and a half
EDITOR'S NOTE: A WALK ON THE THESPY SIDE OF DWEEBING FOR A BIT.....
Shining City

By Frank Scheck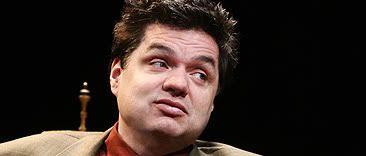 Bottom line: A powerful portrait of tarnished souls
.
Most of us have had to wrestle with ghosts at some point in our lives, but in "Shining City," the new play by Irish playwright Conor McPherson, the situation is quite literal.
In this provocative comedy-drama from the author of "The Weir" (which also dealt with specters in the night), a troubled widower sees a therapist because he's being haunted by the spirit of his deceased wife. Brilliantly played by Oliver Platt in his Broadway debut, John is the sort of everyman with whom it's easy to identify.
An overweight, middle-aged sales representative, he was not exactly faithful to his marriage vows. Now, after his wife was killed in a horrible car accident, he deals with his guilt in the office of therapist Ian (Brian F. O'Byrne). Ian is wrestling with his own demons as well. A former priest who has lost his faith, he has recently left a woman (Martha Plimpton) who has borne his child. And as we eventually see in a scene that takes place between him and a male hustler (Peter Scanvino) he has picked up, Ian also is struggling with issues regarding his sexuality. The interplay between these two troubled souls forms the heart of this alternately amusing and deeply moving work, a vast improvement over the playwright's far more oblique earlier efforts.
Although he's still overly reliant on the use of monologues, McPherson here has crafted a subtly devastating portrait of human desperation and loneliness that proves the irony of its title (it refers to Dublin). Director Robert Falls sets just the right somber tone for the proceedings and has elicited superbly nuanced performances from his two leads.
Platt expertly mines all of the humor and pathos of his far showier role, and his tour de force delivery of a lengthy monologue in which his character describes events including a visit to a massage parlor is absolutely riveting.
O'Byrne, though necessarily more restrained, is ultimately deeply moving as the therapist attempting to help others cope with their troubles even while finding himself incapable of gift wrapping a present for his child.
The play also contains one absolutely chilling moment, one that won't be described here either in terms of timing or content. Suffice it to say that you won't want to find yourself at home alone anytime soon.
EDITOR'S NOTE: OH DEAR...WHEN OH WHEN WILL I GET BACK TO NYC??!!!
THEN AGAIN....I COULD STAY HERE....(SEE THIS NEXT ITEM, BELOW....)
Tarzan
By Frank Scheck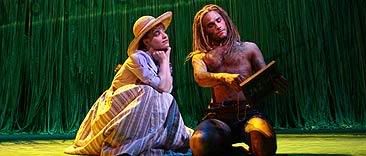 Bottom line: More a theme park attraction than a show, but a spectacularly staged one nonetheless.
"Tarzan," the Walt Disney Co.'s latest theatrical excursion, has been staged by Bob Crowley, a designer with no directorial experience on his extensive resume. That's no accident because the show is not so much directed as designed, to within an inch of its life. This musical version of the animated film is a gorgeous and imaginative production, the impact of which lessens considerably once the story and score kick in. While somewhat lacking compared to the long-running hits "Beauty and the Beast" and "The Lion King," it should please its target family audiences and seems destined to further increase the company's theatrical presence.The visual and aural splendors of the production kick in immediately, with a series of dazzling stage images that have a significant "wow" effect.
The effects begin with a shipwreck, followed by an underwater sequence in which the onstage figures are seen swimming furiously. Then the action shifts to a beach, which we seem to be viewing through an overhead camera shot.
Such lavishly designed images permeate the production, which, along with its surround-sound din, is certainly the most cinematic show ever seen on Broadway.
EDITOR'S NOTE: NOT, NECESSARILY A COMPLIMENT....
Thankfully, Crowley provides an intense theatricality, much of it seemingly inspired by Cirque du Soleil, to go along with the special effects. Indeed, some of the best moments come from such relatively primitive styles as shadow puppetry.
EDITOR'S NOTE: WHEN THE SHADOW PUPPETS STEAL THE SHOW...WELL...IT'S LIKE BEING UPSTAGED BY A

MIME

, ISN'T IT? (SNICKER....JUST SEEING IF YOU'RE PAYING ATTENTION, ODDBOB).
Of course, it's the flying apes and title character that people have come to see, and the show doesn't disappoint. They fly through the trees, and sometimes over the audiences' heads, in thrillingly athletic fashion, accompanied by music that plays more like a soundtrack than a traditional theatrical score. Indeed, this one of the show's main problems. Phil Collins' music, featuring numbers from the film as well as new ones written for this production, doesn't exactly leap off the stage. Sure, it includes some terrific songs, including "Two Worlds" and the Oscar-winning "You'll Be in My Heart." But it rarely displays the sort of theatrical energy or style that would lift it above the realm of background music.
EDITOR'S NOTE: AND IF YOU'VE HEARD ONE PHIL COLLINS SONG....LOVELY THOUGH IT MAY BE...YOU'VE PRETTY MUCH HEARD THEM
ALL.
The book by Tony-winning playwright David Henry Hwang ("M. Butterfly") is similarly disappointing. While no one was expecting great profundity in his retelling of the story of the boy raised by apes and his subsequent identity crisis upon meeting the very beautiful and human Jane (Jenn Gambatese), a little more wit and subtlety would have been nice.
Josh Strickland, a former "American Idol" finalist, is a perfectly acceptable Tarzan, and his lithe physique, shown off in nothing more than a loincloth, should appeal to the teenage girls who will no doubt constitute a large part of the audience.
EDITOR'S NOTE: AND NO DOUBT ABOUT 75% OF THE READERS OF GQ?
But while his singing and athleticism are fine, he displays little of the charisma necessary to make the character anything more than a cartoon figure.
Here, it's the performers playing the apes who deserve the biggest kudos. The booming-voiced Shuler Hensley delivers a powerful turn as their leader Kerchak, Merle Dandridge is very moving as Tarzan's loving simian mother, and Chester Gregory II sings and dances superbly -- not to mention often upside down -- as his best friend Terk."
Tarzan" peaks toward the end of the first act, with such spectacularly staged sequences as Tarzan's battles with a ferocious leopard and a giant spider. The second act, concentrating on the love story, sags considerably.
EDITOR'S NOTE: AIN'T LOVE OFTEN LIKE THAT?!
Ultimately, whatever problems the show has, including the fact that it too often plays like a theme park attraction than a real Broadway musical, are not likely to matter to the crowds who will find attending it far easier than a trip to Disney World.
BROADWAY'S NEXT BIG STAR
HANKS MAY BE FIRST TO FOLLOW JULIA TO THE STAGE
By MICHAEL RIEDEL
May 10, 2006 -- IMMEDIATELY after Julia Roberts opened in "Three Days of Rain," theater producers and agents worried that the harsh reception she received from some critics was going to frighten off other movie stars looking to do a Broadway play.
The critics, one very influential theater executive told me, "
are doing a terrible thing to this industry. Stars make Broadway exciting. They get it out of the arts pages and onto the front pages. But if they're going to get beaten up, they won't come, and this whole business is going to suffer because nobody's going to care about it."
He was being a little melodramatic,
EDITOR'S NOTE: YA

THINK

?!
but at the time it certainly seemed that any producer trying to lure a Hollywood name to Broadway was going to have a tough time.
A month later, however, anger over Roberts' reviews has dissipated, and the Broadway rumor mill is once again churning with news of big stars flirting with the stage.
If those stars were to check in with Roberts (she's friends with many of them), they'd find she isn't having such a bad time after all.
The actress has settled into her run, and people around her say she's enjoying herself. Her performance is said to be getting stronger.
I know of three Tony nominators and one critic (from London) who thought she was much better than advertised.
There is even an outside chance that she may snag a Tony nomination.
Add to all this the fact that, despite the reviews, "Three Days of Rain" will make pots of money for everyone involved, and Broadway doesn't seem quite so inhospitable to movie stars.
Plus, out in Hollywood, bad reviews in New York don't loom so large.
Discussing Denzel Washington's less than stellar turn in "Julius Caesar" last year, a veteran movie producer says: "
Do you know what people in Los Angeles know about 'Julius Caesar?' That it was soldout, and that it was sold out because of Denzel."
Box office trumps reviews every time.
EDITOR'S NOTE: SAD, BUT SO (LA) TRUE.
What big stars, then, are still willing to brave New York's snarly theater critics and, as movie actors like to say, "
challenge myself as an artist
" by appearing on stage?
Here, based on conversations with producers and agents, is a run-down of the names in the hopper:
Robin Williams
The beloved screen comedian is definitely on the hunt for a play.
He appeared on stage in New York in 1988 in a lackluster revival of "Waiting for Godot," directed by Mike Nichols and also starring Steve Martin.
Last year, there were rumors he was being wooed to step into "Spamalot" after Tim Curry left the show, but the idea never got much traction.
"
Robin is not going to replace anybody,"
says a theater insider.
Word is he's looking for a "serious" play to do, but some producers wonder whether that's the right move.
Says one: "
The public wants to see Robin Williams do something funny. They don't want to see 'Good Will Hunting' on stage. 'Spamalot' would have been the perfect vehicle."
Another producer says: "
He'd be great in a new play, but he'd probably make the playwright very nervous. There won't be a lot of discipline to the performance."
EDITOR'S NOTE: BUT THEN, IT WOULDN'T BE WHAT THEY PAY TO SEE IF THERE

WERE

DISCIPLINE, RIGHT?
Tom Hanks

No speculation here - the Oscar-winning actor very much wants to do a Broadway play.
His wife, Rita Wilson, will make her Broadway debut this summer in "Chicago," and it's thought Hanks will be hanging around backstage, soaking up the atmosphere (which, in a hit Broadway show like "Chicago," can be infectious fun).
In his early 20s, Hanks spent three years working at the Great Lakes Theater Festival in Cleveland, doing everything from building scenery to stitching costumes.
He also won a Cleveland Critics Circle Award playing Proteus in "Two Gentleman of Verona."
No word yet on the type of play Hanks wants to do, but, because he's such a good actor, producers say he could tackle a new script rather than play it safe and do a revival.
His agent should phone David Hare, the British writer who has a knack for turing out plays for stars - "Amy's View" (Judi Dench), "The Judas Kiss" (Liam Neeson), "The Breath of Life" (Dench and Maggie Smith) and the upcoming "The Vertical Hour" (Julianne Moore).
Tom Cruise
They are faint, to be sure, but put your ear to the ground on Shubert Alley and you will pick up rumblings about Cruise making his stage debut at some point in the not-too-distant future.
EDITOR'S NOTE: HIS LIMITED ACTING SKILLS ARE WELL SERVED (AND CAMOUFLAGED) ON FILM. AND MOST SPECIFICALLY IN ACTION MOVIES WHERE NO SCENE BETWEEN EXPLOSIONS IS ALL THAT LONG. ON STAGE? WITH DIALOGUE? OTHER ACTORS HE MIGHT HAVE TO CEDE SPACE AND FOCUS TO? I DON'T THINK THIS IS WISE.....
A well-regarded turn in a play might go a long way to restoring his credibility as a serious actor.
Right now, he's both a figure of ridicule and a movie star whose box office drawing power is on the wane.
"
He would have to do a revival
," says a producer. "
It would be too risky to do new a play and be worried about the script and his performance at the same time."
Matt Damon
Damon appeared in the West End in Kenneth Lonergan's "This Is Our Youth" a few years ago. New York theater people who saw it said he was terrific.
Last year, he did a reading of a new Longergan play, "Hold on to Me, Darling," about a country singer.
Once again, people who saw him raved, and he came very close to doing the play but opted for a movie instead.
Hollywood's booked him for the forseeable future, but he's sure to appear on stage in New York one day.
EDITOR'S NOTE: YES, BUT HE COMES FROM A REAL STAGE BACKGROUND; HE'S NOT A JONNY-COME-LATELY TO THE CRAFT, RIGHT?
Nicole Kidman
Like Damon, she's busy making movies for the next few years.
But every now and then you still hear she wants to do a play, probably in London's West End.
And a serious play, to boot.
Five years ago, she came close to starring in Ibsen's "The Lady From the Sea," hardly a cakewalk, at the Almeida Theater in London, but her divorce from Cruise scuttled those plans.
EDITOR'S NOTE: IT TAKES HER EX TO MAKE HER LOOK LIKE SHE HAS RANGE.
Robert Redford
A couple of years ago, the Hollywood icon - who began his career on the New York stage - was talking about returning to Broadway, where he last made a splash in Neil Simon's 1967 hit, "Barefoot in the Park."
Nothing came of it, and a close friend of his cautions:
"I don't think he'll ever come back."
Still, the idea is enticing.
And how about pairing him with another movie icon who started off in the theater - Paul Newman?
Neil Simon has a new play, a sequel to "The Sunshine Boys," that might be the perfect the vehicle.
And talk about a run on the box office.
Broderick and Lane would have nothing on Redford and Newman.
We pick the perfect parts
Post theater critic Clive Barnes helps cast Hollywood's next leading actors in their perfect play:
* Tom Hanks

Handicap: A fine actor, but very limited stage experience, no previous Broadway credits. No Shakespeare (remember Denzel Washington) or musical.
Best Choice: Classy Chekhov, probably title-role in "Uncle Vanya."
Critics will say: Terrific, unless some limey playing Dr. Astrov stole the notices.
* Robin Williams
Handicap: Decent stage credits - seen at Lincoln Center with Steve Martin in "Waiting for Godot."
Best choice: Maybe Beckett again for the prestige. Try "Krapp's Last Tape."
Critics will say: When your movie career is in shambles even a revival of "Abie's Irish Rose" would stir up some buzz.
* Robert Redford
Handicap: A certain Broadway experience in the can. Last seen in "Barefoot in the Park" some 40 years ago. Have to be more careful with choice of lighting designer.
Best choice: If Paul Newman is available, how about "The Odd Couple" ? Next month the Brooks Atkinson Theatre will be available with sets already in place.
Critics will say: Who cares? He still has Sundance.
* Tom Cruise
Handicap: When under control a pretty fair actor, and would have as big a following as Julia Roberts. But thrives on the closeup ... and explosions.
Best choice: Easy. "One Flew Over the Cuckoo's Nest."
Critics will say: You're kidding, right?
London to stage live ads in theaters
London is staging what it bills as the world's first live commercial, to be performed on stage in Dublin, Ireland, next week, in a bid to attract more visitors.
Pauline McLynn, who starred as the housekeeper, Mrs. Doyle, in the TV comedy series
Father Ted,
will appear in the 3-minute production on the stage of the Gaiety Theatre on May 16.
She and five other people will use dialogue to reproduce the sights and sounds of London, including its theaters and restaurants. The commercial will be performed later in Hamburg, Germany, and in New York and Pittsburgh.
EDITOR'S NOTE: I CAN'T DECIDE IF I THINK THIS IS THE CLEVEREST THING SINCE SLICED BREAD, OR HORRIFYING. OR BOTH?
"
I don't know why nobody has thought of it before, to have a live ad on stage for theater
," said McLynn, who will perform before a production of Saturday Night Fever at the Gaiety.
"
It will be a real thrill for the people who are here, as 1,500 people are going to have been at a world first, they will be able to go home and say not only did I see a great show last night, but I saw the first-ever live ad."
London Mayor Ken Livingstone said the commercial, produced by tourism group Visit London, highlights London's theater industry because it is
"a wonderful example of the capital's creativity and diversity."
Like other major cities, London suffered from the slump in air travel that followed the Sept. 11, 2001, terror attacks on the United States.
But visitors have returned, and last year the city was host to 28.5 million visitors.