Friday SW Pics!
EDITOR'S NOTE: AND NOW....OUR SEMI-RECURRING FEATURE.....

FRIDAY RANDOM STAR WARS PICS

!
WOO HOO!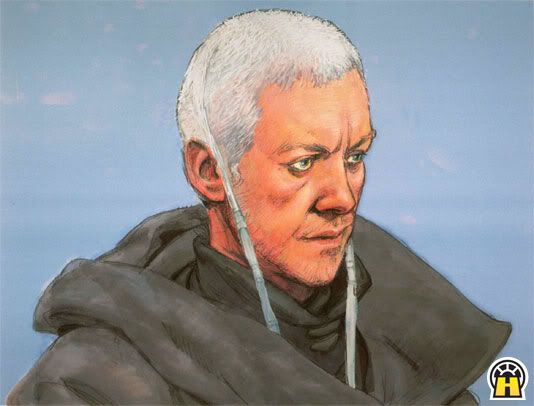 This study of Obi-Wan Kenobi by Iain McCaig -- done before Ewan McGregor had been cast in the role or Kenobi's age in Episode I had been defined -- uses the image of a young Alec Guinness as a foundation.
EDITOR'S NOTE: DOESN'T HE LOOK A BIT LIKE KIEFFER SUTHERLAND HERE? EEK.
Cut from the theatrical release but found on the DVD is a scene that takes place in this environment, Bail Organa's office.
From his more private inner offices, Chancellor Palpatine has access to secret controls to spread his dark plans. EDITOR'S NOTE: NOT THAT HE COULDN'T 'SPREAD HIS DARK PLANS' FROM JUST ABOUT

ANY

WHERE....

Motée (Kristy Wright) is one of Padmé Amidala's loyal handmaidens tending to her during her secret pregnancy.
EDITOR'S NOTE: GORGEOUS OUTFIT. (QUESTION....WAS HER NECK THAT LONG TO START WITH, OR ONLY AFTER LONG-TERM WEARING OF THAT GET-UP?)
Jay Shuster illustrates an assortment of Coruscant headgear
.
EDITOR'S NOTE: THIS IS WHY I LIVE ON CORUSCANT. GROOVY HATS.
A hardworking panning droid weathered by the elements of
Mustafar
, this automaton can also function as a much needed platform for dueling
Sith
Lords.
Dermot Power's exploration of the Geonosian execution arena beasts includes what he describes as a "traditional dinosaur creature."
Mercedes Ngoh (Rystáll) undergoes some last minute touch-ups for her scene in the Special Edition of Return of the Jedi.
EDITOR'S NOTE: I THINK I FOUND A GREAT HALLOWEEN COSTUME! (WOULDN'T IT BE FUN TO TRY OUT THAT COOL BODY SPECKLING?!)
In a scene cut early on from the edit, the survivors of the Trade Federation cruiser crash were to exit from destroyed vessel onto a debris-strewn landing strip.

A direct from the HD-camera image of Ian McDiarmid (Palpatine) engaged in the momentous lightsaber duel with Samuel L. Jackson (Mace Windu).
EDITOR'S NOTE: EVEN WITHOUT THE CG SURROUNDINGS, THIS IS SCARY. (SUBTITLED --- WHY YOU HIRE BRITISH THEATER GUYS; THEY DON'T NEED NO STINKIN CG!)
This concept sketch of an AT-AT walker's cockpit by Nilo Rodis Jamero includes a very different looking AT-AT pilot.

This concept illustration by Ken Ralston appears to have Jabba hooked up to a wide variety of strange appliances.
EDITOR'S NOTE: I'M HAVING A VERY BAD "DUNE" (THE MOVIE) FLASHBACK. SHUDDER.....
Director Richard Marquand, George Lucas, and Art Director Norman Reynolds inspect a skeletal maquette of Jabba's barge to determine how to shoot the exciting Pit of Carkoon battle sequence
.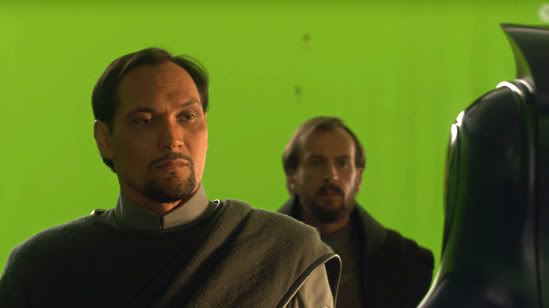 Bail Organa (Jimmy Smits) and his aide Sateen Vestswe (Scott Mewett) find security on Coruscant increasingly harder to bypass in a brief scene cut from Episode III.
EDITOR'S NOTE: WHY DID PRINCESS LEIA NEVER MENTION THAT HER ADOPTED DADDY WAS SUCH A HOTTIE? (I MEAN, SHE KISSED HER BROTHER ON THE LIPS, SO WHY NOT GO THE DISTANCE AND MAKE OOKIE COMMENTS ABOUT HER DAD, TOO?)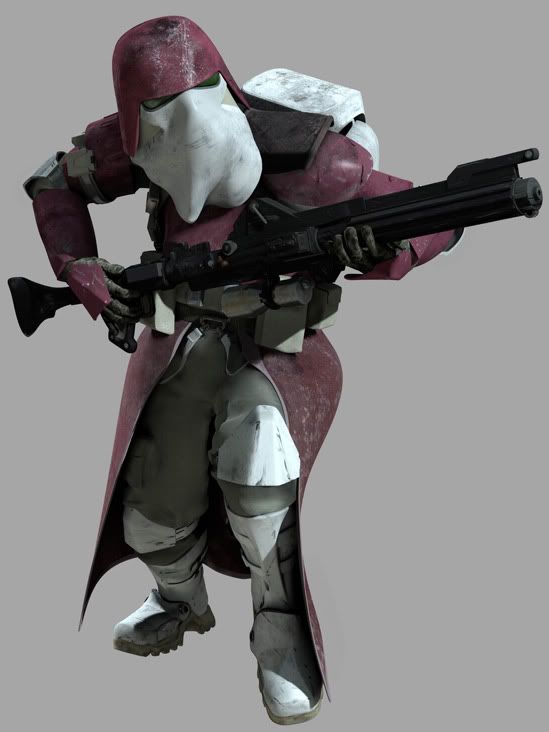 A Galactic Marine that serves with Commander Bacara and General Ki-Adi-Mundi on Mygeeto
.
EDITOR'S NOTE: IT'S A WONDER THEY COULD SEE AND BREATHE WELL ENOUGH TO SHOOT OUR HERO JEDI IN THE BACKS. (GRR)
Anakin Skywalker (Hayden Christensen) does not respond well to a request from Padmé (Natalie Portman) that he bring up diplomatic resolutions to the Chancello
r.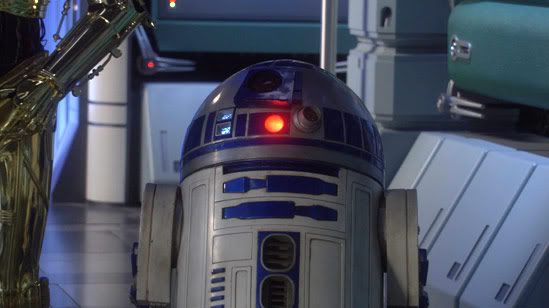 The death and births that occur in the Polis Massa medical center are just a few of the secrets R2-D2 will carry with him for years.

At the height of the war, people around the galaxy had heard legendary tales of adventure, starring Anakin Skywalker (Hayden Christensen) and Obi-Wan Kenobi (Ewan McGregor).
EDITOR'S NOTE: THEY WERE THE NOVELA STARS OF THEIR TIME.
The Prop Department made this set of electrobinoculars for a scene cut from the film -- Obi-Wan Kenobi was originally going to spy on General Grievous with this device.
EDITOR'S NOTE: KINDA LIKE ALL THOSE AD PLANS I DO FOR CLIENTS THAT END UP NOT IMPLEMENTING THEM. POOOOOR PROP DEPARTMENT; I FEEL YOUR PAIN.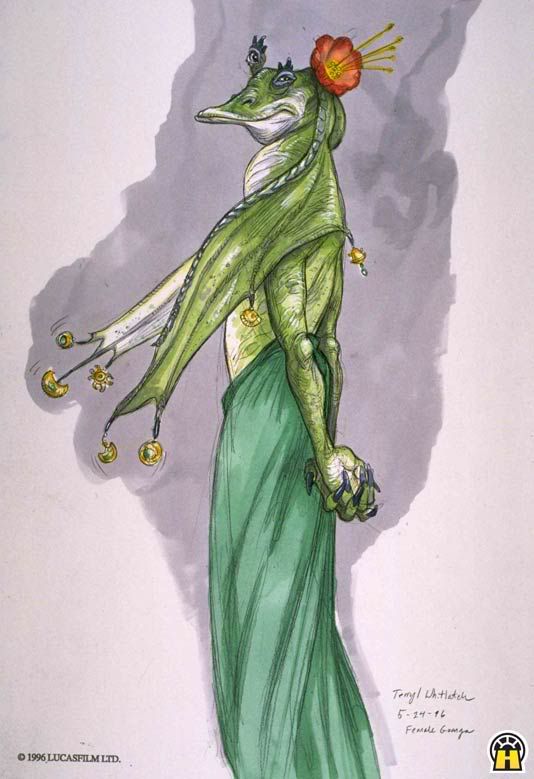 There she is, Miss Otoh Gunga... a female Gungan illustration by Terryl Whitlatch
EDITOR'S NOTE: UMMM.....YOWZAH?!