And Lastly but never LEASTLY, A few STAR WARS items
EDITOR'S NOTE: A COOL PIC, AND SOME GROOVY TOYS. LIFE IS GOOOOOOOD!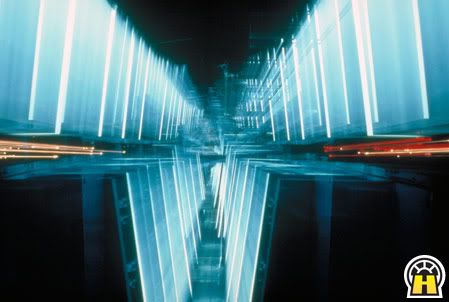 This lengthy miniature depicts the final stretch of tunnel inside the second Death Star's structure.
TOYS TOYS TOYS TOYS TOYS!!!!
Wal-Mart Exclusive Early Bird STAR WARS Figure Pack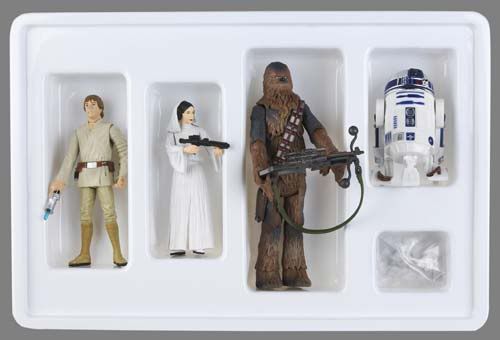 As our collector fans know, Wal-Mart offered an exclusive product to capture the nostalgia of the first STAR WARS figures ever made.
A near-exact replica of Kenner's 1977 "Empty Box" has been sold exclusively at Wal-Mart. Inside is a Redemption Certificate good for updated versions of the first four original Star Wars action figures from 1977.
If you have already sent in your completed Redemption Certificate, the figure packs are due to ship from the redemption fulfillment center early November.
If you haven't sent your certificate in, there's still time!
Completed certificates can be postmarked up to November 30, 2005.
Don't miss out on this exciting opportunity to relive the excitement of the first STAR WARS figures ever made!
There is still a limited quantity left at
www.Walmart.com
.
Early Bird Figures include:
* Luke Skywalker with a telescoping lightsaber
* Princess Leia with her special "star puffs" hairdo, and laser pistol, just like the one she used in the original movie
* R2-D2 with rotatable head
* Chewbacca with his special laser rifle and ammunition belt across his chest
EDITOR'S NOTE: THANK HEAVENS IT'S ALL A TAD CHEESEY-LOOKING, CAUSE OTHERWISE I'D BE FORCED TO SHOP AT .....

INSERT EVIL EMPIRE MUSIC....

WALMART

. (SHUDDER).
Hasbro Battle Packs -- Good vs. Evil continues
Star Wars Battle Packs from Hasbro give you everything you need to experience the struggle against the Dark Side.EDITOR'S NOTE: LIKE WORKING IN ADVERTISING DOESN'T HELP ME EXPERIENCE THAT

EVERY

SINGLE

DAY

? Each Battle Pack includes figures on both sides of the battle between good and evil.
Which side will win? Only you can decide!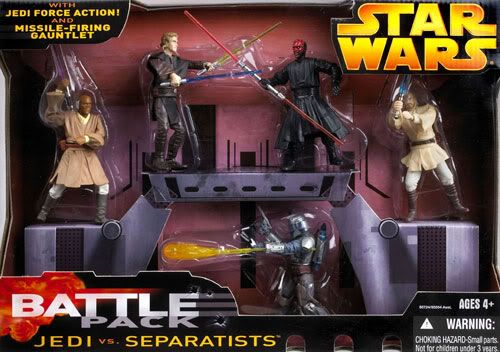 Jedi vs. Separatists
Experience the battle between the heroic Jedi and the Separatist forces. Includes Jedi Anakin Skywalker, Obi-Wan Kenobi, Mace Windu, Darth Maul and Jango Fett. Available at most fine retailers.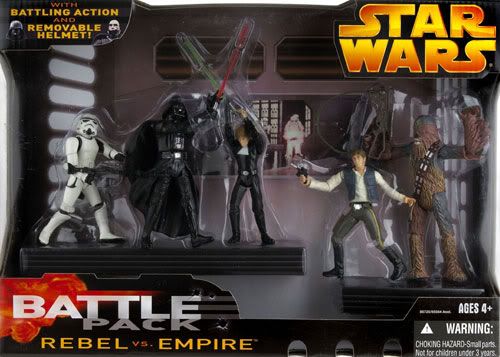 Rebel vs. Empire
Join the Rebel forces as they combat the evil Empire to determine the fate of the Galaxy. Includes Luke Skywalker, Han Solo, Chewbacca, Darth Vader and a stormtrooper. Available at most fine retailers.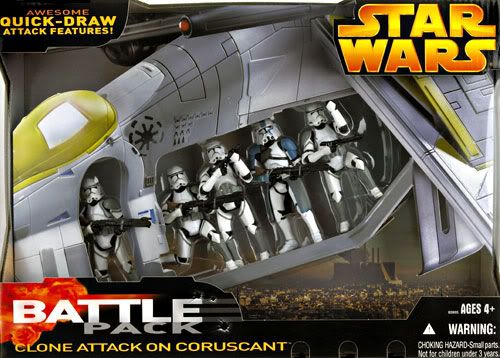 Clone Attack on Coruscant
Spring into battle with these clone troopers as they speed across Coruscant in their gunship to fight the massive droid armies attacking the Republic. Includes Commander Bacara and four clone troopers. Available exclusively at Target.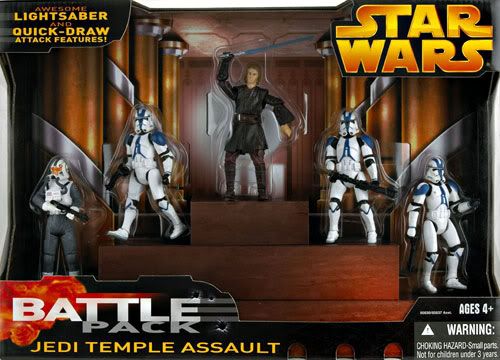 Jedi Temple Assault
Anakin Skywalker succumbs to the Dark Side and leads an attack on the Jedi Temple as Darth Vader in this fierce Battle Pack. Includes Darth Vader, a clone pilot and three clone troopers. Available exclusively at Kmart.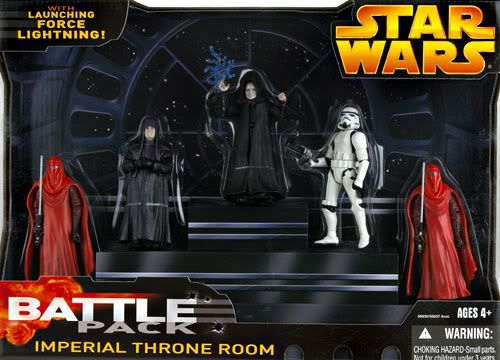 Imperial Throne Room
Palpatine disbands the Senate and creates the first Galactic Empire, declaring himself Emperor. This Battle Pack displays the Imperial Throne Room and the Emperor's entourage. Includes Emperor Palpatine, an Imperial Dignitary, a stormtrooper and two Royal Guards. Available exclusively at Kmart.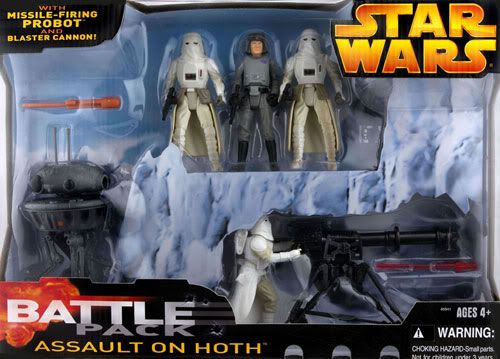 Assault on Hoth
Imperial forces attack the Rebel Alliance's Echo Base on Hoth's icy surface. Includes General Veers, a probot and three snowtroopers. Available exclusively at Toys R Us.
EDITOR'S NOTE: AND NOW, AN ODDBOB PRIVATE MOMENT. LET'S LEAVE HIM ALONE WITH THE DWEEBLETTER FOR JUST A BIT.......
Darth Maul Statue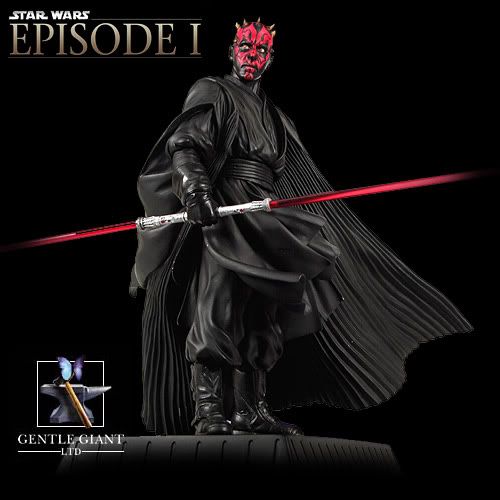 Gentle Giant Studios has announced they will follow up the sold out Darth Vader statue with a Darth Maul statue.

The 1/6 scale figure will stand 11 inches tall. The price tag is set at $175. EDITOR'S NOTE: ODDBOB NEEDS TO START SAVING HIS PENNIES. (IN FACT, SEND HIM SOME OF YOURS)
It will be released in February 2006.
EDITOR'S NOTE: HAPPY (AND SAFE) LABOR DAY WEEKEND, DWEEBPALS!