Friday STAR WARS (including pics)
EDITOR'S NOTE: STAR WARS STUFF AND NONSENSE.
FIRST UP, CHECK OUT WHAT I WANT FOR A GIFTIE....VERY COOL.
Exclusive Republic and Imperial Icon Projection Pen Set (w/case)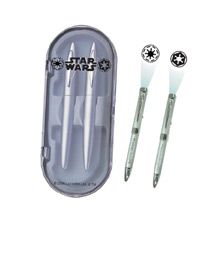 Set of 2 functional ballpoint pens with imprinted dialogue text from the saga
Each pen exhibits a printed line of dialog from the saga: "EXECUTE ORDER 66" for the Republic version and "YOU MAY FIRE WHEN READY" for the Imperial.
Pens feature light projected icons: 1 with the Republic logo and one with the Imperial logo
These functional ballpoint pens each contain a bright projection lens at the top that cast a clear silhouette of either the Republic or Imperial emblems on a wall, ceiling, sidewalk, or whatever dark corner of the galaxy that could use a bit of Star Wars flair.
Each set comes in an attractive clear case depicting the Star Wars logo between both insignia
Limited quantity available
Our Price: $26.99
EDITOR'S NOTE: AVAILABLE MAY 1. (THE CURE FOR THE BORING MEETING ,EH?)
AND HOW ABOUT SOME GROOVY ARTWORK?!
Clark Mitchell Gets Unleashed
Illustrating Incognito
For fans who have collected any number of Star Wars toys, board games, or posters over the last decade, the artwork of artist Clark Mitchell should be quite familiar.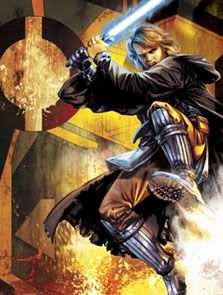 Haven't heard of him?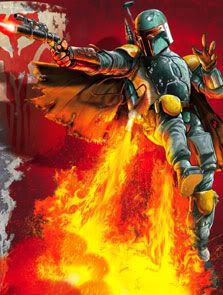 That's because illustrations created by him and a team of other artists for products like Hasbro's Unleashed figures, Star Wars Statego, the Episode III Basic Figures pack, and scores of others are often printed without any artist attribution, leaving their contributions quietly anonymous.
"
I think my turning point as a Star Wars illustrator was the success of the Boba Fett painting which was done for a re-designed package line called Unleashed,
" explains Mitchell. "
We had a great team of hands working to make the packaging special for Hasbro, Star Wars, and the fans. It took a great effort between 4g Squared and Ken Lashley of Draxhall Jump, who created some awesome pencil work for that line look."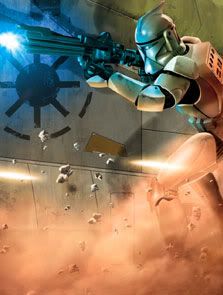 Mitchell describes the general technique he used for Hasbro's Unleashed and other Star Wars lines:
"
With the demands of time, and flexibility for the clients, I have to do most of my work on the computer in Photoshop and Painter. I still do a lot of my pencils traditionally, then scan them in and paint them digitally. I also do pencils in Painter and in Photoshop and try to match the feel of traditional pencils as much as I can. The Star Wars Unleashed series, along with many of the other lines of Hasbro packaging for Star Wars, became a very intense and streamlined process. We had to get several people involved because of the deadline demands and volume of the work that had to be done to accommodate print schedules. We were so saturated with [design and finished illustration] that Hasbro called Ken Lashley over at Draxhall Jump to help on the pencil work to make the process faster and more efficient."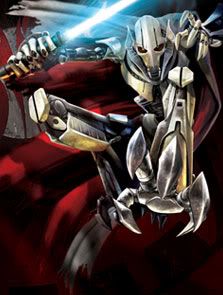 Another highly visible piece of Star Wars artwork created by Mitchell and crew was the Episode III "Vader in lava" graphic that bannered nearly every piece of
Revenge of the Sith
merchandise, including Hasbro's Basic Figure packs. This artwork was again created by several hands, with Mitchell devising the painting style, technique and finish.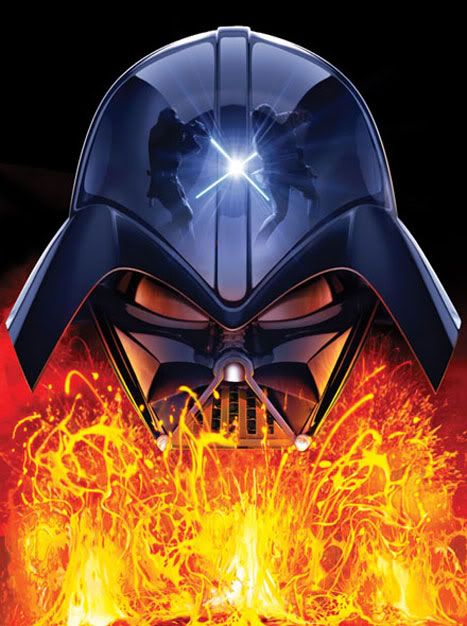 Like My Father Before Me
Before his illustrating career began, Mitchell admits he has always been a Star Wars fan.
"I have been interested in Star Wars from day one when I was around 14 years old
," says Mitchell. "
My twin brother Charlie and I heard from another friend that there was a real cool movie out called Star Wars, so we both went out and worked for a weekend planting seeds and cleaning out weeds in little old ladies' yards to earn a couple of bucks to get into the little downtown theater. It was worth the dirt and grime -- we did it about eight more times after that, and I couldn't get enough of Star Wars. I have been hooked ever since."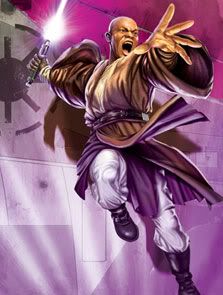 Mitchell remembers illustration becoming an early means to keep himself occupied when he was young, drawing inspiration from his father.
"
I started illustrating early in life because we realistically had nothing else to do on the cold nights to occupy the time,"
says Mitchell.
"My father was a great artist and sign painter, and we would go into the garage during the freezing cold Nebraska nights and sit by the space heater to watch him create magic on the sides of trucks and race cars. He was such a big influence in both of our lives."
Catching the artistic bug, Mitchell slowly started illustrating, earning small commissions by age 15.
"My mother and Aunt Ruth kind of acted as sales people letting all of the neighbors and people they worked with know that we could draw and paint,"
says Mitchell. "I
painted and drew portraits, animals, homes, landscapes -- whatever the customer wanted for small commissions -- and learned how to work with clients early on. I knew then that it was what I really wanted to do with my life."
Drawn by the Force
Mitchell, who by the mid-'90s had taken on the roles of artist, husband and father, found himself in Dallas working for a little studio called Stat Kat. As it happened, Stat Kat, run by Bill Jenkins, was contracted to fulfill the graphic needs for Pepsi and Frito Lay, who were just ramping up promotions for their newly-acquired Star Wars license.
"
Bill Jenkins was the first one to give me the opportunity to get into the digital realm for illustration,"
explains Mitchell. "
Bill had enough insight to purchase a great piece of equipment called the Quatel Paint Box, a half-million dollar machine that could paint in real time. As cumbersome as it became years later, it was cutting edge for the time. That is where I had my first Star Wars assignment -- Eric Larson and Mike Opedoca of Tracey Locke had me and five other illustrators do sample illustrations to see who would do the big Pepsi Star Wars promo. Well, we won the contract and that's when it all began."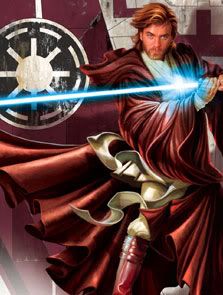 Among scores of images created for the Pepsi/Frito Lay campaign, Mitchell devised a memorable portrait of Yoda used on posters, along with a striking Boba Fett illustration which got picked up by the Star Wars Fan Club for sale as an exclusive poster. It was during this time that Mitchell and his team got their first Hasbro Star Wars assignment: 2002's "The Queen's Gambit" board game.
"
Wow, what a challenge
," remembers Mitchell. "
Besides the package cover, there were so many printed components to that game. Jeff Simpson, Cliff Tew and I worked on the cover, board, dice, cards, everything! I think it was the style of the cover painting that was most significant -- a new style arose from that project. A graphic outline to the paintings' subjects gave this style a clarity, essential for packaging art. I feel this created a deeper interest in me and the 4g2 team from Hasbro's art directors."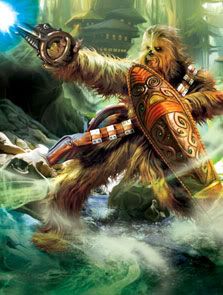 Following The Queen's Gambit, Mitchell, Simpson, and Tew of 4g2 took on scores of new Hasbro Star Wars assignments, including the Unleashed cardback art and a number of other toys and games. Currently, Clark is a partner in the new Dallas-based 5 Creative, an illustration studio dedicated to illustration and retouching. His partner Cliff Tew is a seasoned veteran retoucher and production manager. It was Tew who ensured Clark's original Star Wars paintings remained intact through the digital color and pre-press printing process.
"We work with several clients such as Hasbro, Time Magazine, Pepsi, Coca Cola, Budweiser, Black Velvet, Corona, ESPN the magazine, Jolly time Popcorn, Disney, Hooked on Phonics and many others
," says Clark. "
I am now also in the process of doing a series of exclusive Clark Mitchell paintings for Lucas Licensing that will be coming out shortly."
5 Creative's website is called
http://www.ranch5.com/
, themed after the company's Texas roots.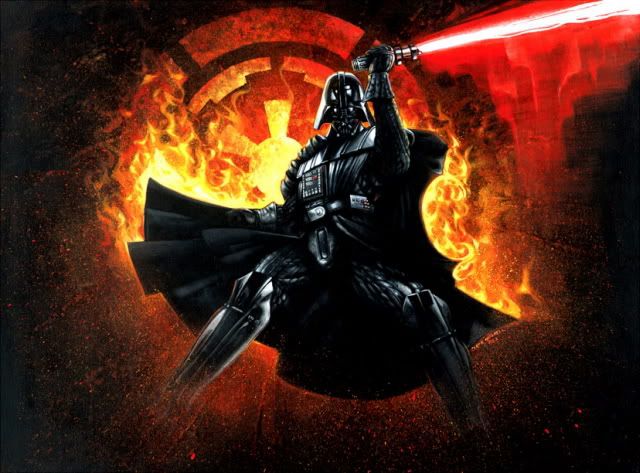 Recently, Mitchell created an original artwork print for Celebration III in which he used traditional illustration. In an age where photo-collage packaging and posters reign supreme, it's good to know that a handful of talented Star Wars artists can still tap into techniques borne from "a more civilized age".
Exhibs stir local commotion
(Clever theater marketing gives boost to slumping B.O.)
Amid a 9% overall decline in theater attendance, many exhibitors became active participants in their own rescue last year, drumming up high-concept creative campaigns on their own, which sold out shows, and, in some cases, even upped revenue at neighboring theaters.
Of course, exhibs have a long-standing tradition of local promotion. The first theater owners hung one-sheets and scheduled song-and-dance performances before each show. They also gave oodles of audience prizes to ensure attendance.
But during dry spells, managers have traditionally made even more noise locally, notes Mitch Neuhauser, co-managing director of ShoWest.
"
It's the (manager) who's got to make it a great experience to get people into his theater
," Neuhauser says. "
He's got to run a great place, make people happy and do creative things to get people to his theater instead of someone else's -- and right now, to get them out of their houses and into the seats."
"
The bottom line is that (local) promotions have a significant impact on theater performance,"
says Joseph Girouard, exec director of marketing and promotions for Brenden Theaters Corp.
"
In one promotion I did, I heard this little kid, unsolicited, say to her mom, 'I really love this theater, because they give you stuff.' The kid summed it all up."
Girouard is one of eight exhibs being feted at ShoWest Wednesday with a Marketing Achievement award, kudos that are handed out jointly by ShoWest and the National Assn. of Theater Owners, with the major studios providing sponsorship.
This year, more than 100 exhibs submitted entries for consideration, with reps from the studios, NATO and ShoWest judging the winners.
Girouard and his team will take the prize for best overall promotion in recognition of the benefit premiere they produced around "Star Wars: Episode III -- Revenge of the Sith" in Modesto, Calif., last spring.
The local Modesto 18 -- along with other outlets in the six-location, 86-screen Brenden Theaters group -- offered patrons light-saber lessons with an actor dressed as series villain Darth Vader; photo ops were also available with bounty-hunter character Boba Fett, among several other "Star Wars"-releated activities.
The Modesto 18, in conjunction with corporate sponsor Pepsi, also created a contest, with a new Hyundai wrapped in an elaborate "Episode III" mural as the prize.
His marketing budget nil, Girouard snagged free radio time in exchange for movie tickets to promote the campaign. The result? Modesto 18 sold out six theaters for "Episode III's" opening night -- and even more telling of the promotion's effectiveness, it achieved the No. 1 ranking in the Stockton-Modesto market for the film's entire run, grossing $257,923.
"
We sold out so many of our shows, people had no choice but to go to our competition
," Girouard says.
Of course, a good local campaign benefits from a good local hook -- Girouard's was buoyed by the fact that Modesto is "Star Wars" creator George Lucas' hometown, for example.
For his part, Richard A. Keenan, managing director of the Muvico Peabody Place 22 in Memphis, used the same kind of local connection to promote Memphis-set indie pic "Hustle & Flow."
A Marketing Achievement winner this year for best use of media and events for an independent film, Keenan's theater teamed with "Hustle & Flow" helmer Craig Brewer to host a local red-carpet premiere of the pic. The payoff? "Hustle & Flow" generated $75,376 out of the gate for the Peabody Place 22, which was tops in the country for that engagement.
Of course, it took work.
Keenan and Brewer, a Memphis native, began brainstorming the movie's premiere even before it had distribution. The film's composer, Scott Bomar, enlisted his local band. Police shut down a state highway. Once Paramount signed on to distribute "Hustle & Flow," Keenan and Brewer convinced the studio to underwrite accommodations for the film's attending talent as well as the premeire's after party.
"
Craig Brewer knew what the theater was like, and he really wanted to make this movie big in Memphis,"
Keenan explains. "
We would meet on Sundays talking about what we could do, how we could blow this thing out."
Meanwhile, Thad Welch, director of events and sales for the Drexel Arena Grand, an indie theater in Columbus, Ohio, receives the award for best Internet/Web promotion. Welch hosted an ongoing "Charlie and the Chocolate Factory" chocolate room in his lobby, complete with chocolate fountain. Local candy shop Pure Imagination donated sugary treats and dressed their owner as Willy Wonka for photo ops.
Welch built a popular Web site as he went, posting pictures of audience members nibbling free chocolates. For "Chocolate Factory," Welch's campaign focused on pulling in a family audience, and it worked. The film's opening weekend generated $20,284 for the Drexel, 37% better than the pic's national average of $14,690.
"(Exhibs) represent not only their company, but of all the studios and the films that they show
," Neuhauser notes.
Plant Princess Leia in Your Garden
For some Star Wars fans, the best form of honoring their favorite characters is by naming a beautiful flower after them. Iris Haven nursery owner Heather Pryor named her Australian-bred Louisiana Iris 'Princess Leia' (Iris Hexagonae) in 1997, at the request of a special young fan.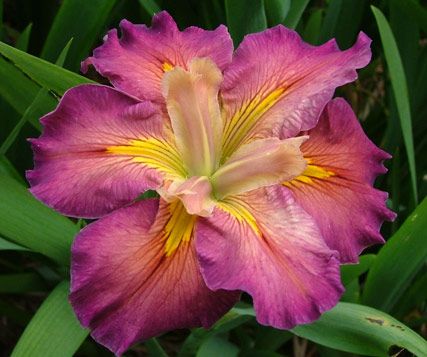 "
In 1996, I registered another Louisiana iris, called 'Alicia Clare' for my niece
," Pryor recalls. "
My nephew Nathan (Alicia's older brother) was very envious that his sister had had a flower named for her -- and sheepishly asked me if I would name a flower for him. It's not traditional for flowers to be named for boys, and it was difficult to explain to Nathan who was, at that time, just 11 years old. However, as a compromise I suggested that if he could think of a special name, I'd use it. Nathan was not born when A New Hope was first released, but he was an avid Star Wars fan all the same. So he asked me if I would name his special iris after Princess Leia because he so admired her character."
EDITOR'S NOTE: I HAVE A SUSPICION THAT LITTLE NATHAN IS ALSO A FAN OF SHOW TUNES? (SNICKER.....)
"
As it turns out, the Louisiana Iris 'Princess Leia' is a wonderfully strong-growing flower
," Pryor says. "
The stalks are very tall and they hold the flowers high above the garden. When in bloom, 'Princess Leia' demands attention. The plant can be rather strong-willed at times, but also very elegant in appearance. Doesn't this sound like Princess Leia to you?"
The 'Princess Leia' iris not only has a breathtakingly beautiful color of purple, but also exhibits an unusual appearance of the flower's petals and style arms (where the pollen is found).
"
In iris terms, 'Princess Leia' is a self, which means that all of the six petals are the same color of a deep cyclamen-purple,"
Pryor explains.
"If it were a bitone, then three petals would be one tone of a color and the three other petals would be a different tone of the same color. Louisiana irises open out like a hibiscus, rather than the 'three petals up and three petals down'
configuration of a bearded iris. This means that the center of the flower is a major feature of the bloom.
'Princess Leia' also has unusual style arms. These are the three arms which stand out in the middle of the flower. The style arms on 'Princess Leia' are very unusual because when the flower first opens the style arms are pure white. As the flower ages, the style arms change to pale pink and then to a strong cyclamen-pink when the flower is three days old. This gives a beautiful effect if you have a large clump of it growing."
EDITOR'S NOTE: WOW. WAY MORE INFO THAN I REALLY NEEDED. I'M MORE OF THE

'OOO LOOK, IT'S PURTY'

SCHOOL OF FLOWER APPRECIATION.
Pryor and her husband took great care in giving the 'Princess Leia' it's unique look and charm through a special process called flower hybridization.
"
The parents of 'Princess Leia' are two other very interesting Louisiana irises,"
Pryor explains.
"The 'father,' or pod parent, is 'Gladiator's Gift' (chocolate-brown color) and the 'mother' is 'Desert Jewel' (sunset-marmalade color). First we created a seed pod on 'Desert Jewel' by putting the pollen from 'Gladiator's Gift' on it. We then planted out the seeds. It takes about two years for a Louisiana iris to go from a seed to a flowering plant. Usually we wait for a seedling to bloom for at least three years before we register it. This allows for it to grow to a consistent height over a number of years."
"
Once we were happy that the iris was a strong grower, and had a lovely, new color -- we registered 'Princess Leia' with the American Iris Society (the organization where all iris are registered),"
Pryor continues. "
After that, nobody else can use the name for an iris. The seedling number of 'Princess Leia' was 60/90-16. This means that it was seedling No. 16 from cross No. 60 done in 1990. We went on to name several other seedlings from this same cross -- so 'Princess Leia' the iris has several other sisters from the same seed pod that are well known and grown around the world."
It seems that Pryor and her nephew chose well in naming the stunning iris 'Princess Leia.' The flower hybrid has won several awards in Australia, including Best Collection in Show at an iris show in 1996. 'Princess Leia' has been exported to many countries since it was first released to the gardening public in 1997 and can be found in flower gardens in the U.S., New Zealand, South Africa, Japan and England.
For fans interested in growing 'Princess Leia' in their own gardens, Pryor has a few helpful tips.
"Louisiana irises will grow in full sun, part shade, in the garden, near a pond or even in water. They also like a naturally acidic soil -- and lots of mulch and food. I like to say that Louisiana irises are the 'teenage boys' of the iris world: the more that you feed them -- the better that they will grow. They can't ever be over-watered -- but they are not the marginal aquatic plant that many people think that they are. Louisiana irises also love humidity and they will thrive in areas where the more widely-known bearded irises struggle."
When asked why plant experts like herself enjoy paying homage to the characters in Star Wars, Pryor quickly points out the benefits.
"Life can be difficult for us all from time to time and I think it's nice to have something special to think about to encourage us all
," Pryor says. "
Princess Leia, I believe, epitomizes loyalty to friends, inner strength, good leadership and courage. All of these are positive things."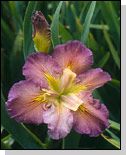 To read more about the 'Princess Leia' iris, visit Pryor's Iris Heaven Nursery site here.
http://www.irishaven.com.au/Page3.htm
EDITOR'S NOTE: I WONDER IF I COULD GET SOME TO GROW. (STAR WARS, AND PURPLE.

PERFECT

FOR MY STAR WARS LITTLE PURPLE HOUSE, HUH?!)
If you would like to learn more about these iris and flowers, please visit your local or school library for more detailed books.
And NOW....THE WEEKLY PICHERS......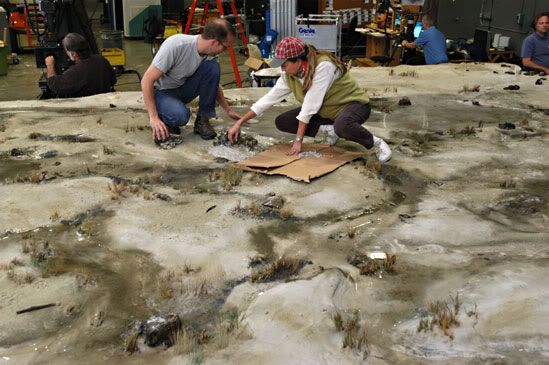 ILM modelmakers Randy Ottenberg and Phil Brotherton add some well-placed rocks on the Kashyyyk beach miniatures set.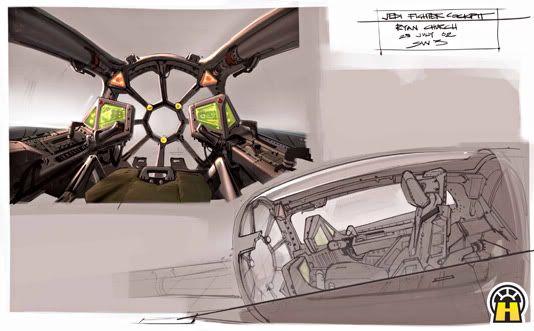 Ryan Church develops the interior view of the Jedi starfighter cockpit.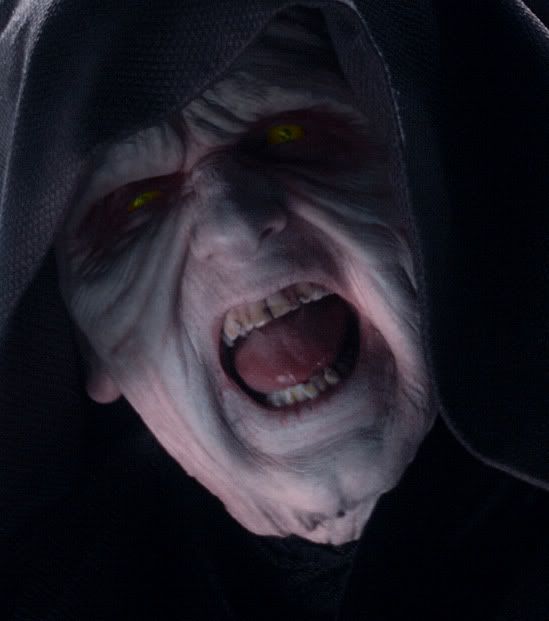 Emperor Palpatine (Ian McDiarmid) unleashes his wrath while dueling on the Galactic Senate speaking platform.
EDITOR'S NOTE: EEK. CAN YOU SAY 'GINGIVITIS'?!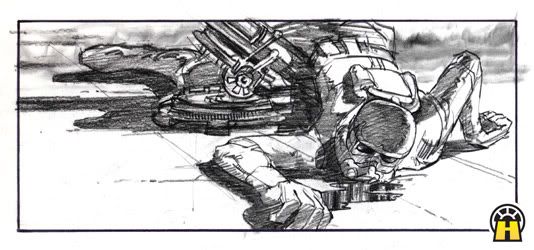 Alex Tavoularis illustrates a very dramatic storyboard of a dying stormtrooper during the early phases of preproduction of Star Wars.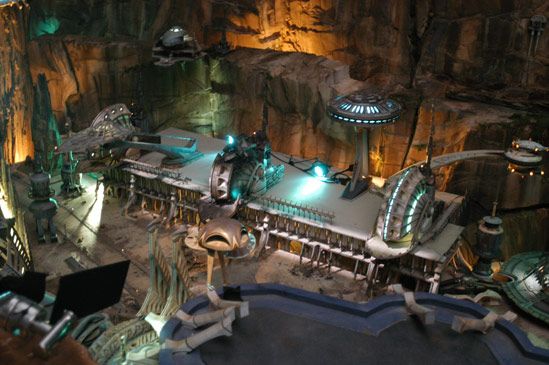 An overhead view of the miniatures of Utapau buildings built within the sinkhole environment.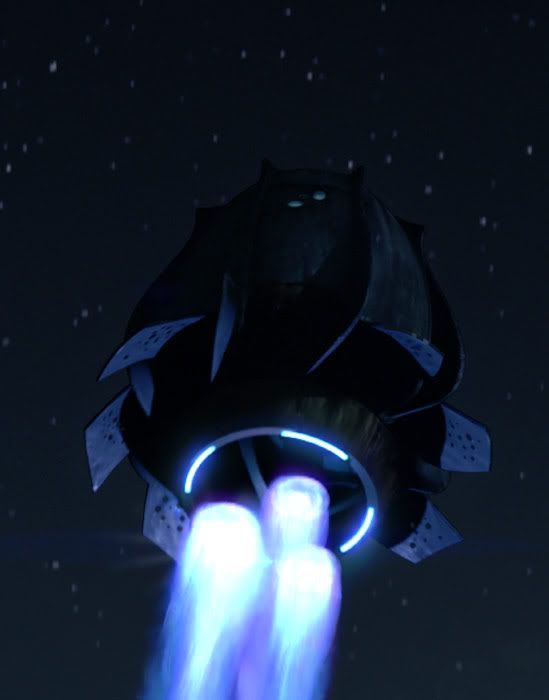 Jedi Master Yoda barely escapes Kashyyyk shortly after the Clones carry out the deadly Order 66.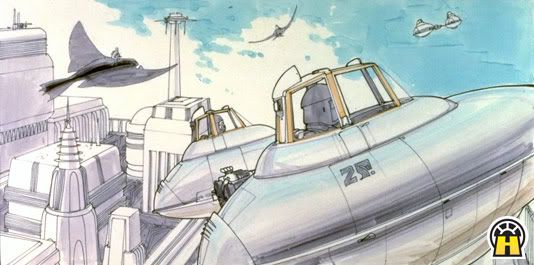 Joe Johnston illustrates a high flying aerial view over Cloud City, including cloud car and air whale riders.