Misc. Catching up
Editor's Note: Forwarded by dweebpal PlanoKevin (for those who haven't already seen this):
Rowling: Two 'Potter' Characters Will Die
LONDON (AP) - Author J.K. Rowling said two characters will die in the last installment of her boy wizard series, and she hinted Harry Potter might not survive either.

Editor's Note: I'm sticking my fingers in my ears right now, and I'm NOT taking them out till you promise me that Harry is safe!!!



"I have never been tempted to kill him off before the final because I've always planned seven books, and I want to finish on seven books,"

Rowling said Monday on TV here.

"I can completely understand, however, the mentality of an author who thinks, 'Well, I'm gonna kill them off because that means there can be no non-author-written sequels. So it will end with me, and after I'm dead and gone they won't be able to bring back the character'."

Rowling declined to commit herself about Harry, saying she doesn't want to receive hate mail.

Editor's Note: oh no. THAT doesn't sound good, does it??!! (I mean, who would hate her if Voldiebaby dies?)




"

The last book is not finished. But I'm well into it now. I wrote the final chapter in something like 1990, so I've known exactly how the series is going to end

," she said.

Editor's Note: Half way thru sounds like we WON'T be getting the book next year as people were assuming. At least probably not next SUMMER. (And since we get the fifth MOVIE next July, it might be best, even if she finishes, to wait at least till XMAS. I mean kind of overwhelming all at once, huh?)

Some characters might die, but the blockbuster movie franchise lives on. Warner Bros. Pictures has announced that the fifth installment will be released in U.S. theaters, including Imax screens, on July 13, 2007.

In "Harry Potter and the Order of the Phoenix," directed by David Yates, the teenage Harry continues to battle the evil Lord Voldemort (again played by Ralph Fiennes) and his followers. Daniel Radcliffe is returning as the title character, and Emma Watson and Rupert Grint reprise their roles as Hermione and Ron. Oscar-nominated actress Imelda Staunton plays the malicious, frumpy Professor Dolores Umbridge, who tortures Harry.

Editor's NOte: Grr......hate her hate her hate her.



In her Monday interview on the "Richard and Judy" show, Rowling said people are sometimes shocked to hear that she wrote the end of book seven before she had a publisher for the first book in the series.

"

The final chapter is hidden away, although it's now changed very slightly. One character got a reprieve. But I have to say two die that I didn't intend to die,

" she said. "A price has to be paid. We are dealing with pure evil here. They don't target extras do they? They go for the main characters. Well, I do."

Editor's Note: So the two she is talking about are NEW, previously UnPLANNED deaths? So that wouldn't be counting Voldemort or Harry, cause one of them dying would have been always in the works I would think. Snape should die? I mean, goodie or baddie, he should probably die? Please please PLEASE don't kill Ron, Hermione, or Ginny. And as GameMaster Dave said the other night "ALL WEASLEYS ARE OFF LIMITS"!



Rowling is the richest woman in Britain - wealthier than even the queen - with a fortune estimated by Forbes magazine last year at more than $1 billion.

Whatever she writes next, Rowling is sure of one thing: It won't be as successful as Harry Potter.



"I

don't think I'm ever going to have anything like Harry again. You just get one like Harry

."
Editor's Note: And not even THAT, usually.
NBC a hero for 'Lipshitz' comedy pilot
NBC is taking a spin with "Cars" writer Dan Fogelman.
As part of its strategy for a year-round development cycle, the network has given the green light to "Lipshitz Saves the World," a comedy project from Fogelman to be produced by NBC Universal Network TV Studio and directed by Chris Koch.
"Lipshitz" centers on Adam Lipshitz, a 17-year-old social outcast who finds out in the most bizarre way that he might be "the one" to save the world. Fogelman describes "Lipshitz" as being in the vein of the "Matrix" movies
"if Keanu Reeves wasn't good looking and 'The Matrix' was not a movie but a pilot for NBC
."
Editor's Note: If the show is as funny as the selling sentence there, it should be very good.
Fogelman penned the script as a spec during one weekend a few months ago, just after he had wrapped work on the Fox comedy pilot "The 12th Man," which he created.
"I decided to sit down and write something different
," he said. "
I went out on a bender, and 'Lipshitz' was born
."
"Lipshitz" features some autobiographical elements, sort of.
McClanahan here! and now with 'Life' role
Emmy winner Rue McClanahan has signed on for a starring role in "Ryan's Life," a new half-hour original series from gay-themed premium network
here!
Based on an award-winning short film, the six-episode series centers on a gay teenager coming of age and coming out. McClanahan will play Ryan's grandmother and most trusted confidante, Connie Harris.
She won an Emmy in 1987 for her role on "The Golden Girls." Her other credits include "Hope & Faith," "Touched by an Angel," "All in the Family," "Maude" and the Broadway musical "Wicked."
"Ryan's Life," which is being written by Nick Wauters, who created the short, will debut next year.
Sundance Channel gets Googled
The Sundance Channel has chosen
Google Video
to make a slate of its feature films and original series available to rent or own through the video download service.
The deal allows consumers to download their choice of 18 of the network's movie titles at $3.99 for a 24-hour rental or $9.99 to own.
Three of the Sundance Channel's original series are available only for purchase starting at $1.99 an episode.
"
Google Video is really an extension of Google overall as the organizer of the world's information and we're very interested in providing premium user-generated content,"
said Jennifer Feikin, director of video and multimedia search partnerships for Google. "
We think this is well represented by the Sundance Channel."
Preventing Movie Piracy
Researchers are developing tools to thwart the copying of films in theaters.
By Kate Greene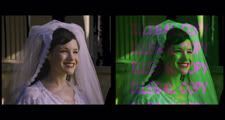 Thomson's prototype anti-piracy system inserts extra frames into a movie that contain text or obscure the scene. The frames flicker at a frequency imperceptible to the human eye, but picked up by camcorders, thereby ruining a bootlegged movie. (Credit: Thomson.)
Last month, we ran a story about an experimental device for locating and blocking cameras ("Lights, Camera -- Jamming").
Here we look at another set of technologies aimed at dissuading would-be bootleggers.
The movie industry has a problem. According to the Motion Picture Association of America (MPAA), Hollywood loses billions of dollars a year on illegally sold copies of movies. The losses are impossible to calculate accurately, of course, since it's unclear how many of the people who download copies over the Internet or pay a few dollars for a pirated DVD would have paid $9 to $20 for a theatre ticket or legal DVD.
Nonetheless, studios and theatre owners are eager to find ways of safeguarding their intellectual property.
Paris-based Thomson Corporation, which provides technology to the entertainment and media industry, is exploring methods for thwarting at least one type of bootlegger: the covert camcorder user. The company's technique involves inserting "artifacts" -- extra frames, flashes of light, or pixelated grid patterns -- into a movie during its digital-processing phase, before it's shipped to theatres. The goal is to mar a camcorder recording without degrading the images moviegoers see, says Jian Zhao, chief technology officer of subsidiary Thomson Content Security in Burbank, CA.
The artifacts exploit the differences in the way a human brain and a camcorder receive images. In the technique that's furthest along, extra frames -- with the words "illegal copy," for instance -- are inserted into the film. These warning words flicker by at a frequency too fast for the human brain to process -- yet they appear in a camcorder recording.
Editor's Note: And pay no heed to the 3 people per screening who have SEIZURES from this little strobe effect.
This difference is possible because movies are projected as a series of still shots. Film projectors flash 48 images per second (24 frames are collected each second, but each frame is flashed twice) and high-end digital projectors can flash even more, according to Thomson researchers. The limit for human visual processing is around 45 flashes per second; above that, a flickering image appears continuous. Furthermore, camcorders do not average frames, as eyes and brains do. Instead, they're sampling devices that take a series of snapshots -- collecting many more frames per second than our visual systems. Hence, frames that eyes would miss show up in a camcorder recording -- and are reproduced on a video screen when the recording is played.
Using extra frames to obscure a recording isn't as straightforward as it seems, however, since camcorders could theoretically be set to a sampling frequency low enough that they'd miss the hidden message, says Zhao. That possibility requires counter-countermeasures, such as randomly adjusting the frequency at which the extra frames appear. Camcorders can't yet adjust their sampling frequencies quickly enough to keep up and produce a quality recording. But camcorder technology will continue to evolve, says Zhao, "
and thus, we've got to evolve."

In addition to the frame-insertion technique, Thomson is working on incorporating additional sabotaging mechanisms into its system, such as projecting ultraviolet or infrared light onto the screen and washing out camcorder pictures. Aware that the easy counter-measure to this is simply to place a filter over a camcorder's lens, Zhao says their system is being designed to combine many different wavelengths, so that finding the perfect filter would be difficult.
Editor's Note: But bootleggers do so LOVE a challenge.
Additionally, the researchers want to take advantage of interference patterns that can be created by overlaying film frames with grids of tiny features that are too small to be resolved by human eyes. Overlaying two of these grids at a certain angle creates a Moiré pattern that a camcorder picks up, but people miss.
An anti-piracy system that included some or all of these techniques could make it prohibitively expensive for bootleggers to keep pace.
By altering the movie itself, says Zhao, their system avoids some of the potential drawbacks of other anti-piracy prototypes. Some systems, for example, position cameras in front of an audience, where they actively hunt for the distinctive reflections given off by CCDs, the light-sensitive chips that capture images in a camcorder, and send beams of light that temporarily disable the chips (see "Lights, Camera -- Jamming"). Thomson's system would be less intrusive, says Zhao. "
I would not feel comfortable with a camcorder constantly monitoring the audience
," he offers.
Even with the progress in such technologies, however, it could still be years before an anti-piracy system becomes commercially viable, says Zhao. "A
lot of people in the studios have some doubt if we can ever have an effective solution,"
he says. In March, Thomson opened the Burbank Innovation Center to keep Hollywood organizations up to date on its progress and to garner feedback, according to Zhao.
Editor's NOte: I don't doubt they can come up with solutions. But the bad guys tend to catch up with anything they come up with. And very quickly. It seems like an ultimately losing battle, doesn't it?
Ultimately, acceptance of such a system will depend on several factors, says Ethan Bush, senior project director at National TeleConsultants, an engineering and design consultancy for the media industry. For one, on-film artifacts must be completely hidden from audiences. For another, the rapid play of words, light, or patterns across a screen cannot have harmful side effects. "
We don't want anyone going into epileptic seizures,"
says Bush.
Editor's Note: yeah..... I guess that WOULD be bad...ahem....
Yet, he adds, piracy is "
a huge issue"
and an effective solution could be worth billions.
Editor's Note: Ironic that at the same time theater attendance is dropping and prospective audience members are complaining loudly about slipping quality, there are still so many people trying to STEAL the films. I mean, is it just a random urge to steal, or are the movies not as bad as the whiners would indicate?