Star Wars, a bit more C3 Reportage
EDITOR'S NOTE: A FEW MORE ITEMS REPORTED BACK FROM LAST WEEKEND'S CELEBRATION 3. (
SNIFFLE.....DWEEBFEST PINING....WOE
).
FIRST UP, FOR THOSE OF US WHO MISSED IT, WE MIGHT STILL BE ABLE TO BUY SOME GROOVY SWAG. (WITHOUT RESORTING TO EBAY PRICE INFLATIONS).
Celebration III Store Opening Online

Judging from the flood of emails we've been receiving, the Celebration III store wasn't the best run operation at the show.
However, a little birdy has mentioned to us that StarWarsShop.com will be opening a Celebration III store online for a week from
May 2-9
to sell some of the remaining stock!
CHECK OUT THE WONDERFUL COSTUMES!:
C3: Dressing For The Show
Much like any convention worth attending, Celebration III played host to a large number of fans dressed up as their favorite Star Wars character.
Plenty of Stormtroopers from the 501st were acting as security, but the fans brought out their best homemade duds and strutted their stuff! There was even a costume contest held that impressed the crowd.
EDITOR'S NOTE: A FEW CHOICE PICS ---
PROFESSIONAL CANDY
THE CONTEST
AWWWW...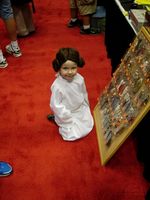 AM I BLUE? AM I BLUE? (EVERYBODY SING!)
FAR OUT, MAN!
EDITOR'S NOTE: FOR A WHOLE HEAPIN HELPIN OF GREAT COSTUME PICS, Check out the new gallery at
http://www.rebelscum.com/gallery/c3/costumes/
C3: Fan Club Breakfast
Sunday morning the crowd lined up starting at about 5:30am on a cold, rainy day outside the Capitol Avenue entrance for the 6:00am entrance.
Once inside the bleary eyed fans checked in with their Breakfast tickets and received a red wristband and red ticket for the prize drawings.
Mary Franklin, Lucasfilm Fan Event specialist and editor of Bantha Tracks, hosted the event and promised that things would go off at this breakfast without a hitch. (I guess there was some confusion for autographs at the Jay Laga'aia breakfast on Friday).
She introduced Warwick Davis who came out and said a few words, then got started signing an item brought by the fans.
Each table had a small card with his picture on it and a blank spot for his signature, in case you didn't bring something else.
The lines for his pic were done very orderly by wrist band number, about 20 or so people at a time. Davis also posed for pictures with nearly every fan.During this whole time a great breakfast was served, a lot better than some others I've heard tale of.
And Mary started the raffle drawing for the various items. Prizes at this Fan Club Breakfast included two sets of limited edition THX computer speakers, a pair of Wicket the Ewok cookie jars, a Ben Kenobi cookie Jar, Celebration 1 and 2 limited edition badge sets (some with autographs!), Celebration 2 folding chair, a 1983 Ewok lunch box, some Ewok Movie posters and the Episode 1 MTT Pepsi Drink cooler from Japan.
This will from now on be dubbed the East/West breakfast. Because as Mary drew at least the first 10 tickets, only fans seated on the East side of the room won. Not only did Steve Sansweet get up and try to break the "curse", but special guest Jay Laga'aia came in (on his way to the 501st picture) to lend a hand, as did Warwick's manager and several of Mary's staff. Finally several members from the West side walked away with prizes.
As mentioned, Steve Sansweet was also on hand to chat with fans as was Lisa Stevens, president of the fan club, and Pablo Hidalgo with the infamous StarWars.com Hyperspace webcam.
Each attendee was also treated to a C3 Darth Vader figure at the table and a bag of goodies from the Lucasfilm archives upon leaving. These bags contained things such as Ewok animation cells, a Star Wars tie, various packs of Topps cards and other Ewok related items.
Having never been to a Fan Club Breakfast before this was a refreshing change of pace from the actual convention. There was no pushing or griping (except in fun by those on the losing side of the drawings) and the atmosphere was enjoyable with a bunch of great fans that I enjoyed chatting with.
C3: The Future Of Dark Horse
First off, the news I was most happy to hear was there will be a Rogue Squadron mini-series coming out later this year, or early next year. It will be written by Hayden Blackman (Republic #51-53 and Jango Fett: Open Seasons). No artist announced as yet.
EDITOR'S NOTE: VERY GOOD NEWS INDEED. (WEDGE ANTILLES ROCKS!)
But on a sad note, the newly revamped Tales series that I love so much will be ending in two issues with #24. I told Jeremy that I was sad to see it go, but he feels he got one good year out of the book as editor as is proud to have had that chance. I agree. Hopefully there's some other anthology format they can try in the future.
EDITOR'S NOTE: SAD, YES. IT WAS THE MOST UNEVEN OF THE COMICS LINE, BUT THAT'S BECAUSE IT WAS THE MOST ADVENTURESOME. HOPE THEY COME UP WITH SOMETHING EQUALLY DARING TO TAKE ITS PLACE.
In the undecided column comes this news. Both Empire and Republic will be cancelled as of the end of the year. Both books will be 'revamped for 2006', but exactly what that means I couldn't weasel out of the Dark Horse editors. I know some staffers at Dark Horse as well as fans are interested in seeing the numbering of Republic continue. But either way, Jeremy ensured me that fans will be most pleased with the new directions.
EDITOR'S NOTE: THEY TAKE PRETTY GOOD CARE OF US, SO WE SHOULD HAVE SOME TRUST, YES?
One last bit -- I asked about the upcoming Comic Companion book and the depth and amount of info contained in it. This 200 page issue which will supposedly cover over 600+ comics will have cover art thumbnails, as well as some interior art pieces. It will then briefly summarize each issue chronologically. Look for it on July 27.
EDITOR'S NOTE: AND LET'S CLOSE IT OUT WITH AN IMPRESSIVE DISPLAY OF IMPERIAL MIGHT....
C3: 501st Group Picture
Due to bad weather at C-3, the 501st came together inside for this massive group photo, which included a special guest. Jay Laga'aia showed up in his movie used Captain Typho outfit!
EDITOR'S NOTE: THAT'S A

LOT

OF BAD GUYS, HUH?!