Title of new 'Indiana Jones' revealed
Editor's Note: Once again, PlanoKevin leads the pack in sending me items that DEMAND posting. (Despite my current oppressive work schedule).
You ROCK, PK!
Title of new 'Indiana Jones' revealed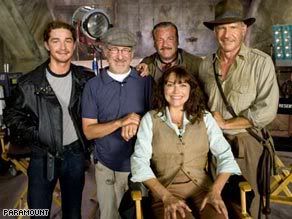 The "Jones" cast: Shia LaBeouf, Steven Spielberg, Karen Allen (seated), Ray Winstone and Harrison Ford.
Editor's Note: Is it just me, or is Indy looking almost

frail

? (Jeez, how did our lovely Han Solo become such a GEEZER)?
Meanwhile, Karen Allen does not appear to have aged at ALL. (And she's a leading part in this??? YAY!!!!)

NEW YORK (AP) -- The title of the new "Indiana Jones" movie, directed by Steven Spielberg and starring Harrison Ford, has been revealed.
"Indiana Jones and the Kingdom of the Crystal Skull" will be in theaters May 22, 2008.
Editor's Note: Coincidence that the words "Crystal Skull" are in the title of a movie that opens on OddBob's birthday? (Seeing as how we are reasonably sure he FELL on his head and something BROKE)?
The title of the long-awaited fourth installment of the adventure series was announced by Shia LaBeouf, who co-stars with Ford in the film, at the MTV Video Music Awards in Las Vegas on Sunday.
The new Indy adventure, which is set in the 1950s, also stars Cate Blanchett, Ray Winstone, John Hurt, Jim Broadbent and Karen Allen.
Sean Connery, who played dad to Ford's globe-trotting archaeologist in 1989's "Indiana Jones and the Last Crusade," will not reprise the role in the new movie.
The series began in 1981 with "Raiders of the Lost Ark," followed by "Indiana Jones and the Temple of Doom" in 1984.
In promotional photos, the 65-year-old Ford appears fit as ever.
Editor's Note: Umm...okay..... If you say so. Bet we won't be getting any more of that shirt-off/bodybyJake action?
"I have to say, he looks amazing
," Kathleen Kennedy, the film's co-executive producer, along with George Lucas, told The Associated Press in July. "
He looks fantastic in the outfit
."
Editor's Note: Ok, now you're just bein a TEASE.