A BIG (Happy) BREAKING Star Trek Item (and a few more left-overs)
EDITOR'S NOTE: A

HUGE

HAPPY STAR TREK MOMENT, AND THEN A FEW OTHER ASSORTED ITEMS TO CLOSE OUT THE WEEK.
Abrams Beams on to 11th TREK
Paramount Pictures has set J.J. Abrams to direct the 11th STAR TREK feature. The studio is looking for a 2008 release.

J.J. Abrams, Damon Lindelof and Bryan Burk will produce. Abrams and Alex Kurtzman & Roberto Orci will write the script.

The story will center on the early days of James T. Kirk and Mr. Spock, including their first meeting at Starfleet Academy and first outer space mission.
EDITOR'S NOTE: SO. LET'S TALK ABOUT THE WAYS IN WHICH THIS IS A LOVELY, WONDERFUL THING.
1. THERE WILL BE A NEW STAR TREK MOVIE IN A FEW YEARS, SOMETHING WE DIDN'T EVEN HAVE A HOPE OF JUST A WEEK OR SO AGO.
2. THE MARVELOUS AND REVERED J.J.ABRAMS IS AT THE HELM, ALONG WITH HIS "LOST" COMPADRES LINDELOF AND BURK. AND THERE WAS MUCH REJOICING AMONG THE TREKKIES (AND

SEMI

-TREKKIES, LIKE MYSELF) BECAUSE THE MAN WHO BRINGETH GREAT THINGS LIKE "LOST" AND "ALIAS" TO DWEEBDOM, WILL NOW CAUSE INTELLIGENCE AND .....UMM...OTHER GOOD STUFF TO HAPPEN TO TREK.
3. WE GET THE MUCH-PROMISED KIRK/SPOCK BACK-STORY. EVEN WITHOUT SHATNER AND NIMOY (SNIFFLE), THIS IS A COOL SPOT IN THE TIMELINE. (AND EVEN THOUGH PARAMOUNT/TREK CONTINUITY SUCKS, THIS IS A GOOD SPOT FROM WHICH TO GET SOME TREK-HISTORICAL HEFT).
4. NO RICK BERMAN. NO DUMBED-DOWN, THROWN-AWAY, HALF-BAKED, FAN-DERISIVE MISHEGAS. MAY HE REST IN PEACE AND FAR AWAY FROM TREK. (BETTER YET, FEED HIM TO KLINGONS!)
A LITTLE OTHER (GOOD) MOVIE NEWS ---
Fraser Travels to CENTER OF EARTH
New Line Cinema and Walden Media have signed Brendan Fraser to star in JOURNEY TO THE CENTER OF THE EARTH.
The "contemporary" 3-D update will center on a scientist who is stuck with his nephew as they embark on a trip to Iceland to check on a volcanic sensor. During a storm, they get trapped in a cave, and the only way out is through the center of Earth.
Eric Brevig will direct. Charlotte Huggins will produce.
EDITOR'S NOTE: BRENDAN FRASER'S BACK! YAY! (SUCH A CUTIE. AND WHERE HAS HE BEEN LATELY? I MEAN, OTHER THAN SAYING BAD WORDS AND BEING KINDA MEAN IN AN OSCAR-WINNING MOVIE. I MEAN, OTHER THAN THAT?)
Focus has 'Scoop' on Allen pic
NEW YORK -- "Scoop," the latest Woody Allen comedy starring Hugh Jackman, Scarlett Johansson and the director, has been scooped up by Focus Features.
The NBC Universal specialty division nabbed domestic, Australian and New Zea-land rights to the film, which is in postproduction and slated for release this year.
Golden Globe winner Ian McShane (HBO's "Deadwood") rounds out the cast.
The story centers on a college newspaper journalist (Johansson) who stumbles upon a sensational story while visiting friends in London. Along the way, she develops a romantic entanglement with a British aristocrat (Jackman).
EDITOR'S NOTE: WHAT A CUTE, ONLY SLIGHTLY AGE-INNAPROPRIATE COUPLE. AND HEY, AT LEAST IT'S NOT JOHANSSON FALLING FOR....SHUDDER...ALLEN!
Ron Howard Keeps It Real
Planning a new ensemble drama
Ron Howard has found a new project to follow-up
The Da Vinci Code
.
He's attached to direct
The Look Of Real
for Universal, an ensemble drama that follows a group of young women in the clothing industry.
Winnie Holzman -a woman with plenty of dramatic writing experience, having created
My So-Called Life
– is hard at work on the second draft of the script.
And just who does Ron want to star in this next project? Why, none other than a certain actress by the name of Bryce Dallas Howard, current filming
Spider-Man 3
.
EDITOR'S NOTE: WONDER IF HE HAS TO CONTACT HER THRU HER AGENT, OR HE JUST DOCKS HER ALLOWANCE AND SEE IF SHE CALLS IN?
Bogdanovich Cracks The Broken Code
A DNA discovery biopic
Clearly hoping that
The Da Vinci Code
will kick-start a trend for movies with "code" in their title, legendary helmer/actor Peter Bogdanovich will direct
The Broken Code
.
All right, so this one has nothing to do with hidden messages in old paintings: it's a biopic of the research scientist who played a key role in James Watson and Francis Crick's discovery of DNA's structure.
David Baxter wrote the script, which is based on Anne Sayre's book
Rosalind Franklin And DNA
, set in the cutthroat world of Big Discovery science and explores her life, including the fact that James Watson downplayed her contribution. Her death meant that she could never challenge his claim and that she missed out on being considered for the Nobel Prize.
EDITOR'S NOTE: MEN! (I BET THERE'S ANOTHER SIDE TO THE WHOLE COWBOYS & INDIANS THING TOO, HUH?)
Longoria gets in touch with 'Texas' roots
Eva Longoria is going back home to the Lone Star State.
The Texas native is attached to star in Touchstone Pictures' "Deep in the Heart of Texas."
Touchstone has acquired Pam Buchignati and Lynnette Ramirez's pitch, which centers on a spoiled Beverly Hills diva (Longoria) who becomes a fish out of water when she is relocated to San Antonio to run the new Latin division of an ad agency. Being completely out of touch with her Mexican roots and speaking not a word of Spanish, she has to win over the gringo urban cowboy who is her new boss, speaks fluent Spanish and is more in touch with her heritage than she is.
AND A FEW ITEMS I REALLY DON'T CARE ABOUT BUT AM POSTING ANYWAY --
del Toro Takes CALL
Guillermo del Toro has agreed to executive produce THE CALL OF THE SEA for Chile Films.
The horror film is based on a legend about a ghost ship that navigates the cold waters of a mysterious Chilean island in search of the souls of local fisherman. The story centers on a marine biologist (Varela) who discovers that many of the legends are related to her family's past.
Jorge Olguin will direct. Leonor Varela and Santiago Cabrera will star.
O'Bannon Puts BITE in Project

Dan O'Bannon will write and direct THEY BITE. The sci-fi thriller will be produced by Brian Witten and Rob Gallagher.
No details have been given on the plot.
EDITOR'S NOTE: WOW. IT'S GONNA HAVE A

PLOT

?! (NOW THEY'RE JUST GONNA

SPOIL

US)!
The film will go into production later this year.
O'Bannon's credits include ALIEN, BLUE THUNDER and TOTALL RECALL.
SOME LEFTOVER HARRY ---
Order of the Phoenix release dates confirmed

A few weeks ago we reported that the US release date of
OOTP
is July 13th, 2007.
We've now learned from Warner Bros that UK fans will be seeing the film on the same date, and Bulgaria will be seeing the film on July 20th.
UPDATE: WB has also just confirmed the Australian release date: September 6th, 2007.
Jim McManus to play Aberforth Dumbledore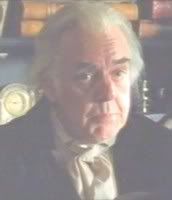 Leaky
has confirmed today that Jim McManus will play Aberforth Dumbledore in
Order of the Phoenix
. This news also confirms that Aberforth will appear in the fifth film.
EDITOR'S NOTE: I THOUGHT ALBUS JUST SORT OF MENTIONED ABERFORTH IN PASSING IN OOTP; I DIDN'T REMEMBER HIM ACTUALLY BEING

IN

THE STORY? (AND DOESN'T THE GUY IN THE PICTURE LOOK LIKE ABOUT A DOZEN OTHER CODGERY OLD BRIT THESPS?)
AND THE SMIDGE OF (BAD FOR OUR NON-DWEEBPAL/GILMORE FAN DEBS) TV NEWS ----
'Gilmore' showrunners exit "
Gilmore Girls" creator/executive producer Amy Sherman-Palladino has left the WB dramedy, which is set to make the transition to the CW for a seventh season in the fall.
Executive producer Daniel Palladino, who served as co-showrunner on the Warner Bros. TV-produced series alongside Sherman-Palladino, also has departed.
"Gilmore" executive producer David S. Rosenthal has been tapped to run the series next year in what is expected to be the show's final season.
AND THE STUFF LEFT OVER FROM THAT NEWS ---
MICKEY MOUSE, MINNIE MOUSE AND OTHER DISNEYCHARACTERS GET ROMANTIC ON NEW POSTAGE STAMPS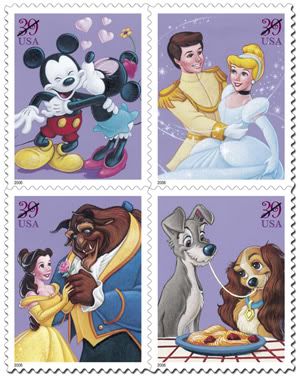 ORLANDO, FL - True love is a wish that every heart makes, and the U.S. Postal Service has granted that wish with the help of a few beloved Disney characters.
EDITOR'S NOTE: GONE INTO SUGAR-SHOCK YET?

The Art of Disney: Romance
postage stamps feature Mickey Mouse and Minnie Mouse; Lady and the Tramp; Belle and the Beast; and Cinderella and Prince Charming.
They'll add a dash of romance to your cards and letters.
These stamps were issued during the kick-off of the 13th annual Epcot International Flower & Garden Festival at Walt Disney World Resort. Available only in Lake Buena Vista, Fl. today,
The Art of Disney: Romance
stamps will be available nationwide tomorrow, April 22.
"
We decided to take our cue from one of the most celebrated couples of all time - Mickey Mouse and Minnie Mouse,"
said Jo Ann Feindt, Vice President, Great Lakes Area Operations, U.S. Postal Service, who dedicated the stamps. "
Their commitment to each other over the years has taught us not to play by the rules, but to play by the heart. Our heart tells us that this will not be the last set in the Art of Disney series. We will issue one more next year, now that's love."
EDITOR'S NOTE: RAISE YOUR HANDS IF, WHEN YOU ARE THINKING ROMANCE, YOU ARE THINKING

RODENTS

? (PUT YOUR HAND DOWN, BOB. WE REALLY DON'T WANT TO KNOW).
AND BY THE BY, MICKY AND MINNIE AIN'T MARRIED. OR EVEN SHACKED UP. TALK ABOUT THE LONGEST NON-COMMITTED RELATIONSHIP ON RECORD! (BUT YEAH, THAT

IS

LOVE IN THE MODERN AGE I GUESS).
Joining Feindt in dedicating the stamps were Al Weiss, President of Worldwide Operations for Walt Disney Parks and Resorts, some classic Disney characters featured on the stamps and larger-than-life, seven foot topiary images of the stamps made from fresh flowers and plants.
EDITOR'S NOTE: GOD BLESS DISNEY. YA JUST CAN'T HAVE A PARTY WITHOUT COMMEMORATIVE TOPIARY.
"
All of us at the Walt Disney World Resort - and at our vacation destinations around the world - are delighted to dedicate this new set of stamps featuring some of Disney's most beloved characters,"
said Weiss. "
The stamps not only celebrate the enchantment of true love, they spread the joy and magic of these classic Disney characters even wider."
The Art of Disney: Romance
self-adhesive 39-cent stamps, available in panes of 20, feature world-famous Disney couples in four stamp designs telling their own romantic tale.
Cinderella and Prince Charming:
Everyone dreams of living a rags-to-riches fairy tale and dancing with that special someone. As Cinderella and Prince Charming learn, one waltz can lead to a moment of realization: "So this is love."
Beauty and the Beast:
This is the evening the Beast has awaited, but can he tell Belle of his love? He knows his heart, but does she yet know her own? These two are as uncertain as they are hopeful-emotions and a tale "as old as time."
Lady and Tramp
: First dates can be full of risks-and ordering spaghetti only complicates matters. Fortunately for Lady and Tramp, a plate of pasta leads to a memorable kiss, turning a simple dinner out into a wonderful "Bella Notte."
Mickey Mouse and Minnie Mouse
: Mickey Mouse and Minnie Mouse have been sweethearts for many years, yet they still have that first blush of romance. Seeing this celebrated couple, we can all take heart; they prove that sometimes the course of love can indeed run smooth.
EDITOR'S NOTE: AND ISN'T NICE TO KNOW THAT AMORPHOUS, SEMI-UNAFFECTIONATE, TAKEN-FOR-GRANTED ROMANCE ISN'T JUST

YOU

?!
The Disney relationship with the U.S. Postal Service began in the summer of 1918 when Walt Disney sorted and delivered mail in the Chicago Post Office.
Next, Mickey Mouse worked for the Post Office when he starred in the 1933 animated short "Mail Pilot."
The achievements of Walt Disney were first recognized on a stamp in 1968. On the stamp, a parade of children, hand-in-hand, appear from a tiny castle to surround a portrait of Walt Disney. The children, representing many nations of the World, are garbed in native costume.
In 1998, a "Snow White" stamp was issued as part of the Postal Service's "Celebrate the Century" stamp series that highlighted the most memorable and significant people, places, events and trends of each decade of the 20th century. In 1937, "Snow White and the Seven Dwarfs" premiered as the nation's first feature-length animated film. The movie classic was comprised of 240,000 separate drawings and won a special Academy Award(tm) for Walt Disney.
The Art of Disney: Friendship
stamps issued in 2004, the first in the current series, honored friendship as it appears in the art of Walt Disney featuring Mickey Mouse, Goofy, Donald Duck and a host of Disney friends.
The Art of Disney: Celebration
stamps issued in 2005 were the second in the series and featured Mickey Mouse and Pluto; Alice and the Mad Hatter; Ariel and Flounder; and Snow White and Dopey.
EDITOR'S NOTE: I SOMEHOW MISSED THIS ONE!
Each time, U.S. Postal Service art director Terrence McCaffrey joined with the Disney team including artist Peter Emmerich and creative director Dave Pacheco in designing the stamps.
The Art of Disney: Romance
39-cent pane of 20 stamps ($7.80) and the set of 20 24-cent stamped postal cards with all four designs ($9.95) are available at Post Offices and Philatelic Centers nationwide tomorrow.
For Disney memorabilia fans, there are a host of other collectibles, including:

A set of four 8 x 10 inch stamp-affixed Disney Prints, depicting each of the stamps, for $14.95,
A Disney Digital Color Cancellation Keepsake, which includes four first-day cover envelopes with one each of the stamps for $13.80 and,
a "Disney Let's Write a Letter Book" which includes stationery and 8 stamps, for $14.95.
To see
The Art of Disney: Romance
stamps visit the online Postal Store at
www.usps.com/shop
.
Current U.S. stamps and stationery, as well as a free catalog, are available by calling 1-800-STAMP-24.
In addition, a selection of stamps and other philatelic items are available at the online Postal Store at
www.usps.com/shop
.
Custom-framed prints of original stamp art are available at
www.postalartgallery.com
.
EDITOR'S NOTE: AND HERE'S YET ANOTHER REASON WHY IT SUCKS THAT I DON'T HAVE THE TIME OR MONEY TO GO TO NEW YORK RIGHT NOW -----
All My Sons
By Jay Reiner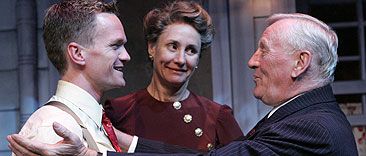 Bottom line: A peerless cast makes this a production people will be talking about for
years
.
Geffen Playhouse, Westwood Through May 21
Every now and then -- not very often -- something unusually wonderful happens in the theater. A very good play gets the cast that it deserves and the cast, perhaps realizing the potential of the situation, assumes a special kind of brilliance together that flares up immediately and sustains itself for an entire evening.
Such an occasion is on display at the Geffen Playhouse where Arthur Miller's early Ibsenesque drama "All My Sons," exquisitely directed by Randall Arney, has settled in.
A well-made play in the best sense of the word, the piece lacks some of the poetry and innovative structure and staging of "Death of a Salesman." Nevertheless, "Sons" has about it an intensity, a pinpoint focus and moral clarity that puts the play in the same class as its more popular younger brother. Both plays provide red meat for actors.
The sterling cast is headed by Len Cariou as Joe Keller, the small-town businessman whose expedient values and moral blindness cost him everything he holds dear in life. Cariou, a large man, reminds one of Lee J. Cobb, who first and memorably brought Willie Loman to life onstage. The very bulk and natural power of the actor lends an added tragic dimension to the performance, like some towering tree come crashing down in a dying forest.
Laurie Metcalf more than holds her own as Joe's iron-willed wife, Kate, a woman half-crazed with grief over the presumed death of her son in a World War II combat mission.
The play takes its title from the fate of this son, whose death -- as Joe finds out too late -- is a consequence of his own actions. The play, in a skillful demonstration of clockwork dramaturgy, makes the case that all the choices we make ultimately have personal consequences because we are, finally, connected to each other in ways that go well beyond our power to calculate or control.
Neil Patrick Harris is Chris, the idealistic younger son who has made it home safely from the war only to find that his own father has betrayed the values for which he, his brother and his buddies risked their lives. The gradual unfolding of this revelation leads to an almost unbearably moving confrontation between Chris and Joe. This is Miller territory in spades, the minute examination of a father-son relationship with the gradual stripping away of pretense on one side and idealized admiration and self-delusion on the other.
Harris takes a low key approach to the volatile material that only makes the pain of self-discovery more wrenching.
Surrounded by these three powerful performances, Amy Sloan creates her own special space like a gorgeous yet hardy daisy pushing its way up through concrete. Sloan has many twists and turns to navigate as the former girlfriend of the dead son who has now fallen in love with his brother, and she does so with boldness, subtlety and nary a cliche in sight.
The supporting cast -- Chris Payne Gilbert, Morgan Rusler, Robin Riker, Liam Christopher O'Brien, Megan Austin Oberle and Sterling Beaumon -- also is superb. Robert Blackman's backyard set, a two-story wood-frame house right out of Anywhere, USA, is perfect.
Miss this one at your own risk.
EDITOR'S NOTE: SNIFFLE....
AND TO CLOSE....A FEW COMPLETELY RANDOM ITEMS ----
'Yeah, I'm at the movies'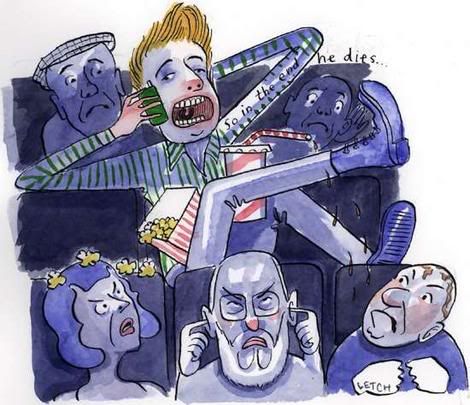 Phone abuse, noisy eating … Garry Maddox lists the seven deadly sins of cinema etiquette.
Listen for a moment to an online debate that followed a suggestion to test the electronic jamming of mobile phones in cinemas.
"Who is so incredibly important they cannot turn off their phone for 90 minutes while they're in the cinema?"
asked Luke.
Replied Shelley: "
As a mother of two young children I feel it's important for a babysitter to be able to contact me. I could never forgive myself if I was unaware there was an emergency with my kids, just because of a movie."
Alex fired back that he'd been interrupted by phone calls or texting three or four times during every recent movie and found the bright light from active mobiles as distracting in a darkened cinema as a ring or message beep. But Katelyn thought it would be irresponsible to jam mobile phone signals.
"
It's more people's own decency and manners you need to appeal to
," she said. "
People seem to be getting so much ruder and inconsiderate these days."
There's a good argument that in our techno-bubbles - insulated from each other by mobile phones and iPods - we are less considerate of others.
Another contributor to the debate, Tim, proved how rude he was by suggesting a ban on movies starring Meg Ryan.
EDITOR'S NOTE: AWW...PICK ON SOMEONE YOUR OWN SIZE, FOR PETE'S SAKE!
Leaving aside that suggestion, it's clear certain trends are disturbing the communal experience that is cinema-going. They are not nearly as serious as gunfire or trying to burn down the cinema but serious enough to steer patrons towards the DVD player rather than the box office.
Here are the seven deadly sins.
Compulsive mobile phone use

I once heard someone not only answer their phone but carry on a three-minute conversation about work during a movie. That might be rare, but texting and checking messages are now commonplace. True, it might be a sign the movie is dull. But every burst of bright light, every beep, every returned message ("am n movie, ur rite, adam sandler sux") distracts from the experience. That controversial suggestion - a trial of mobile phone jamming combined with light-hearted reminders on screen before the movie - is worth considering.
EDITOR'S NOTE: UNFORTUNATELY, MY EXPERIENCE DOING LIVE THEATER IS THAT MOST OF THE PEOPLE WHO NEED TO BE TOLD TO BE POLITE, DON'T THINK THE MESSAGE APPLIES TO THEM. (
OUR MOST RECENT PRODUCTION HAD A VERY CLEAR MESSAGE TELLING PATRONS TO TURN OFF THEIR PHONES AND THAT NO PICTURE-TAKING WAS PERMITTED. THIS WAS NOT AMBIGUOUS OR VAGUE. BUT THERE WERE TOO MANY OCCASIONS TO COUNT OF PEOPLE CARRYING ON PHONE CONVERSATIONS AND/OR TAKING FLASH PHOTOS RIGHT IN THE MIDDLE OF THE PERFORMANCES.
). SHORT OF BEATING OFFENDERS WITH LARGE STICKS, I'M NOT SURE THAT THE MESSAGE IS GOING TO GET THRU.
NOT THAT I'M OPPOSED TO THE LARGE STICK IDEA, MIND YOU.....
Forgetting you're not in your loungeroom
There are discussions you can quite happily have at home. They go along the lines of: "Wasn't she in that film with - what's his name? - Morgan Freeman?" "What? Million Dollar Baby?"
"No, silly, the one where he was God. The comedy."
"You mean Bruce Almighty?"
"That's the one. She was the wife of that funny guy?"
"What funny guy?" Etc etc etc.
For the comfort of other patrons, it's best not to have these discussions in the cinema.
Non-movie chatter
Say what you like during the commercials and the trailers. Feel free to comment on the upcoming attractions. But once the movie starts, it's best to leave discussion of romantic prospects, dinner plans, holiday arrangements, sex lives and other issues until later. The out-of-sync chuckles and gasps can startle other viewers.
The confectionary bar's dream customer
Everyone loves a Choc Top, a box of popcorn or even, in upmarket cinemas, an alcoholic drink. But unless the movie is 18 hours long, it's hard to justify half the contents of the confectionary bar.
The crinkle of chips or lollies being carefully opened so as not to distract other patrons does, in fact, distract other patrons. The greatest sin of all: bringing takeaway chicken from a fast-food restaurant. Now that's distracting.
Asking to swap seats
I don't want to sound precious but the natural order of the universe is fractured when latecomers ask patrons to move seats. Sure, they want to sit together. But they could move down the front in a half-full cinema. Or even arrive on time! And if they can't sit together, it doesn't mean they are separated from their loved ones for life. Just 100 minutes or so.
Kicking, knocking or spilling on other patrons
Hard as it is to believe when you're a teenager on a date, physical contact is inevitable in cinemas. But compulsive kicking of the seat in front can raise tension levels. So can a crack on the back of the head from a briefcase or half a Jumbo Coke in the lap. An apology is one time when it's OK to speak during a movie.
Intrusive ushers
The ritual of ushers entering the cinema, walking up one aisle, across the screen then up the other aisle is baffling to many patrons. I assume it's an exercise program.
But if it has to do with security or checking patrons, it's best if it doesn't distract half the audience during a movie.
EDITOR'S NOTE: WE WERE AT THE MOVIES JUST LAST WEEK AND THE SLOWEST-MOVING USHER IN THE WORLD TRAIPSING UP ONE SIDE OF THE THEATER AND ACROSS THE FRONT, AND THEN UP THE OTHER SIDE, ALL THE WHILE WAVING A BIG RED BATON. AS SLOWLY AS HE WAS MOVING, IF THIS IS SOME SORT OF SECURITY PROCEDURE IT DIDN'T MAKE ME FEEL SAFER, JUST ANNOYED.
In a South Coast cinema, I can remember the usher crossing the screen at the exact moment Julia Roberts was facing certain death. By the time he'd moved on, Julia's attacker was dead and she had survived to make more romantic comedies and win an Oscar. I still have no idea how it happened. My theory: the usher did it.
AND SNEAKING IN A BIT OF ODDBOB (INCLUDING THIS FIRST ITEM, THAT ISN'T EVEN ALL THAT ODD!) ---
Film of the book: top 50 adaptations revealed
Mark Brown Wednesday April 19, 2006
The Guardian
As anyone who has seen any version of
Anna Karenina
knows, a great book does not necessarily make a great film. And while
The Godfather
was a great movie, was it a great novel? Probably not.
These and other debates went into deciding a longlist of what are deemed the 50 best film adaptations of all time.
Organised by
the Guardian
, a panel of experts has drawn up the list, which will be voted on by the public. The chains Waterstones and Borders are also involved and will promote the books in shops.
Andrew Pulver, the Guardian's film editor, who was on the panel, said: "
There was some vigorous debate."
Among the issues under discussion was whether the film could be adapted from non-fiction. The answer was yes, but only in the case of
Goodfellas
, Martin Scorsese's mafia classic based on Nicholas Pileggi's account of the life of the gangster Henry Hill.
Short stories are allowed and
Brokeback Mountain
is there, based on Annie Proulx's piece originally published in New Yorker magazine. Stephen King could have been in the list three times over for short stories from one collection. In
Different Seasons
, three out of four of the stories became films -
The Shawshank Redemption, Stand By Me
and
Apt Pupil
.
The films of Stanley Kubrick could also have been in there several times since most of his movies were adapted works. The two which made the list are his version of Anthony Burgess's
A Clockwork Orange
and Vladimir Nabokov's
Lolita
.
Jane Austen is included once, for
Pride and Prejudice
rather than Emma Thompson's Oscar-winning adaptation of
Sense and Sensibility
directed by Ang Lee.
And then there are the ones which are not there - no JK Rowling for
Harry Potter
or Tolkien for
Lord of the Rings,
nor EM Forster for
Howards End, Room With a View
or
Maurice
.
EDITOR'S NOTE: WHY NOT? YOU GOT SOME SPLAININ TO DO HERE! (AND WHY

NOT

EMMA THOMPSON'S "SENSE AND SENSIBILITY"?)
The Guardian
, in association with the Book Marketing Group, will publish a supplement in the Film & Music section on May 5 when voting will begin. The winner will be revealed at the Guardian Hay literary festival at the end of May.
From words to pictures
1984
Alice in Wonderland
American Psycho
Breakfast at Tiffany's
Brighton Rock
Catch 22
Charlie & the Chocolate Factory
A Clockwork Orange
Close Range (inc Brokeback Mountain)
The Day of the Triffids
Devil in a Blue Dress
Different Seasons (inc The Shawshank Redemption)
Do Androids Dream of Electric Sheep? (aka Bladerunner)
Doctor Zhivago
Empire of the Sun
The English Patient
Fight Club
The French Lieutenant's Woman
Get Shorty
The Godfather
Goldfinger
Goodfellas
Heart of Darkness (aka Apocalypse Now)
The Hound of the Baskervilles
Jaws
The Jungle Book
A Kestrel for a Knave (aka Kes)
LA Confidential
Les Liaisons Dangereuses
Lolita
Lord of the Flies
The Maltese Falcon
Oliver Twist
One Flew Over the Cuckoo's Nest
Orlando
The Outsiders
Pride and Prejudice
The Prime of Miss Jean Brodie
The Railway Children
Rebecca
The Remains of the Day
Schindler's Ark (aka Schindler's List)
Sin City
The Spy Who Came in From the Cold
The Talented Mr Ripley
Tess of the D'Urbervilles
To Kill a Mockingbird
Trainspotting
The Vanishing
Watership Down
EDITOR'S NOTE: AND FINALLY....ODDBOB, BACK IN ODD FORM ---
Yet another person died recently at a Disney theme park, this time on the "Mission: Space" ride at Orlando's Disney World.
As a public service, we thought we'd warn you about other potentially fatal Disney attractions.
The Top 5 Hazardous Disney Attractions
5> Jiminy Cricket's Spiketacular Carousel of Pokin', Gougin' Nails
4> The Splatterhorn
3> Buzz Lightyear's Assprobe Orbiter
2> It's a Small Pox
and Number 1 Hazardous Disney Attraction...
1> Mad Hatter's Piping-Hot Brimming Teacup Sit 'n' Spin Ride
EDITOR'S NOTE: AH ME.....HAVE A NICE WEEKEND,DWEEBPALS!