BIG Star Wars News this week!
EDITOR'S NOTE: FIRST UP, SOMETHING REALLY SILLY. BUT SILLY IS WHAT WE DO BEST, RIGHT?
May The 4th Be With You!
Hey everyone, check out your calendar, today is May 4th!
Be sure to spread the good word of Star Wars today!
May the 4th be with you!
EDITOR'S NOTE: UMMM...GET IT? HUH HUH HUH? (SNORT).
This September: Original Unaltered Trilogy on DVD

Fans can look forward to a September filled with classic Star Wars nostalgia, led by the premiere of
LEGO Star Wars II: The Original Trilogy
video game and the long-awaited DVD release of the original theatrical incarnations of the classic Star Wars trilogy.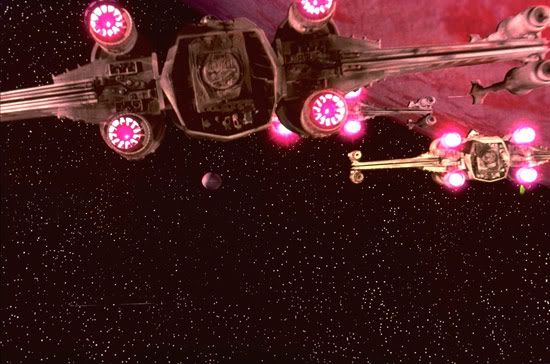 In response to overwhelming demand, Lucasfilm Ltd. and Twentieth Century Fox Home Entertainment will release attractively priced individual two-disc releases of
Star Wars, The Empire Strikes Back
and
Return of the Jedi
. Each release includes the 2004 digitally remastered version of the movie and, as bonus material, the theatrical edition of the film. That means you'll be able to enjoy
Star Wars
as it first appeared in 1977,
Empire
in 1980, and
Jedi
in 1983.
EDITOR'S NOTE: I AM TEMPTED TO MAKE SNARKY COMMENTS ABOUT THIS....UNCLE G GOING BACK TO MY WALLET/WELL TOO OFTEN, ETC....BUT LET'S FACE IT.....IF THEY SELL IT, WE WILL BUY. RIGHT?
AND BY 'WE', I MEAN ME. AND PROBABLY YOU, TOO? AND YES, IT IS SILLY, BUT DON'T THEY USUALLY MAKE IT WORTH OUR WHILE? PUT LITTLE EXTRAS OR SUCH ON THERE?
OF COURSE, HOW SOON BEFORE WE GET TO BUY IT ALL OVER AGAIN IN HD-DVD? OR 3D?
OR MAYBE THEY CAN JUST BEAM IT DIRECTLY INTO OUR BRAINS IN YET ANOTHER NEW VERSION? (AH....TO DREAM.....)
This release will only be available for a limited time: from September 12th to December 31st. International release will follow on or about the same day. Each original theatrical version will feature Dolby 2.0 Surround sound, close-captioning, and subtitles in English, French and Spanish for their U.S. release. International sound and subtitling vary by territory.
"
Over the years, a truly countless number of fans have told us that they would love to see and own the original version that they remember experiencing in theaters
," said Jim Ward, President of LucasArts and Senior Vice President of Lucasfilm Ltd. "
We returned to the Lucasfilm Archives to search exhaustively for source material that could be presented on DVD. This is something that we're very excited to be able to give to fans in response to their continuing enthusiasm for Star Wars. Topping it off with a new interactive adventure makes September 12 a red-letter day for Star Wars fans."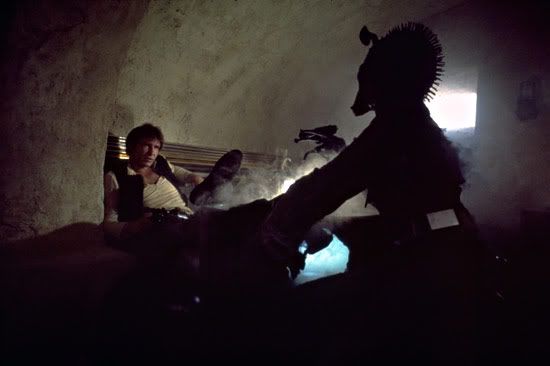 That's also the day fans will be able to experience the
LEGO Star Wars II: The Original Trilogy
video game, the action-packed sequel -- filled with tongue-in-cheek humor -- to one of the best selling video games of 2005.
EDITOR'S NOTE: I PLAYED THIS WITH MY 11-YEAR-OLD NEPHEW THE LAST TIME I VISITED HIM. (OR RATHER,

HE

PLAYED IT, AND I GOT KILLED A LOT. AND INCOMPREHENSIBLY KILLED. AS IN, I HAD NO IDEA

WHAT THE HECK WAS GOING ON

). IT'S VERY COOL-LOOKING, THOUGH.
Exclusive T-shirts to Commemorate DVD Release

In celebration of the release of the Star Wars trilogy on individual DVDs -- with each one including the original unaltered theatrical version of the film as a special bonus -- StarWarsShop is offering three exclusive t-shirts available only to our shoppers for a limited time! Each shirt will also be accompanied by an exclusive collector card, which is available in limited quantities while supplies last.
The first tee in the series,
Han Solo,
portrays the classic trilogy hero ready to take on an Empire -- look for two more tees to follow in the coming weeks.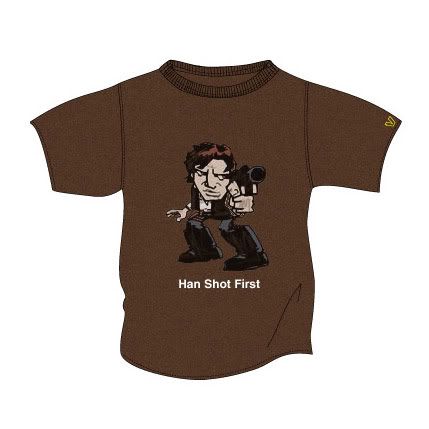 EDITOR'S NOTE: FOR ALL THE SNARK, LET'S PUT THIS IN PERSPECTIVE HERE, OK? THIS IS LIKE 'NEW COKE' MAKING HAY ON THEIR FAN-FURY FLOP. GOD BLESS UNCLE G. HE EVEN MAKES GOOD WHEN HE MAKES BOOBOOS. (GENIUS!)
This exclusive t-shirt artwork, which is only available from StarWarsShop, will have a distressed, worn look that includes the chapter text "IV" on the sleeve. A great vintage look to commemorate the DVD debut of the vintage film!
Another Star Wars movie?
Seems the "Star Wars" film franchise mightn't have ended with Vader 'rising' from that bench, after all…well, not if Lucasfilm's Rick McCallum has his way, anyway.
Asked by
IESB
if he would like to continue the "Star Wars" series on the big screen, Uncle George's right-hand man said he'd "
definitely
" love to see another "Star Wars" film back at theatres before you, and me are six feet in soil.
Assumingly, any new "Star Wars" movie/movies won't have anything to do with the long-suffering Skywalker clan, but centre on another bunch of galactic space heroes. If I were a betting man – and for the sake of my bookie reading this news item, I aren't – I'd put money on a film idea spawning from the "Star Wars" TV series that is currently in early-development. It's said to be fixing around the world of the bountyhunters. Now, how cool would a film about some of those hired guns, like Bobba Fett, be? Just guess work.
EDITOR'S NOTE: DOES UNCLE GEORGE ACTUALLY

LISTEN

TO RICKYPOO? ISN'T LITTLE RICKY JUST THERE TO CURSE, SMOKE, AND BANTER? I WOULD BE VERY SURPRISED IF ANY MORE MOVIES HAPPEN. I GUESS, LET'S SEE HOW THE TV THING GOES. BUT UNCLE GEORGE HAS SAID HE WANTS TO DO OTHER THINGS WHILE HE STILL CAN, AND I CAN'T IMAGINE HIM TURING OVER THE SW REINS TO ANYONE ELSE.
TIME WILL TELL. BUT METHINKS THIS IS MERELY RICKY-BABBLE.
Meantime, McCallum confirmed that the original "Star Wars" films will be re-issued at theatres in future – as 3-D releases.
EDITOR'S NOTE: YES YES YES.....BUT

WHEN

???!!!
Revenge Of The Sith On Cable TV
Fan of TheForce.net "Jedi518" found this news and wanted to share!
Just checked the schedule for the month of June for HBO and saw that
Star Wars Episode III: Revenge of the Sith
will premiere on HBO on June 3rd 8pm.
EDITOR'S NOTE: GOOFY THAT THIS EXCITES, GIVEN THAT WE ALL HAVE COPIES OF THE DVD. BUT IT'S FUN TO CHANNEL SURF AND SEE OUR BEST FRIENDS, HUH?
Lucas takes on new role: 'Star Wars' action figure
Not that long ago, in a galaxy right nearby, George Lucas joined forces with the dark side.
The "Star Wars" creator has become a Storm Trooper.
Hasbro, maker of "Star Wars" toys, is paying plastic tribute to Lucas, interpreting him as a limited-edition action figure in Storm Trooper attire.
The head of the toymaker's "Star Wars" division called Lucas "
the greatest character in the universe
."
"
We took a cue from when Han Solo and Luke disguised themselves as Storm Troopers
," said Derryl DePriest, marketing director and admitted lifelong "Star Wars" fan. "
We placed George in his own universe that he created."

EDITOR'S NOTE: SO...PIC? WHEN CAN WE BUY? ETC? (INQUIRING MINDS WANT TO KNOW, DARN IT!)



2006 Hyperspace Membership Kit Poster
As reported in an earlier post, this year's Hyperspace Membership Kit ( shipping soon! ) will include a poster. Well we've found out who the artist is and what the poster looks like! Here's this great piece titled "Padme" by Tsuneo Sanda
EDITOR'S NOTE: I'M NOT A HUGE FAN OF THIS ARTIST. HE'S KINDA THE STAR WARS VERSION OF LEROY NEIMAN. BUT THIS POSTER IS PRETTY COOL. (AND FREE IS

ALWAYS

GOOD, YES?)
AND NOW.....STAR WARS PICS FOR THE WEEK: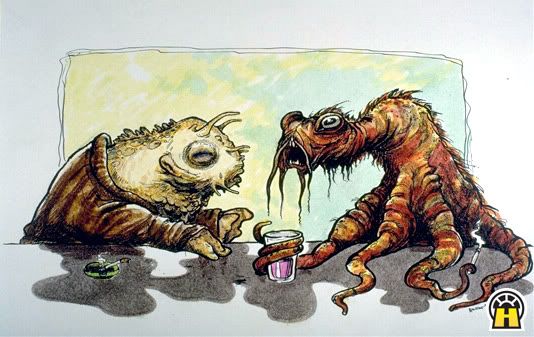 Ken Ralston illustrates these possible candidates for inclusion in Jabba's palace.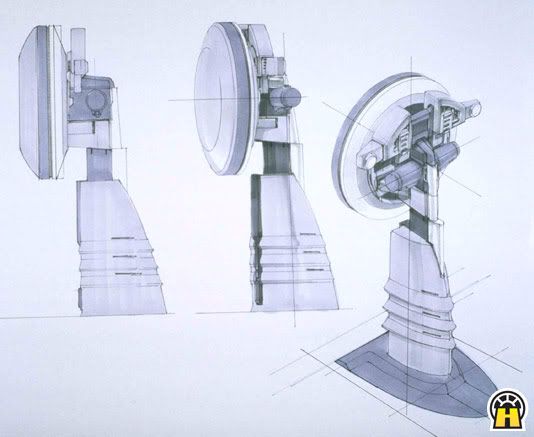 Jay Shuster's illustration of one of the control pedestals found aboard the Trade Federation battleship -- meant to be reminiscent of an old seafaring ship's wheel.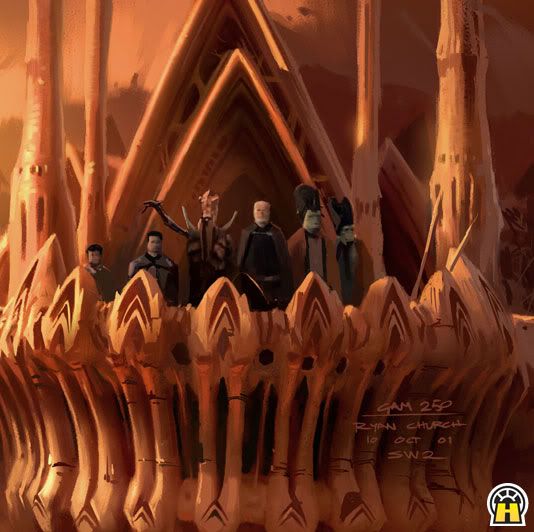 Ryan Church sets the mood in this digital painting of the archducal viewing box in the Geonosian execution arena.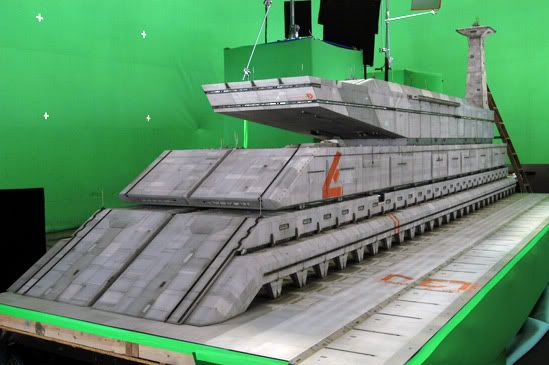 The huge clone embarkation area on Coruscant was realized as a large model environment at ILM.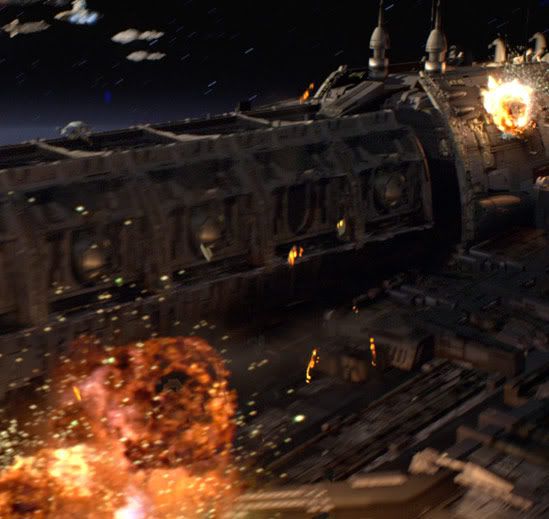 Spectacular explosions ignite the Trade Federation cruiser as General Grievous makes his escape.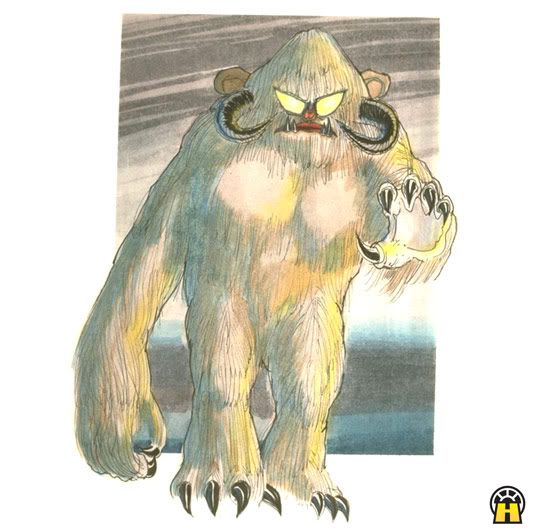 This early Joe Johnston illustration of the wampa ice creature had it appear very alien as compared to its more naturalistic final version.

EDITOR'S NOTE: AND LOOK...HE'S WAVING AT YOU! WAVE BACK!
DID YA WAVE?