Dweebing, the Misc. Dweeb Items
EDITOR'S NOTE: FIRST UP, A WEE BIT MORE MOVIE NEWS. (AND CHECK OUT THIS FIRST ONE!) ---
Firth, Weisz ready for war in 'Colossus'
CANNES -- Colin Firth, Rachel Weisz, Ian McKellen and Susan Sarandon have signed to star in Katselas Films' Boer War political thriller "The Colossus," the company announced Friday. EDITOR'S NOTE: OH MY GOSH...WHAT A CAST! THESE 4 PEOPLE COULD JUST WANDER BY THE SCREEN FROM TIME TO TIME, AND I'D BE HAPPY. (USUALLY I WOULD BE HAPPY JUST WITH COLIN FIRTH. BUT I'M FEELING GREEDY. AND I THINK RACHEL WEISZ HAS TO BE ONE OF MY MAIN SWITCH-LIST CHICKS, SO IT IS ALLLLLL GOOD, BABY!)
Based on the novel Manly Pursuits by Ann Harries, "Colossus" is being produced by Lisa Katselas ("Richard III," "Mrs. Dalloway") and directed by Sean Mathias ("Bent"), who wrote the screenplay with Myer Taub. Currently in pre-production, principal photography is expected to begin in fall 2006.
The $15 million-budgeted movie tells of ailing arch-colonist Cecil Rhodes' belief that he can only recover his health if he can hear the sound of English song birds outside his window in Cape Town. Ornithologist Francis Wills is hired to transport 500 songbirds to Rhodes's home in South Africa where he falls in love with Olive Schreiner, a local firebrand activist fighting against Rhodes and trying to prevent the inevitable war against the Boers. Wills finds himself at the dangerous center of a daring plot to stop the war. Los Angeles-based worldwide sales and marketing company, the Little Film Co., is handling worldwide sales for the film in Cannes.
EDITOR'S NOTE: AND NOW...FROM THE SUBLIME, TO THE RIDICULOUS. (AIN'T THAT OFTEN THE WAY?)
Spacey Vs Santa
Vince Vaughn and Paul Giamatti's Christmas comedy now has a name – Joe Claus. And it also has a villain in Kevin Spacey.
The David Dobkin- directed movie will see Vaughn's deadbeat Claus brother join Santa in the North Pole. It's not just Spacey signing on – John Michael Higgins (who will appear with Vaughn in The Break-Up) is Santa's head elf, and Spacey's old pool table buddy and Shipping News co-star Judi Dench will also appear.
A London shoot this autumn means that Spacey can still maintain his ties to the Old Vic theatre, for which he's currently preparing to star in a revival of Moon For The Misbegotten.
Scarlett Is Brilliant
Scarlett Johansson as a jewel thief? EDITOR'S NOTE: SURE. WHY NOT?! Barry Levinson thinks she makes the perfect tealeaf, since he's cast her in his next film, heist movie Brilliant.
With a screenplay by Gillian Gorfil and Elizabeth Shorten, the film will see Johansson's gem snatcher teaming up with a con man to pull off the greatest heist in history. But their relationship is complicated by a serious love/hate vibe.
Levinson will start shooting once his star has finished work on The Nanny Diaries and the male lead has been cast.
Malkovich Is In Disgrace/Takes over from Fiennes in a drama
It's a case of Fiennes out, Malkovich in as the cast of academic scandal drama Disgrace changes.
Fiennes had been lined up to play a professor of romantic poetry who dives into a torrid affair with one of his students. He's discovered (hence the title) and driven into exile. But the situation grows worse when the lovebirds come under attack.
Now John Malkovich will be playing the part of the lusty yet tragic prof. The film, which will be directed by Steve Jacobs, was adapted from JM Coetzee's Booker Prize-snagging novel by Anna-Maria Monticelli. The production kicks off in the autumn. EDITOR'S NOTE: I KNOW IT'S SHALLOW OF ME, BUT WATCHING FIENNES (THEY DON'T SAY WHICH FIENNES, BUT EITHER ONE) BE NAUGHTY IS ENJOYABLE. THINKING ABOUT MALKOVICH GETTIN DOWNANDFUNKY MAKES ME QUESTION MY HETEROSEXUALITY. BLEH. (HAVE YOU SEEN PICTURES OF HIM LATELY? FOR THOSE OF YOU THESPYHOUSTON TYPES.....HE LOOKS LIKE ROB BABBITT MERGED WITH GREG BOYD. NOW......THINK ABOUT THAT NAKED......)
BATHE AND COME BACK.....
StrathairnTackles Challenger/A new docu-drama
Philip Kaufman changed the way we look at astronaut dramas with legendary historical pic The Right Stuff. Now the director will be taking a long, hard stare at a more tragic part of US space history with Challenger.
The film will star Good Night, And Good Luck's David Strathairn as scientist and Nobel Laureate Richard Feynman, who was part of the team leading the investigation into 1986's space shuttle disaster.EDITOR'S NOTE: UNLIKE CURRENT/UPCOMING THE 9/11 FILMS THAT FEEL TOO SOON, THIS FEELS LIKE THE TIMING MIGHT BE OK, LIKE WE MIGHT BE ABLE TO STAND JUST FAR ENOUGH AWAY FROM THE EVENT TO MAKE THE FILM BEARABLE.
Written by Nicole Perlman, the movie is described as taking a look at the probe and the man involved in the same way that The Insider chronicled Jeffrey Wigand's whistle-blowing role in the tobacco world.
Shalhoub Heads American/EastAn Arab-American saga
Tony Shalhoub, who will next be seen rather than heard in the new Pixar movie Cars, has agreed to star in AmericanEast, an Arab-American drama.
Director Hesham Issawi co-wrote the script with Sayed Badreya, who will also take a starring role. Joining Shalhoub and Badreya in the cast is Paradise Now's Kais Nashif.
The movie will examine ignorance about Arab culture, and spotlight the pressure that Arab-Americans are put under on a daily basis.
"Our goal was really to show other people that we are no different from them," Issawi told Variety. "To do that we focused on one normal guy, who just happens to be a Muslim, and we show what kind of pressure these external forces can have on a person who's simply trying to carry on."
The film will crank into production in July in LA.
Gladiator: The Musical?
Could you picture Ridley Scott's Gladiator as an all-singing, all-dancing musical? EDITOR'S NOTE: NOPE. NOT SO MUCH....Well, maybe not the dancing part, but if Lord Of The Rings can become a tune-laden theatre extravaganza, then clearly anything can. EDITOR'S NOTE: THE REVIEWS MAKE IT SOUND LIKE THE VOTE IS STILL OUT ON WHETHER LOTR REALLY CAN BE CONSIDERED A SUCCESSFUL TRANSFER TO MUSICAL FORM.
But according to reports over at Contactmusic, the tale of Maximus Decimus Meridius will be the next big thing on the West End stage. With one of the movie's writers (William Nicholson) apparently hard at work on the story and plans to use Hans Zimmer's music already afoot, all that's left to sort out is who'll be playing the armoured hero.
The producers are apparently looking at Broadway regular Brian Stokes Mitchell to take over the part.
"It's a terrific story which, with the right songs, will be a great show," an "associate" of producer Brian Eastman apparently told the site.
A Change In 'Toon Town/CG cartoon gets a new helmer
Mike Johnson, who co-directed The Corpse Bride with Tim Burton, has been drafted in to take over directing Universal's animated movie The Tale Of Despereaux. Despereaux is based on Kate DiCamillo's book The Tale Of Despereaux: Being The Story Of A Mouse, A Princess, Some Soup And A Spool of Thread, which Universal optioned two years ago.
Sylvain Chomet, who brought us Belleville Rendezvous, had planned to direct the film, but was also trying to make another 'toon based on an unproduced Jacques Tati script. But the load became too great and now Johnson will handle Despereaux.
The CG-animated story follows the misadventures of three friends, a banished mouse, a rat who loves light and a girl with cauliflower ears, who help a princess.
Feeling Sheepish/A new animated animal adventure
Talking animals are back in a big way for animated movies. With Over The Hedge just arrived, farm 'toon Barnyard due this summer and Christmas seeing the arrival of the penguins in Happy Feet,EDITOR'S NOTE: AN ASIDE......IF THIS MOVIE IS ANYWHERE NEAR AS GOOD AS THE TWO TRAILERS I'VE SEEN SO FAR, OH MY GOLLY IT IS GOING TO BE GREAT! (THE FIRST ONE WE SAW WAS A FULL-ON BUSBY BERKLEY TAP NUMBER. TODAY, WE SAW "MY WAY" SUNG...BY PENGUINS, NATCH....IN SPANISH. HYSTERICAL!) you might think that all the stories about chatting critters would be taken.
Not so.
IDT thinks it's found an idea worth herding on to the screen with Sheepish, a tale of a wolf who goes against the code of his pack and is cursed to become a sheep. EDITOR'S NOTE : OH GOSH OH GOSH OH GOSH! MUST GO. MUST BUY ALL THE LOGO'D GOODIES. (JOEL GETS HIS PENGUIN MOVIE WITH "HAPPY FEET" AND THEN I GET SHEEP. LIFE IS SO VERY VERY GOOOOOOOOOOOD).
The movie will be co-directed by Saul Blinkoff and Elliott Bour, two former Disney animators who recently helmed Emperor's New Groove DVD sequel Kronk's New Groove. The script is by Bert Coughlin, who worked on the character animation for Shrek.
EDITOR'S NOTE: AND NOW, A HODGEPODGE OF THIS AND THAT.
Sony to test new '4K' digital projectors
After more than a decade of talking about it, movie theaters and studios are finally rolling out digital projectors that show sharper, brighter images without cracks, pops or hisses. EDITOR'S NOTE: ONCE AGAIN, UNCLE GEORGE IS GOING TO LOOK PRESCIENT. WHEN WILL THEY LEARN THAT THEY SHOULD ALWAYS LISTEN TO THE BEARDED MAN?!
This weekend, Sony Electronics will enter the field with a projector that displays the sharpest resolution envisioned under a set of standards issued for digital cinema.
Movie studios last year agreed on such technology standards, which will allow components made by different manufacturers to be interoperable. Those components include the projector itself, the computer that stores the movie and sound, software that compresses the huge digital files and security systems that prevent piracy. And, after years of debate about who would pay for the systems, studios and companies that sell digital cinema systems agreed to share the cost. Studios stand to save millions each year by delivering digital versions of their films to theaters instead of prints that get scratched and dirty after only a few weeks and have to be replaced. EDITOR'S NOTE: BOW BEFORE THE BEARDED MAN, AND BEG HIS FORGIVENESS FOR DOUBTING HIM, OH YEA MOVIEPEOPLEOFLITTLEFAITH.

MR. & MRS. SMITH Unrated on DVD in June




Mr. & Mrs. Smith Unrated Collector's Edition is coming to stores on June 6, 2006. The DVD stars Brad Pitt and Angelina Jolie as an emotionally distant married couple who discover they're each leading secret lives as assassins.
The DVD will be available in widescreen and includes a new unrated version of the film.
Features include:
- Deleted scenes, including an alternate ending EDITOR'S NOTE: MR. SMITH STOPS MESSING AROUND AND GOES BACK TO HIS WIFE? (SNICKER....)
- Full-length feature commentary by director Doug Liman
- "Doug's Film School" featuring sequence breakdowns with the director, including animatics, storyboards and a major action sequence not included in the film
- "Confidential Files" featuring secret footage
- A behind-the-scenes documentary
- "Shooting School" featuring combat training
- Photo gallery
Suggested retail will be $26.98 U.S./$37.98 Canada.

New film music CD series for beginners
Silva Screen Records in the UK have launched a new series of film music compilations entitled Film Music Masterworks.
The first two albums will focus on the music by John Barry and Ennio Morricone, with subsequent releases presenting the music of James Horner, John Williams, Jerry Goldsmith and Nino Rota.
Silva Screen's Rick Clark explains that these 'super mid-price' albums "are meant to be a starting point for people to get into film music." EDITOR'S NOTE: WHAT A GREAT IDEA!
First two albums will be available next week.
www.silvascreen.co.uk

Captain Kirk Figure Exclusive to Comic Con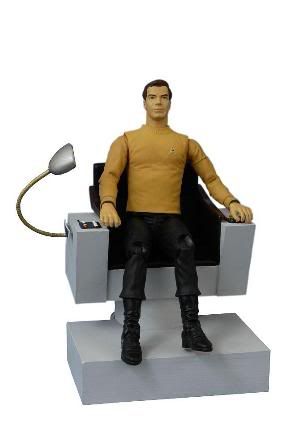 EDITOR'S NOTE: NOT THE MOST DETAILED, ACCURATE SCULPT IN THE WORLD. BUT NOT DREADFUL.
More info from the Comic Con front. Diamond Select Toys has announced the latest exclusive item available at this year's Comic Con, Captain Kirk!
A deluxe Star Trek Captain Kirk and Command Chair action figure will be available only from DST during this summers Comic Con. It will be packaged in a deluxe window box and retail for $25.00 at the DST booth.
Two other figures will be released later this year, one with Kirk in standard uniform and one with Captain Pike (The Cage).

BATTLESTAR GALACTICA Comic Initial Print Numbers
The initial print run for the launch of Dynamite Entertainment's all-new Battlestar Galactica comic has been set at over 175,000 copies.
"We're obviously very happy with the reception #0 has had in all aspects of the marketplace," explained Dynamite spokesperson J. Allen. "And the outreach and promotional opportunities we're working on with Universal, SCIFI and others are sure to help drive customers into their local comics shop - for not only the specially priced #0 issue, but the ongoing series as well."
The number is a bit staggering. 175,000 copies! To be fair, the book is selling for only 25 cents, but still ... 175,000 copies is 175,000 copies.
Big jump for French admissions
PARIS -- French cinema attendance rocketed 20.6 million admissions in April, a 32% increase from the same month last year, according to figures released Thursday by the Center National de la Cinematographie.
EDITOR'S NOTE: FOR THOSE OF YOU KEEPING TRACK OF THIS SORT OF THING?
In the first four months of the year, some 74 million tickets were sold, up nearly 20% from the same period in 2005. At an average ticket price of about $7.50, this represents a boxoffice boost to $523 million for the period from $432 million last year.
Market share for homegrown fare during the period was marginally up at 51.2%, spurred by the record opening of Gallic vacation caper "Camping," which scored the second-best opening of the year at the end of April. U.S. films accounted for just under 40%, down slightly from the first four months of 2005.
EDITOR'S NOTE: STILL....40% MUST REALLY GALL THEM. (GET IT....? GALL??? GIGGLE).
To NATO, in-theater ads look like a billion bucks
NEW YORK -- Cinema advertising could be a $1 billion business in a few years, National Association of Theatre Owners president John Fithian said Thursday at the Cinema Advertising Council's second annual Marquee Marketing at the Movies event.
"
Patrons are not just comfortable with the preshow, they actually like it,"
Fithian said at the gathering designed to entertain and rally Madison Avenue a week before it goes through the broadcast networks' annual upfront presentations.
EDITOR'S NOTE: WE 'LIKE' IT? WE DON'T MIND IT. IT'S PRETTY EASY TO IGNORE. (JUST LIKE MOST OTHER ADVERTISING, COME TO THINK OF IT).
Last year, Fithian said, cinema advertising accounted for $500 million in revenue for theater owners, ranking third behind the core revenue streams of ticket sales and concessions. With total year-to-date revenue for theaters up over last year, advertisers and theater owners are optimistic that the medium's growth momentum will continue.
EDITOR'S NOTE: AND NOW....AN ANGRY VOICE IN THE DARKNESS ABOUT SOME OF THE 'WONDERFUL' NEW THINGS COMING OUR WAY FOR OUR HOME THEATER SYSTEMS ---
Why the World Doesn't Need Hi-Def DVD's
David Pogue
NYTimes.com
WHEN did you first become cynical about the electronics industry?

Was it when VHS went out of style, and you had to buy all your movies again on DVD? Was it the time(s) you never got the rebate you mailed away for? Or was it when your computer's 90-day warranty expired, and the thing croaked two days later?

Doesn't matter. As it turns out, you didn't even know the meaning of the word cynical. This month, Toshiba's HD-A1 high-definition DVD player hit store shelves. It's the first marketplace volley in an absurd and pointless format war among the titans of the movie, electronics and computer industries.

Just contemplating the rise of a new DVD format is enough to make you feel played. What's wrong with the original DVD format, anyway? It offers brilliant picture, thundering surround sound and bonus material. The catalog of DVD movies is immense and reasonably priced. And DVD players are so cheap, they practically fall out of magazines; 82 percent of American homes have at least one DVD player.

To electronics executives, all of this can mean only one thing: It's time to junk that format and start over.
Of course, the executives don't explain this decision by saying, "
Because we've saturated the market for regular DVD players."

Instead, they talk about video and picture quality. A DVD picture offers much better color and clarity than regular TV, but not as good as high-definition TV. The new discs hold far more information, enough to display Hollywood's masterpieces in true high definition (if you have a high-definition TV, of course).

UNFORTUNATELY, this idea occurred simultaneously to both Sony and Toshiba. Each dreamed up its own format for a high-def DVD. Each then assembled an army of partners. Toshiba's format, called HD-DVD, has attracted Microsoft, Sanyo, NEC and movie studios like New Line and Universal. Sony's format, called Blu-ray, has in its camp Apple, Panasonic, Philips, Samsung, Sharp, Pioneer, Dell and movie studios like Sony, 20th Century Fox and Disney. (Some companies, like HP, LG, Warner Brothers and Paramount, intend to create products for both formats.)

The new DVD players will play standard DVD's, but that's as far as the compatibility good news goes. Movies in Toshiba's format won't play in DVD players from Sony's side, and vice versa.

At first, pundits guessed that Sony's Blu-ray format might win, because it had signed up so many more movie studios, its discs have greater capacity, and the PlayStation 3, expected to top best-seller lists this fall, will double as a Blu-ray player.

But Toshiba has two aces up its sleeve. First, its first HD-DVD player is available now, giving it a head start; Blu-ray players aren't expected until the end of June. Second, this new player, the HD-A1, costs $500 — half the price of the cheapest Blu-ray deck.

The HD-A1 is a pretty big box: 17.7 by 13.3 by 4.3 inches, more like an early VCR than a sleek modern DVD player.
The $500 isn't the only price you pay for being an insanely early adopter; this baby is slow — really slow. It takes over a minute just to turn on; menus are sometimes slow to respond; and a newly inserted DVD takes 45 seconds just to get to the F.B.I. warning. (And no, even the brave new DVD format doesn't let you skip over that tiresome warning.)
EDITOR'S NOTE: WHO IN THEIR RIGHT MIND WOULD BUY THIS THING? I LOVE ALL THE NEW TOYS, BUT JUST FOR THE STRUT-VALUE OF BEING AN 'EARLY ADOPTER' YOU WOULD PAY EXTRA FOR INCONVENIENCE AND POTENTIAL (AND LIKELY) GLITCHES? LEAVE ME OUT OF THAT YOUKNOWWHAT'ING CONTEST, THANK YOU!

The remote is a disaster; its buttons are identically shaped and illogically placed. Not only are they not illuminated, but their labels are painted on faintly and in what must be 4-point type. (A sibling model, the HD-XA1, adds minor goodies like a backlit remote — for $300 more.)
Finally, though, the movie begins — and your shield of cynicism begins to waver. As you watch the brilliant colors, super-black blacks and ridiculously sharp detail — up to six times the resolution of a standard DVD — you realize that you've never seen anything quite this cinematic-looking in your home before.
EDITOR'S NOTE: OH. SNIFFLE....

Even high-definition TV doesn't look this good; the amount of information HD-DVD pumps to your screen dwarfs what you get from high-def satellite or cable (36 megabits a second maximum, versus 19 or less).

You need a big screen to benefit from all this picture data, however. The impact of the extra detail begins to evaporate at screen sizes below, say, 35 inches.

Even on a small screen, though, you don't have to interrupt the movie to open the DVD menu (to get access to settings and extras); on a high-def DVD, the menu appears at the bottom or side of the screen as the movie continues to play.

That feature makes it quick and easy to turn on subtitles during a mumbled scene, for example, or to tune in the director's commentary track without losing your place. I watched six beautifully made HD-DVD movies from Warner and Universal, including the gut-churning "Training Day" and a spectacular "Apollo 13." (It's a tough job, but someone's got to do it.) I quickly concluded that the new on-screen menu system makes the old DVD-menu system look confusing and crude in comparison.
The new DVD generation is supposed to offer several other sophisticated features. For example, director and actor commentaries can now include video, not just audio (the director appears in a small picture-in-picture window
EDITOR'S NOTE: OH COOL. THAT WILL MAKE IT MUCH EASIER IN THOSE 'GANGBANG' COMMENTARIES WITH A BUNCH OF PEOPLE TALKING, TO TELL WHO IS SAYING WHAT.
). Similarly, the A1's built-in Ethernet jack is supposed to let you connect to the Internet for interactive features.
No movies in the first wave include any of these goodies, however. (Shades of the Camera Angle feature that was supposed to be available on movies in the original DVD format? You decide.)
EDITOR'S NOTE: AGAIN...SO WHY NOT WAIT A WHILE TIL THE DUST SETTLES?

On the videophile blogs, you can find several cautionary notes regarding the HD-A1's audio and video signal outputs — details that will cause average people's eyes to glaze over, but may alarm high-end movie buffs.

For example, don't buy this player if you're hoping to future-proof your home theater. As any geek can tell you, HDTV comes in several degrees of resolution: 720p, 1080i and 1080p. Weirdly, the Toshiba can't send out 1080p, which is the holy grail. (To be sure, this standard is still rare among TV sets, but it's the wave of the future.)
You should know, too, that you're guaranteed the sensational high-resolution HD-DVD picture only if your TV set has an HDMI connector (a slim, recently developed, all-digital jack that carries both sound and picture). If you use S-video or component cables instead, you may see only 25 percent of the resolution you're supposed to get — a maddening antipiracy feature that the studios can invoke at their option. (Most studios have said that they won't "down-res" those jacks, at least at first; they can begin doing so at any time, however.)
EDITOR'S NOTE: SO WHEN IS NOT ONLY MY DVD COLLECTION, AND MY DVD PLAYER GOING TO BE OBSOLETE? WHEN IS MY BEAUTIFUL, 46", YEAR-AND-A-HALF OLD DLP HD TV GOING TO BE A DINOSAUR? (GRRRR.....)

The fine print also includes cautions that the A1 contains a fan (though it's mercifully quiet), that your TV may require tweaking to tame the more intense HD-DVD colors, and that the DVD extras are not, generally speaking, in high definition.

Over all, though, the A1 does deliver the spectacular picture and sound promised by Toshiba. Should you buy one, then?
Not unless you're an early-adopter masochist with money to burn.
EDITOR'S NOTE: GUYS...AND IT'S BOUND TO BE MOSTLY GUYS...RAISE YOUR SILLY HANDS.

Reason 1: The average person can see the difference in picture quality, but only on a big, high-def screen, preferably side by side with a standard DVD signal. The leap forward is nowhere as great as it was from, say, VHS to DVD.

Reason 2: For a brand-new technology, the A1 is a reasonably priced razor — but it's got a serious blade shortage. Only 20 will be available by the end of this month, priced at $20 to $40, and only a couple of hundred are expected by year's end. (Tens of thousands are available in the traditional DVD format.)

Reason 3 (and this is the big one): You could be placing a very big bet on the wrong horse.

In fact, this might even be a race that neither horse wins; the public may well decide that regular DVD's are just fine as they are. (Remember SACD and DVD-Audio, two rival "high-definition audio" formats that also required new players and new discs? Didn't think so. Both are well on their way to the great eBay in the sky.)

You, and everyone else, have everything to gain by waiting until prices fall, the movie catalog grows and a single standard emerges. After all, how will you feel if you buy a player and a bunch of movies — and the one you picked turns out to be the Betamax of the new millennium?
Probably more cynical than ever.
EDITOR'S NOTE: CAUTIONARY FOOD FOR THOUGHT.
E-mail:
Pogue@nytimes.com
EDITOR'S NOTE: SAW "POSEIDON" LAST WEEK, AND LIKED IT A LOT. IS IT DEEPLY INTELLECTUAL OR LIFE-CHANGING? NO. OF COURSE NOT. IS IT A VISUALLY STUNNING ROLLER COASTER? YEP. JUST LIKE THE TRAILERS SUGGESTED IT WOULD BE. FUN. ESCAPIST FUN. (NOT SURE WHY THE REVIEWERS SAVAGED IT SO BADLY. WERE THEY EXPECTED PROUST GOES ON A BOAT, OR SOMETHING?)
Russell Holds His Breath
Kurt Russell and Emmy Rossum get wet in 'Poseidon.'
As one of the few stars of the new thriller "Poseidon" who was around when the original opened in 1972, Kurt Russell doesn't see why anyone would be upset about a remake.
"I must say I don't look at 'The Poseidon Adventure' as 'Gone with the Wind' or 'Casablanca
,'" Russell says. "
I look at it ... as the first of its genre. But that doesn't make it a classic, untouchable movie in my estimation."

And Russell admits his interest in the disaster flick came down to one person's involvement.
"I wasn't knocked out by the script,"
Russell admits. "
It was just Wolfgang --
Wolfgang Petersen
and drowning. That was it."



The "Escape from New York" star didn't have to worry about the dialogue anyway, because much of it was cut because of Petersen's deft directorial touch. Still, Russell thinks they could have gone even further. He says that, "If it were my movie, I'd make it a silent movie. I think it'd be one of the greatest silent movies ever. I would implore you to watch 'Troy' with the sound turned off." EDITOR'S NOTE: OH I AM REASONABLY SURE THAT "TROY" WOULD BE

MUCH

BETTER WITH THE SOUND OFF. BUT MAYBE NOT IN THE WAY RUSSELL IS IMPLYING. (AT LEAST WITH THE SOUND OFF, YOU WOULDN'T HAVE TO SUFFER THE BOMBASTIC...PAINFULLY BOMBASTIC....SCORE. URP).


Russell's comment gets a big laugh from the small group of journalists speaking to him, because "Troy," Petersen's previous flick, wasn't exactly critically acclaimed.




"I'm not saying that as a joke

," Russell says. "

You know what? With the sound down, it's a very different movie. That's why it did so well in Europe, I think. They can't understand what they're saying."

EDITOR'S NOTE: YES, ALSO AN IMPROVEMENT. AGAIN, NOT IN THE WAY I THINK RUSSELL INTENDS.




Make no mistake, Russell is very proud of his work on "Poseidon," although he notes for all the tough stunt sequences it had, "

nobody will ever do a harder movie than 'Backdraft.

'" That being said, Russell became incredibly ill during the production (he wasn't the only one). It turns out that he caught a rare strain of H. influenza from the dirty, water-filled sets. To make matters worse, he then got pneumonia. After 10 days off to recuperate, Russell was back on the set ready to shoot his difficult underwater sequences.



"I was fortunate in that regard,"

Russell says. "

During all of the stuff underwater, I was healthy. Everything else, I was sick. It's just one of those movies. I'd never had that happen, but it was a tough set -- smoke, fire, old stuff in the air being kicked up and around, water...."




Did you expect the man who played Snake Plissken to complain about some pesky little pneumonia? Please.

EDITOR'S NOTE: AND NOW, THE MARKETING SIDE OF THE DWEEB-VERSE:

Disney Loses Its Appetite for Happy Meal Tie-Ins
As more children lean toward obesity, Mickey and Co. lean away from McDonald's fast food.


For 10 years, Walt Disney Co. and McDonald's appeared to have the perfect marriage. Happy Meals bore little figurines of Nemo, Mr. Incredible and 101 Dalmatians.

But no more.

This is one relationship that's ending in part because of the children.

Disney is not renewing its cross-promotional pact with the fast-food giant, ending the arrangement with this summer's release of "Cars" and "Pirates of the Caribbean: Dead Man's Chest."

One reason, say multiple high-ranking sources within Disney, is that the company — which prides itself on being family friendly — wants to distance itself from fast food and its links to the epidemic of childhood obesity.

Under the terms of the agreement, said to be worth $1 billion to Disney, McDonald's paid $100 million in royalties and conducted 11 promotions a year for Disney films, videos and TV shows, with seven aimed specifically toward the young Happy Meal consumers. Disney also agreed to let McDonald's set up shop inside its theme parks.

Disney declined to discuss the breakup. But in a conference call last year, Pixar Animation Studios chief Steve Jobs — who is now Disney's largest shareholder in the wake of Disney's recent purchase of Pixar — signaled his ambivalence about using characters to sell fast food while promoting a film.

"

There is value" in fast-food tie-ins

, Jobs said then. "

But there are also some concerns, as our society becomes more conscious of some of the implications of fast food

."

EDITOR'S NOTE: SUBTEXT? WE'VE KNOWN ALL ALONG THAT THIS STUFF IS POISON, BUT WE WERE GETTING AWAY WITH IT. SO NOW, I GUESS WE'LL HAVE TO JUST MAKE UP THE PROFITS BY SELLING THE KIDS MORE MOVIES THAT DULL THEIR LITTLE BRAINS, AND HUNKS OF ACCOMPANYING JUNKY PLASTIC THAT EMPTIES THEIR LITTLE COIN PURSES.

And Disney is not the only studio that thinks French fries loaded with trans fats may be too hot to handle.

DreamWorks Animation SKG is working with McDonald's to promote "Shrek 3," due out next year. But according to one top-level source inside the studio, there is already internal debate about whether the lovable green ogre should steer clear of Chicken McNuggets and Big Macs in favor of the more healthful fare that McDonald's has added to its menu, such as salads (

Shrek

is, after all, overweight

EDITOR'S NOTE: THERE GOES THE MESSAGE FROM TEH FIRST "SHREK" ABOUT ACCEPTING EVERYONE FOR WHO THEY ARE, HUH?

).

The end of the Happy Meal partnership with Disney comes at a time when the processed- and fast-food industries are under fire on a number of fronts because of growing concerns about expanding waistlines, particularly among youngsters.

Last week, former President Clinton announced an agreement worked out by his William J. Clinton Foundation and the American Heart Assn. to persuade the makers of Coke, Pepsi and others to phase out the sale of sugary soft drinks in schools.

But some say the more discreet actions of the entertainment industry could ultimately have a greater influence, especially if other corporate giants follow suit.

"I think it would have impact in contributing to the cultural change that is necessary

," said Dr. J. Michael McGinnis, chairman of a National Academy of Sciences panel that just released a study showing how food marketing adversely affects children's diets. "

The committee thought it was important for the use of cartoon characters that appeal to children only to be used in the marketing of healthy products."

One of the industry's most prominent critics, "Fast Food Nation" author Eric Schlosser, said it would be "

hugely significant"

if Hollywood walked away from Happy Meals.

"It will put more pressure on McDonald's to change what they sell in Happy Meals. The obesity issue would be irrelevant if the food in the Happy Meals was healthy

."

EDITOR'S NOTE: SO...THE ONLY REASON KIDS (AND THEIR PARENTS) EAT FRENCH FRIES AND HAMBURGERS IS BECAUSE ANIMATED CHARACTERS TELL THEM TO? THE FACT THAT IT TASTES WAY BETTER THAN SALAD HAS NOTHING TO DO WITH IT? (AND BY THE WAY, THE ONLY THING A FAST FOOD SALAD IS HEALTHIER THAN, IS ANYTHING

ELSE

AT A FAST FOOD RESTAURANT. THEIR SALADS ARE

NOT

LOW-CAL).

Sources on both sides of the agreement say the parting of the ways was mutual. And it's not a complete divorce. McDonald's fare will continue to be offered in Disney's theme parks. Disney is also leaving open the possibility of McDonald's promotions geared toward adults.

EDITOR'S NOTE: CAUSE WITH ADULTS, THE BIG CORPORATIONS CAN HAVE THEIR FRENCH FRIES AND EAT THEM TOO, SO TO SPEAK. THEY CAN ADVERTISE TO US, AND THEN THEIR NEWS WINGS CAN DEMONIZE FAT PEOPLE. IT'S A WIN-WIN, REALLY.

Disney released a statement praising its decades-long relationship with McDonald's, adding: "

While our contract with them will expire at the end of the year, we look forward to a more flexible, nonexclusive relationship where we will be working with them on a case-by-case basis."

EDITOR'S NOTE: I LOVE, BUT SOCIETY HAS CHANGED; WE JUST CAN'T BE SEEN TOGETHER IN PUBLIC ANY MORE.

That sentiment was shared by Dean Barrett, senior vice president of global marketing for McDonald's."

Our relationship was ongoing before the agreement and will continue after,"

Barrett said. "

We've had great success. There's great entertainment value with us and Disney, and I would think that would continue for years to come."

EDITOR'S NOTE: YEAH. IT'S REALLY TIME FOR US TO SEE OTHER PEOPLE. FOREIGNERS, MAYBE. (LIKE THE TOBACCO COMPANIES DID!)

Barrett said the only factor that was really changing was the exclusivity of the relationship — McDonald's is now free to partner with other studios. Hence McDonald's new, two-year agreement with DreamWorks, beginning with "Shrek 3." DreamWorks declined to comment.

Disney has not signed any new promotional deals with fast-food providers, even though its purchase of Pixar gave it an even bigger slate of potential family-oriented blockbusters to market to youngsters. Industry analysts say the breakup will force both Disney and McDonald's to find new promotional outlets.

"

Fast food has been a very important promotional partner in promoting films to children

," said industry analyst Lowell Singer of Cowen and Co. "

As the animated marketplace gets more competition over the next few years, Disney will need to be much more aggressive and creative in reaching children though other promotional outlets."

EDITOR'S NOTE: THANK HEAVENS THIS DIDN'T HAPPEN BEFORE WE GOT ALL OUR GROOVY BURGER KING STAR WARS TOYS LAST YEAR! (PHEW!)

Restaurant analysts don't expect the bottom line of McDonald's to suffer if other studios and toy companies pick up where Disney left off. Children may not even notice.

Elizabeth Calvin, a West Los Angeles mother who occasionally takes her 7-year-old son Gabriel to McDonald's, said the change won't make a difference to him.

"He definitely is interested in the toy aspect more than the food

," she said. "

I'm not sure he really cares which toy it is. He likes the ones that are little games more than he does the plastic characters

."

Happy Meals are marketed to children between the ages of 3 and 9. A Happy Meal with a cheeseburger, small fries and Sprite totals 670 calories, with 26 grams of fat and 4.5 grams of trans fat — the fat type that experts say is particularly dangerous. In recent years, McDonald's has added healthful alternatives such as apples and low-fat milk.

EDITOR'S NOTE: OF COURSE, THE APPLES ARE MILK ARE BOTH DEEP-FRIED.

McDonald's won't say how much of its business comes from the sale of Happy Meals. But a good toy promotion can double or triple those sales. Blame impressionable young minds and "

the nag factor,"

said Jerome Williams, a professor and advertising expert at the University of Texas. "

Kids see a movie, and see it's being promoted with a particular product, they'll nag their parents about it

," he said. "

Studies have shown that, after a while, parents will give in to their children…. They're not so much expressing a preference for a Happy Meal but for the character the Happy Meal is associated with

."

According to a study released last month by the National Center for Health Statistics of the Centers for Disease Control and Prevention, 19% of children ages 6 to 11 are overweight, and 17% of teenagers are overweight.

Those figures may be conservative, said James O. Hill, director of the University of Colorado's Center for Human Nutrition. He said new government data suggest that as many as 40% of young children are overweight and about 20% fall into the obese category.

"The government doesn't use the term 'obese' for children

," Hill said. "

They use the terms 'overweight' and 'at risk for overweight' [that are] comparable to 'obese' and 'overweight' for adults. Very few of those kids are going to grow out of it. Most of them are going to grow up to be overweight and obese adults.

"

Other factors contributed to the unraveling of the McDonald's-Disney alliance.

Although the relationship boasted hit promotions for such films as "101 Dalmatians" and "Lilo & Stitch," some McDonald's franchisees began to chafe when the studio churned out clunkers like "Treasure Planet." The company also had to abide by Disney's strict rules regarding use of its characters, which were not allowed to be seen eating McDonald's food.

EDITOR'S NOTE: UH...CAUSE MOST OF THEM HAVE BIG PLASTIC HEADS WITHOUT WORKING MOUTHS?

For its part, Disney grew disgruntled with some of McDonald's advertising efforts and had problems with the fast-food giant's toy production schedule, according to a high-level Disney executive. The studio had to lock down release dates at least 18 months ahead of time to accommodate the needs of McDonald's. If the studio moved the date, it had to pay a penalty to McDonald's.

Hollywood and fast food have been closely aligned since the 1980s, with some sort of fast-food tie-in to almost every major film targeting children.

An exception is the "Harry Potter" franchise, which had only one promotional partner, Coca-Cola, for the first two movies, and none for the last two. That's in part because "Harry Potter" author J.K. Rowling went on record stating that "

fast-food kids meals would be her worst nightmare,"

said Diane Nelson, executive vice president of global brand management for Warner Bros. "

She made it clear she had an aversion to it. "We … decided internally it was not the right way to approach the brand."

EDITOR'S NOTE: JKR IS ONE OF A KIND!

Nelson said Warner Bros. planned to continue fast-food tie-ins to promote other films, and noted that the industry now offered more healthful alternatives to give people a choice. "

We are certainly conscious and watching the situation with childhood obesity and how that is being tied in with our business…. It's important to be responsible."

That said, Nelson added, "

we're not going to walk away from the category."

EDITORS' NOTE: PANDER. BUT PANDER, SUBTLEY. (FLY CASUAL?)

EDITOR'S NOTE: AND NOW...HERE COMES THE BACKPEDDLING.....


Mickey Mouse & Mickey D Deny LAT Story
Disney issued a statement today denying the Los Angeles Times report that its promo relationship with McDonald's is ending.

"

To set the record straight, we have had a very positive relationship with McDonald's for the last 10 years and are looking forward to our upcoming movies Cars and Pirates of the Caribbean which will be supported by McDonald's promotions. While our contract with them will expire at the end of the year, we look forward to a more flexible, non-exclusive relationship where we will be working with them on a case by case basis."

EDITOR'S NOTE: WE STILL ARE IN LOVE, AND WE REALLY APPRECIATE ALL THAT THEY'VE DONE RAISING THE CHILDREN AND TAKING CARE OF THE HOUSE. BUT NOW WE JUST WANT AN OPEN MARRIAGE.

The LAT, citing "

multiple high-ranking sources

" within Disney, reported that the company was responding to health activists who attributed the growing number of overweight children, in part, to fast-food chains. McDonald's, in turn, said that the article was "based

on Hollywood hearsay

" and was "

a misrepresentation

of the truth

."

EDITOR'S NOTE: SO MANY LAWYERS, SO FEW DEADLY POISONS.....

In other words, McD's went ballistic that anyone at Disney ratted it out.

EDITOR'S NOTE: SO. WHEN YOU SAY 'OPEN MARRIAGE' YOU REALLY MEAN YOU GET TO MESS AROUND, BUT I STILL HAVE TO BE FAITHFUL?




CW to Offer Advertisers Unique Commercial pods

CW will offer advertisers the opportunity to buy Content Wraps, a new, innovative way to advertise exclusively in commercial pods within its shows for next season. Each Content Wrap will consist of one two-minute commercial pod that will contain a portion of short story. The vignette would be structured as a 15-second advertiser-sponsored lead-in, product integration within the story, possibly an advertiser screen crawl during the story, and an advertiser lead-out. Within a night's two-hour programming block, three, two-minute Content Wraps would run for the same advertiser and story. The stories themselves would be created with advertiser participation.

"It will be a collaborative effort

," said Bill Morningstar, head of sales for the CW.

"We would come up with stories that have both entertainment value for the viewers and something that can meet advertiser brand objectives

.

An example shown during the CW's upfront presentation, was a story about a couple set to be matched up, undergo a makeover before meeting each other. Such a story can include product placement for a beauty product advertiser or any advertiser with a product that fits in with the makeovers.

"

The advertiser would own the commercial pods and we would work with them to create the content,"

Morningstar said.

EDITOR'S NOTE: THIS IS SUCH AN OLD-FASHIONED IDEA. ADVERTISERS USED TO DO THIS ALL THE TIME ON TV, AND THEN TV GOT TOO BIG FOR ITS BRITCHES AND STOPPED ALLOWING IT. EVERYTHING OLD IS NEW AGAIN, HUH? (AND THE AD BIZ IS AN INDUSTRY WITH ALMOST

NO

INSTUTIONAL MEMORY. CORPORATIZED A.D.D.).

The network could benefit if, because the pods would be in different shows for the same story, the viewers stayed with the network for each show to find out how the short stories are resolved.

Morningstar said his staff has been pitching media agencies on the concept for the past few months and said some deals could be finalized shortly.

He said the formats are flexible. "

We are trying to find ways to help advertisers break out of the clutter,"

Morningstar said. "

We can't add another commercial pod, so these pods will replace an existing traditional pod that would contain only 30-second spots."

EDITOR'S NOTE: IN OTHER WORDS, WE WANT TO HELP BREAK THRU THE CLUTTER AS LONG AS IT DOESN'T ENTAIL ACTUALLY REDUCING THE NUMBER OF AD PODS.

An Agency's Worst Nightmare: Ads Created by Users


By JULIE BOSMAN

IT all happens in 24 seconds. Like a souped-up Transformer robot, a silver Sony stereo rapidly deconstructs, then reassembles into the shape of a flat-screen television. The television then converts into a DVD player. The DVD player to digital camera. The camera to portable PlayStation.


The animated spot is the latest television commercial for Sony Electronics, but its creator is not a technology wizard at either of Sony's two advertising agencies. The commercial is the work of Tyson Ibele, a 19-year-old from Minneapolis who won a contest on the cable network Current TV for its first viewer-created ad message; it will run for the first time today.


User-generated content, best known for fueling the popularity of Web sites like YouTube and MySpace, is rapidly taking hold in advertising. Dozens of entries were submitted for the Current contest, and Mr. Ibele's commercial will run for one to two months on the network. In the coming weeks, more user-generated ads for companies like L'Oréal and Toyota will follow the Sony commercial.

"

User-generated content is sort of the word of the day,

" said Anne Zehren, the president of sales and marketing for Current TV, which was started last August. "

And I think smart marketers will start harnessing that." EDITOR'S NOTE: EXCEPT THAT TOMORROW WILL HAVE SOME

OTHER

WORD DU JOUR, BECAUSE THE AD COMMUNITY HAS THE ATTENTION SPAN OF ....

OH...LOOK OVER THERE! SHINY........


Current relies on user-generated content for roughly one-third of its programming, from fashion features to foreign documentaries. The network operates under the theory that its programming will be more relevant if its audience, primarily 18- to 34-year-olds, have a voice in creating it. If the audience is interested, there is less of a risk that they will tune out in favor of other entertainment like the Internet and video games.


User-generated content owes part of its popularity to the younger age group's increasing agility at working with video and audio tools at home to mimic what television studios and advertising agencies do for hefty fees.


For people like Mr. Ibele, who are relatively obscure professionally, Current is an instant national platform.

"

It's an extremely efficient way to get people to see your stuff

," said Mr. Ibele, who works as an animator for Make, an animation production company in Minneapolis. "

And it's a cool way to get your name out there."

(He also received $1,000 as payment for his ad.)


So far, Current has attracted advertisers that reflect its youth-oriented audience, including American Express, General Mills and L'Oréal. Rather than purchase individual commercial time, the network requires most of its advertisers to sign one-year contracts, priced at more than $1 million.

But this is Current's first foray into user-generated advertising. Several marketers have experimented with it in the past, often successfully. Converse solicited homemade videos that depicted Converse owners with their sneakers, which the company turned into ads. The videos became a Internet hit after Converse posted them on

conversegallery.com

.

JetBlue and MasterCard have also toyed with user-generated content in their advertising. MasterCard has introduced a Web site,

priceless.com

, where consumers write advertising copy for two commercials, ending with the kicker, "Priceless."

Placed in unsympathetic hands, user-generated content can backfire, however. In March, Chevrolet installed a feature on its Web site that allowed visitors to piece together images and text to create a commercial for its Chevy Tahoe sport utility vehicle. But the feature was quickly seized upon by anti-S.U.V. activists, who made videos condemning the vehicle, its low gas mileage and its impact on the environment.

EDITOR'S NOTE: SOME COMPANIES ARE SO UNIFORMLY DUMB. AND WHEN THEIR PRODUCTS ARE SO OUT OF TOUCH, IS IT ANY WONDER THEIR CORPORATE 'IDEA FOLKS' ARE SO CLUELESS?


Working with user-generated content requires restraint on the part of companies that are accustomed to controlling their marketing messages. (Of course, Sony approved Mr. Ibele's finished product before it went on the air.)


Still, the audience for Mr. Ibele's commercial is relatively small, reducing the risk for Sony, said Mike Fasulo, the chief marketing officer for Sony Electronics. Current is available to subscribers of DirecTV, Time Warner Digital and Comcast. By June 1, the network will be in 28 million homes, a spokeswoman said.


Mr. Fasulo said consumers were demanding that marketers allow them to define brands on their own terms.

"The trick is that you have to let go

," Mr. Fasulo said. "

We're used to dictating our messages and we're used to being in control."

EDITOR'S NOTE: OR HAVING THE

ILLUSION

OF CONTROL, AT ANY RATE.


Considering the Current audience, the ad is a relatively consequence-free move for Sony, said Ian Schafer, the chief executive of Deep Focus, a digital entertainment marketing and promotions agency in New York.

"

It's safe in that it's advocated by Sony

," Mr. Schafer said. "

Conversely, you have brands that take opportunities to put content and ad messages in the hands of consumers, and sometimes it goes awry."


In Sony's case, it also required its advertising agencies — McKinney & Silver in Durham, N.C., and Bagby & Company in Chicago — to give up creative control to an enterprising stranger.

"We can scare the agency,"

Mr. Fasulo said. "

That's just fun to do."

Movie promotions get smaller to reach bigger audience

By Laura Petrecca, USA TODAY

NEW YORK — Coming soon to a digital screen near you: summer movie promotions.


To lure consumers into theater seats, studios are rolling out massive Internet, video podcast and cellphone marketing campaigns in addition to TV ads and other traditional promotions. Superman Returns, Poseidon and Pirates of the Caribbean: Dead Man's Chest are among the summer flicks getting play now on these small screens.

"

People aren't quite as influenced by mass-media campaigns anymore

," says Ian Schafer, CEO of marketing firm Deep Focus, which has planted trailers for films such as

Scary Movie 4

on video-sharing websites such as YouTube and Google Video. Consumers "

now rely more on buzz and word-of-mouth

" in movie choices, he says.

EDITOR'S NOTE: SO IF WE CAN

FAKE

THAT, WE ARE IN LIKE FLYNN!

For

Superman Returns

, which opens June 30, Warner Bros. filmed 27 behind-the-scenes production diaries. It posted links to the videos on its

SupermanReturns.com

, iTunes and the hard-core Superman fan site BlueTights Network.

EDITOR'S NOTE: BAD CHOICE OF NAME. NOW I'M THINKING ABOUT FAT MANTHIGHS.

The response "

was beyond our wildest expectations,"

says Warner Bros. interactive marketing head Don Buckley. On iTunes alone, there were nearly 60 million downloads. Next, it will package the diaries for cellphone distribution.

"

If people are downloading videos, they're getting involved in the movie in some way

," says Tim Nett, CEO of Trailer Park, which has done multimedia promotion for

Superman Returns

and Paramount Pictures'

Mission: Impossible III.

"

That shows a higher likelihood of going to see that movie."

Attracting more ticket buyers is critical. Box office grosses are up 7.4% this year through May 7 vs. 2005, and studios hope to avoid a repeat of 2005's disastrous summer. Despite such heavily hyped fare as

Star Wars, Episode III: Revenge of the Sith,

EDITOR'S NOTE: SNIFFLE....A YEAR AGO, ALREADY......

Batman Begins

and

War of the Worlds

, ticket sales fell 11.4% from summer 2004 to about $565 million, according to Exhibitor Relations, and box office gross dropped 8.5% to $3.6 billion.

"

Movie studios are now saying, 'What can I do to reach out and build awareness

?' "

EDITOR'S NOTE: FUNNY. ALL I HEAR IS SOMETHING THAT SOUDNDS A LIKE LIKE A PROLONGED, AGONIZING SCREAM......

says Peter Sealey, a professor at University of California's Haas School of Business and former marketing head at Columbia Pictures. "

They're trying to get that mercurial, hard-to-find audience who are living on their mobile devices."

How studios are using small screens to tout big movies:


•webcampaigns

.

Disney went to hot social network site MySpace.com to hype its July 7 Pirates of the Caribbean release. A MySpace member won a contest to be the first to view a new trailer and send it to friends among the site's 74 million members.


For Poseidon, out last Friday, Warner Bros. teamed with Time Warner sibling AOL for a polling promotion that asked users how they would respond in the movie's life-or-death situations.

Columbia Pictures' publicity blitz for Friday's release of

The Da Vinci Code

included the launch of online puzzles and riddles on Google.

EDITOR'S NOTE: SOME OF THE PUZZLES WERE COMPLICATED, TOO. IT WAS FUN. (AND GOOGLE WAS SO HARD TO USE, I USED ASK.COM FOR MY SEARCHING. SO THAT KINDA BACKFIRED, I GUESS)

Mobile marketing for

M:I:III

, out May 5, included ring tones of the familiar theme song and wallpaper images of star Tom Cruise. But the promotions weren't enough to bump attendance up to meet expectations. In its domestic opening weekend,

M:I:III

missed analysts' predictions by about $10 million, taking in just $48 million, according to Exhibitor Relations. Some marketing experts, such as Sealey, say the shortfall was exacerbated by Cruise's recent high-profile antics.

EDITOR'S NOTE: YA

THINK

?! (MARKETING TRICKS CAN ONLY DO SO MUCH, YA KNOW. AND THE MOVIE IS ACTUALLY QUITE GOOD. BUT WHEN THE LEAD ACTOR IS A FREAK, IT'S A MUCH HARDER SELL. NO MATTER HOW BLINKIN CLEVER YOUR AD CAMPAIGN).

To publicize its April 28 release of RV— about an overworked executive — Columbia Pictures tapped into the ubiquitous business tool, the BlackBerry. It launched a downloadable game, RV Pile-Up, in which users navigate an animated RV through a series of obstacles.

Paramount offers high-definition trailers for

M:I:III

and its upcoming Jack Black movie,

Nacho Libre

,

EDITOR'S NOTE: PLEASE MAKE THIS MOVIE OPEN SOON, SO I CAN STOP SEEING THE INANE AND MODERATELY OFFENSIVE TRAILER. (PLEASE?!)

on Xbox Live. Sony has made trailers for its films available for download and viewing on its PlayStation Portable (PSP).

Disney, which streams film clips on a variety of websites, makes all movie trailers compatible with the video iPod. For the June 9 release of Cars— the animated flick from new Disney unit Pixar — it launched 15 iPod videos. Disney also created individual iTunes music playlists that reflect characteristics of each of the movie's vehicles.

"Smaller-screen devices have provided us with an expanded opportunity to reach our audiences,"

says Disney spokesman Dennis Rice.

EDITOR'S NOTE: AND LET'S CLOSE OUT THIS MISHMASH POSTING WITH A VERY COOL LOOKING TOY ---

BATMAN Arkham Asylum Legos

Here is a look at the upcoming Lego's Batman set.

The set will contain 860 pieces and feature Arkham Asylum.