DWEEBING that can't wait until Monday
EDITOR'S NOTE: BUSY BUSY BUSY. SOMETIMES, IT JUST AIN'T EASY BEIN QOTD, DIG?
I'M AFRAID I HAVEN'T HAD TIME TO DO MUCH DWEEBING THIS WEEK. AND WE'LL HAVE TO SKIP TOMORROW'S USUAL

RANDOM STAR WARS PICTURE

POSTING, AS WELL.
WE'LL TRY TO MAKE IT UP TO ALL THE DWEEBPALS NEXT WEEK.
MEANWHILE, HERE ARE A FEW ITEMS THAT JUST COULDN'T WAIT TILL MONDAY -----
STAR WARS ITEMS:
Countdown For Sith On DVD
With less than one week to go until
Star Wars : Revenge Of The Sith
is released on DVD, a promo round up is in order.
Wal-Mart
:
At Wal-Mart you'll be able to buy the DVD for $15.87 or for only $5 more get a second bonus DVD.
Also don't forget the Wal-Mart exclusive action figure three packs.
Suncoast:
Reserve your copy and get a free lithograph when you pick it up!
Target:

Revenge of the Sith
DVD will be packaged with an exclusive Darth Vader coin, sold in limited quantities with no rain checks.
Also exclusively at Target, look for a 2-CD Star Wars Best of Episodes 1-6 for $15.99.
You can also get a limited edition $5 gift card (similar to the gift card from last April) with the purchase of any of the following:
Episode I or II DVD (Each $14.99)
Star Wars Trilogy DVD set ($44.99)
Star Wars: Battlefront II ($49.99)
Best Buy:
Free lithograph with purchase for Reward Zone members only. Plus they'll have an exclusive Unleashed Darth Vader.
EDITOR'S NOTE: SO....NO REALLY BIG DEALS AT ANY PLACE. I GUESS I CAN BUY IT WHEREEVER I HAPPEN TO BE ON TUESDAY.
AND FOR THOSE OF YOU WHO JUST CAN'T WAIT UNTIL THE DVD COMES OUT, CHECK OUT THE RAPPIN YODA EASTER EGG THAT'S ALREADY MADE ITS WAY ONLINE (SEE WEB ADDRESS, BELOW) -----
ROTS DVD Easter Egg Online
Dance this good you can hmmmm?
Check out the
Revenge of the Sith
DVD Easter egg ( hidden material ) online now by
http://www.leenks.com/link26692.htm
The Science of STAR WARS

A new exhibit opens this week at Boston's Museum of Science.
The Star Wars: Where Science Meets Imagination
explores the fantasy technologies in the STAR WARS films, the science behind them, and current research that may lead to real-life versions of these technologies. Visitors can learn how technologies work in the STAR WARS universe through film clips and over 80 props, models, and costumes.
The exhibition is organized around two major technology themes, that solve basic human needs: getting around (transportation) and getting along with ever smarter machines (robotics). The exhibit culminates in two multi-station Engineering Design Labs where student design, build, and test solutions to challenges.
The exhibit includes the first public display of props and costumes from all six films in the series, including a replica cockpit of Han Solo's asteroid-battered Millennium Falcon. The $5 million exhibit goes beyond entertainment and turns STAR WARS into a educational tool for science and technology, fields in which U.S. dominance faces a challenge from a new generation of engineers in Asia.
Luke Skywalker's Landspeeder is presented in its original form -- accompanied by lessons in magnetic levitation and the powerful electromagnets that can hurtle high-speed "maglev" trains at speeds of up to 310 mph. There are also numerous androids and even Anakin Skywalker's prosthetic right hand from REVENGE OF THE SITH.
The cockpit of the Millennium Falcon is transformed into a high-tech planetarium with a recorded voice of Anthony Daniels, as C-3PO, explaining the stars and how modern scientists view them.
EDITOR'S NOTE: I THINK IT MIGHT BE TIME FOR A VISIT TO BOSTON, HUH!? (THIS SOUNDS LIKE GREAT FUN)
Lucas opens Singapore arm for film, TV ani
Think globally, act globally is George Lucas' latest mantra.
The filmmaker's Lucasfilm Animation Singapore, a digital 'toon studio created to produce television and movies, officially opened its doors on Wednesday.
The 40,000-square-foot operation situated in the Changi section of Singapore was feted with a traditional Lion Dance, blessed by a feng shui master and marked by the unveiling of a limited edition Yoda statue that greets visitors at the door. Facility head Micheline Chau, president and chief operating officer of Lucasfilm, was on hand for the opening ceremony attended by local business and foreign trade big wigs
William Hootkins Has Passed Away
Whatsonstage.com reports that William Hootkins (AKA: Porkins) has passed away after a battle with pancreatic cancer. He was 58.
Here's a snipet from Whatsonstage.com:
American stage and screen actor William Hootkins - who lived and worked for many years in the UK and was last seen on the London stage in Hitchcock Blonde - has passed away after a battle with pancreatic cancer. Diagnosed earlier this year, he died yesterday (Sunday 23 October 2005) at St Johns Hospital in Santa Monica near his Californian home. He was 58. Born in Dallas, Texas on 5 July 1948, the ebullient Hootkins – known as Bill or 'Hoot' to his friends - made his stage debut in a local school production that co-starred a fellow student who later had success in Hollywood, Tommy Lee Jones. He initially tried to distance himself from drama by studying astrophysics and Chinese linguistics at Princeton University, but soon became involved with Princeton's Intime Theatre group. On the recommendation of his friend, John Lithgow, he moved to the UK after graduation to study at LAMDA (London Academy of Music and Dramatic Arts) and subsequently made his home in this country. In a busy career, Hootkins worked regularly on both sides of the Atlantic. His first film role was in 1977, playing Jedi fighter Jek Porkins in George Lucas' Star Wars. Though the part was small, it had a big impact. He joked in a Whatsonstage.com interview two years ago
"In a sense, my career's been downhill ever since. Fans still come to greet me at the stage door with action figures of my character and embarrassing photographs for me to sign."
EDITOR'S NOTE: EMBARRASSING, YES. BUT NOTHING LIKE THE DEDICATION OF A DWEEB, EH? (
AND HERE'S THIS GUY, WHOSE DWEEB CLAIM-TO-FAME IS BEING THE CHUBBY GUY WHO...ACCORDING TO EU LORE...DIES ATTACKING THE DEATH STAR IN PART BECAUSE HE KEPT HIS INTERNAL SUPPORT SYSTEMS ON HIS X-WING RAMPED UP TO KEEP HIS PORKY FRAME COMFORTABLE, AND THUS COULDN'T FEEL THE IMPENDING CRASH....THAT GUY SPEAKS CHINESE AND WENT TO PRINCETON. GO FIGGER
).
HARRY POTTER ITEMS:
Three new GOF posters
USA Weekend magazine will feature three brand-new Harry Potter and the Goblet of Fire posters in the November 4-6th issue.
However, you will receive only one of these posters in your area.
The magazine has sent us the three posters, which can be viewed below: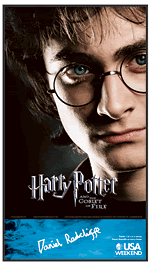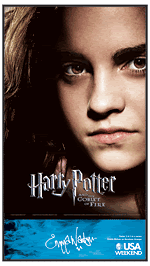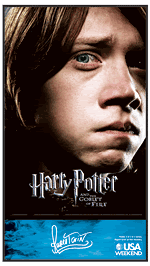 EDITOR'S NOTE: THEY'RE FINE. BUT NOT NEARLY THE MUST-HAVE SPECIAL ART THAT THE ANAKIN SKETCH WAS. (
FRAMED BEHIND MY TV, THANK YOU AGAIN DWEEBPAL PLANOKEVIN FOR GOING OUT AND FINDING IT FOR ME
)!
Potter faces girls, Voldemort in 'Goblet'

LONDON, England (AP) -- In "Harry Potter and the Goblet of Fire," the teenage wizard faces new terrors. A face-to-face encounter with his nemesis, the evil Lord Voldemort, for one. Girls, for another.
And, still fresh in the mind of 16-year-old star Daniel Radcliffe -- ballroom dancing.
"I really wanted to be good at it," Radcliffe said of the scene in which Harry dances at the Hogwarts School of Witchcraft and Wizardry Yule Ball.
In the end, he said at a press conference Tuesday for the film, director Mike Newell "very kindly didn't show anything below my waist. You never see my feet move."
"Dan," said Newell affectionately, "is a kind of ballroom Everyman."
Radcliffe's down-to-earth charm is key to the success of the Potter films, which have become a lucrative franchise since "Harry Potter and the Philosopher's Stone" (known as "Harry Potter and the Sorcerer's Stone" in the U.S.) was released in 2001.
Radcliffe was 11 when he first wore Harry's trademark spectacles and lightning-shaped scar.
Five years on, he's an assured and articulate actor who enthuses about his favorite bands -- The Libertines, Hard-Fi and Louis XIV all get the nod -- and gently coaxes his co-stars at the news conference. EDITOR'S NOTE: HE IS SCARY/POISED. I'M TELLING YOU, HE ISN'T A KID...HE'S A 55-YEAR-OLD DWARF.
Producers describe "Goblet of Fire" -- released in Britain and the United States November 18 -- as the darkest Potter film yet. Harry must face a confrontation with Voldemort, the evil warlock who killed his parents and who returns to human form -- in the shape of Ralph Fiennes -- bent on destroying the young wizard.
Charting Harry's fourth year as a trainee wizard at Hogwarts, the film has plenty of magical set pieces to delight fans of J.K. Rowling's saga. There are airborne acrobatics at the Quidditch World Cup, and the Triwizard Tournament -- a perilous contest that sees Harry face off against a fearsome Hungarian Horntail dragon.
As well as Fiennes, new cast members include Brendan Gleeson ("Troy," "Cold Mountain") as Potter's new Defense Against the Dark Arts teacher, the fearsome Mad-Eye Moody; and Miranda Richardson ("The Crying Game," "Sleepy Hollow") as poisonous gossip columnist Rita Skeeter.
The movie also introduces new students to Hogwarts' corridors, including Stanislav Ianevski as Bulgarian Quidditch star Viktor Krum, French actress Clemence Poesy as the heart-fluttering visiting student Fleur Delacour and Scottish schoolgirl Katie Leung as Harry's love-interest Cho Chang.
British director Newell ("Four Weddings and Funeral," "Donnie Brasco") said he was nervous about condensing Rowling's 640-page book into his first Potter film.
"The book's as big as a house brick, and I was very unsure quite how one would attack it," said Newell, who follows American Chris Columbus and Mexican Alfonso Cuaron at the Potter helm.
One idea was to have to be split into two films. But Newell said he eventually found the key to the story -- "it was a thriller."
"Voldemort and Ralph Fiennes were really in charge of events right from the very beginning, and only little by little did Harry catch up with what was happening to him, until it was too late and there he was facing the devil in a graveyard," Newell said. "As soon as I could see that, I felt that I could stay true to the book and at the same time keep the length down."
Newell has turned down the chance to direct the fifth film, "Harry Potter and the Order of the Phoenix." Filming is due to begin in February under British television director David Yates ("State of Play," "Sex Traffic.")
With the films now more than halfway through Rowling's planned seven-book series -- the sixth volume, "Harry Potter and the Half-Blood Prince," was released earlier this year -- budding romance is a new development for the teenaged Harry and his friends Ron and Hermione.
Inevitably, Radcliffe and his co-stars Emma Watson, 15 and Rupert Grint, 17, face questions about their own love lives. They deflect them with good grace.
"I'm learning to drive at the moment, so that's taking all my time," Grint told reporters.
TELEVISON ITEMS:
SIN CITY Series
Variety has reported that Harvey and Bob Weinstein's new company, the Weinstein Co., is in final negotiations with Barbara Schneeweiss to develop a TV slate.
One of the shows they are looking to develop would be based on Dimension Films' SIN CITY.
The series would apparently "follow in the footsteps" of the sequel, which is planned for 2006.
More SG-1 and ATLANTIS on the Way
Sci Fi Channel has anonunced they are renewing STARGATE SG-1 and STARGATE ATLANTIS. They are ordering 20 episodes of each, which will premiere next summer.
SG-1 will be entering its 10th season overall -- fifth on Sci-Fi. ATLANTIS, on the other hand, will be starting its third season.
Brad Wright and Robert C. Cooper will continue to executive produce both programs. EDITOR'S NOTE: WELL, AT LEAST BEN BROWDER GETS TO STAY EMPLOYED. (NOT ON ANYTHING THAT MATTERS...BUT....OH WHO CARES ANYMORE......)!??
GRRRRR....
Gosselaar on press duty in 'Chief'
Mark-Paul Gosselaar is joining the cast of the new ABC drama "Commander in Chief," where he'll play a slick media strategist.
Gosselaar's move to "Chief" reunites him with executive producer Steven Bochco, who took the reins of the White House drama this month from creator Rod Lurie. Gosselaar previously co-starred on the Bochco-produced ABC drama "NYPD Blue" from 2001 until the series finale this year.

MOVIE ITEMS:
Clooney, Soderberg Warm to WIND CHILL
George Clooney & Steven Soderberg's Section Eight & Blue Print Pictures will team together with Revolution Studios to produce the horror film WIND CHILL. The script is by Joe Gangemi and Steven Katz. Greg Jacobs will direct.
The story centers on two college students who share a ride home for the holidays but break down on a deserted stretch of road, where they are menaced by the ghosts of all those who died there. EDITOR'S NOTE: I DO SO HATE IT WHEN THIS HAPPENS.

Bowman keen to direct second X-Files movie
Rob Bowman, director of the first "X-Files" film, says he'd be keen to return for Mulder and Scully's second big-screen adventure, if FOX will have him back.
"My involvement is not something I can control. And what I've said when I'm asked the question 'Will I direct it?' is: I have to be asked to direct it first. I'd love to direct it. But if I don't, then I just can't wait to see it because I know it'll be great", Bowman, director of "Elektra" and "Reign of Fire", tells FilmForce.
"[The X-Files] is like an old friend from the past. Whenever they come knocking at the door, they'll be greeted with open arms. I think... I hope that there's no bad time to make the X-Files sequel. If it came out at any time, I'd run and see it. Everybody wants to make it. And certainly as a fan, I want to see it." EDITOR'S NOTE: YES YES YES YES YES.
He adds, "[The script will be] cool and sophisticated. That's how Chris writes. I'm sure he has lots of stories. I just think, please hurry, because I can't wait to see it."EDITOR'S NOTE: DID I MENTION ME TOO?
Bowman hasn't been told anything about the yarn, only that it will be "a stand alone story. That's what I was told. It won't be tied into the X-Files mythology. So, anybody who's never seen the X-Files can step into the movie theater and have the full experience, and really see the great chemistry between David and Gillian." EDITOR'S NOTE: GIVEN THAT THE LAST TIME WE SAW THEM THEY WERE SORT OF PREPPING FOR THE END OF THE WORLD, THIS SHOULD BE INTERESTING. HOW DO WE HAVE A STAND-ALONE, NON-MYTHOLOGY STORY AFTER ALL THAT?

Glover joins Condon's cast in 'Dreamgirls'



Danny Glover has been cast in "Dreamgirls," the musical Bill Condon is directing for DreamWorks.
Based on the stage musical, "Dreamgirls" follows the rise of a female singing group called the Dreamettes. The musical was a thinly veiled story of the Supremes.
Beyonce Knowles already has been cast as Deena Jones, one of the Dreamettes, while Jamie Foxx has been cast as Svengali-like manager Curtis Taylor Jr. and Eddie Murphy as womanizing R&B star James "Thunder" Early. Glover is playing Murphy's manager, Marty Madison.
Laurence Mark is producing, and Patricia Whitcher is exec producing. DreamWorks' David Beaubaire oversees.
Glover, whose lengthy film career includes "Silverado," "The Color Purple" and the "Lethal Weapon" movies, appeared in last year's hit "Saw" and next appears in the Walt Disney Co.'s upcoming "The Shaggy Dog."
MISC. ITEMS:
Boreanaz returning as Angel?
Seems those rumoured "Buffy" and "Angel" spin-off movies mightn't be TV efforts after all – with the success of DVD premieres these days, they might be going straight to Blockbuster.
"There are serious discussions going on about bringing some of the characters back and making a few movies that will go straight to DVD, but they will certainly be the quality they have always been," Buffy executive producer Marti Noxon tells Sci Fi Wire. EDITOR'S NOTE: THIS DOESN'T SOUND LIKE A HALF-BAD IDEA, DOES IT? (WONDER IF THERE ARE OTHER FRANCHISES...."FARSCAPE"....THAT COULD DO THIS TOO? SIGH....)
"Joss is the king of jumping mediums, so it is an obvious step for him to do this," Noxon said.
Noxon confirmed that several of the shows past writers, including Drew Goddard, have been contacted about turning in script ideas that would center on the minor characters.
Though Sarah Michelle Gellar isn't expected to pick up her stake to play Buffy again and Alyson Hannigan's very busy with her show 'How I Met your Mother' (though I hear she's been asked to participate, and is keen), Noxon says films centering on the characters of Spike (James Marsters) and Angel (David Boreanaz) might be wise, and successful, options to kick off. EDITOR'S NOTE: ALTHOUGH BOREANZ IS CURRENTLY DOING A SERIES ON FOX THAT IS ALSO DOING WELL. ("BONES")
I'll make a prediction and say that Whedon might even continue the "Serenity"/"Firefly" universe as a series of DVD movies too. Not so bad? EDITOR'S NOTE: OOOO...YES YES YES YES YES!!!! (UMM...THAT WOULD BE NICE).
A THESPING UNIVERSE ITEM ----

Third

By Larry WorthMitzi E. Newhouse Theater, New YorkRuns indefinitely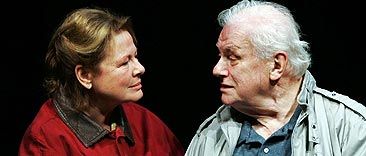 College professor Dianne Wiest comforts her ailing father, Charles Durning.

Wendy Wasserstein is probably best known for penning "The Heidi Chronicles," then winning a Pulitzer and Tony for it.
All things being relative, "Heidi" now looks like a mere warmup for "Third," which is Wasserstein's most mature, challenging and ideologically complex work.
It's also her most flat-out entertaining.
For a great deal of the wide-ranging narrative, one isn't quite sure where it's going, except that it's charting the increasingly questionable decisions made by Laurie Jameson (Dianne Wiest), a middle-aged New England college professor.
When first meeting Laurie, it's September 2002, and she's in her glory in the lecture hall, branding King Lear as an idiotic narcissist and his saintly offspring Cordelia as "a masochistic simp."
Yes, Laurie's an uber-feminist, never mind a Bush-bashing, bleeding-heart liberal who's proud of her activist-lesbian daughter and frowns on her heterosexual child's conventional ways.
In between warding off hot flashes, she's also coping with 1) a father (Charles Durning) whose dementia worsens by the day, 2) a sickly colleague (Amy Aquino) battling bone cancer and 3) America's invasion of Iraq, the subject that may torment her the most. At least until meeting Woodson Bull III (Jason Ritter).
Third, as he prefers to be called, is a rich, handsome, 20-year-old preppy with GOP leanings who enrolls in one of Laurie's classes. He also starts to emerge as Laurie's unlikely sparring partner, who more than holds his own with her.
That's the launching pad for a series of developments that carry far-reaching, potentially tragic repercussions for each of the central players.
Before long, Wasserstein has incorporated a "Proof"-like mystery, a deliciously twisty series of cat-and-mouse face-offs and even a bit of "Turn of the Screw" as one starts to question possibly obsessive behavior and its consequences.
And that's in addition to richly textured characters and consistently funny dialogue that has one laughing aloud one minute and in the next, weighing its emotional baggage.
Veteran Broadway director Daniel Sullivan confirms that he's an expert at tweaking such varied components for maximum impact. He's also clever at drawing viewers into the drama, exemplified in the opening lecture scene, during which he makes the audience comprise the student body. It's a neat touch.
Then there's the cast, headed by the inimitable Wiest.
While she's had no shortage of work during the past few decades, this is her best performance since winning her 1994 Oscar for "Bullets Over Broadway." Wiest goes from vulnerable and sad to screamingly funny and then armor-plated with the slightest of inflections, as exhibited in a brilliantly delivered monologue to her therapist. She's like an ever-morphing force of nature.
Ritter makes for a surprisingly effective foil. Cementing his good reviews from a cinematic turn this year as John Goodman's closeted gay son in "Happy Endings," he truly comes into his own here. His comedic timing would make late father John proud, while his dramatic forays carry considerable heft.
In supporting roles, the always reliable Durning is heart-wrenchingly moving as Laurie's mentally unstable dad, while Gaby Hoffmann's moments as the voice-of-reason daughter clearly define her as an actress on the rise. Then there's Aquino's cancer-riddled professor, who appears to redefine the meaning of black humor with every line reading.
Piece by piece, the production amazes. Collectively, "Third" adds up to one of the season's biggest treasures, and the loveliest jewel in Wasserstein's crown.
Third Presented by Lincoln Center
TheaterCredits:
Playwright: Wendy Wasserstein
Director: Daniel Sullivan
Set designer: Thomas Lynch
Costume designer: Jennifer von Mayrhauser
Lighting designer: Pat Collins
Sound designer: Scott Stauffer
Original music: Robert Waldman
Cast:
Laurie Jameson: Dianne Wiest
Woodson Bull III: Jason Ritter
Jack Jameson: Charles Durning
Emily Imbrie: Gaby Hoffmann
Nancy Gordon: Amy Aquino

Record 58 countries court Oscar
Having invited 91 countries to submit films, the Academy of Motion Picture Arts and Sciences said Tuesday that a record 58 took the Academy up on its offer.
Three countries that had not previously been represented submitted films: Costa Rica, which offered Esteban Ramirez's "Caribe"; Fiji, which submitted Vilsoni Hereniko's "The Land Has Eyes"; and Iraq, which entered Jamil Rostami's "Requiem of Snow."
Several movies arrive in the wake of local controversies.
Christian Carion's "Joyeux Noel," from France, had drawn a formal complaint from France's independent producers union, the Societe des Producteurs Independants, claiming that the choice of film -- by a seven-member selection committee appointed by the state's funding body, the Center National de la Cinematographie -- was "politically motivated." The SPI, lacking legal recourse, has since backed off.
When Italy's first submission, Saverio Costanzo's "Private," was ruled ineligible by the Academy because none of its dialogue is in Italian, Italy submitted Cristina Comencini's "La bestia nel cuore."
WB Cartoons Resurrected On Web
BUGS BUNNY MIGHT NOT HAVE new adventures on network TV these days, but his escapades continue on the Web.
The famous rabbit, like several other WB cartoon characters, can now be seen in new animated shorts distributed on about half a dozen child-oriented sites, including Kaboose.com and Funschool.com.
This summer, Broadband Enterprises quietly began syndicating short Warner Bros. cartoons online. The arrangement, which was recently extended through the end of the year, involves distributing new clips--created just for the Web--for shows such as "Looney Tunes," "Gotham Girls," "Timberwolf," and "Cartoon Monsoon."
Kellogg's and Procter & Gamble run streaming ads before the shorts, and display a static banner next to the clips, said Matt Wasserlauf, president and CEO of Broadband Enterprises.
The pre-roll ads--mainly 30-second units--target children between the ages of 6 and 11, as well as their mothers. Kellogg's has promoted Pop Tarts, Frosted Flakes, and Twistables, while Procter & Gamble has been touting Bounty towels, Wasserlauf said.
Broadband Enterprises is currently evaluating whether to extend distribution to other sites to which it provides video streams. "We laid out the opportunity across the board and are awaiting feedback," said Wasserlauf, a former WB executive who once was responsible for syndicating network programming to local TV stations.
All Warner Bros. shorts currently streaming are original, but Broadband Enterprises might in the future make repurposed TV clips available online, Wasserlauf said. EDITOR'S NOTE: 'REPURPOSED'. AS IN, RERUNS. (FOR THOSE OF YOU WHO TRY NOT TO TRACK THE REALLY STUPID OBFUSCATION OF THE AD/MEDIA BIZ). IN THIS INSTANCE, THOUGH, A LITTLE 'REPURPOSING' MIGHT NOT BE A BAD THING....IF WE GET SOME OLD "PINKY AND THE BRAIN" OR "ANIMANIACS" OR "BATMAN/SUPERMAN"?
HALLOWEEN HALLOWEEN HALLOWEEEEEEEEEEEN!!!!!

AND LASTLY, BACK TO STAR WARS:

Download A Halloween Mask

Over at Star Wars Kids, they have several new printable Halloween Halloween masks. EDITOR'S NOTE: ALMOST ALL THE BESTEST STUFF IS ON THE KIDS SIDE OF THE STAR WARS WEBSITE. (HAVE YOU NOTICE THAT?)
Created by several Star Wars artists, these files can be downloaded and printed out at home! There's even my favorite droid, R2-D2

http://www.starwars.com/kids/activity/crafts/f20051026/index.html

Revenge of the Halloween Masks
October 26, 2005





Need a costume for Halloween but you're just not sure which Star Wars character you'd like to be? Download and print these Revenge of the Sith masks created especially for starwars.com by Star Wars illustrators and artists.
Choose from these Episode III characters: General Grievous and Obi-Wan Kenobi by Cat Staggs, Tion Medon and Aayla Secura by Cynthia Cummens, C-3PO and Yoda by Chris Trevas, Padmé Amidala by Sarah Wilkinson, Chewbacca by Joe Corroney, The Emperor by Otis Frampton, Anakin Skywalker by Randy Martinez, R2-D2 by Brent Woodside, clone troopers by Tom Hodges, Boga by Amy Pronovost and Darth Vader by Matt Busch!

Directions:
1. Choose the mask you want to print out on a color printer. There are two sizes -- one that prints out on a standard size sheet of paper (8½x11) and a large version (11x17) for printers that can print that size paper. If you are unsure whether your printer can print the large size, ask an adult to help (and join in on the fun!). EDITOR'S NOTE: DOES ANYONE KNOW ANY ADULTS? NO? GOOD...PLAY PLAY PLAY!!!!
2. Once printed, carefully use scissors to cut out eye holes and (optional) nose holes -- so you can see and breathe once the mask is on. EDITOR'S NOTE: WHERE'S THE CHALLENGE IN THAT?!
3. With a hole puncher, punch out side holes centered at either side of the mask.
4. Hold the mask up to your face. If the eye holes are too small for you to see through them, enlarge them cutting around them with scissors (you may want an adult to help you with this). EDITOR'S NOTE: NAW. LET'S JUST RUN WITH SCISSORS.
5. Next, cut two pieces of string, each approximately six inches long. Tie or tape each piece in each side hole you made in Step 3.
6. Tie the ends together at the back of your head to hold the mask on.
EDITOR'S NOTE: HERE ARE THE FACES THEY HAVE OVER AT THE STARWARSKIDS WEBSITE (SEE WEB ADDRESS, ABOVE). I PRINTED ME OUT A BOGA!!!