Star Wars Stuff (with cool pics, natch)!
EDITOR'S NOTE: THE QOTD HAS BEEN VERY REMISS. SOME OF THIS STAR WARS NEWS HAS BEEN SITTING IN MY TO-BE-BLOGGED FILE FOR A WEEK OR MORE. (SHAME SHAME SHAME, THY MONIKER IS QOTD!)
SO...AS PENANCE (
EVEN DWEEBROYALTY MUST DO PENANCE....... FROM TIME TO TIME, THANK YOU C3PO
), WE'LL HAVE A BIG 2-WEEK-COMBO SW POST TODAY, AND THEN A BONUS SW POST WITH THE DISNEY SW WEEKEND WRAP-UP SOMETIME LATER THIS WEEKEND.
IT JUST CAN'T GET MUCH BETTER THAN THAT,EH?
FIRST UP, FROM LAST SUNDAY, EVIL WINS A PRIZE ----
Ian McDiarmid Wins Tony
Ian McDiarmid, won a Tony Award Sunday night for "Best Performance by a Leading Actor in a Play", for his role in "Faith Healer.
EDITOR'S NOTE: OF COURSE HE

SHOULD

HAVE AT LEAST BEEN NOMINATED FOR AN OSCAR THIS PAST YEAR, BUT THE TONY'S ARE ABOUT

REAL

ACTING, RIGHT? (OR SO MY PARENTS HAVE ALWAYS SAID).
AND JUST TO SHOW

DWEEBS RULE

, FRANCES LA TOUR AND RICHARD GRIFFITHS ALSO WON TONYS IN THEIR CATEGORIES (
LA TOUR WAS MADAME MAXINE, THE PART-GIANTESS IN THE MOST RECENT HARRY POTTER FLICK, AND GRIFFITHS IS UNCLE VERNON IN THOSE MOVIES. FOR THOSE OF YOU WHO DON'T RECOGNIZE THEIR NAMES
).
AND NOW, A BIT OF SAD NEWS ---
Tim Hildebrandt 1939-2006

Sadly, we've lost another great and influential part of Star Wars.
Artist Tim Hildebrandt, half of the Brothers Hildebrandt, passed away on June 11 from complications due to diabetes. For readers not familiar with the Brothers' work, follow this
link
to the website dedicated to their collaborative art.
Our thoughts go to his brother Greg and the rest of the Hildebrandt family.
EDITOR'S NOTE: A SAMPLE OF THEIR ART ---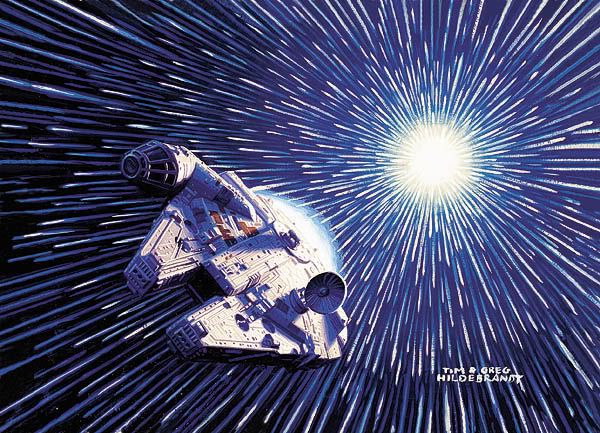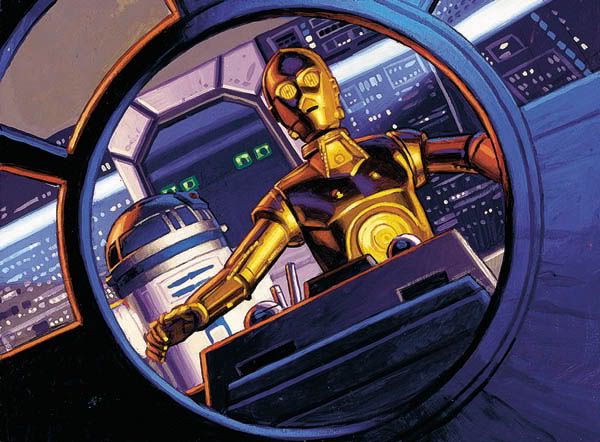 AND PROBABLY THEIR MOST RECOGNIZABLE SW CONTRIBUTION ---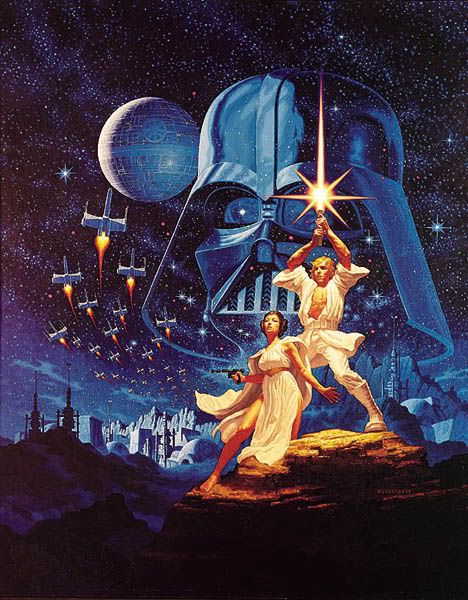 Star Wars Weekends Airport Ad
It seems Star Wars is everywhere!
Bruce Smith sent in this photo of a Disney Star Wars Weekends ad near the baggage claim at the Orlando airport.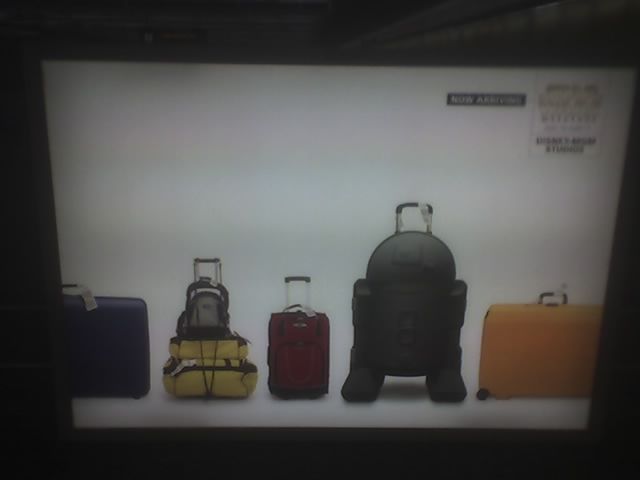 EDITOR'S NOTE: LOL!
ILM Have Lost Their Magic
According to the Sci-Fi Wire, the physical production unit of ILM, which deals with models, miniatures, and stage work, is being sold to an ILM employee, Mark Anderson, and will be renamed Kerner Optical.
It will be a preferred subcontractor for ILM.
EDITOR'S NOTE; SHOULD WE BE WORRIED ABOUT THIS? IS THIS A BAD THING? OR IS IT JUST AN INEVITABLE OFF-SHOOT OF THE DIMINISHING OF PHYSICAL MODEL WORK RELATIVE TO CGI?
George Lucas Previously Unreleased Student Film On DVD
GEORGE LUCAS' PREVIOUSLY UNRELEASED STUDENT FILM AND CULT CLASSIC GEORGELUCAS IN LOVE TO BE RELEASED ON DVD IN EUROPE FOR THE FIRST TIME!
George Lucas' USC student short FREIHEIT is to be released as part of
Cinema16: American Short Films
, the latest release from the critically acclaimed Cinema16 series.
Lucas has recorded a directors commentary to accompany the film, which stars his classmate Randal Kleiser (who later went on to direct GREASE) as a student dodging bullets as he tries to cross the border from East to West Germany.
Cult classic
George Lucas in Love
, is also included on Cinema16. This short satire of STAR WARS and SHAKESPEARE IN LOVE has Lucas searching for the true origins of the Star Wars saga during the creator's college years, and introduces an assortment of characters that serve as the director'sinspiration. Director Joe Nussbaum and producer Joseph Levy have recorded a new commentary to accompany the release.
Amongst the other films on
Cinema16: American Short Films
are Gus Van Sant's 1982 adaptation of a William S. Burroughs short story,
The Discipline of DE
; Tim Burton's early stop motion animated classic
Vincent
; Alexander Payne's previously unreleased UCLA graduation short
Carmen
; D.A. Pennebaker's Duke Ellington scored
Daybreak Express
; an Andy Warhol Screen Test, Todd Solondz' NYU short
Feelings
; along with Oscar winner
The Lunch Date
by Adam Davidson, Stefan Nadelman's multi-award winning documentary
Terminal Bar
, and this year's Sundance winner
The Wraith of Cobble Hill
by Adam Parrish King.
Cinema16 celebrates the short film by showcasing some of the best classic and award winning shorts on DVD accompanied by audio commentaries by their directors. The release of
Cinema16: American Short Films
follows the success of two previous DVD releases in the series ­
Cinema16: British Short Films
and
Cinema16: European Short Films
­ which include the work of Mike Leigh, Ridley Scott, Lars von Trier, Stephen Daldry, Lynne Ramsay, Christopher Nolan, Jean-Luc Godard, Patrice Leconte, Tom Tykwer, Nanni Moretti, Lukas Moodysson and Jan Svankmajer amongst others. Both collections have grown through word of mouth to become major independent hits.
Aside from providing short films with a much needed platform Cinema16 gives filmmakers and movie-lovers access to some great films that would otherwise be near impossible to see. With over three and a half hours of films
EDITOR'S NOTE: NOT SO SHORT, WHEN YOU ADD THEM ALL UP, EH?
Cinema16 is essential viewing for anyone with an interest in the moving image.
Responses to Cinema16:"
The quality of this collection is exceptional, it's like having acomplete film festival in the comfort of your own home"
- Empire
"
A unique collection of exceptional short films"
- Dazed & Confused
"Film studies in a box
" - The Sunday Times
"A must-have for any film fan
" - The Telegraph
"Pure quality, beautifully packaged, with no filler
" - The Times
Cinema16: American Short Films
is NTSC, Region 0.
EDITOR'S NOTE: DOES THIS MEAN IT IS VIEWABLE ON AN AMERICAN DVD PLAYER OR NO? CAUSE IT SOUNDS

FASCINATING.

AND LIKE WE COULD ALL RELIVE OUR COLLEGE FILM CLASS DAYS......FOR BETTER OR WORSE. (
DON'T GET ME

STARTED

ON THE GUY WHO GLUED LEAVES AND DIRT DIRECTLY ONTO THE FILM-STOCK AND RAN IT THRU THE PROJECTOR FOR AN HOUR. EEK
.).
For more information visit:
http://www.cinema16.org/
Have a Cobot and a Smile
Fizz in a Barrel
by Pete Vilmur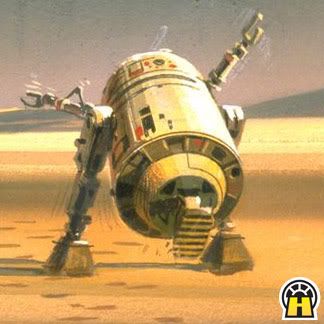 If there's one design that captures the character of the Star Wars universe, it's that of R2-D2. Practical, well-worn, durable, yet elegant, R2-D2 remains one of the crowning achievements of concept artist Ralph McQuarrie, who first sketched out designs for the squat little astromech during the preproduction phase of
A New Hope
in 1975. With the first film's release, R2-D2 became an overnight sensation, booking guest appearances on variety and talk shows, at movie premieres, and even landing the cover of People magazine's "25 Most Intriguing People of 1977."
EDITOR'S NOTE: AH...TIMES WERE SO SIMPLE BACK THEN.....
It's no surprise, then, that the media quickly adopted the classic dome, barrel, and tri-leg design to convey anyone or anything with a technological slant -- political cartoons relished the opportunity to use the highly-recognizable droid in caricature, and tech magazines often portrayed the little astromech vaguely endorsing the computer hardware gracing their covers. The most inspired use of the familiar R2 unit design, however, has to be that of Coca-Cola's "Cobot" robot from the late 1970s and early '80s. Replacing the barrel-shape portion of Artoo's body with that of a Coke can, the Cobot -- an amalgam of the words "Coke" and "robot" -- was born, much to the delight of soda-drinkers and supermarket shoppers everywhere.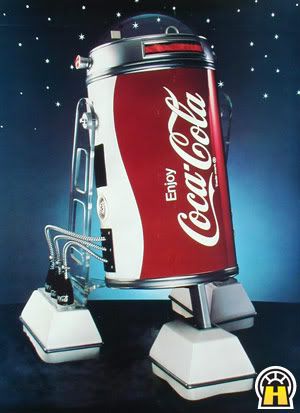 The Cobot, which had been called "Cokebot" and then "Kobot" before finally settling on the now-familiar moniker, was originally devised as a promotional gimmick for supermarket appearances, tradeshows and special events in 1979. Measuring four feet tall, the full-size astromech clone could roll, turn, swivel its dome, blink, speak, and even "sing." Unlike many of Artoo's appearances in
A New Hope
, where actor Kenny Baker performed these maneuvers from within Artoo's body, the Cobot was fully automated and remotely controlled.
EDITOR'S NOTE: THERE WAS AN AUTOMATED, REMOTE-CONTROLLED R2 ON THE MOVIE SET TOO, BUT MY UNDERSTANDING WAS IT OFTEN ROLLED OFF COURSE. MAYBE THE MOVIE PEOPLE SHOULD CHECK OUT THE AD BIZ TECH?
The Cobot was designed and built by Creative Systems Group of Norcross, Georgia, who manufactured robots for 21st Century Robotics, Inc.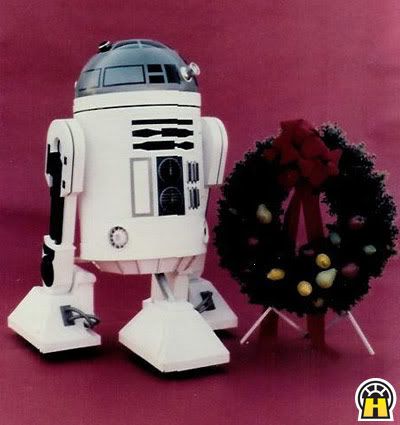 This image allegedly shows the original homespun R2-D2 that inspired the creation of the Cobot robot
According to Michael Paul, current President and Chief Engineer for 21st Century Robotics, the original idea for the Cobot came from his company's former owner and founder, Ron Green. "
Fantasy Factory, a division of Creative Systems Group, built an R2-D2 look-alike soon after the first movie release due to owner Bill Tolar's fascination with Star Wars,"
says Paul. The robot caught Green's attention at a promotional event, prompting him to get in touch with a contact at Coca-Cola to pitch the idea of a cola can robot. "
A conceptual drawing was submitted to Coke and they loved it
," adds Paul.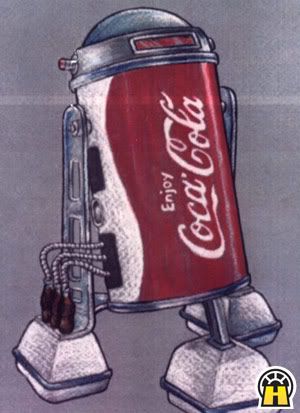 Green ordered six prototypes and Creative Systems Group quickly got to work devising the full-size Cobot, which was powered by a 12-volt battery and fitted with a 2-way radio to allow a remote operator to both listen in and speak to customers. As the company's good-will ambassadroid
EDITOR'S NOTE: OH DEAR. THEY ARE AS BAD AS DISNEY AT CUTSEY-MORPHING THE LANGUAGE.
and Coke's first-ever physical mascot, Cobot would encourage the purchase of Coca-Cola products and gently scold shoppers for choosing the products of competitors. The Cobot also featured an on-board 8-track tape deck that could play "bleeps", "computers," "space and laser sounds," or the Coke jingle of the day, "Have a Coke and a Smile." A red window on the front of Cobot's dome was illuminated with the word "SMILE," quietly referencing the song title.
The novelty of a full-size robotic Coke can wandering the aisles of neighborhood supermarkets was pretty newsworthy back in the early '80s, and would undoubtedly still cause quite a stir among today's tech-savvy shoppers. "
Print news and television couldn't get enough of Cobot
," says Paul. "
Supermarket chains were obvious venues to promote the Coca-Cola brand, so as soon as the robots were deployed, they were appearing everywhere. Its celebrity status became a natural when Coca-Cola took its products to trade show floors."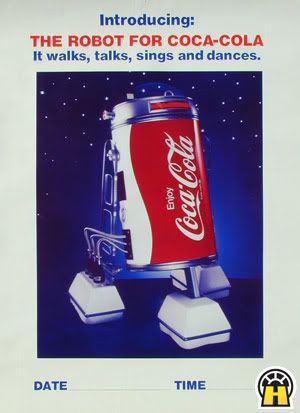 One Cobot career highlight included a brief appearance at the 1980 Winter Olympics Games where it "skated" among world class contenders on ice. Green also recalls the Cobot making guest appearances with celebrities, such as Bill Cosby and Muhammad Ali.
EDITOR'S NOTE: AND THEY SAY AMERICANS DON'T BRING ANYTHING TO THE WORLD-CULTURE PARTY?! MARKETING, BABY! WE ARE OLIYMPIC GOLD MEDALISTS AT

MARKETING

!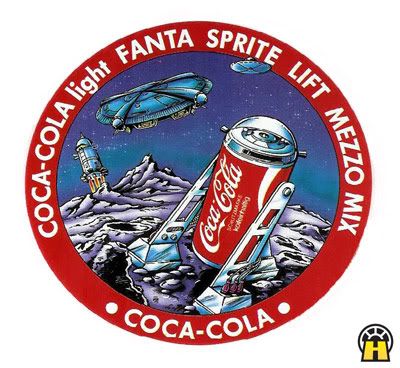 Promotional decal from Germany
Because of the Cobot's enhanced visibility both at home and abroad, Green found himself producing far more of the full-size Cobots than he ever dreamed would be necessary. From original estimates of 10-20 units, the final number produced ended up somewhere around 275, according to Green. Coca-Cola eventually subsidized sales of the Cobots to bottlers in the U.S. and over 30 countries around the world. Evidence of the Cobot phenomenon can still be found on promotional materials printed in Australia, Canada, England, Germany, and Japan, among others.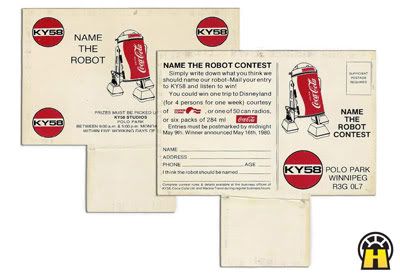 One gimmick that caught on with many bottlers around the world was staging contests that allowed consumers to name the robot, which at the time was still referred to generically as "The Coca-Cola Robot" (the "Cobot" name was devised in-house at Creative Systems, but was not immediately formalized).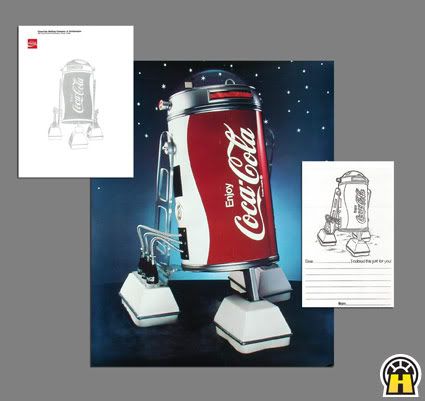 This giveaway poster, drawing pad, and in-house Coca-Cola stationary all showcase the famous soda mascot.
True to the spirit of acting, the Cobot could take on any number of identities in addition to adopting new names. The robot was sent to bottlers with a kit allowing them to brand it with any one of Coca-Cola's soft-drink varieties of the day. Shedding the familiar red and white Coke deco, the robot could take on the guise of Sprite, Mello-Yello, Fanta, or any other beverage brand owned by Coca-Cola.
EDITOR'S NOTE: THAT SPINNING SOUND YOU HEAR IS R2D2...THE

REAL

ONE (WHAT...HE'S NOT REAL???)....MORTIFIED BEYOND DROID BELIEF!
The kit included an interchangeable magnetic brand panel that could be applied and removed from the robot's metallic body, an 8-track
EDITOR'S NOTE: A STATE-OF-THE-ART DROID WITH AN 8-TRACK. GIGGLE.
with the appropriate sound effects and jingles, and a means to swap out the soda bottles that were attached to the robot's feet.
In addition to meeting the Cobot at any number of supermarket venues around the world, some lucky shoppers could actually take home a miniaturized remote-controlled version sold alongside Coca-Cola products. Merchandising the toy Cobot seemed like a no-brainer given the popularity of Star Wars among kids, and Coca-Cola was all too happy to have consumers take home what was essentially a piece of brand advertising. Lucasfilm, however, saw a potential licensing conflict -- believing the Cobot resembled R2-D2, they felt it could conceivably infringe on Kenner's own remote-controlled version of the astromech droid.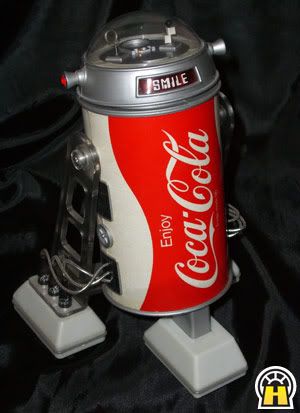 Happily, an arrangement was struck
EDITOR'S NOTE: AND THERE WAS ONCE AGAIN JOY IN MARKETINGLAND! HUZZAH!
-- Coke would manufacture no more than 1,000 units of the Cobot miniature, distributing them through only three regional U.S. test markets, including the Coca-Cola store in Atlanta. Lucasfilm would receive a royalty on their sales, and R2-D2's original design patent would be listed on the box and toy.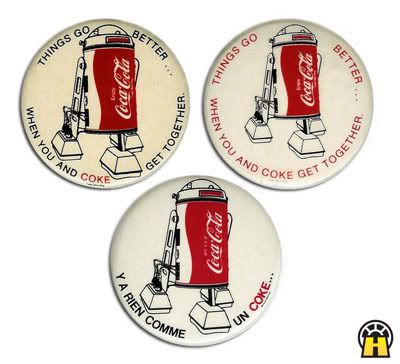 A trio of different Cobot buttons from Canada.
According to Green, the Cobot toy was the fastest selling near-pack premium ever to be sold through Atlanta's Coca-Cola store at the time, which he recalls cost around $23. Like its larger counterpart, the miniature Cobot could move forward and backwards, turn, spin its dome, flash its "SMILE", and make electronic beeping sounds. Green also remembers that an extremely rare variation of the Cobot toy was distributed by Foodland Markets in Atlanta, which featured a flashy grocer uniform decal applied over the standard Coca-Cola graphics.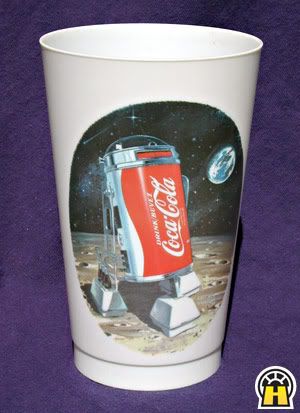 Cobot appears on this cup from Canada.
Michael Paul still displays one of the Cobot toys in his company office, which travels in its own special showcase display to trade shows. "
Cobot will always hold a very high place in history for 21st Century Robotics,"
says Paul.
EDITOR'S NOTE: AND IN THE ANNALS OF 20TH CENTURY MARKETING, NO DOUBT?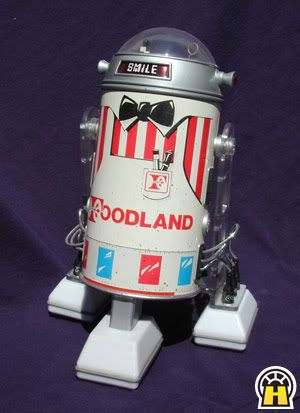 In the wake of the enormously successful Cobot design, 21st Century Robotics offered many subsequent models that evolved out of the Cobot mold. Budweiser, Coors, McDonald's, and FedEx are just a few of the brands the company counts among its many clients, although an arrangement with Atlanta-based police departments in 1980 probably had the most profound influence on the company's current stock in trade.
"
In 1980, Green's 21st Century Robotics approached the Atlanta City Police and the Atlanta Board of Education to produce a 'policeman' robot to teach stranger danger during the missing and murdered children cases in Atlanta,"
says Paul, who joined Creative Systems Group in 1989 as lead technician and robotics department manager.
"This became the launching pad for the Auxiliary Robotics Educational System, A.R.E.S., and continues today
."
EDITOR'S NOTE: SO EVEN OUT OF CRASS COMMERCIALISM, SOME GOOD THINGS MAY ARISE.
Green had sold the promotional robotics division of 21st Century Robotics Inc., to Creative Systems in the mid 90's.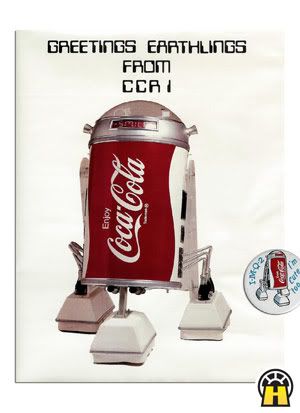 This poster and button from Australia showcase a pair of regionally-assigned names given to the Cobot
"In 2000
," continues Paul, "
CreativeKiosk, led by Tom Zaken, became another division of CSG, after mobile computing and ATMs had taken off around the world. The new push was towards custom designed kiosks for all kinds of product promotions in retail venues and ticketing kiosks at airports. The production of robots ceased and 21st Century Robotics was fast becoming a memory."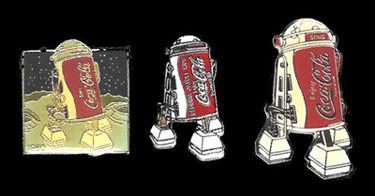 Three Cobot tie-tacks
After 10 years at Creative Systems Group, Paul left the company but continued to service its robots around the world. Discovering three years later that 21st Century's original customer base was still eager for new designs, Paul decided to re-incorporate 21st Century Robotics, now located in Monroe, Georgia, to begin research and development on the NG-1, or The Next Generation robot. In September, 2005, Paul debuted the NG-1 at the International Association of Chiefs of Police show in Miami, coupled with a full-swing marketing campaign aided by partners Lenovo and Microsoft.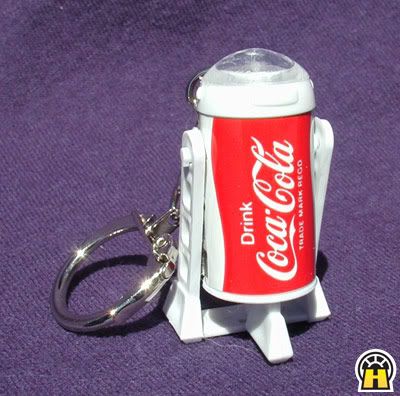 Cobot key chain from Japan
"
NG-1 offered unmatched technology breakthroughs in robots for educational markets
," beams Paul,
"and its robust, yet sleek design once again caught the attention for promotional markets. News stories are regularly requested and NG-1 is booking appearances in every type of venue"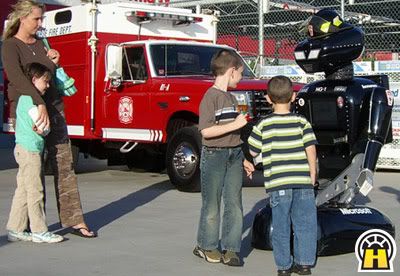 21st Century Robotics' new NG-1 robot is creating a whole new set of robot fans
Even with their new state-of-the-art robot headlining the company website, the revered 27-year-old Cobot is still listed among the handful of robots the company still provides service for on their support page. Like the stalwart droid that inspired the first Cobot, it appears 21st Century Robotics remains loyal to the end.
EDITOR'S NOTE: AWWW....I LOVE YOU R2D2!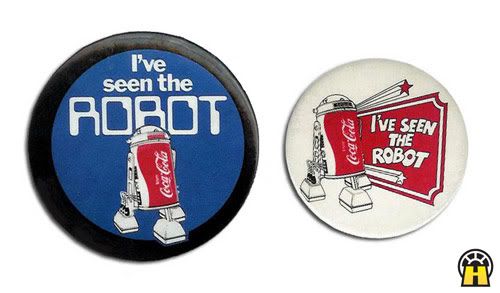 A pair of Cobot buttons from England
To learn more about 21st Century Robotics' latest products, please visit their website here.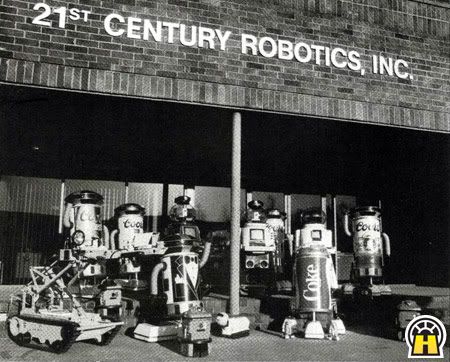 http://21stcenturyrobotics.com/
EXTRA BONUS COBOTS: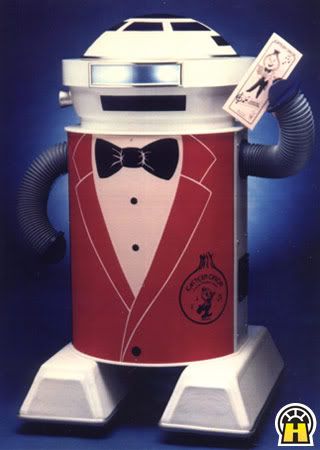 BJ Eastern Onion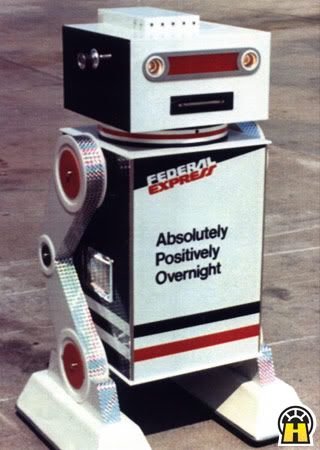 FedEx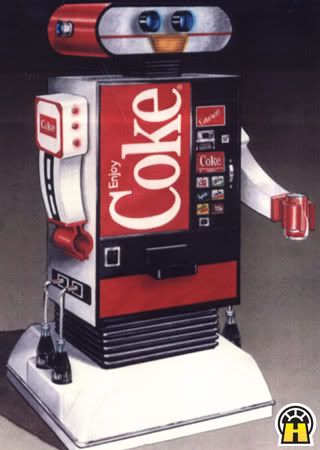 The Cobot evolves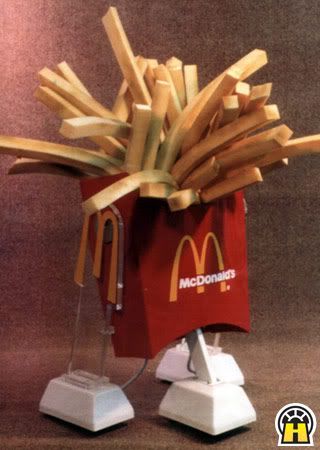 McDonald's Fri-Guy
EDITOR'S NOTE: ANYONE ELSE BESIDES ME GETTING A LITTLE HUNGRY, HERE?!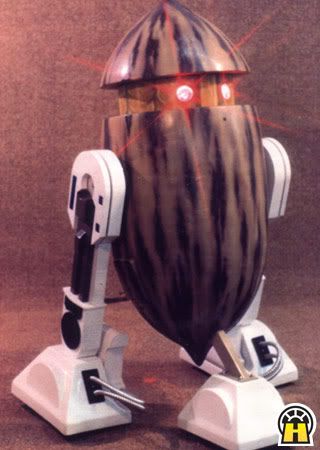 Pecan Stan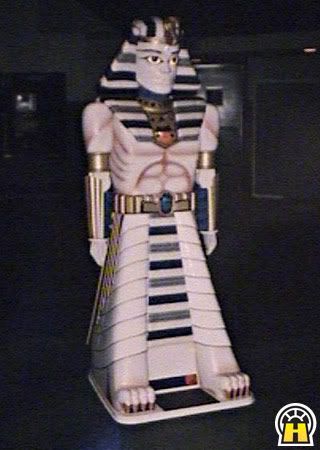 Tut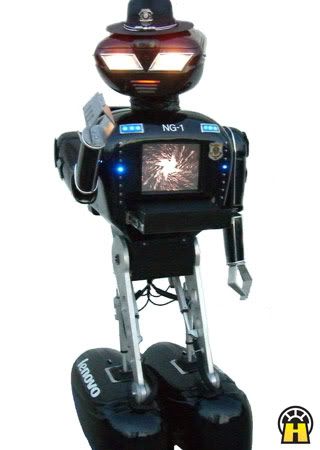 NG-1
EDITOR'S NOTE: AND NOW, SEVERAL EU/BOOK ITEMS (THE BAD NEWS? I'VE ACTUALLY GOTTEN BEHIND IN MY STAR WARS BOOK-READING. THE GOOD NEWS? I GET TO CATCH UP! A RARE MOMENT IN MY DWEEB LIFE WHERE I'M NOT WAITING WITH HELD BREATH FOR THE NEXT BOOK TO COME OUT, CAUSE I HAVEA BACKLOG. WOOHOO!):
Boba Fett Novella Due In August
Not much is known at the moment, but the Official Star Wars website announced (quitely) the other day that Karen Traviss has a Boba Fett e-novella coming out this August called A Practical Man. It appears to tie in with her Legacy of the Force title, Bloodlines, which is due this September. EDITOR'S NTOE: WELL, I HAVEN'T HAD GREAT LUCK WITH MAKING MY E-BOOK DOWNLOADS DOWNLOAD PROPERLY, BUT BARRING THAT, KAREN TRAVISS IS ONE OF THE BETTER OF THE AUTHORS. SO YAY!
Plagueis Book Coming In '08
For many months now, Del Rey has had a single book left on its contract ('05 to '08) that wasn't yet assigned. With the full breadth of the timeline more open now than ever before, speculation has been fierce as to what kind of story we might end up getting.
At long last, we have an answer, courtesy of the Official Site:
Luceno to Pen Plagueis Page-turner

Did you ever hear the tragedy of Darth Plagueis the Wise? I thought not. It's not a story the Jedi would tell you. It's a Sith legend. -- Chancellor Palpatine (a.k.a Darth Sidious).

With that carefully calculated name-drop in Episode III, the silver-tongued Palpatine added another intriguing entry into the limited roster of known Dark Lords of the Sith. Since that fascinating tale first escaped his lips last year, Star Wars fans have been aching for any sort of information that would shed light on the immediate Sith history that produced Darth Sidious.

In 2008, readers will learn more. James Luceno, author of the bestselling Cloak of Deception and Dark Lord: The Rise of Darth Vader, has been contracted by Del Rey Books to write a novel about Darth Sidious and his Muun mentor, Darth Plagueis. As is to be expected on all matters of the Sith, details remain obscured by the shadow of the dark side, but in time, more will be revealed.

Luceno's as yet untitled book is scheduled for hardcover release in 2008.
Already there's interesting new info to chew over here - Palpatine's master was a nonhuman? Who would have thought!?
EDITOR'S NOTE: INDEED! ESPEICAILLY WITH HIS WELL-KNOWN AVERSION TO NON-HUMANS, AND HIS INSTITUTIONALIZING THIS DURING HIS REIGN.
BUT WAIT....MORE BOOK NEWS ---
First Look: Allegiance
Author Timothy Zahn returns to the Star Wars galaxy next year with his next book,
Star Wars: Allegiance.
Here's a first look at its cover, by artist John Van Fleet.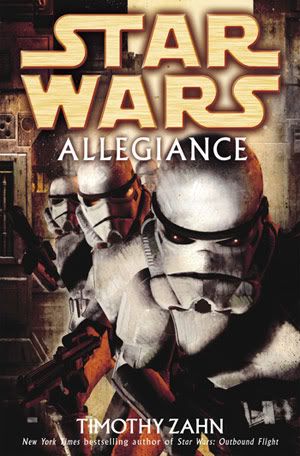 In
Star Wars: Allegiance
, which takes place during the time between Episodes IV and V, Luke Skywalker is still new to all this Jedi business. Han Solo isn't sure how much he's willing to commit to the Rebel Alliance. Princess Leia is trying to help run the Rebellion and wondering why Han is so infuriating. The young Mara Jade is one of the most valued agents of the evil Emperor. And a team of stormtroopers goes rogue, deciding to mete out justice their own way...
EDITOR'S NOTE: TIMOTHY ZAHN AND CLASSIC TRILOGY TIME PERIOD. ALL IS RIGHT WITH THE GALAXY!
Del Rey Books is scheduled to publish this hardcover release on January 30, 2007.
EDITOR'S NOTE: STAR WARS MYSTERY PROJECT 2007 ART, NEXT

TWO

IN THE SERIES: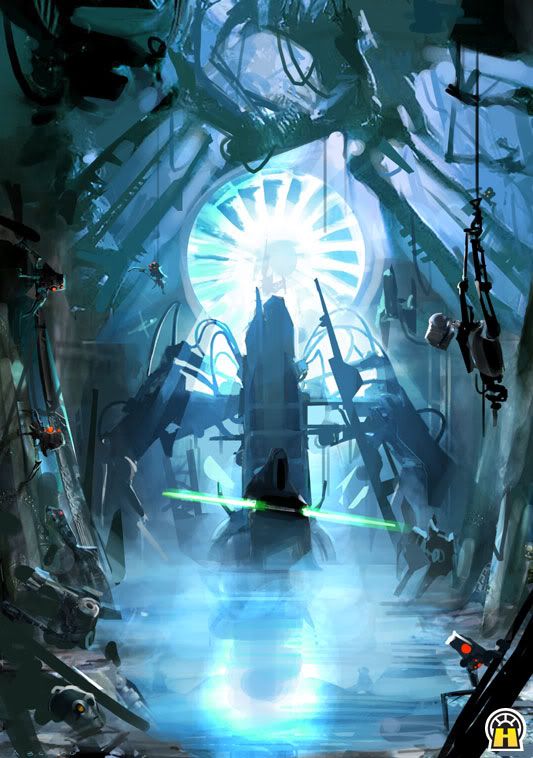 On a world where much comes to vanish, a lone figure stands up to be noticed.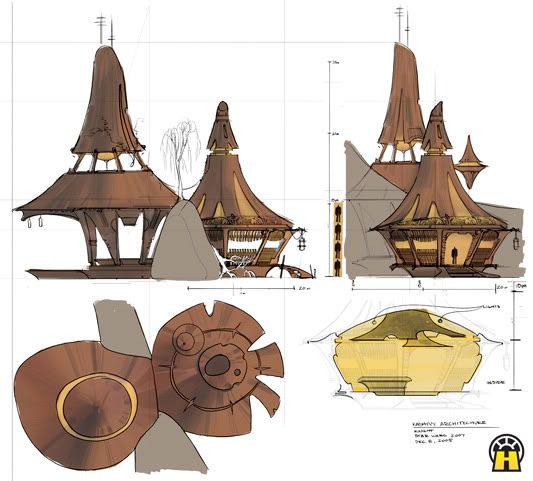 There's more of the Wookiee home world waiting to be explored.
EDITOR'S NOTE: AND NOW, TWO WEEKS WORTH OF WEEKLY PICS ---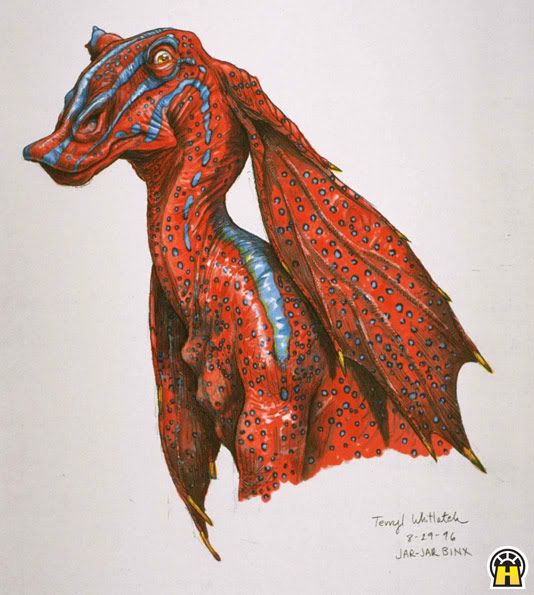 In this early color study of Jar Jar Binks by Terryl Whitlatch, the artist suggests a more dramatic coloration.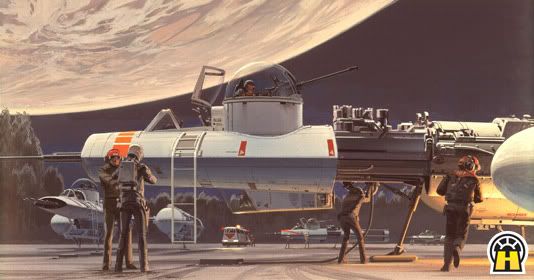 This early Ralph McQuarrie painting captures the Colin Cantwell conceptual version of the Y-wing fighter, complete with bubble-dome turret gun which would be unfilmable using 1970s visual effects.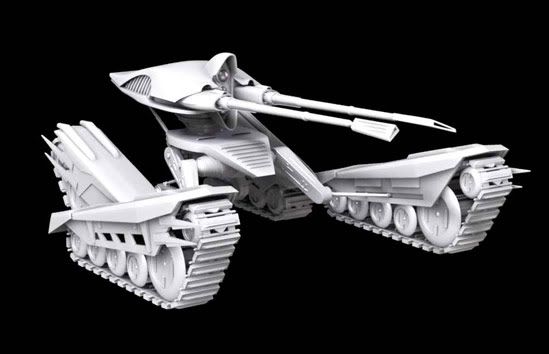 This tank droid concept made it as far as a digital model before it was cut from Episode III.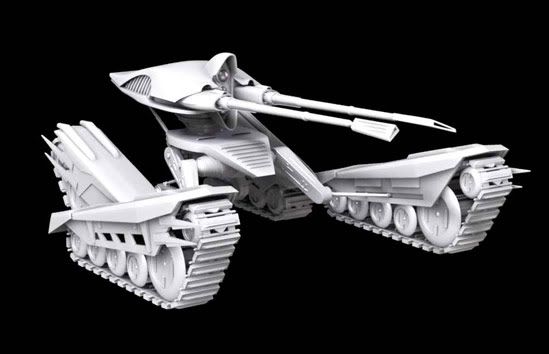 Ryan Church's painting establishes the virtual environment of the Senate chamber walkway for Episode II.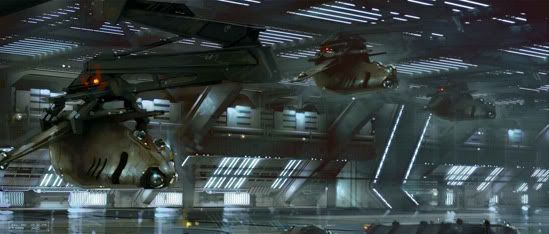 Republic gunships undergo restocking for combat missions in a Coruscant hangar bay.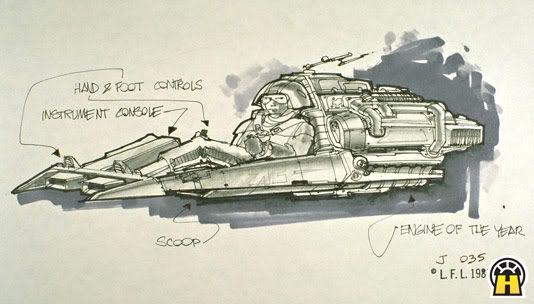 This Joe Johnston sketch of a speeder bike calls out what is apparently a prize-winning engine.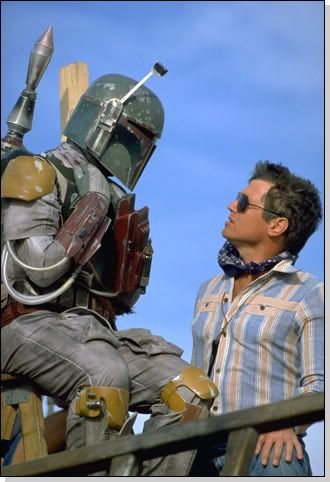 BOBA Fett on the set.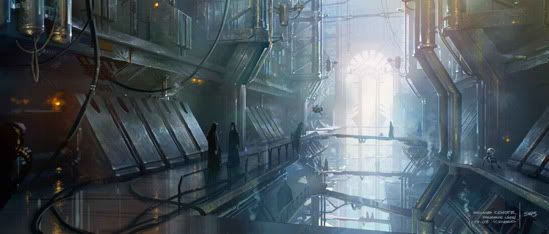 A rare view inside the Imperial rehabilitation center where Darth Vader is reborn.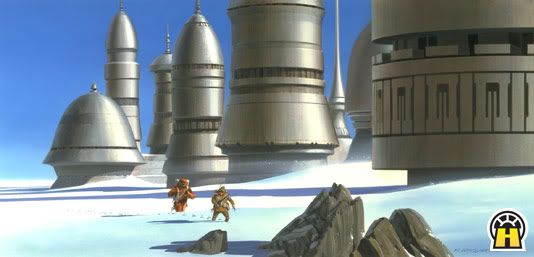 Han Solo and Chewbacca hike across a very different looking Echo Base in this early production painting by Ralph McQuarrie.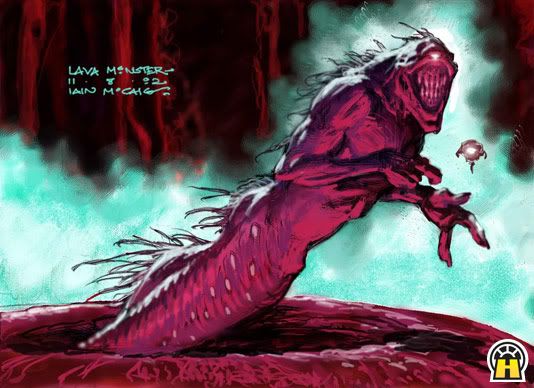 Iain McCaig illustrates this wicked looking serpentine monster thought to inhabit the fiery lands of Mustafar.
AND TO CLOSE IT OUT ....LOOKIE LOOKIE ODDBOB (WHO FANCIES HIMSELF EVIL, AS OPPOSED TO JUST MILDLY IRRITATING)--------------SITH!