The OddsNEnds that End the Odd Week
EDITOR'S NOTE: MORE OF THIS AND THAT (NON-STAR WARS) TO CATCH UP BEFORE THE WEEKEND.
MOVIES:
Owen Signs up to Protect the CHILDRED OF MEN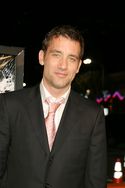 EDITOR'S NOTE: ANOTHER IN OUR ON-GOING SERIES OF PICTURES JUST CAUSE THE ACTOR IS (
TECHNICAL TERM
)

YUMMY

.
Clive Owen has agreed to star in Alfonso Cuaron's sci-fi film CHILDREN OF MEN.
Set in a dystopic society, where humans' lack the ability to reproduce, the first woman in more than 20 years becomes pregnant, and thus becomes the most sought-after person in the world. Owen's character is enlisted to protect her.
The film is based on P.D. James' novel.
EDITOR'S NOTE: CUARON GOOD. P.D. JAMES VERY GOOD. OWEN YUMMY. SHOULD BE YUMMYGOOD.
Wilson wants relationship with 'Children'
Two-time Tony Award nominee Patrick Wilson is in talks to star in writer-director Todd Field's relationship drama "Little Children" opposite four-time Oscar nominee Kate Winslet and Oscar winner Jennifer Connelly for New Line Cinema. Field was fending off considerable interest for the role of a sexy young father who is a former college quarterback.
After meeting with Wilson in New York, Field was so impressed with the theater and film actor that he instantly offered him the part. Wilson, who starred in Joel Schumacher's "Phantom of the Opera" last year, also was nominated for Emmy and Golden Globe awards for his role in "Angels in America"
DISNEY IN BLOOM
DISNEY HORTICULTURALIST ERIC DARDEN TALKS ABOUT EPCOT GARDEN FEST 2005
Topiaries like these grace the Festival with green.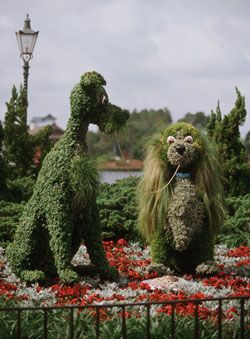 The air's getting warm, daylight savings has given us long, lovely, light-filled afternoons, and the birds are working overtime – at long last, spring is here!
And one of the most eagerly anticipated spring rituals at Walt Disney World Resort is the annual Epcot Garden Festival, a seven-week celebration of all things green, growing, and good.
This year's festival began April 15 and will run up to the very brink of summer, June 5.
To learn what's new and not to be missed, we spoke to Disney Horticulturist Eric Darden.
Among the new features at this year's festival, Eric is especially excited about Minnie's Magnificent Butterfly Garden, featuring a structure filled with gorgeous butterflies and the plants they love. Guests can walk through and commune with the winged beauties – and surrounding the house is a "butterfly garden" planted with all the flowers butterflies love best.
Mickey gets a refreshing shower.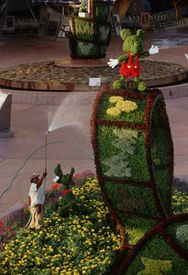 One returning favorite is a treat not just for the eyes, but for the nose.
A fragrance garden sponsored by Guerlain, the oldest perfume house in the world, features the plants from which many famous perfumes are made, plus "lift 'n' sniff" stations where Guests can smell the perfumes themselves.
According to Eric, the perfumes often smell nothing like the plants from which they're created. "
Perfumers often use the stems or even the roots of plants to create fragrances, instead of the flower. The results can smell quite different from what you experience in the garden
," he explains.
Adding to the luxurious effect are topiaries cut in the shapes of Guerlain's perfume bottles, including the familiar Shalimar flagon.
Festival-goers will discover not just how to make their gardens beautiful, but how to make them environmentally sound as well. Gardeners will get loads of tips on water conservation, natural pest control, and more with exhibits like WaterFULL World, devoted to gardening with a minimal amount of water.
"
It really demonstrates the fact that what you do in your yard and what you put down on your yard, eventually it's going to end up in the rivers. It shows guests how they can make their gardens more environmentally friendly,"
explains Eric. "
There are a lot of things for kids woven in there, too."
Why the emphasis on "green" gardening?
EDITOR'S NOTE: CAUSE EVIL, MONEY-GRUBBING CORPORATIONS CAN DO STUFF LIKE THAT AND TRICK US INTO THINKING THEY CARE. (
OF COURSE, THIS IS

DISNEY

, SO I'M WILLING TO BE TRICKED
).
According to Eric, it's just a natural part of the festival.
"
One of the things we're trying to show guests is how they can garden like Disney
," he says, "
and we try to garden environmentally friendly."
In fact, he tells us, "
Disney World uses less potable water – the water we all drink and take baths in – than in 1990, which was before Disney's Animal Kingdom opened. We've gone more to reused water, and we practice water conservation."
EDITOR'S NOTE: ACTUALLY, AS MUCH FUN AS MALIGNING BIG COMPANIES IS, I HAVE HEARD THAT THE DISNEY PARKS ARE VERY GOOD AT LOW-USE STRATEGIES. FOR ONE THING, IT'S A LOT CHEAPER FOR THEM!
Water-wise gardening isn't the only challenge Epcot's garden festival planners face; the festival runs from early spring through the beginning of Florida's scorching summer, and finding plants that will thrive at temperature extremes and look good for the full seven weeks is the trickiest puzzle the horticulturists must solve.
The garden festival shows Epcot in full floral color.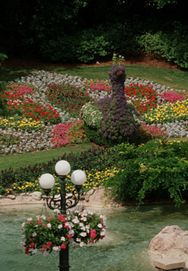 "
Last year before the festival opened, we had two nights where it got down to 48 degrees. In April the nights can still be chilly, and that's ideal weather for growing annuals. Lows in the 50s, highs in the 80s. And we usually start the festival like that, but by the END of the festival …!"
Eric laughs ruefully. "
Traditionally at most of our Disney parks, about halfway through Festival time is right when we do what we call a crop change. The winter bedding plants come out and the summer plants go in. But in the Festival, we try to find bedding plants that can handle both situations. The one thing we can't control is the weather!"
Selecting hardy, heat-tolerant plants is key; you won't see fragile pansies in the Festival gardens, for instance. Asked what tips he's picked up to use in his own home garden, Eric laughs.
"Generally, what goes in my own garden is what my wife likes! We're big on butterfly gardening."
Whatever your own pleasure – from butterflies to kid-friendly vegetable mazes, from Japanese gardens to the heady scent of perfume – the Epcot Garden Festival offers plenty of inspiration.
EDITOR'S NOTE: ONCE, SEVERAL YEARS AGO, I WENT WITH FRIENDS (
HI, MARGARET
) TO EPCOT. AND IT JUST HAPPENED TO BE DURING THIS GARDEN FEST. AS PRETTY AS THEY KEEP THE GROUNDS YEAR-ROUND, MULTIPLY THAT BY 10 FOR THE FEST. GORGEOUS!!!
THE REMAINING (NON-SW) MISHMASH:
Marvel Settles With a Spider-Man Creator
M
arvel

Enterprises
said yesterday that it had settled its legal battle with Stan Lee, its chairman emeritus and a co-creator of Marvel characters like Spider-Man and the Fantastic Four.

Mr. Lee sued the company in November 2002, arguing that it had failed to honor a contract promising 10 percent of profits from television and film productions like "Spider-Man," "X-Men" and "Hulk" as well as from some related merchandise.

This January, a federal judge in Manhattan sided with Mr. Lee but the judge also said he could not resolve some issues, suggesting that parts of the case could go before a jury. Under the settlement, Marvel dropped its plan to appeal the ruling.

Although terms were not disclosed, Marvel said in a financial report released yesterday that it took a one-time charge of $10 million to finance past and future payments claimed by Mr. Lee.

The company also said yesterday that it would begin producing movies using financing from
Merrill Lynch
and an exclusive distribution and promotion deal with the Paramount Pictures division of
Viacom
.
Its first releases under the new arrangement will include movies based on Captain America and Nick Fury. They are expected to reach theaters in 2007 or 2008.

The company has always played an integral role in productions based on its characters, said Avi Arad, chairman and chief executive of the Marvel Studios division. "

Essentially we are doing the same thing,"

said Mr. Arad, who is also chief creative at Marvel. "We are just doing it with better gain for us and for our partners."

By paying for most or all of its own productions, Marvel can avoid repeating its recent Hollywood experiences of outside movie studios making films based on Marvel characters and reaping most of the revenue.

Marvel collected only a thin slice of the box-office receipts, for example, from movies like "Spider-Man" and "Spider-Man 2," which were made by
Sony
Pictures after Marvel sold Sony the rights. The second Spider-Man movie, released in 2004, had global ticket sales of almost $800 million.

"X-Men," its sequel and the Fantastic Four movie scheduled for release this summer are productions of 20th Century Fox, part of the
News Corporation
.

"

They had effectively sold off these brands to the likes of Sony and News

," said Anthony DiClemente, an entertainment analyst at
Lehman Brothers
. With much of the box-office and DVD revenues flowing to others, Marvel's benefit from movies like "Spider-Man" was largely limited to what it got from licensing deals, he said.

"

Now Marvel is in a position where it will control its own destiny

," Mr. DiClemente said. "If these movies underperform, it is going to impact the stock. But that's true of any of their movies."

EDITOR'S NOTE: NOTHING VENTURED, NOTHING GAINED, EH?



To cover costs that Marvel estimated at $45 million to $180 million a film, the company secured a $525 million, seven-year revolving loan from Merrill Lynch Commercial Finance. The debt is secured by movie rights to 10 Marvel characters including Captain America.

The plan calls for Marvel to pay Paramount for marketing and distributing up to 10 Marvel movies over eight years. It is the first major deal for Paramount since Brad Grey became chief executive last month.

For the first quarter, Marvel, based in New York, reported $104.1 million in sales, down 14.8 percent from $122.3 million in the first quarter of 2004. Net income totaled $27.7 million, down 11.3 percent from $31.3 million in the quarter last year.

Earnings per share were 25 cents, down from 27 cents in the first quarter last year. Excluding the $10 million charge for Mr. Lee's settlement, the equivalent of 6 cents a share, the company beat Wall Street expectations. Analysts had expected the company to earn 27 cents a share, Thomson Financial said.

Shares of Marvel Enterprises rose 33 cents, to close at $19.52.

EDITOR'S NOTE: SO PLAYING NICE WITH OLD MR. LEE LOOKS GOOD TO THE SHAREHOLDERS. WELL...THAT...AND ALL THE STOCK/FINANCING/MONEY STUFF.
'Spamalot' tops Drama Desk noms
"Monty Python's Spamalot," the hit musical based on the work of the British comedy troupe, led nominations on Thursday for the 50th annual Drama Desk awards, often a harbinger of Broadway theater's June Tony Awards.
Based on the 1975 film "Monty Python and the Holy Grail," written by original Python member Eric Idle and directed by Broadway veteran Mike Nichols, "Spamalot" secured 12 nominations.
Following close behind in the nominations tally with 11 was "The Light in the Piazza," an opera-like musical based on the film of the same name. "Piazza," the story of a mother and daughter visiting Italy in the 1950s, took a leading 11 nominations last week for the Outer Critics Circle awards.
"Spamalot" received 8 nods from the Outer Critics Circle.
"Dirty Rotten Scoundrels," yet another Broadway musical based on a movie, garnered 10 Drama Desk nominations. But film star John Lithgow was not nominated for his leading role in the comic tale of two con artists on the French Riviera.
"Spamalot," "Piazza" and "Scoundrels" will compete in the best musical category with "Altar Boyz," "The Audience" and "The 25th Annual Putnam County Spelling Bee."

Silva Screen does Spielberg
Silva Screen announces the May 10th release date of a 2-CD set entitled Music from the Films of Steven Spielberg (SIL-CD-1182 UPC 738572118228), featuring 145 minutes of music sampled from over 30 years of Spielberg's cinema career, including music from JAWS, RAIDERS OF THE LOST ARK, CLOSE ENCOUNTERS OF THE THIRD KIND; E.T., JURASSIC PARK, SCHINDLERS' LIST, and THE TERMINAL, among others.
This 28-track collection highlights Spielberg's incredible career as director and producer, whose films are inextricably linked with the symphonic beauty of John Wiliams' scoring.
With five Oscars and 41 nominations, Williams is a true master of cinematic scores. Some of Spielberg's other musical collaborations are also featured in this set, including those with Quincy Jones, Jerry Goldsmith and Billy Goldenberg. From DUEL to TERMINAL, this release features 30 years of movie magic.
Also coming out May 10th is The Incredible Film Music Box (SIL-CD-1181 UPC 738572118129) – a 4 CD box set featuring music from the greatest box office hits of the past 60 years.
This comprehensive tour of the best film music from 1939 to 2004 includes music from John Barry, Enio Morricone, Bernard Hermann, Elmer Bernstein and John Williams, among others.
It also includes some of the most unforgettable themes in cinema – from Max Steiner's lush theme for Gone With The Wind to Michael Diacchino's powerful music for the state-of-the-art production The Incredibles. The music was performed by the The City of Prague Philharmonic Orchestra and the Crouch End Festival Chorus.
JAWS 30th Anniversary DVD Splashes Into Stores This June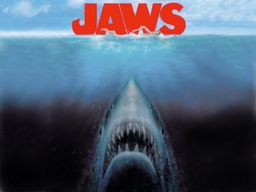 Universal Studios Home Entertainment will release a "Jaws 30th Anniversary Edition," two-DVD set loaded with extras, including a two-hour documentary about the movie, on June 14th.
Additional bonus material will include deleted scenes and outtakes as well as production photos, and story boards. They are also including a rarely seen interview with Spielberg on the set of the film.
The DVD will retail for about $23.
AND IN HONOR OF THE PREMIERE TODAY OF THE HITCHHIKER MOVIE, A SPECIAL (HITCHHIKING) EDITION OF ODDBOB'S CORNER:
In the original Guide, the entry for Earth said only, "

Mostly Harmless

." Here are some of our additions to fill in more detail.
The Top 10 New Earth Entries in the "Hitchhiker's Guide to the Galaxy"
10> If an older human male asks you to pull his finger -- don't, unless you are a methane breather.
9> Stock Market: A group of humanoids in a large room who jump around waving little bits of paper in the air and shouting until a bell sounds, when all papers are dropped on the floor and everyone leaves.
8> Earth Wars: Wars are started on Earth when somebody knocks down one of your buildings and you invade a completely different country which has better lighting and more oil.
7> Entertainment: There is no actual entertainment produced on Earth, only sequels to entertainment produced earlier.
6> Credit Card: A piece of plastic that has great value for an undeterminable amount of time, after which it then becomes worthless.
5> Disneyland: Where humans go to escape from reality if they don't happen to be delegates for their United Nations. Nothing real exists there.
4> The dominant species on Earth is a primitive hairless monkey that tastes like chicken.
3> While common in horn-based civilizations, greeting a female human with "Nice hooters!" is not appropriate.
2> Garage: A place to store the individual transport device as well as many other items, including empty flimsy paper cartons, empty cans, double-wheeled balancing movers, bags and papers. Also used as an environment to grow assorted medicinal fungi and molds.
and the Number 1 New Earth Entry in the "Hitchhiker's Guide To The Galaxy"...
1> Spam: 1) A horrible facsimile of Double Fashild Shoomph in a small metal container. 2) Offers received through primitive computers for correctional and/or augmentational medicines based on highly advanced science
EDITOR'S NOTE: WHERE WOULD WE BE WITHOUT OUR ODDBOB? (BEST NOT TO DWELL ON THAT.....)