Breaking Indy 4 News!
Editor's Note: And yet another scooplet passed along by dweebpal PlanoKevin! (YOU rock, Kev!)
Rumors true: LaBeouf will be in 'Indiana Jones 4'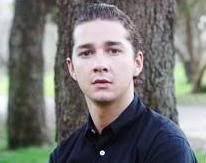 After months of building Internet buzz, this can finally be reported as fact: Shia LaBeouf has been cast in the upcoming "Indiana Jones" movie.
Producer George Lucas and director Steven Spielberg announced Friday that LaBeouf will appear alongside Harrison Ford in the fourth installment of the adventure franchise, scheduled for release May 22, 2008. Production is set to begin in June.
"We are excited about bringing Shia into our Indy family
," Spielberg said in a statement on the "Indiana Jones" Web site. "
His talent has impressed not only his audiences throughout his young career but the directors, producers and fellow actors who have worked with him in his television career and now his film career."
Paramount, a division of Viacom Inc., declined Friday to say what role LaBeouf would be playing.
The 20-year-old actor told The Associated Press in March that the persistent Internet rumors about his casting in the film were just that -- rumors.
"
The way that thing started, it's just wild how it snowballed
," LaBeouf told the AP then. "I
don't have a deal on the table, it's just a rumor. Would I do it? In a second. It'd be working for a legend and working with legends. Who wouldn't? But is it something I'm doing right now? No. I'm an out-of-work actor."
It's a busy weekend for the up-and-coming actor. He stars in "Disturbia," a high-tech, teen version of "Rear Window," which opened Friday; then he's hosting NBC's "Saturday Night Live" on Saturday.
LaBeouf also co-stars in this summer's "Transformers" movie for Spielberg's DreamWorks Pictures, and provides the voice of one of the penguins in the animated "Surf's Up."
His previous films include "A Guide to Recognizing Your Saints," "The Greatest Game Ever Played" and "Holes."
He also won a Daytime Emmy in 2003 for the Disney Channel series "Even Stevens."
Editor's Note: So there you are. NOW all they need is a good script?