The First Dweebing of JUNE!
EDITOR'S NOTE: JUST A LITTLE HODGEPODGEING TO KICK OFF A NEW MONTH.
FIRST UP.....PANDERING TO DWEEBPAL SAMANTHA. (WHO STILL MISSES XENA?)
COMICS AND MISC:

Batwoman is a lesbian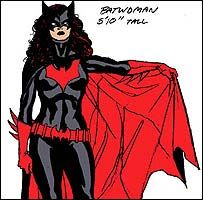 DC Comics has announced a new comic-book heroine, Batwoman, who will be a "lipstick lesbian" that fights crime in the comic
52
.
The new-look Batwoman is one of many new characters which are more ethnically and sexually diverse than their predecessors. The characters are part of a wider effort to broaden the make-up of comic-book characters to make them more in-line with society as a whole.
In
52
, Batwoman will be a rich socialite who has a romantic history with another character, ex-police detective Renee Montoya. The series will be set in a world in which established superheroes like Batman, Superman, and Wonder Woman no longer play a role.
EDITOR'S NOTE: UMM....WHERE'D THEY GO?
The publication will be year-long and began this month.
Batwoman, who first appeared in July 1956, has not been seen since September 1979 when she was killed by the League of Assassins and the Bronze Tiger.
EDITOR'S NOTE: WELL THAT WASN'T VERY NICE OF THEM. I GUESS IF THEY WERE NICE, THEY'D BE CALLED THE 'LEAGUE OF....UMM....NICE PEOPLE'?
Season 2 of LOST to DVD in October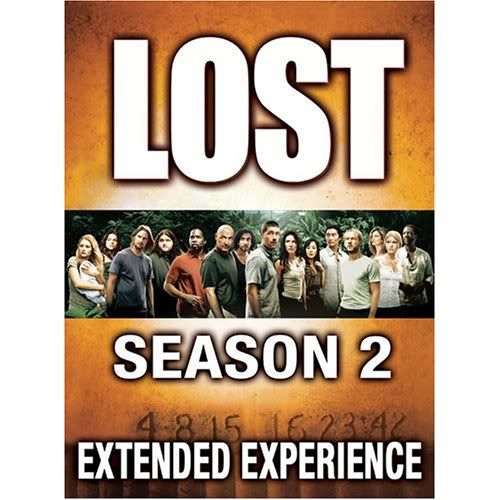 The second season of LOST will be released on October 3, 2006 via Buena Vista Home Entertainment.
The release will be a seven disc DVD set and contain every episode from the second season as well as bonus materials and extra features.
It is expected to retail for $59.99 (though Amazon has it listed at $41.99) and feature the following bonus material:
- Lost Connections
- Lost: On Location
- The Lost Flashbacks
- Secrets of the Hatch
- Lost Bloopers
- Deleted Scenes
- Fire and Water: Anatomy of an Episode
- Audio Commentaries and more
EDITOR'S NOTE: WONDER WHY THEY'RE NOT COMING OUT WITH THIS BEFORE THE NEXT SEASON STARTS? (THAT SOUNDS LIKE IT WOULD MAKE MORE SENSE, HUH?)
STAR WARS NEWS:
Star Wars Celebration IV in Los Angeles To Mark 30th Anniversary of Saga

To celebrate the 30th Anniversary of Star Wars, Lucasfilm Ltd. and Gen Con LLC will throw the largest party ever for fans of the saga, taking over the entire Los Angeles Convention Center in May 2007 for five days filled with live entertainment, celebrities from all six movies, special film and video presentations, an exhibit of movie props and costumes, exclusive merchandise sold at a 24-hour-a-day store
EDITOR'S NOTE: OH MY LANDS! DWEEBING SHOPPING ROUND THE CLOCK! (LIKE ONLINE, BUT YOU CAN GROPE THE MERCHANDISE!)
, pop culture tributes, immersive events
EDITOR'S NOTE: IMMERSIVE? SO WE DON'T HAVE TO COME BACK TO

THIS

GALAXY?
, costume contests, and scores of additional activities.
Star Wars Celebration IV
will fill the L.A. Convention Center from Thursday, May 24 to Monday, May 28, 2007.
EDITOR'S NOTE: OK GANG (IN HOUSTON). WE'VE MISSED ALL THE PREVIOUS SW CELEBRATIONS. DON'T YOU THINK WE REALLY MUST GO TO THIS ONE?!!! (30TH ANNY, ETC. PLUS ALL OUR LALA FRIENDS WE CAN STAY WITH!)
Admission to the first day of the event will be for worldwide members of the Official Star Wars Fan Club,
EDITOR'S NOTE: OOO..THAT'S ME!! I'M A MEMBER!! WOOHOO, I ROCK!
many of whom will help plan and run special programming themselves. The convention will be open to the general public from Friday through Monday, Memorial Day.
"
Generations of fans have loved Star Wars, many passing along the 'Star Wars gene' to their children,
" said Steve Sansweet, Director of Content Management and head of Fan Relations for Lucasfilm.
"This is the first chance to celebrate all six movies in the saga-George Lucas' complete story-as well as the vibrant future of Star Wars. If you've ever been to one of our Celebrations-or if you haven't been before-this is the one not to miss."
Celebration III, a four-day event held in Indianapolis in April 2005, attracted more than 34,000 fans from all over the world.
"We started getting questions about a possible Celebration IV even while the last convention was running,"
Sansweet noted. "
So we're determined to far outstrip anything we've done before, both in size and scope, as well as introduce many first-time activities and lots of exclusives."

EDITOR'S NOTE: AND HERE'S HOPING THAT IT IS WAY BETTER ORGANIZED THAN I HEAR PAST ONES HAVE BEEN?
Lucasfilm is also working on other Star Wars-related events in the Los Angeles area just prior to Celebration IV,
"so we're expecting Southern California to become 'Destination: Star Wars' from the weekend before through Memorial Day weekend,"
Sansweet said.
EDITOR'S NOTE: OO...AND DISNEYLAND!!!!
The convention announcement was made jointly by Lucasfilm Ltd. and Gen Con LLC. Gen Con will once again manage the convention on behalf of Lucasfilm and the Official Star Wars Fan Club. The Celebration IV announcement is being made a year in advance to give fans worldwide a chance to plan for a week-long "Destination: Star Wars" blow-out in Los Angeles.
Los Angeles is the ideal site for a 30th Anniversary convention, Sansweet said, since there are many Star Wars roots in the area. It was also the location of the first official Star Wars fan gathering, the 10th Anniversary Convention. Star Wars opened on May 25, 1977, on just 32 theater screens in North America, including Grauman's Chinese Theater on Hollywood Boulevard.
One of the highlights for fans at a Star Wars convention is the chance to buy unique merchandise, including an exclusive, limited-edition action figure. Because this has led to bottlenecks and long lines in the past, the Celebration IV store will be bigger than ever, self-service, well-stocked with merchandise, have plenty of check-out lanes...and be open 24 hours a day from the opening of the show on Thursday until the close on Monday!
"Gen Con is thrilled to be working again with Lucasfilm on this very special event,"
said Peter Adkison, owner of Gen Con LLC, producer of Gen Con Indy and other Gen Con events.
"
Together I know that we will produce a convention that will not only meet, but exceed, fans' expectations. With Lucasfilm 100% behind this show, it's going to be the biggest party in the history of the franchise. We are particularly focused on dramatically improving the selection and service in the Celebration store."
Stay tuned to starwars.com as your primary source for updates about programming, guests, activities, entertainment and exclusive merchandise at
Celebration IV
to be released as they are confirmed closer to the convention.
Online ordering for tickets to the event and for discounted hotel rooms is scheduled to begin late summer/early fall

.
EDITOR'S NOTE: SERIOUSLY...WHO WANTS TO TAKE A HOUSTON GROUP FORAY!?? (AND WHAT ABOUT YOU DALLAS FOLKS??!!!)
There will also be information on getting around Los Angeles, traveling to and from the Convention Center, and on shuttle buses available for convention-goers who are staying in the city.
The Kir Kanos & Mystery Figure Expanded Universe 2-pack is now available for preorder at StarWarsShop!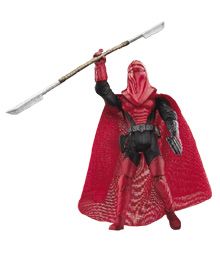 A new shared-exclusive for fans and collectors: the
Kir Kanos & Mystery Figure Expanded Universe 2-pack
, which includes two brand new Hasbro action figures and a Dark Horse comic book! The mystery figure and comic book identities will be announced at the right time, and the right place!
Expanded Universe fans know Kir Kanos as a steadfast disciple of Palpatine's New Order even after the Empire's collapse,
EDITOR'S NOTE: AH YES. I KNEW HIS NAME SOUNDED VAGUELY FAMILIAR.
whose beliefs made him one of the most deadly fugitives in the galaxy. Kanos was a member of the Emperor's Royal Guards, the elite red-robed sentinels that guarded Palpatine during his rule. Kanos was an expert at the echani fighting form and in wielding a force pike. His fanatical loyalty, though, was his greatest and most dangerous weapon.
Kir Kanos and the mystery figure will represent the second and third entries in Hasbro's new line of Expanded Universe figures, which launched with StarWarsShop's exclusive Shadow Stormtrooper last month. Be sure not to miss out on these incredible exclusives!
Kir Kanos & Mystery Figure Expanded Universe 2-pack
Our Price$19.99
Ships Sep 1
http://shop.starwars.com/catalog/product.xml?product_sku=SWHBEUP&rid=EMAILC-122
TV NEWS:
Govich gets 'L&O' badge; Farina exits
Dennis Farina is leaving NBC's crime drama "Law & Order" after two years, while Milena Govich, who co-starred in "Conviction," Dick Wolf's midseason drama for NBC, has come on board Wolf's flagship "L&O" series.
EDITOR'S NOTE: WONDER WHICH BORING, SKINNY WHIPPERSNAPPER SHE WAS ON THAT BORING SHOW. (I LOVE DICK WOLF'S MANY CREATIONS, BUT I LASTED ABOUT 1 AND A HALF EPISODES OF "CONVICTION". BLAH). SORRY TO SEE FARINA LEAVE. HE HAD NICE, PRICKLY CHEMISTRY WITH JESSE L. MARTIN.
On "L&O," from Wolf Films and NBC Universal Network TV, Farina played Detective Joe Fontana, who investigated crimes and apprehended suspects with partner Edward Green (Jesse L. Martin).
"Dennis is the consummate professional, and I respect his decision to pursue other opportunities, and he will be sorely missed,"

Wolf said.

"I genuinely hope we work together again."

EDITOR'S NOTE: AND THE BACK-STORY TO THIS IS.........??????



Morgan gets new life with Rhimes, ABC
Jeffrey Dean Morgan, who recurred on Shonda Rhimes' hit medical drama for ABC "Grey's Anatomy" this past season, has been tapped as a regular on Rhimes' new project for the network.
The untitled Rhimes project, about a group of female journalists, has a pilot order. It is being produced by Touchstone TV, the studio behind "Grey's."
On "Grey's," Morgan played heart patient Denny Duquette. Duquette, who was romantically linked to Izzie (Katherine Heigl), died in the series' recent second-season finale.
Additionally, Morgan has recurring roles on WB Network's series "Supernatural," on which he plays the ghostbusting father of series stars Jensen Ackles and Jared Padalecki, and on Showtime's comedy "Weeds," on which he plays star Mary Louise Parker's deceased husband, who appears in flashbacks and fantasy sequences.
EDITOR'S NOTE: SO HE SPECIALIZES IN DEAD GUYS, OR GUYS WHO TALK TO DEAD GUYS?
Ashford leads HBO expedition
Writer-producer Michelle Ashford has been tapped as writer and co-executive producer of the 10-hour HBO miniseries revolving around the legendary journey across the western U.S. by explorers Meriwether Lewis and William Clark in the early 1800s.
Edward Norton and Brad Pitt are executive producing the still-untitled miniseries, based on the book "Undaunted Courage: Meriwether Lewis, Thomas Jefferson and the Opening of the American West" by Stephen F. Ambrose. The project will be produced as a co-venture of HBO and National Geographic. National Geographic Feature Films president Adam Leipzig and National Geographic Ventures Tim Kelly are exec producing alongside Norton and Pitt.
EDITORS' NOTE: GUESS NORTON AND PITT AREN'T ACTUALLY STARRING IN IT THOUGH? DRAT.
The book chronicles the historic three-year expedition Lewis and Clark began in 1803 at the behest of President Jefferson to map what was then largely untamed wilderness to facilitate the then-young nation's westward expansion.
The project has been in development at HBO for nearly a year. Ashford's recent credits include serving as a writer-producer on the 2002-03 NBC drama series "Boomtown" and the 1998-99 CBS drama "L.A. Doctors."
Pair join Lifetime's 'Trace' telefilm
Amanda Detmer and Jonathan Scarfe have joined the cast of the Lifetime telefilm "Trace Evidence," due to begin shooting in Ottawa on June 16. The thriller, produced by Montreal-based Muse Entertainment Enterprises and Ottawa-based Sound Venture Produs., sees Detmer play a scientist on the verge of discovering the genetic cause of addictive behavior.
EDITOR'S NOTE: SOUNDS LESS SAPPY THAN THE USUAL LIFETIME (TELEVISION FOR

THEM

) FARE?
The TV movie already has been picked up by Lifetime Television for a late summer air-date, as well as Canadian broadcaster Chum Ltd. and European commercial TV distributor Granada International. Peter Svatek is directing. Producer credits go to David Patterson and Jesse Prupas
MOVIE NEWS:

SUPERMAN Flies to New Date
Warner Bros. has pushed the release date of SUPERMAN RETURNS up to June 28th. The move means the film will open on a Wednesday rather than the originally scheduled Friday (June 30th).
Warner Bros. also announced a few other date changes:
THE ANT BULLY: Now releasing on July 28, 2006
Brad Pitt's THE ASSASSINATION OF JESSE JAMES BY THE COWARD ROBERT FORD: Pushed back to sometime in 2007.
EDITOR'S NOTE: OUCH. WONDER WHY?
SPIDER-MAN 3 Pics and Teaser News
With shooting underway, tons of set pictures from SPIDER-MAN 3 are showing up on the web.
In a bit of related news, Superhero Hype! reported that the teaser for SPIDER-MAN 3 is expected to show up in theaters attached to SUPERMAN RETURNS. Keep a look out for that.
SPIDER-MAN 3 will sling into theaters on May 4, 2007.
EDITOR'S NOTE: YAY! HOPE IT'S AS GOOD AS LAST TIME. (AND A TRAILER....SO SOON!!!)
The pics from the set of give us a good look at Tobey Maguire dressed in that black suit that may or may not be the alien symbiote that eventually bonds with Eddie Brock and becomes Venom (who Topher Grace may or may not be playing
EDITOR'S NOTE: CHECK OUT PICS, BELOW. AND TOPHER GRACE! JUST ABOUT UNRECOGNIZABLE!
), may or may not be a physical manifestation of Spidey's inner angst or may or may not be Spidey going through an emo rock goth phase.
Whatever it is, the black suit was looking great and Grace looked like he was fitting in well as whoever it is he's actually playing. The ones below, give us a clear look at Bryce Dallas Howard as Spidey love interest Gwen Stacy and her apparently having an emotional moment with her father (played by James Cromwell).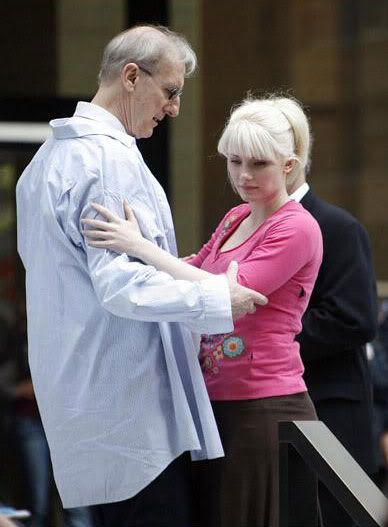 EDITOR'S NOTE: IS IT JUST ME, OR DOES BRYCE HOWARD LOOK LIKE SHE'S GAINED SOME CURVES SINCE "THE VILLAGE"?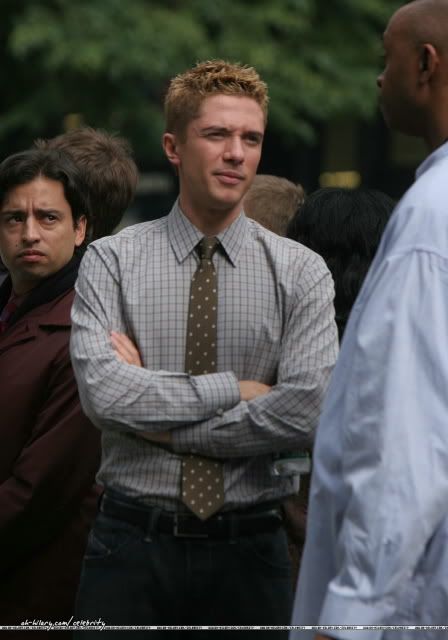 EDITOR'S NOTE: WHO KNEW TOPHER GRACE WAS A CUTIE?!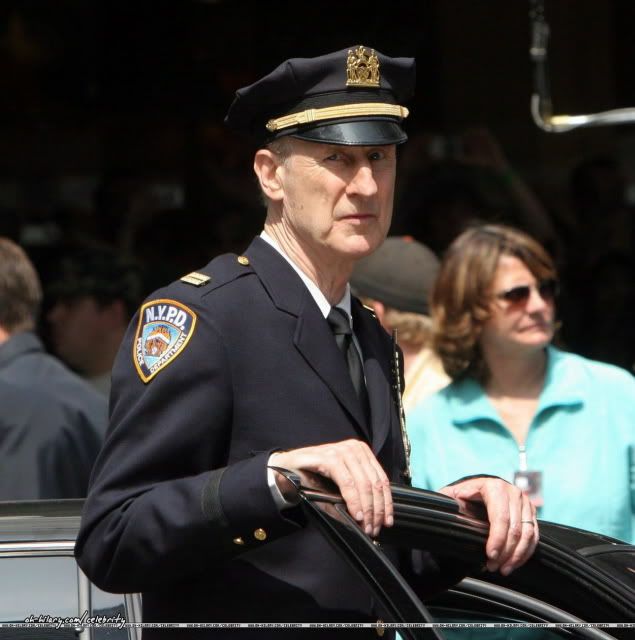 EDITOR'S NOTE: THE EVER-RELIABLE JAMES CROMWELL.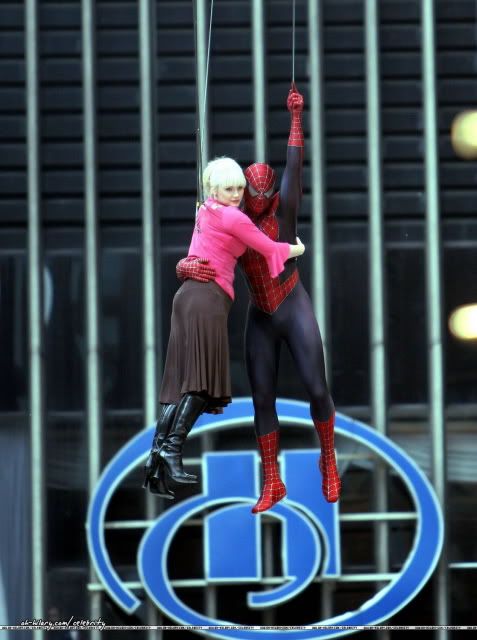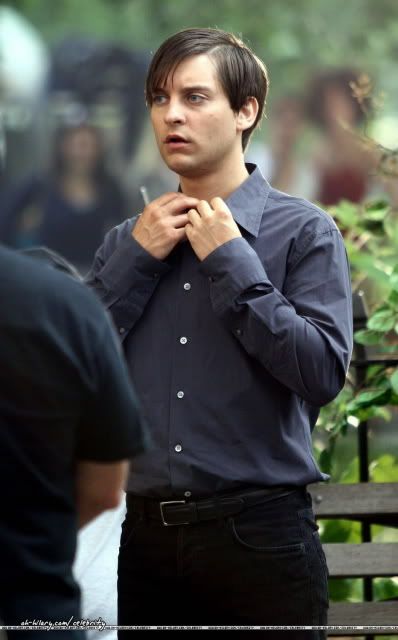 EDITOR'S NOTE: SHAGGY...BUT SO CUTE.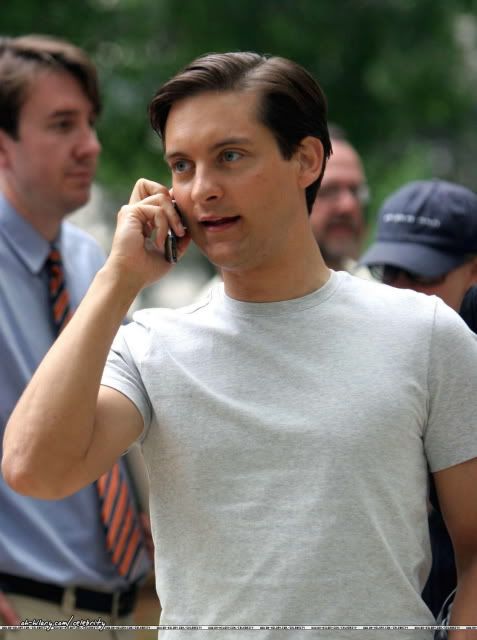 EDITOR'S NOTE: STILL IN SHAPE!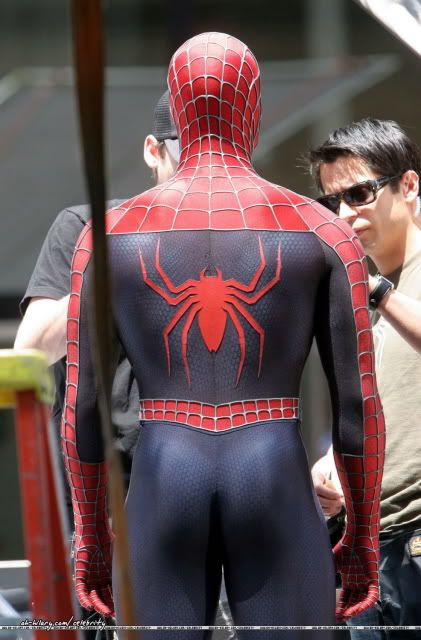 EDITOR'S NOTE: AND THE BEST FOR LAST......LET'S JUST TAKE A MOMENT TO ENJOY THIS SHOT.......
AND WE'RE BACK......
AND SPEAKING OF SPIDEY, ET AL ----
Avi Arad Steps Down as Head of Marvel Film Studio
Avi Arad has resigned as chairman and CEO of Marvel Studios and chief creative officer of parent company Marvel Entertainment. Upon stepping down, Arad created his own company, Avi Arad Prods., which will be charged with producing HULK and IRON MAN.
Essentially, very little will change with regards to the production of Marvel's upcoming slate of films. A noncompete clause will stop Arad from producing anything about superheros and probably anything even fantasy or science fiction related. Arad will no longer deal with the day-to-day corporate responsibilities and will instead focus on producing movies via his new company. Arad will be paid with a percentage of the box office from the films his company produces.
Arad will remain a creative adviser to Marvel Studios for the remainder of this year. Arad also remains Marvel's designated producer for any future movies based on SPIDER-MAN.
"Spider-Man is the crown jewel. I would never let go of that," Arad said.
In talking about the switch, Arad also commented on various upcoming Marvel films, saying that a director would be named for HULK within 40 days.
"This time, we'll make it the Marvel way," Arad said of HULK. EDITOR'S NOTE: THEY'RE MAKING ANOTHER HULK MOVIE? ARE THEY COLLECTING ALL THE COPIES OF THE ANG LEE ONE AND BURNING THEM? (AND THEN ADJUSTING THE MEMORIES OF EVERYONE WHO STILL CAN'T QUITE SHAKE THE AROMA?)
Taking Arad's old position at Marvel Studios will be Michael Helfant (chief operations officer) and Kevin Feige (president of production).

Wiseman wants to DIE HARD
Len Wiseman is in discussions to direct the upcoming DIE HARD 4 for 20th Century Fox.

Bruce WIllis will be reprising his role for the screenplay written by Mark Bomback and Doug Richardson.

The script pits a retired McClane against an Internet terrorist organization. EDITOR'S NOTE: SO WHAT ELSE IS NEW?! (JUST GLAD THE THING IS FINALLY MOVING FORWARD!)

Wiseman previously directed the vampire thriller UNDERWORLD: EVOLUTION.
EDITOR'S NOTE: HE'S THE DIRECTOR ENGAGED TO THAT STICKINSECTOFTALENT, KATE BECKINSALE. SO HERE'S HOPING SHE ISN'T MCCLANE'S NEW PARTNER OR LOVE INTEREST? (SHUDDER....)
Sean Bean is THE HITCHER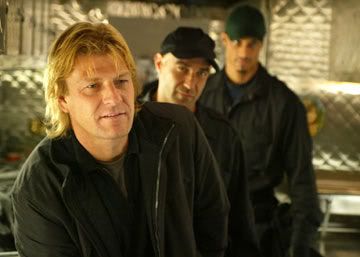 Sean Bean is thumbing his way to "The Hitcher," Rogue Pictures' remake of the 1986 horror film being produced by Platinum Dunes. Sophia Bush also is on board the film, which is being directed by veteran music video helmer Dave Meyers. EDITOR'S NOTE: DIRECTED BY A MUSIC VIDEO GUY AND PRODUCED BY MICHAEL BAY. SO....IT'LL BE LOUD.
The script follows a young couple driving across the country who become prey for a serial killer, who blames all of his murders on the young man. Eric Bernt wrote the current draft. Bean will carve out the serial killer role made famous by Rutger Hauer in the original. EDITOR'S NOTE: AWW....I KNOW SEAN BEAN DOES THESE BADDIES VERY WELL, BUT I WOULD LOVE TO SEE HIM DO MORE GOOD-GUY ROLES. HE CAN BE QUITE CHARMING IN THEM. Bush (WB Network's "One Tree Hill") has been cast as the young woman; casting is imminent on the young man.
Producing are Michael Bay, Andrew Form and Brad Fuller as well as Charles Meeker and Alfred Haber. Production is scheduled to start this month in Austin and Santa Fe, N.M.
Movie NewsAPOCALYPTO Poster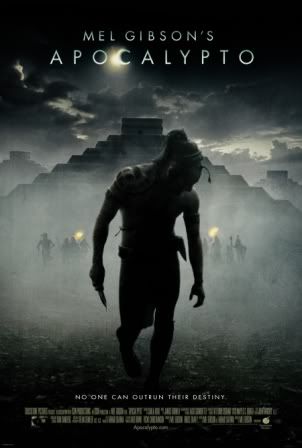 Touchstone Pictures has released the poster for the upcoming film APOCALYPTO.

The film is an ancient epic by Mel Gibson that is set against the turbulent times at the end of the Mayan civilization. EDITOR'S NOTE: PERFORMED, NO DOUBT IN THE DEAD MAYAN LANGUAGE?

APOCALYPTO releases on December 8, 2006.

Zellweger will solve CASE 39 with Alvart
German director Christian Alvart is negotiating to direct the Paramount Pictures horror film, CASE 39. The film will star Renee Zellweger and is due to start shooting later this summer in Vancouver.

The script is by Ray Wright and centers around an idealistic social worker (Zellweger) who saves a 10-year-old girl from her abusive parents. She later discovers that the girl is not quite as innocent as she thought. EDITOR'S NOTE: I HAVE AN 11-YEAR-OLD NEPHEW. THEY NEVER ARE AS INNOCENT AS YOU THINK.

Also cast in the film are Kirsten Storms and Alexis Thorpe. Alvart was officially announced to be the "New Face of German Cinema 2005" at the AFI Fest 2005 in Los Angeles. EDITOR'S NOTE: YES, BUT CAN HE TAP DANCE?

Ana Vega joining HANNIBAL
An administrator of the unofficial Vin Diesel fan club was kind enough to drop me a line regarding some news for the upcoming Diesel film, HANNIBAL. EDITOR'S NOTE: BACK UP A SEC....THERE'S A FAN CLUB?

She wrote:
Ana Vega has been linked to Vin Diesel's pet project, HANNIBAL. She is of a few women who have been connected to the film of Hannibal. Vin Diesel in the past has mentioned an interest in Paz Vega but nothing came to fruition.

Now, Ana Vega has been listed at IMDB.com. It is unclear as to the details of what her role may be. However many members EDITOR'S NOTE: MANY? AS IN MORE THAN A FEW? at Unofficial Vin Diesel Fan Club have considered the idea that it may be for the role of Hannibal's wife Imilce.

Movie NewsWhitaker has his VANTAGE POINT




ColumbiaForest Whitaker will co-star in the Pete Travis directed film, VANTAGE POINT. Whitaker is joining Dennis Quaid, Matthew Fox, and William Hurt for the film by Columbia Pictures.

The script is by Barry Levy and it follows an attempt to assassinate the U.S. president in Madrid. It is told from five different points of view and unfolds in 15-minute increments.
Whitaker is playing the part of an American tourist who snags video footage of the assassin.

Expect the movie sometime in 2007.

Col secures Zook spec for Sandler
Columbia Pictures has pre-emptively acquired the spec "Jack and Jill," by actor-scribe Ben Zook, for Jack Giarraputo and Adam Sandler to produce via their Sony-based Happy Madison banner. The comedy would serve as a possible starring vehicle for Sandler. EDITOR'S NOTE: NOT THAT I REALLY CARE WHAT'S ON-DECK FOR SANDLER, BUT I THINK IT'S BEST TO KNOW WHAT TO AVOID, WHICH WEEKENDS I'LL HAVE FREE FROM MOVIE OBLIGATIONS, ETC.Todd Garner brought the project to Happy Madison, and he will also produce through his Broken Road Prods.

Columbia paid $350,000 against $1 million for the comedy, whose plot line the studio is keeping under wraps, though it is known to be about fraternal twins. Zook co-wrote, co-directed and co-starred in the 1999 comedy "Can't Stop Dancing."

Actingwise, he is working on Lifetime's "Lovespring" and has "Tom, Dick, and Harry" set up at New Line and "I Hate Valentine's Day" at Revolution.

Sandler next appears in Sony's comedy "Click."

Myers touting self-help with Par seminar
Mike Myers is in final negotiations to write, produce and star in an untitled self-help comedy at Paramount Pictures.

The film, which Myers will co-write with Graham Gordy, centers on a self-help guru named Pitka who is called upon to solve a couple's romantic problems. Like Myers' groovy Austin Powers incarnation, Pitka was created and workshopped by Myers at several theaters in Manhattan.

The film marks Myers' second deal with the Melrose studio in as many months. In April, he signed on to star in "How to Survive a Robot Uprising" for Paramount and producer Michael De Luca. Paramount's Alli Shearmur will shepherd the guru project for the studio.

Myers, whose credits include the "Austin Powers" trilogy and "Dr. Seuss' The Cat in the Hat," will again voice the title character in the third installment of DreamWorks' animated "Shrek" franchise.

Gordy has worked for Myers for years. The guru film marks his first writing project

Collins shines for Warners' 'Diamond' pic
Stephen Collins, one of the stars of television's "7th Heaven," is making a rare foray into the feature world.

Collins has joined the cast of "Blood Diamond," the Leonardo DiCaprio drama Ed Zwick is directing for Warner Bros. Pictures.

The story centers on a poor African farmer, played by Djimon Hounsou, who gets caught up in a conflict between an U.S. diamond smuggler (DiCaprio) and the syndicate that controls the local diamond mining industry. Collins plays an ambassador.

The story is by Charles Leavitt and C. Gaby Mitchell, with a screenplay by Leavitt, Zwick and Marshall Herskovitz.

Filming is underway in South Africa.

Collins has starred on "7th Heaven" since the show first aired in 1996. The series was just renewed for the inaugural season of the CW network. His last feature was 1999's "Drive Me Crazy" with Melissa Joan Hart and Adrian Grenier.

Crowe Flies Lurhmann's Epic/Russell's out of Baz' next film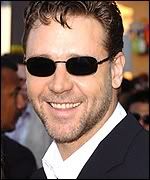 Somebody fetch Baz Luhrmann a stiff drink. He'll need it now that Russell Crowe has departed his planned Australian period epic. The fickle fates of film, not content with robbing the Moulin Rouge helmer of a real shot at Alexander The Great (thanks, Oliver Stone, thanks), and throwing weather and finance-related delays in his path while planning his big comeback Aussie film, have now seen Russell Crowe leaving the movie, following disagreements with 20th Century Fox.

And the story gets even more tangled with tabloid The New York Post "revealing" that Heath Ledger had been cast to replace him, when the actor's management told Variety that Ledger had already passed on the film. EDITOR'S NOTE: AH THE TANGLED WEB, INDEED. (OF COURSE, MY EYES KINDA GLAZED OVER AS SOON AS THE WORDS 'BAZ LUHRMANN APPEARED IN THE ARTICLE. ZZZZZZZZZZZZZZZ)

What we do know at this point is that Luhrmann is unbowed and plans to press ahead with his epic, and that Nicole Kidman is still attached. And this marks Crowe's second problem with an Australian film in as many years – only last year his creative differences with Fox drama Eucalyptus saw that film shut down.

Creature Feature/Monster comedy gets lead
When you hear the title Spanky Johnson: Monster Hunter, your gut tells you this won't be a deep psychological drama. EDITOR'S NOTE: NO? And your gut would be right.

But Spanky is from the pen of Elf writer David Berenbaum, so you know it'll at least be funny and work on several levels.

Now Spyglass Entertainment has nabbed New York theatre star Dan Fogler to star in the film, which focuses on a man who takes over his father's business as a creature tracker and discovers that maybe pop wasn't making it all up after all…

"Any comedy depends on a star vehicle, and I think Dan can really drive this movie," Berenbaum told Variety. "He's hilarious." EDITOR'S NOTE: DAN FOGLER?

Ten Is The Holiest Number/Commandments comedy planned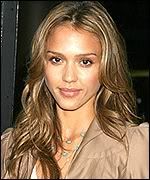 As if The Da Vinci Code wasn't enough to make religious types foam at the mouth with barely controlled fury at Tom Hanks' hair, along come MEGA films with a plan to spoof no lesser sacred text than the Ten Commandments.

Written by The State's David Wain and fellow scribe Ken Marino, Ten will star Paul Rudd, Amanda Peet, Jessica Alba, Ken Marino and The OC's Adam Brody. Wain – who previously helmed Wet Hot American Summer, plans to start directing the film in New York this July. EDITOR'S NOTE: SO WITH CREDITS LIKE "WET HOT AMERICAN SUMMER", I'M GUESSING THE GIST OF THE MOVIE WILL BE ALL THOSE VERY SKINNY YOUNG PEOPLE BREAKING ALL 10 COMMANDMENTS?
EDITOR'S NOTE: AND, IN CLOSING FOR THE DAY, LET'S SAY A LITTLE PRAYER FOR A MOVIE GURU AND SAGE ---
Ebert undergoing cancer surgery again
CHICAGO -- Roger Ebert, who has battled cancer in recent years, will undergo surgery again, according to a published report.
In Thursday's Chicago Sun-Times, where Ebert has been the movie critic for nearly 40 years, columnist Robert Feder reported that Ebert will have surgery June 16 to remove a cancerous growth on his salivary gland.
"It's not life threatening, and I expect to make a full recovery," the 63-year-old critic and host of the nationally syndicated movie review show "Ebert & Roeper," told Feder. "I'll continue to function as a film critic during this time." Ebert said he plans to tape enough shows with Sun-Times columnist Richard Roeper that their program will continue to air during his recovery.