BREAKING Harry Potter News!
Editor's Note: I think we read a rumor about this idea a while ago, but a non-dweeb actually sent me the breakingnews update. (Sad, when NON-dweebs trump the QOTD, eh?)
Universal Studios to open Harry Potter theme park!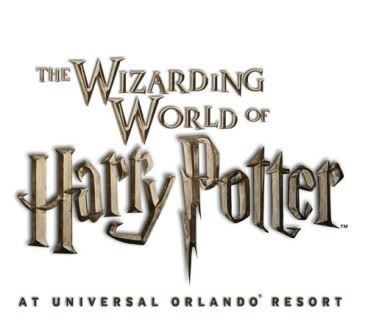 Universal Studios and Warner Brothers made a joint announcement this evening from Leavesden Studios on the set of Dumbledore's Office to reveal that a Harry Potter theme park is currently in development.
The image is the first piece of concept art for the park: Hogsmeade Village.
Here's what we learned from Potter set designer Stuart Craig and a representative from Universal Studios (both of them hosted the big reveal):-
"The Wizarding World of Harry Potter at Universal Orlando Resort
"-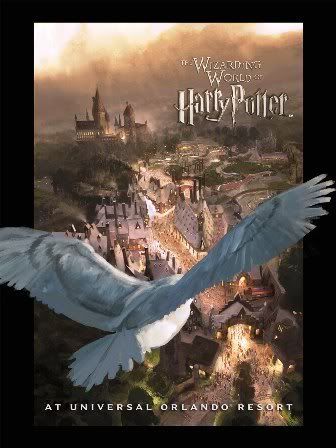 Concept art of an owl's eye view of the park.
Announcement was made live via internet at 12:01 AM EST today to select media.
Areas of park to include Hogsmeade, Hogwarts Castle, and the Forbidden Forest.
20 engineers working on project.
Universal came to WB looking for authenticity.
Potter park to be built in "Islands of Adventure" area of Universal.
Editor's Note: This is Universal ORLANDO, by the way. So finally, there will be an actual reason to go there. (Most of the time, while we're Disney'ing, it never seems enticing enough over at Universal to bother missing a Disney day to go over there).
Opening early 2010.
Universal's Potter website to be available
at this link
soon.
http://www.universalorlando.com/harrypotter/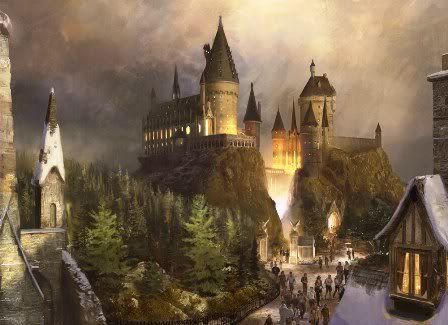 Concept art of Hogwarts Castle.
JK Rowling has been involved "since the very beginning" of the project. Also "supportive and encouraging."
Have been in design for at least a year and a half.
Important that the theme park represents the entire saga from Book 1 to Book 7
In a rather cute way to end the announcement, the Universal representative asks Stuart Craig, "Now where's Dumbledore?" Stuart paused for a moment, looked around the office, and replied, "He was just here."
Here's the official Press Release:
Harry Potter(TM) to Cast Spell on Universal Orlando Resort
Harry Potter "Theme Park within a Theme Park" Scheduled to Debut in 2009 -- Fans to be Immersed in the Adventures of the World's Most Popular Wizard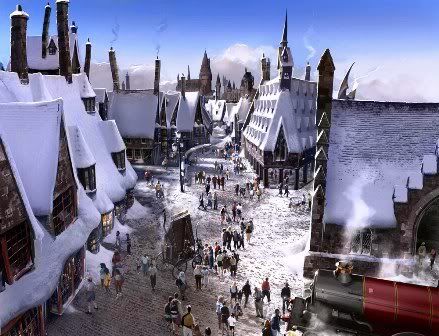 Concept art of Hogsmeade Village.
ORLANDO, Fla.--(BUSINESS WIRE)--Warner Bros. Entertainment Inc. and Universal Orlando Resort are partnering to create the world's first fully immersive Harry Potter themed environment based on the bestselling books by J.K. Rowling and blockbuster feature films from Warner Bros. Envisioned as a "theme park within a theme park" and titled "
The Wizarding World of Harry Potter,
" the new environment will become part of the experience within Universal's Islands of Adventure theme park at the Universal Orlando Resort.
Source: Warner Bros. Entertainment Inc.
"
Over the years we've received thousands of letters from fans around the world wishing they could visit Hogwarts and the wonderful locations described in each of J.K. Rowling's beloved stories,"
said Barry Meyer, chairman and CEO, Warner Bros. Entertainment. "
Working with Universal Orlando Resort, we are confident that we'll be able to provide Harry Potter fans with an incredible experience that upholds the richness of J.K. Rowling's books and delivers on the authentic detail portrayed in our films."
"
We will rely on our company's rich movie heritage and expertise in transforming film concepts into theme park entertainment experiences,"
said Ron Meyer, president and COO, Universal Studios. "
The Harry Potter stories are among the most compelling of our time. The millions of people who have read the books and seen the movies will now be able to experience the world of Harry Potter in person."
Inspired by J.K. Rowling's compelling stories and characters - and faithful to the visual landscapes of the films - "
The Wizarding World of Harry Potter
" will provide a one-of-a-kind opportunity to experience the magical world of Harry and his friends. The fully immersive, themed land will enable guests to visit some of the most iconic locations found in the books and the films including the village of Hogsmeade, the mysterious Forbidden Forest, and even Hogwarts castle itself.
"The plans I've seen look incredibly exciting, and I don't think fans of the books or films will be disappointed
," said J.K. Rowling.
Editor's Note: Of course, if she has killed off Harry Potter, will we WANT to visit? (As it would just bring back traumatic memories....)
"We have a profound sense of responsibility for the Harry Potter franchise at Warner Bros. Bringing the magic of J.K. Rowling's written word to the motion picture screen was the first step in expanding this amazing and imaginative world. Working with Universal Orlando Resort to bring it to life in a physical environment that you can walk through, relax in and ride on is the natural next step for fans to experience and enjoy
," said Alan Horn, president and COO, Warner Bros. Entertainment Inc.
Expected to open in late 2009, the new environment will feature immersive rides and interactive attractions, as well as experiential shops and restaurants that will enable guests to sample fare from the wizarding world's best known establishments. Also debuting will be a state-of-the-art attraction that will bring the magic, characters and stories of Harry Potter to life in an exciting way that guests have never before experienced.
Editor's Note: If this were Disney, I'd be more inclined to believe this.
"We are going to devote more time, more money, more expertise and more executive talent from throughout our entire organization and creative team - as well as from Warner Bros., our partners - to ensure that this entire environment is second-to-none
," said Tom Williams, chairman and CEO, Universal Parks and Resorts.
Brad Globe, president of Warner Bros. Worldwide Consumer Products, added: "
In Universal, we found the right partner whose unparalleled commitment will ensure that this is a world class destination. Their track record of success and the consistently high level of entertainment at all of their parks gave us the confidence to know that they will meet -- or exceed -- the extremely high expectations we all have for this project."
The Academy Award-winning production designer Stuart Craig, who has worked to bring the world of Harry Potter to life in all of the feature films to date, leads the creative design for the area to ensure it remains faithful to the look and feel of the films.
"Our primary goal is to make sure this experience is an authentic extension of Harry Potter's world as it is portrayed in the books and films
," said Craig. "I
am very excited to be working closely with the Universal Orlando team to bring the area to life."
The Universal Orlando resort destination (
www.universalorlando.com
) includes two dramatically distinct and adjacent theme parks, the Universal Studios motion picture and television theme park and Universal's Islands of Adventure, Orlando's most thrilling and exhilarating theme park. Universal Orlando also includes CityWalk, a 30-acre dining, shopping, club and live-entertainment venue as well as premier on-site Loews hotels and world-class film and television production facilities.
Harry Potter continues to be a global phenomenon. The series of books by author J.K. Rowling has been translated into 65 languages with more than 325 million copies sold in over 200 territories around the world. The films, produced by Warner Bros. Pictures, have grossed more than $3.5 billion at the box office worldwide. Each of the four Harry Potter films produced to date has the distinction of making it into the all time top 20 grossing films worldwide. The fifth film in the series, Harry Potter and the Order of the Phoenix(TM), will be released in theatres on July 11, 2007.
HARRY POTTER characters, names and related indicia are trademarks of and © Warner Bros. Entertainment Inc. Harry Potter Publishing Rights © JKR.