Weekend Dweebing (a top-50 ranker)
EDITOR'S NOTE: A FUN LITTLE RANKER FROM A BOSTON WEBSITE. DESPITE THE FACT THAT THIS EMMINATES FROM BOSTON.......THE CITY WHO, HEAVEN ONLY KNOWS IS ALWAYS RIGHT ABOUT MOST EVERYTHING....THIS RANKER IS MORE FUN TO MAKE FUN OF, THAN TO TAKE TO HEART.
MUCH LIKE THAT ROOM FULL OF MONKEYS ACCIDENTALLY COMING UP WITH SHAKESPEARE, THE RANKER GETS A FAIR AMOUNT OF THINGS RIGHT.
BUT THERE ARE ALSO GLARING OMISSIONS. AND THE RANKING ORDER MIGHT EVEN BE RANDOM, IT'S SO ODD.
LOOK THIS OVER, THEN SEE IF YOU CAN FIND THINGS YOU WOULD
A) RE-ORDER,
B) SUBSTITUTE, AND
C) OUTRIGHT SHOUT ABOUT.
With the resurgence of science fiction shows this season, Boston.com's entertainment staff decided to take a look at some of the sci-fi genre shows from yesteryear.
Based on years of sci fi viewing experience and through a variety of online sources, we've come up with our picks for the
Top 50 science fiction shows of all time.

Number 50
'Earth - Final Conflict'
Starting the list at Number 50:
Earth - Final Conflict
,' which aired from 1997 to 2002.
It followed a basic, but popular, storyline about aliens who come to Earth and solve the planet's problems. But is there more? Are there any other intentions? Of course. The story focuses on a double agent, William Boone (played by Kevin Kilner), who is in search of the truth.
EDITOR'S NOTE: BORING, MEANDERING SHOW. REPLACED THE CAST A FEW TIMES. (SHOULD HAVE REPLACED THE WRITERS....IF THERE

WERE

ANY).
Number 49
'The Wild Wild West'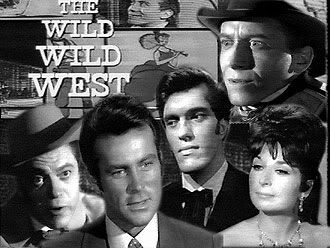 Two Secret Service agents - James West (Robert Conrad) and Artemus Gordon (Ross Martin) fight the forces of evil in the wild west (thus the title). However, these two good guys' gadgets rival those of James Bond. A great show for its time
EDITOR'S NOTE: A PRETTY GREAT SHOW FOR

ANY

TIME. (AND QUITE FORMATIVE FOR YOUR QOTD).
Number 48
'3rd Rock From The Sun'
A group of aliens move to Earth to study human while at the same time taking on human form so they can blend in. But with human characteristics also come human frailties - complete with emotional issues and basic physical needs. John Lithgow leads the "family" in this entertaining sci-fi comedy. The series ran from 1996 to 2001.
Number 47
'Buck Rogers in the 25th Century'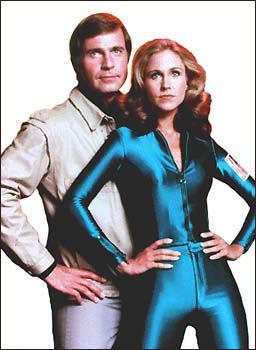 A 20th Century astronaut, Buck Rogers (played by Gil Gerard), is on a space mission when his shuttle runs into a cosmic anomaly. Buck's frozen in suspended animation until he's revived 500 years later.
From 1979 to 1981, we watched as Buck helped solve future Earth's dilemmas. And, of couse, we couldn't leave out the lovely Erin Gray as Col. Wilma Deering. The show also taught us that spandex is in ample supply in the 25th century.
Number 46
'That Was Then'
If you blinked, you may have missed this short-lived gem of a sci-fi show on ABC.
As Travis Glass (played by James Bulliard) turned 30 years old, he realized his life since high school was pretty much wasted. He envies his jerk brother Gregg (played by Brad Raider) who married Travis' dream girl, Claudia (played by Kiele Sanchez). Thanks to a wish, an electrical problem and an old Kink's song, Travis returns to 1988 to change the past. But everytime he hears the Kink's song again, he's catapulted back to the future to see how his changes affected the outcome of his life at 30. The show was canceled long before it had a chance to reach its prime. It ran in the fall of 2002.
EDITOR'S NOTE: I VAGUELY REMEMBER THIS SHOW AND AGREE IT WAS GOOD ENOUGH TO HAVE A LONGER LIFE. I KINDA THINK IT'S INCLUDED ON THIS LIST, HOWEVER TO PROVE 'STREET CRED' FOR THE AUTHORS OF THIS LISTING. (BECAUSE MOST OF THEIR OMISSIONS AND RANKINGS DISPLAY A VERY PROL, LIMITED, AND SURFACE KNOWLEDGE OF TV SCIFI).
Number 45
'The Greatest American Hero'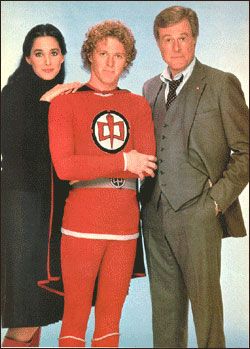 An average school teacher, Ralph Hinkley (played by William Katt), and an aging FBI agent, William "Bill" Maxwell (Robert Culp), are approached by aliens who give Hinkley a super suit. When worn, the suit will allow Hinkley to have super human powers and help mankind. The one problem, Hinkley loses the directions. This classic ran from 1981 to 1983 and also featured a young and lovely Connie Selleca, who played Hinkley's girlfriend then wife, Pam Davidson Hinkley.
Number 44
'Lois & Clark: The New Adventures of Superman'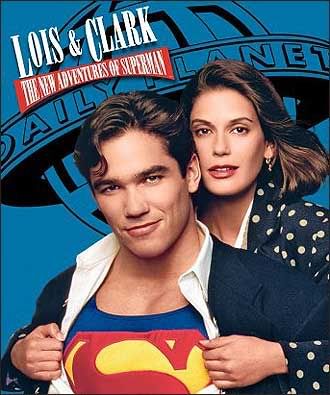 We've seen Superman played by many actors but 'Lois & Clark: The New Adventures of Superman' was a new spin on one of the world's best superheroes.
In this version, Superman, aka Clark Kent (played by Dean Cain) is in his early 20s working at the Daily Planet with love interest Lois Lane (played by Teri Hatcher). A refreshing interpretation of the man of steel.
EDITOR'S NOTE: AND THESE TWO SURE ARE PURTY. (AND IN A NICE CHANGE OF PACE, SHE HAS GOTTEN BETTTER LOOKING WITH AGE, AND HE HAS GOTTEN PAUNCHY).
Number 43
'Nowhere Man'
'Nowhere Man' was yet another show ahead of its time - and canceled way too early.
EDITOR'S NOTE: YEP.
Thomas Veil, played by Bruce Greenwood, is a documentary photographer who's identity and memory are altered. His wife and friends no longer know him (or at least act like they don't) and he finds his existence has been erased. He embarks on a search for the truth.
Toward the final episodes of this brilliant series were hints that the whole thing could be tied into a government conspiracy. But, alas, the show was canceled before we could find out the truth. The series ran all too briefly in 1995.
Number 42
'Science Fiction Theatre'

Older sci-fi buffs may fondly remember 'Science Fiction Theatre' that aired from 1955-57. Host Truman Bradley introduced stories based on circa 1950s scientific data ranging from life in outer space to telepathy
Number 41
'Futurama'
The cartoon "Futurama" marks our number 41 spot. The hilarious cartoon features Phillip Fry, a pizza delivery guy who gets frozen in 1999 and wakes up 1,000 years later to start his life anew.
Number 40
'The Thunderbirds'
Perhaps the best puppet sci-fi show of all time. Led by ex-astronaut hero Jeff Tracy, the Tracy family - all marionette puppets - answer the calls for help with their unique rescue vehicles. They call themselves "International Rescue" and from 1965-1966, helped make the world a safer place for marionettes everywhere.
Number 39
'The Man from U.N.C.L.E.'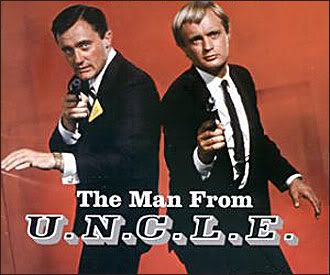 This high-tech thriller featured Napoleon Solo (Robert Vaughn, left) and Illya Kullyakin (David McCallum, right) as two agents working for the United Network Command for Law Enforcement (U.N.C.L.E.). Together, the two agents fought the forces of evil. The series ran from 1964-1968
EDITOR'S NOTE: BUT IS IT REALLY SCIFI?
Number 38
'Batman'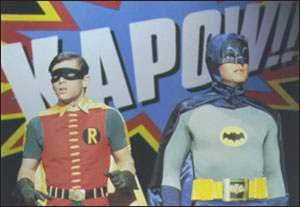 Before Michael Keaton, Val Kilmer and George Clooney, there was Adam West playing Batman on TV.
This was West at his best playing a somewhat hip, yet straightfaced, hero with sidekick Robin (played by Burt Ward).
Who could ever forget the time Batman avoided being frozen to death in a giant icecream cone thanks to his "bat-thermal underwear?" Yet another genre classic. It ran from 1966 to 1968.
Number 37
'Space 1999'
When the moon gets pulled out of orbit in 1999, astronauts on Moon Base Alpha are pulled into space with it. Led by the valiant Commander Walter Koenig (played by Martin Landau), and assisted by Dr. Helena Russell (Barbara Bain), the crew explore and battle their way across the universe. Space 1999 lasted only two years, from 1975-1977.
EDITOR'S NOTE: ONLY 2 YEARS? IT FELT LONGER. (BARBARA BAIN...LIKE WATCHING

PAINT

DRY, THAT WOMAN)
Number 36
'The Bionic Woman'

'The Bionic Woman' was like "Charlie's Angel's" with three women combined into one.
EDITOR'S NOTE: AND JUST LIKE "CHARLIE'S ANGELS", NONE OF THEM COULD ACT.
When Jamie Sommers (played by Lindsay Wagner) has a horrific parachuting accident, the government rebuilds her using the latest technology. This 'Six Million Dollar Man' spinoff survived from 1976-1978.
Number 35
'Battlestar Galactica' (Original)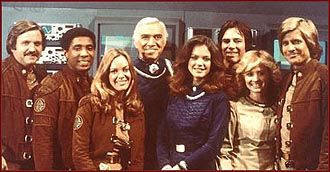 The 1978 series 'Battlestar Galactica' is a fantastic story of 12 colonies destroyed by a race of mechanized beings called Cylons, who are bent on destroying mankind. Commander Adama, played by the late Lorne Green, leads a rag-tag fugitive fleet across the galaxy in search of the lost 13th tribe, who settled on a planet called Earth. The great cast included Dirk Benedict as Starbuck and Richard Hatch as Apollo.
EDITOR'S NOTE: I GUESS IT DESERVES SOME SORT OF RANKING ON THIS LIST...IF NOTHING ELSE BECAUSE IT SPAWNED THE CURRENT SEQUEL (RANKED HIGHER) WHICH IS AN EXCELLENT SHOW. UNLIKE THIS ORIGINAL, WHICH, OTHER THAN AN IMPRESSIVE AND RATHER REVOLUTIONARY-FOR-ITS-TIME USE OF FX, WAS COMPLETE DRECK.
Number 34
'The Avengers'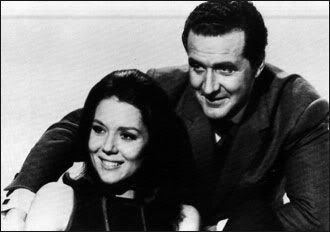 From 1961 to 1969, British Intelligence agent John Steed (Patrick Macnee) and his lovely female partner, Mrs. Peel battled evil. The show maintained a strong sci-fi edge with plots including cyborgs, futuristic cities and the like.
Number 33
'Lost In Space'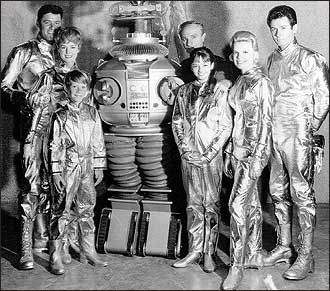 "
Danger Will Robinson, Danger!"
For three years and countless reruns after, we watched the Robinson family survive against scary and hilarious beings that threatened their existence. The family, as the title implies, was hopelessly lost in space due to a sabotage effort gone awry thanks to Dr. Zachary Smith. The program aired from 1965 to 1968.
EDITOR'S NOTE: I GUESS IT ISN'T ALWAYS ABOUT THE QUALITY. MY BROTHERS AND I WATCHED THIS RELIGIOUSLY. EVEN AS KIDS, I THINK WE KNEW IT WAS PURE CHEESE.
Number 32
'My Favorite Martian'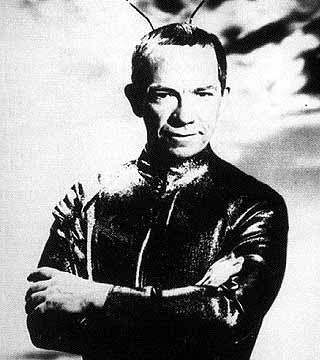 A Martian named Exodus comes to Earth to live with Timothy O'Hara. Exodus, a wisecracking alien, moves in with O'Hara under the guise of being his uncle Martin O'Hara. 'My Favorite Martian' lasted from 1963-1966.
Number 31
'Alien Nation'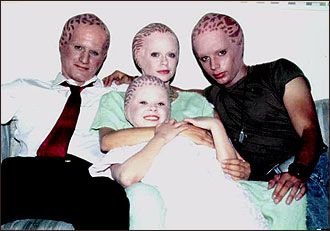 Alien slaves, bred to be super intelligent and strong, crash on Earth. These "Newcomers" are assimilated into society. The show focused on one of them, George Francisco, who becomes a police detective partnered with a human cop, Matthew Sikes. They fight crime, learn to respect each other's cultures and fight the new bigotry between humans and aliens..
EDITOR'S NOTE: THE FOLLOW-UP TV MOVIES WERE WELCOME, BUT NEVER AS GOOD AS THE ON-GOING TV SHOW. WHICH SHOULD HAVE HAD MORE THAN ONE SEASON. (SHAME ON FOX)
Number 30
'Voyage to the Bottom of the Sea'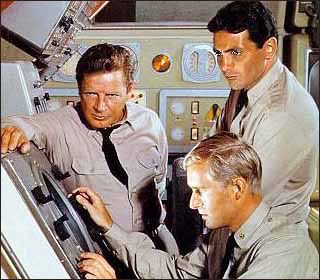 'Voyage to the Bottom of the Sea' was like 'Star Trek' with fish.
EDITOR'S NOTE: A T-SHIRT SLOGAN?
The crew of the Seaview is commissioned to explore the mysteries beneath the deep. This high tech submarine, commanded by Admiral Harriman Nelson (Richard Basehart) and Capt. Lee Crane (David Hedison), confronts everything from mechanized robots to aliens bent on world domination.
EDITOR'S NOTE: AND THERE HE IS (PIC ABOVE). DAVID HEDISON, MY FIRST TRUE LOVE. (I THINK I WAS 3 AT THE TIME)
The show ran from 1964 to 1968.
Number 29
'The Six Million Dollar Man'
Those famous words, "
We can rebuild him, we have the technology
" explain how astronaut Steve Austin (Lee Majors) becomes the 'The Six Million Dollar Man.'
Austin is mutilated after a crash and a secret government agency replaces his now departed parts with super powerful mechanical limbs. Austin uses his new superhuman like powers to solve crimes and catch bad guys. Look for the classic episode when he battled Sasquatch, or Big Foot. The series began in 1973 and resulted in a spinoff series called the 'Bionic Woman.'
EDITOR'S NOTE: NEITHER OF THEM INVOLVING ACTING OR WRITING.
Number 28
'Adventures of Superman'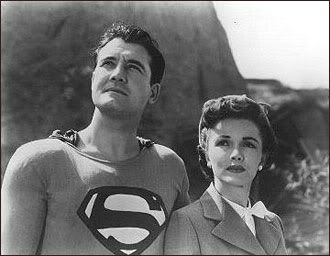 This is the original Superman, at least the television version.
George Reeves starred in the 1952-1957 version of the man of steel. Not only did he battle bank robbers and other evil-doers, but he also fought against evil aliens and malevolent robots.
Number 27
'Buffy the Vampire Slayer'

A fantastic show about a high school student with a bad reputation who has a destiny to kill vampires meandering about L.A. Buffey Summers is played by Sarah Michelle Gellar in a kick-butt role as the tough, but attractive, vampire slayer. She battled vampires from 1997
EDITOR'S NOTE: I HAVE YET TO BE INITIATED INTO THE CULT-O-BUFFY. (
SOON, SOON, I PROMISE
) BUT FROM THE PASSION AND DEVOTION OF ITS FANS, I WOULD BET A FAIR FEW WOULD HAVE COMPLAINTS ABOUT HOW LOW "BUFFY" IS RANKED ON THIS LIST.
Number 26
'Stargate Atlantis'
'Stargate Atlantis' is a spinoff of Sci-Fi Channel's original 'Stargate SG-1' series and is part of the current Friday night lineup on the channel.
When a Stargate portal is found in the ancients' city of Atlantis (beneath Antarctica) a team is formed to explore it. As they use the Stargate to travel to the Pegasus Galaxy, they encounter an evil enemy called The Wraith, who threatens human existence.
EDITOR'S NOTE: AFTER WATCHING A FEW EPISODES OF THIS SHOW, I SENT AN EMAIL TO THE WRAITH TO COME KILL ME. (
ALL THE MIND-NUMBING BABBLE OF THE ORIGINAL 'STARGATE', SANS THE AT-LEAST-SNARKY-CHARM OF RICHARD DEAN ANDERSON OR BEN BROWDER
)
Number 25
'The Jetsons'
'The Jetsons' is a classic sci-fi show, complete with space cars and a robotic maid. The show lasted from 1962-1988.
Number 24
'Wonder Woman'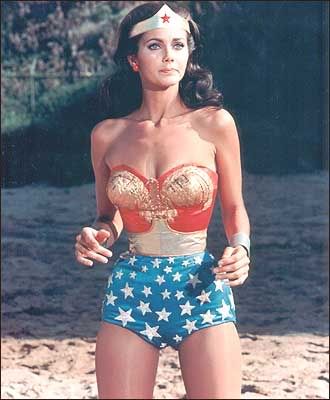 'Wonder Woman' captures the number 24 spot on our list.
Wonder Woman, played by the lovely Lynda Carter, is a believable super heroine who fought the evil Nazis during World War II. After the war, she returned to her island of women. However, during the last season , she re-emerges 30 years later when Major Steve Trevor's son, Steve Trevor Jr., enlists her to battle evil once again. OK, the writers did a poor job in trying to transport her into the modern day, but the show was good enough to cut them some slack.
Number 23
'Tales from the Crypt'
This great HBO show lasted from 1989 to 1996 and featured scary stories, mostly based on comics from the 1950s. The show was hosted by the gruesome, and funny, Crypt Keeper
Number 22
'Andromeda'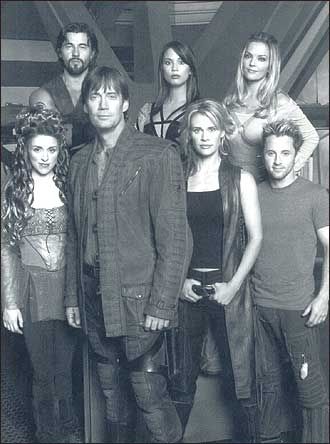 'Andromeda' was the brainchild of 'Star Trek' creator Gene Roddenberry.
It's the story of Capt. Dylan Hunt (played by Kevin Sorbo) who is on a mission to rebuild the All-Systems Commonwealth 300 years after it fell apart. It's not the best of Roddenberry, but it's pretty good.
EDITOR'S NOTE: THIS IS RANKED ABOVE....FILL IN BETTER SHOW HERE. (THERE ARE SEVERAL TO CHOOSE FROM, EVEN ON THIS SILLY, MISGUIDED LIST). THIS ONE MAKES "EARTH, FINAL CONFLICT" LOOK COHERENT. (WHICH IS NOT TO SAY IT

WAS,

MIND....)
Number 21
'Quantum Leap'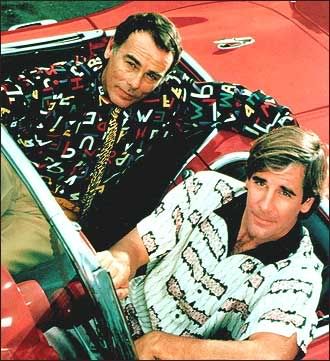 Marking the Number 21 spot is 'Quantum Leap' starring Scott Bakula as Dr. Sam Beckett.
Dr. Beckette leaps through time to inhabit the body and mind of people who have been ruined due to bad choices or dumb luck. With the help of Al Calavicci (Dean Sockwell) and his computer, Ziggy, he's able to right the things that went wrong
EDITOR'S NOTE: GARY KORNBLITH HONORARY SCOTT BAKULA PICTURE......
Number 20
'The Hitchhiker'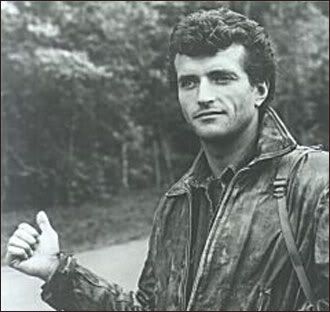 This HBO classic featured Page Fletcher as 'The Hitchhiker' who brought a new mystery thriller each week from 1983-1991. It was a lot like a modern-day 'Twilight Zone' but was a little more racy thanks to being on cable.
EDITOR'S NOTE: ANOTHER BID FOR STREET CRED? OR TRYING TO GET IN AT LEAST ONE SMUTTIER ONE?
Number 19
'Dark Angel'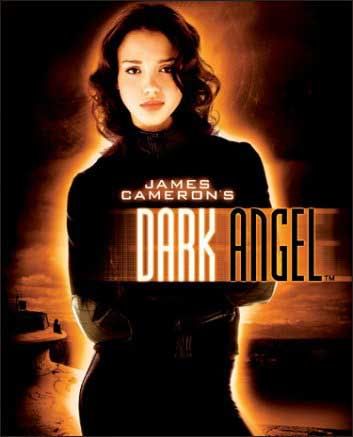 'Dark Angel' takes the number 19 spot on the chart.
The show takes place in a post-apocolyptic future when a genetically enhanced prototype named Max escapes from military confines and moves to the decadent underground street life of future Seattle. While trying to evade government agents, she searches for other genetically-enhanced humans like her. This is a great sci-fi thriller.
EDITOR'S NOTE: ANOTHER ONE THAT DIED A TAD EARLY. AND STARTED TO DIE ON-THE-VINE WITH NETWORK SUPPORT EBBING EARLY ON.
Number 18
'V'
This mini-series was nearly 20 years ahead of 'Independence Day.'
EDITOR'S NOTE: AND ALMOST AS BANAL.
In 1983, sci-fi loving Americans were glued to their sets to watch the Visitors in the mini-series 'V.' It followed the classic aliens plot - aliens come to Earth to help mankind, but actually want to steal the planet's natural resources. A regular show followed this mini-series, but never quite lived up to the original.
EDITOR'S NOTE: A TRUE STATEMENT! (THERE GO THOSE TYPING CHIMPS, AGAIN). GREAT MINI-SERIES. CHEESEY TV SERIES.
Number 17
'Firefly'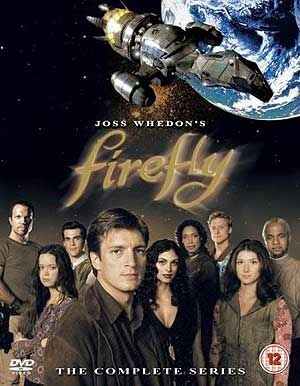 'Firefly' was an intriguing show about a crew trying to survive in a small spaceship 500 years in the future. Alas, the show ended after its first season though it showed great promise.
EDITOR'S NOTE: CORRECTION. ON-AIR IT SHOWED ONLY A

SMIDGE

OF PROMISE, DUE TO THE BRAINTRUSTS AT FOX RUNNING THE EPISODES IN THE WRONG ORDER. (!!!!) SINCE THEN, ON DVD, WHAT FOX SQUANDERED HAS BECOME PAINFULLY...PAINFULLY....OBVIOUS. GO SEE "SERENITY"!
Number 16
'Flash Gordon'
One critique of the 1950s 'Flash Gordon' television series described the show as "so bad it's good" This classic brought Flash, Ming the Merciless and other characters into the homes of countless Americans.
EDITOR'S NOTE: AND SO I GUESS THE PEOPLE WHO CREATED THIS RANKER BELIEVED THAT BAD-TO-GOOD COMMENT. SHEESH....
Number 15
'Logan's Run'
'Logan's Run' only ran a season or two but makes our list nonetheless.
The show featured a futuristic civilization that, at first glance, looks pretty nice. Until you realize that they're going to waste you once you reach your 30th birthday. That's one way to solve the a Social Security crisis (though we hope not). The show followed Logan (Gregory Harrison, right) and his companions as they search for a mythical placed called The Sanctuary that holds promises of freedom.
EDITOR'S NOTE: NUMBER 15?! JUST CAUSE IT WAS A REALLY GOOD MOVIE, DOESN'T MEAN WE OWE ANY FEALTY TO THE TV SHOW. WHICH KINDA SUCKED.
Number 14
'Star Trek Voyager'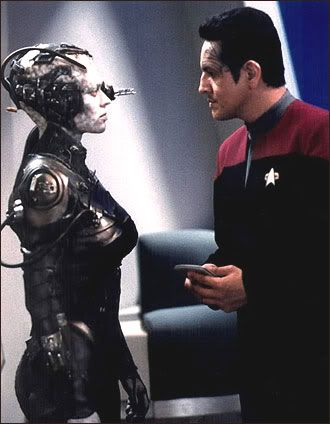 'Star Trek Voyager' started off slow but ended as one of the better 'Star Trek' spinoffs.
In 1995, we watched as the crew of the star ship Voyager was catapulted across the galaxy. The story revolved around their trip back to Earth, which at full speed would have taken 75 years to complete. Led by Capt. Catherine Janeway (played by Kate Mulgrew), the ship and its crew finally did make it home - but not before several great run-ins with Borg and other creatures.
EDITOR'S NOTE: AND NOT BEFORE THE TREK POWERS-THAT-BE TOTALLY EVISCERATED THE RELATIONSHIPS AND THE CHARACTERS. (YES...STIIIILLLLLL BITTER).
Number 13
'The Outer Limits'
"There is nothing wrong with your television. Do not attempt to adjust the picture
," is the famous line that marked the start of each episode. This science fiction show featured a different cast each week that focused on space travel, time travel, and more.
Number 12
'Xena: Warrior Princess'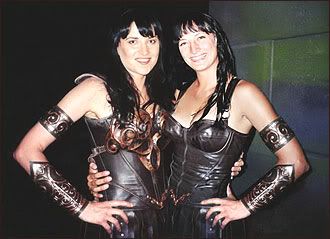 Lucy Lawless (left, pictured here with her stunt double
EDITOR'S NOTE: OOPS. I WAS GONNA SAY THAT THEY BOTH LOOKED LIKE XENA DRAG. GIGGLE.
) starred as Xena in this top-notch show about a warrior princess who once ravaged ancient Greece and its people. After realizing her mistakes, she vows to use her warrior and healing abilities to help others. Together, she and her companion, Gabrielle (played by Renee O'Connor) travel the ancient world looking for adventure. Another series that ended too soon.
EDITOR'S NOTE: I DON'T KNOW ABOUT THAT. XENA-PHILES....(SAMANTHA)....DIDN'T IT HAVE A NICE, LONG RUN?
Number 11
'Lost'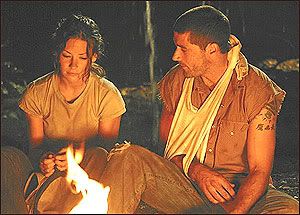 'Lost' promises another exciting season full of mystery and suspense.
Just in case you've been living in a hole, here's the plot: Dozens of people survive a plane crash and land on a mysterious island, which is full of secrets and super natural things, including a huge creature who meanders in the woods. The future ranking of this hit ABC show on our list depends on whether the network is able to keep the mystery tasty enough for its viewers.
EDITOR'S NOTE: THE SHOW IS GREAT. I AM A HUGE FAN. BUT IT SEEMS PREMATURE TO RANK IT THIS HIGHLY. THE PUDDING HASN'T BEEN PROVEN YET. (SO TO SPEAK).
Number 10
'Sliders'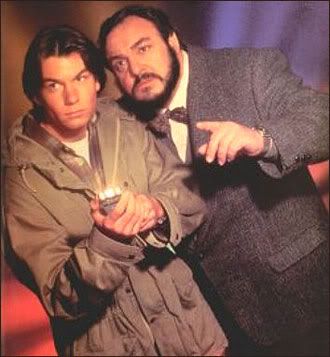 'Sliders' should have been a widespread hit, but it was ahead of its time.
EDITOR'S NOTE: NUMBER 10?!!! GREAT CONCEPT. FAIRLY MUNDANE, SLOPPY EXECUTION.
The show was about a wiz-kid genius Quinn Mallory, played by Jerry O'Connell (left
)EDITOR'S NOTE: O'CONNELL...EVEN HUNKIER NOW THAN HE WAS THEN. YUMMY.,
and his band of three companions who slide among Earth's alternate realities.
Toward the end of the series, the show quickly slid in quality as three of its stars - O'Connell, Sabrina Lloyd and John Rhys-Davies (right)
EDITOR'S NOTE: JRD, BEFORE WHATEVER WASTING DISEASE ATTACKED HIM AND HE GOT GRAY AND GAUNT.
- departed and were replaced by others. A tragic demise to a fine show
EDITOR'S NOTE: IT WAS NEVER A 'FINE SHOW'. IT WAS JUST LESS BAD AT FIRST. (
WE SHOULD THANK IT FOR SMALL FAVORS, THOUGH; IN ITS LATER CAST-REPLACEMENTS, IT INTRODUCED US TO KARI WUHRER AS AN ACTRESS TO AVOID AT ALL COSTS
).
Number 9
'Mystery Science Theater 3000'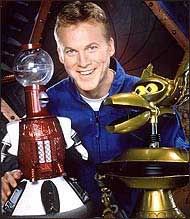 A man finds himself trapped on an orbiting space station with wacky robots and a sadistic woman, who forces him to watch the worst B horror flicks ever made. The show revolves around the man and his robots watching the movie, at the same time offering hilarious commentary. The show had a couple of different hosts (including Michael J. Nelson, center) during its run from 1988 through 1999.
Number 8
'Dr. Who'

No sci-fi show list is complete without Dr. Who. The series started in 1963 and featured several men as the doctor - a time traveling, eccentric alien - and his comrades. Sure, many of the monsters were terribly cheesy, but it is a classic nonetheless. The show was canceled in 1989, made a brief return in a TV movie in 1996 and then was fully resurrected and came back into production in 2003. It continues today.
Number 7
'The Twilight Zone'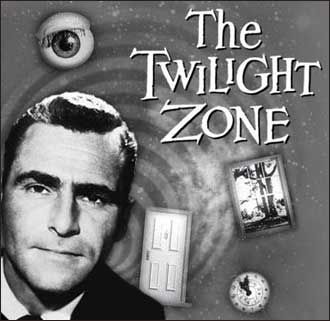 Not only is 'The Twilight Zone' one of the greatest sci-fi shows ever, it's one of the best shows of all time. Rod Serling hosted the show from 1959 to 1964. Each week he featured a usually creepy, sometime witty, show that ranged from alien invaders to time travel.
Number 6
'Stargate SG-1'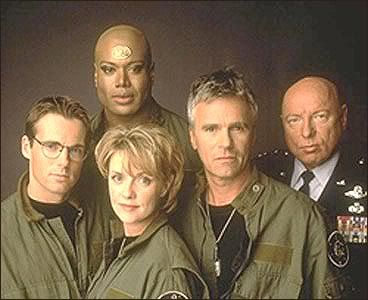 'Stargate SG-1' is also part of Sci-Fi Channel's Friday night lineup.
The show follows a secret miltary unit that travels across the universe via a Star Gate, a device created by ancients. A great show with a solid cast.
EDITOR'S NOTE: LONGEVITY MUST MEAN SOMETHING. DARNED IF I KNOW WHAT, THOUGH. (PEOPLE FALL INTO A STUPOR WITH ALL THE GOBBLDIJARGON AND CAN'T REACH THEIR REMOTES?) EVEN THE MARVELOUS BEN BROWDER HASN'T BEEN ABLE TO SAVE THIS SNOOZE-FEST. (IMHO...SORRY). AT LEAST WHEN CLAUDIA BLACK WAS GUEST-STARRING, YOU COULD SQUINT AND PRETEND IT WAS "FARSCAPE".
Number 5
'Babylon 5'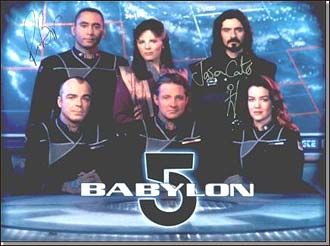 'Babylon 5' is arguably one of the best sci-fi shows ever made.
EDITOR'S NOTE: THERE'S THAT MONKEY, TIP-TAP-TYPING AWAY AGAIN. YES. B5 IS AN AMAZING ACCOMPLISHMENT. AND ONE OF THOSE IDIOSYNCRATIC INSTANCES WHERE THE WHOLE IS SIGNIFICANTLY MORE THAN THE SUM OF ITS PARTS.
Some may compare it to 'Star Trek DS-9' but with a better plot and cast - you be the judge. In the meantime, we'll give 'Babylon 5'; a thumbs up showing in the No. 5 spot.
Number 4
'The X-Files'
'The X-Files' helped inspire a new generation of Americans to fall in love with conspiracy theories.
David Duchovny played FBI agent Fox Mulder who, along with his partner Dana Scully (played by Gillian Anderson), uncovered extra terrestrial mysteries and tried to use science to explain the unexplainable. The show survived from 1993 to 2002 but quickly faltered when Duchovny went on to pursue a movie career.
EDITOR'S NOTE: OVER-SIMPLIFYING THE SITUATION. I THINK CHRIS CARTER WAS GETTING TIRED EVEN BEFORE DUCHOVNY'S ON-AGAIN/OFF-AGAIN PARTICIPATION WITH THE SHOW. IT BASICALLY DIED A NATURAL DEATH. (AND TIME IS REALLY REALLY RIPE...RIGHT

NOW

, I THINK...TO GIVE US ANOTHER THEATRICAL MOVIE. YESSS????!!!)
Number 3
'Star Trek: The Next Generation'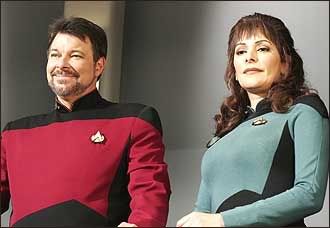 'Star Trek: The Next Generation' is on many people's list as the best sci-fi show of all time. It nearly made our number one spot too. The show featured a great cast that evolved throughout its seven seasons, from 1987 through 1994
EDITOR'S NOTE: IT'S NOT EVEN THE BEST OF THE

TREK

SHOWS. IT BROKE GROUND IN REVIVING THE FRANCHISE. BUT IT HAS MANY OF THE SAME FLAWS AS ALL THE TREK SHOWS....HOMOGENIZATION, LACK OF THRU-LINE/CONTINUITY, LACK OF GUTS.
Number 2
'Battlestar Galactica' (New)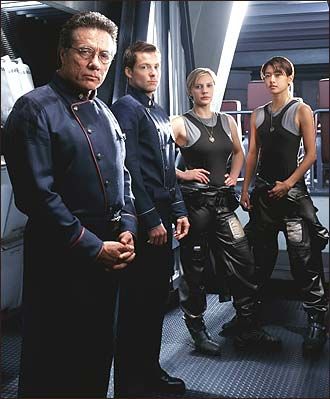 The new 'Battlestar Galactica' just barely missed the number 1 spot due to its newbie status in the sci-fi genre. However, this is easily on track to becoming Number 1 due to its great writing and a wonderful vision by executive producer Ronald D. Moore. The show is a modern-day remake of its 1970s predecessory but features more compelling story plots, a darker tone and surprising twists and turns in almost every episode.
EDITOR'S NOTE: I AGREE WITH JUST ABOUT EVERYTHING THEY SAY ABOUT THIS SHOW, EXCEPT PUTTING IT QUITE SO HIGH ON THE ALL-TIME RANKER. THE QUALITY AND GRIT OF THIS SHOW IS ALL THE MORE STARTLING, GIVEN ITS ORIGINS...BIRTHED FROM ONE OF THE HOKIEST, MOST INSIPID OF THE SHOWS ON THIS LIST.
Number 1
'Star Trek' (Original)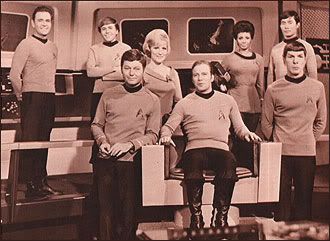 And topping the list is classic 'Star Trek,' which aired just three seasons from 1966-69.
Yes, perhaps it didn't feature the best acting, or most compelling story plots, but it was a show that set the standard for future space epics since. The show is also more popular today than it was when it first ran on air. The show went on to inspire several movies, several spinoffs and hordes of fans.
EDITOR'S NOTE: I GUESS IT IS HARD TO ARGUE WITH PUTTING THIS ONE ON TOP. IT'S NOT BY ANY MEANS THE BEST SHOW...NOT EVEN THE BEST OF THE SHOWS LISTED HERE. BUT ITS IMPACT AND LONGEVITY AND WORLD-WIDE ACCLAIM MAKE IT IMPACTFUL OUTSIDE ITS TV BEGINNINGS IN A WAY NO SHOWS BEFORE OR SINCE CAN CLAIM.
OK. SO NOW WE'VE GOT THE BOSTON GLOBE'S NOTIONS OF WHAT'S WHAT. LET'S GET A GOOD DISCUSSION GOING HERE!
I'VE ALREADY SORT OF STARTED IT OFF BY MAKING SNARKY COMMENTS AS THE LIST PROGRESSED.
HERE'S A BIT MORE GRIST FOR THE MILL (AS IT WERE) ----
SHOWS THAT SHOULD BE ON THE LIST THAT WEREN'T (REPLACING ANY NUMBER OF SHOWS...AND THERE WERE

PLENTY

OF THEM...THAT MADE IT ON THE LIST AND SHOULDN'T BE) :
FARSCAPE. DUH. POSSIBLY THE BEST SCIFI SHOW...IF NOT TV SHOW IN GENERAL. EVER.
STAR TREK:DEEP SPACE NINE. WHEN IT WAS FIRING ON ALL ITS 'CYLINDERS' IT WAS BETTER THAN ANY OF THE OTHER TREKS. (AND MOST OTHER SCIFI). IT WASN'T CONSISTENT, BUT IT PEAKED HIGHER THAN ANY OF THE OTHERS. AND WITH A LOT MORE SOUL AND HEART THAN WE HAVE COME TO EXPECT FROM TREK.
MILLENIUM. NOT AS GOOD AS ITS SISTER-SHOW, THE XFILES. BETTER THAN ALMOST ANYTHING ELSE.
VR5 SHORT-LIVED. FASCINATING.
EARTH 2 SHORT-LIVED. EXCITING AND SCARY.
MAX HEADROOM SHORT-LIVED. SNARKY.
THE FLASH SHORT-LIVED. BETTER THAN MOST SUPERHERO SHOWS.
SMALLVILLE WONDERFUL NEW TAKE ON THE SUPERMAN STORY. GREAT CAST.
THE 4400. TOO SOON TO TELL? BUT IT CAN DO SEASON FINALES WITH THE BSET OF EM!
THE DEAD ZONE. ALSO TOO SOON TO TELL?
THE INCREDBILE HULK BETTER THAN IT HAD TO BE, AND OFTEN RISING WAY ABOVE IT SUPER-HERO NICHE
ROSWELL LIKE "SMALLVILLE" IT WAS SO MUCH MORE THAN ANY GENRE AND WAS BOTH SCIFI SUPSENSE, AND HEART-FELT ANGSTY RELATIONSHIP DRAMA ALL ROLLED INTO ONE.
TWIN PEAKS WAS THIS SCIFI? NOT SURE. IT WAS CERTAINLY OTHER-WORLDY.
MEDIUM HECK, IF SOMETHING AS RECENT AS "LOST " CAN MAKE THE LIST, SO CAN "MEDIUM". A LOVELY, SUSPENSEFUL, BEAUTIFULLY ACTED AND WRITTEN SHOW.