Friday (March 24th) STAR WARS (including pics)
EDITOR'S NOTE: FIRST UP...ONLY IN ENGLAND?
Jedi Knight in the cells

By JOHN COLES
GLEN Rodgers found the force against him when he was thrown in a cell overnight — for breaking into his own home while dressed as a Jedi Knight.
Star Wars nut Glen, 25, had been to a fancy dress party
EDITOR'S NOTE: A

FANCY DRESS

PARTY? HIS TUX WAS AT THE CLEANERS?
— but forgot his keys.
So he used his light sabre to smash a window in the lean-to at his rented flat.
A neighbour heard the crash and called cops, who collared Glen inside. They carted him off still wearing his outfit.
Pub manager Glen was then locked up for 13 hours on suspicion of criminal damage in Barnstaple, Devon.
He was released with a caution early yesterday after his landlady Rosemary Facey refused to press charges.
Miffed Glen said: "
I think police went too far. It must have been obvious I wasn't a thief — how many burglars go out dressed as a Jedi Knight? EDITOR'S NOTE: YOU'D BE SURPRISED,GLEN. YOU'D BE SURPRISED. (I MEAN, IN

WALES

, IT'S ALMOST A

REQUIREMENT

).
"
The police could have sorted it out there and then by going to the neighbour and asking if they recognised me. I have lived here for two years."
Rosemary said: "
Glen's a good tenant and I've no grudge with him."
Devon and Cornwall Police said: "
He committed an offence as the damaged property didn't belong to him. He was issued with a caution.

EDITOR'S NOTE: YOUR CORNWALL TAX DOLLARS AT WORK. EVER VIGILENT. (CHEERIO, PIP PIP, ETC).
AND SPEAKING OF THINGS FROM THE BRITISH ISLES....HERE'S A BIT OF STAR WARS BLARNEY (OR ST. PADDY'S DAY, DWEEBSTYLE) ---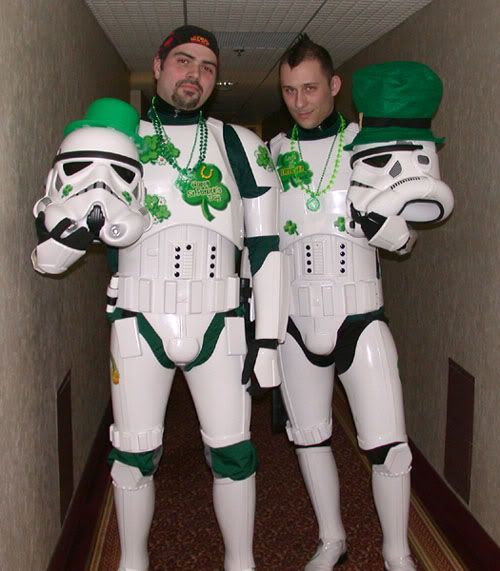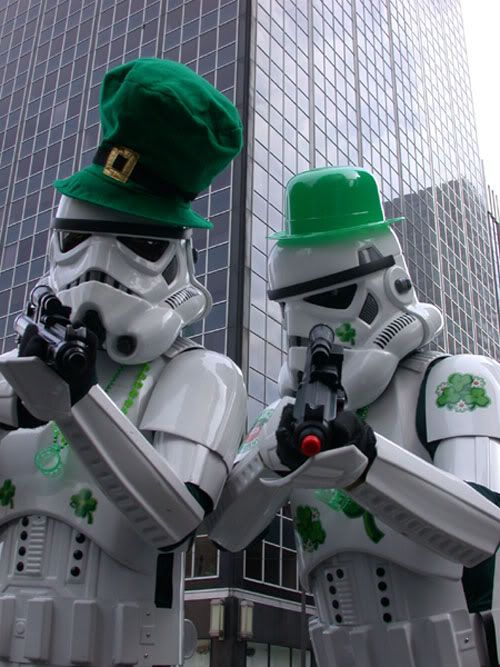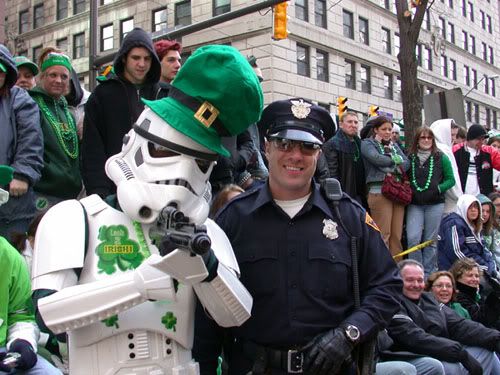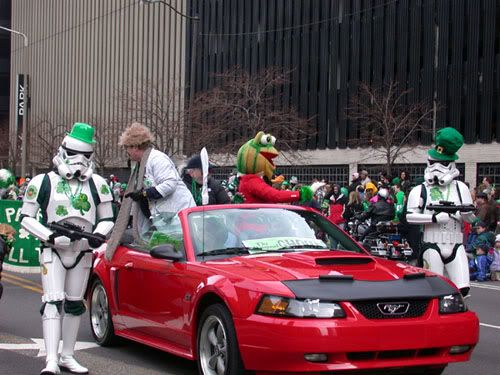 Gala in the Galaxy
Star Wars costuming fans in Southern California worked together with runway models to benefit the
Fashion Institute of Design and Merchandising
(FIDM) at the Institute's black tie gala on March 4. The dinner and runway show, titled Debut 2006, featured designs from FIDM's graduating Fashion Design and Theatre Costume Design Advanced Study Program students, and raised proceeds to benefit the FIDM Scholarship Foundation.
The theme for the evening? The galaxy far, far away.
The stage was set, or rather the stars were hung, at the Barker Hanger in Santa Monica. In addition to the student designs on the runway, members of the 501st and Rebel Legions did a little time on the catwalk themselves, alongside models wearing Queen Amidala and handmaiden costumes, as well as Darth Vader and Chewbacca costumes.
The FIDM National Scholarship Competition this year was titled "It's Your Galaxy," and invited high school seniors and graduates to compete in what FIDM described as their most innovative competition ever. FIDM partnered with Lucasfilm Ltd. to present the scholarship competition.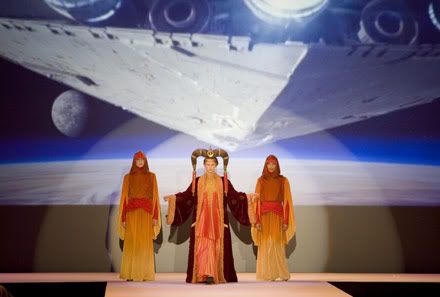 The Barker Hangar offered room enough for spectacular backdrops for the models in the FIDM Debut 2006.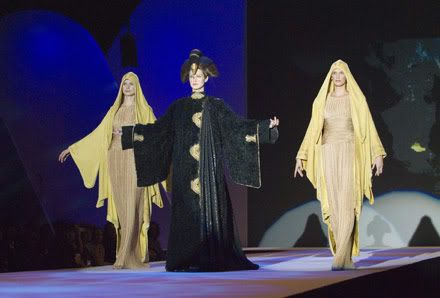 Benefactors who attended the gala had front row seats to view Star Wars costumes as well as student designs.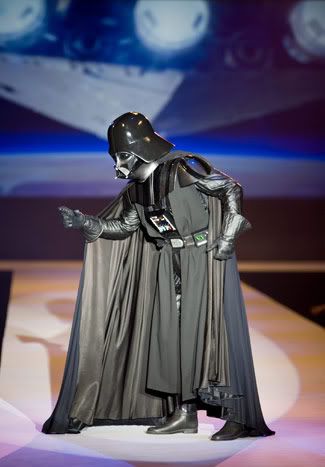 Darth Vader struts the catwalk in the shadow of one of his star destroyers at the FIDM gala March 4.
EDITOR'S NOTE: DEAR ME...WRONG ON

SO

MANY LEVELS......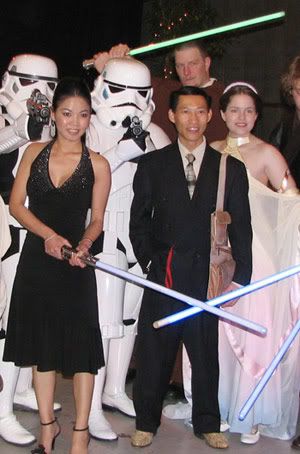 The members of the 501st and Rebel Legions who helped out at the FIDM gala posed with benefactors who attended the event. Photo by Kathy Skirmont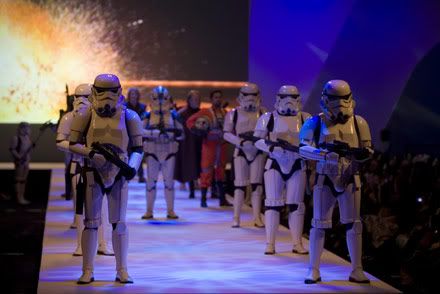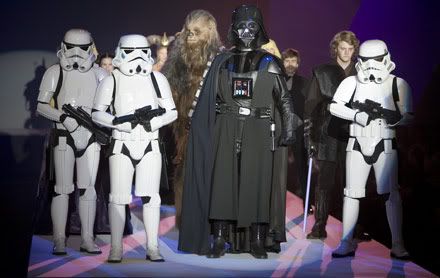 Too sexy for my armor. Costumed fans strut the runway, and set the stage for a successful fundraiser.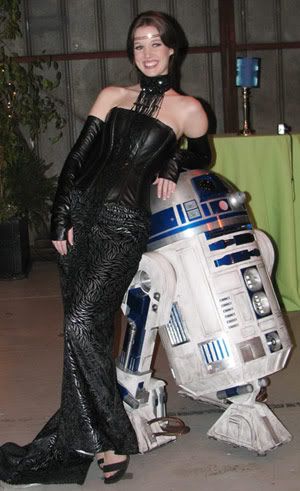 A Rebel Legion Padmé poses with R2-D2.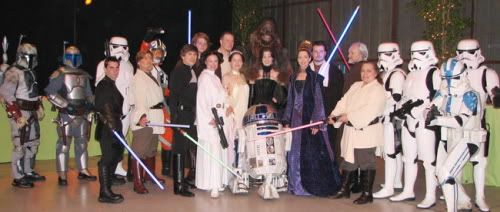 Costumed Southern California fans who helped with the FIDM gala.
OOOO....STAR WARS SHOPPING!!!
New License: Star Wars Wall Coverings
From ID-Wall comes this press release:
Star Wars comes to the home in a brand new way in 2006 as ID-WALL offers new large-format photo wallpaper and fine-art Giclée canvas prints that capture the drama, adventure and excitement of the world's most popular saga. Produced under a new pan-European licence agreement with Lucasfilm Ltd., producer of the Star Wars movies, the products are expected to go on sale via ID-WALL's retail website early2006 - http://www.id-wall.com/.

Photo WallsThe "Myfotowall®" section of the site contains great Star WarsTM images that can be used to create a unique and dynamic wallcovering suitable for any room.
Star Wars fans can create a stunning backdrop or focal point to any room wall.
Simply input wall measurements, choose an image, then adjust the image using the 'Zoom' and 'Move' tools, to create the desired look. Confirm the order and the process is complete!
Printed on to a wipe-able, non-moisture absorbent paper substrate, the final output is then divided into 500mm wallpaper widths, to allow easy application ideally by a professional decorator.
EDITOR'S NOTE: CHECK OUT THESE VERY GROOVY WALLPAPER SAMPLES ---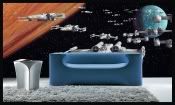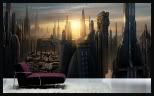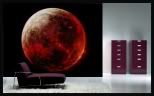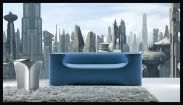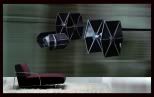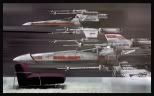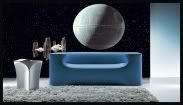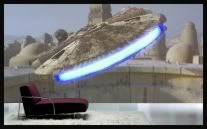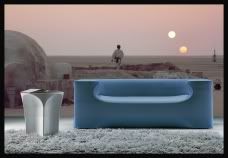 EDITOR'S NOTE: I THINK IT MIGHT BE A TAD DISCONCERTING TO HAVE THE MILLENIUM FALCON FLYING AT YOU WHILE YOU'RE SITTING ON THE FUTON. AND THOSE OTHER SHIPS IN MOTION I THINK WOULD MAKE ME QUEASY. BUT I LOVE THE TATOOINE SETTING SUNS. AND I THINK MY FAVORITE IS THE SUNSET ON CORUSCANT SKYLINE. WOULDN'T THAT LOOK GREAT IN THE MOVIE ROOM!?
Canvas PrintsID-WALL's Canvas Club™ will feature a dedicated Star Wars image gallery where fans can browse and buy special edition fine-art Giclée canvas prints. All of the special editions are limited to runs from only 150 to 375 units depending on the print chosen.
Fine art Giclée prints, also known in the art world as "pigment prints", are fine art, continuous colour tone prints created with archival inks. The archival rating for the ink and canvas is in excess of 100 years. EDITOR'S NOTE: ONLY 100 YEARS?! All Giclée prints are made to order and are handcrafted in the UK studio with painstaking attention to detail. Once the print is complete it is then quality checked, which forms the final part of the company's uncompromising commitment to quality.
Certificate of Authenticity
Each Photo Wallpaper and Canvas Print order is despatched with it's own uniquely numbered Certificate of Authenticity presented in full colour."The consumer appeal of Star Wars continues to be phenomenal," comments Tim Bennett, Managing Director of ID-WALL. "Star Wars fans of all ages are going to find something to enjoy in these new offerings from ID-WALL."

Qui-Gon Jinn Star Wars 12-inch figure.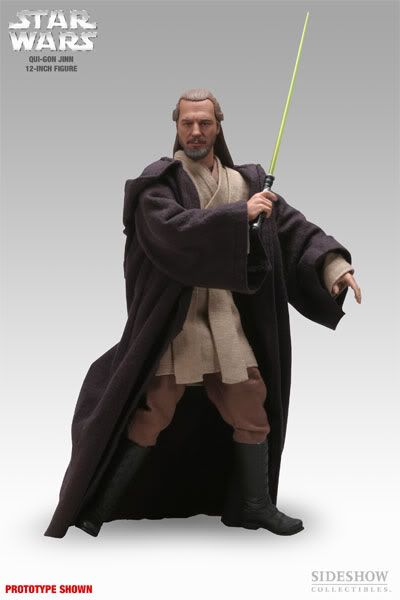 EDITOR'S NOTE: DID ANYONE BESIDES BOB, JOEL, DAVID AND I GO TO 'BAD' PLACE? (QUI-GON. 12 INCHES? BAD QOTD BAD BAD!!)
Sideshow Collectibes has released images of their 12-inch Qui-Gon Jinn figure and are now taking pre-orders.
The figure includes:
Fully articulated tall male body with 30+ points of articulation EDITOR'S NOTE: SNICKER....
Authentic likeness of Liam Neeson as Qui-Gon Jinn
Detailed costume including: Undershirt Tabbard Tunic Pants Boots
Jedi Robe Accessories including:
Detailed belt w/ opening pouches and lightsaber clip
Jedi Food Capsules
Jedi Holoprojector
Jedi Communicator
Jedi Aqua Breather
Episode 1 Lightsaber hilt
Episode 1 Lightsaber hilt w/ ignited blade
Interchangeable hands, including:
Saber grip left
Saber grip right
Force gesture left
Pistol grip right
12-Inch Figure Display Base with STAR WARS logo
The figure will be released in the third quarter of 2006 with a price tag of $49.99.

EDITOR'S NOTE: AND NOW...THE PICS!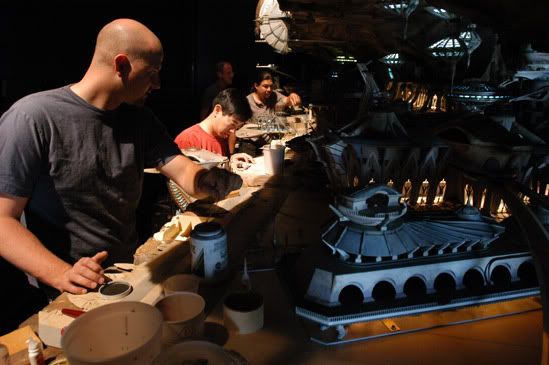 ILM modelmakers Fon Davis, Grant Imahara and ILM Visual Effects Art Director Alex Jaegar give special attention to various miniatures of Utapau buildings.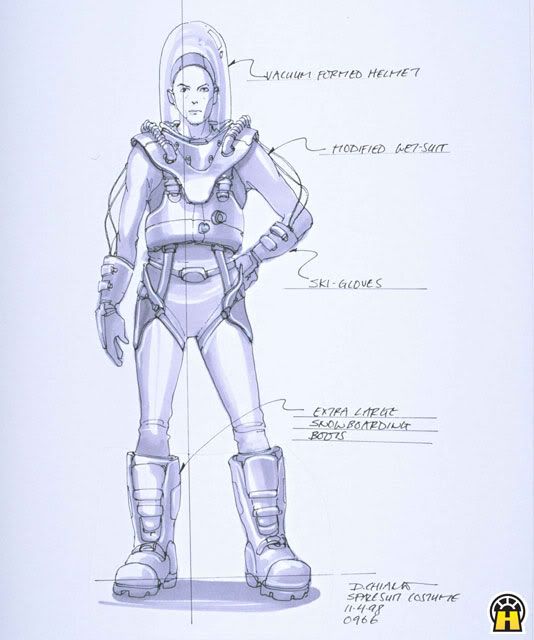 Doug Chiang illustrates a space suit concept to fill out the crowds of Mos Espa, a relatively late post-production addition to Episode I.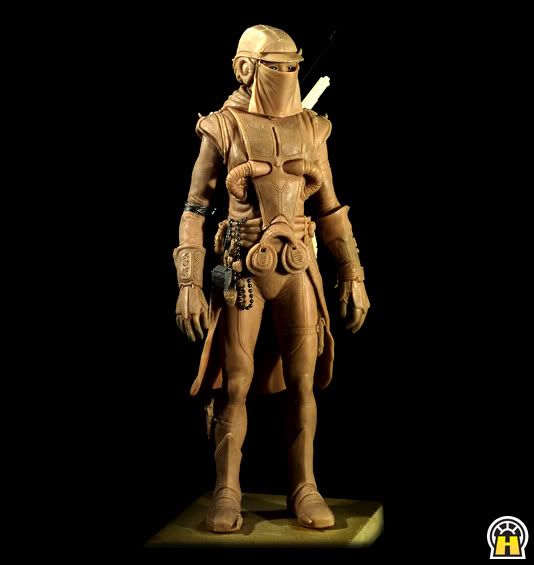 Michael Patrick Murnane crafted this detailed concept model of Zam Wesell, a rare example of a model done for a practical costume.
A gathering of mourners pay their respects to the late Senator Amidala -- shot against bluescreen, these people were mostly made up of ILM and JAK employees.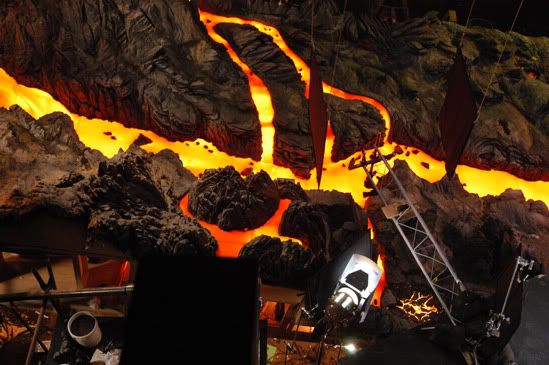 A closer look at the miniature model of the lava-drenched landscape of Mustafar.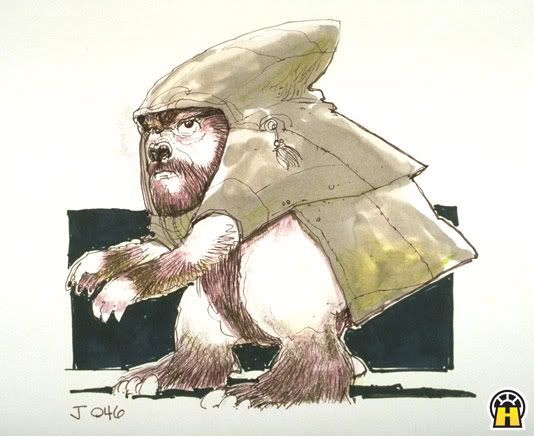 Before the Art Department "dared to be cute," the initial Ewok concepts, like this one from Joe Johnston, were more gruff and mean-looking.
EDITOR'S NOTE: HE STILL LOOKS LIKE HE'D TASTE YUMMY WITH A LITTLE MINT JELLY.