Movie (and TV) Dweebing (and a few oddsnends)
Editor's Note: I've been collecting posting info ALLLLL week. And intending to post it

every single day

. (Damn those people who pay us and expect us to do actual WORKat the office. DAMN them!) So....we've got Movies, and TV, and a few oddsnends....oh let's face it...this is a

HODGEPODG

ER!
Editor's Note: First up, Superpowers on stamps!!!!
Wonder Woman, Superman seek to stamp out crime
WASHINGTON -- Faster than a speeding bullet, comic book superheroes are coming to a post office near you.
Batman and Superman, Wonder Woman, Supergirl and a half dozen other superheroes will star on new postage stamps being released Thursday. The new 39-cent stamps and 24-cent postal cards will be made public at a comic book show in San Diego
Editor's Note: A 'comic book show'? I think they mean the humongous and wonderful SAN DIEGO COMICCON?
, and will go on sale nationwide Friday. The stamps are sold in a sheet of 20, half featuring the individual superheroes and half showing covers of comic books starring them.
Editor's Note: The stamp issues so far this year have been really boring; at last I can put something fun on the upper right of all my bills. (yah....)
The Postal Service reports this is its first set of super hero stamps, indicating more are likely to follow.
Editor's Note: Woohoo!!!
And good news....
Ebert, on the mend, gives thumbs up to guest critics
July 18, 2006
BY ROBERT FEDER SUN-TIMES COLUMNIST
Roger Ebert, the revered Sun-Times movie critic who takes a back seat to no one, will temporarily turn over his seat in the balcony to celebrity co-hosts while he continues to recover from cancer surgery.
Starting with the "Ebert & Roeper" show to air Aug. 5, fellow Sun-Timesman Richard Roeper will be joined by guest critics to review the week's movies. Previously taped shows will continue to air until then.
"
Don't get too used to these guest co-hosts because I'll be back in the balcony before you know it
," an upbeat Ebert said Monday from Northwestern Memorial Hospital, where he is reported to be in good condition and getting better each day.
Ebert, 64, underwent surgery for a recurrence of salivary cancer on June 16. A follow-up surgery on July 1 repaired a blood vessel that burst near the site of the earlier operation.
"
Roger is improving each day and continues on his road to recovery
," said his wife, Chaz Ebert. "
He's been through a lot and needs more time to recuperate. . . . Roger will return to his seat in the balcony in the near future, and I ask that you continue to send healing thoughts his way."
Said Roeper: "
As much as I'm looking forward to opening the balcony to some bright and challenging minds, what I'm really anticipating is that day in the near future when I can welcome back the best and most popular film critic in the world."
Buena Vista Television, which syndicates "Ebert & Roeper" to more than 200 markets nationwide, said invitations would be extended "
to prominent talent, executives and critics associated with the motion picture industry."
None of the personalities under consideration has been identified.
There's precedent for using guest critics on the show. In 1999, Tom Shales of the Washington Post appeared alongside Ebert when original partner Gene Siskel was out on leave after surgery to remove a brain tumor. After Siskel's death, a variety of substitutes filled in.
And sad news.....
Veteran actor Jack Warden dies, 85

Oscar-nominated character actor Jack Warden, best known for starring alongside Warren Beatty in "Shampoo" and "Heaven Can Wait," has died at 85, his longtime business manager said Friday.
Warden, who appeared in dozens of films and won an Emmy award as the star of the 1980s TV series "Crazy Like a Fox," died on Wednesday in New York, business manager Sidney Pazoff said.
Warden, who was born John Lebzelter in New Jersey and began acting after serving in World War Two, had a breakthrough role in "Twelve Angry Men" in 1957. Pazoff said the veteran character actor had retired several years ago and had been suffering from medical problems in recent years.
Editor's Note: He often played loveably irascible characters. Just a wonderful actor. RIP, Mr. Warden. RIP.....
And now....shudder....

Evil Dead: The MusicalThe evil forces hit New York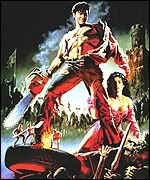 It's now official: any film can become a musical.
Editor's Note: CAN. Not

SHOULD

.
In this day and age, when the likes of
Legally Blonde
and
The Lord Of The Rings
are going tuneful, it should come as no surprise that
The Evil Dead
is the latest to make it to the stage.
Editor's Note: Well, it comes as a LITTLE bit of surprise. I mean, the thing doesn't just SCREAM musical, does it? (I guess it SCREAMS. just not

musical

).Evil Dead: The Musical
will arrive in New York in October, having already been work shopped in Toronto and Montreal. Created by George Reinblatt, Christopher Bond, Melissa Morris and Frank Cipolla, the show will be co-directed by Hinton Battle, best known to TV viewers as Sweet, the demon from Buffy's musical episode.
The plot roughly follows the film's story, but focuses on a group of friends – instead of just Ash – who unleash the evil at the secluded woods cabin. And in keeping with the movie's popcorn status, the musical will play at 11pm on Friday and Saturday nights, with the first few rows labelled the Splatter Zone.
Editor's Note: So not only will it suck (I'm guessing?) , but it will mess up your clothes too! Oh Joy.

Cool

Harry Potter rumormongering

----
Movie 5 could feature 3-D scenes
Cinemark, America's third biggest theater chain, has announced that it plans to use "Real D" technology in 150 theaters by the end of 2007, thus attracting more audiences.
Real D enables a single digital projector to beam images that seem to move toward or away from viewers wearing special glasses. While we already know that
Order of the Phoenix
will be played in IMAX theaters, the company has apparently discussed with
OOTP
producers the idea of including some 3-D scenes in the movie for some non-IMAX theaters.
Regarding the increased interest in 3-D, Research Associates analyst Marla Backer says:
"Nobody has forgotten last year's box office slump.
If sales fell because consumers preferred to watch DVDs in their living rooms, then theaters need a more compelling reason for people to get out of their homes."
Editor's Note: HP in 3D would get ME out of my home! (I mean, HP

NOT

in 3D would too....but3D!!!!...... giggling and drooling, giggling and drooling).

Harry Potter Will Not Die, According to British Literature Expert
LibrariesLife News (Pop Culture)

According to a British Victorian literature expert, Rowling's threat to kill at least two main characters in her final book is her way of taking control and is not unlike actions taken by other authors whose books have become extremely popular with readers.
Hogwarts School of Witchcraft and Wizardry may have prepared Harry Potter to duke it out with Lord Voldemort, but the real test of his survival will be the battle over who actually "owns" Harry – author J.K. Rowling or her fans. According to a British Victorian literature expert, Rowling's threat to kill at least two main characters in her final book is her way of taking control and is not unlike actions taken by other authors whose books have become extremely popular with readers.
In the end, however, Harry will survive, says James Krasner, professor of English and British Victorian literature at the University of New Hampshire. "
There's no way Harry will die
," he says.
"Harry won't die largely because these are comic stories, like Dickens' novels, in which good has to win."
Editor's Note: From his mouth to god's (well, JKR's...same thing?) ears!
"
Whenever an author's books become very popular in his or her lifetime, as is the case with Rowling, a tug of war starts between the author and the fans about who the characters really belong to. Rowling, like Conan Doyle (creator of Sherlock Holmes), is trying to assert her control. She's reminding us that Harry is her character, not ours; she can kill him if she wants to. Doyle actually did kill off Sherlock Holmes, but Rowling won't go that far because she cares about Harry. Conan Doyle was really sick of Holmes,
" Krasner says.
Editor's Note: And even Conon Doyle ended up bringing his creation back to life, didn't he?
And it's not the first time Rowling, who is adept at promoting her books, has threatened to kill off a major character. According to Krasner, Rowling caused a media sensation when she said a "major character" would die in
Harry Potter and the Order of the Phoenix
. Rumors targeted Harry's best friend, Ron Weasley, but in the end, it was Sirius Black, who Krasner says "
was an important supporting character, but not really a major character like Ron."
Editor's Note: Sirius' death was really really sad, nonetheless.
"
Harry won't die because Rowling's too good of a storyteller to completely undercut her genre. She's an extraordinarily careful plotter, not unlike Dickens, and she has worked very hard to make all the books emotionally satisfying. Having Harry die would be a miserable plotting failure,"
Krasner says.
Rowling employs the genre of British Private Boy School novels, a popular writing style of 19th century Britain but one that may be unfamiliar to most Americans. The classic novel of this genre is
Tom Brown's Schooldays
, set in the Rugby School for Boys.
"The stock characters in these stories are very similar to those in Harry Potter. There's the serious, good-hearted hero from a modest background, the obnoxious aristocratic kid who lords it over everyone, and the nebishy friend to the hero. The stories tend to focus on rugby games (Quidditch games in Harry Potter) and pranks that take place in the dorms after the lights go out,"
Krasner says.
Editor's Note: yeah..ahem.... We've heard all aBOUT those British schools for boys and their, umm..."pranks".
"
Rowling's books are very well written, and we're lucky to be around to see them created. Her particular talent is plotting and comic characterization. She's a lot like Dickens in that she does such a good job with comedy, and with predictable plotlines, that she can move into tragedy, and complexity, rather than starting with a tragic mode,"
Krasner says.
So if Harry Potter doesn't die in the final book, who does?
According to Krasner,
"Lord Voldemort has to die. And Snape, who is really fighting for good despite all appearances, will likely die. Neville Longbottom is really the chosen one, so I suspect he'll die
," he says.
Editor's Note: Those would be MY bets too. And/or perhaps Percey Weasley, just because of the emotional mess it would create with his mom due to his estrangement. (And I totally agree that Snape is fighting the good fight. Feel free to make me eat those words when we see book seven, but I really think he's a hero).
And readers shouldn't be surprised if the much-loved Professor Dumbledore, who died in the last book, returns.
"
Obi-Wan Kenobi, Gandalf-type paternal wise man mentor characters always die. This is a multi-genre convention, turning up in war stories, medieval romances, fantasy, adventure, cop movies, martial arts films. They come back as ghosts
," Krasner says.
Editor's Note: Nudgey, naggy, pesky ghosts. Kvetchiing and manipulating from beyond the beyond. It's a genre TRADITION.
And a Misc. Item or two -----
Clooney and Heslov hang new shingle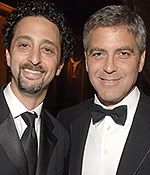 Editor's Note: Wow....they're BOTH so pretty, it's tough to choose.......(snicker)
George Clooney and Grant Heslov have teamed up to form film and television production company
Smoke House
and have signed a first-look production and development deal with Warner Bros. Pictures and Warner Bros. Television.
Clooney and Heslov are coming off a successful partnership on "Good Night, and Good Luck," the 2005 movie that Clooney and Heslov co-wrote, Clooney directed and Heslov produced. The film received six Academy Award nominations, including for best picture, director and original screenplay. The Producers Guild of America honored Heslov with the Stanley Kramer Award for producing the film, and he and Clooney received the Paul Selvin Award from the WGA for their screenplay.
Editor's Note: Go George (and Grant) Go!

Aviv's first task: What is Dis?
As he begins his new job as president of production at Walt Disney Pictures, Oren Aviv's first order of business will be to define exactly what constitutes a Walt Disney picture -- especially because the company now wants to brand as many of its movies as possible with the venerable Disney name.
"I'll start by telling you a few great examples
," Aviv said Wednesday. "
They would be 'Pirates,' 'Chronicles of Narnia,' 'National Treasure,' 'The Pacifier' and 'Miracle.' If it's a great idea and it's done with quality and care, then it qualifies to be a Disney movie."
MPAA ratings alone will not delineate a Disney movie. Although the Disney label will not go on any R-rated movies, it can embrace everything from a G to a PG-13.
"
We had a movie called 'The Rookie,' that was rated G, while 'Pirates' is PG-13,
" Aviv said. "
To us, anything that's not an R has broad appeal, that you can take the whole family to -- that to us has always defined a Disney movie, and that definitely hasn't changed. What we're looking for is to make movies based on great ideas that have appeal across the board."

Editor's Note: Right. Justifying the downsize. There are money/corporate decisions. But pay nooooo attention to the little man inside the booth.
Ziskin returns as Oscars show producer
Laura Ziskin has been named producer of the 79th Annual Academy Academy Awards, which will air live from the Kodak Theatre in Hollywood on Feb. 25, the Academy of Motion Picture Arts and Sciences said Friday.
It will be Ziskin's second stint as the show's producer. She produced the 74th Academy Awards, the first to take place at the Kodak, in 2002.
It will also be the second time that she juggled Academy chores while also overseeing an upcoming "Spider-Man" movie. The last time around, she was readying the first "Spider-Man," released May 3, 2002. She's currently involved in post-production on "Spider-Man 3," which Sony Pictures will open domestically on May 4.
Ziskin's first turn as Oscar's ringmaster earned eight Emmy nominations, including one for Ziskin as producer in the outstanding variety, music or comedy special category.Editor's Note: Save the date: party chez QOTD!
And now, the MOVIE dweebing ----
Robin Williams in BOURNE ULTIMATIUM?
A loyal reader dropped me a line today with a scoop regarding Robin Williams and the upcoming film THE BOURNE ULTIMATIUM, take a gander.

The source said:
I don't know if this is of much interest or not, but we just got back from a conference for our company (Random House P). On the trip back, I sat next to one of the bosses, who works under Peter Olson, and we got talking about books. He tells me that they're (sorry, film wise) doing "The Bourne Ultimatium" at Universal Pictures, with Matt Damon and Julia Stiles. I think that has already been announced.

Apparently - and I'm not surprised, considering the last one didn't resemble the book either - the script is NOTHING like the book (Ludlum must be rolling in his grave).

What might work though, is that they're casting for someone that's "very close to Jason Bourne" - - I remain ambiguous for a reason : Richard doesn't know, he's obviously heard it second/third hand too. What he does know is that they're looking at Robin Williams for the part. He'd play some sort of family member or link to Bourne's past...I guess.... Bit of a "Good Will Hunting" reunion, if it comes off, I guess, too? Anyway, thought you'd appreciate the update on the movie. Editor's Note: Robin Williams is actually a very good actor...when he's reined in. My only mantra on Bourne is make it better than the last one!

Sam Raimi For Spider-Man 4?
JK Simmons says he's considering it




Getting information out of the Spider-Man 3 set can often seem like the proverbial blood from a stone.

But it helps when you have chatty co-stars like JK Simmons – AKA Daily Bugle editor J Jonah Jameson. Editor's Note: AKA, sexy bald guy!

He's not spoiling anything, but he did hint at an interesting development for the future. Talking to TV Guide magazine, the thesp was asked if his character's son - Daniel Gillies' John Jameson from Spider-Man 2 - might become the unannounced villain. Simmons seems convinced it's not happening.

"Not yet. Hopefully there are plenty of cards to play for four, five and six. I'll do a Spider-Man for every two or three years for the next couple decades if they want. That'd be all right!"

Most interestingly, he was questioned about the possibility of Spider-Man 4. And, more specifically, Sam Raimi staying around in the director's chair…

"Yeah, it got mentioned. In fact, the last couple of days I shot were at the very end of the schedule — we were doing some night-action scenes in New York — and Sam was talking about it. It's not a done deal because everybody's deals, including his and all the actors', was for three pictures. But he's certainly open to doing more."

It might be speculation, but this is the kind of rumour we can get behind. Spider-Man 3 swings into cinemas next May.

Editor's Note: And yet...on the OTHER hand......

A final spin for 'Spider-Man'?
Updated 7/21/2006 9:35 AM ET
By Scott Bowles, USA TODAY
SAN DIEGO — Is Spider-Man making his final swing through theaters?

As the superhero franchise, which has taken in more than $1.6 billion worldwide, returns to Comic-Con to promote next year's Spider-Man 3, some are wondering whether the series is making its final bow.

Including star Tobey Maguire.

"We've done an amazing job at keeping things fresh," Maguire tells USA TODAY. But, he adds, "it's hard to imagine continuously coming up with stories that deserve to be told. I'm not sure if there are more stories for this character that are interesting enough to be excited about doing more."

Sony Pictures, the distributor for the films, isn't saying either way. And superhero franchises, such as the Hulk, have been pronounced dead, only to resurface under a new director or production company.

But Spider-Man producers concede they haven't looked beyond this installment of the series, which they always viewed as a trilogy.

"We don't have a book we're adapting, like a Lord of the Rings," says Spider-Man producer Laura Ziskin. "It's open-ended. But this could be the last. We've never started on the next movie while we were working on the current one."

More than a dozen big-studio movies will be featured at the nation's largest comic-book convention this weekend, but none come shouldering more excitement or expectations than Spider-Man. It's due in theaters May 4.

Producers — and perhaps, they say, a star from the movie — will unveil some hastily gathered footage from the film Saturday as a goodwill gesture to the convention, which has been a taproot of the franchise's loyal following.

"This is a going-home kind of thing," producer Avi Arad says. "We brought the first one here and the fans have supported us and (director) Sam Raimi from the start. We wanted to say thank you."

Filmmakers are closely guarding plot points to the film, though it will feature a new villain, Sandman, played by Thomas Haden Church.

And Ziskin promises one foe will be Spidey himself.

"He'll have to battle villains within," she says. "I love what we've done with this character."

So does Maguire.

"This one, to me, has more interesting twists and turns" than the first two, he says. "It's been a fun ride."Editor's Note: if it's anywhere NEAR as fun as the second one, you have yourself a flick. (And the hope of a good number 4 too?)
Heath Ledger is The Joker?
According to
Latino Review
, Heath Ledger has been offered the part of The Joker in the upcoming BATMAN BEGINS sequel.
Latino Review
writes, "
We were first to tell the world that Brandon Routh was going to be the new Superman. Now here we are at it again as we just got word from A VERY TRUSTED SOURCE that the offer last night was officially made to Heath Ledger to star as The Joker in the Batman Begins Sequel!
In the BATMAN BEGINS sequel, Batman, Jim Gordon and DA Harvey Dent battle the evil Clown Prince of Crime, The Joker to save Gotham City from his reign of terror and death.
Christian Bale will return as Batman. Michael Caine, Morgan Freeman and Gary Oldman will also reprise their roles.
General Zod in SUPERMAN sequel?

Scooper Daniel wrote me from the UK premiere of SUPERMAN RETURNS with a bit of speculation on the possible sequel.
Daniel writes,
"I was lucky enough to attend the UK premiere of Superman Returns on Thursday night.

"Before the film the cast all said a few words. When it was Singers turn (last) he invited his writing partners to come up. One of them walked up to the mike and brought attention to what was written on the T-shirt he was wearing "Kneel before Zod".
"If this is what they are thinking, Zod Returns would make a cool sequel."
Editor's Note: Now if only they could get Terrence Stamp back as Zod!!!
Indeed it would. Nothing official to report, but always fun to speculate.
Editor's Note: But wait...more supers
Singer sees 'Superman' sequel for summer '09
SAN DIEGO -- If director Bryan Singer has his way, Superman will take to the air a second time. Singer, who directed the current "Superman Returns," told fans Friday at Comic-Con International, that he has had discussions with Warner Bros. Pictures about directing a sequel for release in the summer of 2009.
"Superman Returns," starring Brandon Routh, has grossed $169 million domestically to date, a figure that has been regarded by some observers as a disappointment given the movie's production costs of more than $200 million.
Doug Jones is The Silver Surfer?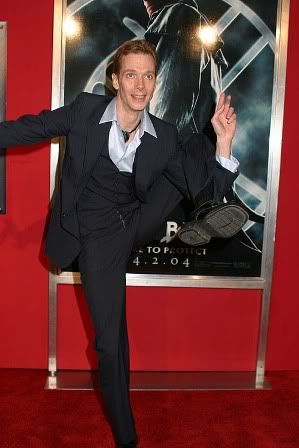 Editor's Note: Who???!!
Ain't it Cool News is reporting that Doug Jones, who played Abe Sapien in HELLBOY, has won the role of the Silver Surfer in the upcoming FANTASTIC FOUR sequel. The sequel is reportedly titled FANTASTIC FOUR AND THE SILVER SURFER.
Just last week Tim Story, the films director, confirmed that the Silver Surfer would be in the film, but also hinted that he would be mostly CGI. Story said, "
The Surfer will be a new CGI design being developed especially for the movie. It's going to be incredible."
SciFi.com
posted an article today saying, "
SCI FI Wire has confirmed that Hellboy actor Doug Jones (Abe Sapien) will be making a casting announcement at Comic-Con International in San Diego this week concerning his participation in an upcoming, unnamed comic-based film. "There will be a major casting announcement regarding a popular comic-book film at Comic-Con," John Zander, Jones' publicist, said in an interview."
It could be that he is just lending his voice and likeness, or it could be that the Silver Surfer won't be all CGI after all. Time will tell!
Editor's Note: No rush. I can wait....
Frank Miller bringing THE SPIRIT to the big screen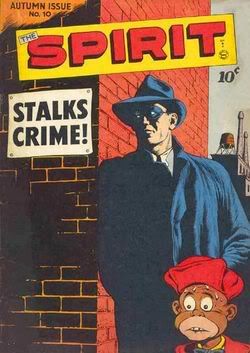 Frank Miller will adapt and direct the highly influential comic, THE SPIRIT, for the big screen.
THE SPIRIT was a fictional masked crime-fighter created by Will Eisner. The comic is widely considered one of the most significant works of the comic medium.
THE SPIRIT followed the adventures of an anonymous vigilante who fought crime with the blessing of the city's police commissioner. The stories varied between crime drama to lighthearted adventure, from mystery and horror to comedy and love stories, often with hybrid elements that twisted genre and expectations.
Editor's Note: Sounds a wee bit like Batman, doesnt it?
"
What makes Frank's involvement with THE SPIRIT particularly poignant was his special relationship with Will Eisner, captured last year in the book 'Eisner-Miller
,' " said Michael Uslan who is producing the film. "
You have two of the medium's greatest storytellers of sequential art and cinematic comics discussing the compelling and controversial art form."

Louis Leterrier to direct THE INCREDIBLE HULK
Louis Leterrier has signed on to direct the upcoming film THE INCREDIBLE HULK for Marvel Studios.
The script is being written by Zak Penn (
X-Men 2, X-Men 3
) and the film will be produced by Avi Arad, Kevin Feige and Michael Helfant.
The Hollywood Reporter says that Avi and Feige met with Leterrier two years ago and were struck by his passion for the Marvel Comics universe. It was that passion that shone through recently when -- after approached to gauge his interest in directing a new Hulk movie -- Paris-based Leterrier went back to his studio and, with the help of an artist, storyboarded two action sequences and developed a take on the monster.
Casting for the film is expected to begin shortly so stay tuned!
Editor's Note: After that last Hulk fiasco, I think

they're

going to have to pay

me

to come back to the theater for it. (Fool me once....etc)
Slater, Buscemi and Cleese to voice IGOR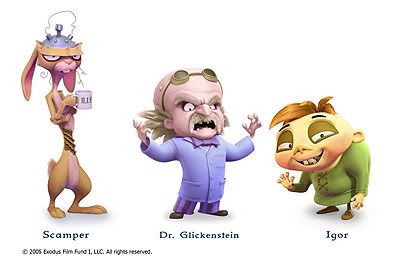 Exodus Film Group has announced that Christian Slater, Steve Buscemi and John Cleese will be lending their voices to the upcoming animated feature, IGOR.
IGOR is a playfully irreverent comedy which brings a new twist to the classic monster genre, Igor is the story of a mad scientist's hunchbacked lab assistant who has big dreams of becoming a scientist in his own right and winning the coveted first place award at the annual Evil Science Fair.
Editor's Note: Now HERE is a competition I would want to enter! YEsssss!
Slater is lending his voice to the title role of Igor, Dr. Glickenstein's hunchbacked lab assistant; Buscemi will voice "Scamper," a super intelligent and ill-tempered lab rabbit; Cleese will then voice the character of "Dr. Glickenstein," Igor's evil master.
Editor's Note: I think I have found my newest t-shirt line....."

intelligent and ill-tempered lab rabb

it". That is SO me!
The Weinstein Company will distribute the film domestically and holds the international rights as well.
Dean Devlin developing STARGATE sequel
Dean Devlin, the co-writer and producer of the original STARGATE, has a production deal with MGM to develop a sequel that will pick up the story from the 1994 film.
Devlin spoke to Sci Fi Wire, saying, "
We would just continue the mythology of the movie and finish that out. I think the series could still live at the end of the third sequel. So we're going to try to not tread on their stories."
"
When we created the original Stargate, we always envisioned it as a trilogy, and, unfortunately, the way in which the movie got made, we didn't really have control over [it],"
Devlin added. "
I think it will be very exciting to actually get to go do parts two and three."
Roland Emmerich will have the opportunity to direct the film if he wants, and Devlin said both Russell and Spader seem interested in coming back.
Editor's Note: Well.....at least the ACTING will be a little bettter than the tv show. But I AM beginning to feel SURROUNDED by this dimwitted franchise.
'Doom' looms for Warners
"The Doom Patrol," an idiosyncratic DC Comics superhero team, is heading for the big screen.
Warner Bros. Pictures, the parent company of DC, has brought in writer Adam Turner to pen the adaptation, which will be produced by Akiva Goldsman.
Created in 1963, "Doom Patrol" featured a collection of super-powered misfits brought together by a man in a wheelchair, much like another superhero team that debuted in the same year, "The Uncanny X-Men."
The similarities proved to be superficial, however, and the Doom Patrol developed a cult following, especially during the late 1980s, when writer Grant Morrison introduced elements of surrealism into the series. The main characters include the Chief, a paraplegic genius; Elasti-Girl, who can shrink or grow her body
Editor's Note: Big deal. I've done that SEVERAL times. Growing the body involves Pizza; shrinking, two hours on a treadmill and lots and

LOTS

of carrots. (hence the ill-tempered rabbit previously mentioned).
; Negative Man, a man in bandages who could release a silhouette form of himself; and Robotman, a former athlete whose brain resides in a robotic body.
Editor's Note: Ooo..that last one reminds me of an actor I worked with!
Scarlett Johansson is THE OTHER BOLEYN GIRL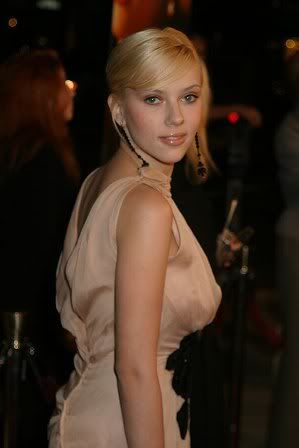 Scarlett Johansson has signed on to join THE OTHER BOLEYN GIRL according to Variety. She will join Natalie Portman, Eric Bana and Rue McClanahan (Lady Jane Rochford) in the Columbia Pictures Film.
THE OTHER BOLEYN GIRL will take a look at the ferociously ambitious Boleyn sisters, Mary and Anne (Portman), who are rivals for the bed and heart of 16th century English King Henry VIII (Bana).
The story is based on a novel by Philippa Gregory, Peter Morgan crafted the screenplay and Justin Chadwick will direct the film.
Shooting is scheduled to start this coming fall in London.
Editor's Note: Wow. Quite a cast! Classy eye candy for DAYS!
(Who will we drool over? Who will Dweebpal SAMANTHA drool over?)
Joseph Fiennes in THE RED BARON
Joseph Fiennes has signed on to the upcoming historical epic THE RED BARON
The film is by writer-director Niki Muellerschoen and in it Fiennes will play Roy Brown, the Canadian pilot credited with shooting down the Teutonic top gun in 1918 during the final months of World War I. The movie will recount von Richthofen's career as World War I's most celebrated flyer.
Matthias Schweighoefer will star as The Red Baron, Lena Headey and Til Schweiger round out the cast.
Shooting in Prague, the film has a budget of about $22.5 million
Pfeiffer looks to stick role in 'Hairspray'
Michelle Pfeiffer is in final negotiations to join the cast of New Line Cinema's adaptation of the hit Broadway musical comedy "Hairspray."
"Hairspray" was based on the 1988 John Waters comedy about star-struck teenagers on a local Baltimore dance show. The latest version will be based on New Line's Tony-winning Broadway adaptation of the film.
Pfeiffer would play Velma von Tussel, a former beauty queen (Miss Baltimore Crabs) who can't move on and who is the producer of the dance show. She joins John Travolta as Edna Turnblad, Queen Latifah as Motormouth Maybelle, Amanda Bynes as Penny Pingleton, Brittany Snow as Amber von Tussel, Zac Efron as Link Larkin, Elijah Kelley as Seaweed and newcomer Nikki Blonsky as Tracy Turnblad.
"Hairspray" is being directed by Adam Shankman and produced by Craig Zadan and Neil Meron.
Spielberg on INDY, LINCOLN, TRANSFORMERS

Steven Spielberg recently conducted an interview with www.spielbergfilms.com in which he discussed various upcoming films.
Here are some important facts I took from the interview:
- Spielberg was never offered ANGELS AND DEMONS, and he would never do it even if he was offered it.
- David Koepp is currently writing the script for INDIANA JONES 4. Darabont's screenplay for the film will not be used.
- Jo Johnson is standing by and has first dibs to direct JURASSIC PARK IV.
- The script for Spielbergs LINCOLN project is still being written with an expected start in September/October of 07'.
- He had high praise for everything he saw thus far from TRANSFORMERS.
- Spielberg's upcoming sci-fi space film has a working title of INTERSTELLAR and a treatment has been written by Dr. Kip Thorne.
Editor's Note: 1. Finish Indy 4 soon before handsome Harry (Ford) has to be WHEELED onto the set. Darabont, Koepp, SOMEBODY get a script that's good. And that's ready to film.
2. Someone read over Jo Johnson's shoulder and make sure he writes Jurassic 73 ..........or whatever number this one is...........in something other than the crayon and construction paper he used last time.
3. Transformers. Transformers? It's an ugly toy for children who can't decide if they want a truck or a tiger, right? And this will be a movie that has something to do with Spielberg? Steven, or his slower cousin Reggie? (Then again, they made a great movie...2, in fact....from a theme-park ride, so stranger things have happened, I guess).
Keys to light up Candle

Singer Alicia Keys has signed a nice plum deal with Disney, with plans to develop and star in several projects for the house of Mouse.
This ain't no Lindsay Lohan-style deal though, where the musician will headline a bunch of family-friendly fodder – nope, she'll be doing some slightly (and I do stress slightly, because her first project is a little on the fluffy side). Her first film with the studio will be a remake of the Kim Novak starrer, "Bell Book and Candle".
Keys will play the role of Gillian 'Gil' Holroyd, a modern-day witch who likes her neighbour but despises his fiancée, so she enchants him to love her instead... only to fall in love with him for real.
Keys made her acting debut in 80s comedy hit "The Cosby Show", and more recently appeared in the films "The Nanny Diaries" and "Smokin' Aces", but the Disney film will be her first lead.
Nicole Kidman joins Witness remake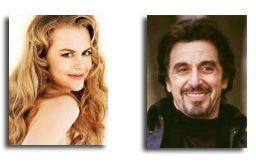 Newly married Nicole Kidman is set to leave hubby Keith at home (strumming, no less) for a few weeks with Big Boy Caprice, according to a stone tablet in Gnocci lovin' Italy.
According to
Coming Soon
, Nickers is set to join Al Pacino in a remake of "Witness to the Prosecution". Michael Radford, whose newest film is "Flawless" starring Demi Moore, will direct.
MGM has been working on the film – with Pacino attached from the get go – since 2004. At that stage, David E.Kelley was working on the script, and veteran director Robert Benton ("Kramer Vs Kramer") was attached to direct.
Pacino plays the role of Sir Wilfrid Robarts - played by Charles Laughton in Billy Wilder's 1957 original - a lead attorney in a case in which a wife appears as a witness for the prosecution against her husband.
No idea when the film will get underway, considering Kidman's choca-bloc to-do list: She's got about four of five films to do within the next year, including that long-awaited epic with Hugh Jackman, "The Lady from Shanghai", and the comedy "Headhunters". Apparently Chris Weitz is also eyeing the Australian actress for a role in "His Dark Materials: The Golden Compass", the first of a series of movies based on the popular fantasy novels by Philip Pullman.
Editor's Note: Pacino in a David Kelley script? And then you toss in Nicole Kidman? Eek. I guess the GOOD news is, Pacino and Kelley will have so much scenery imbedded in our forehead (between chewing on it and hitting us over the HEAD with it), that Kidman won't seem so bad.
Fogler to play Alfred Hitchcock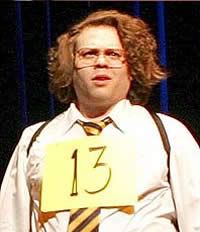 Tony Award Winning Actor Dan Fogler, tipped to be one of the big names in film next year (thanks to his roles in the upcoming "Fanboys", "School for Scoundrels", "The Marconi Bros" and "Balls of Fury"), has cracked the big one – being enlisted to play Alfred Hitchcock in the film "Number Thirteen".
According to Variety, writer/director Chase Palmer's film centres on Hitchcock's lost – and unfinished – first film. Hitchcock himself got caught up in a scenario not unlike something from one of his movies – involved in a love triangle, but more notably, a murder, with the editor suspecting the director of killing the film's male lead.
Geoffrey Rush and Ewan McGregor are also in talks for roles in the film.
Editor's Note: Ewan McG!? It sounded interesting, and now it sounds VERY interesting!
Roger Michell to direct BOND 22?
U.K. director Roger Michell is currently in negotiations to direct the follow-up to the upcoming film CASINO ROYALE.
The follow up has a working title of BOND 22 and is supposedly based on an idea from original Bond producer Michael WIlson. No writer has been picked to write the script as of yet.
The sequel would star Daniel Craig as Agent 007. Michell has directed ENDURING LOVE, which starred Craig, NOTTING HILL and CHANGING LANES.
THE ADVENTURES OF LUTHER ARKWRIGHT headed to film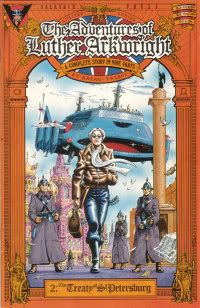 A live action feature based on the award winning comic book series THE ADVENTURES OF LUTHER ARKWRIGHT is being developed by Andrew Prowse, Sophie Patrick and Benderspink.
Editor's Note: Benderspink? (You do, and you'll wipe that up!)
The story follows Luther Arkwright, a man who possesses psychokinetic abilities that allow him to travel across parallel worlds. He is recruited by agents from a harmonious parallel known as "zero-zero" and sent to a war-torn alternate reality where a dictatorial British Empire is still in power. There he must draw out malignant forces bent on destroying all the parallel universes, which are collectively known as the Multiverse.
Editor's Note: Got that? Cause there WILL be a quiz.
The comic was written and illustrated by Bryan Talbot.
Focus finds Muccino for 'Little Game'
Gabriele Muccino, the Italian director who is making his English directorial debut with the fall's Will Smith drama "The Pursuit of Happy-ness," has signed on for "A Little Game Without Consequence" for Focus Features.
The movie will be based on the French play by Gerard Sibleyras. It follows a seemingly perfect couple who pretend to break up, only to realize that their friends never liked them as couple to begin with.
Editor's Note: Raising my hand to ask a silly question....ummm...Why do they pretend to break up? (I mean, other than that is what it says in the script?)
The play was adapted into a French movie in 2004. Allan Loeb, who penned "Things We Lost in the Fire," wrote the English-language adaptation.
Christina Cole in THE DEATHS OF IAN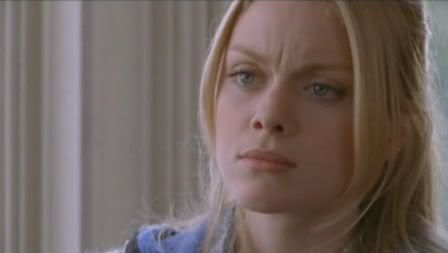 British actress Christina Cole has signed on to the upcoming horror film, THE DEATHS OF IAN, for Stan Winston Productions. Cole will play Mike Vogel's girlfriend in the film.
The film follows an all-American guy (Vogel) who is murdered each day by various creatures only to wake up in a slightly different life and be murdered again.
Editor's Note: Reminds me of a job I once had. (Yes, it has been pointed out to me that I am flogging a dead horse by continuing to rag on my old evil-empire ad job. But you know what? That horse might JUST wake up again. Evil, undead types are known to DO that!)
Cole and Vogel are joined by Jaime Murray, Michael Feast, Andrew Buchan and Michael Dixon in the cast. Dario Piana is attached to direct the film.
Sayles has ear for '50s music drama
John Sayles has written and will direct "Honeydripper," a period musical drama starring Danny Glover, blues guitarist Keb' Mo', R&B singer Ruth Brown and Gary Clark Jr., a Texas blues guitarist.
Set in 1950s Alabama, Sayles' original script centers on Tyrone (Glover), owner of the Honeydripper juke joint. When business at Tyrone's blues club begins to drop off, against his better judgment, Tyrone hires Sonny (Clark), a young electric guitarist, in a last-ditch effort to draw crowds during harvest time.
"
It's about that Bo Diddly moment, when music moves from the blues to rock 'n' roll
," said Maggie Renzi, Sayles' longtime producing partner. "
John would say he likes to make movies on subjects he doesn't already know, and he knows there's lots of room to explore here."

Editor's Note: It feels like we haven't seen anything from Sayles in a while. Glad he's back!



Reynolds, Fisher say 'definitely' to Uni's 'Maybe'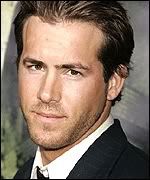 Ryan Reynolds and Isla Fisher have signed on to star in the romantic comedy "Definitely, Maybe" for Universal Pictures and Working Title. Derek Luke is in negotiations to join the pair.
Written and directed by Adam Brooks, the story centers on a soon-to-be-divorced political consultant who has to answer some hard questions from his 11-year-old daughter as he explains his promiscuous past.
The film marks a reteaming of Brooks with Universal/Working Title. He penned "Bridget Jones: The Edge of Reason" and "Wimbledon" for the studio and production company.
Editor's Note: Just when you thought you were safe from comic-book adaptations, we slip in yet one more ----
'Deadman' to live again on big screen
Guillermo del Toro is teaming up with Don Murphy's Angry Films to bring cult DC Comics superhero "Deadman" to the big screen. Del Toro is in negotiations to develop the comics-to-film adaptation, which would be produced by del Toro, Murphy and Susan Montford.
Deadman is the ghost of a circus acrobat named Boston Brand, who was murdered during a trapeze performance. His spirit was granted the power by a Hindu goddess to possess any living being in order to find his killer. In the ensuing search, Brand finds himself obliged to help others.
The hero was created in 1967 by Arnold Drake and Carmine Infantino and is known for a run of issues by artist Neal Adams.
Wes Bentley and Rachel Nichols in P2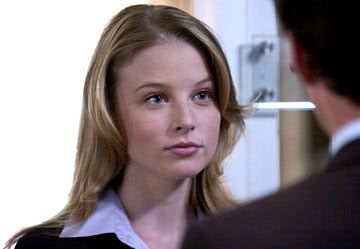 Wes Bentley and Rachel Nichols have signed on to star that upcoming stalker thriller
P2.P2
follows a corporate climber (Nichols) who gets stuck working late on Christmas Eve and finds herself the target of an unhinged security guard (Bentley). With no help in sight, the woman must overcome physical and psychological challenges to survive.
Editor's Note: I really like Rachel Nichols. I hope she does other movies...besides this one which I am HIGHLY unlikely to see.
The creative team behind HIGH TENSION and THE HILLS HAVE EYES, Alexandre Aja and Gregory Levasseur, will produce the film for Summit Entertainment.
Frank Khalfoun will make his directorial debut on the film, he also co-wrote the script with Aja and Levasseur.
New Line Says I Love You Again/A rom com remake
New Line is back in love with character comedy
I Love you Again
. Scripting team Bob Hilgenberg and Rob Muir have just been hired to write a new draft remaking the 1940 comedy, which starred Myrna Loy and William Powell.
The story focuses on a businessman who discovers he's been suffering from amnesia for seven years. In that time, he's been able to make a decent living, but realises that in his former life, he was a crook. New Line planned to remake the film back in 2004, but the project fell apart. There's no director or cast attached yet.
AND NOW....SOME TV NEWS:
Justin Hartley to play Oliver Queen on SMALLVILLE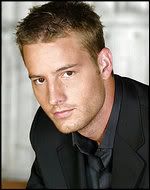 Editor's Note: Well isn't HE pretty....in a sort of generic, all the guest-star superhero-look kind of way?
Justin Hartley will play Oliver Queen or Green Arrow in the coming season of SMALLVILLE. The story arc will apparently last at least seven episodes.
The executive producer of SMALLVILLE, Alfred Gough, the upcoming season to TV Guide, saying, "
He will start to form the nascent Justice League. He's trying to find like-minded people with special powers and put a more formal structure in place. Ultimately Clark will see the value of what he is trying to do but as he's gotten older, Clark has become more cautious. He will always be there to help out, but he doesn't want to be part of a formalized organization".
Hartley played the role of AQUAMAN in Millar and Gough's Pilot.
Editor's Note: So he IS a generic superhero!
LOST/DAY BREAK

ABC announced yesterday that LOST would return for a third season on Oct. 4 in its regular Wednesday 9 p.m. ET/PT timeslot. It will run without repeats until Nov. 15. LOST will then take a 13-week break, to be replaced by DAY BREAK, a new take on GROUNDHOG DAY, in the same timeslot. LOST returns in the spring to wrap up the season without a break.
Editor's Note: So hardly more than a cruel TEASE in the Fall. But I like the idea of a spring season without repeats. (Will make it much easier to retain all the arcane twists and plot details).
DAY BREAK
Producers of ABC's DAY BREAK told reporters that the show will center on a cop, played by Taye Diggs, who finds himself repeating the same, awful day over and over again for the 13 episodes of the first season.
"
The season is a day,"
executive producer Paul Zbyszewski (
After the Sunset
) told reporters at the Television Critics Association summer
press tour. "So in 13 episodes we have a payoff, a big payoff. And the following season would be another day. I mean, it could be three months later; it could be six months later, the point being [that] Hopper [Diggs] would be at another crossroads in his life, different set of circumstances, and, you know, chaos happens."
The description provided by ABC of this unorthodox series is:

Diggs plays Detective Brett Hopper, who is accused of killing Asst. D.A. Alberto Garza. He will offer a solid alibi that no one will believe, then realize he's been framed. And he will run, discovering en route that not only he, but also his loved ones, are in danger. He'll then wake up and relive the same day over and over again. In order to break the cycle and move on, he will have to figure out who framed him and solve the complex mystery surrounding Garza's death. He will also be forced to heal the fractured relationships with those he loves. Only when Harper figures out why his life is broken and how to fix it will he awaken to a brand new day.
The producers have a plan to keep viewers coming back.
Editor's Note: Always good to have a PLAN.
"
There's a season arc, and ... there's a conspiracy behind what's happening to Taye's character, Hopper
," said executive producer Jeffrey Bell (Angel). "
And as he goes through that, he's going to have to get pieces of the puzzle and solve those. So the way we're designing the episodes is each episode will have ... a certain criterion. There will be a beginning, a middle and end to each episode so that, as Hopper progresses, ... yes, it's one day, but each day is kind of a blank slate."
For Diggs, it will be a challenge keeping each of the day's threads straight in his mind.
"It's quite a challenge,"
Diggs said. He added: "
The idea of being forced to go all these different places emotionally under the amount of stress that this character is under, I thought, was something that, one, I'd never done before, and, two, I was definitely up to that challenge. So I'm excited about it."
DAY BREAK also stars Victoria Pratt, Adam Baldwin, Moon Bloodgood and Meta Golding. It premieres Nov. 15 and will air for 13 consecutive weeks in the Wednesday 9 p.m. ET/PT timeslot vacated by LOST.
David Eick talks BATTLESTAR GALACTICA
The executive producer of BATTLESTAR GALACTICA, David Eick, sat down with
Now Playing
Magazine to talk about the upcoming third season of the show.
Eick confirmed that 20 episodes have been ordered and will be run continuously except for a break over the Christmas holiday.
Eick said, "
The first three episodes are serialized. Episode Four is pretty much a standalone. Five and Six is a two-parter about the discovery of a dying base ship and a plague that has befallen the Cylons. Seven is standalone. Eight is a memory episode that goes back to that lost year and some of the things that took place. Nine is basically teeing up where we're going in the season finale, which is discovering the next big clue on the road to Earth. That is the centerpiece of the next episodes, the 10 and 11 two-parter".
The shows season arc hasn't been fully planned as of the interview, but Lucy Lawless, Richard Hatch, and Dean Stockwell are all returning to reprise their roles.
The pre-Christmas episodes are expected to run with the second season of DOCTOR WHO, while the second half of the season should run with STARGATE.
Editor's Note: And SPEAKING of Stargate......
STARGATE SG-1 - RICHARD DEAN ANDERSON RETURNS

Richard Dean Anderson Good news for Stargate fans. Richard Dean Anderson, Jack O'Neill, will be returning for a few episodes this year. Anderson said it took a little adjustment to play the general again.
"
It took a couple of hours
," Anderson said at a party to celebrate the show's unprecedented run in Pasadena, Calif. He added: "
I was a little rusty, I have to be honest. ... I didn't stretch, let's put it that way. I should have. My wind was a little low. But once I got back over there with the group that I grew up with, let's say, in the Stargate franchise, everything all just fell back into line, and we all remembered each other right away."
Editor's Note: The show is so patently mediocre, and the acting...with the lovely and frustrating exception of the adopted "Farscape" folk...so unbearably wooden, it still just BOGGLES my mind that it is the longest running scifi show ever. SO many significantly greater shows have died on the vine, and yet this old walrus lumbers along. Sigh......
SIGH........
Anderson's O'Neill returns in the show's upcoming 200th episode, and he will also make special guest appearances in a number of additional episodes of both SG-1 and Stargate Atlantis.
"
It was by invitation only
," Anderson joked. "[
Executive producers] Brad [Wright] and Robert [C. Cooper] both called me, independent of each other. I don't know if they knew that. Of course they did: They collaborate on everything. But they called and asked if I'd be interested in ... being part of the 200th episode, and ... I wouldn't miss that. It's a milestone."
As for where Gen. O'Neill has been all this time?
"Good question,"
Anderson said with a smile. "
You should ask that of more people who work there, because I don't [know]. In the four ... extra episodes that I came back to do, three of them were Atlantis, or Atlanti. But I think the answer was there. We sort of had to make it up while we were standing there. Not a writer to be found. It was basically, he's been in Washington, sort of hiding behind a desk somewhere in charge of [something]. I think Brad might have told me what it was, but I don't recall. Apparently he's in Washington, and they don't have an answer for me or for anybody when it comes to, I guess, the ultimate question: What's going to happen to O'Neill, since he is still alive. I'm hoping that, God forbid this show should be over, but if it is, I'd love to be seen just floating away into space naked. Or partially naked. Or CGI naked. ... Yeah. Stand in. Use a stand in. it would be fun to just float away. But I'm still alive, so I have no answers for you
."
Editor's Note: Although this ramble is slightly more coherent than the dialogue on the show itself, it displays the same general level of intelligence. (or lack thereof).
And yes....I AM bitter....
Stargate SG-1 is currently airing Fridays at 9 p.m. ET/PT.
JERICHO

There are a number of shows coming up this year that will bear watching. One is JERICHO, a post-apocalyptic series starring Gerald McRaney.
At a recent press interview, McRaney downplayed reporters' questions that the series was a response to a particular climate of fear engendered by the current unstable world situation.
"
I was a kid when the Cuban missile crisis was on
," McRaney said.
"My father was a small child when World War I was on. There has always been this feeling of a dread. It doesn't paralyze us, but it's always there. So I don't think right now, today, is that remarkably different from 1918, 1962, this time last year, or this time 100 years ago. There's always that sense that something remarkably bad could happen to us, and we will have to cope with all the trappings of civilization disappearing."
JERICHO takes place in a small Kansas town whose residents, including McRaney's mayor and his constituents, find themselves cut off from the outside world after they witness a mushroom cloud in the distance.
"
This is just another example of 'How would people cope with a situation like that happening
?'" McRaney said.
Jon Turtletaub the filmmaker (
While You Were Sleeping
) who executive-produces JERICHO said that he didn't view the series as apocalyptic.
"
We have a nuclear bomb, I see, in our promotional [ads],"
he said. "
But, so far, we know two bombs have gone off [in the pilot]. And it's a little centric to think that if, say, five went off in the United States, that destroys the world. ... The notion of this type of thing happening, truly, for us, ... is not relevant to our times. If you remember when, whether it was War of the Worlds came out in the '30s, ... [that's] far more close to what that paranoia, that sense of [distrust], that sense of 'What's out there that can hurt us?' that, I think, has been a notion of humanity for a long time."
JERICHO, which also stars Skeet Ulrich, Sprague Grayden and Ashley Scott, premieres in the fall and will air Wednesdays at 8 p.m. ET/PT
Fox's 24 adds Regina King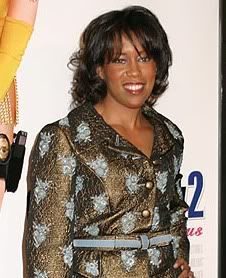 Regina King (
RAY
) has signed onto the cast of Fox's
24
, D.B. Woodside has also been made a series regular.
Woodside will begin the sixth season of
24
as the newly elected president of the United States. Woodside plays Wayne Palmer, the brother of the assassinated President David Palmer.
Editor's Note: So a family legacy for the presidency? But SMART! (Which is how we know it's fictional).
King will be joining the series as an unseen Palmer sister named Angela, a powerful lawyer with an advocacy group.
You can find
24
on TV again this January.
NBC recruits Lee for new drama series

Spike Lee has inked an exclusive deal with NBC.
Under the one-year pact, Lee will develop a new drama series for the network to be produced by NBC Universal Television Studio.
Signing Lee marks the first major recruitment of creative talent for Katie O'Connell, NBC's recently appointed senior vp drama development.
"Spike Lee was one of the first people that I wanted to make a priority for the network
," O'Connell said.
"I wanted to be aggressive about bringing in a high-profile filmmaker who fits in so well with NBC's traditional brand of challenging quality dramas."
Talks with Lee began in May, shortly after he directed the pilot for the CBS/20th Century Fox TV upcoming drama series "Shark."
"
Spike Lee is such an accomplished, inventive and truly great American filmmaker with such a specific and passionate point of view
," said Laura Lancaster, senior vp drama and cable programming for NBC Universal TV Studio. "
And what's really exciting is to see his enthusiasm for television. He's already come in with so many powerful ideas."
The search is under way for a writer to pen the drama project, which Lee will develop, executive produce and possibly direct.
Lee's prolific filmmaking career has earned him two Oscar nominations, for writing "Do the Right Thing" and for the documentary "4 Little Girls."His feature credits also include "She's Gotta Have It," "Malcolm X," "Summer of Sam," "He Got Game" and, most recently, "Inside Man."Lee's latest documentary, "When the Levees Broke: A Requiem in Four Acts" -- a four-hour examination of the government response to Hurricane Katrina -- will have a world premiere Aug. 16 at the New Orleans Arena and will air on HBO five days later.
'Frangela' pilot gets launch signal from Fox
Fox has given the green light to "Frangela," a comedy pilot starring comedians Frances Callier and Angela Shelton. The project, from Touchstone TV, is a female buddy comedy based on Callier and Shelton's stand-up act. Callier and Shelton penned the script for the pilot with "American Dad" executive producer David Zuckerman. Zuckerman is executive producing with Dan Pasternack as well as Peter Traugott, Sandy Wernick and Marc Gurvitz of Touchstone TV-based Brillstein-Grey Entertainment. Shelton and Callier will serve as producers.
ABC hires Sloane for series 'Help'
Lindsay Sloane has been tapped to co-star on ABC's upcoming comedy series "Help Me Help You."
Meanwhile, there will be a new assistant district attorney on NBC's "Law & Order: Criminal Intent" next season. Nona Gaye has joined the Wolf Films/NBC Universal TV series as a new character, a no-nonsense ADA, while Courtney B. Vance, who played ADA Ron Carver since the series' launch in 2001, has left the show.
Also leaving "Law & Order: CI" is recent addition Annabella Sciorra, who has played Detective Carolyn Barek since 2005
Editor's Note: Darn. I really liked her. Ah well...life in Wolf-land.....(The actors change, but the shows remain the same).
But wait...there's more on all that.
Bogosian to play captain on 'Intent'
Eric Bogosian has joined the cast of NBC's "Law & Order: Criminal Intent" as a regular. On the Wolf Films/NBC Universal TV Studio series about NYPD's Major Case Squad, Bogosian will play the police captain. The role was originated by Jamey Sheridan, who left the show in May
after playing Capt. James Deakins for five seasons. The addition of Bogosian is part of a major casting reshuffle on the "Law & Order" spinoff this summer that also includes the recruitment of Julianne Nicholson as Detective Megan Wheeler, the new partner of Detective Mike Logan (Chris Noth), and Nona Gaye as Assistant District Attorney Patricia Kent as well as the departure of Annabella Sciorra and Sheridan.
Production of the show is set to begin this month in New Mexico.
TNT woos Hunter for cop drama
In her first foray into series television, Oscar winner Holly Hunter is in negotiations to topline TNT's drama pilot "Grace."
"Grace," from Fox TV Studio, centers on a jaded Oklahoma City police detective (Hunter) who is visited by an irascible angel and offered an opportunity to redeem her life.
Nancy Miller penned the script for the project, which was picked up to pilot almost a year ago. Miller is executive producing "Grace" with Fox TV Studio-based producer Gary Randall. Artie Mandelberg serves as producer. "Grace" comes on the heels of the breakout success of another TNT drama centered on a strong female cop character, "The Closer." The series starring Kyra Sedgwick has emerged as the most-watched cable series.
Editor's Note: Cause Kyra Sedgwick ROCKS! And this Holly Hunter program sounds like a very good show to PAIR with "The Closer"....much better than the whiny and annoying "Saved".
Scott lusts for 'Housewives' role
Dougray Scott is in negotiations to recur on ABC's "Desperate Housewives."
In other castings in recurring roles, "ER" has tapped Paula Malcomson for a seasonlong arc, while comedian Ayda Field has joined another NBC/Warner Bros. TV drama series, the upcoming "Studio 60 on the Sunset Strip."
On "Housewives," from Touchstone TV, Scott will play a new love interest for Susan Mayer (Teri Hatcher). Scott, who most recently starred on the NBC series "Heist" and the ABC miniseries "The Ten Commandments," is repped by Endeavor, Hyler Management, U.K. agent Lindy King and attorney David Weber at Sloane, Offer, Weber and Dern.
Carroll gets secret spot on 'Grey's'
Will she be Dr. Burke's mom? A terminal cancer patient? A new hospital administrator?
Only Shonda Rhimes and her writing staff on "Grey's Anatomy" know for sure.
Diahann Carroll is set to make a guest appearance in the upcoming season of ABC's red-hot medical drama, "Grey's" creator/executive producer Rhimes told reporters Thursday during a visit to the show's set at Prospect Studios in the Los Feliz area of Los Angeles, organized as part of the Television Critics Assn.'s summer press tour. Rhimes was on hand for a brief Q&A with reporters but would not drop any hints about the role Carroll would play.
Two join the Whisperer
Catching up with Jennifer Love Hewitt later in the week myself, so no dobt we'll get more details then, but meantime the TV babe's telling
SciFi Wire
that former "Practice" star Camryn Manheim and "Picture Perfect" star Jay Mohr have signed for the next season of the spooky success, "Ghost Whisperer", filling the void of vacating co-star Aisha Tyler.
The former Teen Dream tells the site,
"We have Camryn Manheim joining the show, which we're really excited about. And Jay Mohr [Action] is going to be on for a while. So we have really good guest stars this year. And people that are, I think, going to kind of make the cast more exciting. And it's been really good. We've been back to work for a week now."


Williams, Seda head for 'Home'
Jon Seda and Cress Williams have joined the cast of the CBS drama "Close to Home" as regulars. They will play new detectives on the Warner Bros. TV drama, which is returning for a second season in the fall. CBS and WBTV are infusing a lot of new blood into "Close to Home."
Editor's Note: if some of that new blood happened to be WRITERS, that would be a VERY good thing. Ahem.....
In addition to Seda and Williams, David James Elliott also is joining the series as a regular next season.
Roger Bart joins THE LOST ROOM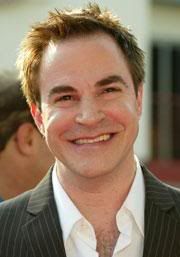 Editor's Note: Is it just ME, or is this guy inherently a bit CREEPY??
Roger Bart has signed on to join the cast of an eight-hour Sci Fi Channel miniseries called THE LOST ROOM.
In the miniseries, Peter Krause plays a detective who happens upon a seemingly ordinary motel room key only to discover that it opens a portal to alternate worlds that lets loose a set of mundane objects with mysterious powers.
Edito'rs Note: Dweebpal Samantha and I really NEEDED that portal when we got stuck in a hotel in Texarkana without any BEER. (on the DRY side of the state line, as it turns out. Of for a BEER portal when you've driven 10 hours, eh?)
Bart will be playing Krause's adversary in the show, Professor Howard Montague, who becomes obsessed with getting the key.
Editor's Note: Guess it's NOT just me who thinks this guy is creepy, since he's a BAD guy in this.