Friday Dweebing, Wrapping up the DWEEBweek
EDITOR'S NOTE: IF I WERE EMPLOYED FULL-TIME, FRIDAYS WOULD HOLD THEIR OLD MYSTERY AND

JENESAISJOIEDEVIVRE

.

AS IT IS, IT MEANS A FEW DAYS OFF FROM THE PRESSURES OF QOTD'DOM. (NOT MUCH BREAKING NEWS ON THE WEEKEND. PHEW).
BEFORE I GO BACK TO STARWARSING, HERE'S SOME REMAINING ODDSNENDS LEFT OVER FROM YESTERDAY'S DELUGE:
TELEVISION NEWS:
Plot Points Revealed for Tarantino's CSI Episode
CSIFiles.com has posted the first plot information on "Grave Danger," the upcoming fifth-season CSI finale directed by Quentin Tarantino.
The episode was written by showrunner Carol Mendelsohn, CSI creator Anthony Zuiker, and executive producer Naren Shankar, based on a story by Quentin Tarantino.
The episode is scheduled to air on Thursday the 19th of May.

EDITOR'S NOTE: HMMM..THAT DATE RINGS A BELL. CAN'T QUITE PUT MY FINGER ON WHY.....

***SPOILER ALERT***




In the episode, main character Nick Stokes is kidnapped by someone with an apparent grudge against the CSIs. By the time he wakes up again, he's trapped in a coffin, together with his loaded handgun and a tape recorder with a message telling him it's probably best to kill himself, as he's going to die anyway. There's also a webcam in the coffin, which transmits an image back to the CSI lab...

EDITOR'S NOTE: A VERY SCARY SCENARIO. IT'D BE EVEN SCARIER IF WE HADN'T JUST SEEN SOMETHING SIMILAR ON "ALIAS".





MOVIE NEWS:


New Pics from THE ISLAND
Blackfilm.com has posted some new images from the upcoming film, THE ISLAND. The DreamWorks Pictures' film stars Ewan McGregor, Scarlett Johansson, Djimon Hounsou, Michael Clarke Duncan, and Steve Buscemi.

EDITOR'S NOTE: SOME YUMMY ONES.....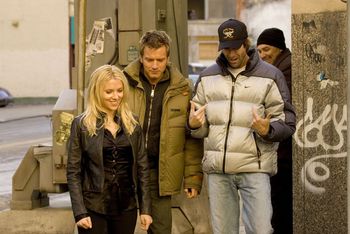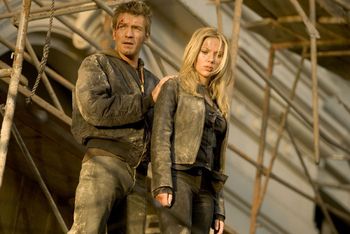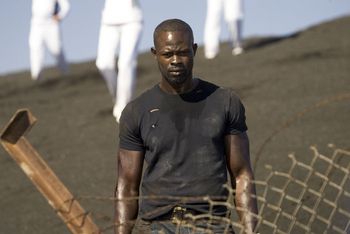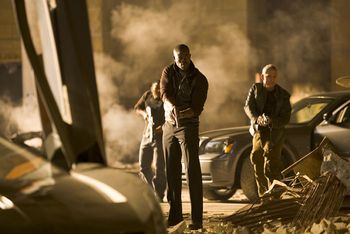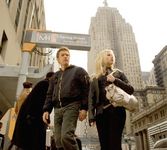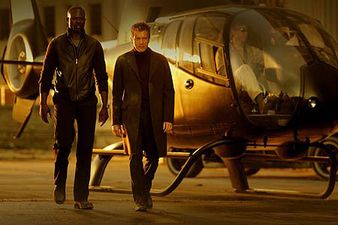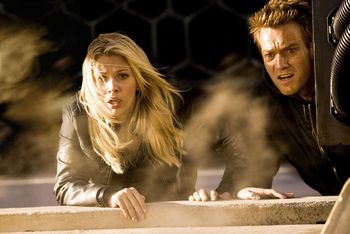 Michael Bay

EDITOR'S NOTE: MICHAEL BAY USUALLY MEANS SOUND AND FURY SIGNIFYING SOUND AND FURY. BUT GREAT CAST, SO I'M NOT SURE I CARE.

is directing the sci-fi thriller about a resident of a seemingly utopian but contained facility in the mid-21st century who hopes to be chosen to go to the "The Island"—reportedly the last uncontaminated spot on the planet.

EDITOR'S NOTE: NO WHERE NEAR MY HOUSE, IN OTHER WORDS.



Routh in New SUPERMAN Suit
BrandonRouth.com and USA Today have released pictures and information about the new Superman suit for Bryan Singer's SUPERMAN RETURNS.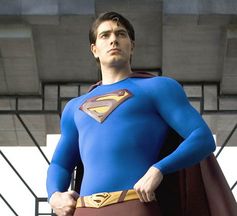 Per USA Today, the suit has a few "subtle changes":



- The S insignia is slightly smaller and higher on his chest, and instead of being painted on, it's more of a three-dimensional plate.

- An insignia has been added to the belt buckle.

- The shades of the suit are slightly darker. The belt is more golden, and the cape is a deep scarlet.

EDITOR'S NOTE: CLEARLY SUPERMAN NOW HAS A GAY DESIGNER WORKING FOR HIM?



Portman to buy Helm's 'Emporium'
Natalie Portman is in negotiations to star in "Mr. Magorium's Wonder Emporium" for Mandate Pictures.

The film will mark the directorial debut of Zach Helm, who will direct from his own script.

Helm recently wrote "Stranger Than Fiction" for Mandate, which goes into production Monday.Richard Gladstein is the producer through his Film Colony shingle, along with James Garavente. Mandate's head of production Nathan Kahane and Mandate's creative executive Jim Miller are overseeing development of the film. Mandate is fully financing "Emporium" and handling worldwide sales for the film.

Set in a strange and magical toy store, "Emporium" is a story about growing up and believing in the unbelievable.EDITOR'S NOTE: WELL,SO, STRICTLY SPEAKING, NOT GROWING UP. (HMM???)

"

We are thrilled to be back in business with Zach Helm on another truly original and life-affirming story and grateful that he has entrusted us again to help bring his magic to the screen,"

Kahane said. "

It is a testament to Zach's voice that we are in negotiations with Natalie."



"

Zach is a unique and talented writer, and I'm thrilled to be working with him on what I imagine will be the first of many films he'll be directing,"

Gladstein said.

"Natalie's response to the script has been brilliant, and she is the ideal actor around whom to build a wonderful ensemble."



Portman most recently was seen in Mike Nichols' "Closer," for which she received an Academy Award nomination for best supporting actress after winning a Golden Globe in the same category. Portman has starred as the female lead, Queen Amidala, in George Lucas' blockbuster "Star Wars" prequels and next can be seen reprising her role in "Star Wars: Episode III -- Revenge of the Sith." Portman's credits include Zach Braff's "Garden State." She is currently shooting "V for Vendetta" and will shoot "Emporium" after completing "Goya's Ghosts."

Sony Pictures recently acquired Helm's "Stranger Than Fiction" from Mandate and will release it next year. Helm also is writing "The Disassociate," which is being developed for producer Lindsay Doran. Helm is the author of the plays "Last Chance for a Slow Dance" and "Good Canary."

GRIMM Look at Upcoming Gilliam Film
Blackfilm.com is offering some images from Terry Gilliam's soon to be released THE BROTHERS GRIMM.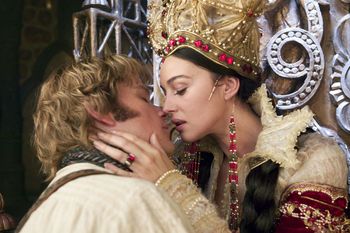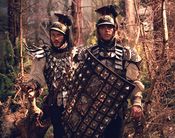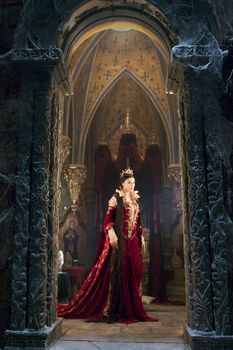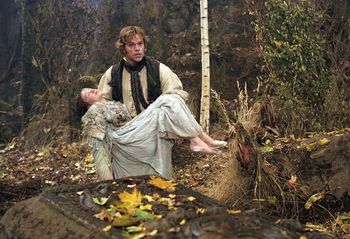 The script was written by Ehren Kruger and the film stars Matt Damon, Heath Ledger, Jonathan Pryce, & Monica Bellucci.



EDITOR'S NOTE: AND SPEAKING OF WHICH, SOME VERY GROOVY ART THAT PREPPED THE PICS ABOVE.



Dreams: Guy Dyas opens up his Brothers Grimm sketchbook


...edited by Phil Stubbs


In Summer 2005, Terry Gilliam's project The Brothers Grimm is to reach cinema screens.

Filmed in Prague, it stars Matt Damon and Heath Ledger as the brothers Will and Jake Grimm.

The script is written by Ehren Kruger and follows the Grimm Brothers as they try to make money by conning people into believing that monsters are terrorising their villages. But the brothers are forced to deal with a real curse which is causing children to disappear.

Guy Dyas, the film's Production Designer, shares with us many of his Grimm sketches and provides a commentary on each one.

Below the images, Guy talks to Dreams further about his work on Grimm.



Cavaldi's Carriage





Early pencil sketch for the carriage which is meant to be Cavaldi's idea of a first-class mode of transport. This Carriage was custom-built and the end result is quite unique, very macabre and not unlike a funeral coach. At the end of our shoot it was given to Mario Luraschi, our horse stunts supervisor, so I imagine it now resides somewhere on his property in Northern France. Cavaldi is played by Peter Stormare



The Tower - External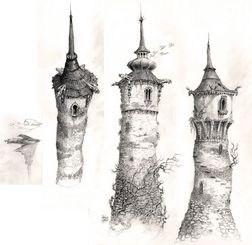 These are early concept sketches for our "Tower of Charot" - inspired from the Rapunzel fairy tale. In our tale, this tower has been abandoned for hundreds of years and of course the only way to access the inside is through the window at the top...



The Tower - Internal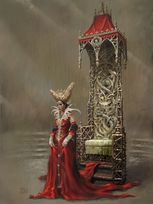 By far, the tower interior was our most ornate set. We created original floor to ceiling paintings and designed furniture such as the Queen's bed and throne.The Queen is played by Monica Bellucci



The Village





Creating the Marbaden village set was tremendous fun. We designed approximately twenty different houses including a church, stables, bridges and pathways. Many of the houses were used for interior scenes as well and the overall result was very realistic.



Delatombe's Dungeon





This is an early concept sketch I did for Delatombe's torture dungeon. The more Terry and I worked on this design, the more complex it became! Amongst the torture machines there was a 12-piece orchestra as well as a team of cooks running around preparing various meals. Delatombe is played by Jonathan Pryce



Karlstadt Town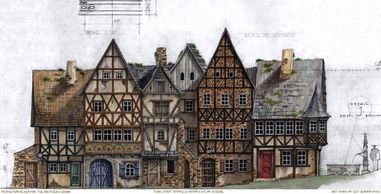 This is one of my colour studies for Karlstadt and it shows our design for the town square. We built this entire facade as part of our set for the scenes where the Brothers Grimm spend the night in a small tavern.



Karlstadt Watermill






This is the very first sketch I did for the film and it shows our design for the Karlstadt Watermill. We ended up building it almost entirely as seen in this drawing on the studio backlot.



The Woodsman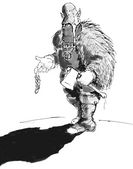 This is Terry Gilliam's sketch of the woodsman character



Interview with Guy Dyas, March 2005


Phil Stubbs: Tell me a bit about yourself... where are you from, where did you study, and where do you live now?



Guy Dyas: I'm from England and I grew up in South Devon. I moved to London where I got a degree from Chelsea School of Art and then my Masters from the Royal College of Art. I was then hired by Sony as an industrial designer and I lived in Tokyo for several years. Nowadays I split my time between Los Angeles and Europe.



What do you enjoy about your job?



I feel really lucky to be doing the job that I do, as I've always loved films but also building things. Being a production designer allows me to combine both of those passions.



How did you get involved with The Brothers Grimm?

I met Terry hot on the heels of finishing my first feature film as a production designer and I think I must have been on a shortlist of people he wanted to meet for Grimm. Terry's films are some of my favorite films of all time so I knew that being able to work with him would be an incredible lifetime experience. I still remember the impact of seeing Brazil as a student at the Royal College of Art. It was being shown as part of a special film series called Grand Illusions and it's such a masterpiece in filmmaking that it really opened my eyes to the art of production design.

Please describe your working relationship with Terry



I remember that at the very beginning, even before Terry got the full funding for Grimm, I was working out of Terry's office in London and I thought I was still on a bit of trial period. During that time I sketched as much as possible, trying to create some set-pieces that would really get Terry excited. That whole period was great for many reasons, it was all about getting ideas down on paper while not letting any budget constraints creep in yet! Terry has endless energy, he's very hands-on and he draws like a god! It's really easy to work for someone you wholeheartedly admire and want to impress.



What are you most proud of on this picture?



I was really excited by the source material, the original brothers Grimm fairy tales, which combined with Terry's unique vision helped us create a variety of amazing sets. Everyone really seemed to like our Marbaden village set. Everything on this film was a team effort and I saw it as a great opportunity to be able to work with all of Terry's longtime collaborators - his creative family.



What resources / influences proved most useful in the design?



Being in the Czech Republic, where the architecture is so unique and well preserved, was a definite advantage. It was the perfect place to do a film like Grimm and often Terry would take us on location scouts not so much to look for places to shoot but to experience the architecture and to draw inspiration from it. One night in the middle of winter, Terry lead us after dinner on a walking tour of Prague, it was starting to snow and we ended up by the famous Charles IV Bridge, which for once was deserted by tourists. This midnight walk through the streets of Prague truly gave us the impression that we had gone back in time. It's those moments that in retrospect turn out to be the most inspiring.



Tell me a bit about how the village was designed and constructed.



Based on my initial sketches it took us about 10 weeks to build our village set and forest on the Barrandov studio backlot. We used very traditional methods, local thatchers, carpenters, stone masons and wood carvers. I had a great crew so the result was a mix of all of our efforts combined. When choosing where to build our village, Terry and I decided that we should use a piece of land with a 280 degree view which had never been built on before. We knew that by building our sets on this very uneven terrain we would add some extra character to our village. Out of this process also came the need for us to build bridges and new foot paths which gave the set a whole new level of reality.



How much time did you have from research through to design and build of the sets?



We were on the film for almost a year so we had a good development phase, especially during my research period working with Terry in London. I think that in the end we had about 60 huge sets & set-pieces to create so it was all about running around in order to get everything ready on time.



What are the best practices to avoid running over time deadlines and art department budgets?

EDITOR'S NOTE: NOT THAT GILLIAM HAS MUCH EXPERIENCE AT BUDGET ADHERENCE (AHEM).





Making a plan and being able to stick with it because as anyone who's ever made a film will tell you, unpredictable stuff always happens. For me, having a director with Terry's experience and tenacity was invaluable. Terry knows what he wants down to every last detail and yet he's also able to make split-second creative decisions when necessary. It was very much full-steam-ahead working with Terry and I loved it.



What is your involvement with the post-production CGI?



I've seen some photos of the miniatures and matte shots and it looks great, but beyond having done some initial artwork for the set extensions I haven't been very involved in the VFX phase.



Have you any projects in the pipeline?



I'm currently in Sydney production-designing a new Superman film for Warner Brothers called Superman Returns. It comes out next year and it's very much in the line of the Richard Donner films with Christopher Reeve. Design-wise, it's an exciting opportunity to recreate Metropolis, a sort of stylized New York City.





OTHER STUFF:


GOF trailer to debut before 'Kicking & Screaming'
On Friday May 13, you can catch the entire first official trailer for Harry Potter and the Goblet of Fire in theatres, right before the Will Ferrell movie Kicking & Screaming.

We're guessing the trailer will be available online that day as well.

EDITOR'S NOTE: THANK GOODNESS. CAUSE I JUST DON'T THINK I LOVE HARRY AND GANG ENOUGH TO BRAVE A WILL FERRELL MOVIE.