Star Wars, we LIVE for Star Wars
EDITOR'S NOTE: I'D SAY THIS MIGHT END UP BEING THE

WORLD'S LONGEST STAR WARS DWEEB-POST

, BUT IT'S STILL 3 WEEKS AWAY FROM THE BIG NIGHT, SO THIS COULD BE AMATEUR-VILLE BY THE TIME EP3 ACTUALLY HITS.
FIRST UP.....SNIFFLE....LOOK WHAT WE MISSED? BOOHOOHOO....
Latest 'Star Wars' film draws thousands to convention
More than 30,000 "Star Wars" fans from around the world gathered in Indianapolis for the largest official "Star Wars" convention ever held.
Interest in the four-day "Celebration III" was piqued by the May 19 release of "Star Wars: Episode III -- Revenge of the Sith," the final film in George Lucas' prequel trilogy.
Media outlets around the world sent representatives, and downtown hotels were booked solid.
The star attraction is creator Lucas, who on Saturday made his first appearance at a fan convention since 1987.
The convention also offered the chance to snatch up movie action figures and watch the Stormtrooper Olympics or the "DroidYard 500," a race and obstacle course featuring robotic figures modeled after the beeping, affable character R2-D2.
The convention, which opened Thursday and ran through Sunday, is the only U.S. "Star Wars" convention sanctioned by Lucasfilm, said company spokeswoman Lynn Fox.
The first was held in 1999 in Denver, followed by Celebration II in Indianapolis in 2002. The event is so popular that fans from Mexico, Japan and Europe chartered jets to Indianapolis, said Steve Sansweet, director of content management for Lucasfilm and head of fan relations.
EDITOR'S NOTES: AND SOME REPORTS FROM C3 (MANY OF THE PRESENTATIONS INCLUDED SPOILERS, SO WE'RE SKIPPING THOSE. BUT HERE'S A FEW SAFE ONES.....INCLUDING A REPORT FROM UNCLE G'S APPEARANCE!):
C3: News from the Poster Presentation
Posted by Scott on April 22, 2005
At the poster presentation by Pete Vilmur, he had two interesting bit of trivia for Star Wars fans. In showing the original SW posters, he mentioned that Susie Rice designed the original Star Wars logo. She was given a directive from Lucas to make the SW font look "fascist" (I guess promoting the 'wars' aspect of it).
She picked one of these old fascist fonts and Lucas liked the one we see today. Obviously Star Wars has hijacked the meaning of the font from any fascist originas it may have had. EDITOR'S NOTE: LET'S HOPE!
Second, he stated that the image of Padme on the movie poster is no longer in the movie. The scene where she was wearing that outfit has been cut from the film.
So the poster now has a deleted scene.
C3: Continuity Panel for EU
EDITOR'S NOTE: MORE EU!!! YIPPEE!!! (I DON'T HAVE TO GET A LIFE. PHEW!)
Posted by
Scott
on April 23, 2005
The Continuity panel at Celebration 3 just concluded.
In attendance were Timothy Zahn, Leland Chee from LFL, Sue Rostini, Shelly Shapiro, Troy Denning, Aaron Allston, Pablo Hidalgo, and Dan Wallace.
The most interesting piece of news from it was the title of Troy Denning's novel set between Episodes 3 and 4 - Dark Lord: The Rise of Darth Vader.
They also mentioned the upcoming Coruscant Knights books. Though there are 3 books, it is not considered a trilogy.
They mentioned that there are currently no plans for a book covering the Rise of Palpatine though there are two books left that are unassigned.
There are 2 Old Republic books coming, one of which will be set 1000 years before the Battle of Yavin. It will cover the life of Darth Bane from childhood up to the comics.
EDITOR'S NOTE: THEY ARE REALLY INTO THAT EVIL-AS-A-CUTE-KID THING AT LFL, HUH?
There are no current plans for a short story anthology though everyone seems to want to do one.
There are also no Clone Wars era material in the works besides Dark Horses' Clone Wars Advantures #4.
Pablo Hidalgo is working on another webstrip as well as Paul Ens and Tom Hodges.
Timothy Zahn and Mike Stackpole are wanting to do a story detailing "The Reenlistment of Baron Fel", but no licensee is interested yet. Zahn also would like to do a story with a teenage Ben Skywalker.
EDITOR'S NOTE: I THINK ANYTHING ZAHN AND STACKPOLE WANT TO DO, THEY SHOULD BE ALLOWED TO DO. THESE GUYS HAVE SURELY PROVEN THEMSELVES THE CREAM OF THE EU CROP, HUH?
Zahn mentioned that he's doing a post-ANH novel featuring Mara Jade as the Emperor's Hand and Luke in pre-Jedi Knight mode. (The two don't meet.) More to come!
C3: Matt Stover on Revenge
Scott
on April 25, 2005
Though Celebration 3 has concluded, we still have reports to share with you from the various presentations.
On Thursday we attended to Matthew Stover talk.
He first spoke about how he was selected for the novelization. Stover didn't even know he was under consideration until Del Rey editor Shelly Shapiro called him up and asked if he wanted to do it.
Apparently a mysterious and rigorous selection process had gone through and Roffman and Lucas himself had the final say on who was asked.
Stover mentioned that he collaborated with James Luceno to some degree in making
ROTS
and
Labyrinth of Evil
match up. They met at Skywalker Ranch and started trying to get in the character's brains for the stories.
Stover has mentioned in past interviews that a key metaphor he had in the story was removed by Lucas. When quizzed about what that was, he said that it was a metaphor that could be misinterpreted as a personification of the Dark Side of the Force. Lucas didn't want anyone to think that there was some sort of "external influence" (or I guess a "Satan") driving the Dark Side. Lucas wanted it to be entirely a personal focus and the removed metaphor took away from that. Stover deferred to Lucas' instructions.
EDITOR'S NOTE: INTERESTING. SO THE DARKSIDE ISN'T DRIVEN BY ONE EXTERNAL SOURCE. BUT THE SITH...AND SPECIFICALLY SIDIOUS....CERTAINLY MANIPULATE IT, AND THE ENTIRE GALAXY, IN A VERY POWERFUL AND POTENT WAY.
There was a little discussion of
Shatterpoint
and how it was a Star Wars take on
Heart of Darkness
(i.e. Apocalypse Now).
EDITOR'S NOTE: OOH...COOL. AND KEEPING IN MIND THAT MACE WINDU IS THE FOCUS FOR

SHATTERPOINT

, SO THAT MAKES IT
APOCALYPSE NOW

, STARRING SAMUEL L. JACKSON!
Stover originally pitched a story that was a traditional adventure in the spirit of the original trilogy. He went back and forth with LFL several times and he was never able to get what they wanted. They were looking for something darker for a Clone Wars kickoff. They suggested something like
Cold Mountain
or
All Quiet On The Western Front
(to which Stover replied that everyone died in
All Quiet
!). They wanted him to address the dark realism of the Clone Wars and the breaking down of this Golden Age and a drift into the Dark Times. On a whim he suggested "
Apocalypse Now
with Jedi" and they said, "Brilliant! Go with that!". That was the jumping off point for the book.
EDITOR'S NOTE: BE CAREFUL WHAT YOU SAY IN JEST AROUND UNCLE GEORGE!
Stover talkd about how he though Ganner was a difficult character to write in
Traitor
, how he's a chronically late and slow writer, how painful the changes were to make that Lucas mandated, and more.
Stover talked about why he didn't include Chewbacca and the Kashyyyk battle in the movie. He stated that it came at a point in the story where it would have broken up the main story of Anakin, so he dropped it.
Plus he could never write it as good as it would be on film. He was worried that Lucas would read the manuscript and jump up yelling, "
Where the hell are my Wookiees
!?!?!?!?!!"
EDITOR'S NOTE: BUT WOULDN'T THAT MAKE A GROOVY T-SHIRT?!
Fortunately, it didn't happen (though the fans have reacted that way).
When asked how long ROTS takes place over he said he didn't know. The whole book is over several weeks, but the core story is over a few days.
Stover mentioned that his top priority was to not conflict with the final film, so he left some stuff vague in the book.
As for getting familiar with General Grievous, he just stuck with what was in the script and made an effort to maintain his "sense of style".
When asked what liberties Lucas allowed him to take, he said that Lucas only asked him to not change the action or the sense of a scene. Otherwise he could do what he wanted as long as he made it good.
Lucas did review the book and made some changes. He said in talking with Lucas, he found him to be a fountain of Star Wars knowledge.
EDITOR'S NOTE: WHICH IS AS IT SHOULD BE, I WOULD THINK.
He'd start answering a question about Anakin, then drift to talking about Sidious, then start talking about Darth Plagueis. He'd say all this great stuff, then turn around and tell Stover, "
But we're not going to tell anybody that, so just leave it out
."
Lucas has everything up in his mind. Stover only really met him once during the editing process and he didn't have much time to chat. It was a very focused meeting, but it was not intimidating and Lucas was a nice guy.
When an attendee mentioned that in the TFN Jedi Council Forums that fans had given theatrical ratings to the stories and
Traitor
earned an NC-17, Stover replied that he thought that the people that would give it that were a "pack of idiots".
He was miffed that someone had described
Traitor
as a "manual on torture" and that everyone who was flipping out that the book was too graphic had only made it that way by filling in the blanks with their "dirty brains". Stover mentioned that he specifically didn't mention anything graphic and that if people thought it was too graphic it was the result of their own problems, not his. Still, he was glad to see his story evoking reactions.
EDITOR'S NOTE: IT IS VERY INTENSE, BUT NOT GRAPHIC. SO STOVER IS RIGHT, THAT PEOPLE WHO ARE BEING HYPER-SENSITIVE ARE FILLING IN BLANKS IN THEIR OWN MINDS. WHILE THERE WAS A LOT OF PHYSICAL DEPRIVATION SUFFERED ON JACEN SOLO'S PART, MOST OF WHAT HE WENT THRU WAS PSYCHOLOGICAL. AND "TRAITOR" IS NO MORE GRAPHIC THAN ALL THOSE BOOKS WITH BATTLES AND SUCH. (
AND HOW ABOUT "STAR BY STAR" WHERE ANAKIN SOLO DIES...AND THIS, AFTER HE AND SEVERAL OTHERS HAVE BEEN VERY DESCRIPTIVELY WOUNDED
?!)
He mentioned that as far as other Star Wars work, he had heard about a Knights of the Old Republic era book that would be inspired by the Holy Grail quest.Those were the highlights of the spirited discussion.
C3: Legacy of the Force
Scott
on April 23, 2005

A panel recently closed at Celebration 3 which revealed details on the new post-NJO book series.
In attendance were Aaron Allston, Sue Rostini, Karen Traviss, Leland Chee, Shelly Shapiro, and Troy Denning. The title of the series was announced as being "Legacy of the Force".
The era will be referred to as the "Legacy Era".
The first book in the series by Aaron Allston will be entitled "Betrayal". There will be a hardback followed by two paperbacks, then that's repeated through the 9 books.
The first is due in June 2006 with the others to follow every 3 months. The books will feature conflict stemming from "planetary interests that threaten peace" and Luke will be plagued by visions of "approaching darkness".
Much of it will take place in the Outlands.
The book covers a 2 - 3 year span and the main characters will be in their 60s which the authors referred to as "the new 40s".
EDITOR'S NOTE: GIGGLE. CONSIDERING WHAT HARRISON FORD LOOKS LIKE IN HIS 60'S, THAT'LL WORK! (I
KNOW I SHOULD LET THESE GEEZERS HAVE A REST...THEY'VE CERTAINLY BEEN FIGHTING OFF FOES OF THE GALAXY LONG ENOUGH....BUT I JUST CAN'T. AS GOOD AS MANY OF THE NON-LUKELEIAHAN BOOKS ARE, I AM STILL A SUCKER FOR THE DYNAMIC TRIO STORIES
).
Returning characters will include all the majors plus Tenel Ka, Wedge, Saba, and the female Sith from the Marvel comics. Hobbie, Tycho, and Corran Horn will also have roles. It was also hinted that Anakin may return as a Force ghost. The biggest surprise was that Boba Fett and the new Mandalorians will play a major role in the series.
EDITOR'S NOTE: THE GANG'S ALL HERE!
Karen Traviss' book seems to be the one he will be most prominent in.
Also look for new characters along the way as well as the heroes being in constant jeopardy.
(They dodged questions on if there were more major character deaths.)
EDITOR'S NOTE: AW COME ON. YOU'VE KILLED CHEWBACCA AND BORSK FEYLA, AND DESTROYED ITHOR, AND PRETTY MUCH CORUSCANT. CAN'T THEY JUST SUFFER A LOT, BUT NOBODY DIE FOR A FEW YEARS?!
The "New Jedi" from the previous books will now appear as "maturing Jedi" in their 20's.
Also look for the mystery of Vergere to be resolved and a "cicrle" with the prequel era.
The authors and editors dodged questions on if the Sith will reemerge, if we'll se Ben piloting a strange starfighter (ala Luke's vision), or if Jacen has a romance.
They said they are forbidden from covering the Whills or Yoda's race by mandate from Lucas.
EDITOR'S NOTE: HE SAYS HE DOESN'T REALLY CARE ABOUT THE EU, BUT HE REALLY LOVES US, DOESNT' HE?!
There are also no current plans for more Solo children.
EDITOR'S NOTE: WELL, DESPITE THE FACT THAT LEIA IS ONLY AROUND 50 (
WHICH IS THE NEW 30, I GUESS
?), SHE HAS BEEN THRU THE MILL. I DON'T THINK SHE REALLY NEEDS ANOTHER CHILDBIRTH EXPERIENCE, EH? (
GIVEN THAT SHE'D PROBABLY HAVE TO HAVE THE KID IN A STARFIGHTER, OR WHILE SHOOTING OFF SITH, OR SOMETHING
).
With the story still being written, they haven't decided if there will be an Imperial presence in the book.
The authors also revealed that they had their first meeting on the series in November and have been corresponding closely on the plot ever since.
A few other items of interest emerged. Troy Denning revealed that Kyle Katarn has a role in
Dark Nest
as well as the Chiss. Raynar will reappear in the book as well. He's just been MIA, not dead.
EDITOR'S NOTE: RAYNAR? WHAT A BAD QOTD, BUT I HAVE NO RECOLLECTION OF THIS RAYNAR OF WHOM YOU SPEAK.
You will also see the rebuilding of Coruscant and the restoration of the government in this book. Denning also resolves Leia's status as a Jedi.
EDITOR'S NOTE: AFTER 30 OR SO YEARS OF WAFFLING, WHY BOTHER? WAFFLE SOME MORE. IT'S FUN!
C3: George Lucas Appears at Celebration
Posted By
Scott
on April 23, 2005
by Joshua Griffin, TFN
A COLD START
9,000 people spent the night outside. That doesn't sound like such a big deal if you're in Southern California, but here in Indiana that is no small feat.
Despite the pouring rain and 40 degree weather (not counting windchill), a sold out crowd waited faithfully to be one of the few, the proud that got to see Lucas with their own eyes.The presentation was great, but my hat is off to the fans that endured the weather. These were the hardcore of the hardcore fans. Pouring rain, police disbanding the line, intense cold, biting wind and frustration with volunteers didn't discourage them from this once in a lifetime opportunity.
A WARM GREETING
George Lucas entered to thunderous applause that lasted for several minutes. The fans stood to their feet to honor the writer/director of their favorite science fiction franchise. The Flanneled One lived up to his name, wearing a blue plaid Marin flannel and blue jeans.
The host, Jay Laga'aia did an adequate job of keeping the conversation moving, but was obviously upstaged by Lucas. Even McCallum, a normal celebrity producer, was a footnote in the morning's events.
EDITOR'S NOTE: RICK MCCALLUM....THE RICK BERMAN OF THE STAR WARS UNIVERSE.
THE TALK
The talk started with a short bio video with hilarious clips of him clowning around on the set.
The fan favorite was him with a lightsaber through his neck, and another where he was being painted blue.
Then there was a short introduction of Lucas by his children. Lucas talked a bit about how much Star Wars means to fans and how excited he was by everyone that is in attendance today.
George was excited about the fact that "it is finished" and the thirty year journey is now complete.
"It has been a rewarding experience
," he said, amazed by the passion of fans around the world.
Several fan questions asked about the origin of the movies, discussing the scripts movement from Anakin to Luke, the original story being Anakin and his two children. The space battle was the beginning of all things Star Wars in his mind.
THE FUTURE OF STAR WARS
He said there were plans to revamp Star Tours, and how those discussion started with Episode I. He said there were several great things planned, and some awesome ideas.
He also talked about the TV Series! Lucasfilm is now going to move into television.
EDITOR'S NOTE: SEE MORE DETAILS (MUCH MORE) ON THE TV STUFF, BELOW.
The first series is 3-D animation, a regular series that will last 1/2 hour per episode.
He's also working on a spinoff TV series for characters that have appeared in the films. It will be live-action, and based on what he called a "really great idea." They will not started shooting for about a year, and it will be structured much like Young Indy.They will shoot the first year all at once, which also means writing the script all at once. He will "get it started" then hand it off to others to carry on.
When asked if was Episode III everything that you wanted it to be? "Yes, it is." Everyone has their own opinions about the films, and he has been happy with all of the films. "
Not six separate movies, one big movie."
Like a mini-series, he suggested.
"They all build on top of each other, you will see things in 4,5,6 that make more sense after you've seen Episode III
."
Then he joked with Jay Laga'aia about being a clonetrooper, even though Jay actually appeared as Captian Typho in the film. Hey - we all get things wrong! Lucas also noted that about 3,000 clonetroopers appear in the last film.It was a great time - terribly short - but really a unique opportunity to see the man behind it all, George Lucas.
EDITOR'S NOTE: CAN YOU JUST IMAGINE HOW EXCITING THAT MUST HAVE BEEN? (NOT TO BE A DROOLINGFOOLFANGIRL, BUT WOW!)
C3: More from George Lucas at Media Q&A
At the end of his presentation, George Lucas took part in a media Q&A backstage.
Miguel sends in the highlights:
· The all digital version is longer, I believed he metioned a dagobah scene in that version but not in the regular theatrical version.
EDITOR'S NOTE: AND NOT A SINGLE DIGITAL SCREEN ANYWHERE NEAR THE HOUSTON AREA! (
HARUMPH
!)
· He confirmed 2 TV projects: One is continuing with the Clone Wars cartoons and the other is the live action series.
· Another box set is in the works: Looks like a 6 disc box set with all episodes 1-6. Possibly a 7th disc, maybe with deleted scenes from the original trilogy. He was asked if he would be changing things again in the movies, prequels or original. He replied that everything is the way he wants them now. As far as the rumored super archival edition due out in 2007 on super hi-def dvd, there is no truth to that.
EDITOR'S NOTE: YET.
· He really wants to rerelease the OT back in to theatres via the new 3-D technology.
EDITOR'S NOTE: YES YES YES!!
· No episodes 7, 8, 9.
EDITOR'S NOTE: ONE DRUNKEN ROLLING STONE ARTICLE, AND 25 YEARS LATER HE'S STILL ANSWERING THIS ONE!
AND MORE REPORTS FROM C3:
C3: Is Episode III "The One?"
by Joshua Griffin
(this report contains many spoilers)
Lots of fans have been writing and PMing me asking if Episode III is "the one."
Well, is it?
Let me just say this - I've thought that already so for several months now based on everything we had seen and heard.
This weekend only confirms those intial thoughts.
Every sequence looks right to me - visually this film is going to be good you can count on that.
One warning
- Lucasfilm hasn't let us hear too much dialogue these past few days, so that is one area that still cautions this report.
SPOILERS:
What we have heard is excellent - the Grievous Battle with Obi-Wan (1:55) has great dialogue and amazing visuals, sound and action to back it up.
The scout troopers looking out over Kashyyyk seeing Trade Federation landers in the distance, the Jedi Council in ruins - AWESOME.
The closeup of the reflection in Yoda's eyes as Palpatine shoots lightening at him, the way Yoda shoots in back and knocks him off the Senate Pod.
The wookiees - amazing, clones repelling down to surprise Grievious and his droid army - perfect.
The wheel bike is fantastic, and even Obi-Wan riding the Boga looks right. I'll admit it - that one shocked me since I've not liked any creature riding in the prequels thus far.
Clones riding the mini AT-ST, all of the new vehicles - stud.
Anakin going evil, Padme worried, Obi-Wan fighting for his life and for his padawan ... her funeral scene on Naboo, Mustafar, the ash planet - no worries, they all are great.
END SPOILERS
Everything looks right from this distance. I'll let you know May 5th how it looks close up, TFN will have multiple reviews up that night.S
o is it the one? If you're over 13, I think it very well may be.
EDITOR'S NOTE: KNOCK WOOD, TOSS SALT, FROM HIS MOUTH TO UNCLE G'S EARS!
C3: Revenge DVD News
Scott
on April 26, 2005

While at Celebration 3, I was able to find a couple of minor news updates on the Revenge of the Sith DVD.
At the DK Publishing booth, they had a flyer for one of their upcoming Star Wars books that stated the book would be released to coincide with the debut of the ROTS DVD in the Fall of 2005.
This at least tells us we're not going to have to wait a long time for it to come out.
EDITOR'S NOTE: SO...AS IT TURNS OUT....LIFE GENUINELY

IS

GOOD.
I also got an autograph from Matthew Wood at the show. Wood is not only the voice of General Grievous, but one of the sound designers from the prequels. When I asked him what he was going to be working on next, he started that he's still working on scenes for the
Revenge of the Sith
DVD. He mentioned that these are deleted scenes which will be included later. Wood stated that one of them is a scene featuring General Grievous. So if you're a Grievous fan, expect more of him with the DVD release in the Fall.
C3: Scott's Recap of C3
Scott
on April 25, 2005
Now that Celebration 3 has come and gone, I thought I'd throw out random thoughts about the show and anecdotes about my own experiences for those one or two of you that are interested. :)
Celebration 3 was a lot like Celebration 2. All the same cool stuff was there and the same fun was to be had.
The exhibitor's room was fun, there was a lot of bonding in the long lines, and the presentations revealed a lot of cool stuff about ROTS to get you excited.
And a lot of the same mistakes and horrible experiences for some folks were repeated as well.
The lines were an absolute nightmare, the store was completely mismanaged, and a number of the volunteers were clueless.
EDITOR'S NOTE: IF THEY ARE GOING TO CONTINUE DOING THESE, IT SOUNDS LIKE THEY NEED TO BRING IN OUTSIDE, PROFESSIONAL HELP. (LIKE DISNEY, MAYBE)? ONCE OR TWICE TO ACT LIKE AMATEURS AND ASK FANS FORGIVENESS IS ONE THING. BUT IT IS NOW TIME TO RUN A TIGHTER SHIP. HMMM?
I think the experience you came away with depended a lot on your personal attitude toward it all and how well you planned in advance.
While there, I heard all sorts of interesting stories. I was told that after George Lucas' presentation, The Flanneled One himself visited the Droid Builders for a personal meet and greet along with Rick McCallum and Don Bies. Lucas was quiet and gracious while McCallum was reportedly his usual outgoing and boisterous self. I'll say that McCallum's entire demeanor was a lot different at this show. He was like a man who had seen the light at the end of the tunnel. His language was a bit more restrained in front of the hundreds of children in the audience and he seemed a lot more energetic and excited about the film than in the past.
Lucas seemed very relaxed in his presentation, too. Hopefully a good experience at this show means he'll be more open to doing more in the near future. Honestly, he made up for the glaring lack of other big names from ROTS.
I spoke with one fan that ran into Temuera Morrison and Bodie Taylor while getting breakfast one morning. He chatted with them briefly in line and they invited him to sit down with them and eat. They ended up talking for a half hour. Morrison has always been fantastic with the fans and this just shows it again. (He even sang Happy Birthday to Rebelscum.com's Anne Neuman over the autograph hall PA system on Sunday morning.)
This brings up another point – some of the best experiences that fans had at the show were actually AWAY from the convention itself. One of the best places to meet the celebrities was in the Mariott hotel bar. It looked like the freakin' Star Wars Cantina with everyone from Nick Gillard to the E3 Art Department hanging out there. It was a common sight to see Wookiees, bounty hunters, and everyone else sharing drinks with fans.I kept randomly running across Nick Gillard early at the show. It seemed like everywhere I turned, we suddenly ran into each other. I'm sure he thinks I was stalking him. It was the same with John Knoll and his family. Though we never spoke, I saw them over and over. (At the Celebration Celebration, I saw Knoll battle his daughter in a duel with padded staffs. He mercilessly took her out.) Many of the E3 crew were there with their families and it was quite fun to see them treated like rock stars in front of their kids.The E3 art department seemed to roam the show as a gang going from one signing to the next.
Iain McCaig was an incredible ball of energy no matter where he went. He led a funny and impressive session where the fans helped the art team create a Jedi and a Sith. McCaig also revealed that he's leading the art department working on the upcoming film "John Carter of Mars".
I spoke briefly with Don Bies at one presentation about his work on
Pirates of the Caribbean 2
and I spoke with another model maker about his work on
War of the Worlds.
The costumes at the show were a major highlight. The Slave Leias were popular as always
EDITOR'S NOTE: IN MY NEXT LIFE, I LOSE ENOUGH WEIGHT TO ACTUALLY PULL OFF WEARING THAT COSTUME. SIGH.....
and I was shocked to see one woman who went so far as to shave her head for an Asajj Ventress costume. One General Grievous costume was particularly amazing and got honors at the costume contest.
The 501st did a good job of adding fun to the show. Their costumes were cool as usual and they were all a highlight for fans both young and old. The only problem I heard with a 501st member was with the line that was queued up to see George Lucas the night before. A Biker Scout (who later bragged about this) nearly caused a riot when he told one line of people who had been camping out in the rain and cold for hours to merge with another line.
The volunteer work by these folks is great, but a lack of training in crowd control could have created a potentially dangerous situation where people could have gotten hurt.
It should be a consideration for future shows.
EDITOR'S NOTE: AFTER TWO SHOWS OF SAYING THINGS LIKE THIS, THERE'S ALMOST A POLISH JOKE IN HERE, HUH?
My experience with the Gen Con staff and LFL PR folks was not very good. I had a press badge to cover the event, but it didn't gain me or any other "press" member any real access to any event besides the George Lucas talk (and people were able to walk right up and get into that despite thousands of people camping out overnight). I was told by one LFL person repeatedly that this event was "all about the fans, not about the press". (I think the fans stuck in lines for hours or shut out of buying badges might have disagreed with the "about the fans" comment.)
Well, I can accept that, but why hand out press badges at all then? It would have been better to tell the hundred or so reporters to stay at home rather than to invite them there and then shut them out of all the discussions. No press is better than pissed press.
I also found it bitterly ironic that I was told it was "about the fans" as I stood there with my Fan Club lanyard, my ROTS T-Shirt, in my Jar Jar Underoos
EDITOR'S NOTE: WHOA THERE NELLY. TMI!
, after having spent hundreds of dollars on Star Wars crap while trying to cover the event for a Star Wars fan site for fans that couldn't make it to C3. What does it take to get street cred as a fan?
Despite this, I was able to make it into most of the presentations the old fashioned way – standing in line.
A few times I arrived at a talk just as it started only to have the door shut in my face and be told I couldn't enter despite the fact that the room was only 1/3 full. I even saw a Gen Con security guard try and turn away Pablo Hidalgo at one presentation.
I was able to talk my way in once or twice, but I had the door closed on me more often than not just like other fans. The only real time I was accommodated was when an ILM PR representative got me and other "press" into Rick McCallum's talk and Jim Ward got us into some good seats so we could take photos better.
Despite the snub, though, I had a good time and hopefully got you guys a look at parts of Celebration 3 that SW.com didn't cover.
Celebration 3 is always like a reunion of sorts and I saw all sorts of people I knew from the days of Episode I. I ran into some old spies of ours that were there incognito. I ran into artist Matt Busch, former fan artist / current official artist Tom Hodges, former TFN staffer Chris Knight, and even T-Bone. I also met guys from Sir Steve's, IESB.Net, Yakface, and a few other websites.
Ironically I never even saw TFN staff member Jeff Yankey during my entire visit there. Most of the time he was with the 501st or busy catching the flu in the middle of things.
I witnessed Chris Gore from FilmThreat talk his way past the most stubborn Gen Con security guard at the show and get into a presentation. It was masterfully done.
I ran across Steve Sansweet a few times. On Friday he was walking with a noticeable limp. I asked him if he was OK and he mentioned that he had taken a spill on stage during the opening ceremonies. I saw him fall while dressed as a stormtrooper, but I thought it was part of his act as a bumbling trooper. I mentioned that I thought he did it on purpose and he jokingly said something like, "
Oh yeah, I did! Sure! That was all staged!"
But it was obvious he was in a lot of pain and I admire him for sticking it out and going on with the show.
The autograph area seemed to operate pretty smoothly (and I can say that even though TFN is associated with Official Pix). You could walk right up to many of the actors and get autographs immediately. They were willing to take pictures, chat, and shake hands with everyone.
The only hiccups seemed to be Billy Dee and Temuera Morrison showing up late and a long line for the popular Matthew Wood (General Grievous). Michael Kingma (Tarfful) didn't make it because he was turned away by U.S. Customs in Detroit. Obviously Wookiees are a threat to national security.
I was able to chat with Jay Laga'aia briefly as he did a surprise signing there. I asked him about George Lucas mixing him up at the big talk with Bodie Taylor, the clone trooper. He said that after it happened, Lucas went backstage and was immediately chastised by his daughter who corrected him on his mistake. Jay took to opportunity to say to Lucas, "
So you're doing a TV series? You'll be doing that in Australia, right?
" There's nothing like using guilt to secure a job opportunity!
EDITOR'S NOTE: NOTHING VENTURED....
The Celebration Store was an exercise in chaos.
EDITOR'S NOTE: SO WHAT ELSE IS NEW?!
The lines were extraordinarily slow. The people running the cash registers were so slow that I heard stories of some customers actually pushing the buttons on the register themselves so that they could speed up their order. Many of the people running to get the merchandise were slow or couldn't find all the items they needed in one trip. My suggestion for next time would be to have a separate area for sales for the figures and to find people that know how to operate a cash register better. To top things off, I see now that these "exclusives" are available at the official site for everyone.
I found that I underestimated the weather, too. I was a little shocked to be standing in the freezing wind in my short-sleeved ROTS shirt and seeing snow flurry by. Being from Texas, I wasn't expecting it to be this cold so late in April. I thought I was going to be indoors a lot more than Gen Con allowed, too. I started having Denver "Hellebration I" flashbacks, just without the mud. My hat's off to anyone that braved it for any amount of time. You're a lot tougher than I am.
A number of the events were a bit of a bust. The opening ceremonies were lukewarm (no pun intended).
The highlights were Jay Laga'aia singing Weird Al's Star Wars parody, the one man Star Wars show, and the SW in 30 Minutes folks doing the E3 trailer. The rest I could have done without.
The Celebration Celebration was disappointing, too. After paying to get in, fans were asked to pay outrageous prices for food and drinks while carnival attractions went on all around. A line wrapped the entire room for the exclusive shirts. But like most of the events at C3, the highlight was meeting the fans you were stuck next to for so much time.
Friday night featured an invite-only party by Master Replicas, but it was overcrowded, hot, and disappointing (despite free shirts and hats).
The FanForce party on the floor below looked like it was a lot more fun as they featured fan films, folks in costumes, and good food.
Well, that pretty much sums up my Celebration 3 experience. A lot of good stuff and a lot of bad stuff. Fortunately there was more good than bad, so I came away with a positive experience. I have heard rumblings of them doing a Celebration 4 in 2007 to coincide with the 30th Anniversary of ANH, so maybe they'll be able to fix the major problems of the show by then.
EDITOR'S NOTE: UH, YEAH. HOPE DO SPRING ETERNAL DON'T IT?!
In the meantime you can start training for that show by standing in line for ROTS now. Standing in line is what Star Wars fans do best.
EDITOR'S NOTE: DESPITE ALL THE DISORGANIZATION AND WHATNOT, I STILL WISH I'D BEEN THERE. I AM WAY WAY WAY OVERDUE FOR ANOTHER DWEEBFEST EXPERIENCE. AND JUST THE BONDING WITH FELLOW DWEEBS IS REALLY WHAT IT IS ALL ABOUT. (
PEOPLE WHO DON'T LOOK AT YOU FUNNY CAUSE YOU HAVE A CLEARER MAP OF THE SW UNIVERSE THAN OF THIS ONE
). I GUESS WE'LL HAVE A SMALL TASTE OF IT FOR THE 1201 EP3, BUT DWEEBFESTING HAS TO HAPPEN AGAIN PRETTY SOON, OR I MIGHT EXPLODE! (
SPEWING ACTION FIGURES AND SW ARCANA ALL OVER THE FLOOR
!)
C3 SHOPPING
Maybe you were at Celebration III but didn't make it to the store, or maybe you couldn't be at the show.
Now you can pick up some of the show exclusives only at StarWarsShop.com! J
ames Earl Jones, the legendary voice of Darth Vader, has recorded several new phrases exclusively for this special Celebration III Darth Vader action figure, available only to attendees of the convention and now exclusively to StarWarsShop.com customers.
This extremely unique figure comes mounted on an exclusive base and in a special Celebration III display case.
Also be sure to get yourself a Celebration III t-shirt and checkout the coasters, bottle opener, pin and key chain!
EDITOR'S NOTE: HERE'S THE WEB ADDRESS
:
http://shop.starwars.com/?rid=EMAILC00045
AND ROUNDING OUT THE C3 REPORTAGE, A FUNNY PIC SENT IN FROM DWEEBPAL DENISE:
A group of stormtroopers ride down an escalator as they head towards "Star Wars" Celebration III at the Indiana Convention Center in Indianapolis.
EDITOR'S NOTE: THE BIG EXCITING NEWS. IT'S BEEN RUMORED AND BREWING FOR AWHILE, BUT HERE'S MORE SCOOPAGE, AND FROM UNCLE G HISSELF!


STAR WARS Heading to a Galaxy on the Small Screen
In Indianapolis over the weekend at a fan convention, George Lucas announced that Lucasfilm is making plans for two new TV series that would continue his STAR WARS epic.
The first project Lucas told the crowd would be a 3-D animated half-hour show that expands on the Cartoon Network's CLONE WARS.

He went on to reveal that his company is also working on a live action series that would focus on the supporting characters in the STAR WARS film series.

EDITOR'S NOTE: SO LOGIC SAYS THE 3-D ANIMATED SHOWS WOULD AIR ON CARTOON NETWORK. WONDER WHERE THE LIVE-ACTION SHOW WOULD AIR? (CAUSE WE CAN'T TRUST SCIFI TO CARE ABOUT IT….ITS NAME NOTWITHSTANDING. FOX, MAYBE, IN DEFERENCE TO THE MOVIE STUDIO CONNECTION? ABC, WITH ITS DISNEY RIDE CONNECTION?)



Lucas also revealed that the company is working on a spinoff live-action series that would focus on some of the supporting characters who've been introduced in the various movies.

Both shows would be set during the time between SITH and A NEW HOPE.

EDITOR'S NOTE: AND HOPEFULLY, THIS DOESN'T PRECLUDE A BIG DOLLOP OF EU BOOKS IN THIS PERIOD AS WELL. (SHE SAYS, GREEDILY).



BUT WAIT, THERE'S MORE…..


C3: Star Wars TV Show Info Recap



Here's what we've been told officially about the upcoming live-action TV series from Lucasfilm.
100 episodes
1 hour each
based on a spinoff character
Lucas will direct first season
EDITOR'S NOTE: WOW! REALLY? I THOUGHT HE WANTED A BREAK FROM THE STAR WARS UNIVERSE?

write season one at one time
EDITOR'S NOTE: STORY ARCS! YOU KNOW HOW I AM HOT HOT HOT FOR STORY ARCS!!!

film season one at one time
takes place between ROTS and ANH
Aayla Secura Talks Star Wars TV Series
Justin met Amy Allen, who plays Aayla Secura, at Celebration III over the weekend:
I met Amy on Saturday and got her autograph and the usual conversation. I asked her about her status in ROTS. She said that (
MINOR SPOILER
)she
"does not die
" and that she is "hoping that George will call her, in regards to the television series" and that they have briefly discussed a role for her.
EDITOR'S NOTE: SHE SHOULD HAVE GONE UP TO UNCLE GEORGE AT THE CONFAB AND PITCHED IT LIKE JAY LAGA'AIA DID!
Whether that is a starring role, or a supporting role, Aayla Secura is mostly confirmed to be a character in the new series.
EDITOR'S NOTE: BUT STILL MORE DETAILS……

Star Wars to become new TV series
Two Star Wars TV series will follow the latest movie in the hit film franchise, director George Lucas has said.
Animated show Clone Wars, currently broadcast as three-minute episodes, will become "a 3D animated" series of 30-minute shows, he said.
It would be followed by a live-action series featuring characters from the six Star Wars movies, he added.
"We're probably not going to start that for about a year," he told a Star Wars convention in Indianapolis.
EDITOR'S NOTE: I'M NOT A PATIENT WOMAN. HURRY.
'Step away'
The latest Star Wars film, Episode III: Revenge of the Sith, is released in most countries on 19 May.
The Clone Wars "micro-series" has had 25 three-minute episodes on Cartoon Network, taking the story up to
Revenge of the Sith.
Mr Lucas told the Celebration III convention the live action TV series would be similar to Raiders of the Lost Ark spin-off The Young Indiana Jones Chronicles.
EDITOR'S NOTE: HERE'S HOPING THAT A. THE SHOW IS AS GOOD (YOUNG INDY WAS VERY WELL DONE), AND B. THEY HIRE SOME EQUALLY HOT (
LIKE MY HUSBAND-TO-BE, SEAN PATRICK FLANERY
), AND TALENTED FOLKS TO BE IN IT.
"
Like on The Young Indiana Jones Chronicles, we want to write all the stories for the entire first season all at once,"
he said.
"
I'm going to get it started, and hire the show runners and all of that, then I'll probably step away."
EDITOR'S NOTE: CONTRADICTING (AS I SUSPECTED) THAT ITEM THAT SAID UNCLE G WOULD DO THE DIRECTING
.
He said the live action series would feature stories taking place between movie episodes three and four -
Revenge of the Sith
and the original 1977 Star Wars movie.
Lucas said he "never considered" extending the Stars Wars story beyond episode six - Return of the Jedi.
"
To be very honest with you, I never ever thought of anything that happened beyond episode six,"
he said. "
It's the Darth Vader story. It starts with him being a young boy and it ends with him dying. I never ever really considered ever taking that particular story further."
Mr Lucas said the live action series would feature some existing Star Wars characters - but would not elaborate.
"There's a lot of issues that are connected, but you won't necessarily see a lot of the people that are connected
," he said.
Empire favourite

No broadcast dates for either series have been announced.
More than 30,000 fans attended the convention. Away from Star Wars, Mr Lucas added a fourth Indiana Jones movie was "definitely in the works".
Meanwhile,
The Empire Strikes Back
has been named the favourite Star Wars movie in a poll of more than 40,000 readers of film magazine Empire.
Han Solo was voted the favourite hero, Chewbacca was top alien and X-wing pilot Wedge Antilles was favourite minor character.
EDITOR'S NOTE: A TRIP TO LONDON, ANYONE?
Marathon to Show All Six 'Star Wars' Films
LOS ANGELES - All six chapters of George Lucas' science-fiction saga — including the final one, "Star Wars: Episode III — Revenge of the Sith" — will screen in a daylong marathon May 16 at London's Leicester Square.
About 1,000 tickets went on sale Monday morning for the marathon, which will give fans a chance to see "Revenge of the Sith" three days before its U.S. and United Kingdom debut May 19, according to California-based Lucasfilm. Tickets will be available at the Empire Leicester Square box office and online.
The marathon will begin at 7 a.m. with the original "Star Wars" and run about 14 hours, plus meal breaks.
The evening screening of "Revenge of the Sith" will be held across the street from the film's London premiere, which Lucas will attend along with key cast members.
"Revenge of the Sith" chronicles the final steps to the dark side for Anakin Skywalker (
Hayden Christensen
) as he transforms into Darth Vader, the villain of the original "Star Wars" trilogy.
EDITOR'S NOTE: SO I GUESS YOU'D BE HAPPY, EH ANDREW? SINCE THEY'RE RUNNING THEM IN RELEASE ORDER, NOT CHRONOLOGICAL ORDER? (NEVER MIND.

SKIP

THE TRIP TO ENGLAND!)
'Star Wars' universe revolves around Vader

By Mike Snider, USA TODAY
Tall, dark and ... menacing.
In the summer of 1977, when Darth Vader stepped out of a haze of smoke five minutes into a magical film called
Star Wars
,viewers knew that a new brand of bad guy had arrived.
His breathing, raspy and mechanical, resonated through theaters. Then he spoke, almost in Sensurround, "What have you done with those plans?" Next, he crushed the neck of the rebel officer he had been holding at arm's length and tossed him into a stanchion.
Cool. And corrupted.
Nearly three decades after Vader first appeared on screen, moviegoers on May 19 will finally see in Star Wars, Episode III: Revenge of the Sith what led Anakin Skywalker to succumb to the dark side and become Darth Vader.
Vader is the antagonist of creator George Lucas' six-film series, which has made about $3.5 billion in theaters worldwide. Nearly three times that has been spent on Star Wars merchandise, including scores of Vader action figures.
EDITOR'S NOTE: AND I HELPED!
With fans already lined up to see the film and other Star Wars devotees gathering at the Indianapolis Convention Center this weekend for Star Wars Celebration III, Vader remains, as Jedi master Obi-Wan Kenobi calls him, a master of evil.
EDITOR'S NOTE: WE DON'T EXCEPT DEPTH OR REVELATORY INFO FROM USA TODAY, NOW DO WE? (STILL, YOUR QOTD IS A COMPLETIST)
Star Wars': What it felt like the first time
You share your stories of seeing George Lucas' classic film
EDITOR'S NOTE: THE SUBTITLE OF THIS ITEM COULD BE "PEOPLE WITH EVEN LESS OF A LIFE THAN YOU". (AND ALL OF THEM YOUNGER THAN ODDBOB!)
Now here are some of your stories.
'How did they film that up in space'I was only five and a half. I'm such a "daddy's girl," that my dad took me out on a "date" to see the movie. I don't remember why we went to see it, because I don't remember thinking I wanted to see it, but see it we did. I was dressed in a cute little sundress, my hair up in a bun; my dad was in a casual suit and tie. I remember thinking: "How did they film that up in space?" That's how real it looked to me! I've kept up with all of the "Star Wars" movies, despite them not being as good as the originals. And now, since my husband will be deployed to Iraq at the time the last one comes out, my dad will be taking me to see "Revenge of the Sith". How appropriate! —Krystyna Calloway, Los Angeles
'My dad had to drag me out'I was three years old and remember it like it was yesterday — this from a guy hard-pressed to recall what I had for dinner last night — anyway, it was at the Edwards Cinema (now closed) in Fountain Valley, Calif., on Brookhurst. I loved every second of that movie, so much so that I absolutely refused to leave the theater when it was over — my dad had to drag me out!! I'll never forget my vantage point, in the car, hands and face pressed up against the back window, watching the Edwards Cinema disappear in the distance, desperately wishing to see it again. I'm not sure anything else ever so completely captured me like "Star Wars" did. —Adam Weisbacker, Cincinnati, Ohio
'I wanted to be Han Solo'I was five. My dad took me. I couldn't talk or think about anything else for two days. It was THE coolest thing I had ever seen. I wanted to be Han Solo and pretended my dog was a Wookie. To this day I think I am still trying to be Mr. Solo (but not having much luck). —Matt Ostrowski, Frisco, Texas
From the back of a ToyotaI first saw "Star Wars" at the Drive-in. I remember sitting in the hatchback of our 1975 brown Toyota Corolla wagon. I stayed awake from the opening crawl through to the droids landing on Tatooine, and then fell asleep. Hey, I was only three years old. But I'll never forget it. —Kristoffer Hall, Denver, Colo.
A life-altering experienceIn 1977, I stood in line with hundreds of other "Star Wars" fans at the Avco Westwood Cinema in L.A. for an afternoon show. I was to repeat that exercise at least two other times, bringing with me converts — friends, family members, college mates — to subsequent showings. The lines grew longer yet each viewing remained a revelation. There was so much excitement and so much communion with others that transcended mere movie-going — "Star Wars" became a life-altering experience never to be repeated. "Star Wars" was a unique movie, from the first reel of the film, with its incredible THX visual and sound effects, to the thrilling battle scenes and destruction of the Death Star. George Lucas truly delivered and I thank him for his single-minded cinematic vision of a "galaxy far, far away..." —Cathy Garnica, Fillmore, Calif.
'What a rush!'I went to the very first showing on the first day in Honolulu. I knew pretty much what to expect — I had read the novel that came out about six months before. But nothing prepared me for that first overhead shot — what a rush! Nothing has ever topped that as a first moment in a movie. —Katharine Kan, Panama City, Fla.
Schoolyard lightsaber battlesThe first time seeing a lightsaber ignited, it was the coolest thing in the world. I remember all of my friends in kindergarten making lightsaber sounds all day until our lips turned blue. Every time my siblings and I would see a flashlight we would pick it up and pretend it was a lightsaber and have a good lightsaber duel. We're all in our 30s now and when we see a flashlight we're still having lightsaber battles with each other! —Joe B., Ewa Beach, Hawaii
Long lines even in GermanyI remember queuing for three hours at the end of a line that stretched six times up and down the sidewalks outside the theatre. I remember not feeling impatient at all because I was finally seeing the movie that had shattered every kids' mind and made him want to see this incredible event for him or herself. The moment the movie began I was hooked and have been ever since. Why? It's "Star Wars" for Pete's sake! The first one (Episode 4) changed the way I saw movies and heard music forever for me. No other piece of cinema comes close because although I love other movies, just hearing the music is enough to make my spine tingle and my senses go through the roof. I'll never forget the moment I walked out of the theatre and just wanted to go straight back in and see it again. I'd even stand in the line all over again. Have you ever seen an event like it since? Somehow, in a world of CGI and all, I doubt we ever will. —Mick Trezise, Hannover, Germany
Film that defined a childhoodI've seen it so many times it's hard to tell when "the first time" was. I was only five when the original "Star Wars" was released so my first memory is of my parents leaving me with baby sitters on a number of occasions to go and see a movie called "Star Wars."
But then I remember seeing it with my mom and being very sad when Obi-Wan was killed by Vader and her reassuring me. I remember it was such a pop culture juggernaut that we even managed to drag my grandparents to see it on one of our many summer visits. I also remember countless hours of playtime throughout the course of a childhood devoted to acting out feats of heroism and yearning for life of swash-buckling adventure far from a tiny town that felt very much like it's own "Galaxy Far Far Away."
Now with the arrival of my first children (twins) only two months away, it seems fitting (and a little ironic) that the films that defined my childhood should end at the same time.
I still get that same sense of yearning every time Luke looks to the horizon and sees those two setting suns. —Chris Waters, Virginia Beach, Va
Thrilled by just the trailerI clearly remember the first time I saw a TV commercial for the new soon-to-be-released Star Wars movie. In the Spring/early Summer of 1977, I was the FNG (F____ New Guy) on USS BUTTE (AE-27), having just flunked out halfway through my senior year of college and washed out of the NROTC program one semester shy of becoming a commissioned officer. So I was an enlisted man with marriage plans for the summer to be immediately followed by a scheduled seven-month deployment to the Mediterranean in the fall. I was not a happy person.One day after knocking off ship's work, I was passing through the berthing compartment when this "Stars Wars" trailer came on the TV. I stood transfixed. I still see the gleaming stainless steel lockers around me, the green linoleum deck, the sleeping racks stacked three-tiers high in the dim light of the TV screen, and the strange, fascinating extra-terrestrial creatures in the cantina, the lightsabers (what's a lightsaber?), the old weather-worn space craft with exotic laser weapons ... I had to see it.
I waited a few months before my new wife and I saw "Stars Wars" on our "honeymoon" in Virginia Beach. I loved the movie, but I will never forget the feeling and images from the first time I saw the trailer for it. —Roger Mitchell, Peninsula, Ohio
Inspiring a career choiceI saw "Star Wars" in San Diego at the Mission Valley Theatre. I remember the owner, probably some guy who bet the farm on this sci-fi flick, who came out, cigar in mouth, rubbing his hands with glee at the crowd that wrapped around the theater twice. I was immediately hooked when the blockade runner came across the screen, thinking it was the coolest shot I had ever seen. Then, the Star Destroyer took FOREVER to cross and I knew I had found nirvana.
So now, years later, I find myself waiting for the final film to come out and, because of the inspiration from "Star Wars," I have become an independent TV producer. —Reginald Mizell, San Diego Calif.
'Bravo, George Lucas'I remember when I saw "Star Wars" for the first time. I was sitting close to the front of the theater and a friend had already seen it and insisted that he be allowed to take me to see it. I remember sitting most of the movie with my mouth open in astonishment. The special effects were so innovative and so unlike anything I had ever seen, that I literally could not speak for awhile after the movie was over. I just sat there in total wonderment that someone had been able to do the special effects. I knew little to nothing about computers in those days, so it seemed to me like geniuses from another world had come to Earth to make a movie which would change everything. And, to a great extent Star Wars did that. From that time on, the viewing public has come to expect fantastic special effects, especially from Industrial Light and Magic. I say, "Bravo, George Lucas" for your contribution to the movie world and for giving us all a great series in "Star Wars." I have made a commitment to my nephew to take him when it opens and we both are feverishly awaiting the next installment in the story, dark or not. —Holly Price, Memphis, Tenn.
First memoryI was three years old. My dad took me because we had some time to kill before seeing my mom, who was in the hospital after giving birth to my new baby sister. I don't remember the movie in its entirety, but the part with R2-D2 playing battle chess against Chewbacca while Luke is practicing his Jedi and lightsaber skills stayed with me my entire life — I can honestly say that the movie gave me one of my first/earliest memories. —Mike Miller, Charlotte, N.C.
Not 'a dumb boy movie'My older brother was excited by the commercials and couldn't wait to see it. As for me, I called it "a dumb boy movie." I was a 13 girl who soon had to eat her words. I got dragged to it by visiting cousins. It took me about five minutes to become a convert and see the errors of my ways. How could any teenage girl resist Luke Skywalker standing in the double sunset? I couldn't! I have been a diehard fan ever since. My license plate even reads "77 JEDI." "Star Wars" is the quintessential story of good versus evil. Thank you George Lucas for starting my continuing love affair with Science Fiction. However, "Star Wars" will always be my first love! —Kari, Victorville, Calif
Growing up in the 'Star Wars' eraWhen Episode IV opened in 1977, I was just two months away from my 15th birthday and growing up on the south shore of Long Island. My friends waited about two weeks to see the movie hoping the lines would be shorter (they weren't). I was in awe of the film and would see it in theaters probably a dozen times between '77 and '80. When "The Empire Strikes Back" was released in 1980, I was a newly minted high school graduate and licensed driver. Being the only one in my circle of friends with a car (a van no less), I was very popular. We went to a midnight showing the first weekend. I will still never forget the reaction of the audience to the now famous line "No Luke, I am your father." The gasp seemed to take all the air out of theatre. The cliffhanger made me nuts as I knew it would be three years till it would be resolved. I attended numerous late night showings of "Empire" while waiting for the finale.
When Jedi was released in 1983, I was a working stiff in an office in Lynbrook, Long Island. I still remember Time magazine doing a cover story on it. I had driven my friends crazy with questions over the three-year wait.
"Do you think they'll save Han?"
"Is Darth Vader telling the truth or just jerking Luke around?"
The first half of "Jedi" was great. The second half seemed a little Disney-esque for me. But a guy goes through a lot of changes between age 15 and 21. For better or worse I had grown up during the "Star Wars" era. I look forward to "Sith" even though I am now 42 and a father. I even just got a talking Darth Vader for my basement!! Some things never change!! May the force be with all of you, always! —Joe Schaefer, Cheshire, Conn.
142 times!I was one of those kids in a small town with nothing to do but go to the movies and go I did! I saw the original "Star Wars" 142 times (it was a really small town)! I was 13 when the movie arrived and my life was pretty much a mess. The movie brought me a release from reality that was not possible outside of the theater and, being the '70s, was legal. The first time I saw it, there wasn't much of a line, but that changed over the next few weeks. For "Empire," a friend and I "borrowed" her parents brand new Camaro and went to Mann's Chinese Theater — under the guise of a trip to Magic Mountain. We waited for six hours in line to see the first showing. It was worth every minute of the wait and we talked of nothing else except Luke's parentage on the way home. My daughter was nine months old when "Jedi" was released and it was her first movie. She had the princess Ewok with her. She slept during the entire movie until the ending — when she woke up and clapped with the rest of the audience.The "Star Wars" saga filled my youth. I had dreams and aspirations that I may have never had otherwise. My kids have grown up watching the movies on VHS and know the lines better than some of the actors do, I'm sure. My son, daughter and I make a point of seeing each of the new movies at the midnight showing, opening night. It has become a family tradition. May 19th has been scheduled on our calendar since the date was released. We'll be in line early. —Nickye, Phoenix, Ariz.
Affair with 'Star Wars' more than a trystI remember hearing about "Star Wars" for the first time. I was living in northern Manhattan and I was taking a woman I met in City College out on a first date. Dennis Cunningham, a critic with WCBS-TV was on. I had never heard a positive review from him, yet he was raving about "Star Wars." It was opening night and off we went.
I remember being stunned by the opening scene. And when Darth Vader appeared, everyone in the capacity filled theater hissed and booed. That was the start of my love affair with "Star Wars." I remember being annoyed by C-3PO's prissiness and amused by R2-D2's saucy antics. Luke was sincere and Han was "cocky." Han was a devilish rascal and EVERY guy remembered Leia's name as Laya not Leeya. Obi-Wan Kenobi as played by Sir Alec Guinness introduced many of us to this great actor and brought class.
But it was Darth Vader who made the biggest impact. Even though the story revolved around Luke, Vader seemed larger than life. It was his photo that ordained the outside of my apartment door (and subsequently vanished)It would be romantic to say that my date went beyond a tryst, but it didn't. But I fell in love in spades with "The Empire Strikes Back" and its Yodaisms. But that's another story. —Jeff Saxton, Ridgefield Park, N.J.

An A&E special will examine the relationship between George Lucas and Steven Spielberg
A&E is taking on a two-hour project about the relationship between filmmaking heavyweights George Lucas and Steven Spielberg. EDITOR'S NOTE: AND THEIR SORDID, PASSIONATE SECRET LOVE AFFAIR? (NO, THAT WOULD BE THE SHOWTIME VERSION, I GUESS. GIGGLE)
"Celluloid Titans" (working title), from Granada and exec producer Jody Brockway, will examine the friendly but competitive directors during the tipping points of their respective careers. Norman Snider is writing the teleplay.

A&E exec veep of programming Bob DeBitetto said the telepic is one of several longform events on the 2005-06 development slate, the rest of which he is expected to announce during the cabler's upfront presentation to advertisers todayThursday at Rockefeller Center.

As for "Celluloid Titans," DeBitetto, a former Turner exec, said he hoped the movie would achieve a tone similar to that in the 1999 TNT telepic about the rivalry between Bill Gates and Steve Jobs, "Pirates of Silicon Valley." EDITOR'S NOTE: FROM ALL REPORTS (I DIDN'T SEE IT MYSELF) THIS WAS A HIGH-CLASS, WELL DONE, EVEN-HANDED DEPICTION. SO HOPEFULLY, NEITHER UNCLE GEORGE NOR COUSIN STEVE NEED TO BE WORRIED.

"In this case, these two really did have a friendship. They compared notes. When Spielberg was having travails about 'Jaws,' Lucas was talking about 'Star Wars,' " he said. EDITOR'S NOTE: AND FROM ALL REPORTS, STILL DO.

TV Guide Star Wars Feature
Caleb writes:In the April 24-30 TV Guide on page 91, there's an advertisement for the next issue of TV guide with Anakin in the ad. It looks like the next issue will feature Star Wars. It says "Star Wars Stories! Everything you need to know about Anakin, Darth, the Princesses, the Wookiees and more!"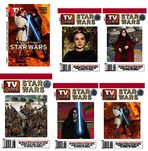 EDITOR'S NOTE: 6 COVERS. I AM A SUBSCRIBER, SO I GOT THE DUELING ANAKIN AND OBI-WAN VERSION (WHICH GOES TO ALL SUBS). IF ANYONE BUYS ONE OF THE OTHERS AT THE STAND, SAVE IT FOR ME? (AND LET ME KNOW SOONEST, SO I DON'T GO BUY IT MYSELF (IN MY USUAL COMPULSIVE MANNER).
Entertainment Weekly's Summer Movie Preview
Entertainment Weekly's summer movie preview issue naturally showcases Star Wars: Episode III Revenge of the Sith. Check it out on newsstands starting Monday, March 25. EDITOR'S NOTE: I THINK THEY MEANT APRIL 25TH?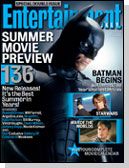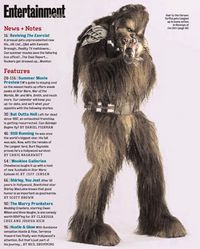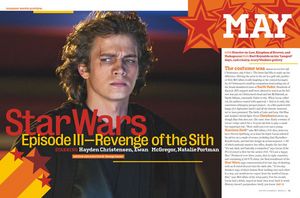 EDITOR'S NOTE: IS MAY JUST NOT AN EMBARRASSMENT OF RICHES?! (EXCEPT, I'M NOT EMBARRASSED!)

EDITOR'S NOTE: AND HOW ABOUT THOSE GROOVY HAYDEN PICS I PROMISED?

The Empire's New Clothes
After five years as a dutiful 'Star Wars' soldier, Hayden Christensen grabs Darth Vader's black mask and finally storms the Republic. But will this stoic kid from Toronto be able to recover from life in deep space? RJ Smith finds out while Christensen hits the motocross trail and channels the rugged elegance of Steve McQueen.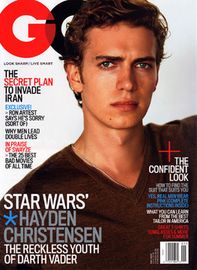 George Lucas, the bearded visionary who invented the saga of the Skywalker family, once called Hayden Christensen the best young actor he's directed since Harrison Ford played Han Solo in the original Star Wars, in 1977. This is a wonderful compliment for any actor to receive from a legendary filmmaker, unless of course, the legendary filmmaker is George Lucas.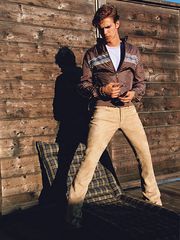 In the end, the Star Wars series will consist of six global blockbusters, a combined gross of more than $3 billion, and countless product tie-ins—but it has not spawned many distinguished careers. Between the creaky mythology, the talent-dwarfing special effects, and Lucas's famously wooden scripts, it's hard for an actor— any actor—to do much more than grab hold of the Force and hang on for dear life. In The Whole Equation, his highly touted history of Hollywood, film critic David Thomson puts it thusly:

"I have nothing to say about Star Wars." Nada: a nothing as large as any Death Star. What Mr. Crankypants dislikes about the franchise is its bigness, the scale and hype that make everything else movies are supposed to be about—storytelling, character, and artful acting—seem irrelevant. EDITOR'S NOTE: BLAH BLAH BLAH. WHINE WHINE WHINE. WHO CARES ABOUT ARTICLE. CHECK OUT THE HOT PICS!

Thomson sees it as a black hole sucking the art of movies into its core and then spitting it out in some other dimension, compressed into a Darth Vader action figure.

This spring Lucas's colossal franchise rests heavily on the capable Canadian shoulders of the 24-year-old Christensen, whose Anakin Skywalker is at the cold heart of the sixth and final film in the series, Star Wars: Episode III—Revenge of the Sith.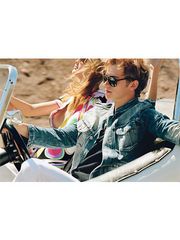 And while there's no denying that Star Wars has made Christensen a hugely visible presence—catapulting him from after-school television to a worldwide audience—its bigness has also kept us from knowing exactly how good an actor he really is. George Lucas's movies are lengthy, grueling commitments that keep an actor from engaging in much else until they are completed; and Christensen has devoted the better part of the past five years to Star Wars' final chapters—Attack of the Clones and Revenge of the Sith.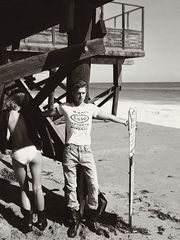 The current installment is the most turbulent Star Wars yet; in fact, it will likely receive a PG-13 rating. The movie shows young Anakin Skywalker allying himself with the Sith, an evil order of red-faced miscreants, as he crosses over to the dark side. It is a chronicle of Anakin's twisted manhood, which he begins as a force for good until—cue the fanfare—he slips on that shiny black helmet and becomes the world's most enduring villain. As such, this might just be the Star Wars for grown-ups and anybody who has never bought a Wookie Cookie. EDITOR'S NOTE: OOH THIS IS OBNOXIOUSLY HIP. LIKE SAY, JUST ENJOY THE PICS.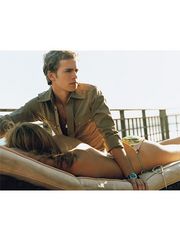 Christensen says he loves the stories, though the double-gauge biblical symbolism and the myth referencing of the films distinctly underwhelm its lead actor. "Oh yeah, that's what he talks about, the whole mythology about it. It's really interesting," he offers politely. "Really obvious, but interesting." EDITOR'S NOTE: I'M SURE HE'S JUST PANDERING TO THE INTERVIEWER, AND ISN'T REALLY THAT UNGRATEFUL, YES?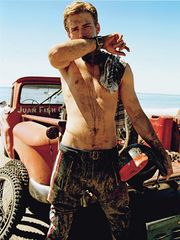 It takes some prodding, but Christensen admits: "I'm ready for the next leap in my life. You have to understand, when you put that helmet on, it's very hot and claustrophobic. Throughout the entire time I've been filming, the only thing I have going through my head is Darth Vader's evil-empire theme." He hums the ominous tune and smiles a bit sheepishly.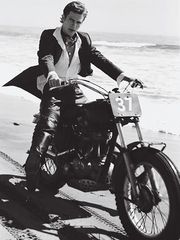 For Christensen, the best antidote for claustrophobia is fleeing town with his brother and some friends to the dirt-bike trails a couple of hours east of L.A. His crew has started a birthday tradition that begins with a kidnapping: They'll seize the birthday boy, throw him in a car, and cruise out of town for a weekend, heading down to Baja, for example, to rent some bikes and rip across the entire peninsula, through desert places where there's nothing but scorpions, scrub, and the odd little taco stand. Christensen has little tolerance for actorly introspection. He is a man of action, a spirited rider, and a fearless snowboarder whose talents and personality emerge when he's winding up for a slap shot, pounding a crosscourt backhand, or whipping a lightsaber through the thin atmosphere in a galaxy far, far away.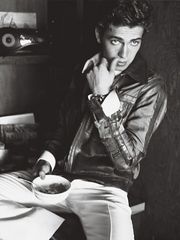 It's Sunday in the San Fernando Valley, and Hayden Christensen sips a bottomless cup of coffee at a nonironic greasy-spoon diner. The Naugahyde booths are filled with porn-industry workers and Latino families dressed for church. Christensen is wearing a worn-down Toronto Maple Leafs hat and looks proudly Canadian, right down to his unlaced leather boots. More than win Oscars or rule the world, what he would really like to do is be the captain of the Toronto Maple Leafs. In high school, he was good at putting the puck in the net, and he was also a top junior tennis player; his Star Wars costar Ewan McGregor was duly impressed with the natural athleticism Christensen brought to the on-set swordsmanship. "He's really fast and he's got all the twirls down," he says. "He's quite extraordinary with his moves and spins. And he puts 110 percent into it. I think he was a baton girl in a past life." EDITOR'S NOTE: LEAVE IT TO MR. MCGREGOR TO PAINT AN INDELIBLE...AND SNARKY.....IMAGE.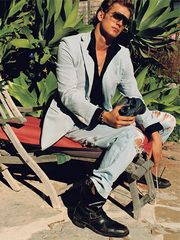 Christensen describes his family as intensely competitive. His brother holds Canadian long-distance-running records, and his sister was a junior world trampoline champion before she took up aerial skiing. As a teenager, Christensen had a brush with the greatest competitor of them all, John McEnroe. The actor was serving as a ball boy at one of his matches during a tournament in Toronto. When McEnroe hit the ball into the net, Christensen overzealously charged to retrieve it while McNasty vented his frustration by smashing the ball. His narrow miss of the kid's dome aired on Canadian television that night, marking Christensen's accidental small-screen debut.
The third of four children, Christensen got into acting by way of familial competitiveness. His elder sister had scored a spot in a Pringles commercial. The 7-year-old Christensen tagged along as she interviewed talent agents, and he ended up being scouted himself. He calls acting "this so-called craft where you pretend to be other people. And when you are 15 or 16 years old and trying to figure out who you are, well, it was something that really caught my interest."

In 2000, Christensen assumed the role of a troubled teenager who is molested by his stepmother in the Fox Family Channel series Higher Ground, which lasted just long enough to put him on Lucas's radar. He flew out to L.A. to audition and bested a field of 400 or so others that is said to have included Leonardo DiCaprio and Ryan Phillippe for the part of Anakin Skywalker in Star Wars: Episode II—Attack of the Clones. But the actor's first big part came playing a death-tripping Goth kid in the 2001 tearjerker Life as a House. Though the movie's script is pure Mrs. Butterworth's,EDITOR'S NOTE: OH BITE ME. I LOVE THIS MOVIE, YOU INSUFFERABLE SNOBS! and though he is made to say stuff like "What's in my pants is none of your fucking business!" and act out autoerotic asphyxiation, such is his skill that Christensen becomes a surprisingly appealing character. He earned a Golden Globe nomination for his performance.

Then, rather than lounge around poolside waiting for his agent to deliver the right role, he went out and created his own, becoming a driving force behind Shattered Glass, a biopic about disgraced New Republic reporter Stephen Glass. It was a gutsy move, going from the mall-packing movie event that was Attack of the Clones to the title role in a small-budget indie; from the broad, CGI-assisted strokes of Anakin Skywalker to the creepy depths of Glass, whose professional abuses Christensen smartly undercut by playing him as a fumbling, all-too-likable manipulator. The role convinced Christensen that there was life beyond the Skywalker Ranch—even if it fell to him to go find it.

But nothing comes easy. Once the Star Wars saga is complete, Christensen's real challenge begins: trying to escape the Mark Hamill syndrome—that is, attempting to leave Star Wars' gravitational pull and build a conventional movie career. EDITOR'S NOTE: THAT DOES IT. THE FINAL STRAW. YOU MESS WITH MR. HAMILL, YOU'D BETTER BE PACKIN! "I haven't been dealing with that dilemma thus far," he says. "I'm not really concerned about it, either, though maybe I should be, given how many times I'm asked about it."

He shouldn't be overly worried. Soon he'll be working on The Decameron with The OC 's Mischa Barton and starring in Barry Levinson's Sixty-six, which will close out the director's Baltimore cycle. He also has assembled a crew of people he trusts to run his production company, Forest Park Pictures, not simply the vanity confection many young stars attach their names to but an actual creative enterprise that's currently developing an actual TV series he can't actually talk about.

At last, there's room for that. "There's a bittersweet sense of relief," Christensen says of finally putting the monumental mixed blessing of Star Wars behind him. "But very much one of relief. Star Wars has been a huge commitment for me. It will definitely free up a lot of time."
AND ANTOHER BIT OF CHRISTENSEN REPORTAGE, PASSED ALONG BY ODDBOB (IN ONE OF HIS NON-ODD MOMENTS, I GUESS)
Hayden Taps Into the Dark SideChristensen on becoming a villain in "Star Wars: Episode III" and future projects
By Dylan CallaghanThe Hollywood Reporter
When "Star Wars: Episode III -- Revenge of the Sith" hits theaters in May, Hayden Christensen will have made the biggest hero-to-villain transformation in modern American cinema: Anakin Skywalker to Darth Vader.
It is a performance Christensen says he has been dying to unleash.
"This was the Anakin that I was so eager to play" in 2002's "Star Wars: Episode II -- Attack of the Clones," he says. The thing is, during the making of "Clones," director George Lucas admonished the British Columbia-born actor not to tap into the dark side too soon. "George was always like, 'No, you've gotta hold off a little bit for that, Anakin.'"
As he prepares to start shooting in Italy for Dino De Laurentiis Prods.' 2006 release "The Decameron," Christensen spoke recently with The Hollywood Reporter about being mentored by Lucas and just being a nice guy.
The Hollywood Reporter: How much has the "Star Wars" experience taught you about the craft of acting?
Hayden Christensen: You'd be surprised, but you learn an awful lot from those films. The environment in which they are made really requires an overactive imagination. In a lot of ways, you can liken it to being on the stage, when you don't have all the stimulus you get when you're on location shooting a film. It really demands that you commit yourself to this supposed world that will later be imposed on the blue screens. You're acting to characters that aren't always there, and oftentimes, you're getting your dialogue delivered from an (assistant director) you know, reading the Yoda lines. EDITOR'S NOTE: AND WHO AMONG THE THESPS IN THE READING AUDIENCE HASN'T AT ONE TIME OR ANOTHER WORKED OPPOSITE ACTORS THAT WEREN'T REALLY THERE!? (WE COULD EVEN NAME NAMES…..)
THR: What have you learned from George Lucas about the business of moviemaking?Christensen: So much. He has really been a bit of a mentor for me. He has such a healthy and educated perspective -- to sit down with him, listen to him and share his experiences is a real gift.
THR: How much has Anakin changed in "Sith"?
Christensen: It's a much different Anakin this time around He's in the midst of the Clone Wars. All the stresses and anxieties in his life have furthered and are really coming to fruition for him in this film. It's about how he handles the tangible anxieties that push him, (and) Anakin doesn't cope too well.
THR: "Decameron" is diametrically different than "Sith." Was your selection of that project an attempt to avoid "Star Wars" pigeonholing?
Christensen: I just want to do work that I find fulfilling and challenging and that's going to make me grow as an actor; I'm really in it for myself and the fulfillment I get out of the work. Doing things that are challenging and different from what I've done in the past (is) what's going to keep me happy and keep me on edge.
THR: Decades from now, when you're looking back on your career, how would you like to be perceived by the industry and the public?
Christensen: To be honest, I really don't give too much thought to how the industry or the public perceives my career. At the end of the day, I'd like to be remembered as a nice guy; that's what's most important to me. I find the work fulfilling. But as far as what people think of me, I think kindness is the only thing that really matters and the only thing that has any real staying power. Celebrity can be like vapor -- it dissipates very quickly. Who you are is what has staying power. EDITOR'S NOTE: YOU GO, DARTHY!
Lucas to Guest-Star on "The O.C."
George Lucas will guest-star as himself on "The O.C." on Thursday, May 12 (8:00-9:00 PM ET/PT) on FOX.
During the episode, Summer makes Zach and Seth decide which one of them is going to take her to Harbor High's "The O.Sea" prom. But, after George Lucas expresses interest in Seth's graphic novel, Seth is forced to make the most difficult decision of his life -- take Summer to the prom or have dinner with George Lucas. EDITOR'S NOTE: I DON'T WATCH THE SHOW, BUT I'M THINKING THAT UNLESS SUMMER CAN ACTUALLY SUMMON THE POWER OF HER OH-SO-CALIFORNIA SEASONAL NAME, DINNER IS A BETTER IDEA.
NBA and Star Wars Go One-on-One
Not all epic battles are fought in a galaxy far, far away; sometimes they play out on a basketball court with Jedi of a different sort.
Lucasfilm and the NBA have joined forces to show the spirit behind the conflicts between the Jedi and Sith, as well as between iconic players in basketball history.
The first week in May, TNT will be airing the "Ultimate Battles" series paying homage to memorable clashes from both Star Wars characters and basketball legends.EDITOR'S NOTE: I DON'T KNOW. I'M WORRIED. I DON'T THINK THERE ARE NEARLY ENOUGH PROMOTIONAL TIE-INS GOING ON WITH STAR WARS IN THE NEXT FEW WEEKS. I MEAN, THERE MIGHT BE ONE FAMILY IN TIBET THAT WON'T KNOW ABOUT THE NEW MOVIE. (HEAVEN FORFEND!)
The six vignettes (one for each film) parallel the duels between Darth Vader and Obi-Wan Kenobi, Qui-Gon Jinn and Darth Maul, Darth Vader and Luke Skywalker, among others, with epic conflicts during the playoffs between such sports legends as Julius "Dr. J" Erving, Bill Walton, Kareem Abdul-Jabbar, Earving "Magic" Johnson, Larry Bird, Tim Duncan, David Robinson, Shaquille O'Neal, and Kobe Bryant.
Each montage shows clips from the film cleverly mixed with footage from the playoffs during the year the film was released. Fans will not only get to see scenes from their favorite Star Wars films -- including new clips from Revenge of the Sith -- but also exciting reels of some of the most historic playoff moments in the NBA.
Stay tuned to starwars.com and TNT for more upcoming information on the "Ultimate Battles."

EDITOR'S NOTE: THANKS TO DWEEBPAL JOEL FOR STUMBLING ACROSS THIS NIFTY ARTICLE -
'Star Wars' women rule
Princess, queen inspire female fans
April 23, 2005
BY JOE GUY COLLIERFREE PRESS STAFF WRITER
INDIANAPOLIS -- Alisha Lopez navigated the crowds Friday at the Indiana Convention Center in a flowing white dress and the signature cinnamon-bun hairdo of Princess Leia.

She was among thousands of attendees at Star Wars Celebration III, a convention that serves as a prelude to the May 19 release of the latest and last movie in the series: "Episode III: Revenge of the Sith."

Like the "Star Wars" movies, the convention center was filled with male characters: Darth Vader, Luke Skywalker, Han Solo and Chewbacca. But there's no doubt what drew Lopez, 26, of Sacramento, Calif., to this "Star Wars" fan fest.

Lopez, who works at greeting card store, has been a fan of Princess Leia since she was a child.
"She's always been a strong character," Lopez said. "She knows what she wants. At the same time, she's a princess, and every girl wants to be a princess."

"Star Wars" has fostered a strong niche of female followers. They admire the strength of main characters Princess Leia in the original three movies and Queen Amidala, also known as Padme, in the newer ones.

Leia and Amidala don't just sit on the sidelines. They wield blaster guns in battles, hold positions of power in government and develop cunning strategies for foiling enemies.

"She's beautiful. She's feisty. She's tough. She gets what she wants," said Susan Francis, a 33-year-old loan services officer from Anaheim, Calif., dressed as Leia.

Her twin sister, Joanne Rios, a mortgage coordinator in Anaheim, was dressed as Padme in a custom-made white Lycra body suit.

"She's funny and she's smart," Rios said about Padme. "She's not afraid."

Attracting attention
At the convention in Indianapolis, female fans didn't limit themselves to representations of Leia and Amidala. Some broke with the script and fashioned their own feminine versions of stormtroopers, Jedis and bounty hunters.

Cherie Plevek, a 31-year-old social worker from Fraser, attended the convention in the outfit of bounty hunter Boba Fett. She chose Fett over Leia because "I like the armor," she said.
Like many female fans in Indy, though, Plevek was drawn to "Star Wars" because of its theme of good overcoming evil. The special effects, something many male fans rave about, weren't the main attraction.

"I really got into the stories behind it," Plevek said. "I like the idea of hope." EDITOR'S NOTE: PLUS, STUFF BLOWS UP AND MAKES LOUD, COOL, BOOMY NOISES!

The female fans at the convention that did dress as Leia and Amidala found themselves treated like royalty.

In her classic Leia outfit, Lopez attracted a crowd of people wanting to snap photos of her. She had an uncanny resemblance to a young Carrie Fisher, who played Leia in the original movies.
"It's cool," Lopez said, finishing up a round of photo-ops with fellow fans. "I've never had this happen before. It's fun."

Kristen Nelson, a 34-year-old veterinarian from Kingman, Ariz., also attracted a crowd in her Leia attire. She was dressed in one of the more revealing Leia costumes, the slave outfit from "Episode VI: Return of the Jedi."

Wearing little more than a gold bikini top and skirt split on both sides, Nelson couldn't go far without male fans stopping to make conversation and snap pictures.
"This is the last time I'm going to wear this particular costume," Nelson said. "I'm actually married, but my husband's not that into" the movies. EDITOR'S NOTE: BUT HOW NICE FOR YOU THAT YOU HAVE THE OPTION OF WEARING THAT OUTFIT. (I'M THINKING OF WORD THAT RHYMES WITH STITCH.....)

The sexiness of Leia, though, was part of the personality that Nelson liked. Leia would fit in well in today's society. She's revered both for her looks and leadership.

"She's very sexy, but she's very strong," Nelson said. "She's respected." EDITOR'S NOTE: WHEN I SAW THE RE-RELEASE IN THE MOVIE THEATER IN 1997, I WAS VERY SURPRISED AT HOW FEW WOMEN CHARACTERS WERE IN ANH (AND TO A LESSER DEGREE IN ESB AND ROTJ). BECAUSE MY MEMORY HAD BEEN OF HOW INCLUSIVE THE ORIGINAL TRILOGY WAS.
DESPITE THIS SOMEWHAT UNFORTUNATE FACT, WHAT REMAINS IN MY MEMORIES OF INITIALLY SEEING THE FILMS WAY BACK IN THE LATE 70'S AND EARLY 80'S IS THE IMAGE OF LEIA, OF HOW REVELATORY HER STRENGTH AND GUTS WERE.
IN THE 40'S, THERE WERE MANY STRONG WOMEN IN MOVIES. THEY WENT AWAY. LEIA WAS ONE OF THE VERY FIRST WOMEN IN A MOVIE MADE DURING MY LIFETIME THAT WAS SOMEONE I COULD IDENTIFY WITH.
AND IT APPEARS I AM NOT REMOTELY ALONE IN THIS.

Passing it on
These qualities seemed to be carrying over to the next generation of "Star Wars" fans. Many of the women at the convention were convinced they have a stronger representation at this one than the last one three years ago, also held in Indianapolis.

Three-year-old Gabrielle Martin of St. Louis already is hooked on "Star Wars." She was the center of attention as an adorable miniature version of Princess Leia.

Gabrielle's father, Justin Martin, 32, has been a fan since he was a child. Martin, a video game and CD store owner, said he didn't expect his daughter to follow in his footsteps.

But at age 1 1/2 , Gabrielle started asking to watch the movies. She sleeps with the plush "Star Wars dolls," brings the action figures with her for bath time and constantly plays the DVDs of the movies in her room.

"We always buy two of everything, hers and mine," her father said.

Quincy Newkirk, 13, of Chicago has been a fan of "Star Wars" "all my life," she said. At the convention, she was dressed in the royal garb of Queen Amidala. She had a regal red robe, red dots on her face and a hairpiece made of brown velvet.

Newkirk said she would rather be at Star Wars Celebration III than anywhere else on vacation.

"It's awesome," Newkirk said. "Now, I get to tease everybody about my fun. ... I got to go to C3." EDITOR'S NOTE: LOOKS LIKE DWEEBING FOR CHICKS HAS FINALLY COME OUT OF THE CLOSET! (SO TO SPEAK....AHEM....)

EDITOR'S NOTE: AND FOR A PDF INSTRUCTION ON HOW TO GET THAT EVERSOTRENDY BUNHEAD LOOK, GO TO THIS WEBADDRESS:
http://www.freep.com/pdf/2005/04/23/leia.pdf


ODDBOB'S (STAR WARS) CORNER:

THIS ONE, HE TITLED 'RUMINATION':
Have you seen those dorks already waiting in line for the new "Star Wars" movie, which doesn't open for another month? My buddies and I make fun of those losers all the time -- only we do it in Klingon so they won't know what we're saying. EDITOR'S NOTE: GOOD ONE, BOB! (LAUGHING WITH US AND AT US SIMULTANEOUSLY. SORT OF A DWEEB HAT-TRICK)!

The Top 9 Things to Do While Waiting in Line for "Revenge of the Sith"
9> Try to use the Force to influence weak-minded girls wearing skirts to walk nearer to your sleeping bag.
8> Complete the soldering on the Darth Vader helmet and armor you made out of parts from your brother's car.
7> Make fun of the "Lord of the Rings" guys, because their franchise is over! EDITOR'S NOTE: TAKE THAT, MR. JERRY PARRA!!!
6> Pick nits out of the Chewbacca in front of you. EDITOR'S NOTE: EWWW. WWW.TMI.COM!
5> Try really hard this time to convince yourself you really ARE cooler than all those freak loser Trekkies. EDITOR'S NOTE: WELL, WE ARE!
4> Practice your Jedi Mind Trick: "These are not the dweebs you've heard of."
3> Loudly ask "Who is cooler: Obi Wan or Vader?" Move to the front of the line through the resulting riot.
2> Double check the newspaper and make sure the movie will actually be showing at the theater you're camping outside of.
and the Number 1 Thing to Do While Waiting in Line for "Revenge of the Sith"...
1> Try to pay the pizza delivery boy with Imperial Scrip.
EDITOR'S NOTE: PHEW! I NEED TO GO LIE DOWN NOW, AFTER ALL THAT DWEEBING!