Star War Arcana
EDITOR'S NOTE: EVEN IF YOU DON'T CARE ABOUT ALL THIS STAR WARS PHILOSOPHIZING, THE PICTURES ARE PRETTY GROOVY, HUH?
The Cruel Fate of Shaak Ti

Just by virtue of being Force-wielding guardians of peace and justice, every Jedi character in the prequel trilogy has a fan following of some sort. This makes Order 66 a bitter pill for some, as their cherished heroes get roasted by blaster-fire from their once-loyal clone troopers.
EDITOR'S NOTE: EXTREMELY BITTER. (AND WHAT KIND OF COLD-HEARTED DWEEB WOULDN'T ACHE AT THIS? I MEAN...REALLY!?)
But there's a greater indignity than getting shot in the back by your lieutenant; it's getting cut from the film altogether.
So, looking back at some of the earliest Set Diaries, there's an unasked question lingering over the reports of Barriss Offee, Luminara Unduli, Bultar Swan and Shaak Ti undergoing makeup tests: "What Happened?!" A thing to keep in mind about the diaries published before the start of principal photography: much of the crew in Sydney was working off an approximation of the shooting script.
It wasn't working in the dark, exactly, but the picture of what Episode III would finally be was definitely murky. As the shooting script was coming together, Heads of Department were kept apprised of the storyline as it affected them. They had already set up shop in Sydney, and the pressure was on to produce with their staff and assets -- they couldn't just sit around, after all. So, all manner of tests -- makeup tests, camera tests, costume tests, etc. -- were well underway in May 2003 to be as prepared as possible for when actual production began.
A printed chart of headshots labeled "EPISODE III JEDI" could be found tacked to the walls of the Hair and Makeup Department and the Creature Shop as I covered each of these test sessions.
Sixteen Jedi were featured on the chart, not all of which made the final cut.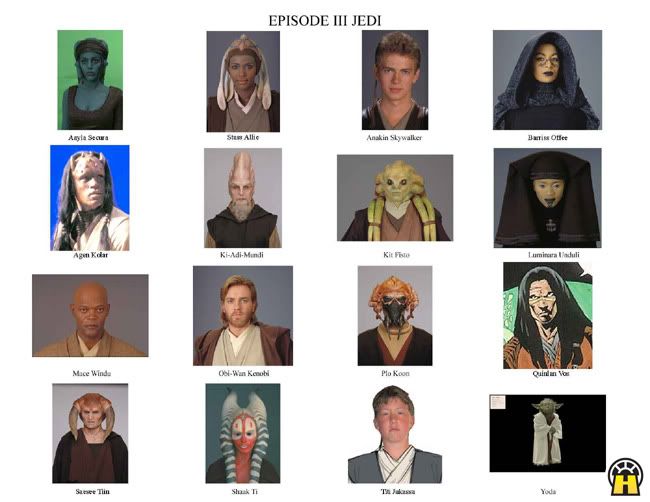 Shaak Ti has the dubious distinction of being cut from the film twice. Originally, she would have been referenced in a line of dialogue during the opening space battle, a rarity when you think about it. No screen Jedi outside of Qui-Gon, Yoda, Mace, Obi-Wan and Anakin has been identified by name in the prequels.
ANAKIN: The last message we had from Master Shaak Ti, she was still with the Chancellor.
OBI-WAN: She's the most cunning of Jedi. She's even shown me a few tricks. They won't catch her.
ANAKIN: Artoo, trace Shaak Ti's homing signal!

Artoo's scan produces the command ship on Anakin's scopes, the one "crawling with vulture droids," and then the film weaves into now-familiar territory. But in the script and during production, Shaak Ti continued to be referenced in place of the Chancellor, until Obi-Wan and Anakin discover her in an abandoned corridor, sitting strangely despondent on the floor.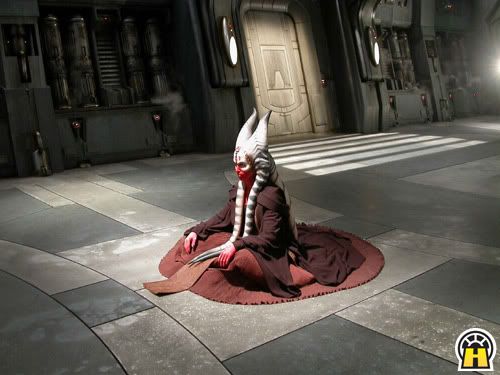 EDITOR'S NOTE: COOL IMAGE.
That was shot on Tuesday, August 19th, 2003, the 37th day of shooting. Stage 1 housed the "wide hallway" set for the Trade Federation cruiser, the same set doubled as the stretch of corridor where Anakin, Obi-Wan and Palpatine get caught in Grievous' ray shields (which was shot the same day).
It was easy enough to feel bad for Shaak Ti that day. She was so passive and broken, sitting on that grimy floor, with General Grievous towering behind her in our imaginations. Making her all the more sympathetic were the huge black contacts that actress Orli Shoshan had to wear while filming to complete her alien look. Orli had a hard time refraining from tearing and blinking while wearing them, something that George Lucas and John Knoll felt confident they could reduce in post if necessary.
Duncan Young, the off-screen dialogue reader, stood in as Grievous, standing atop an apple box behind the seated Shoshan. He read Grievous' dialogue with a snarl, coached by Lucas to approximate actor Lionel Stander's vocal qualities. "
Shaak Ti
," says Grievous, "
your lightsaber seems a little battle-worn. It will need considerable cleaning, but it will do the job."

There's a sharp intake of air from Shaak Ti as she arches her back. Grievous has stabbed her through the heart. Her body slumps and Anakin and Obi-Wan turn grim.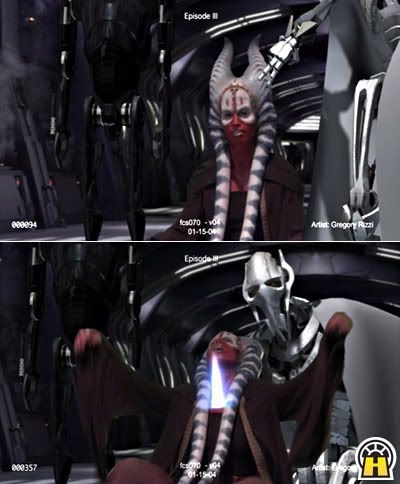 "
It was something I thought was great
," said Concept Artist Ian McCaig at the time. He, along with Derek Thompson, helped to develop the sequence in preproduction through storyboards. "
It's a way of introducing Grievous the way Vader was introduced to us, when he strangles that Rebel officer. You know he's a bad guy."

But the opening sequence aboard the cruiser was running too long. It was taking too much time to get into the meat of the story -- the story of Anakin's fall -- so Lucas excised much of the serial-type hi-jinks. Shaak Ti was a victim of those cuts, and all reference to her at the start of the film were removed. She was spared a grisly death.
Shaak Ti tenaciously continued to cling to life. While the artists at Cartoon Network were developing the
Star Wars: Clone Wars
micro-series, they thought to explain her absence from the start of the film by having her die in at Grievous' hands in their series. This was rejected; there was something about the image of Shaak Ti convulsing as a lightsaber speared her heart that stuck with Lucas, and she again faced an unseen executioner in front of cameras a few months later.
During the pick-up shoot at Shepperton, Shoshan was scheduled for a single scene of shooting. She traveled from Australia to London to brave the makeup process again. The scene was eerily familiar, but instead of sitting on the floor, she sat on one of the thick disc-like ottomans Jedi have in their private quarters (Knoll would refer to them as big wheels of cheese). The slatted window-shade casts a film noir shadow on her. Hayden Christensen, wearing his dark hood up, steps into frame. "
What is it, Skywalker
?" asks Shoshan. There's no answer, other than a stab in the back.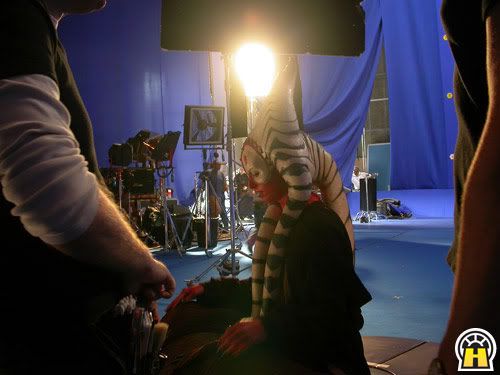 It took many takes to satisfy Lucas, something that was profoundly felt by much of the crew since it was the last day of a very busy two weeks worth of shooting. Much of that morning of September 3, 2004 was dedicated to Shaak Ti's demise. But for all that effort, it was cut from the movie (a scene of her in the Temple did make it into the novel, though).
Ultimately, this murder raised more questions, and was incongruous with the preceding shots of Anakin marching up the steps of the Jedi Temple with a column of clone troopers. Surely troopers weren't waiting patiently at the door while Anakin killed Shaak Ti, but if they were storming the temple, why was Shaak Ti meditating? How did she not know that her brethren were dying just outside her door? Ultimately, it didn't work cinematically, but that's what editing is for.
For those who wonder, the long lead-times of toy and merchandise production is what accounts for Shaak Ti being featured in Episode III product despite her minimal presence in the film.
EDITOR'S NOTE: AND LET'S FACE IT....SHE MAKES A VERY COOL-LOOKING TOY!
She is in the movie... just briefly.
When Yoda confers with a holographic Jedi Council while on Kashyyyk, Shaak Ti is among one of the tiny tabletop projections.
In this case, she was played by ILM Production Manager Maria Brill, shot against bluescreen while sitting in a Jedi Council chair.
A look at the webcam archives pulls this up at January 6, 2005, 11:03 a.m.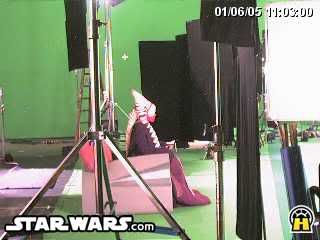 Showdown on Utapau
The Clone Wars began on Geonosis, a barren world beyond the Republic's sphere of control.
They ended on a comparably obscure planet:
Utapau
-- a planet where colossal erosion has become a cradle to a unique and striking civilization, a world that has cowed to the terrifying might of the Separatists, and the last bastion of the Confederacy and their cyborg leader.
Here, Obi-Wan Kenobi leads his loyal
EDITOR'S NOTE: LOYAL? HAH!
clone forces to finally face the faceless scourge of the Jedi, General Grievous. As battle erupts a momentous tide begun on Coruscant engulfs Utapau, and the clone troopers suddenly switch allegiance and the very nature of the war itself changes.
EDITOR'S NOTE: SNIFFLE.....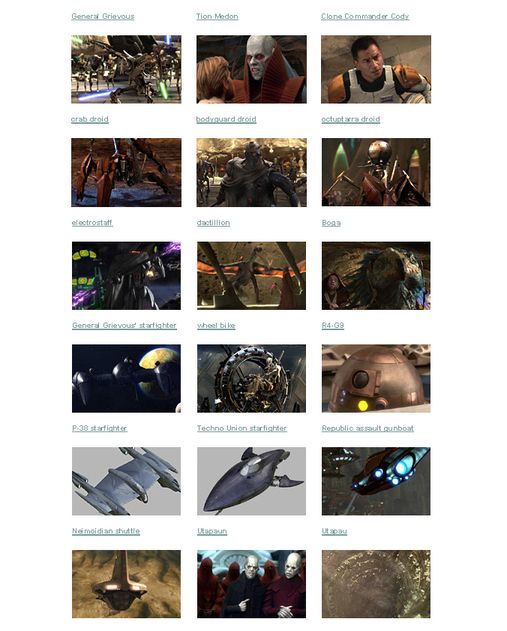 SOME COOL UTAPAUN BACK-STORY:
The native inhabitants of
Utapau
are divided into two distinct species.
The taller, stately Utapauns are more highly evolved, and present the public face of the planet to travelers from abroad. They have deeply lined ashen faces, dark eyes, gaunt builds and wrap themselves in thick yet tightly-bound clothing that covers all but their faces and hands.
These Utapauns control the planetary government and administer the port facilities in the sinkhole cities.
When the Confederacy of Independent Systems subjugated Utapau during the Clone Wars, it was these Utapauns who peacefully capitulated to preserve their world, living a life in servitude to their Separatist rulers.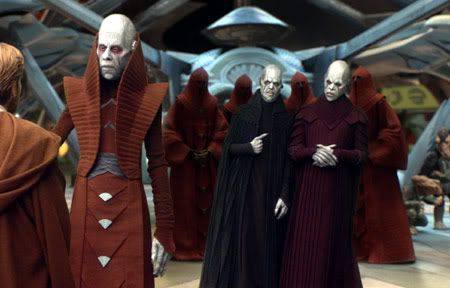 EDITOR'S NOTE: PRETTY NIFTY COSTUME IDEA...THAT AUBERGINE GET-UP ON THE DUDE (DUDETTE?) BEHIND TION MEDON.
Conversely, little changed for the smaller natives of Utapau.
EDITOR'S NOTE: I BELIEVE THEY ARE CALLED UTAI. (THERE

WILL

BE A QUIZ).
The stubby working class aliens have short, stocky builds and rounded faces with distended eyes. Since they have little involvement in the management of the planet, sticking mainly to such menial chores as tending to the dragon corrals and working as ground crew on the various landing platforms, these Utapauns saw little change in their day-to-day life.
When Obi-Wan Kenobi arrived on Utapau to search out General Grievous, he made contact with Port Administrator Tion Medon. Despite being watched by Separatists overseers, Medon surreptitiously informed Kenobi that the planet was under siege and that Grievous was indeed hiding there. Kenobi returned the covert favor by tipping Medon off about the incoming Republic task force that would liberate the planet.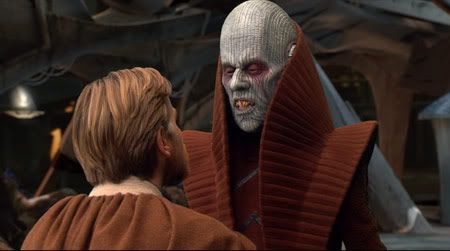 Medon spread the word to the Utapaun resistance, so that when the Republic clone troopers did storm Utapau, they were bolstered by native Utapaun forces.
In a cruel reversal, however, Chancellor Palpatine secured his position of Emperor and immediately subjugated Utapau under martial law.
His loyal clone troopers
EDITOR'S NOTE: YEAH. HERE WE CAN SAY THE WORD 'LOYAL' AND MEAN IT, I GUESS. (HARUMPH).
defeated the Separatist battle droid units, but almost immediately began placing Utapaun resistance fighters under arrest to further control the planet.
EDITOR'S NOTE: YEAH….LIFE'S A, UMM…SITH
.
EDITOR'S NOTE: I PULLED THESE (FOLLOWING) COOL DISCUSSIONS FROM THE BLOG OF A FELLOW WHO CALLS HIMSELF '

GHENT

' (
FOR THE COMPUTER SLICER CHARACTER IN SOME OF THE EU BOOKS
). THIS GUY HAS BEEN AROUND FOR ABOUT 15 YEARS OR SO, AND WAS ACTUALLY ONE OF THE REASONS I GOT INTO SW ONLINE DWEEBING WAY BACK WHEN.
HIS DISCUSSIONS AND INSIDE INFO, EVEN BACK TO THE VERY EARLY DAYS, HAVE ALWAYS BEEN QUITE INSIGHTFUL AND INFORMED.
ENJOY!
SW Exegesis: Why doesn't Obi-Wan remember Artoo?
With millions of fans having seen Revenge of the Sith, and now having had time to watch the classic trilogy again since, I've been bombarded by family, friends, co-workers, and reporters with questions about the ties between trilogies.
Most commonly, the well-meaning person thinks they've come up with a brand new "plot hole" that blows apart the credibility of the saga.
I'm thrilled how Episode III has people thinking about all six movies, but there are a few questions that are worth answering here to save myself some time in the long run.
Here's the first of what may become a series.(Note: The views below are Ghent's only.)
===========

Why doesn't Obi-Wan remember R2-D2?
One easy answer is simply that Obi-Wan just doesn't.
Astromech droids are extremely common, it was 18 years ago and it was Anakin's droid. Would you recognize all of your 1987 roommate's appliances if you saw them today?
However, given the specific exchanges between Obi-Wan and Artoo in Episode III, that answer isn't very satisfying to me.

EDITOR'S NOTE: AND GIVEN HOW SPECIFICALLY ANAKIN TINKERED WITH ARTOO, AND HOW AWARE OF THESE FUNKY MODIFICATIONS OBI-WAN WAS.
I've always assumed that Obi-Wan recognizes exactly who Artoo is.

EDITOR'S NOTE: OBI-WAN KEEPS A LOT, DISSEMBLES A LOT. (HE KNEW A LOT ABOUT WHAT WAS GOING ON WITH ANAKIN AND PADME BEFORE HE EVER LET ON, TOO).
Let's talk though Old Ben's exchange..."

Hello there! Come here, my little friend. Don't be afraid."
Look at Obi-Wan's eyes... there's recognition there, followed by a quick assembly of the puzzle.
The son of Anakin that he's been watching over is out where he shouldn't be, and Anakin's droid is standing hiding in the rocks. Whatever is happening is clearly serious, but it probably means that his time of hiding is over, and that makes him a little happy.

"Hello there!

" in a gleeful voice... the same one Kenobi uses to taunt General Grievous. "

Little friend

" is literal... "good to see you!"

EDITOR'S NOTE: AWWW....SWEET.
"

Don't seem to remember ever owning a droid. Very interesting

."
Of course, clever fans want to jump on this as a big contradiction since Obi-Wan clearly had droids in his prequel starfighters. Remember, though, that Ben is dealing strictly in the land of "point of view" here, trying to keep the "Darth Vader is your father" secret as best he can. "Well of course I remember this little guy. He belonged to your mom and then she gave him to your dad until that day I left him for dead!" wasn't going to cut it.
This response is to Luke's statement, "

He claims to be the property of an Obi-Wan Kenobi."

After first shuffling around with some nonsense about his old name (yes, Yoda calls him Obi-Wan after Luke's birth... let's stay on target here people), Ben is the master of not technically lying. EDITOR'S NOTE: LYING? NOT THE JEDI WAY. FIBBING OR FUDGING?

THAT

'S OK.
Artoo was always the servant of Padme or Anakin... never Obi-Wan.
Perfect! A simple, "This droid never belonged to me," would have been the truth and accomplished the same thing... but Ben pushes a little further.
But what about
R4-P17
?
Obi-Wan's poor Clone Wars companion suffers off-screen humiliation on Geonosis and eventually has his head cut off at the hand of buzz droids, and that loyalty is repaid with Kenobi denying ever owning any droid ever. (Not to mention, the slight to Hyperspace members who voted for
R4-G9's
color scheme.)
Here, it's important to recall that the Jedi were firmly forbidden from having possessions or attachments of any kind. They would have thought of starfighters and droids as assets of the Republic. An Air Force pilot wouldn't claim to have owned an
F-16
, and I would not claim to have owned a
photocopier
.
"Now, let's see if we can't figure out what you are, my little friend. And where you come from

."
This statement might be the best support for the "Obi doesn't remember R2" position, but again I like to think there are shades of subtext here.
At the most straight-forward level, it's easy to imagine that Obi-Wan is thinking, "I left you on an
Alderaan cruiser
near Anakin's other offspring. What have you been doing since then? What are you doing here?"
Recall that this line is said immediately after the entire convoluted "Vader killed your father" story. Artoo was there for the events described and knows full well that Obi-Wan is stretching the truth beyond anything a droid would be comfortable with. What if Obi-Wan's abrupt change of subject here is his way of saying to Artoo, "I know that you know that I'm not telling him everything, but keep your mouth shut like we planned"?
=================So, it's up to you to judge... either Artoo has the kind of generic appliance face that Obi-Wan doesn't remember, or the old Jedi knows exactly who he's dealing with and we have some rich subtext going on.

EDITOR'S NOTE: OH I VOTE THE LATTER, DEFINITELY. I THINK BY NOW WE KNOW OBI-WAN AS THE MASTER OF DEFLECTION AND COY PARTIAL TRUTHS.
Either way... this isn't a plot hole to sink the saga.
SW Exegesis: Why wasn't Leia a "Hope"?
Continuing my extremely slow Star Wars exegesis series, today I examine the questions that arise from Obi-Wan's famous line in The Empire Strikes Back as Luke flies away from Dagobah, "
That boy is our last hope."
Of course, Yoda replies, "
No, there is another
."
This exchange has caused consternation among some fans, who wonder if Ben somehow didn't know about Leia, or why exactly she wasn't a hope?
Unfortunately, this can't even be discredited as a simple slip of the tongue or lapse in memory, since Obi-Wan repeats in ROTJ to Luke, "
You were our only hope
."
Obi-Wan clearly believes in Luke alone as "hope", despite Yoda's reminder and support of Leia.
Didn't Know?
Since Ben is the one who tells Luke about Leia, ROTJ alone should be enough to dissuade any "Ben doesn't know about Leia" silliness.
Episode III lets me not even address it. If you're hung up on this point, there's nothing I can do for you.
Dismissed at Birth?
Is Obi-Wan simply a chauvinist? Luke is hope because he's a boy, Leia is inconsequential because she's a girl?
EDITOR'S NOTE: OH, SAY IT ISN'T SO OBI-WAN, SAY IT ISN'T SO!
Let's look at Obi-Wan's statement later in the same ROTJ exchange..."
The Emperor knew, AS I DID, if Anakin were to have ANY OFFSPRING, THEY would be a threat to him (Anakin). That is the reason why your sister remains safely anonymous."
This is plural and inclusive language.
At the time of their birth, Obi-Wan foresaw that both twins were an equal threat to Anakin. This would seem to preclude a sexist attitude.
So, something has happened between the twins birth and Ben's death to shift his hopes from both siblings over to Luke.
What is Hope?
Perhaps we should look at what Obi-Wan and Yoda were hoping Luke (or Leia) would do?
Is their disagreement a matter of mere semantics over the word "hope"?
As Luke is leaving Dagobah in ESB, Obi-Wan leaves no clues, but his conversation with Luke in ROTJ is very single-minded in what he wants Luke to do.
LUKE: I can't do it, Ben.
BEN: You cannot escape your destiny. You must face Darth Vader again.
LUKE: I can't kill my own father.
BEN: Then the Emperor has already won. You were our only hope.
The death of Vader is Obi-Wan's objective. To finish what he started on Mustafar. A failure that has haunted him for 18 years... and aged him 30 years.
EDITOR'S NOTE: I THINK THE SANDS AND WINDS OF TATOOINE TOOK CARE OF THAT SECOND PART.
BUT NOW, IN FULL CONTEXT, HOW SAD OBI-WAN'S OBSESSION WITH OBLITERATING ANAKIN/VADER SEEMS.
WHEN HE WAS UNABLE TO KILL ANAKIN ON MUSTAFAR, OBI-WAN WAS SO ANGUISHED BY HAVING TO FIGHT HIM AT ALL, AND HAVING TO LEAVE HIM TO PAIN AND FIRE. 18 YEARS OF EXILE HAVE HARDENED HIS HEART SO MUCH? TO WHERE, WHEN LUKE OFFERS THE OPTION OF RECLAIMING ANAKIN....SOMETHING OBI-WAN ASKED OF YODA IN ROTS....,OBI-WAN NOW HOLDS NO CHANCE FOR THIS REDEMPTION. HOW VERY VERY SAD.
In the Dagobah conversation, Yoda appears to agree with Obi-Wan. Yoda warns, "
Only a fully trained Jedi Knight with the Force as his ally will conquer Vader and his Emperor
."
Hmm... is conquer the same as kill?
Interestingly, on Yoda's death bed, he makes no reference to killing Vader. He tells Luke, "
One thing remains: Vader. You must confront Vader. Only then, a Jedi will you be
." Yoda does not make killing Vader a goal, just confrontation. You'd think if Vader's death was the most important goal for the galaxy, Yoda would mention it.Yoda does leave a dying command... "
Luke, the Force runs strong in your family. Pass on what you have learned
." Interesting... the most important thing is to pass on what he learned, not kill Vader.
Is it possible that Obi-Wan has a short-sighted view of "hope" (the death of Vader), while Yoda's "hope" is the long-term continuation of the Jedi legacy?
Leia's knowledge and ability in the Force at the time of ROTJ certainly wasn't enough to kill Vader, like Luke's. So Obi-Wan may have been right, "from a certain point of view".
Meanwhile, the continuation of the Jedi legacy could certainly have happened through Leia.
Conclusions
What do we know for sure?
Obi-Wan and Yoda's opinion of Leia's status as a "hope" differed. This difference was one of opinion, not sexism or a lack of knowledge.There are plenty of possible reasons Obi-Wan may have favored Luke... his familiarity with Luke and unfamiliarity with Leia creating a bias, Luke's level of training vs. Leia's, evidence of differing gifts as the twins developed, secret midichlorian tests, or maybe just a difference in what was being hoped for as discussed above. There simply isn't enough evidence to know for sure.
Since there's no stretch of logic (if I do say so myself) for this line to make sense, this is no plot hole.
===================
Before I go... one last observation
:
Notice how Obi-Wan completely ignored Padme's dying words, "
Obi-Wan, there is good in him
," even when her son repeated those very same words in ROTJ, "
There is still good in him
."
Obi-Wan (and possibly Yoda) never understood that redeeming an evil man would be more powerful than destroying him.
Just as the Jedi had such a clear idea of what they thought the Chosen One would be, Ben and Yoda seem to have a clear expectation of what the "Hope" would do. All of the prophesies came true, but because the Jedi's preconceived notions limited their minds how the prophesy would look, the galaxy suffered a lot of avoidable pain. That's interesting to me.
EDITOR'S NOTE: AND TO ME, AS WELL. AND FOR ALL THE GIFTS BIRTHED TO YODA AND OBI-WAN, FOR ALL THEY LIVED THRU AND CAME TO UNDERSTAND, THEY NEVER REALLY LET GO OF THEIR ABUNDANCE OF PRE-CONCEIVED NOTIONS ABOUT THE NATURE OF THE FORCE IN THE UNIVERSE.
IN THE NOVEL OF ROTS, YODA COMES TO A GLIMMER OF COMPREHENSION THAT HE HAS SPENT MOST OF HIS LIFE TRAINING JEDI TO FIGHT AN OLD WAR, WHEN THE NEW WAR REQUIRED COMPLETELY DIFFERENT SKILLS AND WAYS OF LOOKING AT THE FORCE.
BUT EVEN FOR THAT, WHEN PUSH COMES TO SHOVE WITH LUKE, HE'S STILL SLAYING OLD DEMONS IN HOW HE INSTRUCTS LUKE. AND BECAUSE OF THIS, EVEN LUKE IS STUCK WITH SOME VERY OUT-MODED WAYS OF DEALING WITH THE FORCE. FOR

YEARS

. (BOB----YOUR NEPHEW WAS SO WORRIED THAT THE GALAXY WAS BEING TAKEN ADVANTAGE OF BY THESE SUPER-HUMAN JEDI; ALL THAT POWER, AND STUMBLING AROUND IN THE DARK. SEEMS LIKE THE MIDI-CHLORIANS HAVE A TWISTED SENSE OF HUMOR).
SW Exegesis: How does Leia remember Padme?
Episode III reveals that Padme dies of a broken heart shortly after the birth of the twins.
So how can her daughter, Leia, have memories of her more than 20 years later?
It's worth noting that the film doesn't get specific about the time frame between the birth and mother's death. It could be minutes, it could be hours. I think it's reasonable to say that the intent is less than 24 hours, since it is inter-cut with the re-construction of Anakin. By the time the Vader suit is on, Padme is dead and Anakin's medical needs seem pretty urgent.
Suffice to say that regardless of a timeframe of minutes or hours, it seems fast for Leia to have made memories.
Yes, Leia's talking about Padme
I've seen it suggested that Leia is speaking of her adopted mother (the Queen of Alderaan, Bail's wife) rather than Padme.
Let's look at the exchange...
LUKE: Leia... do you remember your mother? Your real mother?
LEIA: Just a little bit. She died when I was very young.
Asking someone if they remember their real mother is really gutsy, unless you've had previous conversations establishing that they are adopted. In that context, the "your real mother" clarification definitely means biological mother.If they hadn't previously discussed it, Leia would have replied, "How did you know I was adopted?" (assuming Leia knows), or "What do you mean my real mother? I have only one mother."
Besides, if it's not Padme then this exchange has no dramatic meaning.
Images and Feelings
So, what does Leia claim she can remember?
LUKE: What do you remember?
LEIA: Just images, really. Feelings.
LUKE: Tell me.
LEIA: She was very beautiful. Kind, but sad.
It is certainly common for every day people to describe their earliest memories in terms of emotions and images. These impressions may or may not be accurate, but feel real. Typically specific lasting memories are not formed until a few years into life, but there are exceptions. This may or may not be true in the Star Wars universe.
While it is in no way critical to this discussion, nor can it be backed up by movie evidence, it is even possible that Bail at some point showed Leia a photograph of her biological mother. It is commonplace for the brain to mix memories of images with memories of the actual event.
Memories or Visions?
Yoda tells Luke, "
Through the Force, things you will see. Other places. The future... the past. Old friends long gone."
The movies imply that Leia is Force sensitive. It is certainly possible that while growing up, Leia received visions of her mother through the Force. Visions of the past, precisely as Yoda describes.
Notice that Luke's Force vision of the future also came in images and feelings, "
I saw a city in the clouds"
and "
They were in pain
".
Pre-Birth Connection
It is also possible the Leia's impressions of her mother formed before her birth.
What can the films tell us about this?
Yoda says of the Force, "
Life creates it, makes it grow. Its energy surrounds us and binds us. Luminous beings are we, not this crude matter. You must feel the Force around you. Here, between you, me, the tree, the rock. Yes, even between the land and the ship
."
Yoda is certainly not placing the burden of conscience or will, or even sentience, on the connections the Force will make. Life-to-life seems to be the only requirement. (Are rocks alive?)
A mother-daughter binding in the Force existed in some form. It is inconclusive as to whether the general connection in the Force of all things is enough for specific awareness or not. Certainly Padme is not aware of both twins. Then again, Padme is not portrayed as a Force user, so we can't necessarily expect her to feel these Force connections.
Qui-Gon explains to Anakin, "
Midi-chlorians are a microscopic life form that resides within all living cells and communicates with the Force."
Again, this is a clear description of the nature of the communication and connection in the Force to be an involuntary one, happening without need of will or consciousness.It is safe to assume that as a feared offspring of Anakin, Leia has a midi-chlorian count that is at least above average if not exceptional. In the months Leia was in the womb, there would have been a lot of Force-based communication and connection with her mother, whether Leia was aware of it or not, leaving cellular, midi-chlorian, and even "real" memories of Padme.
Conclusions
Exceptionally early memory-making, later-in-life visions from the Force, or pre-consciousness connection through the Force are all viable reasons why Leia would have formed lasting memories of Padme in the minutes or hours they shared in a medical room together.
This isn't a plot hole.
Beyond What we "Know"...
My Thoughts
My personal opinion cannot be backed up from the films, so I leave to you only as food for thought.
I believe that the highly Force sensitive twins were abnormally conscious and aware even in the womb, and that Leia's memories were more than passive, but were part of a real relationship formed before birth.
This line of thought is endorsed in the Star Wars expanded universe.
In
Dark Empire
, Leia's unborn twins (Jacen and Jaina) lend their Force power to their mother, to help defeat Palpatine one last time.
Why not Luke
?
I can hear many of you asking... OK, so why doesn't Luke remember? If you're the father of more than one child, you'll need little convincing that each sibling develops very differently... but perhaps I will tackle in more depth in the future.
EDITOR'S NOTE: SEE. I

TOLD

YOU THIS GUY WAS GOOD. DISCUSSION?
BUT WAIT...THERE'S MORE.....
SW Exegesis: Why didn't Owen recognize C-3PO?

This question was actually really popular when Episode II came out, but I'm bringing it out now because I still hear it in whispers here and there.
When Uncle Owen visits the sandcrawler in ANH, why doesn't he recognize C-3PO? (And, presumably, R2-D2... though I don't hear that asked.)
That's a natural question... after all, C-3PO lived on the Lars farm. From the films, we don't know exactly how long he lived there, but it could have been as long as ten years.
Appearance
Physical appearance is the most obvious method by which most beings are recognized. This is most likely the main reason why Owen wouldn't know him. We can tell from other protocol droids depicted in the films (TC-14, K-3PO, and the rude droid on Bespin, for example) that C-3PO's exterior appearance was extremely standard. He has no distinguishing physical features that would give Owen a clue. Color seems to be the only difference.When Anakin took C-3PO from the homestead (without asking, I might add), the droid had a hodge-podge collection of beat up grey / silver coverings. Owen never saw 3PO with gold coverings.
An interesting point, though not really admissible in an exegetical discussion, is that in the original script for Episode II C-3PO was still in his "naked" Episode I appearance when Padme and Anakin arrive. Padme later found a box of coverings and was the one who put them on while waiting for Anakin to return. While those scenes were filmed, the concept was later discarded.
The deleted scene does raise another valid point to our discussion, though. It is possible that C-3PO spent some, or even most, of his time at the Lars homestead in his naked form. First impressions can be the most lasting, and perhaps that is the form Owen best remembers of his step-mother's protocol droid.
Notice that Owen does immediately recognize what C-3PO is.
"You, I suppose you're programmed for etiquette and protocol."
This language along with the dismissive tone indicated a lack of respect, at some level, toward the entire class of protocol droids. It is unlikely that someone with such a dismissive attitude toward a group would look more than superficially at an individual member of said group.
Name
So what about when 3PO introduces himself, "
I am C-3PO, human cyborg relations..."?
How many C-3POs would Owen have encountered?
BUZZ... trick question. Despite the protocol droid's usual routine of getting his name in immediately, he is never actually introduced by name to Owen in ANH.
OWEN: You, I suppose you're programmed for etiquette and protocol.

THREEPIO: Protocol? Why, it's my primary function, sir! I am well-versed in...
OWEN: I have no need for a protocol droid.
This is why C-3PO has to introduce himself in the garage to Luke, but Owen is not around.
Later in the blue milk dinner scene, Luke never mentions the names of the droids to Owen. After Luke leaves the table, Owen never sees the droids again.
Voice
Each protocol droid that speaks in the movies has a different voice. It is possible that every droid has a unique sound and that Owen should recognize it. However, the practicalities of mass manufacturing would seem to dictate a finite selection of voices that could be selected for a given model. There isn't enough evidence to be conclusive on this matter.
Shared Background
If one learns that they have a shared past experience with someone (say, common town, high school, hobby or club), that can trigger the brain to make other connections and rediscover or recognize the other person by putting the puzzle pieces together.Owen seemingly randomly blurts, "
What I really need is a droid that understands the binary language of moisture vaporators."
Does Owen recall that his family once had a protocol droid who programmed moisture vaporators? If not, this might be quite an unreasonable query for a class of machine seemingly not made for such labor.Threepio replies, "
Vaporators! Sir - My first job was programming binary load lifters... very similar to your vaporators in most respects."
Since the droid's memory is wiped at the end of Episode III, this first (from lobotomized 3PO's point-of-view) binary load lifter job likely took place on the Tantive IV.
Even if Owen were to have a suspicion that this droid is the same one that his step-mother brought to the farm, Owen would know that 3PO's REAL first job had nothing to do with load lifters (would that first job be shining podracers?) and the 3PO he knew would know the binary language of moisture vaporators.
Since Owen would have no reason to think the droid to be lying, this piece of contradiction would have severed any connections being formed in Owen's head.
Time
Of course, there's the obvious argument that it's been about 20 years since they last saw each other, so given Owen a break. Maybe he's just a forgetful guy.
EDITOR'S NOTE: AND IT'S REALLY HOT ON TATOOINE, AND REALLY SANDY. AND OWEN DOESN'T STRIKE ME AS A DEEP OR INTROSPECTIVE TYPE OF GUY....SITTING ON THE DUNES, MUSING ON ALL THE DROIDS HE'S OWNED.
ConclusionDifferent color, generic face, no name, conflicting backstory... I say this is very reasonable behavior. Not a plot hole.
======================
One parting thought, if I may.
When Luke says, "
He says he belongs to someone called Obi-Wan Kenobi
," Owen's reaction is clearly one of suppressed emotion and, I think, putting some pieces together in his mind.
Is it possible that in that second, Owen's mind flashes backward in time to the very first time he ever hears the name Obi-Wan Kenobi... during the funeral of Shmi Skywalker from the voice-chip of C-3PO with R2-D2 at his side?
"
It seems that he is carrying a message from an Obi-Wan Kenobi
."
Does that memory start the farmer connecting the dots?
When Owen blurts out, "
That wizard is just a crazy old man
," is he actually thinking, "Oh man, these droids could expose the lies I've been telling this kid all his life"? That's the fear that motivates his orders, "
Tomorrow I want you to take that R2 unit into Anchorhead and have its memory erased. That'll be the end of it."
Or, "That'll get rid of the evidence."
The scene plays a little more interesting if you think of that connection happening and that subtext beneath the dialog.
EDITOR'S NOTE: OOOOOO.... (ACTUALLY,

ALL

OF OWEN AND BERU'S SCENES PLAY A BIT DIFFERENTLY, A BIT RICHER AND MORE POIGNANTLY, WHEN YOU THINK ABOUT OBI-WAN LURKING OFF-SCREEN ALL OF LUKE'S LIFE, AND OF WHAT THEY KNOW OF ANAKIN AND OF WHAT THEY ARE BURDENED TO TRY TO SHIELD LUKE FROM).
HERE'S MY NEW T-SHIRT IDEA:
"
ROTS

" CHANGED EVERYTHING