Star Wars in Words and Pictures
EDITOR'S NOTE: FELLOW RPG'ERS.....PAY SPECIAL ATTENTION TO THE CLONE ARMY ARTICLE IN THE MIDDLE OF THIS POSTING. I THINK YOU WILL FIND IT VERY INTERESTING (GIVEN HOW MANY TIMES ALREADY THESE SUCKERS HAVE ATTACKED US!)
New Essential Guide To Droids
The New Essential Guide to Droids is due out in June of 2006.
Boasting 224 pages of
pure droid bliss
,
EDITOR'S NOTE: LET'S PAUSE FOR A SEC AND PARSE THAT SENTENCE…….
ranging from original trilogy to prequel trilogy, and even tapping into expanded universe droids!
EDITOR'S NOTE: HERE'S THE COVER ART….MINUS THE TITLE ----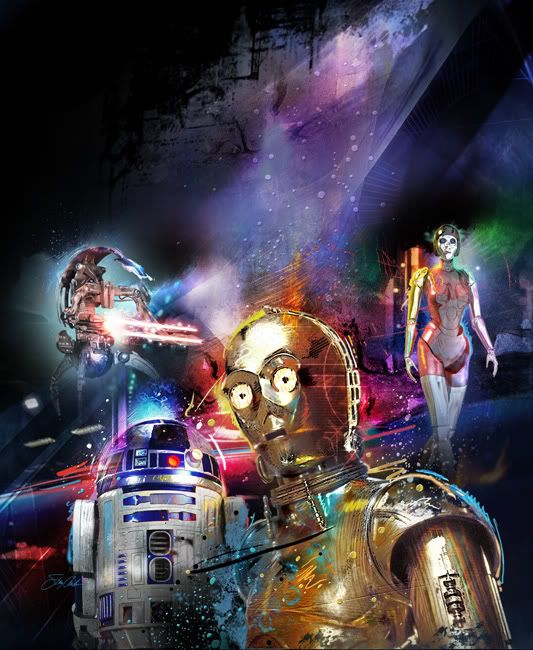 The Star Wars Poster Book: The Lost Chapter
by Pete Vilmur

One of the unfortunate realities of the book publishing world I discovered while working on
The Star Wars Poster Book
with co-author Steve Sansweet is that content and images must often be submitted months ahead of a book's projected release date in order to meet a publisher's deadlines for printing and binding.
Steve and I were very pleased that
Chronicle
was able to publish virtually every poster image we threw at them, but to meet our October release date for the book, all images needed to be in the hopper by the first week of March. This effectively kept much of the Episode III poster imagery out of the book, with the exception of the domestic teaser and release posters.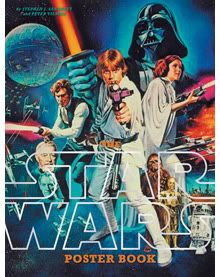 Similarly, much of the concept imagery used to shape the early campaigns didn't make final edit, but not because of deadlines -- there simply wasn't enough room to include them in an already jam-packed 320 pages of theatrical, promotional, event, and commercial posters.
Happily, the latest issue of
Star Wars Insider
was able to publish many of the early concepts that shaped the New Hope campaign, with those from
The Empire Strikes Back
and
Return of the Jedi
soon to follow in subsequent issues.
Likewise, this Insider Online supplement provides the perfect opportunity to showcase some of those posters which have since emerged in the wake of Episode III, but sadly could not be included in the book.
Of course, there was more activity occurring in the Star Wars universe than Episode III this year -- the second volume of the Clone Wars animated series launched on Cartoon Network in late March, met simultaneously by the DVD debut of Volume I. Additionally, Celebration III hit Indianapolis a month later in April, offering up a rare opportunity for fans to purchase scores of extremely limited posters and prints directly from the artists themselves.
Offered in the accompanying slideshow is a selection of posters showcasing some of the imagery used to promote Episode III, the Clone Wars animated series, and the latest Indianapolis Star Wars Celebration.
We hope that if the poster book should ever go into reprint, some of these great images might finally be included along with, perhaps, others still waiting to be discovered.
EDITOR'S NOTE: AVAILABLE TO HYPERSPACE MEMBERS ONLY. BUT WHO LOVES HER DWEEBPALS, EH?!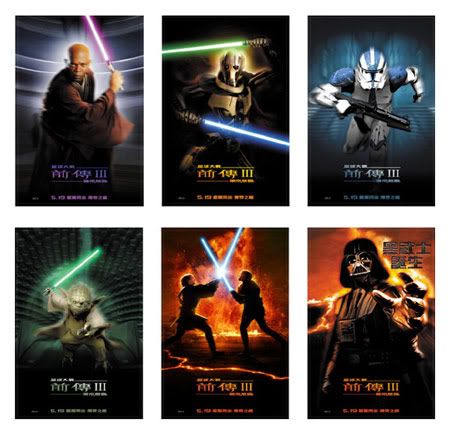 International Outdoor Posters, Japan, 2005, 20x29 each: The Episode III international outdoor campaign presented passers-by with six stunning images that were designed to deliver two distinct messages: the return of Darth Vader and ample Jedi action
.
EDITOR'S NOTE: SOME OF MY FAVORITES. GROOVY POSTERS!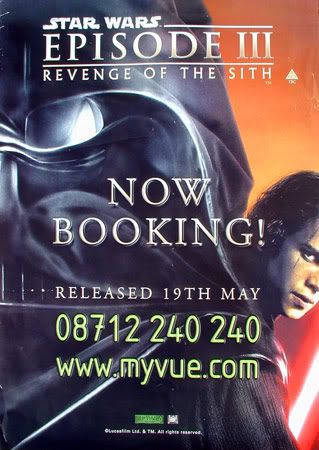 British "Now Booking" Poster, England, 2005, 27x38: England printed up pre-booking posters for each of the prequels, which are prized for their relative scarcity and regional interest. This example used the teaser image, inserting the title and booking info.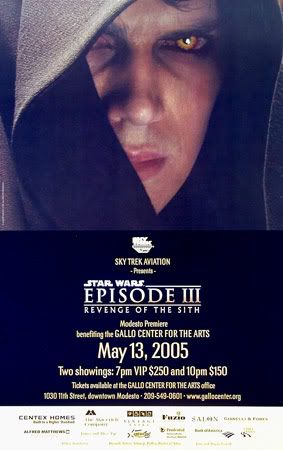 Modesto Benefit Premiere, United States, 2005, 13x20: Venue-specific posters are occasionally printed for special premieres, and this one carries the distinction of debuting Episode III in George Lucas' home town of Modesto, California.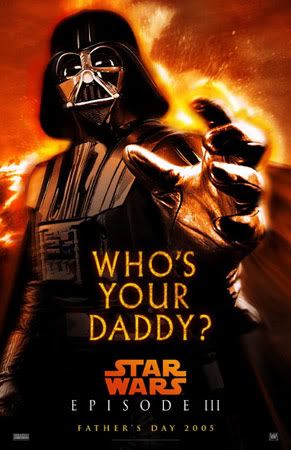 Who's Your Daddy?, United States, 2005, 11x17: Moviegoers who attended Episode III screenings over the Father's Day weekend in the U.S. received this free exclusive poster with the purchase of their tickets.
EDITOR'S NOTE: I CAN'T

WAIT

TO GET THIS FRAMED AND FIGURE OUT A PLACE TO PUT IT. ONE OF THE CLEVEREST POSTER CAMPAIGNS. EVER. AND I GOT MINE FATHER'S DAY WEEKEND, BUT WHILE SEEING BATMAN. I SHOWED THE TICKET LADY MY STAR WARS TATTOO, AND SHE WAS EITHER SO IMPRESSED OR FRIGHTENED…OR BOTH….SHE GAVE ME A POSTER. LIFE IS GOOD WHEN YOU ARE THE QOTD.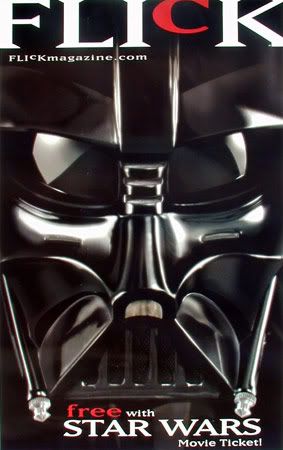 Flick Magazine, United States, 2005, 27x40: This double-sided one-sheet advertised the premiere issue of Flick magazine in Loews, Cinemark and Carmike theaters nationwide.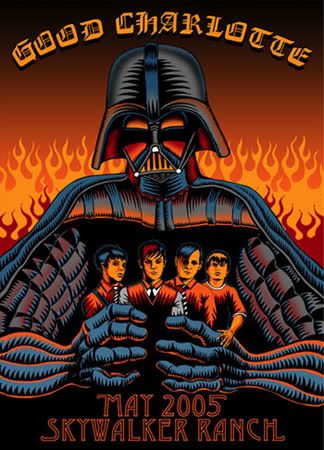 Skywalker Ranch Good Charlotte Concert, United States, 2005, 24x32: Lucky guests at the Skywalker Ranch MTV TRL (Total Request Live) event held on May 6 received a rare Good Charlotte print designed by artist Emek

.
EDITOR'S NOTE: JUST ME, OR IS THIS A TAD DISTURBING?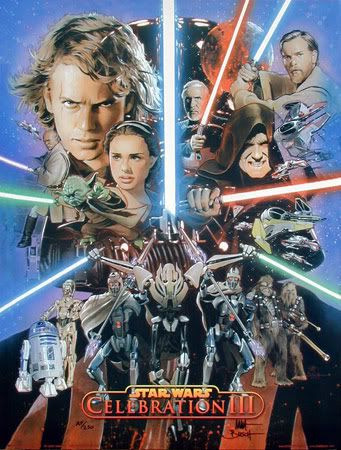 Celebration III by Matt Busch, United States, 2005, 18x24: Matt Busch designed this striking limited-to-250 poster for fans attending Celebration III in April, 2005. EDITOR'S NOTE: MATT BUSCH IS NOT MY FAVORITE ARTIST. BUT THIS IS A COOL POSTER.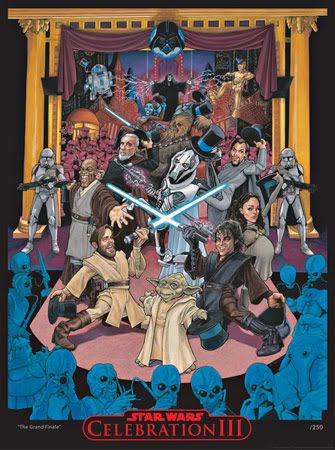 Celebration III by Randy Martinez, United States, 2005, 18x24: This whimsical illustration of a Revenge of the Sith burlesque show was created as a limited-to-250 exclusive by Randy Martinez for Celebration III. EDITOR'S NOTE: GIGGLE.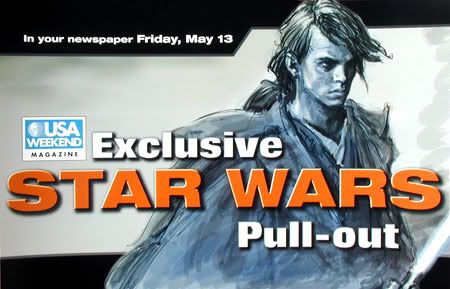 USA Today Vendor Poster, United States, 2005, 11x17: Iain McCaig 's preliminary sketch for Episode III's Anakin was showcased in a USA Weekend Magazine pullout, as advertised by this vending machine poster. EDITOR'S NOTE: THANKS TO TOP-DRAWER DWEEBPAL PLANOKEVIN (WHO GOT ME ONE OF THESE WHEN WE DETERMINED THAT NONE OF THE HOUSTON PAPERS HAD USA WEEKEND MAGAZINE INSERTS). THIS IS ALREADY FRAMED AND IN MY TV/MOVIE ROOM. GORGEOUS!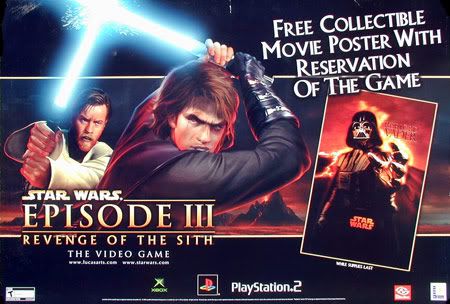 Revenge of the Sith Video Game with Premium Poster, United States, 2005, 26x39: Video game posters are among the last to use rendered depictions of characters and scenes, like this premium poster promotion associated with early reservations for the Ep III video game.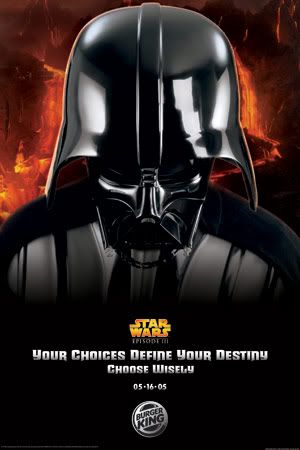 Burger King "Choose Your Destiny", United States, 2005, 26x39: This stunner was created as a centerpiece for BK's in-store promotion. The image is actually printed on a metallic foil cardstock, lending a cool dimensional effect to Vader and the fiery background. EDITOR'S NOTE: ANOTHER OF MY PERSONAL FAVES. DIDN'T MANAGE TO SCORE ONE OF THESE. MAYBE THEY'LL HAVE MORE WHEN THEY RE-UP THE BK PROMOTION THIS NOVEMBER?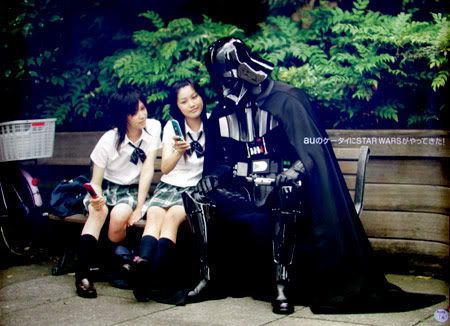 AU Cellular Transit Poster, Japan, 2005, 40x58: True to form, this large Japanese transit poster for AU, a cellular company, presents it product to consumers in a totally fresh and unexpected way. EDITOR'S NOTE: KINDA TWISTED AND KIDDIE-PORN'ISH, HUH?
Art of Star Wars Tokyo Exhibition, Japan, 2005, 20x29: The design of Anakin's starfighter, which includes styling motifs from both the prequels and the sequels, was the perfect vehicle to suggest the full-saga experience of the Tokyo exhibit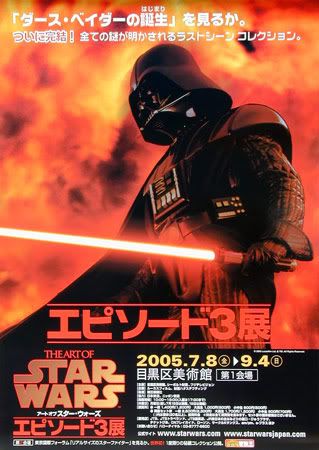 Art of Star Wars Meguro Exhibition, Japan, 2005, 20x29: The flaming background behind Vader heats up this poster for Meguro's Art of Star Wars Exhibition.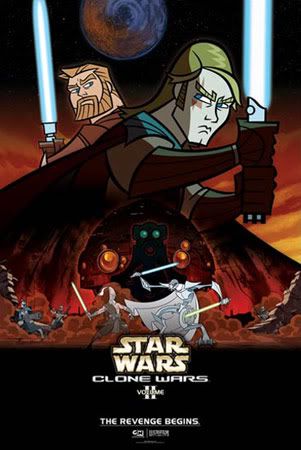 Cartoon Network Clone Wars Volume II, United States, 2005, 24x36: The third in a series of Clone Wars posters, the intent of the designer to create a cohesive trio (see next slide) was not fully apparent until this poster was released last March.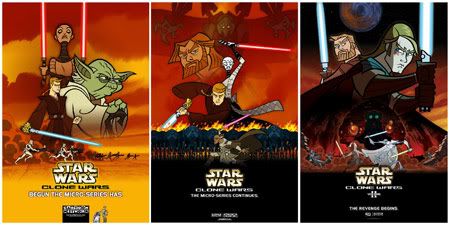 Clone Wars Trio, United States, 2003-2005, 24x36 each: Each poster retained the same general composition, but became noticeably darker. The set of three Clone Wars posters from Cartoon Network actually form a nice trio when displayed side by side. EDITOR'S NOTE: I LIKED THEM INDIVIDUALLY, BUT TOGETHER THEY COMPLETELY ROCK! (AND I HADN'T REALIZED THE PROGRESSION FROM LIGHT TO DARK TILL I SAW THEM SIDE BY SIDE!) GOOSEBUMPS!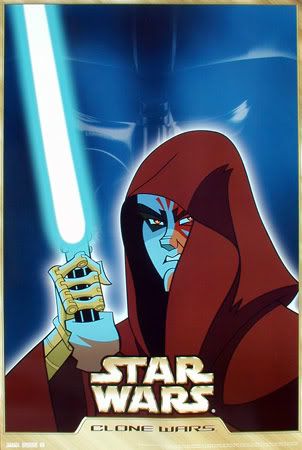 Clone Wars Anakin , United States, 2005, 27x40: An unusual image of Anakin was used to great effect in this poster offered as a premium for purchasing the Clone Wars Volume I DVD at certain retail outlets. EDITOR'S NOTE: ALSO NIFTY!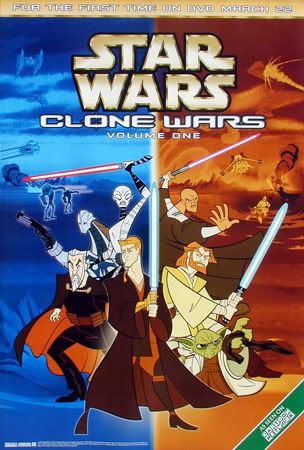 Clone Wars Volume I DVD Promotional, United States, 2005, 27x40: The cover art for the first volume of Clone Wars made a fantastic one-sheet poster for in-store display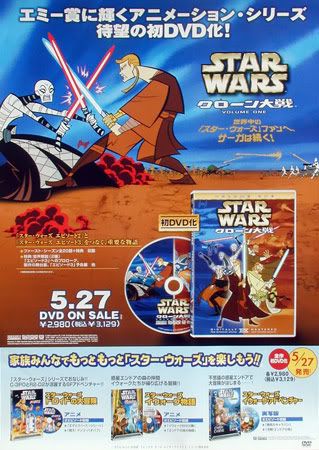 Clone Wars Volume I DVD, Japan, 2005, 20x29: The Japanese poster used to promote Volume I of Clone Wars also touted the DVD editions of the Droids and Ewoks animated series, as well as the Ewok movies.
Bus Stop Clone Wars , England, 2005, 48x72: This unusual British bus stop poster casts Anakin and Obi-Wan in shadow, with the diminutive Yoda left stealing the limelight.
EDITOR'S NOTE: AS HE SO OFTEN

DOES

, THE PUSHY LITTLE MUPPET.
Behind the Armor: A Clones Primer


by Bonnie Burton
Anyone who has read the novel
Star Wars Republic Commando: Hard Contact
or played the LucasArts video game
Republic Commando
knows that not all clones are as identical as they appear. In fact, the Grand Army of the Republic [GAR] may be a sea of Jango Fett faces, but it's their individual quirks, unique training and personality strengths that made them the ideal fighting force.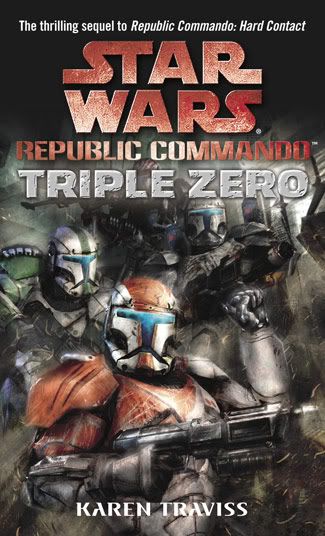 Hard Contact
author Karen Traviss and
Republic Commando
game producer Ryan Kaufman give their take on everything from the clones' personality traits to the accurate hierarchy of the Grand Army of the Republic in the print edition of Star Wars Insider #84 in the "Guide to the Grand Army of the Republic."
Using her background as a defense correspondent and an armed forces reservist, Traviss gives the clones' background a certain authenticity that most authors can't provide.
"
I've tried to do for the organization of the GAR what I did for the clone soldier when I wrote Hard Contact and the upcoming
Triple Zero
-- to make them real using what I know from the real world,"
Traviss says. "
When I look at a fictional army, my first reaction is to do what I did as a defense correspondent -- try to understand how it works. I need to know how big it is, what its main roles are, how the command structure works, how it deploys, how it keeps itself supplied and so on. Show me an army of three million men and I'm going to ask where their commanders are and what's happening in their ops room. Some people say that doesn't matter in fiction, but yes, it does -- because the more real you make it, the better plots it gives you. And I think it's also important that fiction tries to tell the truth because, like it or not, it affects the subconscious and so influences the way we see the real world."
Kaufman, who also contributed a great deal of background information to the clone and Mandalorian backstory while working on the video game Republic Commando, found himself knee-deep in questions about the clones' weapons, tactical missions and training.
"
A lot of the work involved was the simple cataloguing of their lives
," Kaufman says. "
I had to know their equipment, their weapons, their training, and their mission. And none of that can exist in a vacuum. If the Republic commandos use a special rifle, where did it come from? Who made it? Why? If they got special training who trained them? How did they train?"
"
One of the big breakthroughs was when we decided they were raised from childhood in four-man 'pods,' and drew on the analogy of the aiwha hunting pods
," Kaufman continues. "
That put a lot of the background into perspective and gave some texture to their lives."
This element of being raised in a "family" like brothers gives the clones more of sense of kinship than most soldiers would exhibit. And it was this brotherhood that both Kaufman and Traviss felt needed to be explored further in their storylines and history of the clones.
"
Brothers have identity; brothers have heart, and soul, and care about each other
," Kaufman says. "
If you see a clone die onscreen and you think, 'Meh, dime a dozen;' then the battle scenes of Attack of the Clones and Revenge of the Sith will leave you flat. But if you see that clone as a real person dying, a person with brothers all around him, it's a deeper, more moving experience. And when you see them winning, it's that much more rewarding."
EDITOR'S NOTE: VERY POIGNANT. UNTIL THAT WHOLE

BETRAYAL-OF-ALL-THE-JEDI

THING
.
"
Being raised like brothers is part of being a perfect soldier
," Traviss adds. "
The bond you have with your buddies is what gives an army its strength. Ask any soldier who's been in action if they had any sense of fighting for the flag or government when they were under fire, and they'll always tell you that it was more about looking out for their comrades and knowing they would be watching their back in return."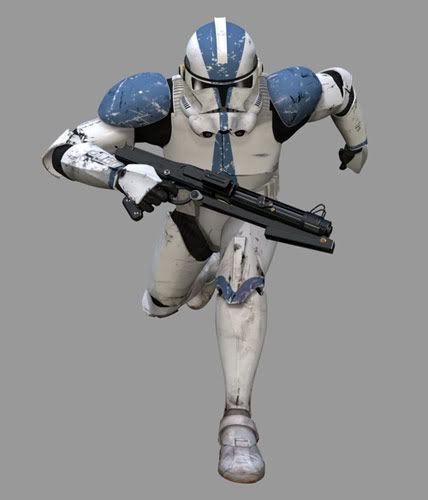 As both Traviss and Kaufman tirelessly fleshed out the men underneath the armor, it became clear rather quickly that not all the clones were exactly the same in their thoughts, desires and, sometimes, insecurities.
"I know that personally, as a fan, I love to categorize things in the GFFA [galaxy far, far way]," Kaufman admits. "So knowing which clones are which is sort of like a weird bird-watching activity for me -- 'Ah, observe the unaltered ARC trooper. There were only 100 created in the initial batch... Shhh...You'll frighten him away.' EDITOR'S NOTE: GIGGLE. Seriously, though, it's fun to talk about the differences in the clone army -- some of them are rogues, some of them are totally obedient, most are somewhere in between. And yet... all created from the same guy."
"It's important to see clones as people like you and me," Traviss explains. "They're not fleshbots. Our genes don't dictate the way we behave anywhere near as much as the way we're brought up and what we experience, and clones are no different. If your genes dictated everything you ever did, that means we could typecast people for life by things like race and gender, which is pretty nasty. Small differences dictate the kinds of jobs these men are given, but the training they get really makes the difference."
These differences in character became even more apparent in Traviss' novel Hard Contact, where Traviss chose to focus on in the commando squad demolitions expert Darman, who gets cut off from his group early in the story. But as the reader joins the adventure of the troopers as they problem-solve within the confines of this new, unusual world of Qiilura, one can't help but notice that each clone commando in the squad not only has his own special skills, but also a unique personality. The same was the case for Kaufman as he gave personalities to clone characters in the video game Republic Commando.
"We faced this particular challenge in coming up with personalities for the four commandos of Republic Commando," Kaufman reveals. "I looked at it like: 'These are different facets of Jango's core persona, only they've been broken out into discreet personalities.' So we had a part of Jango that was solitary and deadly -- that became our sniper's entire personality. The part of Jango that could be dry and humorous became Scorch, our wisecracker. The part of Jango who could lead men, that became 'Boss,' our squad leader. It was easy enough, as long as we stuck to parts of Jango Fett we could clearly identify. For instance, there was no clone who enjoyed knitting." EDITOR'S NOTE: DO WE KNOW FOR A FACT THAT THIS WAS NOT A DE-STRESS HOBBY OF JANGO'S IN HIS DOWN-TIME?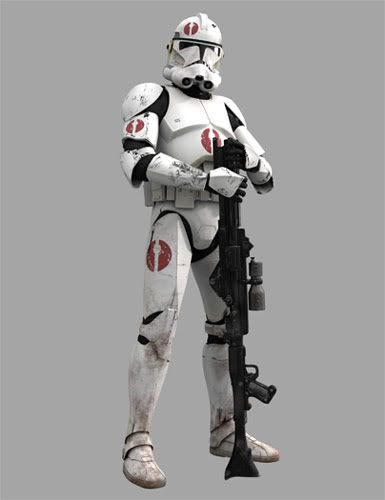 Those sparks of individuality aided the clones in bonding further within their ranks. It would also work for (or in some cases against) them when taking orders from Jedi unaccustomed to leading many men into battle.
"I think Obi-Wan had a great rapport with Commander Cody, because he let Cody get on with the job of leading the troops and stayed out of his way when it came to logistical matters," Kaufman says. "Cody, in turn, respected that Obi-Wan needed to do things in his idiosyncratic Jedi way." EDITOR'S NOTE: THEIR BOND WAS GREAT FUN. FOR ALL THE GOOD IT DID WHEN ORDER 66 CAME DOWN.
"However, as for Jedi who had a difficult time commanding, I'd have to point to Ki-Adi Mundi," Kaufman is quick to add. "It's not entirely his fault, as he was saddled with one of the Grand Army's most individual and headstrong clones, Commander Bacara. Ki-Adi was not cut out to be a general, and I think Bacara's way of doing things clashed with his Jedi sensibilities often. But to Ki-Adi's credit, he hung in there until the bitter end." EDITOR'S NOTE: PERSISTANT, THOSE JEDI. UNTO DEATH, IN FACT.
As with any story as large as the Star Wars saga, there are bound to be those characters who gain the most recognition with fans, and those who seem to largely go unnoticed and underappreciated even though they may be key to the plot.
"The Jedi are the rock stars of the Clone Wars, but the clone soldiers are like the roadies and drum techs," Kaufman explains. "They get no respect, but they're the ones that really make the show happen. The movies, novels and comics have done a great job showing us what the Jedi were doing during the Clone Wars; but you gotta figure for every Jedi waving his lightsaber at some droids, there are 9,000 loyal EDITOR'S NOTE: LOYAL? clones behind him, each willing to lay down his life for a Republic he's never even really seen. That's dedication and bravery worthy of some recognition."
"I bristle at the idea that commanders win wars alone," Traviss adds. "Soldiers win wars. The Jedi get so much limelight that you'd wouldn't think they had millions of troops doing the fighting and the dying too." EDITOR'S NOTE: I DON'T KNOW IF THE FANS UNDERSTAND THAT. BUT MOST OF THE JEDI SURE DID. I MEAN, YOU CAN TELL HOW DISTURBING TO YODA AND OBI-WAN AND SOME OF THE OTHER JEDI THE MERE EXISTENCE OF THIS ARMY OF CANNON-FODDER WAS.
Even with the lack of on-screen kudos given to the fighting forces, the "Guide to the Grand Army of the Republic" article does give proper praise of a few of the heroes from the clone army such as Captain Fordo (ARC-77), and Sergeant Fox CT-000/1010 and Commander Bacara "1138."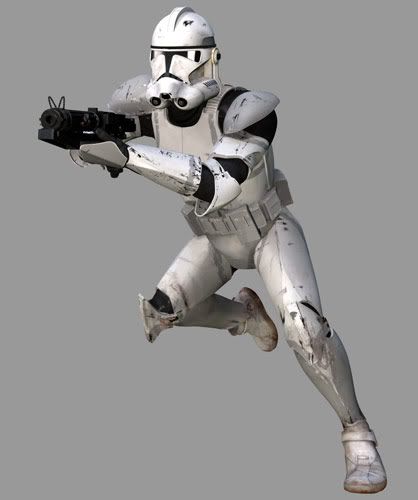 "My favorite on-screen clone hero is Commander Bacara," Kaufman reveals. "He's got a very cool vibe going on, and -- I hate to admit it -- I've been waiting for someone to gun down Ki-Adi-Mundi since he pooh-poohed the possibility of the Sith returning back in The Phantom Menace. EDITOR'S NOTE: NICE. I THINK THAT WOULD BE THE DARK SIDE?
But my favorite Expanded Universe hero is probably 'Sarge' -- the Republic commando from Clone Wars Adventures Vol. 3 and 4. I created him, so he's near and dear to my heart. But he's been through a lot, seen his squad shot to pieces, but he still carries on fighting for the Republic. It's all he knows -- and, to me, that gives him a kind of tragic nobility."
Traviss, however, is hard-pressed acknowledge just one hero out of the clone masses, since they all play such an important role within the saga.
"I wouldn't name a hero, not even my own Republic commando and ARC trooper boys from my own books, although I do have a soft spot for Ordo and the Null ARCs because of what they went through," Traviss confesses. "All the clones are heroes because they were effectively a slave army -- they had no choice about fighting, remember -- that took a rotten situation and gave it their best without complaint."
Of course, it does help that the clones have some of the best weaponry in the galaxy at their disposal. Creating the supplies to fill the clones' special kits served as a special treat for Kaufman and Traviss who both enjoy a lively discussion about a powerful jetpack or a DC-17 hand blaster.
"Some people love to talk gear and I love to talk gear," Kaufman admits. "There's something fun about listing all the stuff, and knowing what each piece does. But even if you're not interested in the particulars, I think it's interesting to know what to call that weird skirt the ARC troopers wear, why they wear it, and how it ties into a tradition that extends back through history and forward to the snowtroopers."
"The kit dictates to a large extent what a soldier can achieve," EDITOR'S NOTE: HEY RPG'ERS! WE RAMP UP WE GET BETTER TOYS! Traviss adds. "And it's fun! I got a whole cultural background story out of the kama alone."
Unfortunately for the Jedi in Revenge of the Sith (due out on DVD on Nov. 1), it was very apparent that the clone kits had plenty of weaponry to wipe out the entire Jedi Temple, as well as such Jedi Masters as Plo Koon, Aayla Secura and Ki-Adi-Mundi, stationed at various different battlefronts during the war. However, what Traviss and Kaufman find interesting is the emotional reaction they've witnessed from fans when Order 66 is executed without debate from the clones.
"Most people have little concept of living and working in an environment where orders really are orders; fans see Order 66 in the context of their own daily morality and not as part of the Star Wars universe, which is very different," Traviss explains. "Even in the real world, you can refuse an unlawful order but for the rest of the time, you still just have to do what you're told whether you agree with it or not, or else the whole thing falls apart. In Star Wars, the world is different, and Order 66 is lawful. Let's face it; there are plenty of places in our own world where Order 66 type situations might happen for real. Most people also don't like to think they might do the same thing and obey. Humans really do follow orders pretty easily, and that's even without being raised in a closed world like the clones were." EDITOR'S NOTE: YES. PEOPLE, BY AND LARGE, ARE SHEEP. (AND NOT IN ANY CUTE, 'LAMBIE' KIND OF WAY). THAT DOESN'T MAKE IT ANY LESS PAINFUL TO WATCH IT HAPPEN IN ROTS.
"It's portrayed as a betrayal; and betrayal evokes a very visceral reaction in people, especially when you're in the middle of the emotional arc of Revenge of the Sith," Kaufman adds. "Karen's gone to great lengths to show how contingency orders work in a real army, and how the clones see Order 66 as something quite different. I think understanding that perspective adds a depth and an additional tragedy to the sequence. In some cases, the clones are being commanded to gun down their trusted friends. Why? How? I'm hoping our Insider article will shed some light on that." EDITOR'S NOTE: IT IS A BETRAYAL. BUT AS MUCH OF THE CLONES AS IT IS OF THE JEDI. IT'S JUST ALL-ROUND TRAGIC. (AND ALL THE MORE SO TO FANS OF THE EU WHO REALLY GET HOW CLOSELY TIED SOME OF THE CLONES AND SOME OF THE JEDI HAVE BECOME).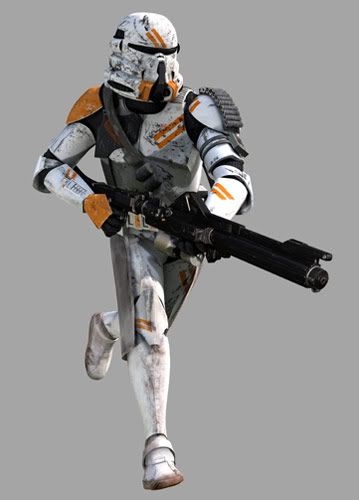 Even though the clones are perfect fighting machines who follow orders without question, they also have a rich culture with a distinct language and mythos which rounds them out as more then simply merely bounty hunter test tube babies.
"
The Mandalorian aspect to the clones hasn't been explored before and it's not just about Jango providing the DNA,"
Traviss explains. "
That's almost a sideshow. The Mandalorian instructors who trained the Republic commandos and ARC troopers thought it was vital for the men to know what their heritage was, and some of that filtered through to rank and file because the Kaminoans thought it made sense to raise the clones in a warrior culture. The average clone trooper didn't have that level of Mandalorian cultural training, but he did get to learn some of the language through the anthems and mottos. The Mando'a language -- which I've developed into a working language now -- is a key part of their identity, and you'll see why in Triple Zero. The Republic is probably too vague a concept for any soldier to get behind, but add a national identity and men can really bond and feel part of a tribe. That's really important in a successful army."
One way the clones find a sense of brotherhood is by singing the army's anthem, Vode An (Brothers All), which helps rally the troops at some of the lowest moments on the battlefield. Even the army's motto Darasuum Kote (Eternal Glory) is also in Mandalorian.
"
I'm a big fan of backstory, and especially fictional histories, mythologies and legends
," Kaufman says. "
We used 'Rage of the Shadow Warriors' which was an anthem written from an ancient poem about the Taung warriors. Originally sung by the Mandalorians, it was adopted by the clones as an anthem of brotherhood -- to give them the culture and shared mythology they lacked (being born from tubes and raised in isolation). Every culture needs myth and story to define itself; why not cultures in the GFFA? I think it makes the universe much richer, for those who choose to seek it out. And I can tell you that Darasuum now has a meaning that Karen and I have worked out, and that has to do with an ancient Mandalorian war legend as well."
EDITOR'S NOTE: THOSE NOT INTO THE EU…AND ALL THIS NIFTY BACK-STORY AND MYTHOLOGY….ARE REALLY REALLY MISSING OUT. (OH, SO YOU HAVE A

REAL

LIFE? PFFTTT).
Even with all the wealth of information about clones and their culture in the "Guide to the Grand Army of the Republic" article, both Kaufman and Traviss had even more information they wanted to include but couldn't due to word count restraints.
"
Where do I start? There's enough to fill whole books, to be honest
," Traviss laughs.
"
Personally, I wish I'd had room to look at the logistics and catering! And the medical training. All the Republic commandos, for example, got basic battlefield first-aid instruction, but some, like Fi, had extra training and could also function as field medics. Not sure that I'd want Fi to do a tracheotomy on me, but he's great with a dislocated shoulder."
EDITOR'S NOTE: DO YOU WANT A TRACHEOTOMY DONE BY ANYONE?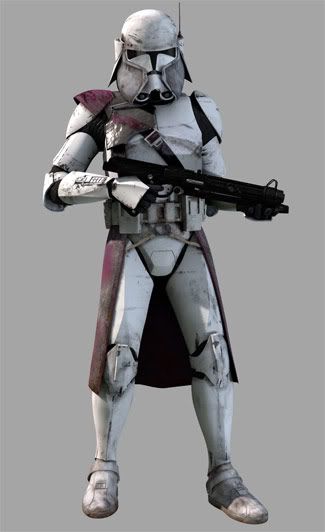 "I wanted to include information on Captain Fordo's 'jaig eyes,'" Kaufman adds. "Those students of Boba Fett trivia will note that in Vol. 2 of the Clone Wars Animated Series, Captain Fordo sports a painted design on his helmet. These are 'jaig eyes,' representing the eyes of a Mandalorian hawk known as a jaig'alaar. And they were an honor bestowed upon the best of the clone soldiers for particular acts of bravery. We couldn't fit this into the article due to space, but it was a fun piece of trivia to add."
Another interesting bit of trivia revolves around the rather unusual nickname of "Shiny Boys" that the clones have used to describe the Republic commandos. Traviss has some insight for inquiring minds.
"The armed forces are chock full of nicknames that often pick on areas of friendly rivalry," Traviss explains. "The regular clone trooper has plain white armor, but the Republic commandos' basic Katarn armor is silver-gray and, let's be honest, it's pretty flashy. So it was inevitable that some of the lads would start teasing them about it. (But not to their faces, of course.) You should hear what the commandos call the regular troopers, though."
Those fans eager to learn the various backstories of the Republic commandos Fi, Niner, Atin and Darman (Omega Squad) can read about them in Hard Contact. Kal Skirata, Omega Squad, the Null ARCS, and Delta Squad from the Republic Commando game are in the upcoming novel Triple Zero, also by Traviss, due to hit the shelves at the end of February 2006. The lives of Jedi generals Arligan Zey and Bardan Jusik are also explored in both novels.
And be sure to read Republic Commando stories by Kaufman in the Dark Horse comic books Clone Wars Adventures Volume 3 and the Clone Wars Adventures 4 (due out October 19).
Star Wars Graphic Novels in China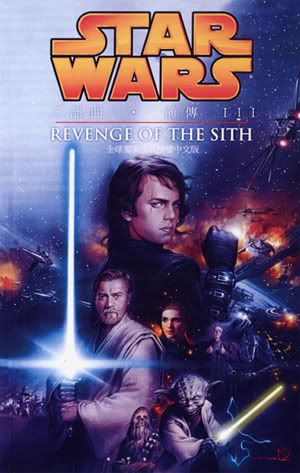 The Star Wars comics reading public has just expanded significantly with the release of Chinese-language titles from Dark Horse Comics.
These books will initially be available in the free Chinese markets of Hong Kong, Taiwan and Macau. With approximately 1.3 billion of the people in the world speaking some form of Chinese as their native language and most major cities harboring significant Chinese-speaking populations, the advent of Chinese-language graphic novels will have a reach far beyond China's borders.
Dark Horse has partnered with Imprezzion, Inc. to publish Star Wars and Hellboy titles in China. The Star Wars: Episode III Revenge of the Sith comics adaptation by Miles Lane and Doug Wheatley was the first title released last month, but more are on the way. Star Wars: Clone Wars, Clone Wars Adventures, Star Wars: Empire and Star Wars: Infinities are soon scheduled to follow.
EDITOR'S NOTE: AND YET ANOTHER INSTALLMENT OF "GRATUITOUS COOL PICTURES" -----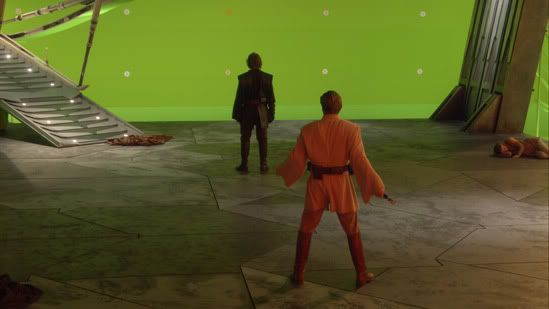 On Stage Three at Fox Studios Australia, Hayden Christensen and Ewan McGregor move into position for the epic duel between Anakin and Obi-Wan. Note that the placement of Natalie Portman's body changed in postproduction.
EDITOR'S NOTE: NICE BUTTS! (CAN I SAY THAT IN BLOGOSPHERE?)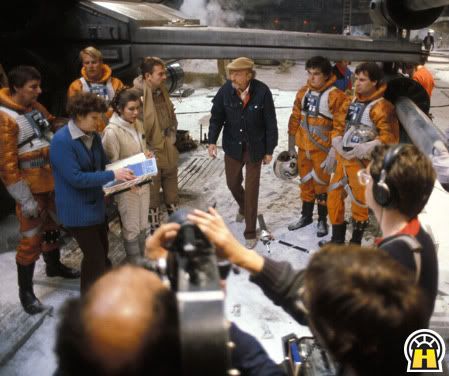 Irvin Kershner arrives to discuss this briefing scene with the principal actors, including Carrie Fisher and John Ratzenberger
.
EDITOR'S NOTE: KERSHNER LOOKS SO OLD IN THIS PIC. AND YET, HE'S STILL KICKIN AROUND, BLESS IM.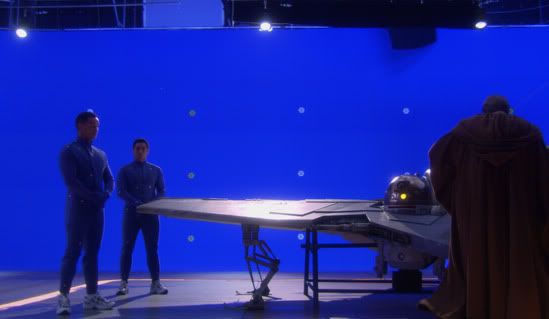 Temuera Morrison and Bodie Taylorsee Ewan McGregor board his starfighter in this blue-drenched still direct from the HD-camera.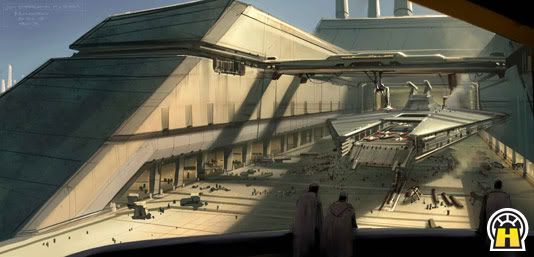 JEDI EMBARKATION PLATFORM---
Enormous Republic attack cruisers load up full of clone troopers and military equipment in this concept painting by Ryan Church.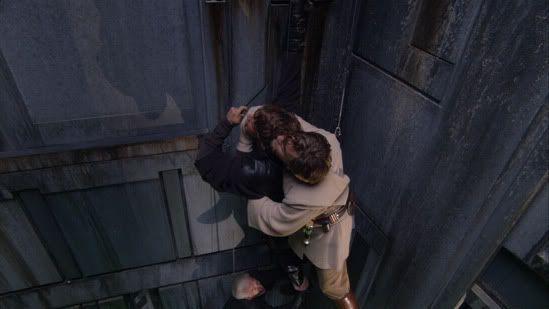 In this plate photography of the elevator shaft scene, the safety harness suspending Ewan McGregor (Obi-Wan Kenobi) is clearly visible. It would be digitally removed in the final frame.
EDITOR'S NOTE: I SWEAR. THEY DON'T EVEN MAKE THE ACTORS ACTUALLY HANG FROM HEIGHTS ANYMORE. THESE WHIPPERSNAPPERS ARE WHIMPS.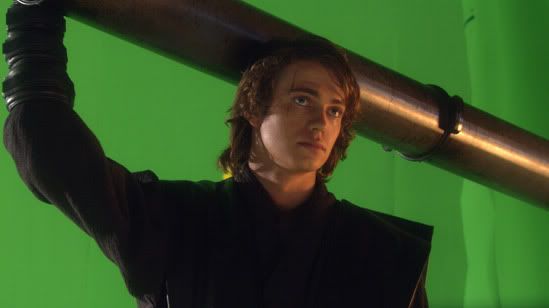 In a scene cut from the film, Anakin Skywalker (Hayden Christensen) had to crawl along a rickety set of pipes in the spinning interior of the Trade Federation cruiser.
EDITOR'S NOTE: EVIL IS PRETTY, ISN'T IT? (AND GREEN IS SO HIS COLOR)
AND TO CLOSE OUT THE WEEK, SPECIAL THANKS TO DWEEBPAL DAVIDLAF FOR SHARING THIS FUNNY BIT OF STAR WARS NEWS-----
Chewie Throws A Fast Ball
Chewbacca just threw out first pitch at Fenway Park!!! It was in honor of the new Star Wars exhibit opening at the Museum of Science in Boston.
EDITOR'S NOTE: NOTHIN LIKE A WOOKIE SHILL TO MAKE THE OTHER TEAM FURRY WITH FURY, EH?