Movies Movies Movies (catching up on Non-SW, deux)
Sommers to "Collide" With Worlds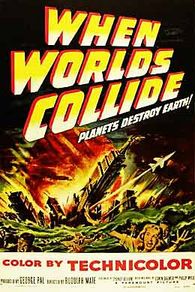 Paramount has hired Stephen Sommers to write and direct a remake of the 1951 sci-fi film "When Worlds Collide."
EDITOR'S NOTE: CAUTIOUS OPTIMISM. "MUMMY" ONE AND TWO, GOOD. "VAN HELSING" (
SORRY JERRY
),

NOT

SO GOOD.
Sommers is supposed to start on the script immediately.
EDITOR'S NOTE: SEE, NOW, RIGHT THERE IT'S GOT "VAN HELSING" BEAT. I MEAN, THEY DIDN'T HAVE ONE OF THEM FANCYSHMANCY

SCRIPT

THINGIES IN VAN H, DID THEY?
In the original, scientists discover that another planet is veering dangerously close to Earth, and they make plans for a small group of humans to leave the planet before the inevitable deadly collision.
EDITOR'S NOTE: OOO...TAKE ME TAKE ME!!!! (
I'VE NEVER REALLY BELONGED ON THIS PLANET ANYWAY
!)
Stephen Sommers and Bob Ducsay will produce.
Winslet, New Line raising 'Children'
Kate Winslet is in negotiations to topline "Little Children" for New Line Cinema.
Winslet would play the role of Sarah in the adaptation of Tom Perrotta's book, which Todd Field is set to direct. Field also is producing with Ron Yerxa and Albert Berger, and he co-wrote the screenplay with Perrotta, whose other credits include "Election." Toby Emmerich and Kent Alterman are overseeing the project for the studio.
The film is set in a suburban town where perfect parents rear perfect children by day and surf Internet porn and have affairs by night.
EDITOR'S NOTE: SOUNDS LIKE SUGARLAND, TEXAS.
Winslet's character is a mother who has a fling with a stay-at-home dad.
Winslet most recently starred in "Finding Neverland" and "Eternal Sunshine of the Spotless Mind," for which she received her fourth Oscar nomination. Her upcoming projects include "All the King's Men" for Columbia Pictures and "Romance & Cigarettes" for UA/Sony.
New Line Hooks "Meg"
New Line has picked up Steve Alten's bestselling novel "Meg: Primal Waters," out of turnaround from Disney.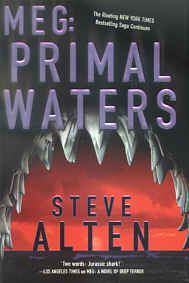 The story centers on an 80-foot-long ancestor of the great white shark, technically known as carcharodon megalodon but dubbed "Meg," that is found by a modern adventurer.
EDITOR'S NOTE: ALL I EVER FIND ARE SHELLS AND ROCKS AND STUFF.
SHAFT's Shane Salerno is doing a rewrite. Jan De Bont is set to direct the film
EDITOR'S NOTE: SO IT WILL BE REALLY

LOUD

.
which is budgeted at $75 million. Filming is set to start in this fall.
THE GOOD GERMAN:
The Hollywood Reporter revealed that THE GOOD GERMAN, a romantic thriller set during WWII, has gotten the interest of George Clooney and Cate Blanchett.
EDITOR'S NOTE: PURTY PAIRING!
If the talks work out, Clooney will play an American journalist sent to cover the Allied summit meeting that will decide the future of Germany after WWII. Instead, he uses it as an opportunity to look for a lost love, and he gets caught up in a murder mystery.
Clooney is co-producing the film with his Section Eight partner Steven Soderbergh, who will also direct the film written by Paul Attanasio based on Joseph Kanon's 2001 book.
It would be the fifth time Clooney and Soderbergh collaborated on a film. Blanchett comes off her recent Academy Award win for "The Aviator."
THE SPIRIT:
SMALLVILLE producer and comic-book writer Jeph Loeb has been tapped to write a big-screen version of THE SPIRIT, based on the comic hero created in 1940 by Will Eisner.
Variety reported that Odd Lot Entertainment and Batfilm Productions will develop the project.
THE SPIRIT centers on a masked detective who is believed dead and uses that to his advantage to fight the criminals of Central City from his base at Wildwood Cemetery.
SUPERMAN RETURNS:
The news of Hugh Laurie's departure from SUPERMAN RETURNS yesterday was sad -- he would have made a terrific Perry White. However, today word comes from Variety that Frank Langella will replace Laurie in this key role.
Langella joins a cast that includes Brandon Routh as the Man of Steel, Kevin Spacey as Lex Luthor and Kate Bosworth as Lois Lane. Michael Dougherty and Dan Harris penned the script.
Peet Set for MARTIAN CHILD
Amanda Peet has agreed to star along side John Cusack in New Line Cinema's THE MARTIAN CHILD.
EDITOR'S NOTE: NOT THAT WE CARE WHAT AMANDA PEET HAS COMING UP. BUT WE ALWAYS REPORT JOHN CUSAK NEWS FOR MISS B (DOES YOUR HONEY DAVE KNOW HE WASN'T THE FIRST IN YOUR HEART, MISS B?)
The film is based on a short story from sci-fi author David Gerrold.
The script written by Jonathan Tolins and Seth Bass is described as "an unusual father-son relationship, and a cross between 'Parenthood' and 'E.T. the Extra-Terrestrial.'" The story concerns a man, who after the death of his wife, adopts a 7-year-old who believes he's from Mars.
EDITOR'S NOTE: RELATED TO MY YOUNGER BROTHER, NO DOUBT. (
NO, WAIT. HE WAS FROM SOME PLACE....UMM...

WARMER
).
McKellen and Molina Prepare to Crack CODE
Ian McKellen and Alfred Molina have been set for roles in Sony Pictures' THE DA VINCI CODE. Ron Howard will direct. Brian Grazer and John Calley will produce. Akiva Goldsman wrote the script based on Dan Brown's bestseller. Jean Reno, Audrey Tautou and Tom Hanks also star.
Molina will play zealous Bishop Arigarosa, who's keenly interested in the sleuthing activities of Harvard symbologist Robert Langdon and cryptographer Sophie Neveu. McKellen will play Sir Teabing, a wealthy man who acts as a resource for Langdon even as he shows his own ambitions to uncover the Holy Grail.
EDITOR'S NOTE: SINCE I WAS ONE OF THE LAST HUMANS ON EARTH TO READ THE BOOK, THE WHOLE THING IS STILL FAIRLY FRESH IN MY MIND. EXCELLENT CASTING! ESPECIALLY MCKELLEN. (OF COURSE, HE'S USUALLY GOOD CASTING. IN ANYTHING).
The film begins production in June 2005.
Springfield biopic nabs Chenoweth
Kristin Chenoweth is attached to star as Dusty Springfield for a Universal Pictures biopic of the soul singer. Jessica Sharzer will write and direct the movie, which is being produced by studio-based Marc Platt along with Chenoweth and Untitled Entertainment's Dannielle Thomas.
The movie will focus primarily on Springfield's life in the '60s, culminating with the making of "Dusty in Memphis".
'Slammer' time awaits Parker and Shankman
Adam Shankman is in negotiations to direct and Sarah Jessica Parker is in negotiations to star in "Slammer" for Revolution Studios.
The dark comedy was brought in by Elaine Goldsmith-Thomas, head of Revolution Studios' East Coast office, who will produce the film with Howard Rosenman and Carol Baum. Deborah Schindler and Jennifer Gibgot are serving as executive producers. The script is by Sara Goodman and based on a story by Tim Metcalfe and John Slotnick and a screenplay by Metcalfe.
Beckinsale, Hasselhoff 'Click' for Col
Kate Beckinsale
EDITOR'S NOTE: SPEAKING OF STICK-FIGURES WITH MOVIE CAREERS....
and David Hasselhoff have signed on to the upcoming Columbia/Revolution Studios film "Click." They join Adam Sandler and Christopher Walken in the romantic comedy, to be directed by Frank Coraci.
EDITOR'S NOTE: WALKEN'S PARTICIPATION NOT-WITHSTANDING, THIS IS PRETTY CLOSE TO MY IDEA OF PERFECT CASTING....IN HELL.
The story centers on a workaholic architect who discovers a remote control that allows him to fast forward and rewind to different parts of his life. Hasselhoff will play Sandler's boss in the movie, and Beckinsale is the female lead. Mark O'Keefe and Steven Wayne Koren wrote the script, with Tim Herlihy rewriting.
BlackFilm.com has posted an image from Robert Rodriguez's "The Adventures Of Shark Boy And Lava Girl In 3-D."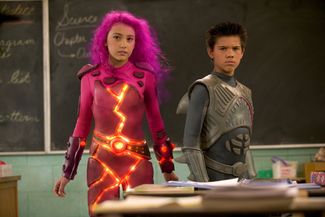 The film written and directed by Rodriguez stars David Arquette, Kristin Davis, Cayden Boyd, Jacob Davich, Taylor Dooley, and George Lopez.
The story centers on a 10-year-old outcast shunned by classmates and forced to spend summer vacation alone. With his two imaginary friends (Shark Boy and Lava Girl) he goes on a mission to prove dreams can become reality.
Shatner and Seven More Lend Voices to HEDGE
William Shatner, Nick Nolte, Steve Carell, Avril Lavigne, Catherine O'Hara, Eugene Levy, Wanda Sykes and Allison Janney will lend their voices to DreamWorks Animation's OVER THE HEDGE. Bruce Willis has already signed on to voice R.J., the raccoon, and Garry Shandling has agreed to voice Verne, the turtle.
The story centers on a mischievous raccoon and his sensitive best friend, a turtle, who with the other forest creatures find their woodland home being encroached by suburbia.
EDITOR'S NOTE: BE FOREWARNED THOUGH. THEY'RE GOING TO TRY TO MAKE IT MORE REALISTIC AND REPRESENTATIVE OF THE TIMES WE'RE LIVING IN TODAY. SO A WALMART MOVES IN, AND ALL BUT ONE OF THE LITTLE FURRY CRITTERS ARE SMOTHERED IN THE CONCRETE-POUR. (
EXCEPT FOR THE ONE TIT-MOUSE RELOCATED TO THE PC-PANDERING ACRE OF WILDLIFE REFUGE PURCHASED BY WALMART TO MOLLIFY THE WHINING ENVIRONMENTALISTS
).