OddsNEnds & Uncle Walt (catching up on Non-SW, quatre)
FANTASTIC Marketing on the Way

20th Century Fox's FANTASTIC FOUR "will benefit from an innovative and extensive cross-marketing program that leverages how important music and video games are to each other."
It has been announced there will be "games from Activision, a soundtrack from Wind-up Records that might include tracks from the game, action figures from Marvel's Toy Biz Worldwide subsidiary, and gameplay and music videos under consideration as bonus features on the eventual DVD release from Fox Home Entertainment."
Four bands (Taking Back Sunday, Jurassic 5, Explosion,and Go Betty Go) were hired to each write a song about a "Fantastic Four" character and these were combined with actual game footage for music video style trailers.
In addition, Toy Biz will release an extensive action figure line.
Sex & Sci-Fi & Rock 'n Roll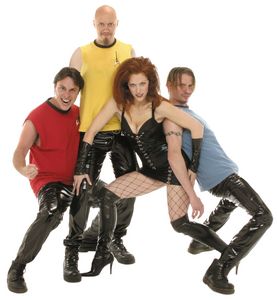 EDITOR'S NOTE: THERE ARE FEW THINGS (IN

THIS

GALAXY, ANYWAY) SCARIER THAN A MERGING OF STAR TREK AND SOFT-CORE PORN. MAKES MONASTICISM AND CELIBACY COME

ALIVE

AS AN OPTION, EH?
Get out your Parental Advisory stickers – Warp 11's new CD has been assimilated from all things STAR TREK into a massive powerblast of sex, sci-fi, and rock 'n roll.
Based in Sacramento, California, Warp 11 has made the rounds of science fiction conventions, including a live concert featured in the movie TREKKIES 2. Comprised of Chief Engineer Brian Moore (vocals, guitar), Captain Karl Miller (vocals, bass), Chief Science Officer Kiki Stockhammer (vocals, keyboards), and Chief Medical Officer Jeff Hewitt (vocals, drums), the band's third album,
Boldly Go Down On Me
,
EDITOR'S NOTE: OH DEAR ME
continues the group's exploration of high-energy punk-based rock and roll fueled by explicit lyrics and a healthy dose of testosterone-amped-up STAR TREK mythology,
EDITOR'S NOTE: BACK THAT UP A SEC. TESTOSTERONE AND STAR TREK? MUTUALLY EXCLUSIVE? DISCUSS.
with songs as provocative as "Rage Against the Federation," "Welcome to Our Cube," "She Make It So," and the title track.
EDITOR'S NOTE: I HAVE NOT BEEN BRAVE ENOUGH TO CHECK OUT THE WEBSITE. CAVEAT SURFING.
http://www.warp11.com/
UPCOMING BABYLON 5 NOVELS:
Mongoose Publishing is proud to announce an agreement with Warner Brothers to produce an all new range of novels and graphic novels for Babylon 5. They promise some exciting tales lined up, delving into never-before- explored areas of the Babylon 5 universe and expanding the storyline beyond the TV series. Releases will begin appearing in Q4 2005.
EDITOR'S NOTE: NOTHING LIKE STRIKING WHILE THE IRON IS STONE-COLD. I WONDER IF THE BRAIN TRUSTS HERE WILL WAKE UP TO MAKING SOME MORE B5 TV, ONCE THEY REALIZE THE BOOKS KINDA PIGGYBACK ON THE SHOW ITSELF?
GALACTICA – SEASON ONE Soundtrack Announced

La-La Land Records announces its upcoming summer 2005 release of BATTLESTAR GALACTICA: THE SERIES - SEASON ONE. "A knockout collection of the best musical moments from the first season of the smash hit Sci Fi Channel television series," says the label. Also coming later this summer, FARSCAPE CLASSICS: VOLUME TWO - another special, Limited Edition release of two more complete episode scores from the series.
www.lalalandrecords.com
Theron Lends Voice to "Flux" Game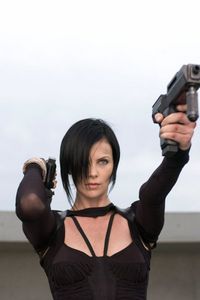 Charlize Theron will provide her voice and likness to Majesco's "Aeon Flux" video game.
The game, which is actuall a prequel to the film, will link together the animated TV series and the live-action movie that will be released this fall. The game will "introduce new action elements, including speed stealth attacks and the ability to slow time through 'flux,' which will enhance the player's arsenal of high-tech weapons and gadgets."
Technicolor, studios in d-cinema deal
Marking a significant step forward in the rollout of digital cinema,
Walt Disney Studios
,
Warner Bros. Pictures
and
Sony Pictures
have signed a deal with
Thomson's Technicolor Digital Cinema unit
, which will facilitate their transition to d-cinema.
Joe Berchtold, president of
Technicolor Electronic Content Distribution Services
, will manage the process for the studios. Berchtold and Technicolor declined comment, and none of the studios would confirm the development, but according to multiple sources, Technicolor is set to play the role of third-party integrator and will develop a proposed economic model into a full-fledged business plan.
The plan is expected to include specifics about financing, usage and equipment, among other details.
Just as significantly, the deal would allow the technology company to approach other studios that have not yet signed up -- chief among them
Universal Pictures
and
20th Century Fox
-- to encourage them to join the three studios.
All the studios have avoided dealing directly with each other out of concern of running afoul of antitrust regulations
EDITOR'S NOTE: IN OTHER WORDS, HOW DO WE MAKE THIS TECHNOLOGY PAY BY ALL THE CORPORATE GIANTS PLAYING BALL, BUT WITHOUT THE APPEARANCE OF COLLUSION?
Awards shows need to attract more fans
By Robert J. Dowling, editor-in-chief and publisher
When you go to the racetrack, the horses are always fun to watch, but by the eighth race they all seem to look the same.
Put a bet on a horse, and all of a sudden your interest goes up substantially.
Buy a horse and your mind will be devoid of anything else when it is racing because you have invested in the process.
A few weeks ago I moderated a panel featuring nine actors and three producers from ABC's big hit "Lost" as part of the Museum of Television & Radio's annual William S. Paley Television Festival. To the 650 hooting and hollering "Lost" devotees who paid $29 to get in -- some even waited as long as 12 hours in the DGA's lobby to buy tickets -- this event was the equal to owning the horse.
Nothing else was on their mind. Introducing the cast members was like introducing the Lakers at the NBA Finals.
Afterward, more than half of the audience in the DGA Theatre stampeded down to the stage for autographs and pictures.
I was told by the festival organizers that the crowd for the "Desperate Housewives" panel a few days earlier was even more enthusiastic.
This only goes to prove, beyond any doubt, that a hit TV show is a cultural phenomenon like nothing else. The fan-atics can't get enough.
It's the same with feature films. During a panel last month at the ShoWest convention in Las Vegas, a speaker told the crowd that the first "Lord of the Rings" film spawned some 430 fan Web sites. With "The Lord of the Rings: The Return of the King," the number soared to a staggering 340,000 (that's thousand) sites.
The message from all this is clear: People love movies and TV programs, and they'll go to any extent to manifest that devotion any way they can. It's the stuff that fuels the entertainment industry.
It's fandom that creates a market for "director's cut" DVD box sets and puts "The Incredibles" characters on Pop Tarts boxes and on and on.
EDITOR'S NOTE: PLUS, FOOD TASTES BETTER WHEN A MOVIE CHARACTER'S FACE IS ON THE BOX. (WELL, IT DOES).
So why is it, then, that even the rabid fans don't seem to care much about the industry's premier awards shows? Ratings for this year's Golden Globes and Grammy telecasts were down sharply; viewership of the Oscars dropped off by about 2 million from last year, when it was a coronation for "Return of the King" as best picture.
But isn't something wrong if it's clear that fans care so much about entertainment product yet care so little about the awards? That seems kind of like loving horse racing but not caring about the Kentucky Derby. If you had a horse running you wouldn't miss it, unless you just didn't like the whole Derby experience.
Maybe the biggest problem with awards shows these days is that even the fans have decided they just don't like the experience. And maybe that's because there's too much attention paid to the all the hoopla surrounding awards and not enough to the product that's being honored.
Before and after the Oscars, all I read and heard about was length of the show, the choice of Chris Rock as host and its wobbly ratings.
During the ceremony, awards were given out in the aisle, and nominees ganged up on stage. Neither worked.
What was missing for me was the celebration of the films. Where were the clips? The behind-the-scenes glimpses of the making of the films? Where were the anecdotes about the craftsmanship that went into each frame?
To tighten up the Primetime Emmy Awards show, the Academy of Television Arts & Sciences was prepared to drop the awards for writing and directing in the movie and miniseries field from the main live telecast, along with some other award categories.
That brought an understandable outcry from the WGA and DGA. So the academy came up with a compromise to prerecord the nominees' acceptance speeches in all writing and directing categories so that the winner's tape can be played as he or she walks to the stage to collect their statuette.
As viewers, we all know that most nominees have a slip of paper in their pocket with a speech scratched out in advance. When and if they do hear their name called, most winners go to pieces, on live television. But imagine taping your comments days before you know whether you've won or not. All spontaneity is lost.
I don't think the way to draw more fans to awards show telecasts is to hurry up the writing and directing winners. Those two disciplines are the lifeblood, the essence of filmed entertainment.If anything, awards show producers should look to use the telecast to illuminate the role that writers and directors play so that the public gains more recognition of all craftspeople.
Instead of the WGA and DGA accepting the television academy's compromise, there should be a committee formed with representatives from each of ATAS' branches to figure out how to make the show all about the product.
When the consumer truly knows who made their favorite show and what it took to get it made, the fan-atics and many more will care about who wins the awards.
EDITOR'S NOTE: EXCELLENT POINTS. ALTHOUGH DUMBING IT ALL DOWN IS THE NORM NOWADAYS, AND THESE SUGGESTIONS WILL LIKELY FALL ON DEAF EARS. (NOT TO BE CYNICAL, BUT THE ONLY THING DUMBER THAN LARGE NUMBERS OF TODAY'S AUDIENCES ARE THE ASSUMPTIONS MADE ABOUT THOSE AUDIENCES BY THE PROGRAMMERS).
BMW MORPHS ONLINE FILM CONCEPT INTO COMIC BOOKS
Employs Top Industry Artists to Create Car-Centric Graphic Novels
BMW of North America, which scored a major publicity coup with its groundbreaking online film series The Hire, has turned the story line's Driver character into a branded entertainment comic book series.
BMW contracted with the industry's top comic book artists for the series.
The idea was that if Hollywood has been able to harness the appeal of comic books to lure moviegoers into theaters, why not use graphic novels to bring buyers into BMW showrooms?
Top industry artists
And just as the film series turned to top Hollywood directors such as Tony Scott (Top Gun), John Woo (Mission: Impossible 2) and John Frankenheimer (Ronin), the comic books recruited stars in the comic book world, including Kurt Busiek (Conan), Steven Grant (X-Men, Mage), Katsuhiro Otomo (Akira), Mark Waid (Kingdom Come), Karl Kesel (Fantastic Four) and Ariel Olivetti (Avengers). Matt Wagner (Grendel) wrote and drew the first comic, dubbed Scandal, in which the Driver is hired to sneak a rich man's spoiled daughter out of town.
Fallon, MinneapolisBMW's ad agency, Publicis Groupe's Fallon, Minneapolis, one of the key architects of the online films, handled the comic book project as well.
Last year, the automaker signed a deal with Dark Horse Comics to publish six comic books based on the character, played in The Hire shorts by Clive Owen (Closer, The Bourne Identity) as a mysterious driver who is thrown into comedic or dangerous situations thanks to his passengers.
Each installation of the comic book series features a single model vehicle that's recognizable as a BMW, but purposely futuristic.
The fourth installment of the series, Tycoon, went on sale in mid-March. Its plot revolves around an international entrepreneur who is saved from enemies by a protagonist, the owner of a futuristic-looking BMW sedan. Award-winning comics writers Mr. Busiek and Mr. Grant penned the latest story, featuring the handiwork of artist Francisco Ruiz Velasco.
Artist dos and don'ts
Artists were given a few dos and don'ts, such as avoid fiery deaths in cars, especially in a BMW,
EDITOR'S NOTE: YEAH. I CAN SEE WHERE THAT MIGHT BE SOMETHING BMW WOULD WANT TO AVOID. GIGGLE...
and not to define the Driver character to much and leave him mysterious.
"
This type of comic material is very hot right now
," said Dark Horse President Mike Richardson, whose Milwaukie, Ore., company also publishes Sin City and its best-selling Hellboy line –- both of which have been adapted as movies. Dark Horse's readership is typically made up of 18- to 25-year-old males -- a demographic of particular interest to BMW.
These readers like "condensed reading," said Jim McDowell, BMW's longtime vice president of marketing who moved to run sibling Mini USA April 1.
So far, BMW is pleased with the unusual marketing effort.
"
We do a number of really fun, controlled experiments, and this has really met our expectations,"
said Mr. McDowell, who was also behind launching BMW's online film series.
BMW gets comic book royalties
He added that the comic book series hasn't cost the automaker very much, if anything. That's because BMW gets royalties from every issue sold.
EDITOR'S NOTE: CLEVER CLEVER CLEVER. IF ANY OF

MY

AD CLIENTS WERE THIS SHARP, I MIGHT STILL BE ENJOYING WORKING IN ADVERTISING.
Each issue has a publishing run of between 20,000 and 30,000 copies, retailing for $2.99 each. On a retail site owned by Dark Horse's Mr. Richardson, Things From Another World or tfaw.com, buyers can get 10% off the third and fourth issues. The titles are also available at some 3,500 specialty stores across the country.
Dark Horse is the nation's fourth-largest comic book publisher. BMW let the company decide how many units of the books to publish and how to promote the series. Beyond its own Web site, BMW did not develop other integrated marketing efforts around the comics.
Bound paperback compilation planned
The first issue debuted last August. Dark Horse Comics will offer a bound paperback compilation of all six issues later this year at bookstores. BMW's short film series, which launched online in 2001, still plays on BMWFilms.com. All eight films are also available on DVD.
The marketer spent $161 million in measured media in 2004, according to TNS Media Intelligence.
Ian Beavis, a veteran auto ad executive who now runs his own marketing consulting firm, called BMW's comics "cool," saying they would appeal to a younger crowd. But while comics are currently a hot commodity, he doesn't believe the automaker's comic books will generate the same kind of buzz and emotional connection that its online film series did.
EDITOR'S NOTE: MEANWHILE, MR. MARKETING CONSULTANT (
THOSE WHO CAN, DO; THOSE WHO CAN'T, CONSULT
), MEASURED MEDIA AVENUES ARE RAPIDLY LOSING GROUND TO THE TECHNOLOGY AIMED AT COMPLETELY SKIRTING ADVERTISING. AND BMW'S TARGET AUDIENCE IS AMOST CERTAINLY IN THE FOREFRONT OF THAT TECH-SAVVY CROWD. AT LEAST BMW IS OUT THERE TRYING NEW THINGS, AND NOT FLOCKING LEMMING-LIKE FROM THE SAME CLIFF SO MANY OTHER ADVERTISERS ARE CURRENTLY FLOPPING OFF.
AND YES, I'M BITTER. BUT THE DEATH OF CREATIVE THINKING (AND THE MALIGNING OF ITS FEW REMAINING DISCIPLES BY LESSER LIGHTS) DOES THAT TO ME.
HARUMPH.
Study: Gamer Demo Expands Beyond Core Males
The gamer demographic is expanding beyond its core young male audience to include more women and older adults, and video games in general are becoming far more pervasive as the medium approaches mass market status, according to a Benchmark study released Thursday by Nielsen Entertainment's Interactive Group.
EDITOR'S NOTE: SOMETHING THAT'S BEEN GOING ON FOR QUITE SOME TIME. NICE OF THE RESEARCH TO FINALLY CATCH UP, EH?
The results of the study may go along way toward diminishing the gamer geek stereotype.
Among the more eye-opening statistics:
nearly 40 percent of gamers are female, and nearly a quarter of gamers are over the age of 40.
EDITOR'S NOTE: OF COURSE, THEY NEED TO COME WITH SHIELDS FOR THE CONSOLES FOR WHEN GEEZERS START TO DROOL ON THEIR JOYSTICKS. (SO TO SPEAK....)
These expanding demographics may be the result of video games' ubiquity.
According to the study, roughly 40 percent of U.S. households own at least one of the three major gaming devices: personal computers, home consoles (like Xbox or Play Station 2 ) or a handheld devices. A sizable number of obsessive gamers appear to be platform agnostic, as 23 percent reported owning all three types of devices.Consoles are the most popular: 89 percent of those who report having a gaming device own a console, versus 65 percent for PCs and 36 percent for handhelds.
Overall, active gamers are quite active, according to the study. Typically most spend approximately 5.2 hours per week playing by themselves
EDITOR'S NOTE: GIGGLE. YES, WELL THAT EXPLAINS THE DROOL ON THE JOYSTICK, I GUESS. (SORRY).
and over three hours playing socially.
Interestingly, women tend to spend more of their game time playing with friends and family, while both men and women over the age of 45 spend the vast majority of their gaming time playing alone.
Spending on gaming products is a still concentrated among males, who report shopping for games to be just behind buying DVDs as far as where they spend the most money per month. For both African-Americans and Hispanics, games and mobile services are ranked number one in monthly spending, perhaps indicating an underserved market.
The Benchmark study, the first of its kind for Nielsen Entertainment's Interactive Group, surveyed 1,500 respondents via random digital dial frame during January and February 2005 .
Nielsen plans a second installment for release in third quarter of 2005.
Women Outnumber Men Online
Women continue to outnumber men online, and the gap should continue to expand, says a new report from eMarketer.
Having exceeded the male online population as of 2002, women accounted for nearly 52 percent of Internet users in 2004. eMarketer estimates 87.8 million women were online in 2004, versus 82.3 million men.
While the 2004 figures closely represent the current U.S. general population disparity, by 2008, women are projected to account for 53 percent of the online population, outnumbering men by roughly 10 million users.
"
While the ratio of females to males in the general population is expected to hold steady through 2009, that won't be the case on the Internet,
" said eMarketer Senior Analyst Debra Aho Williamson, the report's author. "
Cultural, societal and Internet business trends are combining to shift the balance toward women. Because of these factors, eMarketer projects that the female majority online will become more pronounced over the next five years --and that will have a transformative effect on content, commerce and marketing."
As late as 1997, males made up 65 percent of all Internet users.
EDITOR'S NOTE: WE'RE NUMBER 1! WE'RE NO.1!!
WALT AND HIS PUBLIC


What did Uncle Walt have to say about the people who loved his work?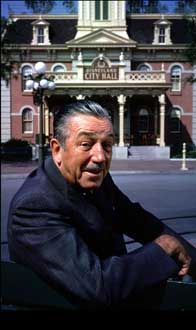 Walt Disney in the Happiest Place on Earth: He couldn't have done it without people like you.
EDITOR'S NOTE: AWW SHUCKS. IT WEREN'T NOTHIN, REALLY.
With Disneyland's 50th Anniversary celebration gathering steam, we at the Insider
(EDITOR'S NOTE: THE DISNEY INSIDER MAGAZINE)
thought it would be nice to take a moment to reflect on the guy who started it all.
Walt Disney is widely known as a dreamer and an innovator, an idealist who followed his vision to create wonderful things.
EDITOR'S NOTE: AND ALSO AS A HOMOPHOBE AND A ANTI-SEMITE....... BUT HE'S DEAD, SO WHAT THE HECK.
But it's easy to forget one important piece of the pie - Walt's dreams were about delighting people - children and adults alike. And he never forgot how important his public was. He wanted his movies, his television shows, and most especially his beloved Disneyland and the parks that followed, to please everyone as much as they pleased him.
We'd like to share with you some of Walt's words, courtesy of the Walt Disney Family Museum, on the importance of his public.
Throughout his life, Walt Disney always valued the response of his audience, and went to great lengths to understand what the people wanted to see, and how he could stay in close touch.
Here are some quotes from Walt on his public:
'
The Key Is the Public'
"
The public has been my friend. The public discovered Mickey Mouse before the critics and before the theatrical people. It was only after the public discovered it, did the theatrical people become interested in it; and did the critics become interested. Up to that time, the critic wouldn't have bothered using any space, you see? So it all comes down that newspapers and people who write for newspapers are only interested in people after the public is interested. The key to it is the public."
'The Spirit of Adventure'
"
I go right straight out for the adult. As I say, for the honest adult. Not the sophisticates. Not these characters that think they know everything and you can't thrill them anymore. I go for those people that retain that something, you know, no matter how old they are; that little spirit of adventure, that appreciation of the world of fantasy and things like that. I go for them. I play to them. There's a lot of them. You know?"
EDITOR'S NOTE: AND HERE WE ARE!!! WOOHOO!!! DWEEBS ROCK.
'Direct to the Public with Television'
"
I have more latitude in television than I ever had before. If I had an idea for something, I had to then go and try to sell it to the distributors, to the theater men, and everyone else. With television, I just get my gang together and we say we think that will be something interesting -- let's do it. And I go direct to that public."
'The Park Reflects What People Like'
A picture is a thing that once you wrap it up and turn it over to Technicolor, you're through. EDITOR'S NOTE: UNLESS YOU'RE UNCLE

GEORGE

, THAT IS. The last picture I just finished, the one I just wrapped up a few weeks ago --- it's gone. I can't touch it. There's things in it I don't like. I can't do anything about it. I wanted something live. Something that could grow. Something I could keep plussing with ideas. The park is that. Not only can I add things, but even the trees will keep growing. The thing will get more beautiful every year. And as I find out what the public like or they don't like, I have to apply that to some other thing. I can't change that picture. So that's why I wanted that park."
'Words of Inspiration'
"
We're finding some wonderful words of Mr. Lincoln that are still prophetic today. And I think it's going to be a great moment for the public when they can sit and hear Mr. Lincoln talk about some of the things. What is Liberty? You know? The rights and the obligations that we have and all of that. I think it's needed today, too."