TV or NOT TV. Yes, TV (catching up on NON-SW, tres)
'Mars' lands 2nd season; ABC to keep 'Anatomy' in place
There's no mystery about it: UPN has given a vote of confidence to its buzzworthy but ratings-challenged freshman drama "Veronica Mars" by handing the Warner Bros. TV series an early renewal for a second season.
EDITOR'S NOTE: OK I'M WEEKS AND WEEKS BEHIND WATCHING MY TAPED EPS OF THIS, BUT THIS RENEWAL IS EXCELLENT NEWS. IF YOU HAVEN'T BEEN WATCHING THIS SHOW, I HIGHLY RECOMMEND IT. NOT YOUR TYPICAL TEENYBOPPERY THING AT ALL. (
CAUSE WE

KNOW

I DETEST ANYTHING THAT REINFORCES MY NATURAL BITTERNESS AT YOUTH AND BEAUTY
).
Meanwhile, ABC on Friday demonstrated its faith in its highly promising midseason entry "Grey's Anatomy" by confirming that the medical ensemble drama that has taken off behind "Desperate Housewives" on Sunday will remain in that slot for the rest of the season, displacing another freshman drama, "Boston Legal." "Legal," however is assured of returning in the fall by an early pickup ABC gave the David E. Kelley/20th Century Fox TV drama last week.
THRESHOLD:
David Goyer, co-creator of CBS' SF television pilot THRESHOLD, said in a recent interview that the show's premise involves a new kind of alien invasion.
"
It's an interesting one-liner. It has to do with an alien invasion, but you never see the aliens. It's a very novel approach to an alien invasion story, because they're invading us through our DNA. They're bio-forming us. They're altering us."
EDITOR'S NOTE: IF THIS DNA BIO-FORMING MAKES ME TALLER AND THINNER, I SAY '

GO

FOR IT, ALIENS'!
Goyer said, while promoting the DVD release of his BLADE: THE TRINITY, that the idea of the series is based on an obscure scientific fact. "
Something like 80 to 90 percent of our DNA is junk DNA,"
he said. "
We don't know what it does. And the aliens have figured out a way to activate it and are slowly, literally, changing our chromosomes. They're basically, over the course of generations, turning us into them. Along with that they've got genetic racial memories, things like that, that they're starting to implant in us."
Goyer will direct the pilot and serve as an executive producer on the series, alongside Brannon Braga (Star Trek: Enterprise)
EDITOR'S NOTE: OH NO. AND IT SOUNDED LIKE SUCH A CLEVER IDEA. BUT BRAGA IS SORT OF NOTORIOUS FOR TURNING CLEVER INTO MUSH. DRAT.
and David Heyman (the Harry Potter films).
Goyer said he has been involved in every aspect of the series so far, from writing to casting to editing. "
I did all of that
," he said. "
I ended up doing a draft of it with Brannon. I was the one that set it up at the network, and then we brought Brannon in, and he and I wrote it, and he and I cast it, along with David Heyman. We did the whole thing."
Although CBS has not officially made a commitment to the series, Goyer is optimistic that the show will be on the network in the fall. "
We'll know for sure in about five weeks
," he said.
DOCTOR WHO APOLOGY:
The BBC issued an unusual apology to Christopher Eccleston for mischaracterizing his reasons for departing the BBC's DOCTOR WHO series. The BBC said that it failed to consult Eccleston before confirming the actor's departure and that it erroneously attributed statements to the actor that he was leaving because he feared being typecast and found the show's schedule grueling.
In fact, the BBC reported, the network broke an agreement with Eccleston not to reveal that he had planned to film just one season of the hit show all along.
"
The BBC regrets not speaking to Christopher before it responded to the press questions on Wednesday 30 March,"
the BBC's head of drama and commissioning, Jane Tranter, said in a
statement. "
The BBC further regrets that it falsely attributed a statement to Christopher and apologizes to him."
A second season of the new DOCTOR WHO has already been ordered. The BBC confirmed that
it is in talks with actor David Tennant as a possible replacement for Eccleston.
EDITOR'S NOTE: I BELIEVE TENNANT HAS BEEN CONFIRMED, ACTUALLY.
LOST:
While ABC has ordered up a second season of LOST, it will come to the airwaves without David Fury, a key writer and co-executive producer. Fury is quitting the show immediately to work on two other series, THE INSIDE and 24, and maybe develop a show on his own.
Fury said, "
I'm very proud of Lost and my contribution to the show, but for numerous personal reasons, I feel like it's time for me to move on to other things."
He added, "
I spent seven years of my career in one place [working on Buffy and its spinoff series, Angel], and it's a lot of fun to work in different worlds. LOST was a lot of fun, and I have a great deal of gratitude for [series co-creators] J.J. [Abrams] and Damon [Lindelof]. I know the show will continue to be great, and I look forward to viewing it.
"
Fury will reunite with his former Whedonverse colleagues at THE INSIDE, a Fox drama co-created by Tim Minear (Angel, Wonderfalls) and Howard Gordon (Angel, 24). "
I'll be starting this Monday [April 11],"
Fury said. "
I'm very excited about it. Tim and I have been anxious to work on something
together, and this was a nice opportunity. I had wanted at the very
least to write a script for him, but there was a lot of backstage goings on with Tim and Howard, and they made it happen for Fox to bring me over. I'll be a full-time co-executive producer for the remaining six episodes left in [The Inside's] 13-episode order. Then, as soon as I'm done with that, I'll be going over to 24. I've been playing in the genre world for so long now, it will be
interesting to go over there."

EDITOR'S NOTE: I HOPE THIS DOESN'T AFFECT THE QUALITY OF WRITING ON "LOST".



Sundance puts 'Slings' on center stage
Sundance Channel said Wednesday that it has acquired U.S. pay TV rights to the Canadian comedy-drama series "Slings and Arrows," which focuses on the inner workings of a dysfunctional Shakespearean theater festival.
EDITOR'S NOTE: POSSIBLY REDUNDANT?
Sundance has acquired rights to the first two seasons -- consisting of six episodes each -- and prebought rights to the yet-to-be-produced third season -- also six episodes.
The deal marks the first series acquisition since Laura Michachyshyn joined the network as executive vp programming and marketing in January. "Slings," which premieres on Sundance in August, is airing on the Movie Network, Showcase and Movie Central in Canada.
'West Wing' campaigns for a new president - and viewers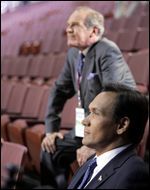 By
Gloria Goodale
Staff writer of The Christian Science Monitor

Television's long-running political drama, "The West Wing" is undergoing a makeover, courtesy of the US Constitution. President Josiah Bartlett, played by Martin Sheen, is nearing the end of his second term in office so the show is preparing for a new administration. The current plotline concerns the early part of the election cycle, including party conventions.
"West Wing," a hit when it debuted in 1999, has languished in the ratings in recent years. Some observers suggest the show and its fictional liberal administration are a relic of the Clinton era.
Others contend that it still has something to offer.
EDITOR'S NOTE: THIS SHOW, WHILE NOT AS CEREBRAL AS THE SORKIN YEARS, HAS BEEN RIP-ROARING FUN AND EXCITING. (IMHO....)
For their part, the producers are hoping that the spark-filled convention in next week's season finale and the possibility that a Hispanic (played by Jimmy Smits) will be elected president will return the drama to the forefront of popular culture.
Those involved with "West Wing" also hope the suspense over who will be elected will have viewers tuning in, not just for the horse race but to hear topical debates about important issues - something that distinguished the show from the start.
"
What we try to do is present the issues which our leaders are having to deal with, and show both sides of them,"
says producer John Wells. "
You try to show both sides so that the arguments are compelling and the points of view are not ridiculed."
This is the sort of high-minded exercise that makes the show unique, says Smits, who plays a Texas congressman vying for the top of the Democratic ticket. If nominated, he will run against the Republican candidate, played by Alan Alda. "
It's been a civics lesson for me in a lot of ways,"
says Smits. "
I love the research part of this job."
The actor also enjoys the sense of having an impact on important discussions in society at large.
A recent "West Wing" story line, he recalls, dealt with the controversial issue of whether illegal immigrants should receive driver's licenses. He recently talked to a Californian politician who commented on the plotline.
"
When you hear that, you feel that besides giving entertainment value, you could affect people in a positive way,"
he says.
EDITOR'S NOTE: I HATE TO SAY IT, BUT OFTEN THERE ARE MORE COGENT DISCUSSIONS ABOUT IMPORTANT ISSUES ON THIS SHOW THAN IN ANY OF THE NEWS SOURCES I REGULARLY READ. SOME OF THE DEBATES WITHIN THE CONTEXT OF THIS FICTIONAL PROGRAM ARE MORE HELPFUL IN UNDERSTANDING IMPORTANT ISSUES THAN ANYTHING ON THE 'REAL' NEWS.
Unabashed earnestness as well as a willingness to think big have been a part of the show's appeal from the start.
"
'West Wing' came up with a way to talk about national politics with vision and vocabulary that allowed sincerity, without any post-Watergate, post-Monica Lewinsky irony
," says Robert Thompson, director of the center for the study of popular TV at Syracuse University in New York. Although the show centers around a Democratic administration, its broader appeal originated in creating a fantasy world in which political leaders acted in the noble fashion portrayed on the show, he says.
Some suggest that this idealized view of politics played well to audiences when "The West Wing" debuted in the go-go 1990s, but they argue that the show is no longer relevant in today's greatly changed post-9/11 world.
"
In 2005, our tolerance for points of view that represent the enemy is much lower,"
says Steffen Schmidt, a political scientist at Iowa State University. "
Our culture has deteriorated into conflict and confrontation."
EDITOR'S NOTE: ALL THE

MORE

REASON TO HAVE AT LEAST ONE PLACE WHERE THESE CLEAR-EYED, LUCID DISCUSSIONS ARE TAKING PLACE.
The professor, who has hosted a national political radio show for 16 years, feels acutely the political divide in the nation today. "
I almost quit my show two weeks ago, because of the level of acrimony in calls. The effort to belligerently accuse me of being a sympathizer with the enemy [has] reached a level I haven't seen in more than 16 years."
"West Wing" may never return to its former position in the popular culture, says Nancy Snow, a professor of communications.
Her students at California State, Fullerton, aren't interested in watching shows that challenge their point of view, she says.
"Here's a show that you'd think could dramatize and highlight all the important issues of our day,
" she says, but people aren't looking for a dialogue.
"
We're in a period in general of not wanting to reach across the aisle,"
says Professor Snow.
"We're in a very different America now than just six years ago,"
she says, "and
I don't see how it could possibly go back to where it was."

EDITOR'S NOTE: MAYBE BY WATCHING PEOPLE HAVING REAL DIALOGUE? (OR IS THAT NAIVE)? COULDN'T HURT, RIGHT?



Anime titans join forces for new series
Toonami joint venture announced
It was announced last week at the Tokyo Anime Fair that three of the biggest names in anime will unite to produce a new anime series.
The Cartoon Network has had phenomenal success with their Toonami block of programs, which brings Japanese animated series into American homes on a regular basis. Now Cartoon Network will be co-producing a new original series with Bandai Entertainment and Production I.G., one of Japan's leading anime studios. The series will use a melding of traditional animation techniques and CGanime, much like other new cutting edge anime projects.
The new series' odd title IGPX refers to 2048's most popular sport, a form of racing so humongous that a special city has been built around it. The rookie heroes of Team Satomi drive hi-tech fighting mech suits against other teams at incredible speeds in extremely dangerous races leading up to the "Immortal Grand Prix".
The partnership was tested in 2003 when Production I.G. produced five IGPX shorts to be shown during Toonami, which are now available for download on the Toonami Digital Arsenal website [
http://www.toonamiarsenal.com/
]. The full series is set to debut in the Fall of 2005.
EDITOR'S NOTE: AND HERE'S A PRESS RELEASE FROM MY NEW SOURCE INSIDE THAT BASTION OF POINTLESSNESS, THE SCIFI CHANNEL. MAYBE THEY'RE GOING TO BECOME RELEVANT TO DWEEBING AGAIN SOMEDAY?
SCI FI REVS UP PILOT PRODUCTION
WITH AGGRESSIVE SLATE OF ORIGINALS
SCI FI Channel, already an industry standout for its high-quality original series,
EDITOR'S NOTE: SAYS THEM!
announced today new additions to its series development slate for '06-'07.
Coming off the red-hot premiere seasons of
Battlestar Galactica
and
Stargate Atlantis
, SCI FI will add to its roster of acclaimed scripted dramas, miniseries and next generation alternative series (
Tripping the Rift, Ghost Hunters
), new projects from luminaries in film, television and literature.
EDITOR'S NOTE: BLAH BLAH BLAH....
SCI FI's new development slate expands the reach of both the Channel and the sci-fi genre by incorporating the broad, mainstream appeal of fantasy, adventure and alternative reality.
Highlights include a new series based on the incomparable life and work of celebrated author Shirley Jackson, to be executive produced by two-time Academy Award-winner Michael Douglas.
Projects include:
Scripted Series

UNTITLED MICHAEL DOUGLAS PROJECT

Desperate Housewives
meets
The Twilight Zone
in this merging of the life and work of the late, celebrated author Shirley Jackson (
The Haunting Of Hill House
). Storylines and themes from Jackson's catalog of supernatural short stories will be woven into her real life experiences--as told in her non-fiction books
Life Among the Savages
and
Raising Demons
. This series will reflect Jackson's spirited family life and her transition from urban mom to small-town matriarch. Executive produced by Academy Award-winning actor/producer Michael Douglas (
Wall Street, Traffic
); Alan Brennert (
Stargate Atlantis
) is on-board to write.
HEROES ANONYMOUS
Based on
Heroes Anonymous
, the popular comic books created by Scott Gimpel and Bill Morrison and published by Matt Groening's Bongo Comics, this live-action one-hour series lives in the world of
The Incredibles
and
Spiderman
- a modern-day big city where superheroes are a part of everyday life.
Heroes Anonymous
follows a group of twentysomething aspiring superheroes that form a support group to help them cope with the nearly impossible task of trying to discover their own identity, while carving out their secret identity.
EDITOR'S NOTE: IF SUPERHEROES ARE EVERYWHERE, WHY DO THEY NEED SECRET IDENTITIES?
Produced by NBC Universal Television Studio and Bender-Brown Prods, the series will be Executive Produced by Lawrence Bender (
Kill Bill Vol. 1&2, Pulp Fiction
), Kevin Brown (
Legend of Earthsea, Roswell
) and Karl Schaefer (
The Dead Zone
). Gimpel and Morrison will pen the pilot.
THOSE WHO WALK IN DARKNESS
Based on John Ridley's (
Three Kings, Third Watch
) best-selling novel of the same name,
Those Who Walk in Darkness
is a near-future drama about an expert team of S.W.A.T. police whose primary mission is to hunt down and capture rogue "Metanormals"- people who genetically posses superpowers. Along with high-octane action, we'll delve into the intense relationships, on the job and off, within this elite team.
EDITOR'S NOTE: SOUNDS LIKE AN "X-MEN" RIP OFF?
John Ridley will write and executive produce in association with NBC Universal Television Studio.
URBAN ARCANA
Cities across the globe have been invaded by creatures from a parallel world.
EDITOR'S NOTE: AND THEY'VE BEEN ELECTED TO HIGH GOVERNMENT OFFICES? (CAUSE THIS WOULD EXPLAIN QUITE A BIT).
These beings have crossed through a portal into the human sphere and don't plan to obey the laws of the land. Undercover detective Sean Mayhew must protect the human population from the influx of these chameleon-like, mythological creatures.
Urban Arcana
is based on a Hasbro/Worlds of Wonder role playing game. Aron Coleite (
Crossing Jordan
) will write; Gary A. Randall and Rockne O'Bannon (
The Triangle, Farscape
) will executive produce in association with Fox Television Studios.
EDITOR'S NOTE: ANY TIME ROCKNE O'BANNON IS INVOLVED, I HAVE AT LEAST A TWINGE OF HOPE. (ALTHOUGH, HIS EARLIER WORK INCLUDED "SEAQUEST")
TOMORROW'S CHILD
Horribly burned in an accident, a young girl is brought back to life by new "skin" of extraterrestrial origin. This new flesh gives the girl powers beyond human comprehension, and soon the government is on her trail, looking to make her its next guinea pig. As she travels the country in Fugitive fashion, she looks to discover the origin of her powers and seek out others like her.
EDITOR'S NOTE: HEY! A CHICK-EYE-VIEW, FOR A CHANGE!
Produced by NBC Universal Television Studio and Gary Foster's Horseshoe Bay Productions (
Daredevil, Elektra
).
TIME TUNNEL
In this updated interpretation of the classic 1960s television series created by Irwin Allen, a female scientist and a government agent find themselves trapped in time when an experimental time travel project is sabotaged.
Produced with Fox Television Studios and Kevin Burns and Jon Jashni of Synthesis Entertainment. Allen's wife, Shelia Allen will produce. Written by John Turman (
The Hulk
).
EDITOR'S NOTE: SHUDDER....
3:52
From distinguished television writer/producer John Tinker (
St. Elsewhere, L.A. Law, Judging Amy, The Practice
), comes a chilling human scenario. What if 2 billion people suddenly vanished off the face of the Earth? And nobody knew why? The ripple effect would be global and personal; religion and politics would change forever; families would mourn lost loved ones while scientists and conspiracy theorists would search for answers.
EDITOR'S NOTE: I GUESS IT WOULD DEPEND ON WHO HAS TO STAY AND WHO GETS VANISHED.
3:52 (the time of the disappearance) will examine the 'What If' of this event as told from the point-of-view of a small Maryland town.
Alternative/Reality

BARBARIAN CHRONICLES
What if
Lord of the Rings
met
Curb Your Enthusiasm
? The answer:
Barbarian Chronicles
.
This 1/2-hour animated series from Brendon Small, creator of the offbeat series strip
Home Movies
, is a fresh ensemble comedy set in a magical realm of swords, sorcery and - you heard it here first - Middle-earth metrosexuals.
EDITOR'S NOTE: OOO...I FEEL A TREMOR IN THE FORCE. EEK. REMEMBER THAT WELL-INTENTIONED FLOP ABOUT THE 'REAL' LIVES OF ROBIN HOOD'S BAND? DOUBLEEEK.
Executive produced by Small and David Letterman's Worldwide Pants, this series pulls back the curtain on a hilarious and heretofore unknown age of comedy.
SERIOUSLY BAFFLING MYSTERIES
It's Larry Sanders for the paranormal set. Supernatural investigative reporting gets a mockumentary makeover in this hilarious half-hour docu-spoof from FremantleMedia North America.
Series host Jonathan Frankle goes in search of the paranormal on a shoestring budget, but instead finds trouble with his producer and crew. Production chaos and behind-the-scenes dysfunction bleed into each episode - the make-up artist negotiates a raise using a voodoo doll, a Nostradamus prediction about the apocalypse causes administrative anarchy and an investigation into a legendary cannibalistic monster degenerates into a Survivor-like discussion about who among the crew would be voted onto the menu first.
EDITOR'S NOTE: THEY'RE GOING TO BROADEN THE VIEWER BASE INTO HIPNESS OR DIE TRYING, HUH?
DALLAS IN WONDERLAND
This one-of-a-kind half-hour reality series, hosted by the irrepressibly vivacious British television star Dallas Campbell, follows one man's quest to achieve the impossible.
Our determined host leaves no stone unturned in his earnest attempts to succeed at a bizarre set of outrageous, self-inflicted sci-fi challenges. Some experiments seem vaguely possible, others are clearly impractical, and some are downright crazy - but all are ingeniously lofty.
Whether applying to NASA to fulfill his dream of space exploration or hitting up the Raelians for help with some narcissistic cloning, Dallas' hilarious never-say-die approach to a good challenge will feed the wanderlust in us all.
Executive Produced by R.J. Cutler's Actual Reality Pictures (
American High, 30 Days
).
MORE THRILLING SATURDAY NIGHTS ON SCI FI

28 Original Movies Planned for 2006
SCI FI is about to see even more action on Saturday nights. The Channel will supercharge Saturdays in 2006 with an unprecedented 28 original action movies - up from 2005's slate of 23.
SCI FI's March 26 premiere of
Alien Apocalypse
, starring Bruce Campbell, was the Channel's highest-rated Saturday actioner to date, delivering over 2.7 million viewers.
Campbell's next SCI FI project,
Man with the Screaming Brain
, will premiere in September.
SCI FI's Saturday movie franchise is the Channel's homage to the drive-in, a re-imagination of cinema's earliest sci-fi treats. Like the classic sci-fi fare of yore, the non-stop thrill rides offer honest-to-goodness escapist fun while simultaneously challenging the imagination.
In just one of next year's offerings, William Shatner brings his own brand of tongue-in-cheek charm to the fire-breathing alien flick,
Fire Alien
.
Other new projects for 2006 include:

GRYPHON
In this epic fantasy, a prince and princess from opposing sides of two warring kingdoms must join forces to defeat a mystical gryphon that was conjured by an evil wizard bent on bringing both their lands under his sinister control.
HEAT STROKE
Aliens are among us.
EDITOR'S NOTE: ENOUGH GOVT. JOKES?
And they have been making themselves at home by turning up the heat, resulting in massive global warming. Now, only one soldier stands in the way of complete global meltdown. SCI FI re-partners with
Farscape
executive producer David Kemper for this action adventure.
EDITOR'S NOTE: YOU CAN HIRE ALL THE EX-SCAPER PRODUCERS YOU WANT. UNTIL YOU ACTUALLY BRING BACK "FARSCAPE" (OR SOMETHING EVEN APPROACHING ITS CALIBER), YOUR DERRIERES ARE IN MY SIGHTS.
CITADEL
In a last ditch effort after D-Day, the Nazis unleash a killer beast in the mountains of Europe. It's up an elite corps of American soldiers to head into the remote area and destroy the creature before it kills its way through the continent. Corin Nemec stars.
EDITOR'S NOTE: COREY NEMEC. NUFF SAID.
BLACK HOLE TERROR
(Working Title)
EDITOR'S NOTE: NOT CHEESEY ENOUGH?
When a particle collider experiment goes wrong, a black hole forms. Growing steadily, it soon threatens to swallow the entire Midwest.
EDITOR'S NOTE: NOT THAT THAT'S A

BAD

THING....
Compounding matters, an energy creature emerges from the hole, interfering with scientists' efforts to seal the rip in the fabric of space and time.
Directed by Tibor Takács, the film stars Kristy Swanson and Judd Nelson.
EDITOR'S NOTE: I REST MY CASE. (ALTHOUGH, WHEN THE FABRIC OF SPACE AND TIME NEEDS SEALING, THESE ARE THE ONLY TWO PEOPLE I WOULD EVEN

THINK

TO CALL).
SQUID/TENTACLES
(Working Title)
EDITOR'S NOTE: SNORK.
Thirty years ago, Ray Reiter watched in horror as a giant squid attacked and killed his parents.
EDITOR'S NOTE: ON THE UPSIDE, THEY HAD CALAMARI FOR
DAYS.
The creature escaped, but not before young Ray destroyed one of its eyes. When the one-eyed beast re-emerges, attacking a crew of a treasure hunting expedition, Ray joins the team, in hopes of exacting his revenge.
EDITOR'S NOTE: VEER TO IT'S LEFTLEFTLEFTLEFT! NO, THE OTHER LEFTLEFTLEFTLEFT.
MAGMA
Things get hot, hot, hot
EDITOR'S NOTE: I HATE IT WHEN I SNORT IN DERISION SO HARD THAT I SPIT ON MY KEYBOARD. DON'T YOU?
when a covert government drilling project goes horribly wrong, causing the Earth's core to overheat.
EDITOR'S NOTE: BUT HEY. JUST ANOTHER DAY IN GOVERNMENT WORK!
Xander Berkley (
24
), Reiko Aylesworth (
24
) and Amy Jo Johnson (
Felicity
) star in this volcano disaster film.
SCI FI Channel is a television network where "what if" is what's on. SCI FI fuels the imagination of viewers with original series and events, blockbuster movies and classic science fiction and fantasy programming, as well as a dynamic Web site (www.scifi.com <
http://www.scifi.com/
>) and magazine. Launched in 1992, and currently in 84 million homes, SCI FI Channel is a network of NBC Universal, one of the world's leading media and entertainment companies.
EDITOR'S NOTE: LET'S SAY A BIG THANK YOU TO SCIFI FOR PROVIDING SO MUCH OF TODAY'S (UNINTENTIONAL) HUMOR!!