Harry Potter Harry Potter (catching up on non-Star Wars, uno)
EDITOR'S NOTE: WELL I SPENT A GOODLY PART OF LAST NIGHT ATTEMPTING TO CORRAL OUR HOUSTON DWEEBGANG FOR A JOINT VIEWING OF THE FIRST STAR WARS EPISODE 3 SHOWING. SO NOW I AM ALMOST IRREDEEMABLY INTO THE WHOLE SW THANG.
I DON'T THINK IT'S GONNA BE TOO LONG BEFORE I AM UN

ABLE

TO REPORT ON ANYTHING BUT STAR WARS.
SO LET'S GET IN SOME NONSW NEWS WHILE WE STILL CAN, EH?
First look at GOF: May 7th
It's the news we've all been waiting for!
Our first look at Harry Potter and the Goblet of Fire will be on May 7th during the network premiere of
Chamber of Secrets
, starting at 7 EST on ABC.
The interviews and clips pertaining to GOF will be scattered throughout the 3-hour time period, according to this press release:
As a special treat for "Harry Potter" film fans, this presentation will include interstitials throughout featuring an exclusive first look at film clips, cast interviews and behind-the-scenes footage from the fourth "Harry Potter" film, "Harry Potter and the Goblet of Fire," opening in theatres November 18, 2005.
Additionally, WB sent us
this end card
used for promoting the night.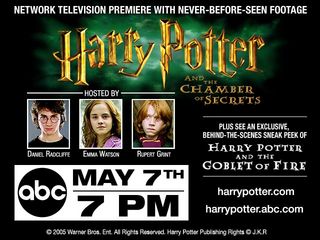 UPDATE:
DR.com was just given approval to post that the theatrical trailer for GOF will be shown in theaters starting on May 13th. Our guess is the trailer will be online then as well.
EDITOR'S NOTE: IS MAY NOT SIMPLY THE BESTEST MONTH IN THE WHOLE YEAR??!!! (
NOT TO MENTION, IT INCLUDES ODDBOB'S BIRTHDAY. NOT TO MENTION
).
HBP audio version due August 25th
The newly revamped Bloomsbury.com, as mentioned below, has informed us that the CD and cassette tape versions of
Half-Blood Prince
will be released on August 25th.
Presumably, the audio books will be once again narrated by Stephen Fry.
EDITOR'S NOTE: THIS IS THE BRITISH NARRATOR? (BECAUSE THE 'AMERICAN' NARRATOR IS JIM DALE, RIGHT?)
'Goblet' running time: 150 minutes?
The Internet Movie Database's listing for
Goblet of Fire
has the length
listed
as 150 minutes - exactly 2 1/2 hours.
EDITOR'S NOTE: NOT LONG ENOUGH, BUT AT LEAST IT'S LONGER THAN THE LAST ONE!
This is right in line with WB's original promise, so we expect this to be fairly accurate.
Coltrane: I may not play Hagrid again

EDITOR'S NOTE: SAY IT AIN'T SO!!!??
ROBBIE Coltrane has hinted that he may not re-appear as the lovable giant Hagrid in the next Harry Potter book to be filmed,
Harry Potter and the Order of the Phoenix
.
Coltrane, who next week returns to the Scottish stage for the first time in 15 years, has also revealed he would like to take part in productions with the new National Theatre of Scotland.
The actor, currently rehearsing for his role in Peter McDougall's
The Brother's Suit
, which is on at Oran Mor in Glasgow every day next week, said he was unsure whether he would rejoin the Potter franchise after this year's movie,
Harry Potter and the Goblet of Fire
.He has made the hefty role of Rubeus Hagrid his own since the JK Rowling books were first translated for the screen.
However, asked if he would be returning as Hagrid after this year's episode, he said:
"
It's open to negotiations . . . I know the answer and it's 'I don't know'. That's that."
He declined to comment any further on the future of the role, instead praising the
Goblet of Fire,
although he admitted it was a very complicated plot.
On the National Theatre of Scotland, which is due to stage its first productions next year, the 55-year-old actor said:
"Of course I would be tempted. "I was offered a big theatre part in Scotland recently which I could not do because of other commitments, but yes, of course. I can't tell you what the part was, because someone else did it."
He said "the bulk of what's on at theatres now is bloody musicals, endless bloody musicals.
EDITOR'S NOTE: I GUESS IF YOU DON'T SING, THIS IS A BAD THING. (AND IF THEY'RE BY ANDREW LLOYD WEBBER, EVEN WORSE!)
"I do think that's a shame. The big issues of the day, like the Iraqi war, are very rarely discussed in the big theatres now. I think it's a shame because it's a platform to discuss ideas that cannot be discussed anywhere else, with the agenda on television being so sanitised. I hope the (National Theatre) does address these things."
Coltrane said he was enjoying rehearsing for the stage again, for the Oran Mor play,
The Brother's Suit
, part of its series known as A Play, A Pie and A Pint.
"
The trouble with theatre is that once you are a name they want to have you doing it for 18 months but I would go insane doing it for that long,"
he said."
I'm doing this for a week and I know by the end I will be saying 'I want to do it again!'."
Coltrane said that he was a "big fan" of McDougall's, it was a "beautiful piece", and he did not mind being the centre of press attention over his role.
Rowling said she would soon be taking several months off to look after her new child and will not start writing the final Potter novel for some time.
EDITOR'S NOTE: SNIFFLE. CAN'T SHE HAVE A LIFE AFTER SHE'S DONE NUMBER 7?
On her official website she said: "
I have just completed the very last tiny edits on Half Blood Prince so I'm now taking a few months off to concentrate on my new daughter (not to mention the old daughter and the not so old son)."
MEANWHILE....
Robbie Coltrane still doubtful about returning for OOTP
From an article in today's
Sunday Times
:
"Well, it takes nine months to make a Potter movie
," he says. "
There's not a lot else you can do. You can't tell people to put their film on hold till you're ready in September, it doesn't work that way."I mean, I'm doing this play but that's only three weeks. We'll see what happens now that I've finished the Potter films. I signed for four and I've done them now. There's no great mystery to these things."
GOBLET Game Arrives in November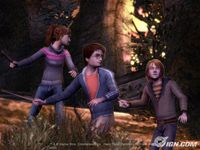 Electronic Arts and Warner Bros. Interactive Entertainment are announcing the video game "Harry Potter and the Goblet of Fire." The game as well as the movie will be released this November.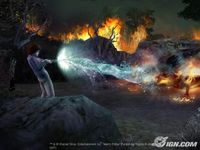 EA has more 'Potter' magic Electronic Arts and Warner Bros. Interactive Entertainment are set to confirm today that there will be a video game counterpart to Warner Bros. Pictures' "Harry Potter and the Goblet of Fire."
Additionally, for the first time in the franchise, the virtual characters will look like the movie's actors.
EDITOR'S NOTE: SO, ANDREW....YOU COOL WITH THIS?
Both the game and the feature film based on J.K. Rowling's fourth "Potter" book are scheduled for release in November.
Potter (played by Daniel Radcliffe), Ron Weasley (Rupert Grint) and Hermione Grange (Emma Watson) are all playable characters in the game and will look the same in both media. Players also will notice two new game features. When casting a spell, players will "feel the magic" as the controller shakes in reaction to the wand's motion.
EDITOR'S NOTE: OOO...HOW COOL IS THAT??!!
Also, co-operative modes allow players to join forces to combine their skills and power.
The likenesses of Daniel Radcliffe Rupert Grint, and Emma Watson will be used in the game.
It will be available on both Sony's PSP hand-held entertainment system, Sony's PlayStation 2, Microsoft's Xbox, Nintendo GameCube, Nintendo DS, Nintendo's Game Boy Advance and Windows PC.