Let's Go to the MOVIES
EDITOR'S NOTE: POSTING ON THE FLY, DWEEBPALS! JUST A QUICK MOVIEDWEEBING FIX. (QUICK IS BETTER THAN NOTHING?)
FIRST UP....JUST WHEN YOU THOUGHT THAT OLD APOCALYPSE WASN'T A-COMIN SO SOON.......
The Weinstein Co. Bringing KNIGHT To The Silver Screen
The Weinstein Co. is making a big screen adaptation of the TV series
Knight Rider
which starred David Hasselhoff as Knight.
The movie,
Knight
, will follow a cop nursed back to health by a millionaire after being left for dead. The millionaire will give the cop the famous talking car, KITT.
David Price, who originally brought the project to The Weinstein Co., will be co-producing the movie.
Elijah Wood In DAY ZERO
Some pictures of Elijah Wood in his new movie
Day Zero
have turned up online. Let's just say he looks a little ... hardcore?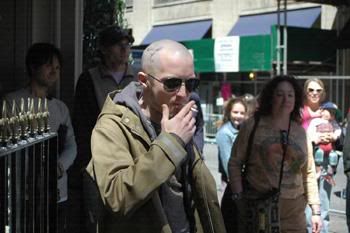 EDITOR'S NOTE: EEK. INDEED!

Day Zero
is a movie about three best friends who are all drafted into service and given 30 days to report for duty. In those 30 days they're forced to rethink what they believe about courage, duty, love, friendship and honor.
EDITOR'S NOTE: ISN'T THIS "HAIR"?
The movie is currently filming in New York and stars Wood. Currently, the other credited cast members are Jon Bernthal, Charlene Biton, and Michelle DiBenedetti, though it appears Chris Klein may also be in the film.
EDITOR'S NOTE: THANK HEAVENS FOR KLEIN AND WOOD. CAUSE I WAS BATTING 1000 ON NOT RECOGNIZING THE REST OF THE CAST.
MUTANT CHRONICLES Lands Some More Mutants
Stephen Rea (
V For Vendetta
) and Ron Perlman (
Hellboy
) have joined the cast of
The Mutant Chronicles
. Rea and Perlman will be joining Thomas Jane, John Malkovich, and Benno Furmann who were previously cast.
The Mutant Chronicles
will be an action thriller based on the popular role playing game by Philip Eisner and Ross Jameson, which will also be adapted into comic books from Dark Horse Comics. Simon Hunter is directing the film and production is set to get underway this summer.
Rea will play the former commander of Lt. Mitch Hunter (Jane), a 23rd-century Marine who tries to save Earth by leading a band of soldiers against evil NecroMutants.
EDITOR'S NOTE: DARN THOSE BIG MEAN NECROWHATEVERS!
Perlman (
Hellboy
) portrays the leader of a religious sect who thinks he can destroy the mutants and save the planet, recruiting Hunter to join him. Furmann will play Hunter's former nemesis, who joins him to fight for the Earth.
Malkovich will head a council of corporations that rule over Earth.
EDITOR'S NOTE: GOT ALL THAT? CAUSE THERE

WILL

BE A QUIZ.
TRANSFORMERS Casting News ... AGAIN!
Transformers seems to be adding cast members day by day. Continuing with that trend ... Bernie Mac and Josh Duhamel have signed on board to play roles in Michael Bay's
Transformers: The Movie
Mac will be playing a human salesman in the film.
The films budget is still north of $100 million. It is still based on the comic book, cartoon and toy line of the 80's. The cast still stars Shia LaBeouf, Jon Voight, Megan Fox, John Turturro, John Robinson and Travis Van Winkle ... well ... until tomorrow.
Sophia Bush Joins The Cast Of THE HITCHER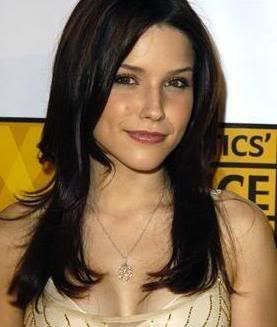 The star of
One Tree Hill
,
EDITOR'S NOTE: OH. THAT EXPLAINS WHY I HADN'T HEARD OF HER.
Sophia Bush, has been cast as the female lead in the remake of
The HitcherThe Hitcher
is being helmed by Dave Meyers and will follow two travelers who are being harassed by a spooky hitchhiker.
EDITOR'S NOTE: SO LISTEN UP, KIDS! IF YOU ARE YOUNG AND NUBILE, DON'T HITCHHIKE! IT RARELY ENDS WELL.
The script was penned by Jake Wade Wall and Eric Brent. Shooting for
The Hitcher
will begin in June.
Kiefer Sutherland Talks Filming of 24 Movie
Kiefer Sutherland has told a UK press outlet The Sun that London is the filming location for the
24
movie.
Sutherland said, "
The shoot will take place in London and Prague. Then we will use Morocco as a location - probably as an aspect of the Middle East. We'll do the filming a year from now."
Talking about filming, Sutherland previously went on record saying, "
The script is actually in development right now. It's something that we would shoot for doing next summer, during the next break [of the TV show]."
The
24
movie will likely be a summary of a whole new 24 hours. There are whispers that it could be a prequel, thus bringing back to life some now deceased characters.
Filming should begin sometime in March of 2007, leaving open the possibility of a late 2007 release. It is more likely that we will be seeing 24 in the Summer of 2008.