A little bit of this...AND that
WHEELIN AND DEALIN (AND OTHER BIZ'ISH ITEMS):
Dodge, Quiznos Rescue New TNT Drama From Ads
Premiere of 'Saved' Will Be Commercial Free
TNT has found a way to beat clutter for Dodge and Quiznos. The two will be the sole sponsors of the commercial-free premiere of "Saved," a new drama about a medical school dropout with a gambling problem who works as a paramedic.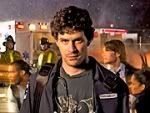 The ad-free debut for 'Saved,' starring Tom Everett Scott, will follow the Audi-sponsored season premiere of 'Closer.'
Instead of placing ads within the June 12 premiere episode, Dodge and Quiznos will gain exposure for their brands through TNT's marketing efforts surrounding the uninterrupted premiere.
The new drama is seen by TNT as a perfect companion piece to 'The Closer.'" The crime procedural starring Kyra Sedgwick was last season's most watched cable series.
The second-season premiere of "The Closer" will also run without commercials, thanks to Audi.
Ms. Yaccarino expects that two hours of uninterrupted drama will attract many viewers to the series' premieres.
"[
Commercial-free] is a format that we are utilizing to offer the viewers a unique viewing experience. In today's fragmented marketplace, where viewers have so much choice, it has been very, very successful for us,"
she said. "
Offering a program without commercials absolutely attracts more viewers."
EDITOR'S NOTE: YEAH, WE VIEWERS HAVE BEEN SAYING THAT ALL ALONG. PROBLEM IS, WHO PAYS FOR IT WITHOUT THE ADS. (NOTHING IS TRULY FREE, RIGHT?)
Before the start of 'Saved,' there will be an announcement made that the show is being aired ad free thanks to the two sponsors.
Mark Spencer, senior manager of Dodge, said the commercial-free episode creates a good environment in which to reach viewers. "
It's a situation that allows us to keep people from tuning us out or turning us off,"
he said. "
'Saved' is a gritty, urban drama
," Mr. Spencer said. "
It has some action, a lot of emotion. This all works well for Dodge. We like being paired up with this particular drama because of those elements."
Starbucks Signs With William Morris to Get Deals Brewing
The talent agency will suggest music, movies and books for the coffee giant to tout in its stores.
By Lorenza MuñozTimes Staff WriterMay 1, 2006
Starbucks Corp. has tapped William Morris Agency to help find projects that are its cup of chai.
The alliance, which will be announced today, authorizes the Hollywood talent agency to identify music, film and book projects for the world's leading coffee retailer to consider for marketing and distribution in its stores, according to a news release.
And not a moment too soon, if Starbucks' first venture into the world of movie marketing is any measure. Three months after the Seattle-based company announced it would launch a movie marketing venture with the feel-good feature film "Akeelah and the Bee," the film opened to sluggish box-office returns.
Lionsgate's story of a young African American girl winning a spelling bee, which Starbucks has promoted in its 5,500 North American stores, grossed an estimated $6.3 million, or $2,847 per screen. On a blockbuster-free weekend, it came in eighth, far behind the top-grossing "R.V.," a comedy starring Robin Williams, and "United 93," a re-creation of a passenger revolt on one of the planes hijacked Sept. 11, 2001.
Starbucks founder Howard Schultz, who is well connected in Hollywood with a board seat at DreamWorks Animation SKG Inc., has said the company has no plans to finance movie productions. But it does want to claim its place as an entertainment and "lifestyle" destination, where customers buying lattes can also purchase CDs, DVDs and books.
"We believe Starbucks is a very powerful distribution channel
," Schultz said in a news release, "
which is why we are so pleased to be working with the largest diversified talent and literacy agency in the world, William Morris Agency, to bring our customers even more forms of entertainment.
"
William Morris Chief Executive Jim Wiatt said in the same statement: "
As they extend their reach into broader forms of entertainment, we couldn't be more pleased and honored to be working with Starbucks."
The release did not disclose financial terms. A William Morris spokesman referred all calls to Starbucks. Starbucks officials did not return repeated calls for comment Sunday.
When Starbucks launched its movie venture in January, executives at the company said they hoped to teach Hollywood a lesson about marketing. Beginning in early April, the company promoted "Akeelah and the Bee" on coffee sleeves, with words of the day on chalkboard menus and through barista recommendations. It also is selling the soundtrack of the movie in stores.
Although Starbucks' music venture, launched in 2004, has been a success — most notably with Ray Charles' "Genius Loves Company," which sold more than 1.3 million CDs and won several Grammys — its first movie outing has been less than impressive. The film, which stars Laurence Fishburne, Angela Bassett and Keke Palmer, has failed to bring in big audiences despite a plug from Oprah Winfrey and good reviews.
When a movie has good buzz, it usually makes well above a $3,000-per-screen average on its opening weekend. Privately, Lionsgate executives had said the best way to gauge the effectiveness of Starbucks' marketing would be to see how well the film crossed over to non-blacks.
Apparently, it didn't cross over enough. According to Lionsgate, the film played best among black women. Buoyed by tallies that show box-office revenue jumped 60% from Friday to Saturday, Lionsgate is hoping word of mouth will give the film legs over the coming weeks.
Starbucks received a producer credit on the film, alongside Lionsgate and 2929 Entertainment, even though it did not invest in the production. The coffee giant will receive its cut of the profit after Lionsgate and 2929 recoup their costs.
Hollywood Symphony Orchestra's Inaugural Concert set for May 18th at UCLA
On May 18th, 2006, film composer John Scott (THE FINAL COUNTDOWN, GREYSTOKE) will conduct the Hollywood Symphony Orchestra's inaugural concert at UCLA'S Royce Hall, presenting an assortment of film music including LOGAN'S RUN, MEMOIRS OF A GEISHA, SWEET SMELL OF SUCCESS, KING'S ROW, SCOTT OF THE ANTARCTIC, A STREETCAR NAMED DESIRE, AROUND THE WORLD IN 80 DAYS, GREYSTOKE, and a symphonic suite from Scott's own ANTONY AND CLEOPATRA, featuring actors Michael York, Samantha Eggar, and Alan Mandell reading Shakespeare's dialogue.
EDITOR'S NOTE: MICHAEL YORK AND SAMANTHA EGGAR!
The Hollywood Symphony Orchestra describes its mission to be that of providing concert settings for symphonic film works from composers of the silver screen's golden age to emerging talents, providing a glimpse into the history of film music and exposure to future classics by our greatest composers. "
Some concerts will be performed with film or other multimedia format and some will feature guest artists,
" notes the HSO's web site. "
All will be about the exciting art form that is symphonic film music. We invite you to join us in keeping the tradition of symphonic film music alive!"

For more information, see:
http://www.hollywoodsymphonyorchestra.org/