A Harry Potter Quickie
EDITOR'S NOTE: DID THE HEADLINE ABOVE MAKE YOU GO TO A
BAAAAAAD
PLACE? (OR WAS THAT JUST ODDBOB)?
A FEW BREAKING'ISH ITEMS FROM JKR-LAND -----
New photo of Dan on 'December Boys' set

A new photo of Daniel Radcliffe on the set of December Boys has surfaced online. The movie is set to be released next winter.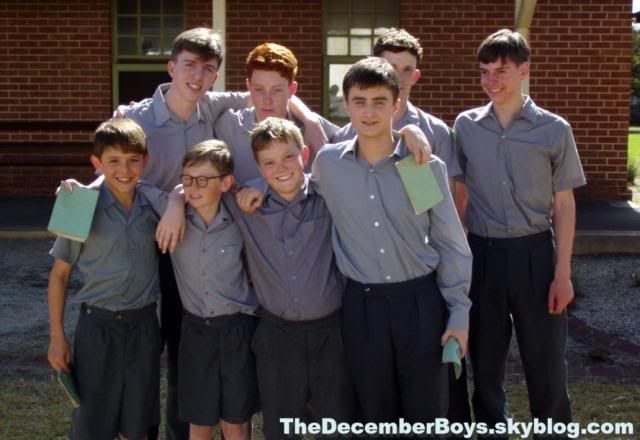 Jamie Waylett updates blog
The actor who plays Crabbe in the Potter films (including
Order of the Phoenix
) has updated his online blog with a few
OOTP
filming updates:
The new director is really good, he asks for our opinions on our characters a lot...I said I think Crabbe is a really good, kind guy... (only joking!)
I think "Harry Potter and the Order of the Phoenix" might even be better than "Goblet of fire"!
We've filmed a few scenes so far and we've been having a lot of fun as the baddies...pushing Neville around, mostly!
Me, Josh, Tom and some other Slytherins are Umbridge's favourite students, so it's great to make the Gryffindors uncomfortable for once!
We also got new dressing rooms and a games room, and since a lot of us don't have tutoring anymore we're enjoying it!
EDITOR'S NOTE: AND LAST, BUT DEFINITELY NOT LEAST, THE KIDS PLAY NICE TOGETHER AND ALL IS RIGHT WITH THE WORLD (SEE BELOW) -----
Gary Oldman to return in OOTP
Gary Oldman's long-time manager Doug Urbanski sealed the deal this morning with Harry Potter producer David Heyman: the actor will reprise the role of Sirius Black in the Harry Potter and the
Order of the Phoenix
movie.
EDITOR'S NOTE: PHEW!
"I'm so relieved and happy
," said Urbanski. "
I can't put my mind in the place of the producers, but I would've thought that when they read the book, a call to us would've been very high on their list. Obviously, the character of Sirius Black is key."
Oldman's manager mentioned Oldman had been offered several different film roles in the time it took Warner Bros. to make a decision on the part of Harry's godfather.
Both Gary and manager are delighted with the highly anticipated outcome:
"
It's a wonderful role. Gary read the script last night, and he read part of it to me on the phone this morning. The end of the story is: Gary's in it. It's a terrific script, and he's so happy to be back."