A little more of dweebing whatnot (Thursday version)
EDITOR'S NOTE: JUST A FEW MORE ODDS-N-ENDS COLLECTED IN THE LAST DAY OR SO.
MISC. DWEEBING:
A-list celebrities getting into voiceover act
NEW YORK -- "Bright. Crisp. Clean. Pure," says the silky smooth, perfectly masculine voice on the beer commercial. "This is Budweiser. THIS is beer."
Quick, who is that?
Hint: It's a big movie star.
Though his name's never mentioned, the makers of Budweiser are banking on the fact that you'll get it eventually -- and that you'll say "Wow!" when you do.
Twenty years ago, voiceovers were the domain of the baritone radio announcer or the character actor.
No longer.
These days, more A-list stars than you might imagine are cashing in.
Kevin Spacey's pitching Honda.
Kelsey Grammer does Disney.
Kiefer Sutherland voices Apple commercials, and his dad, Donald, did Volvo.
There's Queen Latifah (Pizza Hut), Sean Connery (Level 3 Communications), Christian Slater (Panasonic), Gene Hackman (Oppenheimer Funds) -- oh, and then there's Julia Roberts.
That's right, Julia Roberts, in a recent campaign for America Online.
Or George Clooney, that mysterious Budweiser voice
EDITOR'S NOTE: I STILL DON'T WANT AMERICAN PASTEURIZED BEER. (
BUT IT'S MORE TEMPTING THAN WASA

PRE

-GEORGIE
).
I DON'T CARE ABOUT THIS NEXT ONE, BUT THE CULT-O-BABS IS LEGION, SO IN CASE SOME OF YOU DWEEBPALS CARE (
ONE MORE SERVICE YOUR QOTD PROVIDES
) .....
Streisand may tour in fall, manager confirms
NASHVILLE -- Barbra Streisand is in talks to launch a concert tour in the fall, her first since a brief "farewell" trek in 2000, her manager said Tuesday.
The possibility was first raised in a gossip column in Tuesday's issue of the New York Post, but its assertion that ticket prices would top out at $1,500 was incorrect, a source close to her camp told Billboard.com.
"A tour is being explored, but nothing has been finalized, including important aspects not entertained in the media speculation today
," Streisand's manager Marty Erlichman told said.
Sources say Rolling Stones promoter Michael Cohl is in talks to produce the Streisand tour.
History shows that Streisand, who turns 64 next month, has not balked at exorbitant ticket prices, and that consumers have not balked at paying them.
Drescher joins LaBute's 'Some Girl(s)'
NEW YORK -- Fran Drescher is going from "The Nanny" on television, to playing one of Eric McCormack's ex-girlfriends in Neil Labute's play "Some Girl(s)" off-Broadway.
Drescher will portray a Boston professor in the American premiere of the play, which opens June 8 at the Lucille Lortel Theatre.
EDITOR'S NOTE: CAN DRESCHER DO BOSTON? CAN SHE SOUND LIKE ANYTHING BY NOO YORRRK?
In it, McCormack, whose TV series "Will & Grace" is now in its final season, plays a soon-to-be engaged man saying goodbye to four ex-girlfriends as he prepares to get married.
The other three women in "Some Girl(s)" will be portrayed by Maura Tierney, Brooke Smith and Judy Reyes.
Preview performances begin May 17 for the MCC Theater production.
"Some Girl(s)" was a hit last year in London, starring David Schwimmer, who will open on Broadway in May in a revival of Herman Wouk's "The Caine Mutiny Court-Martial."
The limited engagement of "Some Girl(s)," which will be directed by Jo Bonney, ends June 24.
MOVIE STUFF:
Smith TAKES A THIEF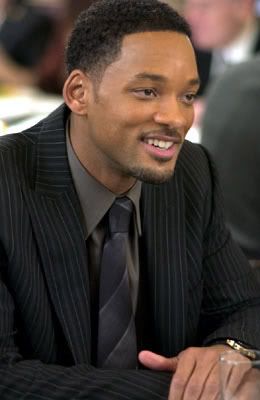 Universal Pictures has set Will Smith to star in the big screen adaptation of IT TAKES A THIEF TV series. David Elliot and Paul Lovett will write the script.
Smith will play a charming rogue who is blackmailed by the government into doing covert larceny for the good of his country. Pic will put the professional thief in the employ of the CIA.
EDITOR'S NOTE: I LOVE WILL SMITH. (JUST THOUGHT I'D SHARE).
Will Smith, James Lassiter, Kevin Misher, John Davis and Joe Singer will produce.
Fan frenzy for 'Snakes' is on a different plane
As film backstories go, this one is fairly serpentine.
This month, New Line Cinema's "Snakes on a Plane," which wrapped principal photography in September in Vancouver, went back before the cameras for five days of additional shooting at the Lot in Los Angeles.
In this case, it wasn't the usual reshoot, hastily assembled to fix a nagging story problem.
Instead, the studio decided to create new scenes that would take the movie from PG-13 into R-rated territory.
The second round of filming also came about because of intense and growing fan interest in the movie, which was directed by David R. Ellis and is not scheduled to be released until Aug. 18.
"Snakes" stars Samuel L. Jackson as an FBI agent who has to fight a planeload of snakes unleashed by an assassin bent on killing a witness in protective custody. Sight unseen, the movie has grown from something of a joke into a phenomenon slithering untamed throughout the Internet.
EDITOR'S NOTE: GOSH. MUCH AS I LOVE A GOOD SNAKE JOKE. (AND AS MUCH AS I LOVE SAMUEL L. JACKSON). THIS JUST DOESN'T SEEM LIKE ANY KIND OF MUST-SEE. OR EVEN SLOW-WEEKEND-ACCIDENTAL-SEE.
Schwarzenegger back for Terminator 4
He actually didn't say he'd 'be back' last time – though I was pretty quick smart out of the theatre after "T3" from memory, if only to save myself a nice fat car fine, it's possible he muttered it after the end-credits? – So nobody's really expecting Arnold Schwarzenegger to don the ray-bands and leather duds for a fourth "Terminator" are they? (Especially considering rumours that they've actually written the Austrian Oak's character 'out of' the next instalment).
Seems something's changed – incongruously, this coincides with the decline of Arnold's regard as the Californian Governor – because according to producer Mario Kassar, "Terminator 4" is waiting in the wings, they're just waiting for a free spot in Schwarzenegger's calendar. Yep, the big man will be back…again.
"
T4 does have a script and all we need is Arnie to finish his term and step in front of the camera and play his trademark role
", the producer, currently promoting "Basic Instinct 2" in Germany, told TV's Extra.
It's not known whom else of the original band would be returning to the stage, but chances are, since John Connor is a central figure in the story – Nick Stahl may be asked back. Claire Danes, who played his chum Kate Brewster in "T3", might not be though, recently stating that she's not involved.
It's looking more and more likely that Schwarzenegger will indeed only be serving the one-term in office, with rumours already circulating that he's eyeing a return to film next year. Besides "Terminator 4", he has a number of projects he's being pestered to do – including Warner's third "Conan" film.
EDITOR'S NOTE: WHAT A GENEROUS SACRIFICE THE PEOPLE OF CALIFORNIA ARE MAKING SO THAT THE

WHOLE WORLD

CAN ENJOY ARNIE ON SCREEN. (SMIRK).
The Young Wolverine Chronicles?
Seems the Magneto movie won't be the only "X-Men" spin-off that's set before the events of a transformed Jean Grey.
In an exclusive with IESB.net, Fox head Tom Rothman revealed that "Wolverine" will also be a prequel, set before the events of the first "X-Men" film.
Many assumed it would be set after the events of the forthcoming "X-Men 3", with rumours that some of the folks from that movie – including Anna Paquin and Vinnie Jones – would be joining the side-burned superhero.
"Wolverine" will be a back-story, by the sounds of it, explaining how young James Howlett became to be the unstoppable Logan Wolverine. (good background info on the character http://www.comicbookcloset.com/wolverine_bio.htm )
Looks like Hugh Jackman's got to find a way to shred five or six years off himself pretty quickly.

Par's 'Dog' collars star in Shannon
It's dog days ahead for Molly Shannon.

The former "Saturday Night Live" star is in final negotiations to topline the comedy "Year of the Dog" for Paramount's new specialty division.

The film marks the directorial debut of writer Mike White, whose credits include "School of Rock," "The Good Girl" and Paramount's upcoming Jack Black starrer "Nacho Libre." White, who is Black's partner in Black and White Prods., wrote the screenplay for "Dog" with Shannon in mind. The two met on the short-lived Fox TV series "Cracking Up," which Shannon starred in and White created.

The story centers on Peggy, a happy-go-lucky secretary who lives alone with her beloved dog Pencil. But when Pencil unexpectedly dies, Peggy embarks on a journey of transformation. EDITOR'S NOTE: WHAT IS IT WITH KILLING PETS IN MOVIES?! COUNT ME OUT! (AND MY LITTLE DOG ROOBEUS SAYS POOP ON THAT, TOO!)
Levy Will Delve Into MAGICK
Shawn Levy has picked up the script BACK MAGICK. Levy and Tom McNulty will produce.
The fantasy comedy centers on an unpopular boy who, in a misguided effort to improve his seemingly unspectacular life, makes a series of wishes during an eclipse. The wishes don't come true until 20 years later, disastrously upending his successful life.
Levy is currently directing A NIGHT AT THE MUSEUM.
TV STUFF:
HBO inks deal for 'Pinochet' production
HBO has signed a co-production deal for the original film "Pinochet in Suburbia," which is expected to air on the cable network this year.
"Pinochet," a fact-based drama about Chilean dictator Gen. Augusto Pinochet, is being produced by Tiger Aspect with HBO and distributed internationally by Target Entertainment.
The film, which will air first on BBC2 this month, stars Derek Jacobi ("Gladiator") and Anna Massey ("The Machinist"). The film focuses on the legal battle surrounding Pinochet's house arrest in England in 1998. British prime minister Margaret Thatcher campaigned for his release.
"Pinochet" is written and directed by Richard Curson Smith ("Agatha Christie: A Life in Pictures") and executive produced by Charles Brand of Tiger Aspect.
ABC taps two to helm comedies
Charles Shyer has signed on to direct ABC's comedy pilot "Him and Us," while Arlene Sanford has been tapped to helm Fox's comedy pilot "More, Patience" and is close to signing on to direct ABC's comedy pilot "Women of a Certain Age."
In casting news, Jessica Lucas, who is currently onscreen opposite Amanda Bynes in the feature film "She's the Man," and Alona Tal (UPN's "Veronica Mars") have been tapped for roles in the CW's drama pilot "Split Decision."
Additionally, Karen LeBlanc has joined the cast of the CW's "Runaway," and John Ducey and Colby Paul have been cast in Fox's comedy pilot "Union Jackass."
"Him and Us," a single-camera comedy from Touchstone Television, centers on a gay British rock star (Anthony Stewart Head) and his relationship with his longtime manager (Kim Cattrall).
Harden is a good fit for pilot
'Drift' Oscar winner Marcia Gay Harden has joined the cast of ABC's drama pilot "Drift."
In other pilot news, Emmy winner Jane Alexander will appear in CBS' drama pilot "The Way," and Romy Rosemont has joined CBS' drama pilot "Shark."
"Drift," from Touchstone Television, centers on a New York detective (Jason O'Mara) who has insomnia, which affects his job. Harden will portray the detective's therapist.
Spike TV Unwraps Action-Packed Lineup for Young Males
Spike TV is getting amped up for 2006, programming an action-rich, testosterone-drenched slate of original series and specials designed at luring a younger male audience.
EDITOR'S NOTE: AND THEN, AFTER SPIKE GETS EM ALL AMPED UP, MAYBE WE CAN GIVE THEM A CASE OF BUD, AND A RIFLE!
Taking the wraps off the new lineup at its upfront presentation in New York Wednesday morning, Spike executive vp and general manager Kevin Kay said that the greatest opportunities for Spike "
are in prime time and late night
," adding that the male 21-35 demo is underserved in those time periods.
To that end, Spike will introduce a new late-night programming block in the fourth quarter, featuring two shows now in production.
Wide World of Spike
will introduce viewers to a pair of real-life Beavis and Buttheads who screen viral video content found on the Internet and then attempt to reenact the clips.
Kay gave less background on
Boys' Night Out
, saying the show "
takes all the stuff that's supposed to stay in Vegas and puts it up on the screen
."
EDITOR'S NOTE: UMM...YEAH.... I SAY, LET'S PUT THE BOYS FROM SPIKE TV AND GALS FROM LIFETIMETELEVISIONFORWOMEN (
WHO AREN'T ME
) IN A SMALL ROOM, LOCK THE DOOR, AND SEE WHO SURVIVES. (HOPEFULLY, NO ONE).
In prime, Spike has already generated much buzz for its upcoming adaptation of the apocalyptic vampire trilogy
Blade
, which stars Kirk "Sticky" Jones in the titular role that was created by Wesley Snipes. Bowing June 28,
Blade
boasts the sort of production values that are generally associated with Hollywood summer blockbusters, as does
Amped
, another hour-long series in development.
An action/horror strip about zombie mutants and their LAPD antagonists,
Amped
is shot in the same frenetic style as the 2002 Danny Boyle zombie flick
28 Days Later
.
Also in development are
The Big Empty
, a corrupt cops series from Denis Leary's production company, and
The Kill Pit
, which focuses on a botched bank heist and a subsequent hostage crisis.
Spike intends to drive its younger, action-oriented mandate home with a new logo––a militaristic chevron with the name of the network hammered out in block letters––and an updated tag line, "
Get More Action
."
EDITOR'S NOTE: SNICKER. CUTE. OF COURSE, IF YOU'RE SITTING AROUND WATCHING SPIKE TV, YOU

AIN'T

GETTIN MUCH, HMMM?
Spike creative director Niels Schuurmans said the brand repositioning is meant to, among other things, "
celebrate the eternal bachelor
" in a
"no bulls--t
" environment dominated by "
car chases, fighting and explosions."
(Explosions seem to dominate much of Spike's new programming; as Kay introduced a number of clips, fireballs served as a kind of leitmotif for the network. We lost count at 15.)
EDITOR'S NOTE: OOO. MAYBE I WAS TO HASTY. EXPLOSIONS ARE ALWAYS A GOOD THING. IT'S WHY GOD CREATED SUB-WOOFERS.
The net will dip into the unscripted genre with
Bull Run
, which Kay described as "Cannonball Run gone berserk," and "Raising the Roots," which perhaps can best be pitched as "Entourage meets Deliverance."
On the sports front, Spike announced it has extended its deal with the UFC through the end of 2008, giving it three more seasons of
Ultimate Fighter
. The net will also develop
The Comeback
, a special UFC-based series that gives 16 of the vanquished fighters from seasons one and two one last shot at the title.
The UFC will be a major component of Spike 2, the catch-all name for the network's new broadband initiative, as Spike will simulcast all UFC fights on the Amped Mobile wireless platform, marking the first time a live sporting event will be offered in real time via mobile phone.
Spike also plans to develop exclusive content for its third-screen platforms, said David Lawenda, senior vp, ad sales, "
because that's where guys live
." Lawenda said that deals with other mobile carriers are in the works.
EDITOR'S NOTE: WELL I THINK IT'S

SWELL

OF SPIKE TV TO PROGRAM TO THESE BEER-SWILLING NEANDERTHALS. KEEPS EM OFF THE STREETS, AND US OUT OF THEIR PATH, HUH?!
Game on for online 'Jeopardy!' tests
What is the online contestant test, Alex?
The answer is, the innovative method "Jeopardy!" has devised for potential participants to take the first step toward appearing on the long-running game show.
Fans will be able to take the 50-question preliminary general knowledge exam online from March 28-30.
Each day is designated for a specific time zone and will get different questions from the other two. "Jeopardy!" executive producer Harry Friedman said the contestant coordinators evaluate more than 25,000 hopefuls every year. About 400 of those get to sign their name on the podium's screen as an actual contestant
EDITOR'S NOTE: I'LL KEEP YOU POSTED IF I HEAR ANY MORE DETAILS ABOUT THIS. (NOT THAT I THINK I COULD MAKE THE CUT, BUT MAYBE ONE OF YOU DWEEBPALS CAN DO US PROUD?)
AND A WEE BIT OF PHILOSPHY (IF YOU STICK WITH ME ON THIS ONE, YOU GET COOL NATALIE PORTMAN PICS AT THE END):
THE GROWING SOPHISTICATION OF POPULAR ENTERTAINMENT
And Why Marketers Need to Understand the Changes

By
Joseph Frydl

Compare an episode of "Starsky & Hutch" from the 1970s to an episode of "24."
"Starsky & Hutch" had a handful of characters and a single linear plot line to follow; "24" has over 26 characters to keep track of, along with a multiple plot lines. "Starsky & Hutch" was really just a show about a Gran Torino that was never designed to be too taxing (OK, Huggy Bear made it a little more interesting); "24" has a narrative richness and complexity that asks the audience to connect a lot of dots.



More cognitive engagement


Steven Johnson's recent book, "Everything Bad Is Good for You: How Today's Popular Culture Is Actually Making Us Smarter," uses an abundance of examples like this to suggest that pop culture "

is growing more sophisticated, demanding more cognitive engagement with each passing year

."

In other words, a rising tide of popular entertainment is asking us to think more than it has in the past. While one can argue whether this development is making us "smarter" as a society (there are still a lot of people who still think pro wrestling is real), EDITOR'S NOTE: IT'S

NOT

?! OH MY..... (GIGGLE)there is no denying that today's leading movies, TV shows and video games are less formulaic and pre-digested than their predecessors. EDITOR'S NOTE: IS FRENETICISM THE SAME THING AS SOPHISTICATION? IS MORE ALWAYS BETTER? (SOME OF THE OLDER SHOWS, WHILE UNBELIEVEABLY...TO OUR CURRENT SENSE OF PACING....SLOW, ARE OFTEN FULL OF LONG SCENES OF PEOPLE....OH GOLLY...

TALKING

. SOMETHING CURRENT SHOWS OFTEN DON'T EVEN

ATTEMPT

).

Judging by a lot of formulaic, "Starsky & Hutch"-type advertising, most marketing communication has not taken a cue from this shift toward more cognitive entertainment in pop culture.

While we've seen tremendous changes in the form of marketing communications ("new media" is no longer new), we've seen little change in the content of those communications that matches the increased sophistication in popular entertainment.



Asking consumers to think


If advertising is meant to sell and popular entertainment is meant to entertain, should marketers care about creating communications that ask people to think? To answer that, it's worth considering what brought about this change in popular entertainment in the first place.

Just like advertising, much of popular entertainment is directed at the kind of people who can afford things like expensive premium cable so they can watch "The Sopranos."

And the nature of the (clumsily labeled) "mass affluent" has changed dramatically in the last 30 years.

Authors like Richard Florida ("The Rise of the Creative Class") and Daniel Pink ("A Whole New Mind") have identified a tectonic shift in who drives wealth creation in the economy.

If the old economy was dominated by "Organization Men" -- rule-following agents of large companies who are charged with implementing systems -- the new economy is dominated by the creators of ideas. They create the new technologies, new ways of doing business, the spark behind great brands as well as the movies, music and images we consume all the time.



Importance of ideas people


In short, the ideas people, not the process people, best represent mainstream affluence today.

Pop-culture-makers know that this audience doesn't want simplistic formulas. Because they're ideas people, stimulation and even provocation enhance the value of popular entertainment.

That's why shows like "The Simpsons," unimaginable in their multiplicity of cultural references (and insults) 30 years ago, have replaced shows like "Gilligan's Island."



Should we care?


Should marketers targeting this upper-income group of ideas people care that popular entertainment for this audience has grown more sophisticated? Does advertising aimed at this group have to be more sophisticated, interesting and less formulaic?

After all, people who actively seek out TV shows for entertainment seldom seek out advertising. Advertisers need to communicate the benefits of their product or service within a very brief amount of time, often when the recipient of the message has no interest in hearing it. How much of an advertising message can afford to be interesting?

I can hear it now: "You pedantic twit, I'm selling a car, not debating Kierkegaard. Cognitive engagement won't help me hit the score I need on the copy test to get this ad made."



Brand preference and loyalty


Perhaps. But most advertisers and marketers would also say they care about building successful brands that engender preference and loyalty. And building such a brand has less to do with a copy-test score and much more to do with some level of cognitive engagement from the audience.

Successful brands compete for attention with the increasingly sophisticated content that surrounds them. They ask for some form of "cognitive engagement" -- maybe even a little imagination from their audience. We might have heard a lot about Dove's "Real Beauty," Sega's "Beta 7" and Audi's "Art of the Heist," but the fact remains that they are all recent standouts precisely because they asked the audience to think a little bit. Dove provoked a referendum on the nature of feminine beauty. "Beta 7" and the "Art of the Heist" took for granted the ability of the audience to follow and enjoy a complicated narrative thread. They didn't connect all the dots.

How many times do brand managers ask advertisers to be "more hard-hitting" with a particular piece of communication? This directive seldom means "be more imaginative" or "be more provocative." Most often, it means "be more obvious." It seems we're being asked to club people to death like so many baby harp seals with a blunt-force object stripped of any imagination while the true communication breakthroughs lie at the other end of the imagination spectrum.


EDITOR'S NOTE: WOW. CLUBBING BABY SEALS AS A METAPHOR FOR ADVERTISING. PERFECT IMAGERY. (I'D OPINE THAT THE BABY SEALS GET THE BETTER END OF THE DEAL, HOWEVER).





Unsophisticated marketing communications


The lack of sophistication and thought-provoking content in most marketing communications today echoes what the broadcast networks offered before cable programming became a real threat. It used to be that broadcast TV networks followed a very formulaic, "be-more-obvious" approach to programming. To be interesting risked alienating too many people (sound familiar?). Then cable networks like HBO upset the broadcast model not by creating a new medium but by providing challenging and interesting content to an affluent audience that was clearly ready for it.

Marketers aiming for this same audience should follow the lead of the cable networks. Rather than focus simply or exclusively on "new media," there needs to be as much, if not more, thought put into creating communications content that asks the audience to think a little bit rather than communications that are simply "hard-hitting." Because in a world of "24," brands that are too "Starsky & Hutch" simply won't be noticed.
EDITOR'S NOTE: THERE IS NO ONE-SIZE-FITS-ALL SOLUTION. AND GENERALIZATIONS LIKE THIS ARE A) NOT GOING TO WORK FOR EVERY MARKETER AND B) NOT GOING TO BE ABLE TO BE EVEN UNDERSTOOD AT AN ORGANIC LEVEL BY MOST OF THEM. FACE IT....MOST OF EVERYTHING IS A C STUDENT. VIEWERS, ADVERTISERS, AGENCY CREATIVE PEOPLE. THE BELL CURVE DOESN'T EXIST JUST IN COLLEGE.
AND LAST...... A SPECIAL LITTLE BONUS ITEM....SORT OF TEASING OUR FRIDAY STAR WARS FEATURE TOMORROW. (NOT SURE IF THESE PICS WERE TAKEN BEFORE THE HEAD-SHAVING FOR "V FOR VENDETTA", IF HER HAIR HAS GROWN BACK, OR IF THIS IS A GOOD WIG. BUT, DESPITE THE FACT THAT I HATE HER FOR LOOKING THIS GOOD, I HAVE TO ADMIT...SHE

PURTY

!)
NATALIE PORTMAN IN MAXIM MAGAZINE