A Tuesday THIS-and-THAT posting
EDITOR'S NOTE: ANOTHER ONE OF THOSE SEMI-RANDOM CLUMPS OF DWEEB'OSITY.
HARRY, OH HARRY (POTTER):
WB must offer Oldman role by next week, says agent
Gary Oldman, who played the part of Sirius Black in the third and fourth Harry Potter movies, has not yet been asked by Warner Brothers to reprise the role of Harry's godfather in Order
of the Phoenix
.
According to Douglas Urbanski of the
Douglas Management Group
(who represents Oldman), WB has had little desire since the beginning for the actor to return in
OOTP
, even though Oldman requests small payment. As a result, Urbanski has stated that unless WB offers him the role by next week, Oldman won't consider returning as Black. We'll let you know what WB has to say.
EDITOR'S NOTE: WHAT IS THE DEALIO, HERE? WHY

WOULDN'T

THE WB WANT OLDMAN BACK? (HE

ROCKED

AS SIRIUS...IMHO....). COME ON, KIDDIES. PLAY NICE FOR THE FANS, HUH?!
New OOTP filming information

Lizo of
CBBC Newsround
recently visited the set of the fifth Harry Potter movie and interviewed the stars.
The report was aired just minutes ago on CBBC, but we're not sure if a video will be posted online. In the mean time, our fast-typing readers have given us a summary of what was said:
According to Dan,
"I was meant to film the kiss last week, but I had gastric flu, so Katie, umm, well she may have escaped this time... but I'll catch her one day!"
Katie said she was both excited and nervous about the kiss.
Emma said she would be sniggering in the background. The filming of that particular scene has been postponed for a few weeks.
Recently, they've been filming the scenes involving the Room of Requirement and quite a lot in the Forbidden Forest, including the part where the centaurs rampage after Umbridge.
David Heyman said the film would be released either summer or fall 2007, and the sixth film would be out late 2008.
EDITOR'S NOTE: SUMMER OR FALL? SO WE'D GO 2 WHOLE YEARS BETWIXT FLICS AND NOT A YEAR AND A HALF? (WHICH IS BAD ENOUGH).! IF THEY DIDN'T RELEASE THE 5TH ONE TILL FALL 07, THEN THEY'D ONLY HAVE A YEAR BEFORE LATE 2008, WHICH RUSHES THAT ONE A BIT. I WONDER IF THEY ARE ALREADY SCRIPTING AND PREPPING 6 WHILE THEY ARE WORKING ON 5? (AND THIS WOULD MEAN BOOK 7 COMES OUT SUMMER OF 07, THEN MOVIE 5 SUMMER OR FALL, THEN MOVIE 6 IN 08...AND MOVIE 7 WOULD OSTENSIBLY ONLY BE ABOUT, WHAT, 2 YEARS BEHIND THE FINAL BOOK?)
He also mentioned that a trailer should be revealed by the end of this year.
EDITOR'S NOTE: WOOHOO!!!
TV DWEEBING:
NETWORKS OFFER PEEK AT FALL SCHEDULES
Present Buyers With Sampling of Pilot Lineups
NEW YORK (AdAge.com) -- The broadcast networks revealed their development slate last week with buyers getting some idea of who and what might end up on the small screen come fall 2006.
NBC offered buyers perhaps the most detailed look at its proposals for fall, with the network giving agencies pilots of two series already ordered, "Kidnapped" and "The Black Donnellys," along with some of its summer programming.
NBC also laid out potential cross-platform opportunities, citing "The Office," which will air on the Web this summer, as an example.
Mid-season launches
Among NBC's entertainment president Kevin Reilly's pilot pickups, "Studio 60" piqued the interest of Shari Anne Brill, Carat VP-director of programming.
"
I was intrigued by NBC and excited about the new Aaron Sorkin show ['Studio 60']. I was wondering how reminiscent it would be of 'SportsNight' [a previous Sorkin series.]"
Ms. Brill said the networks are moving to a two-part year in which mid-season launches are no longer second-tier choices for networks.
Donna Speciale, president of U.S. broadcast and programming at Publicis Groupe's MediaVest, gave the thumbs up to the high production values of Fox's pilots, presented by entertainment president Peter Liguori, and particularly liked "
13 Graves," a show that could partner with existing hits "24" and "Prison Break," and a new late-night talk show that had "definite potential."
EDITOR'S NOTE: I LOVE READING AD BUYER PUNDITING. CAUSE, EXCEPT FOR YOUR VERY OWN QOTD, THEY'RE MOSTLY DOFFUSI. (AND YES, I'M BITTER. BUT THAT DOESN'T MEAN I'M WRONG).
Attendees thought ABC's presentation, which featured Geri Wang, senior VP-primetime sales, interviewing entertainment President Stephen McPherson, could have been more detailed. ABC did not show clips, except for footage from its as yet untitled Sept. 11 mini-series project, which was well received.
One buyer, though, wondered if such somber specials really lend themselves to advertising, suggesting a single sponsor would be the way to go as the special moves forward.
CW sticks with name
The CW confirmed it would move ahead with its existing name as the merger between the WB and UPN nears completion. Harry Keeshan, exec VP-national broadcast buying at PHD, said the network gave a good presentation given that executives had only been on the job for five weeks.
"They're staying with youth and diversity. That was good."
EDITOR'S NOTE: ZZZZZZZZZ
Commenting on the upcoming week of meetings, Mr. Keeshan added: "
It is extremely beneficial. You can get some top time with individual programming heads and the writers
." He said the meetings are a great way to gather information about each network's night-by-night strategy and get indications of which shows could move elsewhere.
EDITOR'S NOTE: AND PLUS, WE GOT A FREE DAY OUT OF THE OFFICE!
CBS is due to present its slate March 23.
WHAT'S IN DEVELOPMENT FOR NEXT SEASON
ABC
Comedies:
Help Me Help You
Ted Danson stars in this series about a disparate group of people who are connected through therapy.
52 Fights
The series is based on the book of the same name, about the transition from dating to marriage.
Him and Us
The series revolves around relationships between fictional rock star Max Slash (Anthony Stewart Head from "Buffy the Vampire Slayer") and those around him, including manager Freddy Lazarus, played by Kim Cattrall. Elton John is an executive producer.
In Case of Emergency
David Arquette stars in the story of four friends from high school who unexpectedly reunite during a crossroad in their lives.
EDITOR'S NOTE: DAVID ARQUETTE IS ONE OF THOSE PEOPLE THAT'S SORT OF LIKE KRYTONITE FOR TV WATCHING FOR ME. YOU SAY HIS NAME, AND I SUDDENLY WANT TO WALK THE DOG OR READ A BOOK.

Dramas:

Brothers & Sisters
A family soap opera. Ken Olin is an executive producer. The high-profile cast includes Balthazar Getty, Calista Flockhart and Patricia Wettig.
EDITOR'S NOTE: HOW DOES PATRICIA WETTIG KEEEEEEP GETTING CAST IN THOSE KEN OLIN PROJECTS? HOW HOW HOW? (GIGGLE).

Men in Trees
A female shrink, played by Anne Heche, moves to Alaska after learning her husband has been cheating on her only to find herself surrounded by available men.
Ugly Betty
Salma Hayek is an executive producer for this series about an unattractive girl who is hired by a Vogue-like fashion magazine because the publication's owner wants to stop his habit of sleeping with attractive assistants. America Ferrera ("The Sisterhood of the Traveling Pants") stars as Betty.
EDITOR'S NOTE: STOLEN FROM A TELENOVELA. SO WE CAN SUFFER JUST LIKE THE PEOPLE WATCHING SPANISH-LANGUAGE TV.

CBS

Comedies:

Play Nice
An odd couple brother and sister run a family toy company together. Swoosie Kurtz and Fred Willard star.
You've Reached the Elliots
Chris Elliot plays a husband and father who tries to find a way to spend more time with his family without totally abandoning his modest showbiz career.
Dramas:

Jericho
A mushroom cloud appears on the horizon, isolating a small town and plunging its residents into social, psychological and physical chaos.
EDITOR'S NOTE: WOW. THAT SOUNDS JUST LIKE

MY

LIFE. (GIGGLE).Orpheus
An epic romance with Nick D'agosto, Mena Suvari and Fairuza Balk chronicling a young man's journey into the seductive world of a sophisticated modern-day cult.
Ultra
Based on a popular comic book, this fast-paced action-adventure series centers on a modern female superhero who balances the demands of "greatness" with her social calendar.
EDITOR'S NOTE: WHILE SUBSISTING ONLY ON BOTTLED WATER AND CELERY SO AS TO FIT INTO HER SPANDEX OUTFIT?

Waterfront
Joe Pantoliano stars as the wildly charismatic and ethically challenged mayor of Providence, R.I. Billy Baldwin and Mary Stuart Masterson are also part of the cast.
EDITOR'S NOTE: WHEN WILL THEY STOP CASTING PANTOLIANO AS ANYTHING THAT CLAIMS TO BE 'CHARISMATIC'? CAUSE HE AIN'T UP FOR IT.

Shark
Spike Lee directs this series about an infallible defense attorney, played by James Woods, who brings his cutthroat manifesto to the Los Angeles district attorney's high-profile crime unit.
The CW

Comedies:

The Game
A woman learns the game played by the wives and girlfriend of NFL athletes after her boyfriend becomes the new third-string wide receiver for the San Diego Sabers.
She Said He Said
The series shows how men and women approach dating from completely different directions.
Dramas:

Split Decision
A 15-year-old girl splits her life in two and assumes two distinct personas -- one a sensitive misfit, the other a popular cheerleader. Aaron Spelling is executive-producer.
Palm Springs
A 15-year-old boy moves to Palm Springs to live with his mother and her new husband after his father commits suicide.
EDITOR'S NOTE: I'M FEELING ALL ANGSTY (AND WHINY) ALREADY.

Aquaman
A super-hero drama based on the classic D.C. comics character.
Runaways
In this Darren Star production, a family of five is on the run. After the father is unjustly convicted of a violent crime, they are forced to use secret identities to avoid the law.
EDITOR'S NOTE: A DARREN STAR PRODUCTION. SO THE FAMILY OF FIVE IS PRETERNATURALLY ATTRACTIVE? (
AND WON'T BEING ON TV KINDA RUIN THAT WHOLE SECRET-IDENTITY THING? OH, WAIT....NOT REAL
....)
Fox

Comedies:

The Adventures of Big Handsome Guy and His Little Friend
Based on the short film of the same name that was a huge hit on the festival circuit, big handsome guy is charismatic and successful; his best friend since childhood is a small intellectual who is always getting the short end of the stick. Hayes MacArthur and Jason Winder are the series co-stars, co-creators and co-writers.
EDITOR'S NOTE: I CAN'T IMAGINE I'LL WANT TO WATCH IT. BUT IT GETS POINTS FOR THE TITLE.

'Till Death
The series, starring Brad Garrett ("Everyone Loves Raymond"), looks at marriage from two wildly different perspectives, a long-married couple and two newlyweds who live next door to each other.
The Twelfth Man
Based on the ESPN.com blog of real-life 12th man Paul Shirley, the series is about a pro ball player who spends most of his time warming the bench.
The Worst Week of My Life
The series, told in seven-episode arcs, traces the weeks prior to a married couple's major life events (their wedding, the birth of their first child, moving into their first home). Each episode represents a day.
Dramas:

Beyond
In this ensemble drama set at NASA's Jet Propulsion Laboratory, a meteorite carrying a deadly virus crashes to Earth, and the team at JPL embark on an urgent, high-stakes mission to explore space.
EDITOR'S NOTE: ALL OF THEM...EXCEPT ONE LUMPY GENIUS GUY...IN SKIN-TIGHT SPACE SUITS, NO DOUBT?

Primary
This procedural drama invovles two romantically involved hostage negotiators.
Southern Comfort
A woman is forced to take over the family business when her husband is thrown in jail; she soon finds out that the family business is actually the Dixie Mafia. The series stars Eric Roberts and Madeline Stowe.
13 Graves
A thriller revolving around a man's search for his missing brother, starring Matthew Lillard.
EDITOR'S NOTE: HE'S THAT GUY WHO DOESN'T DO WELL WITH UN-SCRIPTED INTERVIEWS (WHO STARTED OUR INTERMINABLE AND HEATED DISCUSSION ABOUT THE DEFINITION OF 'GENERATION')?

NBC

Comedies:

Community Service
Jay Mohr plays a New York real-estate agent who loses everything. He travels to a rural town to seek out a lost love and gets trapped there when he is sentenced to community service after an altercation with a police officer.
Tina Fey Project
Tina Fey stars as a producer of a fictional TV show in this workplace comedy.
Andy Barker, P.I.
Andy Richter stars as a C.P.A. accidentally turned P.I. Conan O'Brian is an executive producer.
EDITOR'S NOTE: WHY DO THEY MAKE SHOWS WHERE THE CHARACTER HAS THE SAME FIRST NAME AS THE ACTOR? CAN THESE ACTORS NOT LEARN ANOTHER NAME? DO THEY NOT TURN AROUND ON THE SET UNLESS THEY ARE CALLED BY THEIR OWN NAME?

20 Good Years
John Lithgow stars as one of two mismatched buddies who vow to make the most out of their next 20 years.
Dramas:

Studio 60
An all-star cast including Matthew Perry, Amanda Peet, Steven Weber and D.L. Hughley portray the drama that goes on behind the scenes of a late-night sketch comedy series. Aaron Sorkin and Thomas Schlamme (both producers on the "West Wing") executive produce.
EDITOR'S NOTE: SIGN ME UP NOW, PLEASE!

The Black Donnelleys
The story of four Irish brothers living in New York's Hell's Kitchen and their involvement with organized crime. Paul Haggis (director and screenwriter of this year's Academy Award-winning best picture, "Crash") co-wrote and directed the pilot.
EDITOR'S NOTE: PAUL HAGGIS GOOD. IRISH MAFIA...YAWN.

Friday Night Lights
The series follows a high school football program in the fictional small town of Dillon, Texas. Kyle Chandler ("Early Edition," "King Kong") stars as Coach Eric Taylor.
EDITOR'S NOTE: DESPITE WHAT LOOKS LIKE A SET SLATE, ABOVE, IT SEEMS LIKE THERE ARE MORE PILOTS BREWING AND BEING CONSIDERED ---
'Death' becomes Fisher; Morales, Floyd also cast in pilots
Joely Fisher has been tapped to portray Brad Garrett's wife in Fox's comedy pilot " 'Til Death."
In other casting news, Esai Morales has landed a role in CBS' drama pilot "Company Town," Steven Eckholdt and Susan Walters have joined the cast of the CW's drama pilot "Split Decision," and Susan Floyd has been cast in the CW drama pilot "Runaway."
" 'Til Death," from Sony Pictures Television, centers on a just-married young couple who move in next door to a long-married couple. Garrett and Fisher will play the long-married couple.
Bell, Cole move into CBS drama 'Town'
Catherine Bell and Gary Cole have joined the cast of CBS' drama pilot "Company Town," Mercedes Ruehl is close to signing on to co-star in CBS' untitled Paul Reiser comedy pilot, Rena Sofer has been tapped to star opposite Diedrich Bader in ABC's comedy pilot "Mr. Nice Guy," Kevin Hart has come on board CBS' comedy pilot "The Weekend," Bruce Davison has been added to ABC's comedy pilot "Southern Comfort" and Cheryl White and D.W. Moffett have been cast in the CW's untitled Kevin Williamson drama pilot.
Additionally, John Sloan has landed the second lead in Fox's comedy pilot "Happy Hour," Alexis Cruz has joined CBS' drama pilot "Shark" and Brendan Hines has been added to Fox's comedy pilot "If You Lived Here, You'd Be Home Now." In pilot-pickup news, CBS has given a late green light to "My Ex Life," from writer-executive producer Rich Appel.
Lifetime vote of confidence for 'Election'
Lifetime Television has given a vote of confidence to "Election," a reality series pitting husband-and-wife political consultants James Carville and Mary Matalin against each other as part of a high school election.
The cable network has ordered six half-hour episodes of the show, titled "Election," which is set to premiere in the fourth quarter.
The series will see Republican Matalin and Democrat Carville put their White House experience to use when they become rival campaign managers in what's described as a "hotly contested" election for student-body president at a high school in Washington. RJ Cutler, Andrea Buchanan and Todd DeLorenzo are executive producing "Election," which is from Brillstein-Grey
EDITOR'S NOTE: LIFETIME. NO LONGER TELEVISON FOR WOMEN, BUT STILL NOT ANYTHING I WANT TO WATCH.
MOVIE DWEEBING:
Casting: Jackman Goes For A 'Drive'
Can Hollywood stuntmen ever get any respect? Variety reports that Universal Pictures has optioned the James Sallis novel "Drive" as a starring vehicle for Hugh Jackman. The noir story centers on a stuntman who moonlights as a wheelman during robberies and discovers that a contract has been put out on him. Jackman will produce through his Seed Productions shingle and is currently looking for a screenwriter to adapt the project.
Another Potter
Another Potter is coming to the big screen, and it's not of the magical variety.
According to The Hollywood Reporter, The Weinstein Co. has acquired North American rights to "Miss Potter," the biopic of Beatrix Potter, who authored the children's classic "The Tale of Peter Rabbit." Renée Zellweger will play Potter, and her co-stars will include Ewan McGregor and Emily Watson.
EDITOR'S NOTE: YUMMY CAST!
The picture will follow Potter's struggle to overcome a domineering mother and Victorian England's chauvinistic society. "Babe" director Chris Noonan is helming the film, which is currently shooting in the U.K.
NATIVITY
Keisha Castle-Hughes, best known for her Oscar-nominated performance in "Whale Rider," has been chosen to portray the Virgin Mary in New Line's "Nativity." According to Variety, the 15-year-old will play Mary over a two-year period leading up to the birth of Jesus in Bethlehem. The Catherine Hardwicke ("Thirteen") feature is being fast-tracked (also known as "rushed") to shoot in Italy and Morocco this May with a release set only seven months later. On that schedule the studio will need a Christmas miracle to get the movie finished by December. They better start praying now.
EDITOR'S NOTE: SEE, AND I WAS NOT GOING TO STOOP TO THE WHOLE GOD/MIRACLE/JESUS JOKE THING. I WAS JUST GONNA LEAVE IT BE. (
BUT I GUESS BEING

CHOSEN

KEEPS ME ABOVE ALL THAT SILLINESS?
)
Black Monday
Variety reports that Paramount Pictures has hired "X-Men" screenwriter David Hayter to adapt the novel "Black Monday." The story finds a federal investigator attempting to stop the spread of a catastrophic virus that will destroy the world's oil supply. Hayter told the trade it's the same concept as "The Day After Tomorrow," but that it's also "
socially conscious with something to say."
Right.
EDITOR'S NOTE: HARD TO MAKE FUN OF PEOPLE WHO ARE DOING ALL THE HEAVY LIFTING BY THEMSELVES.
Just include a massive tidal wave like the tsunamis "The Perfect Storm," "Deep Impact" and "Tomorrow" featured and Paramount will have a big hit on its hands.
Julia Isn't Done 'Talking'
Julia Roberts' next movie project is the drama "Charlie Wilson's War" opposite Tom Hanks, but America's Sweetheart isn't planning a one-shot return to the big screen. According to Variety, Roberts is negotiating to star in the adaptation of Marti Leimbach's novel "Daniel Isn't Talking."
The London-set drama chronicles how a family's life is shattered when it's revealed that one of its two children is autistic. Roberts previously starred in another movie version of a Leimbach book, "Dying Young." Curiously, Roberts also recently optioned the rights to another autistic-themed novel, Cammie McGovern's "Eye Contact." One has to assume Roberts won't star in both. Then again, the way development works, she may dump both and star in something completely different. Either way, one can only assume Roberts is fascinated by autism.
More Moore
Demi Moore is getting ready to play her own version of Clarice from "The Silence of the Lambs." According to The Hollywood Reporter, Moore is set to star alongside Kevin Costner and William Hurt in the psychological thriller "Mr. Brooks."
The story follows a man (Costner) with a murderous alter ego (Hurt), and Moore will play a crafty detective who catches the attention and respect of the serial killer. Before you can say "Hannibal Lecter" the two end up forming a symbiotic relationship.
This would be Moore's first high-profile role since her comeback in "Charlie's Angels: Full Throttle" way back in 2003. She followed that with the direct-to-DVD release "Half Light" (yikes). Production on what can only be described as her "second" comeback is set to begin next month in Louisiana.
EDITOR'S NOTE: WELL....I LIKE WILLIAM HURT.
Law sworn into Gotham City?
The film is still two good years away, so anything could happen between then and now, but what's a good Chinese whisper between friends, right?
According to
Batman-on-film.com
, the one crowd who can on the face of it actually keep up with 'all these rumours', Sean Penn's new best mate is in the running for a role in "Batman Begins 2".
Yep, Jude Law is being considered for a role.
Law, funnily enough, was actually touted as a possible "Batman" at one stage – before Warner hopped on the Internet and saw that everyone was championing for Christian Bale – in the early days of "Batman Begins", and before that, was a frontrunner for the role of Superman – so much for an American hero, right? – In the much-touted "Batman Vs. Superman". Seems his photo is still on the clipboard over there at Bat-central, with producers trying to get him a role in the next Bat-film.
Pure speculation, as they admit, but
Batman-on-film
believe he might be being considered for the role of D.A Harvey Dent in the film. Should Law get the role, he'd reprise the role for a further film – one that would see him transform into Dent's evil alter ego, Two Face.
Take it with a grain of salt, for now.
EDITOR'S NOTE: NOT A BAD CASTING IDEA, THOUGH. TRUE OR NOT.
CONAN and the Wachowski Brothers?
The Arnold Fans website is reporting "
it now seems that Andy and Larry Wachowski --the Wachowski Brothers as they are known-- are being courted by the WB to direct KING CONAN: CROWN OF IRON a.k.a. CONAN THE CONQUEROR. They were once going to produce and write King Conan under Milius before they left the project to pursue other things."
The article also goes on to note their source said, '...
the Wachowski Brothers are comic book geeks and Conan is a comic book property, Warner Bros. would be stupid not to make a deal with them to direct the next Conan film and get Arnold Schwarzenegger in the mix.'
He then concluded with
'the WB have been very supportive of the Brothers so I'm sure a deal will be made and fans can stop sending Warner Brothers death threats for killing KING CONAN with Arnie.'
Back in January 2004, IGN Film Force had reported their trusted sources told them "
Larry and Andy Wachowski have ankled King Conan: Crown of Iron, the third movie featuring Robert E. Howard's barbarian hero. The Wachowski brothers were to have produced King Conan with John Milius onboard to write and direct it... Sources advised IGN FilmForce that the Wachowskis – who had reportedly clashed with Milius over the tone and direction of the film – left King Conan of their own volition."
Thus whether the brothers are back or not must remain in the unconfirmed rumor category at this time.
EDITOR'S NOTE: WELL, THE WACHOWSKIS HAVE INCHED THEIR WAY BACK TOWARDS THE 'PLUS' COLUMN WITH "

V IS FOR VENDETTA

". I

HIGHLY

RECOMMEND IT. THE W BROTHERS STILL HAVE SOME ATONEMENT TO DO FOR ALL THAT "MATRIX"-ING THEY INFLICTED UPON US. BUT "V" GOES A LONG WAY TOWARDS RECLAMING THEIR MATRICISED SOULS.
Brett Ratner directing Wolverine spin-off?
This could mean either two things :
1) He has done such a knock-up job on "X-Men 3", that Rothman's keen for him to take the reigns on "Wolverine" above anyone else
2) That Ratner's insisting he's the right man for the gig, and knowing he 'gets all the good stuff', the tower aren't rebutting the claim.
Still, after seeing the most recent trailer for "X-Men 3", I am on the boat that's heading towards 'could be good, after all' territory. OK, so Bryan Singer did absolute wonders with the "X-Men" series, but what everyone's forgetting is that those movies also had excellent scripts. What's to say the stencil of the third film wouldn't make a great movie even if Dennis Dugan were helming? I wouldn't at all be surprised. Still, the jury's out until May.
As the headline reads, Ratner's now rumoured to be directing Hugh Jackman in the "Wolverine" spin-off that's set to go as soon as Oscar's pop has grown his sideburns back. That's not all though, "X-Men 3" co-star Vinnie Jones is set to reprise his role of Juggernaut for the Jackman-starrer too.
Talking to MTV, Jones said
"[Brett] was saying that they'll probably use a lot of the characters
," Jones said, implying that the director will also return alongside star Hugh Jackman in "Wolverine."
"Hopefully [the Wolverine/ Juggernaut rivalry] will come into it".
EDITOR'S NOTE: OOO...LOOKIE. FURTHER SIGNS OF THE APOCALPYSE!
Lopez and Longoria teaming up as Sisters?

It had to happen eventually – I suppose. Latin superstars Jennifer Lopez and Eva Longoria teaming up on the big screen, is what I refer to.
The Desperate Housewife and the, ah, Desperate Housewife (ding!) are set go at it – no, not like that – as sisters in a film penned by Lopez herself.
According to
Sky News Showbiz
, the as-yet-to-be-titled comedy tells of "two sisters, both Hollywood stars, who fall out and dish the dirt on each other to the press."
The Paris and Nicky story, sorry, I mean 'as-yet-untitled movie' will go before the cameras in September.
Ross and Reeves training for 'PDR'
Evan Ross and Scott Reeves have joined the cast of Lionsgate's "PDR," which stars Terrence Howard and Bernie Mac.
Directed by Sunu Gonera, the film chronicles the real-life story of Jim Ellis (Howard), who in the 1970s transformed a group of troubled black inner-city kids into one of the best swim teams in the country. Michael Gozzard and Kevin M. Smith wrote the screenplay. Ross, who makes his film debut this month in Chris Robinson's "ATL," will play one of the troubled teens. Reeves, the son of Clint Eastwood, will play the captain of a predominantly white rival swim team.
EDITOR'S NOTE: SWIMMING. BASKETALL. FOOTBALL. HAVEN'T WE SEEN THIS MOVIE A HUNDRED TIMES ALREADY?
'Lighthouse' turns on Touchstone
Touchstone Pictures has acquired "The Lighthouse," a claustrophobic thriller by Dean DeBlois that will be produced by Andrew Gunn and his Gunn Films banner.
The story is set off the coast of Brittany in the English Channel, where lighthouses perch on solitary pieces of rock and lighthouse keepers live in isolation for two months at a time. When a man arrives to one lighthouse to install automated equipment, he meets two brothers who have been living there for years and begins to unravel their dark secrets.
EDITOR'S NOTE: NO CABLE TV. NO SATELLITE DISH. NO DSL. OF

COURSE

THE BROTHERS HAVE DARK SECRETS!
The WMA-repped DeBlois was the co-head writer on "Mulan" and co-wrote and co-directed "Lilo & Stitch" from the Walt Disney Co
EDITOR'S NOTE: LAST CHANCE FOR JESUS JOKES? AN UPDATE ON THAT EARLIER POSTING ----
Aghdashloo Mary's sis in 'Nativity'
Shohreh Aghdashloo is in final negotiations to join Keisha Castle-Hughes in "Nativity," New Line Cinema's look at the life of the Virgin Mary before the birth of Christ.
EDITOR'S NOTE: WOW. STRONG FEMALE LEADS, ANYWAY!
Catherine Hardwicke is directing the movie, which is being produced by Marty Bowen and Wyck Godfrey. The story, to be told with a strong female perspective, will follow Mary and Joseph's life before Christ as their love, faith and beliefs are tested. The Mike Rich script incorporates their departure from Nazareth and travel to Bethlehem and includes such biblical figures as King Herod and the three wise men from the East. Castle-Hughes already is cast as Mary, and Aghdashloo would play Elizabeth, her sister. Elizabeth, too, is visited by an angel and becomes pregnant with the child that will grow up to be John the Baptist.
Top guns Rudin, Di Bonaventura bring pic to life
For the first time, the two top producing dogs at Paramount Pictures are teaming on a movie.
Paramount has purchased film rights for high-six figures for screenwriter Charlie Fletcher's contemporary novel "Stoneheart," which is scheduled for publication in September in the U.S. (Hyperion) and the U.K. (Hachette). Both Scott Rudin and Lorenzo di Bonaventura wanted to produce the movie, which has franchise potential; Fletcher plans to complete a trilogy.
Paramount production co-president Alli Shearmur asked the two men to work together on the large-scale project, and they heartily agreed. "
It's a great children's book, which Scott and I both read,"
di Bonaventura said. "
We thought, 'This is the way to do 'The Wizard of Oz' in England.' We're setting our goals high."
In "Stoneheart," London statues of famous people come alive to re-enact their history -- much like 20th Century Fox's holiday comedy "Night at the Museum," which brings animals and insects to life at New York's Museum of Natural History.
"This is very 'Harry Potter,
' " said di Bonaventura, who supervised that franchise when he was president of production at Warner Bros. Pictures. "
It's scary when gargoyles come to life and soldiers in Trafalgar Square are still fighting battles. It's a very visual piece
STUFF FROM DA BIZ OF DA BIZ:
SUPERCHARGED: WHY DICK PARSONS NEEDS SUPERMAN
How a $1.7 Billion Icon Can Lift Time Warner to New Heights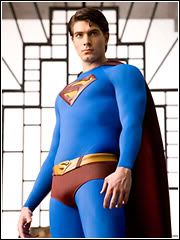 EDITOR'S NOTE: SOME PEOPLE JUST SHOULDN'T WEAR TIGHTS. (ESPECIALLY IN A NON-SLIMMING BRIGHT BLUE).
By T.L. Stanley
LOS ANGELES (AdAge.com) -- Superman can jump tall buildings in a single bound and stop speeding trains in their tracks, but Dick Parsons needs him to perform a trickier task -- mobilize every division of the world's largest media company and prove, once and for all, that Time Warner can be more than the sum of its parts.
When Superman returns in "Superman Returns," a $200 million movie that opens in late June, there'll be a lot at stake for its parent company, the toy industry at large and even for those merger-and-acquisition advocates who have argued for the creation of media conglomerates.
$1.7 billion man of steel
Time Warner owns the 73-year-old man of steel. Among other appearances he's been a four-time movie star, a pillar of its DC Comics publishing arm, a merchandising, licensing and animation godsend and, most recently, the center of WB's hit show "Smallville." Advertising Age analysis suggests that Superman properties have already earned more than $1.7 billion.
Rather than letting him shuffle off into retirement, the $43.7 billion media giant is counting on the new movie and a host of other upcoming Superman-centric efforts across almost all its units to boost coffers across its divisions in a way that would effectively prove that those synergies, so often quoted when AOL and Time Warner came together in 2000, are more fact than fiction.
"There's a huge expectation that this will re-launch Superman as an ongoing property," said Brad Globe, president of Warner Bros. Worldwide Consumer Products. "We want to draft off the movie, but we want the marketplace to feel that it's not just dependent on the movie." EDITOR'S NOTE: SO, IN A COLD HEARTLESS WAY, WE WANT TO CAPITALIZE ON THE WARM FEELINGS ALREADY INHERENT IN THE PROPERTY. JUST IN CASE OUR HEARTLESSNESS TRANSLATES TO A COLD, BORING MOVIE.
"It's an extraordinary asset," said Ken Markman, CEO of KKM Global Brand Strategies and a former Mattel executive. "If you're going to reinvent something so iconic, you can't afford to have it fail."
400 licensing partners worldwide
"Superman Returns" has been in development for a number of years with a revolving door of filmmakers, writers and talent. Along the rocky route, the studio kept seeing sparks of interest in the property -- a 1997 animated show drew a steady following, "Smallville" took off on the WB, and new lines of product based on the iconic "S" shield sold well when they hit the market a few years ago. Leading up to the June 30 release of the film, the studio has signed 400 licensing partners worldwide. EDITIOR'S NOTE: IS IT KOSHER TO MILK A SACRED COW?
There's a plan in place, Mr. Globe said, to keep "Superman" fresh long after this summer's movie leaves the multiplex. The studio already has announced another feature film with "Superman Returns" director Bryan Singer, likely for 2009, and possibly a direct-to-video movie in between the upcoming release and the 2009 offering. There will also be a steady stream of entertainment and product, directed by the studio's global brand management team, which shepherds its franchise properties through every part of their life cycle.
"There are people solely focused on our three-to-five event properties a year," said Gaetano Mastropasqua, senior VP-promotions of the studio's global brand management division. "We nurture the franchises."
Sean McGowan, analyst at Harris Nesbitt Gerard, doesn't compare Superman's potential to a phenomenon like "Star Wars" with its six movies and billion-dollar licensing programs over 20-plus years, but said there are positive indicators the property can succeed. He said consumer interest moves quickly. "Properties don't last as long as they once did." EDITOR'S NOTE: POSSIBLY BECAUSE THE MARKETING MACHINERY DRAINS THEM OF ALL LIFE?
The weight of franchise films Stu Seltzer, partner in Marketing on Demand, a licensing, marketing and valuation company, said studios are increasingly developing franchise films as a way to maximize profit. "The value spreads across the entire company," he said. "If the movie's a huge hit, it will affect their stock price. The performance of these kinds of projects ripples throughout the company, either positively or negatively."
"Superman" has been a hit on the big screen before. Starting in the late '70s, the late Christopher Reeve starred in four films that pulled in more than $300 million domestically and double that worldwide. DVDs, merchandise, live action and animated TV series followed, and continue to the current day. There have been original "Superman" films or TV shows created in 22 of the past 25 years, according to DC Comics, and new media offerings -- books, comics, animated shows and so on -- created around the property in 52 of the past 66 years. There are 35 "Superman" titles on DVD, counting the classic TV show from the '50s, "Lois & Clark" and various animated shows.
"The property has worked in the widest range of media, from radio to newspaper comic strips to cartoons, TV and film," said Paul Levitz, president and publisher of DC Comics. "That's the most powerful indicator of how deeply he's woven into the popular culture."
Superman has shown his financial might in a number of ways. "Smallville," which is produced by Warner Bros. TV and airs on the WB network, is having a renaissance in its fifth season, attracting an average of 5.5 million viewers, up 8% from a year ago. Its recent 100th episode pulled in more than 6 million viewers. It ranks first in its time period, season to date, with men 18-to-34. Warner Bros. reaps about $850,000 an episode by selling reruns of "Smallville" to cable channels. It also sells the show internationally.
Crowded summer schedule
"Superman Returns" launches into perhaps one of the most competitive years in film history, with big-budget, effects-laden, star-studded event movies stacked one on top of the other from May through July. Industry watchers say they've never seen as many tent poles staked in the ground in such a short period, with "X-Men III," "Mission: Impossible III" and "Da Vinci Code" just a few.
Warner Bros.' movies, TV shows and home entertainment, which includes New Line Cinema, pulled in $11.9 billion in revenue for the fourth quarter of 2004 and the full year 2005, making up 27.3% of Time Warner's bottom line.
To whip up interest in "Superman Returns," Warner has gathered Pepsi-Cola Co., Burger King, PerfectMatch.com, Duracell and Quaker State as marketing partners. Toymakers are also counting on the man of steel to give the industry a lift.
According to the NPD Group, the U.S. toy industry was down 4% in 2005; retail sales declined to $21.3 billion from $22.1 billion the year before. There will be a raft of Superman products at major retailers like Wal-Mart, Toys 'R' Us and Target. Mattel, which is producing much of the Superman line, will put a heavy ad push behind its products from summer through fall.
Entertainment-licensed product, which has been flat in some spots and declining in others, could use a boost. "We need success stories," said Gary Caplan, president of Gary Caplan, a licensing consultancy that has several clients involved in "Superman Returns." "We know retailers are buying into this property, but we don't know yet if consumers will."
They had better. Time Warner is counting on it. EDITOR'S NOTE: I FEEL A REALLY BAD TREMOR IN THE FORCE. CAN SOMEONE WHO LOOKS THAT CHUBBY IN TIGHTS SAVE TIME WARNER? (MUCH LESS, EARTH?)

A FEW ODDS-AND-ENDS:
DVD NewsICE AGE Super-Cool Edition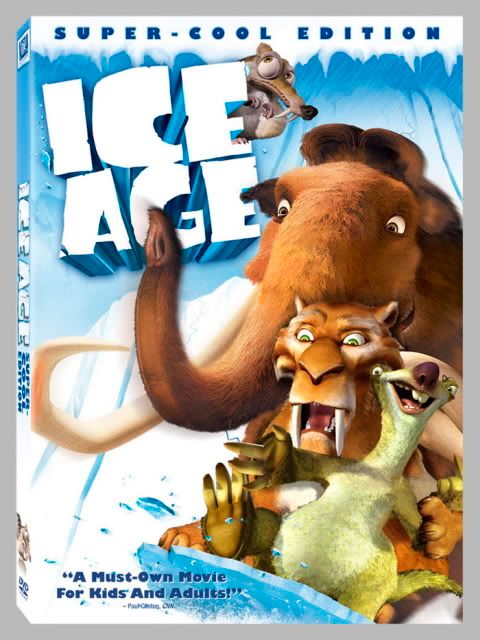 Fox Home Entertainment's Ice Age Super-Cool Edition arrived on DVD this week.
From Academy Award®-winning* director Chris Wedge (Robots), the Ice Age Super-Cool Edition two-disc DVD set is mammoth-sized entertainment, featuring an all new "Extreme Cool View" version which combines fun and interesting facts about the real Ice Age and animated filmmaking throughout the movie.
The Ice Age Super-Cool Edition DVD includes commentaries, featurettes, the animated short films Bunny and Gone Nutty: Scrat's Missing Adventure, brand new set top games and a preview of the highly anticipated feature film, Ice Age 2.
Ice Age features the voice talents of Emmy®-winner** Ray Romano ("Everybody Loves Raymond"), John Leguizamo (The Honeymooners), and Denis Leary ("Rescue Me").
Available in widescreen and full screen formats, the Ice Age Super-Cool Edition DVD also comes with a free kids movie ticket*** to see Ice Age 2: The Meltdown, coming to theaters March 31, 2006.
The DVD is priced at $19.98 U.S./$25.98 Canada.
DVD PACKED WITH BONUS FEATURES The two-disc Ice Age Super-Cool Edition DVD comes in new O-ring packaging and is presented in both Widescreen and Full Screen formats with English Dolby Surround 5.1 and French and Spanish Dolby Surround. The DVD also features French and Spanish subtitles and includes the following cool features:
Disc One · Commentary by director Chris Wedge and Co-Director Carlos Saldanha · Deleted scenes with directors' commentary · Trailers
Disc Two · Ice Age 2 Sneak Peek · Extreme Cool View – All new feature which combines fun and interesting facts about animated filmmaking and the real Ice Age throughout the movie · Gone Nutty - Scrat's Missing Adventure · Sid on Sid Silhouette On Scenes · Scrat Reveals · Animation Progression · International Ice Age · Academy Award® winning "Bunny" Animated Short with optional commentary · The Making of Ice Age · Behind The Scenes of Ice Age (HBO Special) · Build Your Own Design Gallery · Size Comparison/Science Behind Ice Age Gallery · Set Top Games including the all new games "Cave In" and "Rock/Paper/Scissors" as well as "Playing Darwin," a flip book game; "Hide and Eek," search and find game; and "Frozen Pairs," challenging players to spot the differences between two pictures · DVD-ROM games "Sid Shreds," a snowboarding game starring the Ice Age characters and "Super Dodo Ball," a rugby/dodgeball game · A abundance of DVD ROM printables including Snowflake Flurry ornaments, Ice Digest an Ice Age-inspired magazine, Hanging With The Herd Make-Your-Own Mobile, Ice Box Theater, Sub-Zero Heroes Adventure Board Game and a 12-month Migration Calendar
EDITOR'S NOTE: AND NOW, A REALLY GOOD REASON TO GO TO CALIFORNIA ---

Science Center Unleashes Super Heroes
The California Science Center will host the world premiere of "Marvel Super Heroes Science Exhibition" beginning March 26, 2006. The exhibit will run through September 4, 2006.
Visitors will immerse themselves in the electrifying sights, sounds and sensations of the Marvel Universe while they explore how some of the most loved comic book heroes and villains bring science into their world.
Engaging and interactive experiences will encourage visitors to learn about real life science and technology through the mythic powers of Super Heroes.
Is there a biological basis to Hulk's transformation?
How can knowledge of simple mechanics help us command the strength of Iron Man?
Visitors of all ages will enjoy finding the answers to these questions and more as they learn about science and technology while living the fantasy of their favorite Marvel Super Hero.
"'Marvel Super Heroes' is a wonderful avenue to introduce visitors to the remarkable achievements of current science and technology—achievements that in many ways give us special powers we dream of through the comics, such as Doc Ock's dexterity with prosthetics, Iron Man's physical strength, and Daredevil's sight in the face of blindness," said Jeffrey N. Rudolph, President of the California Science Center.
In this exhibition, visitors can can:
See if their senses are as sharp as Daredevil's when they navigate through an alleyway using their sense of touch and hearing clues ("psst over here")
Investigate the Incredible Hulk's brain and learn which areas are responsible for generating human emotions such as rage—the key to Hulk's super abilities
Discover what it's like to have a helping hand or three with Doctor Octopus through the engineering technology of prosthetic limbs
Examine how lightning is created and calculate the distance of a thunderstorm that destroys a villain in the Storm exhibit.
See how an optical illusion known as motion-induced blindness can make the Invisible Woman disappear
Visitors can also become a real life Iron Man by stepping into an exo-suit to lift a Scion xB, a vehicle weighing nearly 2500 lbs. By experimenting with simple levers and pulleys to lift weights, they will learn what the future holds for increasing human strength.
In another area, visitors will explore the wonders of Spider-Man when they learn about the elasticity and strength of spider webs. Here they will be able to test the strength of a synthetic fiber, similar to spider silk, called Technora™.
Visitors entering the Xavier Institute for Higher Learning will interact with the X-Men and discover how genetic mutation can evolve into super abilities. They can see how matter changes from one state to another when Iceman transforms himself into ice or explore the magnetic fields that protect Magneto.
Guests can examine Wolverine's skeleton—strengthened by an indestructible metal—and then learn about artificial parts developed by biomedical engineers to enhance patients' lives.
In the Danger Room, which focuses on Banshee's sonic superpowers, visitors can discover the physical nature of sound waves and learn about their unique properties. They can create motion with the sound emitted from a tuning fork and explore how sound is used in current technology—from ultrasound to sound guns.
The exhibition features over 9,000 sq. ft. of interactive experiences developed, designed and fabricated by Yellowbrick•Holman Exhibition Inc. in partnership with the Ontario Science Centre.
After its debut in Los Angeles, the Ontario Science Centre will tour "Marvel Super Heroes" to other science centers and museums in North America. EDITOR'S NOTE: THIS SOUNDS FANTASTIC! I HOPE IT'S COMING TO HOUSTON!
The "Marvel Super Heroes Science Exhibition" is open 7 days a week from 10 am to 5 pm, Tickets are available online at CaliforniaScienceCenter.org and advanced ticket purchase is encouraged.

Slate.com Publishes Ad-Supported Serialized Novel
by Shankar Gupta, Monday, Mar 20, 2006 6:00 AM EST
ONLINE MAGAZINE SLATE LAST WEEK launched a new serialized novel, "The Unbinding," a dark comedy by novelist Walter Kirn that was conceived specifically for the Internet. The effort will leverage some of the Web's qualities by containing links to other Web sites; it also will be written in "real-time."
Describing the initiative on the site, Slate culture editor Meghan O'Rourke characterized the book as "conceived for the Web, rather than adapted to it." "It will make use of the Internet's unique capacity to respond to events as they happen, linking to documents and other Web sites," wrote O'Rourke.
The Web site is in talks with advertisers to line up an exclusive sponsor, said Cliff Sloan, Slate publisher. Sloan would not name the potential sponsors, but called them "premium advertisers."
Currently, the novel is being monetized by ads sold through Slate's regular sales processes.
He said the ads for "The Unbinding" will be more creative than typical display ads. "We're actually talking about possibilities that would be pretty innovative and take full advantage of the medium in the same way that the novel does--special features that would only be available on the Web."
Sloan said that Slate was looking to be recognized for hosting innovative ad campaigns, citing the Visa "flip" campaign, which presented the site in a backwards, mirror-image to users before flipping it back when they moused over the ad.
ROGER EBERT, PHILOSOPHER OF MOVIES:
Worthy films, stars get Overlooked attention
BY ROGER EBERT FILM CRITIC
An Oscar nominee, an offscreen singing star, a really bad Santa and a Carmen from Cape Town will be among the selections at my eighth annual Overlooked Film Festival. Playing April 26-30 at the University of Illinois at Urbana-Champaign, the fest honors overlooked films, formats and genres. Their makers join me onstage for discussions after the screenings.
Opening night will feature a famous movie with a star who was required by Hollywood to remain anonymous. We'll have a rare 70mm screening of a restored print of "My Fair Lady," with a personal appearance by Marni Nixon, who dubbed the singing voice of Audrey Hepburn in the movie. As Hollywood's most gifted unseen musical star, she also sang for Natalie Wood in "West Side Story" and Deborah Kerr in "The King and I." EDITOR'S NOTE: MARNI NIXON HELPED ME LEARN HOW TO SING SOPRANO (I SANG ALONG WITH THE "WEST SIDE STORY" ALBUM SO MUCH, MY BROTHERS TO THIS DAY CAN'T HEAR "TONIGHT" WITHOUT PROPER MEDICATION).
Amy Adams, an Academy Award nominee this year for "Junebug," has said she'll appear after the screening of her film, unless a change in her current shooting schedule prevents her. She'll be joined by Scott Wilson, who co-stars in the film as her father-in-law, by the distributor Michael Barker, and by the writer-director, Phil Morrison. Of all the performances I saw last year, hers was the most heart-warming.
A two-time Oscar nominee, John Malkovich of Chicago's Steppenwolf Theatre tentatively has agreed to join us to discuss his 2002 film "Ripley's Game." Directed by Liliana Cavani, it is the best of all the films inspired by Patricia Highsmith's amoral villain, but it was never released theatrically in the United States. Russell Smith, the executive producer and a longtime Steppenwolf associate, also will be onstage.
Terry Zwigoff, director of "Bad Santa," will be at the festival with his personal print of what he calls "Really, Really Bad Santa." The original "Bad Santa" (2003) starred Billy Bob Thornton as an alcoholic department store Santa who used his job as a cover for robberies. It was rated R on general release, and then additional material was added for an "unrated" DVD. Zwigoff says the print he's bringing includes material not even on the DVD.
We always salute a musical film on the closing Sunday of the festival, and this year my choice is "U-Carmen e-Khayelitsha" (2005), a version of Bizet's opera "Carmen" filmed in Cape Town and sung entirely in Xhosa. The South African diva Pauline Malefane and the film's director, Mark Dornford-May, will appear in person.
Lodge Kerrigan is a legendary independent director whose films, including "Clean, Shaven" and last year's "Keane," explore lives on the margin. He will appear with his film "Claire Dolan" (1998) starring Katrin Cartlidge, a brilliant actress who died too young at 41 in 2002.
Nate Kohn, director of the Overlooked festival and professor of cinema at the University of Georgia, is not often seen on the stage of the Virginia Theatre. But he can't escape the spotlight this year. I've invited "Somebodies," the official Sundance entry that he co-produced with his wife, Pam. Also in person: The film's gifted young writer-director Hadjii, and one of its stars, Kaira Whitehead. The film is a human comedy about an African-American college student in Georgia, his friends and relatives.
One goal of the festival is to new spotlight indie films still seeking distribution. This year we'll show "Man Push Cart," a 2006 Sundance entry about the life of a former Pakistani rock star who now operates a Manhattan bagel and coffee wagon. The writer-director Ramin Bahrani and its star Ahmad Razvi will be onstage.
One of the best indie films I saw last year was "Duane Hopwood," with its brilliant, career-best performance by David Schwimmer as an alcoholic who works the overnight shift at a casino in Atlantic City. Despite its power, it received only a small theatrical release; its writer-director Matt Mulhern will be onstage.
David Mamet is not only one of the world's leading playwrights but a film director of great distinction. His "Spartan" (2004), about the kidnapping of a daughter of the president, got a four-star review from me but grossed only about $2 million at the box office.
In a precedent-breaker, it will be followed onstage by Michael Barker, co-head of Sony Classic Pictures, which did not release the film; he is simply a great admirer of the Warner Bros. release. One of the stars may also be present.
"Millions" (2005), a family film from the U.K. that was on my 10 best list, will be our Saturday morning family matinee. Directed by Danny Boyle ("28 Days Later") and written by Frank Cottrell Boyce ("Hilary and Jackie," "Tristram Shandy"), it's about two brothers who find loot from a robbery; one of them takes advice from his favorite saints about how to dispose of it.
My personal highlight at each year's festival is the silent film, accompanied by the Alloy Orchestra of Cambridge, Mass., world leaders in performing musical scores. They'll be in the pit of the Virginia accompanying a restored print of "The Eagle" (1925), starring Rudolph Valentino.
Schedules, film descriptions and ticket information are online at www.ebertfest.com or at the Virginia Theatre box office in Champaign.
Copyright © Chicago Sun-Times Inc.