Wrapping up....Friday Dweebing News
EDITOR'S NOTE: A FEW MORE ASSORTED NEWS ITEMS FROM AROUND THE WEB TO WRAP UP THE WEEK.
MOVIE NEWS:
Paramount Has EYE for Zellweger
Paramount Pictures has set Renee Zellweger to star in THE EYE. The film is a remake of the Pang brothers' thriller. Hideo Nakata directing.
The new version of EYE is seen as a psychological horror story about a girl who sees more than she bargained for when she regains her vision after a cornea transplant.
Tom Cruise and Paula Wagner acquired remake rights to the movie in 2002 and will produce the film along with Roy Lee and Doug Davison of Vertigo Entertainment.
EDITOR'S NOTE: AND SPEAKING OF MS. ZELLWEGER.....
Renee Zellweger in Potter? (Beatrix, that is)
Renee Zellweger is set to play children's author Beatrix Potter in a new film from "Babe" director Chris Noonan.
Zellweger's "Down with Love" co-star Ewan McGregor is in talks to co-star as Norman, Potter's love interest and publisher.
EDITOR'S NOTE: OOOO! THEY ARE TOO ADORABLE TOGETHER. THEIR PAIRING ALONE MAKES A WORTH-SEE.
The film, scheduled to begin on location in the U.K. in March, will tell of the "Peter Rabbit" author's struggle for independence in Victorian England. Apparently Noonan's going to inject some animated elements into the film as well.
Black to TOKYO DRIFT
Universal Pictures has set Lucas Black to star in THE FAST AND THE FURIOUS: TOKYO DRIFT. He joins a cast that already includes Bow Wow, Brian Tee and Nikki Griffin, Sung Kang, Jason Tobin and Nathalie Kelly.
EDITOR'S NOTE: NOT THAT WE USUALLY CARE ABOUT THIS SORT OF FLICK, BUT CHECK OUT HOW LITTLE LUCAS HAS GROWN UP! ----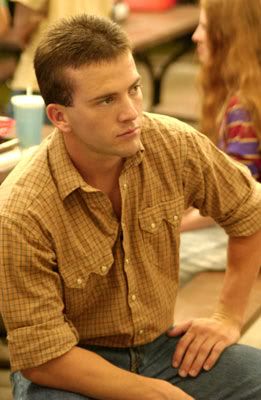 The film is set in the underground world of Japanese drift racing, where rear-wheel cars speed into turns and "drift" sideways for as long as possible. TOKYO DRIFT revolves around an outsider who, to avoid jailtime, is sent out of the country to live with his military father in a cramped apartment in a low-rent section of Tokyo. When he loses a race to a driver with ties to the yakuza, he has to pay off his debt by going deep into the Tokyo underworld.
Justin Lin will direct. Neal Moritz will produce.
TELEVISION NEWS:
Fox commits to noir pilot from '24' duo
After five seasons of real-time thrills, "24" creators/executive producers Joel Surnow and Bob Cochran plan to slow the pace a bit for their next series project that has just landed a sizable pilot commitment from Fox Broadcasting Co.
The 20th Century Fox TV project will mine the film noir vein in the potboiler-meets-psychological-drama spirit of Curtis Hanson's "L.A. Confidential" and such vintage classics as 1944's "Murder, My Sweet" and 1947's "Out of the Past," Cochran said.
The series is tentatively dubbed "Thirteen" because it is envisioned as a story that unfolds over a 13-episode arc per season, though not in real time a la "24." "Thirteen" will be set in present-day Los Angeles, Cochran said
Cherry, Mancini engage 'Kill Switch' at ABC
ABC has given a script commitment to an hourlong suspense drama from feature writer Don Mancini that would be executive produced by Marc Cherry through his overall deal at Touchstone Television.
Cherry described the project, titled "Kill Switch," as "Touched by an Angel" meets "Quantum Leap." It centers on a woman who is executed for killing her daughter's murderer and then enters a sort of purgatory, wherein every week she finds herself in the body of someone about to be killed. It's up to her to figure out who the murderer will be and prevent it from happening. "Instead of a whodunit, it's a who-will-do-it," Cherry said.
Mancini said he took the project to Cherry because it seemed a good fit with the "Housewives" creator
ODDSNENDS NEWS:
Cash musical heads to Broadway
EDITOR'S NOTE: IF THOSE WORDS DON'T CAUSE A SHUDDER, YOU HAVEN'T BEEN PAYING ATTENTION.
He topped Nashville charts, conquered New York publishing and is the subject of a new movie. Now the late Johnny Cash will reach Broadway in February with the opening of "Ring of Fire," a musical featuring the classic songs of the legend known as "The Man in Black."
Producers said the musical, which features 38 of Cash's songs, would begin performances in New York in February, directed by Richard Maltby, who won a Tony Award for conceiving and directing the Fats Waller musical "Ain't Misbehavin'."
The show follows a string of so-called "jukebox musicals" using an artist's song catalog, and comes within months of a biopic about the country legend, "Walk the Line," which was a hit at the Toronto Film Festival this month
EDITOR'S NOTE: NOT YET OUTSIDE OF CALIFORNIA, BUT A NIFTY IDEA TO KEEP AN EYE OUT FOR?
Darkness Rises Over California
The Rolling Darkness Revue back on the road
Bookstores that normally welcome customers with armchairs, coffee, and an atmosphere of quiet reflection will be enticing readers with something quite different this Halloween season when they play host to a touring group of writers whose avowed intent is to shiver readers' spines.
The Rolling Darkness Revue, a traveling fraternity of some of horror fiction's premier talents, takes to the road this October to deliver thrills and chills in celebration of the genre's favorite holiday.
Launched last year to enthusiastic reviews and rapidly swelling audiences, the Rolling Darkness Revue is a multi-media experience which incorporates theatrical lighting and live music to provide much more than the usual bookstore reading.
Already gaining brand-name recognition – the Horror Writers Association invited the RDR to give a "command performance" at their annual conference last June – the Revue has established itself as an anticipated Halloween event, receiving glowing notices from the Los Angeles Times and the syndicated NPR show Fine Print.
Joining founder members Glen Hirshberg and Peter Atkins this year are guest stars Michael Blumlein, Nancy Holder, Robert Masello, Robert Morrish, and Tamara Thorne, along with a rotating cast of musicians.
October 15th – Mystery & Imagination, Glendale, CA (Atkins, Hirshberg, Holder, Masello) October 22nd – Lou's Records, San Diego, CA (an outdoor event) (Atkins, Hirshberg, Holder) October 28th – The Capitola Book Café, Santa Cruz, CA (Atkins, Blumlein, Hirshberg, Morrish) October 29th – Borderlands Books, San Francisco, CA (Atkins, Blumlein, Hirshberg) October 31st – Mystery & Imagination, Glendale, CA (Atkins, Hirshberg, Masello, Thorne) Who Are These People?
EDITOR'S NOTE: AND OUR CALIFORNIA DWEEBPALS SHOULD CHECK ONE OF THESE OUT!
Glen Hirshberg:
Award-winning author of The Two Sams and The Snowman's Children. "A writer to watch and treasure." – Peter Straub. "Stories that are as unsettling as they are scary, as disturbing as they are profound." – Los Angeles Times.
Peter Atkins
: Author of Morningstar and Big Thunder and the movies Wishmaster and Hellraiser II-IV. "Atkins is a brilliant supplier of shudders and splendors" – Clive Barker. "Writes with elegance, wit, and awe-inspiring surprises" – The Times (London).
Nancy Holder
: USA Today bestselling author of 200 short stories and 78 novels. Co-editor of Outsiders, an anthology featuring Neil Gaiman, Poppy Z Brite, and others. Her latest novel is Buffy the Vampire Slayer: Queen of the Slayers.
Robert Masello
: Prize-winning journalist, TV writer (Charmed, Sliders, Poltergeist: The Legacy) and best-selling author of 16 books, most recently the supernatural thriller Vigil – "As terrifying as The Omen or The Exorcist!" – Jeffrey Long.
Michael Blumlein
: Author of The Movement of Mountains and X,Y. Twice nominated for the World Fantasy Award and twice for the Bram Stoker Award. X,Y has recently been filmed. His latest novel is The Healer.
Robert Morrish:
Editor of Cemetery Dance magazine and former editor of The Scream Factory. His short fiction has appeared in more than 20 anthologies, including Horrors!, Shivers, and Cold Flesh.
Tamara Thorne
: Ghost-chasing author of Haunted, Thunder Road, Moonfall, and many more paranormal thrillers. "One of the best tellers of dark fantasy tall-tales" – Cemetery Dance.