Disney has it Goin ON
Setting the Stage at Disney

Incoming CEO Robert Iger's challenges will include getting all four main units to perform.
By Claudia Eller, Meg James and Richard Verrier
Times Staff Writers
September 28, 2005
Since being tapped as Michael Eisner's successor in March, Robert Iger has taken Walt Disney Co. for a spin as de facto chief executive.
On Saturday, he gets the keys, and with them a chance to exhaustively look under the hood to figure out how to finally get the company firing on all four cylinders.
For years, the Burbank entertainment giant has been unable to get its movies, television, theme parks and merchandise operations working in sync.
Its once-ailing network and cable operation finally roared back, thanks to a turnaround by the ABC network and its ESPN profit juggernaut. But its venerable film studio tumbled into the red and is struggling to regain its perch atop the animation field.
Unlike the moribund studio and theme park company Eisner took over in 1984, Iger inherits a top-tier media conglomerate, albeit one that faces steep challenges. Among them: changes in moviegoing and DVD-buying habits, the continued splintering of television viewership as the number of channels proliferate and figuring out how to exploit Disney's vast array of entertainment in the digital and wireless world.
EDITOR'S NOTE: EXPLOITATION IS WHAT DISNEY DOES BEST. SHOULD BE A PIECE OF CAKE. (AND I SAY THIS WITH LOVE, ADMIRATION, AND YES, ENVY)
.
Here's an analysis of Disney's four major operations Iger inherits:
With its $100-million-plus computer-generated "Chicken Little" due out in November, Walt Disney Studios is out to show investors that it can revive an anemic animation division that used to crank out box-office and home-video profit. Disney also has yet to prove it can compete in the digital animation arena.Once known for such blockbusters as "The Lion King" and "Beauty and the Beast," Disney's homegrown animation foundered with such disappointments as last year's "Home on the Range," "Brother Bear" in 2003 and "Treasure Planet" in 2002.
Meanwhile, rivals DreamWorks Animation SKG and News Corp.'s 20th Century Fox are taking a bigger bite out of the genre Disney long dominated.
EDITOR'S NOTE: IF "CHICKEN LITTLE" IS ANYWHERE

NEAR

AS FUNNY AS THE TRAILERS FOR IT, IT SHOULD DO WELL.
Look for Iger to try to salvage Disney's long and lucrative distribution relationship with Pixar Animation Studios — maker of such blockbusters as "The Incredibles" and "Finding Nemo" as well as the highly anticipated "Cars" next year — or risk losing the computer animation leader to a rival.Iger has resuscitated talks with Pixar Chief Executive Steve Jobs that collapsed under Eisner, but both sides must come to terms on money.
In the meantime, about 700 Disney animators have moved from pencils to computers.The studio's struggling live-action business finally received a much needed box-office lift last weekend when the Jodie Foster suspense thriller "Flightplan" debuted as the top-grossing film with $24.6 million.
But other recent offerings, including "Dark Water," "Herbie: Fully Loaded," "The Hitchhiker's Guide to the Galaxy" and "Ice Princess," have been disappointments. The studio said it would take a quarterly write-down of as much as $300 million, mostly attributable to losses associated with movies from its Miramax Film unit.
EDITOR'S NOTE: RIGHT. BLAME THE BROTHERS WEINSTEIN. BUT THIS IS THE LAST TIME YOU CAN POINT THE FINGER AT THEM. NEXT YEAR, ANY LOSSES AT MIRAMAX WILL BE YOUR FAULT MR. IGER.
Concerned about escalating production and marketing costs, Iger recently promised investors that Disney would look for ways to significantly reduce its film expenses. This summer, Disney raised about $500 million from outside investors to spread its financial risk, returning to a strategy it pioneered in the 1980s.
Another concern: whether this year's drop in box-office receipts and flattening DVD growth are blips or represent long-term shifts.
Disney Studios Chairman Dick Cook is hoping "Flightplan" marks the beginning of a turnaround.
At a splashy preview at the Kodak Theater in Hollywood last Thursday, featuring appearances by "Pirates of the Caribbean" star Johnny Depp and entertainer Elton John, the movie chief also touted upcoming releases.
In addition to two "Pirates" sequels, Cook is counting on "The Chronicles of Narnia: The Lion, the Witch and the Wardrobe," which opens in December, to launch a major film franchise.
Not So Desperate Now
Iger is intimately familiar with the company's biggest and most profitable division, Media Networks.Powered by ESPN and ABC, the unit now brings in nearly half of all Disney's operating profit and is on track for an even bigger year.
ABC is already is off to a fast start, finishing the premiere week of the new TV season in first place in the prized demographic of viewers ages 18 to 49. It marks the first time in 10 years the network has accomplished that feat.As little two years ago, ABC was in fourth place among the major networks.
EDITOR'S NOTE: AND TWO YEARS FROM NOW, COULD VERY WELL BE AGAIN. (THEIR LINE-UP IS MUCH BETTER THAN IT WAS, BUT STILL DOESN'T GO VERY DEEP).
Iger, who worked two decades at ABC before Disney bought it in 1996, staked his future on the network's recovery. He can now roll down his shirt sleeves since ABC is back in the black. The network last year launched a string of monster hits, including "Desperate Housewives," "Grey's Anatomy" and "Lost," which this month won the Emmy for best drama series.
Four months ago, advertisers rewarded the network with $500 million more in commitments for prime-time commercials for this season. To further strengthen the network's finances, Iger punted on ABC's biggest money loser, "Monday Night Football," moving it to ESPN next year.
ESPN, long a company profit engine, is transitioning to an era of slower growth. Recent contracts with cable operators resulted in smaller rate increases than Disney had previously enjoyed.
ESPN also must figure out how to capitalize on digital platforms, such as mobile phones, and increase revenue to help pay for its NFL and Major League Baseball deals.
Four years after agreeing to pay $5 billion for the ABC Family Channel, ratings have improved along with ad revenue. But the channel is still hunting for breakout hits, as is the Disney Channel now that production of its popular "Lizzie McGuire" has ended.
Iger also must decide whether to sell the ABC radio network amid a soft radio advertising market.
Roller-Coaster-Like Ride
Customers are steadily returning to Disney's theme parks, which were hammered when tourists cut back on travel in the wake of the Sept. 11 attacks.
EDITOR'S NOTE: COME ON, JOEL. WE NEED TO HELP OUT UNCLE WALT AND COUSIN BOB(IGER). WE JUST

HAVE

TO GO BACK TO DW. THEY

NEED

US! (GIGGLE)
Hotel bookings are up at Walt Disney World in Orlando, Fla., and attendance is growing at Anaheim's Disneyland, which is celebrating its 50th anniversary.
But Disney would like to see more international tourists, who tend to spend more money and stay longer at the parks than Americans.Analysts also worry that a tourism recovery could be damped by high gasoline prices and airline financial woes.
Visitors also aren't flocking to the money-losing Euro Disney near Paris, which continues to struggle with massive debts and steep losses. Creditors last year bailed out the resort, which is 41% owned by Disney, for the second time in a decade.
Disney also has much riding on Hong Kong Disneyland, the $3.2-billion theme park that opened this month.
Although the park is expected to do well, prospects for a possible second park in Shanghai are less certain.
Toying With New Ideas
Disney's consumer-products division — the operation behind Disney toys, lunchboxes, Mickey Mouse figurines and Winnie the Pooh dolls — has undergone its own extreme makeover in recent years.
The troubles of Disney's animation business have been especially painful because animation historically has driven demand for character merchandise.
Disney tapped former Nike executive Andy Mooney in hopes of turning around the once struggling unit, has shuttered or sold most of the money-draining Disney
StoresEDITOR'S NOTE: SNIFFLE….
and slashed the number of companies Disney licenses its products to while forging relations with such mass merchandisers as Wal-Mart Stores Inc. and Target Corp.
The company has introduced new merchandise lines including Disney Princess, which has generated more than $3 billion in retail sales
EDITOR'S NOTE: I THINK AT LEAST 1 BILLION OF THAT IS IN MY NIECE'S POSSESSION.
, and developed high-end Mickey Mouse fashions.
EDITOR'S NOTE: THINK ABOUT THAT SENTENCE FOR A BIT. '

HIGH-END MICKEY MOUSE FASHIONS'

. SNICKER……
Analysts expect more modest growth this year compared with 2004 as Disney invests $40 million in its video game business.
In April, Disney acquired small Salt Lake City-based video game developer Avalanche Software. The company also is developing video games for adults.
For Disney, another challenge is how much green it can squeeze out of Kermit the Frog.
EDITOR'S NOTE: OUCH
.
Disney acquired the Muppets from Jim Henson Co. last year with plans to relaunch the characters in theme park attractions, DVDs, movies and TV shows. One of its first projects was "The Muppets' Wizard of Oz," which aired on ABC in May.
FAIRY FABULOUS
TAKING A LOOK AT TINKER BELL AND HER FAIRY FRIENDS
She's the shapely sprite who has become a Disney icon second only to Mickey Mouse himself.
And yet Miss Bell has largely been a woman of mystery.
Where did she come from? Where are her fellow fairies? And the burning question: Was she REALLY modeled on Marilyn Monroe?
Fortunately, the Disney Insider has done some sleuthing and learned, more or less, everything you ever wanted to know about Tinker Bell.
Tink originally appeared in J.M. Barrie's play, "Peter Pan." Well, sort of - onstage, the pixie never appeared in person, but was traditionally represented by a beam of light. When Walt Disney decided to film "Peter Pan," how to represent Tinker Bell was one of the great dilemmas to be resolved. Ultimately, Disney and his animators decided to put the mischievous fairy on the screen - but to keep with tradition in having her "voice" be a tinkling bell that only Peter can understand.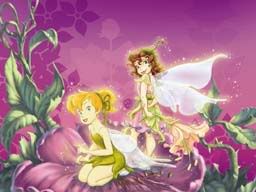 Tink and her fairy friend Prilla
Although Tinker Bell's vavoom figure and winsome blonde appearance have led generations of moviegoers to compare her to Marilyn Monroe, animator Marc Davis actually modeled her on actress Margaret Kerry. The Studio was quick to point out that although Tink might LOOK like Ms. Kerry, her capricious and sometimes downright mean personality had nothing to do with the actress!
"Peter Pan" was a hit, but it was Tinker Bell who went on to become a cultural touchstone. The pixie proved so popular that she became something of an ambassador for Disney. In the process, her image has become less jealous pint-sized femme fatale and more dispenser of pixie dust, although that touch of mischief still remains part of her appeal.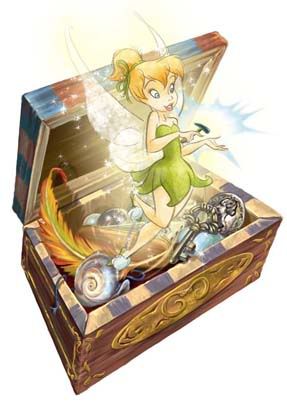 These days you can see Tink at the opening of "The Wonderful World of Disney," in the air at Disney theme park firework shows, and on every Disney DVD. She's prominently featured in the 50th Anniversary parade at Disneyland, "Walt Disney's Parade of Dreams," and Tinker Bell costumes and toys rival Disney Princess gear in popularity among little girls.
Although she's a beloved and instantly recognized character, there are many unanswered mysteries about Tinker Bell, stemming all the way back to "Peter Pan."
Where did she come from? Who are her friends? Where does Tinker Bell go when she isn't hanging out with Peter Pan and the Lost Boys?
These are questions that are never answered by Barrie, or by the film.
But Tink is such a vivid presence that for more than 50 years, children have wondered about her. These burning questions led the Disney team to develop a detailed story about Tinker Bell and the world from which she comes.
Tinker Bell's world will be unveiled in a story first introduced in the novel "Fairy Dust and the Quest for the Egg" (available this month) by Gail Carson Levine of "Ella Enchanted" fame. The books feature illustrations by David Christiana.
There's also a global Web site at DisneyFairies.com
EDITOR'S NOTE: WHICH IS ACTUALLY VERY CUTE…..IN A GOING-INTO-SUGAR-SHOCK-FROM-TOO-MUCH-FAIRYSTUFF KIND OF A WAY.
where we can meet the fairies and a get a glimpse of their world and pastimes.
EDITOR'S NOTE: FAIRY PASTTIMES INCLUDE COMPETITIVE BELCHING, BOWLING, AND NASCAR. (OR NOT….)
"I was so glad when the people at Disney Publishing invited me to be part of the project,"
Ms. Levine commented. "
To enter the world of Peter Pan and weave in a new landscape has been an enormous honor. I'll be thrilled if readers join the fairies' quest and go on clapping and believing and keeping Never Land young forever."
EDITOR'S NOTE: IF THAT SENTENCE ALONE DOESN'T SEND THE DIABETICS INTO A COMA……
We learn that Tinker Bell is, in fact, a talented tinker - good at mending metal objects with her little hammer. This refers all the way back to a little joke in Barrie's Peter Pan - Peter claims that Tink is a common "tinker" sort of fairy. Tinkers, in Victorian England, were traveling tinsmiths. By exploring Tink's world, the artists of Disney hope that they will give the enduring fairy new dimension - and a new place in the hearts of children (and adults) everywhere. If you believe in fairies, clap your hands for Tinker Bell!
EDITOR'S NOTE: CHECK IT OUT. TAKE INSULIN BEFORE YOU GO.
http://disney.go.com/fairies/homepage.html
DISNEYLAND ON DISPLAY
PRICELESS TREASURES OF DISNEY HISTORY HIT THE ROAD FOR AN HISTORIC TOUR
As Disneyland's 50th Anniversary celebration continues in full golden glory at the Park, the time is ripe to explore the dream that turned an orange grove in Anaheim into the Happiest Place on Earth.
A new traveling museum exhibit aims to let visitors see the art and inspiration behind the creation of Disneyland.
Behind the Magic: 50 Years of Disneyland
premieres this month at the Henry Ford Museum in Detroit, Michigan, preparing for a national tour. Created by Exhibitour, the traveling exhibit arm of the Henry Ford, working in conjunction with Walt Disney
Imagineering, the show aims to take the magic of Disneyland nationwide.
The exhibit includes original concept artwork and photos that document every stage of the creation of the Park, gathered from the Walt Disney Imagineering archives, The Walt Disney Company archives, the collections of the Henry Ford Museum, and other private collections. The Disney Family Foundation has loaned rare film footage for the occasion, featuring personal interviews and great shots of Walt and his daughters playing both at home and bicycling through the Studio lot.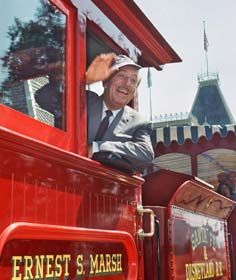 Rare photos of Walt Disney and hisdream Park await visitors at the museum

The show follows the creative process from the first blue-sky dreams to bits of authentic memorabilia that appeared in the Park when it opened. It includes treasures like original artwork, ride concept models of the Jungle Cruise and Peter Pan's Flight, drawings, character sculpture, original signs from the Park, photographs, and ride vehicles from both Peter Pan's Flight and Mr. Toad's Wild Ride.
Scott Mallwitz, director of experience design for the Henry Ford, says "
My favorite item would be Disney's first Audio-Animatronics® figure, Abraham Lincoln, which was featured at the 1964 New York World's Fair. A close second would be the 'pitch kit' used by Roy Disney to secure financing for the construction of Disneyland - a few pages of description and a wonderful 'bird's-eye view' sketch by Herb Ryman set the Park in motion."
EDITOR'S NOTE: THIS ALL SOUNDS LIKE A DISNEY-PHILE DREAM COME TRUE!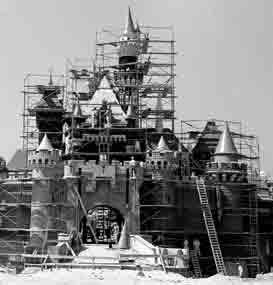 The exhibit highlights Disneyland'screation from the ground up
"
This may seem like an easy job - designing a museum exhibit for Disney,"
Andrew Dahl, President of Exhibitour, tells us. "
After all, there's all this really cool artwork and films and photography and so on. And that's part of the challenge: deciding what to keep and how to fit it all together. Designing a museum exhibit about Disneyland isn't just making a miniature Park. It's more of a storytelling experience, beginning with Walt and his vision for the Park."
Telling a story about Disney - the home of the master storytellers - requires meeting a pretty stringent standard.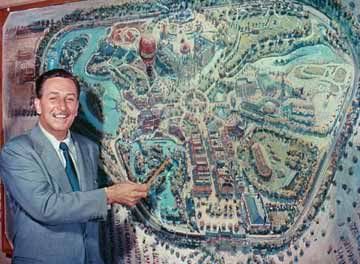 Walt shows off the concept art for Disneyland.
"
Every area, whether it deals with the guest experience, or how the Imagineers came to be, has to have its own special look and feel. But it all has to tie together and be unmistakably Disney,"
explains Andrew.
EDITOR'S NOTE: WHICH MEANS HOMOGENIZED AND WHITE-WASHED? (HEY….I'M A LIFELONG AND ENOURMOUS FAN. BUT I'M NOT BLIND. AND UNLIKE THE PEOPLE QUOTED IN THESE OFFICIAL DISNEY REPORTS, I HAVEN'T DRUNK THE COOL-AID).
"
The designers used simple sketch lines to represent Walt's vision and early ideas, a set of circles to represent the guest experience, and stars to denote the magic in the park created by the Imagineers. If you look carefully at the exhibit, you can see how the environment slowly changes from one graphic look to another."
The show is beginning a planned four-year tour of museums throughout the U.S. Perhaps a museum near you will soon be transformed into a little piece of the Happiest Place on Earth.
EDITOR'S NOTE: OH ME TOO!!
Which of these attractions was open when Disneyland debuted: Pirates of the Caribbean, Pinocchio's Daring Journey, or Peter Pan's Flight?

Peter Pan's Flight is the only one of the three that was a part of Disneyland's Opening Day.
EDITOR'S NOTE: AND SPEAKING OF DISNEY-ON-TOUR…..

Kermit the Frog goes on 'tour' in Disney campaign
Kermit the Frog, perhaps the world's most famous amphibian, will embark on a worldwide "tour" next month to celebrate his 50 years in show business and re-launch the Muppets franchise as part of the Walt Disney Co., it was announced Tuesday.
The green, fuzzy puppet character, who got his start in 1955 on the local Washington, D.C., television program, "Sam and Friends," was scheduled to appear on the Disney-owned ABC network's "Good Morning America" to kick off the promotion.
His first stop will be the small, west Texas town of Kermit on Oct. 14, followed by visits to 50 destinations around the globe over the next 15 months, including the Statue of Liberty in New York, the Eiffel Tower in Paris, the Great Wall of China and even a Frog Leg Festival in Fellsmere, Florida.
The launch of Kermit's 50th anniversary tour coincides with several events aimed at drawing new attention to the Muppets brand, which was created by the late Jim Henson and acquired by Disney in April 2004
EDITOR'S NOTE: OF COURSE THE BIG GOSSIP QUESTION….WILL MISS PIGGY BE ACCOMPANYING HER LITTLE GREEN BEAU?