Tuesday Snippets
Maguire Might Be Done With 'Spider-Man'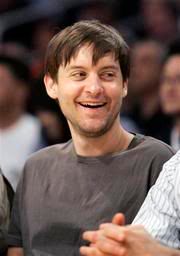 Tobey Maguire, star of "Spider-Man 3," isn't sure he'd play the superhero a fourth time.
Editor's Note: sniffle....
"
I appreciate movies from a standpoint of entertainment and distraction, and I also love when people make movies that help raise awareness,"
says the 31-year-old actor, whose films also include "The Cider House Rules" and "Seabiscuit."
"
I don't really have a lot of formed ideas. It's more just thoughts
," he tells Men's Journal in its May issue, on newsstands Tuesday.
Editor's Note: He doesn't have a lot of formed ideas? Well....big of him to admit that, I guess. I mean, there are LOTS of folks out there these days (hail to the chief, etc) with no formed ideas, and none of them ever own up to it. So.....umm...YAY, Spideyboy!!!
"
I might do another `Spider-Man' movie — I don't know."
Maguire says "Spider-Man 3" has a "
fresh story"
for his character
.
"
The public is adoring him, and it goes to his head. He's behaving arrogantly and is self-involved, which changes the feeling of the character for me. And it just gets darker from there
," he says.
Maguire says he talks to the media to publicize his movies —
"I don't feel compelled to share anything."
"I
used to prepare to go to battle with journalists
," he tells the magazine. "
Now I don't have my feet planted. I won't talk about what I won't talk about, but I'm more relaxed about it."
Maguire says he began attending Alcoholics Anonymous meetings at 19 because his life had become oddly predictable.
"I have an addictive nature
," he says, "
an obsessive-compulsive nature — well, I don't know that's what it is clinically. But I go to addictive extremes, and before I got sober, that became routine."
Maguire is engaged to Jennifer Meyer, a 29-year-old jewelry designer. They have a 5-month-old daughter, Ruby Sweetheart.
"
When she smiles, it's the most fantastic thing ever
," he says. "
But it's not like I didn't expect that. I expected to fall completely in love with my child."
Columbia Pictures' "Spider-Man 3" opens May 4.
Editor's Note: So SOOON!!!! We need to have a Spidey Uno and Due mini-marathon chez moi PRONTO!!! (yes, I realize I just mixed bastardized parts of a couple of languages. I haven't had my coffee yet; it's a wonder I can even TYPE).
And by the by, it doesn't appear....as the headline so
dramatically
hinted...that Maguire has hardly any thoughts at ALL, much less that he's 'not doing spidey 4.' Hype and Hooie!
And then we have the opposite headline....
Maguire may do Spider-Man 4
Rumours suggesting that Tobey Maguire isn't returning for another "Spider-Man" film – following this Summer's "Spider-Man 3" – are rather premature.
The actor tells
Sci-Fi Wire
that he'll indeed consider wearing the red spandex again for a "Spider-Man 4".
"
Well, it's possible that we make another movie
," Maguire said in an interview. "It
all depends on if there's a story worth telling. I feel very proud of the three movies that we've made. I feel like the stories all deserve to be told, and, you know, if they come up with a good movie, and the whole team wants to get back together, and we feel like we can make a good movie that's worth making, then I'm up for it."
Co-star Kirsten Dunst has said the same, that if there's a great script on the table she's not passing up the opportunity to bring Mary-Jane back. "
I would work with Sam on any movie he wanted to work on it with me, because I just adore that man."
If Maguire does decide to hang up his tights, Producer Avi Arad plans on making "Spider-Man 4" anyway.
Editor's Note: Just cause Jake Gyllenhal looks a lot like Maguire, doesn't make Maguire expendable in the role, huh?!
Staunton: Playing Potter villianess takes 'proper acting'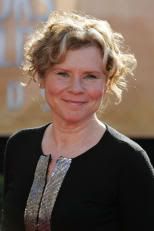 Oscar nominee Imelda Staunton wasn't exactly flattered when a friend first suggested she'd be perfect for the part of Harry Potter's first female nemesis, Dolores Umbridge.
"I read the book, and Umbridge is described as a short, ugly, toadlike woman
," Staunton told Newsweek. "
I thought, 'Oh, thanks very much.'
"
Editor's Note: And in point of fact, Staunton IS way to pretty for Umbridge. (I guess almost anyone HUMAN would be?)
But Staunton ended up playing the villainess as an "
apple-cheeked schoolmarm — drenched in pink angora,
" the magazine says.
In
Harry Potter and the Order of the Phoenix
, the fifth movie based on the J.K. Rowling series, Umbridge is a new teacher at Hogwarts School of Witchcraft and Wizardry bent on restricting free thought.
"
There can't be any mess or individuality
," Staunton said. "
But, of course, that leads to brainwashed people."
Staunton, who was nominated for a best-actress Academy Award for playing Vera Drake in the eponymous 2004 movie, says the Potter role is no joke.
"You may think that it's just a bunch of hand-waving, but there's a lot of proper acting going on
," she said.
Editor's Note: It's a veritable who's who of Brit thesping...how could there NOT be acting going on???!!!

Harry Potter and the Order of the Phoenix
is to be released July 13.
Orlando Bloom in next Superman film?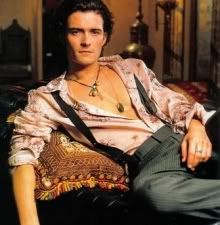 Editor's Note: Yes, this is a gratuitous pic. Your POINT?!
According to Just Jared, via
Slashfilm.com
, Orlando Bloom is in talks for a role in the upcoming "Superman Returns" sequel.
Apparently the "Pirates of the Caribbean" stud was spotted talking to rector Bryan Singer and producers Mindy and Jon Peters.
The latter site says, "
Bloom's ex-girlfriend Kate Bosworth played Lois Lane in the first film. So speculation has already begun over Bloom playing the Man of Steel."
A source for Warner Bros tells us that Bloom will "definitely not" be taking over the role of Superman.
Editor's Note: I luvs me some Orlando Bloom, but he is NOT right in any form or fashion for the Superman part. (And I thought Brandon Routh was already re-signed to that?)
As for whether he's in the mix to play another of the roles? Say Zod or Brainiac? Guess we'll just have to wait and see.
Tom Hanks signs on for Da Vinci sequel
Cinemablend.com
reports that Tom Hanks has signed on to star in the sequel to "The Da Vinci Code" - "Angels and Demons".
A scooper for the site says that Hanks is going to score "[
the] biggest salary ever paid to an actor in the history of Hollywood
" to reprise his role as adventure-seeking Robert Langdon.
The sequel, which Ron Howard is supposedly returning to direct, will reportedly lens in June.
Laura Dern to star in Jurassic Park 4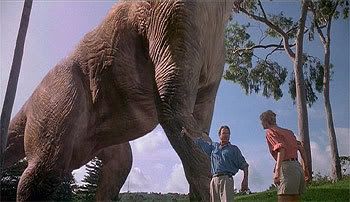 Laura Dern will return to do battle with the prehistoric rogues in "Jurassic Park 4", the actress confirmed to
Collider
.
"
I'm told its happening and I'm told they're calling me. I'm told that Ellie Sattler is involved in it"
, Dern told the site.
Editor's Note: And is there....perchance...an actual SCRIPT this time? (not to be GREEDY...).
"
[A] certain fellow [Steven Spielberg] is the one that called me and it's hard to say no to him cause he's always got something totally genius up his sleeve so we'll see what they have in mind. But I don't know anything about it at this point."
Sam Neill, who co-starred with Dern in the first and third "Jurassic Park" films, recently told the media he wouldn't be a part of the new film.
Editor's Note: I don't at all BLAME him, after he was such a trooper mushing through the last misbegotten JP flick, but no Neill, lowers MY incentive to see the next one.
According to Dern, the new film will be released next year.
Editor's Note: Wouldn't the CG alone take longer than that? (If they haven't even started filming, I mean?) Or are they just going to cut and paste from the first three?