Friday AM DisneyDweebing
EDITOR'S NOTE: IT'S BEEN THE KIND OF WEEK THAT SORT OF

DEMANDS

A DISNEY MOMENT TO WRAP IT UP.
WE'VE SURVIVED (WELL...

ALMOST

AT THIS JUNCTURE IN THE AM) ANOTHER FRANTIC, SEMI-ANNOYING WEEK. LET'S GO TO DISNEYLAND!
FOUR-PART FUN AT DISNEYLAND
The Dapper Dans get a fresh take on their Sweet Old Barbershop Sound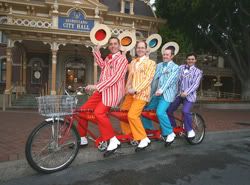 The Dapper Dans bring freewheeling fun to Disneyland park.
It's part of what makes Main Street, Main Street - a stroll down the nostalgic avenue into Disneyland park doesn't feel complete without the melodic strains of a gay '90s
EDITOR'S NOTE: OR, IN THE CASE OF WHO WORKS AT DISNEYLAND, GAY AUGHTS?
classic song in four-part harmony, crooned by gents in candy-striped suits and jaunty boaters.
Like the Dixieland jazz bands of New Orleans Square or the quarrelsome cowboys in Frontierland, the Dapper Dans barbershop quartet "
brings life into the lands of Disneyland
," says Stage Manager Mitch Mocilnikar. "
You can have buildings and you can have attractions, but who are the people who live on Main Street? That's who the Dapper Dans are."
We wondered who these singers were and how they got there. Where do you find a highly skilled barbershop quartet in 2006?
We turned to Disneyland to get the scoop.
Barbershop quartet singing is a beloved American institution, but few singers make a living at it.
"I can only think of two barbershop quartets that are full-time - one works at Disneyland, and one works at Disney World!"
says Mitch.
Four men sing sentimental, charming tunes in multipart harmony, often a cappella -- although the Dapper Dans add an instrumental twist with instruments known as Deagan organ chimes, which look vaguely like tubular windchimes crossed with a xylophone. They're a beloved Park institution - the Dapper Dans have been in Disneyland in various venues since the '50s - and right now they're getting what the Park calls a "refresh."
They're performing new routines and a new roster of 12 singers is debuting. However, Mitch is quick to assure us that "
It's not tossing out the old and bringing in the new. In some cases it's bringing back the old - some of the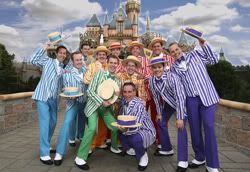 Ready to harmonize -- the full complement of Dapper Dans.
routines they're doing are very similar to what they used to do before Walt Disney World opened. They actually brought a lot of these routines to Disney World, and now we're bringing them back, so to speak."
Prospective Dapper Dans need to be great harmony singers, but that's just a starting point.
"
We're looking for good singing and musicianship, but we're also looking for people that dance and are personable
,"
EDITOR'S NOTE: IT ALSO HELPS IF THEY ARE SPOOKILY CHEERFUL.
explains Mitch. "
It's a pretty exacting standard -- we're looking for the best!
"
Because they perform in the midst of Disneyland Guests, they need to enjoy attracting a crowd, stay in character as gents of turn of the last century, and be ready for all kinds of weather. They also need to develop a specialized performance skill; Guests will now find the Dapper Dans wheeling up and down Main Street on a "quad bike" - a bicycle built for four. And they'll be singing all the while - courtesy of wireless microphones that allow their tunes to be heard through the audio speakers that line Main Street.
Fortunately, when it comes to attracting "the best," Disneyland has an edge. Mitch is a musician and performer himself (he's played in the Bell Hops at the Disneyland Hotel, and in several of the bands around the Park) and he says that performing at a Disney park is an experience that can't be equaled anywhere else. The magic ingredient? The Disney Guests.
"You have an ideally themed environment. You have Guests who come expecting high quality and are ready to be enchanted. There's a magic everyone experiences when you cross the threshold. You've got a perfect audience!"
EDITOR'S NOTE: UNTIL ABOUT 4PM WHEN THE KIDS GET SUGAR-LOADED AND TIRED AND THE PARENTS START TO GET CRANKY?
So the next time you stroll down Main Street U.S.A., at Disneyland park or the Magic Kingdom at Walt Disney World Resort (which has its own complement of Dapper Dans), keep an ear out for a sweetly nostalgic tune and let the Dapper Dans take you back to a simpler (and more tuneful) era.
EDITOR'S NOTE: SO. THAT COMPLETES OUR BRAINWASHING FOR THE WEEK FROM THE DISNEY PUBLICITY MACHINE. (JUST ANOTHER SERVICE WE PROVIDE).
OH...AND IT MAY BE BRAINWASHING, BUT OUR LITTLE SKULLS WERE FULL OF JUNK AND NEEDED A CLEANSING ANYWAY, RIGHT?