Star Wars for the end of May
EDITOR'S NOTE: THIS FIRST ONE IS KIND OF A BIZ NEWS ITEM, WITH A SMALL SW/ILM SPIN ----
'War' is hell for f/x shops
(Pic's sped-up sked may cause problems for future titles)

"War of the Worlds" didn't blow up just the New England countryside and invading aliens. It blew out expectations for the f/x biz.
When Steven Spielberg's sci-fier sped through post and f/x work in record time to make its June 29 release date last year, everyone was duly impressed. Spielberg's technical mastery, his long experience working with Industrial Light & Magic and ILM's revamped production pipeline were all essential to the quick turnaround. Pic even landed Oscar noms for its CGI effects sequences by ILM.
But one f/x pro says "
people lost years off their lives working 24/7"
on the pic. And with f/x work on "King Kong" also hurried to completion, f/x shops worried that producers would demand that all pics follow a similar sked.
Now the signs are that's exactly what's happening -- and f/x shops are paying a price.
Margins at f/x shops continue to fall, and with the accelerated schedules, many find there's no alternative but to outsource work to India, Malaysia, Singapore and other low-cost locales.
The squeeze almost certainly helped drive the sale last week of f/x house Digital Domain to Wyndcrest Holdings, an investment group that includes helmer Michael Bay and former NFL star Dan Marino.
Bay and the other new owners say they're making a renewed commitment to the biz and hope to expand into "
direct development of animated films and effects-reliant live-action films
."
But with the U.K.'s tax incentives luring business to Blighty and outsourcing forcing work to Asia, DD's domain may still be shrinking.
EDITOR'S NOTE: MOVING ON TO MORE TRULY STARWARSIAN FUN......STUFF TO BUY, STUFF TO BUY:
Hundreds of New T-shirt Phrases Added at StarWarsShop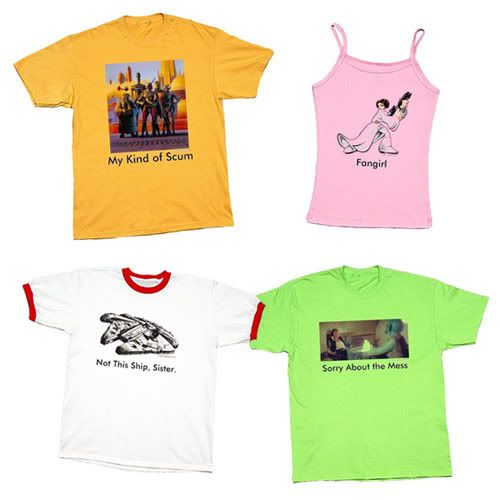 Fans who have ventured into StarWarsShop's new t-shirt studio recently may have noticed an increase in the number of phrases available to attach to their favorite t-shirt images. Over 500 new ways to express your Star Wars fandom in both words and images have been added over at StarWarsShop --
here's a handful of some of the new phrases you'll find:

Jedi business, go back to your drinks (Anakin)
My kind of scum (Bounty Hunters)
I'm just a simple man (Jango Fett)
Blind Faith (Clone Troopers)
Wookiees are known to do that. (Wookiees)
EDITOR'S NOTE: ACTUALLY A HAN SOLO QUOTE, ISN'T IT?
Back in Black (Darth Vader)
Mindless Philosopher (C-3PO)
No Loose Wire Jokes! (R2-D2)
Cough, Cough, Wink Wink, Say No More (General Grievous)
Sorry about the mess (Han Solo)
Weak-Minded (Stormtrooper)
Can you sense me now? Good! ......Can you sense me now? Good! (Jedi)
EDITOR'S NOTE: NO NO NO....
Bald and beautiful (Mace Windu)
The ability to speak does not make you intelligent (Qui-Gon Jinn)
EDITOR'S NOTE: !!!
I got my own problems. (Lando Calrissian)
Always a pleasure to meet a Jedi. (Obi-Wan Kenobi)
You're a funny little boy. (Padmé Amidala)
SWF Seeking Scoundrel (Princess Leia)
EDITOR'S NOTE: MUST HAVE! YESSS!
I get my kicks with Order 66 (Palpatine)
EDITOR'S NOTE: OH THE SHAME I FEEL, BUT SNICKER....
I used to bullseye womp rats in my T-16 back home. (Luke)
Not this ship, sister. (Millennium Falcon)
Look at the size of that thing. (Death Star)
EDITOR'S NOTE: MY MY MY....(

DIRTY

)
Head on over to StarWarsShop's new t-shirt studio today to check out the hundreds of new phrases now available!
http://shop.starwars.com/catalog/category.xml?category_id=100769&&rid=SMCMFH00001
Episode IV: Your Favorite Moments, LEGO Style!
LucasArts' release of
LEGO Star Wars II: The Original Trilogy
this fall on multiple platforms continues the original's tongue-in-cheek approach to our favorite galaxy far, far away, also adding new gameplay features such as in-depth character customization plus vehicles and creatures to ride through on-foot levels. But it's perhaps the Original Trilogy setting itself that has many fans most intrigued.
Equally excited are the people actually creating the game, both at developer Traveller's Tales (a division of TT Games) and LucasArts.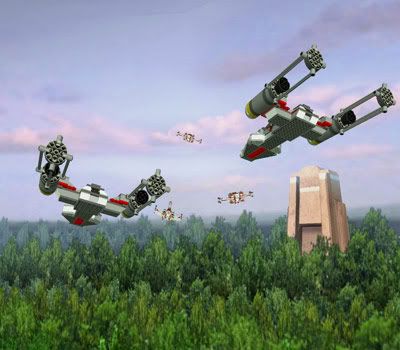 At this point in development, most of the levels based on
Star Wars: Episode IV A New Hope
are nearing completion. With that in mind, which cherished moments from the movie that started the entire Star Wars phenomenon have the team most enjoyed giving the LEGO treatment?
"
I love seeing the fantastic variety of aliens that populate the
Mos Eisley Cantina
come to life in LEGO form,
" says Jonathan Smith, director at TT Games.
"Our character modeller has done an amazing job on all the individual headpieces, and each one makes me smile -- both as a Star Wars fan and a LEGO fan. The
Bith
band members are particular favorites -- and great to mix into the Character Customizer!"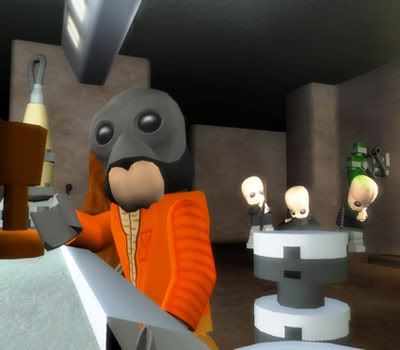 "I think my favorite moment from Episode IV is the trench run,"
says David Perkinson, producer at LucasArts. "
Getting into the cockpit of the X-wing, battling TIE fighters and ultimately destroying the Death Star is something that every Star Wars fan will love. Plus, the cinematic leading up to the introduction to the Death Star level is incredible!"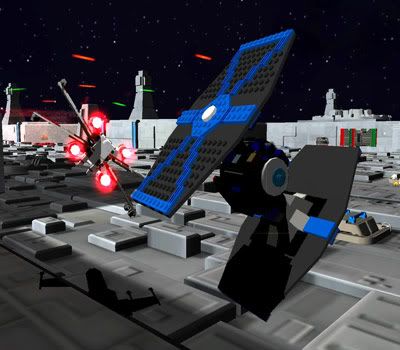 "Yeah, I also get a thrill every time I see the X-wings of Red Squadron wheel into their assault on the Death Star,"
adds Smith. "
Those LEGO models are so cool, and as the music strikes up it remains an awesome moment in the story."

"
I've really enjoyed working on the opening scene of Episode IV, set on the Rebel Blockade Runner, Tantive IV
," comments James Cunliffe, lead artist at TT Games. "
It's great in Story mode, with fantastic cutscenes depicting the ship's capture by a
Star Destroyer
, as
Leia
is trying to escape with the plans for the Death Star."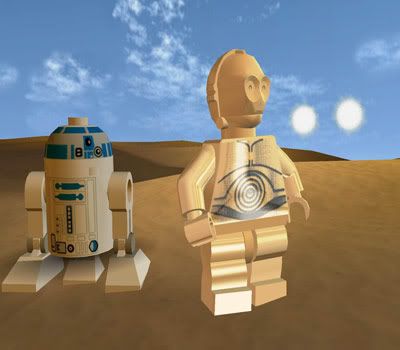 "That's my favorite part, too
," chimes in Jeffrey Gullett, assistant producer at LucasArts. "
It's the first scene of all the Star Wars movies, and is still one of my favorites. I'll never forget that first time I saw the
stormtroopers
blast through that door -- I think that we've done an amazing job of capturing the feeling of that moment, while also adding the fun and humor of LEGO."
"
It's got a lot of the features which are new to LEGO Star Wars II, as well
," says Cunliffe. "
And in Free Play, there's even more to do. You can even 'grow' a LEGO tree, then blow it up. What could be better than that?" EDITOR'S NOTE: WHAT COULD BE BETTER, IN

DEED

?!

Only one thing, according to John Hodskinson, TT Games' lead programmer for the game. With all of the great moments in Episode IV, it's easy to forget what's at the core of what makes the movie so special -- the characters. Hodskinson says it's important to realize this, and the team is working especially hard to keep in line with this spirit.
"
From Han's cocky swagger to Vader's menacing appearance, the personalities of all the main characters have been brilliantly brought to life by the animators throughout the game
," he says.
"All but the hardest of hearts will find their scenes together both funny and nostalgic."
EDITOR'S NOTE: AND HOW ABOUT SOME EU (EXPANDED UNIVERSE) NEWS:
First Look: Tempest
Forty years after the Battle of Yavin, a dangerous new era in the Star Wars epic begins with the nine-book series,
Legacy of the Force
. Here's a first look at book three,
Tempest
, by Troy Denning.
EDITOR'S NOTE: WOW. I AM FALLING BEHIND AGAIN. I HAVE SEVERAL SW BOOKS IN-LINE FOR READING AS IT IS. MY OWN DURN FAULT FOR READING SOMETHING

NON

-STAR WARS FOR THE LAST COUPLE OF MONTHS. (
QOTD, HANGING HER HEAD IN DWEEBSHAME
).
As civil war threatens the unity of the Galactic Alliance, Han and Leia Solo have infuriated their families and the Jedi by joining the Corellian insurgents. But the Solos draw the line when they discover a rebel plot that hinges upon the murder of a longtime ally and her daughter.
The Solos' selfless determination to prevent this death cannot dispel the inescapable consequences of their actions, which will pit mother against son and brother against sister in the battles ahead. For elsewhere in the galaxy, a once-forgotten menace, Lumiya -- Dark Lady of the Sith -- is tipping the balance of the Force once more towards the darkness...
EDITOR'S NOTE: THE BALANCE OF THE FORCE IS PRETTY DARN PRECARIOUS, AIN'T IT? ALWAYS MIT DE TIPPINK, IT IS! (SORRY.....I'M SUDDENLY A YIDDISH JEDI?)
Here's a look at the cover of
Tempest
, featuring illustration by Jason Felix. The third book in the series will be released in paperback, but the series itself is a mix of three hardcovers and six mass-market paperbacks.
In addition to Denning, the series will feature authors Aaron Allston and Karen Traviss.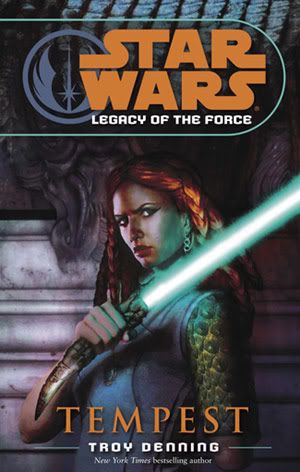 Star Wars: Legacy of the Force: Tempest
is scheduled for release in November, 2006 from Del Rey Books. The first book, Betrayal comes out soon.
Here are the titles are they are currently scheduled. Please keep in mind that the further down the schedule you go, the more likely the dates are subject to change.
Book 1:
Betrayal
by Aaron Allston (June 2006, Hardcover)
Book 2:
Bloodlines
by Karen Traviss (September 2006, Paperback)
Book 3:
Tempest
by Troy Denning (December 2006, Paperback)
Book 4:
Exile
by Aaron Allston (March 2007, Paperback)
Book 5:
Sacrifice
by Karen Traviss (June 2007, Hardcover)
Book 6: by Troy Denning (September 2007, Paperback)
Book 7: by Aaron Allston (November 2007, Paperback)
Book 8: by Karen Traviss (March 2008, Paperback)
Book 9: by Troy Denning (June 2008, Hardcover)
EDITOR'S NOTE: I LOVE IT WHEN THEY WRITE LOTS OF STUFF AND KEEP ME FROM HAVING TO LIVE TOO MANY OF MY WAKING HOURS IN THIS HIDEOUS THING CALLED THE....SHUDDER...
'REAL WORLD'
.
THANK YOU THANK YOU THANK UNCLE GEORGE!
EDITOR'S NOTE: AND HERE'S YET ANOTHER....THE THIRD ONE, I BELIEVE....IN THOSE 2007 TEASER PICS.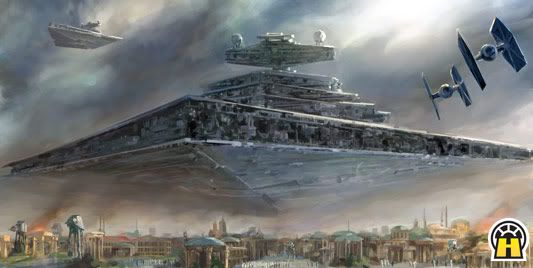 The skies of this historically tranquil planet are once again filled with gigantic warships.
EDITOR'S NOTE: THIS ARTWORK SO FAR HAS BEEN

GORGEOUS

!
EDITOR'S NOTE: AND NOW...THE WEEKLY PICS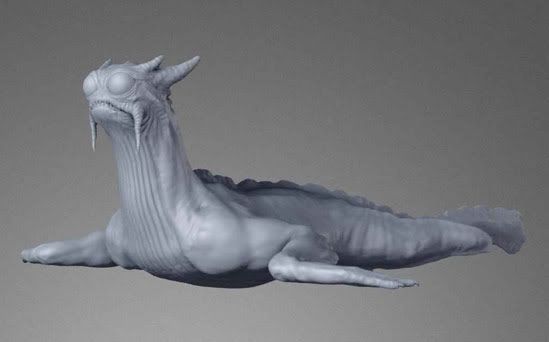 The digital model of the noss monster, an Utapau creature design that went unused in Episode III.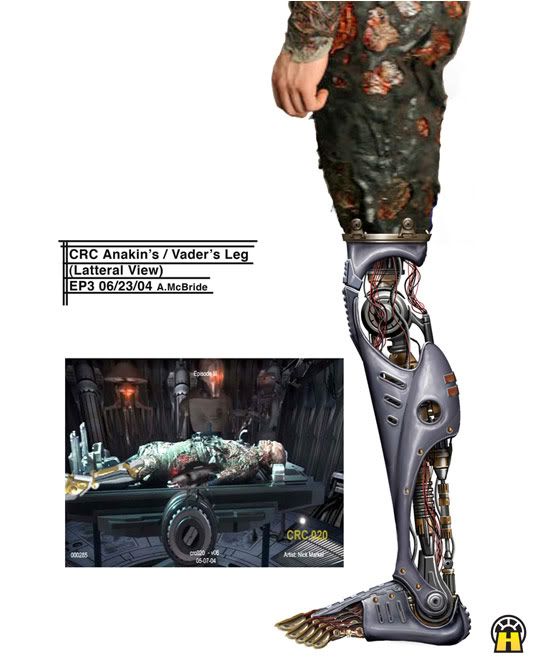 Aaron McBride illustrates Darth Vader's cybernetic leg replacement.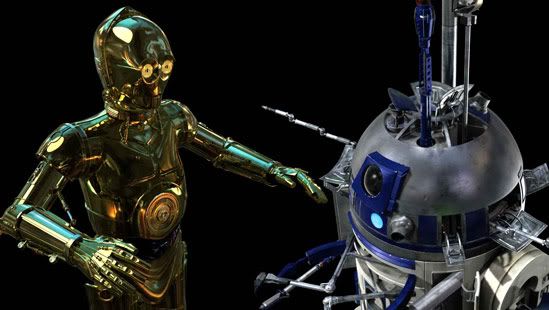 The all digital incarnations of the classic Star Wars duo, C-3PO and R2-D2.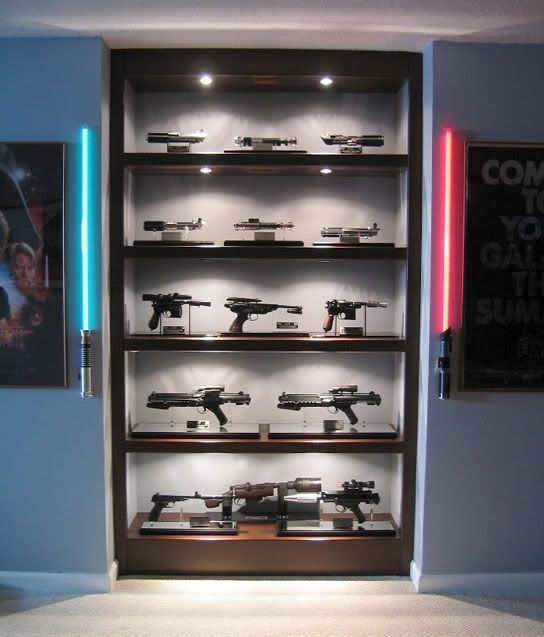 This arsenal of Original Trilogy replica weapons flanked by ignited sabers makes for a stunning display, and would do any self-respecting scoundrel, soldier, or Jedi Knight proud. From the collection of BoBoDohn.

EDITOR'S NOTE: WHAT A VERY GROOVY DISPLAY!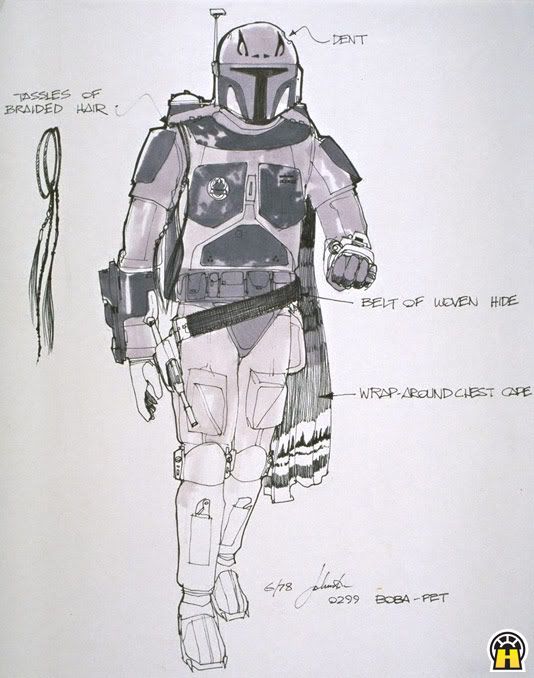 Joe Johnston hones in on some of Boba Fett's finishing details in this sketch.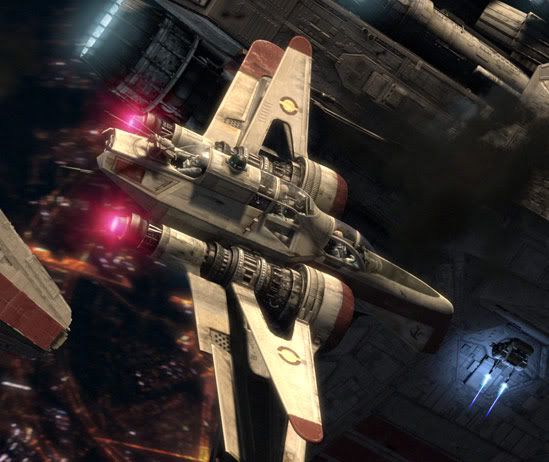 A squadron of ARC-170 fighters dives into action during the amazing Battle of Coruscant.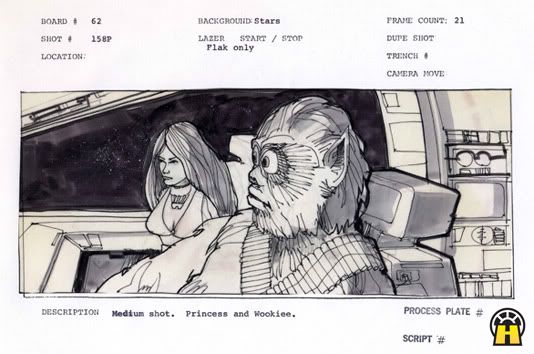 An early storyboard depicting prototype versions of Princess Leia and Chewbacca aboard the Falcon.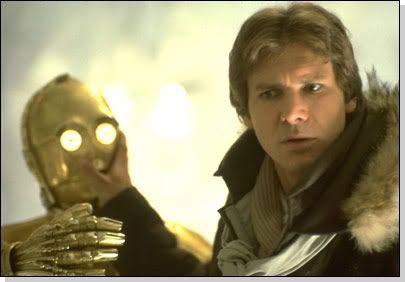 There's always time for a Han Solo pic
EDITOR'S NOTE: HI, HONEY!
AND ON THAT NOTE.....
HOPE EVERYONE IS HAVING A LOVELY MEMORIAL DAY WEEKEND!
SAFE AND FUN, DWEEBPALS! SAFE AND FUN!