This and That (dweebing) from the past week
PUT THIS ON YOUR CALENDAR NOW:
Golden Globes coming Jan. 15
EDITOR'S NOTE: AS DWEEBS OUR SCHEDULES BOOK UP REALLY FAR IN ADVANCE, SO IT'S BEST TO HAVE A NICE AMOUNT OF LEAD TIME ON THESE THINGS.
The Golden Globe Awards will take place on Monday January 15, 2007. Nominations for the 64th annual Golden Globes will be announced on December 14, final ballots will be mailed on December 26, and the deadline for ballots to be returned is January 10.
The show will be broadcast live by NBC and is held at the Beverly Hilton. Best Animated Film will be an included category this year.
HARRY POTTER NEWS
HARRY POTTER 5 Casting News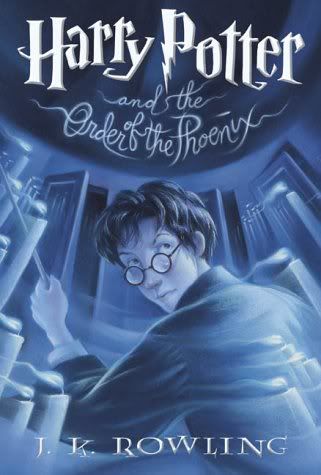 Helen McCrory has dropped out of the movie HARRY POTTER AND THE ORDER OF THE PHOENIX because she is expecting a child and would be heavily pregnant during shooting. Helena Bonham Carter will now play the role of Death Eater Bellatrix Lestrange.
EDITOR'S NOTE: SO. MY SEMI-LOOKALIKE ISN'T PLAYING MY ROLE. BONHAM CARTER WILL BE GREAT IN THIS ROLE (I THINK SHE'S PLAYED SEVERAL SIMILAR ONES

BEFORE

, ACTUALLY). BUT IT FELT A LITTLE LIKE KARMA TO ME, WHEN I SAW SOMEONE CAST WHO WAS SIMILAR IN APPEARANCE TO ME (AND WHEN I HAD SOME SORT OF SENSE THIS WAS THE ROLE I WOULD PLAY IF I WERE FAMOUS. AND BRITISH. AND A LITTLE BIT YOUNGER).
OK....IT HAS NO CONNECTION TO ME WHATSOEVER.
STILL.....
Other casting news from HP5:
Apple Brook will play replacement Care of Magical Creatures teacher Professor Grubbly-Plank. James Walters will play the young version of Sirius Black. James Utechin will play the young version of Lupin. Alec Hopkins will play the young version of Snape. Jason Piper will play Bane the Centaur.
HARRY POTTER AND THE ORDER OF THE PHOENIX is tentatively scheduled for July 13, 2007.
EDITOR'S NOTE: ONE YEAR AND A LITTLE BIT MORE!
In related news:

Bloomsbury publishing director Liz Calder says she expects that the seventh and last Harry Potter book will hit shelves in 2007.
EDITOR'S NOTE: 2007...SO HAPPY AND YET SO BITTERSWEET.
Richardson discusses role in GOF


Miranda Richardson, Rita Skeeter in the fourth Harry Potter movie, recently did an interview with
The Independent
. In it she discusses how she portrayed the role and the fan reaction after her appearance in
Goblet of Fire
.
She loved playing the tabloid journalist Rita Skeeter in
Harry Potter and the Goblet of Fire
. She combined elements of the Vivienne Westwood of yesteryear with
"someone like Liz Smith",
gossip columnist for the New York Post. "
Kids are very generous. I got some really sweet letters saying: 'You were exactly how I thought you should be', so I was very relieved about that,
" she says.
Scientists developing real life invisibility cloak
An invisibility cloak similar to the one Harry inherited from his father in the first book may not be far off from reality.
Researchers in the US and England are laying out a blue print and collecting the exotic materials needed to build such a cloak.
John Pendry, a physicist at the Imperial College London said, "
Such a cloak does not exist, but early versions that could mask microwaves and other forms of electromagnetic radiation could be as close as 18 months away.... We will have a cloak after not too long." EDITOR'S NOTE: FORGET INVISIBILITY. I WANT A CLOAK THAT MAKES ME LOOK 15 POUNDS

THINNER

! (

BESIDES....IF MUGGLES DEVELOP ALL THIS WIZARD-DOFER STUFF, WHAT WILL WIZARDS DO TO FEEL ALL SPECIAL AND SUPERIOR

!?)

TELEVISION NEWS:
THE 4400
While THE 4400 will be returning to USA's regular schedule soon, co- creator Ira Steven Behr says that fans may have to ait a bit to see the resolution of last season's cliffhanger.
EDITOR'S NOTE: THANK HEAVENS THEY ARE SUPPOSED TO DO SOME SORT OF RE-CAP SHOW BEFORE THE SEASON STARTS, BECAUSE THIS IS ONE SHOW WITH SUCH A RICH AND DETAILED MYTHOLOGY, ........AND THEN ONE THAT GOES ON 'VACATION' FOR ALMOST A YEAR BETWEEN EPISODES,...... THAT I AM

DEFINITELY

GOING TO NEED A REALLY GOOD REFRESHER COURSE. (THIS SHOW ALSO TENDS TO DO SEASON FINALES SO CHOCK FULL OF STUFF YOUR EYES BLEED)..
IN A

GOOD

WAY, I MEAN.....
Peter Coyote and Jeffrey Combs are back for the upcoming third season, but the mysterious reappearance of Billy Campbell's Jordan Collier, he says
"We're going to tease this a little longer, partially because Billy Campbell is on a tall ship cruise around the world as a crew member, not as a passenger. He's up there in the riggings."
Behr said,
"[But] it will be worth the wait, that's all. We've come up with an idea for him that I think is very good, and the way you saw him at the end of last season, with that beard and that hair, I think, is going to play a part in his character, so that might give you some idea."
At the end of last season, fans saw what appeared to be 4400 leader Collier on a beach, though he was supposedly assassinated earlier in the year. The new season will bring back new regular cast member Karina Lombard as Alana Mareva, who was introduced as the love interest of Joel Gretsch's Tom Baldwin last year.
"I think she's going to be in 10 out of 13 episodes playing Alana, Tom's lover and 4400 member,"
Behr said. "
And I think that relationship and her abilities are going to have a big impact this season."
EDITOR'S NOTE: I JUST SAW "XMEN3" YESTERDAY, SO MY MUTANT SKILL THING AND MY 4400 SKILL THING A GETTING A LITTLE CONFUSED HERE.
Next season will also see the return of "
the equally lovely and talented Jeff Combs, who I worked with numerous times in the past,"
Behr said, with tongue in cheek. Combs, who worked with Behr on various Star Trek projects, will again play Kevin Burkhardt, a brilliant but troubled scientist who played a key role in last season's finale.
EDITOR'S NOTE: JEFFREY COMBS ROCKS! (WONDERFUL CHARACTER ACTOR)
Former series regular Peter Coyote, who played the nefarious NTAC chief Dennis Ryland, makes an appearance. "
He's in for a nice couple of episodes
," Behr said. "
Peter came back last year at the end, in those two episodes, and he ... scored hugely.
He was in what could be an unsympathetic role, I'd say, and yet made it so cogent and so clear and his point of view was so well-stated that you just want to see more of him. ... We're not going to see Dennis Ryland back as the head of NTAC. Those days are certainly gone. But he will still play a decisive role in the series, and I think that he'll have a lot of fun."
The 4400
returns with 13 new episodes starting June 4.
EDITOR'S NOTE: WOOHOO! (AND HERE I THOUGHT...WITH ALL MY MAIN SHOWS DONE FOR THE YEAR...I WAS GOING TO HAVE TO GET A

LIFE

, OR SOMETHING. PHEW! DODGED A BULLET, HUH?!)
THE DRESDEN FILES Coming in January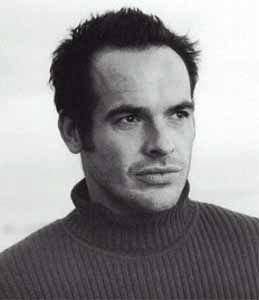 The Sci Fi Channel has ordered 11 episodes of THE DRESDEN FILES, a supernatural detective series based on Jim Butcher's best selling books.
The show will be produced by Nicolas Cage's Saturn Films and Lionsgate TV. The two-hour pilot is expected to kick off in January.
Paul Blackthorne (24)
EDITOR'S NOTE: ABOVE.
plays Harry Dresden, a Chicago-based private detective who has the powers of a wizard.
THE DRESDEN FILES will shoot in Toronto.
David Carson directed the pilot, which was written by Hans Beimler (
Star Trek: Deep Space Nine
)
EDITOR'S NOTE: GOOD.
and Robert Wolfe (
Andromeda

)EDITOR'S NOTE: MUCH LESS GOOD.
they will serve as executive producers of the series, along with Cage, Norm Golightly and Morgan Gendel.
EDITOR'S NOTE: SO SCI FI CHANNEL DECIDED TO RUN SOME SCIFI FOR A CHANGE? FREAKY, MAN!
LOST Looking for New Members
LOST is looking to add two new actresses to the cast for the upcoming third season. No word yet on who it might be.
Also adding members will be Fox's PRISON BREAK, CBS's CLOSE TO HOME, THE NEW ADVENTURES OF OLD CHRISTINE and GHOST WHISPERER.
PRISON BREAK wants a nemesis to Michael Scofield, GHOST WHISPERER needs someone to take the place of departing Aisha Tyler, LAW & ORDER needs a female assistant district attorney to replace departing Annie Parisse, and LAW & ORDER: CRIMINAL INTENT needs someone to replace departing Jamey Sheridan.
LOST
MOBISODES or mobile-hone episodes -- the latest in adventures for LOST fans.
Executive producer, Carlton Cuse, says he and the show's creators are deeply involved in creating this new medium and that they will feature the show's main cast of characters.
"We were able to negotiate this deal, which is going to allow us to use our series regulars in these mobisodes,"
Cuse said in an interview. "
We don't want to do the 24 version, where you're dealing with
characters you've never seen and have no relation to the central characters. We feel if we're going to do the mobisodes, they have to feature the characters that are part of the world of Lost that you know and love."
The mobisodes, available exclusively from Verizon in the fall, will be two or three-minute segments spun off of the main series, Cuse said. He added that producers were able to incorporate the show's main characters, as played by the series' stars, as a result of special deals worked out with Touchstone Television, which produces the series, and the various unions representing the show's talent.
EDITOR'S NOTE: WOW. EVERYONE PLAYED NICE FOR A CHANGE!
As for the mobisode storylines?
"We have a concept for them,"
Cuse said. "
You know, [series co-creator] Damon [Lindelof] and I have not written them yet, but we have a game plan."
He added:
"But the specifics of when they come on and how they'll be available and how you acquire them and everything, I think everyone's still trying to work all that out."

EDITOR'S NOTE: OK. WHO DO WE KNOW WITH A VERIZON PHONE WHO WANTS TO LET US IN ON THESE MINI-STORIES WHEN THEY COME OUT?



Sylvester Stallone doing TV?
Scooper Shannon sent in this blurb regarding Stallone:
According to Sly Central (
http://www.slycentral.com/
), Sylvester Stallone will guest-star on the new SHOWTIME series
Brotherhood
. Stallone is believed to have signed to appear in the final four episodes of the first season, playing "
an Italian mobster in a war against the Irish mob
".
"Brotherhood" will follow the lives of an Irish mobster in Providence and his brother, a member of the Rhode Island House of Representatives who is under a lot of pressure from his sibling's associates to bend the rules.
EDITOR'S NOTE: ARE THERE REALLY THAT MANY IRISH MOBSTERS? CAUSE IT'S A SMALL ISLAND, AND EVEN THOUGH THEY HAD A LOT OF KIDS....WHAT WITH THE CATHOLIC THING AND ALL...IT STILL SEEMS LIKE THERE HAVE TO BE MORE IRISH (AND ITALIAN, FOR THAT MATTER) MOBSTERS ON TV THAN EVER THERE WERE IRISH OR ITALIAN

PEOPLE

.
The series, which is loaded with racial and socio-economic tensions, is inspired by the real-life brotherhood of Boston's William Bulger, the former state senator and university president, and James "Whitey" Bulger, one of the FBI's most-wanted fugitives.
In the meantime, he is prepping two films. "The Kitchen Boys", which goes into production in January, and "Rambo 4", which co-stars James Brolin, Kim Dickens, Avery Brooks, Linden Ashby and Jenna Boyd, for NuImage.
MOVIE NEWS:
Julia Stiles on THE BOURNE ULTIMATUM
In a recent interview, Julia Stiles talked about her upcoming role in THE BOURNE ULTIMATUM.
"
I'm going to be in it
," she confirmed to ComingSoon.net. "
Paul Greengrass is going to direct it. Matt Damon and Joan Allen are going to be back too, and it's going through so many incarnations of scripts. I think I was lucky to not die in the last one, but I just don't know if I'm going to be good or bad."
EDITOR'S NOTE: AND WE DON'T KNOW IF THE

SCRIPT

IS GOING TO BE GOOD OR BAD THIS TIME. SO....LIFE IS JUST FULL OF THESE QUESTIONS QUESTIONS QUESTIONS.
"
I really liked that you didn't know what I was doing in the first one
," she continued, "
and then luckily for me, they decided to explore my character a little bit more in the second one, and now hopefully, more in the third one. You feel like it's a trilogy that is complete. It's not just one movie and then another, and then another. Characters you didn't pay much attention to in the first one, you realize they are much more significant as the trilogy goes on. It's also a work in progress, too. That's part of the reason why I can't explain what exactly my role is going to be in this one, because what's great about Paul Greengrass is he's really good at updating those stories so it's not going to be anything like what the book was. I've seen a first draft, and then Tom Stoppard is doing [rewrites]. It'll be much more about current events, which I think is much more interesting."
EDITOR'S NOTE: OK. GOOD SIGN. STOPPARD. GOOD SIGN. (THE RE-WRITING THING IS TROUBLING, BUT AT LEAST THEY

ARE

WORKING ON THE SCRIPT. AND WITH A PRO).
In the movie, Bourne races to discover the final mysteries of his past while a government agent tries to track him down after a shootout in Moscow.
Filming is scheduled to begin in July.
THE DRAGONRIDERS OF PERN Going Large
The best-selling and long-running sci-fi/fantasy series by Anne McCaffrey, THE DRAGONRIDERS OF PERN, is heading to the silver screen.
Copperheart Entertainment has optioned the 19-book series which began with Dragonflight in 1968. In the books, humans ride dragons by telepathically bonding with them.
"
I decided that 'Pern' had to be done right, and I wouldn't let it go to someone unless I was certain that they were committed to excellence
," McCaffrey said.
EDITOR'S NOTE: DO PEOPLE LISTEN TO THEMSELVES IN HOLLYWOOD. SO, MOST PEOPLE GO INTO A MOVIE PROJECT COMMITTED TO CRAP?
Picturehouse plucks 'Rose'
CANNES -- Picturehouse has nabbed all U.S. rights to the French-language Edith Piaf biopic "La Vie en Rose," starring Marion Cotillard as the tragic French singer and Gerard Depardieu as Louis Leplee, the nightclub owner who discovered her.
President Bob Berney and several execs from other companies viewed a 12-minute preview reel of writer-director Oliver Dahan's project at Cannes from production companies Legende and TF1 International. It was produced by Ilan Goldman and became one of the most talked-about potential acquisitions of the festival.
"The promo reel blew us away
," said Berney, who negotiated into the wee hours Wednesday night at the Martinez Bar and his office at the Majestic.
"It gave us a chill. The actress channels her speaking voice and mannerisms and becomes Piaf. The film has a shot at getting accolades for this performance. This is not a typical period piece, it has an unusual modern style. She was a free artist, she was wild." EDITOR'S NOTE: I'M GUESSING THIS IS

NOT

A COMEDY?
Hawke Stands BEFORE THE DEVIL
Ethan Hawke has signed on to star in a new Sidney Lumet thriller BEFORE THE DEVIL KNOWS YOU'RE DEAD. Also starring in the film are Albert Finney and Marisa Tomei.
The script follows two brothers who organize the robbery of their parents' jewelery store. The job goes horribly wrong, triggering a series of events that sends them, their father and one brother's wife hurtling towards a shattering climax.
EDITOR'S NOTE: HMMM...

ALSO

NOT SOUNDING LIKE A LAUGH RIOT.
Hawke will play one of the brothers, Tomei will play his wife and Finney will be his father.
Shooting is set to begin June 19th in New York City.
Favreau Talks More IRON MAN
MTV recently caught up with Jon Favreau, the director of the upcoming film IRON MAN. Below are the quotes I found most relevant.
"
It's the first movie Marvel is self-financing
," he said of a new deal that frees the makers of the "Spider-Man" and "X-Men" movies from studio control. "
We're set to come out in the summer of '08, and we'll start shooting in January."
"
We're gonna have it take place in the present day, but there will be an origin story that has the old, gray Iron Man suit; eventually it will progress into more of the modern look
," Favreau said.
"That's the fun of doing the first one."
"
The alcoholism doesn't come into play until later on in the story of Iron Man
," he said.
"[The comic] started off in the '60s, where it was about him as a successful manufacturer who developed this suit. Then, later, it spins off into that story about him fighting against himself. I think we're going to lay the groundwork for it, but the first one's going to explore him taking on this alter ego of Iron Man, and developing the suit, and what happens politically within the Stark Corporation."
Regarding casting:
"
What's nice is that those movies don't require an expensive star; Iron Man's the star, the superhero is the star,"
the director insisted. "
The success of 'X-Men' and 'Spider-Man' without being star-driven pieces reassures [executives] that the film does have an upside commercially."

FREEMAN Joins GONE, BABY, GONE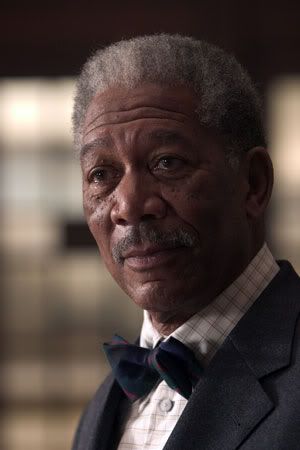 EDITOR'S NOTE: IS THERE AN ACTOR ALIVE WITH A WARMER PRESENCE THAN MORGAN FREEMAN? I WONDER IF HE IS AS NICE AS HE SEEMS?
Morgan Freeman will join the cast of GONE, BABY, GONE, a film directed by Ben Affleck.
The cast also includes Casey Affleck, Michelle Monaghan and Ed Harris. Shooting has already begun in Boston, according to the Boston Herald.
Based on Dennis Lehane's novel of the same title, GONE, BABY, GONE is a story about a two detectives in search of a 4 year old girl that has been kidnapped in Boston. The movie will be Ben Affleck's directorial debut.
Reports say Ben Affleck will not act in the film.
EDITOR'S NOTE: YES, BUT DOES HE

APPEAR

IN IT?
SHOOTER Hits Danny Glover
Danny Glover has been added to the cast of Antoine Fuqua's political thriller SHOOTER. Glover will join Mark Wahlberg, Michael Pena, Rhona Mitra, Kate Mara and Eliza Bennett.
The film will follow an ace marksman (Wahlberg) who has been double-crossed and framed for a presidential assassination he was trying to stop. He is forced to go on the run while trying to track down the real killer and find out who betrayed him.
EDITOR'S NOTE: GOSH, I DON'T THINK WE'VE EVER SEEN A PLOT LIKE

THIS

BEFORE.
The film will be released by Paramount and is set to begin filming next month.
Harris and Spacey to bite into Blueberry

Ed Harris and Kevin Spacey are in talks to star in "My Blueberry Nights", the English-language film debut of filmmaker Wong Kar Wai, says The Hollywood Reporter.
The film tells of a young woman (Norah Jones) who travels across America, looking for love, and encounters some weird and wonderful characters along the way.
EDITOR'S NOTE: OOO....I WONDER IF SHE'S COMING FOR COFFEE WITH THE DWEEBPALS!? (WHO COULD BE WEIRDER AND MORE WONDERFUL, AFTER ALL?!)
Harris and Spacey would join an already impressive list of performers on the film, including Norah Jones, Natalie Portman and Jude Law.
EDITOR'S NOTE: MARVELOUS CAST!
Bean encounters a Green Goblin
The once selective Willem Dafoe ("Spider-Man", "The Boondock Saints") has signed to, assumingly, ham it up in "Bean 2" – or "French Bean", as I've seen it being called on casting breakdowns and in-house release schedules - opposite British funnyman Rowan Atkinson.
The film started shooting in France this week.
In the film, the hapless Mr. Bean goes to the south of France where mishap and mayhem begin, and by film's end, has his video diaries screen at the Cannes Film Festival.
EDITOR'S NOTE: WHY?
Emma de Caunes and Jean Rochefort have also joined the cast, says Variety
Jackie Chan Vs.Teabing?

In an interview with The Hollywood Reporter, "X-Men 3" director Brett Ratner announced that he's hoping to get Ian McKellen, who plays the baleful Magneto in the latter film, to play the nasty piece of work in "Rush Hour 3".
EDITOR'S NOTE: MCKELLEN IS RAPIDLY BECOMING THE GENE HACKMAN OF THE BRIT SET.
McKellen, whose also reprising his "X-Men" role for a spin-off, would play "
the very bad French villain, who is inspired by Max Von Sydow in Three Days of the Condor
", says the director.
Meantime, according to
IESB
, hot-as-a-microwaved-muffin Roselyn Sanchez ("Dragnet") has signed to reprise her role as Isabella Molina – the character she played in 2001's "Rush Hour 2" – for the forthcoming film.
According to director Brett Ratner, Sanchez's role will only be a
"cameo
" this time around. She's back as the secret customs agent that fell for Inspector Lee (Jackie Chan), in the last film.
Olivier Martinez Rings A Belle/Starring in a new drama
Taking Lives'
Olivier Martinez has signed on to star in an English-language adaptation of cult French book
Belle Du Seigneur
.
Leonor Watling (
My Life Without Me
) will co-star in the tale of a controversial love affair between Solal, a Jewish League Of Nations official and the protestant wife of one of his employees. With a shoot planned for Switzerland, Italy and Germany this October, Glenio Bonder will step behind the camera for the first time.
"In English it can be a freer adaptation than if it were in the original French
," the director blabbed to Variety at Cannes.
EDITOR'S NOTE: HUH?
(LOST SOMETHING IN THE TRANSLATION THERE?)

Kill Churchill/Assassination drama pitched

As if the legacy of cigar-chomping wartime PM Winston Churchill hadn't suffered enough in
Churchill: The Hollywood Years
, he's now being targeted for assassination.
You might argue it's a little late, given that he's been dead since 1965, but Warren Adler's novel
Target Churchill
spins the tale that Joseph Stalin planned to have him offed during World War Two.
Producer Tony DiDio and director Kevin Connor (
Sunset Grill
) have commissioned Adler to write a script based on his book, with a shoot planned for January in the US and Europe.
Shooting Star/Jane Campion preparing Keats drama
It's been a while since we've heard about
The Piano's
Jane Campion, who last helmed a big studio film in 2003 with Meg Ryan thriller
In The Cut
.
But speaking at Cannes, Campion has revealed that she's writing and directing
Bright Star
for Pathe.
The film explores the three-year romance between 19th century poetry scribbler John Keats and lover Fanny Browne, which was slightly curtailed by Keats dying at the age of 25.
EDITOR'S NOTE: CAN'T POETS KEEP ROMANCE GOING INDEFINITELY POST-DEMISE?
"
I'm still in the process of writing it, and we don't know yet when we're going into production,"
she told Variety. As soon as she finishes the script, she'll begin casting. Expect more news as it arrives…
Twang Time/Hustle & Flow director goes country
After making an impact with hip-hop in
Hustle & Flow
, writer director Craig Brewer is switching his focus to country music.
He's just just finished shooting
Black Snake Moan
, an exploit-o-drama starring Sam Jackson, Christina Ricci and Justin Timberlake, and plans to move on to
Maggie Lynn
, a country-fried film that will be handled by Paramount's new company Paramount Vantage.
Lynn tracks a woman who gets her heart broken (in a film about country music? Surely not!
EDITOR'S NOTE: I HATE IT WHEN THE ITEM DOES MY WORK FOR ME. GIGGLE
)
and must struggle to regain her sense of self-worth by returning home to Tennessee and teaming up with her brother to play the music she loves.
There's no cast yet, but Brewer wants to start shooting before the end of the year.
STRANGE CIRCUS Comes to Town in 2007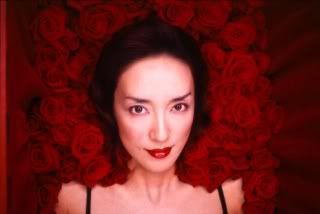 TLA Releasing has acquired the rights to the movie STRANGE CIRCUS the latest film from director Sion SOno.
TLA acquired the film from Japan-based Sedic International at the 2006 Cannes Film Festival. The film will be released as part of TLA's Danger After Dark label in 2007.
"We work very hard to remain loyal to our filmmakers and when the opportunity allowed us to work with Sion Sono again, we were thrilled
." Says Mr. Wolff. "
STRANGE CIRCUS is a visually disturbing and edgy film that will certainly cause a stir because it plays with audiences perspectives and emotions in the most unconventional way, making it an original addition to our Danger After Dark label."
In STRANGE CIRCUS, adolescent Mitsuko is forced to watch her parents' lovemaking by her perverted father and her domineering mother, who imprison her in a cello case employed with a peephole.
EDITOR'S NOTE: A CELLO CASE?
When Mitsuko's mother dies, her father forces the girl to be the victim of his incestuous desires, driving her to attempt suicide with a leap from a height, yet all of this is apparently a new novel being penned by reclusive, wheelchair-bound author Taeko (Masumi Miyazaki, who also plays the mother). Or is it? Taeko is assigned a new assistant named Yuji and the two begin a sexual relationship in Taeko's ornately designed estate. But we soon must question the real identities of both Taeko and Yuji as bloody clues begin to surface.
EDITOR'S NOTE: GOT ALL THAT? (AND I'M BEGINNING TO QUESTION WHY I POSTED INFO ABOUT THIS ODD, DISTURBING FLICK. WEIRD MOOD SWING, I GUESS?)
DVD NEWS:
BLADE RUNNER Final Cut in September
EDITOR'S NOTE: HI, HONEY!
BLADE RUNNER the "Final Cut" will be coming to DVD this September.
'Blade Runner' replicated on DVD again


By Thomas K. Arnold
Warner Home Video has acquired worldwide rights to Ridley Scott's "Blade Runner" and is preparing two DVD editions of the landmark 1982 science fiction classic.In September, Warner will release a restored and remastered version of the film's 1992 director's cut, which debuted on DVD in 1997 as one of the first movies to appear on the format. This version of "Runner" will only be available for four months.
EDITOR'S NOTE: THE BLADE RUNNER RE-RELEASE THING IS WORSE THAN WITH STAR WARS. HOW MANY VERSIONS DO I NEED TO BUY BEFORE WE'RE DONE, HERE?!
Next year, to celebrate the film's 25th anniversary, Warner will release "Blade Runner: The Final Cut," which it is billing as Scott's "
definitive new version
" of the film. After a limited theatrical release
EDITOR'S NOTE:OOO...OK. THAT SOUNDS GOOD. A CHANCE TO SEE IT ON THE BIG SCREEN AGAIN, AND ALL SPRUCED UP! LET'S GO!
, the newly spruced-up "Runner" will be released in a multidisc special edition DVD that also will include the original theatrical cut, the expanded international theatrical cut and the 1992 director's cut.
"This is clearly Ridley's signature film, and we are thrilled to have it back
," Warner senior vp and general manager of theatrical catalog Jeff Baker said.
He said that while specifics about the two DVD editions will be announced later, Warner wanted to announce its release plans early "
to get this great news to the many serious film buffs and ardent 'Blade Runner' fans who have been so patient, despite besieging us with thousands of annual requests in recent years for new 'Blade Runner' DVDs
."
" 'Blade Runner: The Director's Cut' was one of the very first titles to be released on DVD, and so it came out before optimal formatting standards had been established
," said Doug Pratt, editor of the
DVD-LaserDisc Newsletter
. "
Shortly afterwards, it went into moratorium. The early adopters who bought the title have long since wished to see it upgraded, while other fans, who came into DVDs later on, have been unable to find it at all. It is the only 'big' sci-fi spectacle currently unavailable on DVD."
"
Runner" stars Harrison Ford, Rutger Hauer, Sean Young, Edward James Olmos and Daryl Hannah and won plaudits -- as well as two Oscar nominations -- for its dark, bleak vision of the future.
Ford heads the cast as Rick Deckard, a futuristic cop -- the film is set in 2019 Los Angeles -- who needs to kill four errant human clones who hijack a space ship back to Earth after escaping from exile in an off-world colony.
The film bowed in theaters in summer 1982, and while it only grossed $26.2 million, it quickly became a cult classic. The film is based on the novel by late science fiction writer Philip K. Dick, whose prose also led to such films as "Total Recall," "Minority Report" and "Paycheck."