Movie News
X-FILES 2 in Development?
Sci Fi Wire has revealed that Frank Spotnitz has signed on to help write
The X-Files 2.
The next film in the X-Files series is expected to get underway after Chris Carter (creator of X-Files) and Fox settle legal matters.
"
There's still a very good chance that we will all do another 'X-Files' movie
," Spotnitz said.
Duchovney, Anderson and Spotnitz all have deals in place regarding the film.
"We're not going into the mythology [in the sequel],"
Spotnitz added. "
Of course, we will catch up with the characters and what is going on in their lives, but it's not about the alien conspiracy. It's not about that."
The script is not yet written.
EDITOR'S NOTE: OH PLEASE FOR THE SAKE OF ALL THAT'S DWEEBY HURRY IT UP! QUIT TEASING , QUIT TALKING TO WEBGEEKS, AND JUST GO HOME AND LOCK YOURSELF IN A ROOM AND

WRITE

THE DURN THING!
THE QOTD HAS SPOKEN!
SUPERMAN RETURNS Final Poster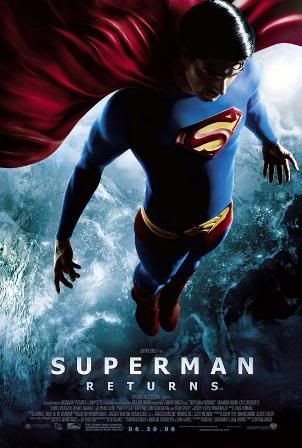 A new poster for Superman Returns hit the Internet on Tuesday.
EDITOR'S NOTE: NOT A GOOD ANGLE FOR THOSE THIGHS.
The second full trailer will be shown with X-Men: The Last Stand, though it should land online before then.
The movie opens on June 30, 2006
NARNIA on the Move!
The sequel to
The Chronicles of Narnia: The Lion, the Witch and the Wardrobe
, originally scheduled for December 14, 2007, has moved to the summer of 2008.
The sequel will be titled
The Chronicles of Narnia: Prince Caspian.
Disney moved the date after Columbia Pictures announced Tuesday it was releasing
The Water Horse
on December 8, 2007.
EDITOR'S NOTE: WHAT IS "THE WATER HORSE" AND WHY IS NARNIA AFRAID OF IT? (AND ISN'T "PRINCE CASPIAN" THE NARNIA BOOK THAT WAS SUPPOSEDLY REALLY NPC? NARNIA SCHOLARS?)
Colin Farrell starring in Woody Allen's next?
Woody Allen has signed a typically A-grade cast, including Colin Farrell, Tom Wilkinson and Ewan McGregor, to headline his next – characteristically, untitled still – movie.
EDITOR'S NOTE: DID SOMEONE SAY SOMETHING AFTER EWAN MCGREGOR?
The film, set to be shot in the U.K, was quickly hobbled together after Allen's Paris-set project, which was set to star Michelle Williams and David Krumholtz, fell apart at the seams.
According to the ABC, the project will shoot in the Summer. It's Allen's third film to be shot in London, following the critically acclaimed "Match Point", and the upcoming "Scoop".
USED GUYS Production Delayed

The 20th Century Fox sci-fi comedy Used Guys has halted preproduction due to scheduling issues. The movie was set to star Ben Stiller and Jim Carrey.
"Due to scheduling issues, production is being delayed on 'Used Guys' ... until sometime next year,"
the studio said. "
The Jay Roach-directed film requires a long prep for its futuristic settings, and both actors have films scheduled for later in the year. All the parties remain committed to making the picture when time permits."
EDITOR'S NOTE: BEN STILLER AND JIM CARREY? NOOOOOOO RUSH.....
The movie had been set to release on June 15th, 2007
Halle Berry on Storm Spin-Off
In an interview with blackfilm.com, Halle Berry dropped a few interesting comments regarding X-Men and future comic book films.
A short recap goes something like this: Never doing a Storm spin off, never playing another superhero, she thinks Fox would do another sequel to X-Men.
The question asked by blackfilm.com regarding future X-Men movies could be considered somewhat of a spoiler, so be wary.
De-spolierfied the quote goes something like this: "
If this is the end, which in my mind it probably is, I'm just really happy with the way it ended; and if [it] does well, Fox will do another one. It would be advantageous for them to do another one. I think they will if the fans love this one enough and enough people go see it and they all want it, I'm sure there will be another one."
So there you have it, right from the mouth of someone who has no say on if there will be another movie!
FANTASTIC FOUR 2 Flies to a New Date
It seems the Fantastic Four are no match for a bunch of toys.
Transformers
and
Fantastic Four
had both been staking claim to the July 4th, 2007 release date, a game of chicken if you will.
The Fantastic Four
swerved first.
Bumping the release up two weeks,
Fantastic Four 2
will now release on June 15th. This marks the second time
Fantastic Four
has chickened out, once with
War of the Worlds
and once with
Transformers.
The original
Fantastic Four
was also slated to release on July 4th and also moved up two weeks to avoid another tent pole.
The collapse in
Used Guys
production left the June 15th date open.
ROCKY and MGM Set Date For Fight
The next installment of
Rocky
will be headed back to theaters on December 22, 2006. The movie will be titled
Rocky Balboa
and stars Sylvester Stallone as Rocky.
EDITOR'S NOTE: WOO. HOO.
The movie is being produced via a three-way deal between Revolution Studios, Sony Pictures Entertainment and MGM.
"
All three partners involved in this project are tremendously excited with this new film and Sony is thrilled to be handling international distribution of the motion picture as well as home entertainment on a worldwide basis
," Columbia TriStar Motion Picture Group chairman of worldwide marketing and distribution Jeff Blake said.
MGM will be handling domestic distribution for the film.
Del Toro and Cuaron are WITCHES
An English adaptation of Roald Dahl's 1973 book
The Witches
will be directed by Guillermo del Toro (
Blade 2, Hellboy
). Alfonso Cuaron has signed on to produce the Warner Bros. film.
Del Toro is writing the screenplay for
The Witches
himself and said he has written about 70 pages of what he expects to be a 100 page screenplay. He plans to be more faithful to the book than previous versions of the movie.
There is no date set for the beginning of production
Beckinsale Out of UNDERWORLD
The next
Underworld
movie will be without Kate Beckinsale despite the fact that her husband, Len Wiseman, is developing it.
EDITOR'S NOTE: WELL THAT'S NOT FAIR. MAYBE SHE'S AS BAD AT

OTHER

THINGS AS SHE IS AT ACTING? (

COOKING

! I MEANT

COOKING

!)
"
I think it's a prequel before I'm actually in it, so I think that won't include me if it happens,"
Beckinsale said.
She also revealed that she has not been cast as Wonder Woman. Beckinsale said, "I
get texted from friends all around the world saying, 'That's so awesome! I'm so happy for you. That's so great,' and I have to just text them and say, 'It's actually not true.'"
Beckinsale can however be seen in the upcoming film,
Click
, starring Adam Sandler.
EDITOR'S NOTE: NOT THAT I NEEDED ANY EXTRA REASONS NOT TO SEE THAT, BUT THERE'S ONE MORE.
Arclight Gets THE OBJECTIVE
Darclight, a branch of Archlight Films, has signed a deal for the rights to Daniel Myrick's upcoming supernatural horror film.
The film, titled The Objective, will follow a special ops team carrying out a mission in Afghanistan that finds itself lost in a vortex of ancient evil. EDITO'RS NOTE: AND HERE I THOUGHT ALL THOSE OLD ANCIENT EVIL VORTEXES WERE AT MY FORMER JOB.
Myrick was launched into the industry after he co-helmed The Blair Witch Project. His latest film, Solstice, just recently wrapped production.

Warner Bros. Shoot ARROW
Rob Cohen has attached himself to a new martial arts movie titled Arrow. The movie will be produced by Basil Iwanyk and his Thunder Road shingle via Warner Bros. Pictures.

The script, written by Brandon Noonan, is apparently very hush hush and no details have been released.

Cohen has directed recent films such as: Stealth, XXX, and The Fast and the Furious. He is, however, no stranger to martial arts, having directed Dragon: The Bruce Lee Story.

Keener, Page charged with 'Crime' roles
Catherine Keener and Ellen Page will star in "An American Crime," a gritty drama being directed by Tommy O'Haver. First Look Studios' Henry Winterstern and Kevin Turen are producing, in addition to Killer Films' Christine Vachon, Katie Roumel and Jocelyn Hayes-Simpson.

The story, which O'Haver wrote with Irene Turner, tells the true story of Sylvia Likens, a 16-year-old girl who died in 1965 while under the care of a woman named Gertrude Baniszewski. She put Sylvia through an ordeal that included beatings in the guise of discipline, burnings with cigarettes and matches and scalding hot baths, among other tortures. Encouraging a "Lord of the Flies"-type cult, Baniszewski involved her own children and children from her Indianapolis neighborhood in the punishments. Keener is playing Baniszewski, while Page plays Likens EDITOR'S NOTE: SOUNDS LIKE A CHEERY, HAPPY LITTLE FLICK, EH?

Bruckheimer, Dis recruit 'Game Boys'
Walt Disney Pictures and Jerry Bruckheimer Films have acquired "Game Boys," an action spec by Tom Ropelewski and Evan Katz. Jerry Bruckheimer is producing.

The story revolves around two thirtysomething video game junkies recruited by the Department of Homeland Security to lead a geeky army of gamers in a battle against creatures that have come to life from a video game they have mastered. EDITOR'S NOTE: I HOPE THIS IS AS GOOD AS ALL THOSE MOVIES FROM THE 80'S WITH PRETTY MUCH THE SAME PLOT.

Watts makes 'Promise' to Cronenberg
CANNES -- Naomi Watts has signed on to star alongside Viggo Mortensen in "Eastern Promises," a crime-flavored drama from Canadian director David Cronenberg that Focus Features is selling internationally. EDITOR'S NOTE: OOO..PRETTY PEOPLE....

In the film, a 14-year-old girl dies on Christmas giving birth in a London hospital. The hospital's midwife (Watts) sets out to find the girl's family for the orphaned child. Her search takes her to London's shady Russian crime community and to a Russian crime boss (Mortensen) who is not what he seems.

Scripted by Steve Knight ("Dirty Pretty Things"), "Promises" was developed by the BBC before being picked up by Focus Films, which will produce the project and release it stateside.

Producer Devlin moves to director's chair
CANNES EDITOR'S NOTE: LOOKS LIKE SOME DEALS ARE BEING MADE ON LA CROISETTE? (IN BETWEEN ALL THOSE BORING MOVIES AND HORRID CHIC PARTIES?)-- Dean Devlin finally is making his long-awaited shift from producer to director. EDITOR'S NOTE: BEFORE LONG, HE'LL HAVE DOWNGRADED COMPLETELY AND BECOME AND ACTOR! (LET'S HOPE HE IS A BETTER DIRECTOR THAN PRODUCER)He will direct "Ghosting," an effects-packed paranormal thriller, he said Thursday. He will begin shooting the film early next year after principal photography is complete on the September shoot of his sci-fi adventure "Isobar."

Devlin ("Independence Day," "Flyboys") also will produce "Ghosting" for his company Electric Entertainment with in-house partners Kearie Peak and Marc Roskin.

Jessie Alexander's script centers on a crippled cop who works with a group of undercover investigators who temporarily paralyze hearts to move back and forth between the land of the living and the dead

Threesome's 'Fairy' under Fox's pillow EDITOR'S NOTE: IS IT JUST ME, OR DOES ANYONE ELSE HAVE THE URGE TO GIGGLE (TITTER, REALLY) WHEN THEY READ THAT TITLE?)
20th Century Fox believes in the "Tooth Fairy." In a deal worth $1 million-$2 million, the studio has bought a family comedy project from actor-writer Jim Piddock and comedy writing duo Lowell Ganz and Babaloo Mandel. Jason Blum is producing.

Ganz and Mandel will start writing the screenplay, which follows a guy's guy who is forced to serve time as a tooth fairy, including wearing the outfit. Piddock wrote the treatment, then hooked up with Blum via his manager, Lighthouse Entertainment's Steven Siebert; Blum and Siebert worked on "The Darwin Awards" together. Blum and Piddock then took it to Ganz and Mandel. EDITOR'S NOTE: GUY AS TOOTH FAIRY...YEAH. THAT WAS GOOD FOR ONE OR TWO JOKES IN THE "SANTA CLAUSE" MOVIES.

Vin Diesel is in TRANSIT
Vin Diesel will be starring in a new action thriller called Black Water Transit. The movie is currently in preproduction and shooting is planned for July in Chicago. EDITOR'S NOTE: I DON'T IMAGINE ANYONE REALLY CARES WHAT MOVIE MR. TRUCKFUEL IS MAKING, BUT I THINK IT IS IMPORTANT THAT WE KEEP TRACK OF VIN, SO THAT WE CAN MORE EASILY AVOID HIM.

The story follows the divergent agendas of criminals, cops and lawyers as they collide over a shipment of illegal firearms and a double homicide. Earl Pike, a criminal, tries to get his family's illegal gun collection to a safe haven.

Also starring in the film will be Kevin Bacon, James Franco and Sophie Okonedo. Black Water Transit will be directed by music video director EDITOR'S NOTE....YEAH..... (SOPHIE OKONEDO AND KEVIN BACON. GOOD. JAMES FRANCO, VIN DIESEL AND MTV DIRECTOR. NOT SO GOOD). Samuel Bayer, it will be his feature film debut.

The screenplay was based on the novel by Carsten Stroud.

HBO's 'Year' on calendar for Bridges
Jeff Bridges will star in "A Dog Year," an HBO Films production that will be distributed by Picturehouse. Producer George LaVoo is making his directorial debut on the movie, being produced by Liz Manne via her Duopoly shingle.

Based on the memoir by Jon Katz and adapted by LaVoo, the story centers on a man having a midlife crisis whose life is turned upside down when he takes in a border collie crazier than he is.EDITOR'S NOTE: AND IF WERE AN AUSTRALIAN CATTLE DOG, THEN WE'D BE TALKIN ENTERTAINMENT!

The film is scheduled to go before cameras in July in New York

Smith putting on 'Ring' for Attenborough
"Everwood" star Gregory Smith has joined the cast of "Closing the Ring," a romantic drama being directed by Richard Attenborough and starring Christopher Plummer and Shirley MacLaine.

The story, written by Peter Woodward,EDITOR'S NOTE: THE ACTOR PETER WOODWARD? is set in motion when an American B-17 crashes near Belfast, Northern Ireland, and a dying gunner asks a local to return his ring to his girlfriend in the U.S. Half a century later, a man finds the ring, learns its history and tracks down the girlfriend

Paxton gets 'Second' try to find love
CANNES -- Donal Logue's sophomore directing turn, "The Second Coming," has attracted Bill Paxton, who is attached to star in the production for producer Orian Williams, with co-financing by Elie Samaha and Markus Barmettler.

The feature, adapted from Walker Percy's novel of the same name by Logue and Jeff Kitchen, is the story of a depressed, suicidal widower who falls in love with a young woman who's escaped from a mental institution.

"On one level they could be crazy," said Logue, "but on another they're saner than anyone."

Williams and Logue, who's also producing, are aiming to begin principal photography in Greenville, S.C., early next year

Loach finds 'Times' to do FilmFour pic
LONDON -- Veteran filmmaker Ken Loach has teamed with FilmFour for his next picture, the parties said Thursday. The Channel 4-owned film unit will back "These Times," to be directed by Loach, from a script by longtime collaborator Paul Laverty and is billed as a "contemporary story set in Britain." EDITOR'S NOTE: HOPE THEY HONE THAT LINE A BIT BEFORE THEY PRODUCE THE PROMOS.

FilmFour will co-finance the film which is being produced by Loach's longtime producer partner Rebecca O'Brien under the pair's banner Sixteen Films. Shooting will start in the autumn on location outside London and in Scotland, the filmmakers said. FilmFour and Loach have previously worked together on several films including "Bread and Roses," "My Name Is Joe" and "Carla's Song."

Murphy orders 'Ramen'
CANNES -- Brittany Murphy will star in the romantic dramedy "The Ramen Girl" from producer-distributor Media 8 Entertainment.

Robert Allan Ackerman's film centers on an American woman (Murphy) who finds herself stranded in Tokyo after a bad breakup. She decides to train as a ramen noodle chef with a tough instructor (Toshiyuki Nishida). Murphy and Ackerman are producing the project, scheduled to begin principal photography in September with a theatrical release next year

Kate Hudson Builds Mansions/Starring in a romantic epic
Kate Hudson's falling in love with Ken Watanabe. Not the latest Hollywood dating scandal, but the casting for Bruce Beresford's latest drama.

The Evelyn director is making A Dream Of Red Mansions, an epic romance that uses the 1949 Chinese Revolution as the setting for a love affair between an American photojournalist (Hudson) and a Chinese Revolutionary (Watanabe, presumably balancing the scales by playing a Chinese man after starring opposite Chinese actresses playing Japanese geisha). EDITOR'S NOTE: I'M HAVING TROUBLE PICTURING HUDSON DOING A PERIOD PIECE; SHE IS SORT OF QUINTESSENTIALLY MODERN AND LA, ISN'T SHE? (AND THE AGE DIFFERENCE BETWEEN HUDSON AND WATANABE IS.........??????)

With a script by Donald Martin and a shoot set for October in Taiwan, the film will be up for sale at the Cannes film festival.

THE GOOD HEART Casting News
Ryan Gosling and Tom Waits are set to star in The Good Heart, a movie by director Dagur Kari.

The movie will star Gosling as a young homeless man who is taken under the wing of a bar owner (Waits). Waits' character has suffered multiple heart attacks and knowing his days are numbered he decides it is best to spend his remaining time training a homeless man to run the bar.

Rob Lowe will hear ECHOES
The sequel Stir of Echoes: The Dead Speak will star Rob Lowe and be produced by Lionsgate. EDITOR'S NOTE: AND ROB LOWE LEFT "THE WEST WING" BECAUSE HE HAD SOMETHING BETTER TO DO?

The horror/thriller was written by Ernie Barbaresh and will begin shooting in July in Toronto.

The story will feature a soldier who comes back from his tour of duty in Iraq. Upon his return he is greeted with visions of the dead.

FEAR EFFECT Game Going to Big Screen
Another day, another video game movie adaptation. This time it is Mindfire Entertainment who has announced their plans to run the Eidos game, Fear Effect, into a feature film.

Stanley Tong is in talks to direct the film while Mindfire CEO Mark A. Altman (House of the Dead 2, DOA: Dead or Alive) will produce.

Apparently the movie is best described as Mission: Impossible meets Silent Hill. The film will follow the storyline of the game, but it will be set 10 years in the future rather than an alternate world. EDITOR'S NOTE: WHICH NO DOUBT WILL MAKE THE WHOLE THING EVER SO MUCH MORE BELIEVABLE?

GHOSTBUSTERS IN HELL
InFocus Magazine has posted an interview of sorts with actor-filmmaker Harold Ramis. In the interview, Ramis had some sad news to report about the possibility of a third Ghostbusters. The report claims the movie would be titled Ghostbusters in Hell.

The script for the possible sequel is written by Dan Aykroyd and features a hell that looks like New York City. The Ghostbusters transport themselves to this Hell via a portal located in a warehouse. Are you sorry you read this yet? Wait ... it gets much worse.

"What Danny had originally conceived was sending us to a special-effects hell, a netherworld full of phenomenal visual environments and boiling pits,"EDITOR'S NOTE: BUT THEN THEY REALIZED THAT GEORGE LUCAS HAD ALREADY DONE THAT IN EPISODE 3? Ramis revealed. "But what works so well about the first two (films) is the mundane-ness of it all. So my notion was that hell exists in the same place as our consensus reality, but it's like a film shutter. It's the darkness between the 24 frames."

Yes Harold. Yes it is.

Ramis continued, "So we create a device to do it, and it's in a warehouse in Brooklyn. When we step out of the chamber, it looks just like New York, but it's hell. Everything's grid-locked; no cars are moving and all the drivers are swearing at each other in different foreign languages. No two people speak the same language. It's all the worst things about modern urban life, just magnified."
Sigh. I have done all I can. I have held off as long as possible. If you are still reading ... then you simply asked for it.

Reports are saying Ramis wants vets Aykroyd, Moranis and Murray to reprise their roles. Murray refuses to, probably because he got a whiff of the script's smell. In his place Ramis is reportedly trying to cast Ben Stiller to star as the new Ghostbuster.

I am going to the corner to cry. EDITOR'S NOTE: ALL THAT WHINING AND HANDWRINGING COMES FROM THE GUY WHO WROTE THE ARTICLE. I DON'T THINK IT SOUNDS ALL THAT BAD. I MEAN, IT'S NOT LIKE THE FIRST TWO WERE SHAKESPEARE, RIGHT?