Movie News
EDITOR'S NOTE: FIRST UP, SOME TRAILER NEWS. (TO FILL THIS SEMI-VOID IN ACTUAL

MOVIES

TO WATCH).
SUPERMAN RETURNS Trailer On-Line
The first full length trailer for
Superman Returns
has finally shown up online. The trailer, which is viewable on Apple's website, will also be attached to the upcoming release of
Mission Impossible 3.

You can view the trailer via Apple here.
http://www.apple.com/trailers/wb/supermanreturns/trailer2/
The movie, which opens in all theaters on June 30th, stars Brandon Routh, Kate Bosworth, Kevin Spacey and is directed by Bryan Singer.
EDITOR'S NOTE: HERE'S MY TAKE....SPACEY LOOKS FABULOUS. THE VISUALS LOOK GREAT. SUPES AND LOIS? LOOK VERY VERY LAME. (I HAVE A BAD FEELING ABOUT THIS ONE, DWEEBPALS).
French and English CASINO ROYALE Teaser Hits the Net
When I first heard that Daniel Craig was cast to play one of the most famous roles in cinematic history, I shook my head. Why, I cried! He isn't attractive enough, sophisticated enough, suave enough, and the list went on and on. As soon as I heard the news, my mind was essentially made up to pass on the film.
Two versions of the
Casino Royale
teaser have appeared online. The first version is in French and the second in English. I saw the French version first and even without being able to understand what was said, I wanted to be the first to offer Mr. Craig an apology.
Without sound and in below average quality, Craig has me more excited for
Casino Royale
than for any other Bond film released in my lifetime. The English version only cements these sentiments.
The footage is gritty, dark, and engaging.
Bourne Supremacy
comes to mind as a good comparison.
EDITOR'S NOTE: YOU MEAN THE LAME SEQUEL TO ONE OF MY FAVORITE MOVIES? NOT A PLUS IN MY BOOK, BUT THAT'S WHAT MAKES HORSE RACES.
I am impressed. I am excited. Bond is back.
You can view the English teaser here,
http://www.sonypictures.com/movies/casinoroyale/
.
Don't take it from me, go watch it and make up your own mind
EDITOR'S NOTE: HE IS FLINTY-EYED AND LOVELY. IT LOOKS JUST LIKE A BOND MOVIE. (FOR MOSTLY BETTER; IT IS WHAT IT IS). AND IT HAS VOICE-OVER BY JUDI DENCH (WHICH MAKES

EVERYTHING

ALL RIGHT).
LEAVING THE TRAILER PARK ---
NIGHTMARE BEFORE CHRISTMAS to be Re-Released in 3-D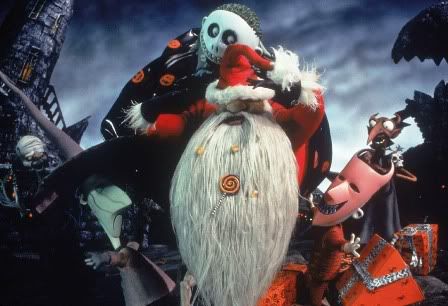 Disney has staked it's claim to the Halloween weekend as
The Nightmare Before Christmas
prepares to roll into theaters on October 20, 2006. The movie will be digitally remastered and shown in 3-D, making it the second re-release of its kind for Disney (
Chicken Little
was the first).
EDITOR'S NOTE: HOT DOG! I'VE ONLY SEEN IT THE ONCE, AND WAS WANTING TO SEE IT AGAIN ANYWAY. AND BOY, WON'T THIS BE A FUN ONE FOR 3-D?!
"
When visitors came to visit the set of The Nightmare Before Christmas, they were always amazed by the intricate sets and beautiful puppets -- that they actually existed in miniature. It was disappointing to see this effect lost on film. By remastering for 3-D, I hope that some of this magic can be captured and shown to the audience in a way they've never seen before
," said Henry Selick, the
The Nightmare Before Christmas
director.
The Nightmare Before Christmas
was originally released in 1993, grossing over $50 million domestically. The October release figures to be at digital theaters across the country.
Chicken Little
's re-release played at over 80 locations and
The Nightmare Before Christmas
figures to greatly surpass that amount.
Word has it the 3-D glasses handed out at each screening will collectible rather than standard fare.
EDITOR'S NOTE:OOOO...AND A BONUS

KEEPSAKE

TOO!
AND NOW, A BUNCH OF MOVIES/COMICS/MOVIES -----
SE7EN Coming in September
Zenescope Entertainment has acquired the rights to
Se7en
from New Line Cinema. The comic will explore John Doe before the deadly sins murder story told in the film.
"
Without giving too much away all I can say is this series will actually bring the reader into John Doe's world. We're going to look at everything through Doe's eyes this time rather than from the points of view of Detective Mills and Sommerset, as in the film,"
said Zenescope's Ralph Tedesco.
The films director, David Fincher, will not be involved with the comic. Neither will the movies screenwriter Kevin Walker.
Some of the comics authors will include: Raven Gregory (The Gift), Christian Beranek (Dracula vs. King Arthur), and potentially Steve Niles and David Wohl.
DRACULA (1992) Sequal May See Light

The Un-Dead
, a sequel to
Dracula
(1992), is in development via Blue Tulip Productions and Atchity Entertainment.
There is no named director as of yet for the project, but a script has been penned by Ian Holt. The script has the movie taking place 25 years after
Dracula
and focuses on the surviving characters. This is the first sequel the descendants of Dracula author Bram Stoker have authorized.
Dracula
(1992) was directed by Francis Ford Coppola.
Comic RED SONJA Gets the Green Light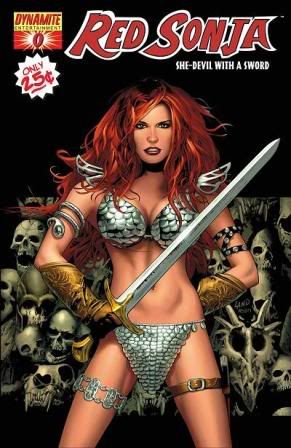 EDITOR'S NOTE: HERE ARE A FEW QUESTIONS FOR ALL THOSE COMICS ARTISTS --- 1. DON'T THOSE ABSURDLY LARGE BAZONGAS GET IN THE WAY OF SWINGING THAT SWORD, 2. DOES'T THAT OUTFIT GET DRAFTY?, AND 3. DOESN'T SHE WORRY ABOUT CHAFING WHEN SHE'S RACING THRU THE JUNGLE? (OH...AND HER HAIR

MUST

GET IN HER EYES. ALL REAL DISADVANTAGES IN A FIGHT, DONCHA THINK?)
One of the bestselling indie comic books available is coming to the silver screen.
Red Sonja
, a sword-and-sorcery comic book from Dynamite Entertainment, has been green lit with a production budget north of $25 million.
Red Sonja
was released on the big screen in 1985 starring Brigitte Nielson and Arnold Schwarzenegger. It will be remade by Millennium Films and Emmett/Furla.
"
The first movie was not a good one -- all the more reason to remake it. It is a great character and a great brand
," said Joe Gatta, Head of Millennium Films.
Personally, I don't think they could do any worse than the original.
Mark Protosevich Penning Mighty Thor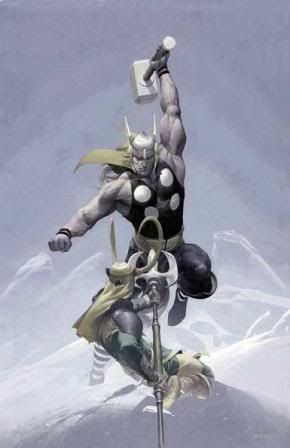 Back in December of 2004, the talk of the town was that David Goyer (
Batman Begins, Blade
) was in talks to pen and direct Marvel's big-screen adaption of
Thor
. Avi Arad, Marvel Studios CEO, went on record at the premiere of
Blade
saying, "
Thor is being written now. Actually, David is going to write it. He is a Thor fanatic for a long time. He's going to write it."
My how things have changed. Thor will now be hammering his way to the big screen via Mark Protosevich's (
Poseidon, The Cell
) mighty pen.
"
In the comics, the stories that appealed to me most were the features called 'Tales of Asgard
,'" Protosevich said.
"I don't want to give too much away, but I will say the movie will take place in the world of myth and legend but will not betray some of the thematic elements of the comics that made them so appealing ... like the idea of a god growing to truly understand man."
The movie's budget is projected as high as $165 million, and is being funded via a $525 million fund from Merrill Lynch. The film is expected to be distributed under Marvel's arrangement with Paramount.
Fans of the comic were high on wrestler Triple H to play the part of
Thor
, but Marvel has released no word thus far on possible casting.
TITANS Remake in the Development
Warner Bros. Pictures has hired screenwriter Travis Beacham to write the remake of CLASH OF THE TITANS.
The 1981 film starred Harry Hamlin, Laurence Olivier, Claire Bloom, Maggie Smith, Ursula Andress, Jack Gwillim, Susan Fleetwood, and Burgess Meredith. TITANS also featured the stop motion animation work of Ray Harryhausen, who did the special effects for the movie.
The action-adventure-fantasy story revolves around Perseus (Hamlin) searching for Medusa's head so he can stop the monsterous Kraken and save Princess Andromeda from being sacrificed to the creature.
Thunder Road Pictures' Basil Iwanyk will produce.
EDITOR'S NOTE: NOT WANTING TO SAY ANYTHING ILL OF ANYTHING INVOLVING THE GREAT HARRYHAUSEN, BUT I GIGGLE JUST THINKING ABOUT THIS HORRIBLE, CHEESEFEST. (MY MY MY)
No STOPPING De Bont
Intermedia, QED International and Action Concept have signed Jan De Bont to direct STOPPING POWER.
The story centers on a single father on vacation with his daughter and girlfriend who suddenly finds himself at the center of a high-speed car chase after his daughter is kidnapped by a criminal who has stolen their RV. The father is forced to act as a decoy in the getaway car, leading the police across the city.
Richard Shepard is rewriting Eric Red's original script. Filming will begin this September
Fox Atomic offers support for 'Incurable'
Fox Atomic has acquired the screenplay "Incurable" by Will Strouse. Vertigo's Roy Lee and Doug Davison are producing alongside Smart Entertainment's Jon Jacobs and Colin O'Reilly.
Plot details are being kept under wraps, but the story is described as a dramatic thriller that revolves around a support group for extraordinary people with extraordinary problems.
EDITOR'S NOTE: OOO...SIGN ME UP! SIGN US

ALL

UP! (AS DWEEBS, WE ARE BY DEFINITION EXTRAORDINARY, DONT' YOU THINK?)
Vertigo's Gabriel Mason brought the material into the shingle and will executive produce.
Hennessy, Arnold go 'Hogs' wild
Tichina Arnold and Jill Hennessy have joined the cast of "Wild Hogs," a comedy for Touchstone Pictures being produced by Tollin/Robbins Prods. Walt Becker is directing.
The movie, written by Brad Copeland, will see John Travolta, Tim Allen, Martin Lawrence and William H. Macy as a group of frustrated, middle-age suburban biker wannabes who hit the open road in search of adventure, only to encounter a rough and tumble New Mexico biker gang called the Del Fuegos.
Fox morphs to robot pic for D'Works
Megan Fox has signed on as the female lead in DreamWorks' "Transformers." Shia LaBeouf already has boarded the live-action adaptation of the 1980s Hasbro toy line of giant robots that morph into cars, trucks, planes and ships.
Fox will play Mikaela, the love interest of LaBeouf's character. The Michael Bay-helmed film is being produced by Angry Films' Don Murphy, Tom DeSanto and Lorenzo di Bonaventura. Steven Spielberg is executive producing
EDITOR'S NOTE: OOO...MICHAEL BAY. SO WE KNOW IT WILL BE

LOUD

. AND PROBABLY SEMI-PLOTLESS.
Arnold swims with 'P.D.R.'
Tom Arnold has joined the cast of the Lionsgate period drama "P.D.R."
Terrence Howard and Bernie Mac are toplining the film, which chronicles the true-life story of Jim Ellis (Howard), who in the 1970s started a black swim team in one of the roughest neighborhoods in Philadelphia. Arnold plays the racist swim coach of the rival team
Black hits 'Rewind' for Gondry
Jack Black is set to star in Michel Gondry's eccentric comedy "Be Kind Rewind," playing a junkyard worker whose brain is magnetized, destroying every tape in his friend's video store and forcing the pair to remake the lost films.
Focus Features International has nabbed international sales rights to the under-$20 million Partizan production, which begins a two-month shoot Sept. 6 in New York.
In the film, Black plays Jerry, a man whose headaches lead him to believe his brain is melting. His brain is magnetized, leading to the unintentional destruction of movies in his friend's store. In order to keep the store's one loyal customer, an elderly lady with signs of dementia, the pair re-creates a long line of films including "The Lion King," "Rush Hour," "Back to the Future" and "Robocop."
Producer Georges Bermann of Partizan said Gondry, who has partnered with Partizan since 1989, came to him in November with several ideas. "
Michel is a super-fast writer
," Bermann said. "
He handed in a draft three weeks. Focus was interested the second they heard the pitch and made the deal within a week."


Vaughn and Keener gettin' Wild
The unlikely twosome of Vince Vaughn and Catherine Keener will headline Sean Penn's next film as director, "Into the Wild", says The Hollywood Reporter.
The film, says the trade, chronicles the true story of Christopher McCandless, who graduated from college in 1992, abandoned his possessions and hitchhiked to Alaska to live in the wilderness and return to nature. He died four months later in an abandoned bus at a remote campsite. Penn adapted the screenplay from Jon Krakauer's book of the same name.
Keener's character picks up the hitchhiker and takes him in as a surrogate son. Vaughn plays a tow-truck driver whom Hirsch's character meets on the road.
Emile Hirsch ("Lords of Dogtown") is already onboard the Paramount Pictures production.
13 Weddings and a Funeral
Hot on the heels of his turn in the all-star parody "American Dreamz" Hugh Grant is set to intermingle into another ensemble.
According to
ClooneyStudio.com
, Grant is in talks to join the famous-faces of "Ocean's Thirteen", at the request of captain Clooney himself.
Grant told
New!
magazine that he's definitely going to consider the silver hawk's offer. "
I love George, and the fact that he films his movies so quickly also makes me happy. I will look at whatever he has to offer and if it's right then I would jump at the chance."

What a treat "Ocean's Thirteen" is shaping up to be – aside from the regular bunch, there's Al Pacino, Ellen Barkin, and possibly – according to the sometimes unswerving rumour mill, anyway – Angelina Jolie. Nice.
EDITOR'S NOTE: INDEED. WISH THEY'D BRING BACK JULIA ROBERTS. (SHE WAS SO CUTE WITH GEORGE CLOONEY IN THE LAST ONE).
Boy From Oz, Officially a Tourist?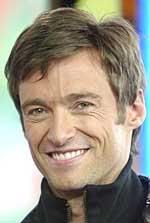 He apparently steams up the screen for a few minnies in "X-Men 3" – in a scene with a certain female comrade – but you'll get a bigger look at Hugh Jackman's passion pack, apparently, in a "sexy" new thriller he's doing with the producers of "Die Hard".
Producer Arnold Rifkin tells
IGN FilmForce
that the Boy from Oz will headline "The Tourist", a Marcel Langenegger-directed film about "…
about a demented young man who realizes the opportunity – there's nothing in life he won't do to gain what he wants, including taking people's lives."

Rifkin, whose also currently working on "Die Hard 4", continues "
There exists truly in New York what's known as a phone club and you simply call up and say, 'Are you free tonight?' The other individual on the other side says 'Yes," and they say, 'Fine. Plaza Hotel. 11 o'clock in front of the Blue Boy painting.'"

"
It's about A-type people who also need their pleasure. They want their intimacy but their privacy and they don't want a relationship. And they don't want their lives interfered with (by) the complications of love,"
Rifkin continued. "
They just want to – I can't say what they're going to do. Surrounding that is two extraordinary male roles. Obviously the character of Wyatt, who is the antagonist, searches for people who are anonymous to the world. It was an astounding experiment in research of how many people live a life [with] no relatives. ... Hugh Jackman fell in love with it. He's playing Wyatt."

Is Die Hard 4 ready?

Sounds like the Singlet's closer to getting a blood and sweat splashing, again.
In an interview with
IGN FilmForce
, "Die Hard 4" producer Arnold Rifkin - who is partnered with Bruce Willis in the production company Cheyenne Enterprises - says they may finally have a script (still can't work out why they just didn't retool "16 Blocks" or "Hostage" to fit the McClane character? Wouldn't have been too difficult at all), after all these years of nutting out ideas.
"
The most recent attempt, draft is on the table, and if the parties [20th Century Fox and Willis] agree, we have a script
", says, whose latest film as producer is the Lindsay Lohan vehicle "Just My Luck".
Originally rumoured to be directing the film was John McTiernan, helmer of the first and third "Die Hard" films, but the director's recent legal woes related to the much-publicized Anthony Pellicano case has put a stop to that. Asked whether there's any chance that McTiernan might still get the job, Rifkin said: "
Not a chance. I don't say that pejoratively. We're going to find a new, young, exciting [director]. Well, it's kind of tough to get John [now]. He might not be available."

We're taking bets : What will be out first, "Die Hard 4" or "Indiana Jones 4"?
EDITOR'S NOTE: AND DO US ALL A FAVOR AND DON'T RUSH EITHER OF THEM. MAKE THEM RIGHT, OR DON'T MAKE THEM, OK?
Another 20,000 Leagues/Captain Nemo getting remade
New Line is taking Captain Nemo back under the sea.
The studio has grabbed a pitch by Craig Tilley to update Jules Verne's
20,000 Leagues Under The Sea
.
The original Disney filmed starred James Mason, Kirk Douglas and Peter Lorre in a hunt for a huge, mysterious creature that has become a threat to shipping.
The new version will focus more on the background of Nemo and the prisoners aboard his sub, the Nautilus. Sam Raimi will be producing, but he doesn't plan to direct.
Nora Ephron Gets Cooking/Writing and directing a book adaptation
Nora Ephron has recovered from the debacle that was
Bewitched
and is planning to write and direct an adaptation of Julie Powell's book
Julie And Julia: 365 Days, 524 Recipes
,
1 Tiny Apartment Kitchen.
Yes, she's turning a cookbook into a movie.
Okay, so it's a little more than that.
Powell has chronicled how she broke out of her frustrating life as a temp by undertaking a yearlong question to make all the recipes in Julia Child's
Mastering The Art Of French Cooking.
She blogged about her struggles and landed a book deal.
"
Julia Child is such an important figure in my life, and also appealing was the chance to focus on the madness of blogging
," Ephron told Variety.
EDITOR'S NOTE: IT HAS TO BE MORE ABOUT THE COOKING, THAN THE BLOGGING, RIGHT? I MEAN, I'M SITTING HERE, TYPING AWAY ON MY LOVELY DWEEBLOG, BUT I DON'T THINK IT'S ALL THAT....UMMM...FILMABLE. (EXCEPT FOR THE PART, WHERE I'M TAKING OFF MY OFFICE CLOTHES AT THE SAME TIME....)
LET'S TAKE A MOMENT AND RUN SCREAMING FROM OUR COMPUTERS.....
OK. EVERYONE BACK?
Emma Roberts Is A Rodeo Gal/A horse-wrangling romance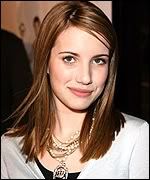 Emma Roberts is becoming a busy young actress. The niece-of-Julia (that name extension isn't likely to go away just yet), has just finished detective work on
Nancy Drew
and has leapt on board
Rodeo Gal.
She'll play the lead, a young horse-rider who falls in lurve with this totally dreamy cowboy and – for reasons best left to scriptwriter Katie Wech, who pitched the idea – ends up entering the rodeo.
"
This is material kids haven't seen, a marriage between the elegant equestrian world and the rough rodeo, with all the conflicts,"
blabbed producer Jerry Weintraub to Variety.
EDITOR'S NOTE: IT SEEMS SO RETRO. NO GAY AFFAIR? NO SAD, LONELY LIVES?