I hate having real work that interferes with DWEEBING!
EDITOR'S NOTE: CATCHING UP WITH A SMATTERING OF LEFT-OVER DWEEBING FROM THIS PAST WEEK. (IT IS NO FAIR THAT I HAVE TO DO ACTUAL WORK AT MY NEW JOBS, BUT EMPLOYERS CAN BE SO FUSSY THAT WAY, HUH?)
THIS JUST IN:
James, You're Such A Tease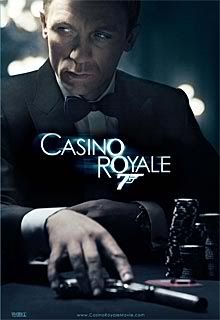 There's been more than a few poster designs that have surfaced on the net for the upcoming 007 flick "Casino Royale" starring Daniel Craig, but up until now, they were clever (and sometimes not so clever) fakes.
Over the weekend, the real deal surfaced on Finnish website
Nordisk Film
, and the clever chaps over at
Commander Bond.net
have had it confirmed by those in the know.
Officially, the teaser will hit cinema screens May 19th in front of "The Da Vinci Code", and "Casino Royale" debuts (apparently worldwide now) on November 17th.
ALL ABOUT THE SCIFI CHANNEL:
EDITOR'S NOTE: HARD TO BELIEVE THESE DWEEB-WANNABE'S ARE MAKING OUR BLOG, HUH? IT SEEMS THEY ARE 'BEAMING' BACK INTO THE SCIFI UNIVERSE FOR A CHANGE. (JUST TO KEEP THEIR HANDS IN, I GUESS. OR MAYBE SOMEONE THREATEND TO CHANGE THEIR NAME TO

'SPIKE JR.'

?)
BATTLESTAR GALACTICA #1by Greg Pak & Nigel Raynor
Based on the hit Sci-Fi Channel series, this "untold tale" takes place between seasons of
Battlestar Galactica
, and features the return of characters not seen since the smash mini-series that re-launched
Galactica
to critical acclaim.
EDITOR'S NOTE: MUST GET THE LOVELY FOLKS AT THIRD PLANET (MY FAVE SCIFI/COMICS STORE) TO PUT THIS ON MY 'HOLD' LIST.
BATTLESTAR GALACTICA PREQUEL
The Sci Fi Channel will delve into the backstory of "Battlestar Galactica" with a new series that looks at the years leading up to humanity's devastation by the Cylons. The prequel, called
"Caprica,"
heads a list of development projects the cable network unveiled Wednesday.
"Caprica" will be set more than 50 years prior to the events of "Battlestar Galactica" and focus on the lives of two families -- the Adamas (ancestors of future Galactica commander William) and the Graystones. Humankind's Twelve Colonies are at peace and on the verge of a technological breakthrough: the first Cylon.
EDITOR'S NOTE: RUN AWAY, RUN AWAY!!!
As "Battlestar Galactica" is about a lot more than space battles, "Caprica" will be as much family drama as sci-fi tale. Remi Aubuchon ("The Lyon's Den," "24") is writing the pilot script; "Galactica" veterans Ronald D. Moore and David Eick will executive produce it.
EDITOR'S NOTE: HAVE I EVER MENTIONED HOW MUCH I LOVE STORY ARCS AND CONTINUITY? (A TIME OR TWO, PERHAPS)?
STARGATE SG-1
Good news for fans of STARGATE SG-1 and STARGATE ATLANTIS -- Richard Dean Anderson is returning for several appearances on both series.
EDITOR'S NOTE: NOW ALL THEY NEED ARE, UMM....LET'S SEE....WRITERS. OH, AND MAYBE THEY COULD PURGE A FAIR NUMBER OF THE CAST. (EXCEPT THE "FARSCAPE" REFUGEES, OF COURSE).
Brad Wright—executive producer of both series said that it's been like old times having Richard Dean Anderson back, reprising his role as Gen. Jack O'Neill.
Anderson's first appearance will be in "200," SG-1's 200th episode, which will air Aug. 18 as part of the series' upcoming 10th season.
"
It's been a lot of fun to see him again
," Wright said in an interview. "
He's doing two episodes of SG-1 and three episodes of Atlantis."
Wright said that SG-1 could not toast its 200th episode without its original leading man.
"He was so much the face of SG-1 for so many years,"
Wright said. "
We did go on without him and made some fine television, but for the 200th episode there was just no way we could even consider doing it without bringing him back. And, of course, when we called him to ask him to do that, he said, 'Just one?' So it was nice to know that he wanted to come back. And it's actually kind of a testament to the environment we have here. People miss it when they're gone. It's just a fun place to work, and it's a fun show to work on. That's why everybody still works their butt off and why we're still on the air, I guess, because it shows on the screen."
EDITOR'S NOTE: OH. IS

THAT

WHY! I WONDERED.....(SMIRK)
SG-1's 200th episode is a send-up that picks up the story of the show's 100th episode, "Wormhole X-Treme!" and brings back guest star Willie Garson as abductee-turned-Hollywood producer Martin Lloyd.
EDITOR'S NOTE: THEN AGAIN, SOMETIMES STORY ARCS ARE JUST EXPANDED GOBBLEDYGOOK.
The episode "
is based on a great idea [executive producer] Robert [C. Cooper] had, and we've all written bits and put them all together, and Robert went through it, and then I went through it,"
Wright said. "
It's essentially a 'Wormhole X-Treme!' revisited, in a sense, because Marty comes back, but this time he needs our help to work on the Wormhole X-Treme! feature [film]. Because even though the series was canceled after three episodes, it did well on DVD. A little nod to Serenity, I suppose. EDITOR'S NOTE: ALWAYS DANGEROUS REFERENCING A

MUCH

BETTER SHOW, DON'T YOU THINK? And the Air Force loves it, because they love the notion of a television series out there that is ostensibly ... [the] real events in SG-1, in Stargate Command. So, plausible deniability. ... So it's a series of, I guess you could call them, vignettes or flashes. ... 'Wormhole X-treme!' was pushing it. This is pushing it twice as far. But, you know, it's the 200th episode."
Stargate SG-1 and Stargate Atlantis, which comes back for a third season, will both return with new episodes beginning on July 14.
MORE SCI FI CHANNEL PRODUCTIONS
The SCI FI Channel unveiled a full development slate of scripted series, reality programming and late-night shows in a presentation to advertisers here this week, including new shows from executive producers Eric McCormack (NBC's Will & Grace), Freddie Prinze Jr. and Oscar-winning writer Christopher McQuarrie (The Usual Suspects).
The
scripted series
in development include
BLINK,
from executive producers McCormack and Michael Forman and writer Irving Belateche. The series asks the question: What would happen if you could freeze that moment in time when something you do or a decision you make changes your life forever? A group of Afterlife investigators try to help those about to make the wrong choice, in the blink of an eye before destiny is sealed forever.
EDITOR'S NOTE: GOSH, LIKE WHEN I WENT INTO ADVERTISING? I THINK I MIGHT WANT

THAT

CHOICE BACK, SOMEWHERE ALONG THE LINE. (GIGGLE). Blink
comes from NBC Universal Television Studio and Big Cattle Productions.
PERSONS UNKNOWN
, which McQuarrie executive-produces with Heather McQuarrie, is a surreal mind game of a series centering on a group of strangers who awaken in a deserted town with no memory of how they arrived, only to realize that there is no escape.
PERSONS UNKNOWN
is from Fox Television Studios.
THE BISHOP
, from executive producers Prinze and Conrad Jackson, is a one-hour drama that revolves around a young slacker whose charmed life is disrupted when he discovers that he has a supernatural gift, and he goes on a quest to uncover his secret past.
THE BISHOP
is from Brillstein-Grey Television.
DESTINATION TRUTH
, from Neil and Michael Mandt, focusing on one man's investigations of unexplained phenomena across the globe, from the Fire Worm of Mongolia to the Chupacabra of Chile. The show is hosted by Josh Gates.
GROUND CONTROL
, late night programming from Carson Daly Productions. A half-hour late-night daily show focusing on a wide range of human interest and news topics relating to science fiction and the world of the supernatural, the paranormal and the unexplained.
EDITOR'S NOTE: WHEN THE SF CHANNEL FIRST SIGNED ON, IT HAD A LITTLE HALF-HOUR NEWSIE SHOW THAT WAS QUITE FUN. (IT LOOKED A BIT LIKE IT WAS PRODUCED IN SOMEONE'S BASEMENT. IF YOUR BASEMENT HAD PRETTY GOOD CAMERAS AND CHASE MASTERSON).
Also in development is an as-yet-untitled sketch comedy series featuring the
Ministry of Unknown Science
: sketch comics Jason Berlin, Tim Walker, Rico Gagliano and Eric Truheart. Mocking the classic PBS science news-magazine- show format, the show will feature mockumentary segments, sketches, commercial parodies, field tests, interviews and other stream-of-consciousness comedy.
NEW LIMITED SERIES
SCI FI Channel unveiled plans for a new limited series
MOTEL MAN
, a one-hour thriller called
SNAP
and
CHARIOTS OF THE GODS,
a six-hour miniseries based on the best-selling book by Erich von Daniken, the network announced at its upfront presentation to advertisers in New York on April 26.
MOTEL MAN:
The eight-hour
Motel Man
, which SCI FI will air in December, is a cross between The Fugitive and
The Twilight Zone
and follows a detective who discovers a seemingly ordinary motel room key that opens up a portal to alternate worlds, infusing mundane objects with mysterious powers.
EDITOR'S NOTE: DON'T TELL THE MANAGEMENT, OR THEY WILL CHARGE EXTRA!
Chris Leone, Laura Harkcom and Paul Workman wrote and will co-executive-produce the limited series, from Lionsgate Television. Production will begin in the summer.
Motel Man
could eventually turn into a regular series.
SNAP,
Jesse Alexander (Lost) will produce
Snap
, about a federal agent up against a Big Brother-type artificial intelligence.
CHARIOTS OF GODS

Chariots of the Gods
will be executive-produced by Oscar winner Irwin Winkler and written by John Whelpley. The book introduced the theory that Earth was visited by extraterrestrials in ancient times. The miniseries centers on a soldier returning from his tour of duty, who brings with him an artifact that holds the key to uncovering the secret that aliens have been interfering with human genetics. Rob Cowan and David Winkler also will executive produce.
EDITOR'S NOTE: WOW. I WONDER IF IT'S ACCIDENTAL OR IF ALIENS ABDUCTED THE SF CHANNEL MUCKETY-MUCKS AND REPLACED THEM WITH PEOPLE WHO....OH, LET'S GO OUT ON A LIMB HERE...ACTUALLY

LIKE

SCIFI?
IF THE LATTER, I HOPE THE ALIENS ARE FEEDING THE OLD REGIME WELL AND THAT THE EXPERIMENTS DON'T HURT. MUCH.
MEANWHILE, IT SOUNDS LIKE THE SCI FI CHANNEL MIGHT ACTUALLY BE TELEVISION FOR SCIFI FANS AGAIN. WOOHOO! (WONDER IF THEIR SISTER CHANNEL, USA NET, WILL STILL HAVE FUN STUFF LIKE "THE 4400" AND "THE DEAD ZONE"? OR IS THAT BEING GREEDY OF ME?)
SCI FI PULSE
SCI FI Channel announced that its new content-rich online broadband channel,
SCI FI PULSE
, will go live on May 8.
Bonnie Hammer, president of USA Network and SCI FI Channel, and Dave Howe, executive vice president and general manager, SCI FI Channel, made the announcement at the network's presentation to advertisers in New York on April 26.
Dedicated to original programs and tie-ins to SCI FI's existing shows,
SCI FI PULSE
will initially feature complete episodes of select SCI FI original series, full-length uncut SCI FI original movies, behind-the-scenes footage, deleted scenes and more. Throughout the summer
SCI FI Pulse
will roll out its own exclusive original content, including a weekly SCI FI Wire news show, the return of the popular Exposure online film festival, webisode spinoffs of SCI FI's hit series, user-generated programming and more.
EDITOR'S NOTE: AND AGAIN, I HAVE TO SAY WOW. SOMEONE DRANK SOME VERY GOOD COOL-AID AT SCIFI. WISH THEY'D DONE IT SOONER, BUT HOORAH FOR SMALL MIRACLES.
Among the offerings:
TV 360 & Webisodes
: As part of NBC Universal's overall commitment to "TV 360" content, every SCI FI Channel show in development will have a unique broadband component, such as the recent live online psychic readings by Char Margolis, the popular videoblogs of
Battlestar Galactica
executive producer David Eick and the online voting for
Who Wants to Be a Superhero?

Exposure Film Festival:
Exposure, SCI FI's unique online short film festival, offers filmmakers the chance to have their short film voted into a two-hour special that will air on SCI FI and possibly other NBC Universal channels.
Online Pilots
: Potential series pilots will be posted online for viewer feedback. The fate of these online pilots will be determined in large part by their reception on SCI FI Pulse.
EDITOR'S NOTE: THIS HAS EXCELLENT POTENTIAL. ASSUMING THEY ACTUALLY LISTEN TO THE FANS, FOR A CHANGE. ("FARSCAPE", AHEM.....) I HOPE THEY PUBLICIZE THE POSTING OF THE PILOTS TO GIVE US A CHANCE TO KNOW ABOUT THEM AND OPINE IN A TIMELY FASHION.
A FEW (NON-SCIFI) TV ITEMS:
NBC Announces Drama Pickups for the 2006-07 Season
NBC Entertainment President Kevin Reilly announced 2006-07 season pickups Friday for three dramas: "Medium," "Crossing Jordan" and "Las Vegas."
"Medium," which will return for a third season, is produced by Picturemaker Productions in association with CBS Paramount Network Television and Grammnet Productions. The show stars Emmy Award winner Patricia Arquette as a part-time consultant who helps a district attorney by using her special gift-the ability to communicate with dead people.
"Crossing Jordan," which will celebrate its 100th episode May 7, is produced by Tailwind Productions in association with NBC Universal Television Studio.
"Las Vegas," which profiles the lives of a Las Vegas casino staff, is currently in its third season. It is produced by NBC Universal Studio and DreamWorks Television.
The announcement comes a day after Mr. Reilly said he was renewing all three "Law & Order" dramas for the 2006-07 season.
Fox Picks Up Two Series for 2006-07
Fox made two series pickups Thursday, giving the green light to Sony's marriage comedy "'Til Death" and 20th Century Fox TV's political thriller drama "Vanished."
Story continues below...
Both shows have been given 13-episode commitments for the 2006-07 season.
"'Til Death," created by Josh Goldsmith and Cathy Yuspa, stars Joely Fisher, Brad Garrett, Kat Foster and Eddie Kaye Thomas in a comedy that profiles two couples -- one recently married, the other long-term -- at different stages in their respective marriages.
"Vanished" was created by Josh Berman and follows a political conspiracy that surrounds the mysterious disappearance of a U.S. senator's wife. Ming-Na, Gale Harold, Chris Egan and Rebecca Gayheart star.
EDITOR'S NOTE: OH. NOT GOOD. REBECCA GAYHEART IS KINDA LIKE ROBERT URICH......CAPABLE, BUT SERIES-SUCCESS-CURSED.
Fox gave no word on whether the shows will have a pre-season launch. At the beginning of this season, Fox found success with the early launch of its drama "Prison Break."
MOVIE NEWS:
Marvel Studios outlines slew of superhero titles
Marvel Studios has hired Jon Favreau to develop and direct the big-screen adaptation of "Iron Man" and has attracted an impressive roster of writers to help bring some of its high-profile characters such as Captain America and Thor to the big screen.
Favreau will direct a feature version of Marvel's armored hero and develop the script with the writing team of Arthur Marcum and Matt Holloway ("Convoy").
The project originally was set up at New Line with Nick Cassavetes directing.
In the comic, Iron Man's real identity is that of billionaire industrialist Tony Stark, who develops an armored suit that lets him fly and shoot "repulsor rays." The comic debuted in the 1960s, and Iron Man's origin involved Stark being a prisoner of the Viet Cong. The comic evolved into Stark fighting spies, both political and industrial, while also battling alcoholism.
Dis books duo to adapt kids 'Kill You' thriller
Walt Disney Pictures has hired Kathryn Price and Nichole Millard to write "I'd Tell You, but Then I'd Have to Kill You," an adaptation of a young-adult novel by Ally Carter. Debra Martin Chase is producing.
Carter's book centers on a 15-year-old girl who attends an elite spy-training academy in Washington and must deal with the mystery surrounding the death of her CIA agent father, her "Alias"-style spy education and a cute, off-limits civilian boy who doesn't know her true identity.
Ehle finds 'Glory' at New Line
Jennifer Ehle has signed on to star opposite Edward Norton and Colin Farrell in New Line Cinema's crime drama "Pride and Glory." Ehle will play Abby Tierney, a role that Samantha Morton was attached to play. Morton dropped out because of scheduling conflicts.
The story revolves around a three-generation family of New York cops. The family is thrown into turmoil when one son (Norton) uncovers a police corruption scandal involving his brother.
EDITOR'S NOTE: SIBLINGS.....WHY WON'T OUR PARENTS LET US SHOOT THEM?! (MOM AND DAD ARE SOOOOOO MEAN).
Hurt Has VANTAGE POINT

Columbia Pictures has set actor William Hurt to play the President of the United States in VANTAGE POINT. He joins a cast which includes Dennis Quaid and Matthew Fox.
The thriller revolves around an attempted presidential assassination told from five points of view. Barry Levy wrote the script.
EDITOR'S NOTE: OOOOO..."RASHOMON". BUT, UM...NOT JAPANESE. AND PROBABLY NOT AS GOOD. BUT

JUST

LIKE THAT OTHERWISE!
Neal Moritz will produce.
Heard tapped for 'Ordinary' leading role
Amber Heard is starring in "The Beautiful Ordinary," a teen comedy-drama being directed by newcomer Jessica Manafort. Persistent Entertainment partners Judd Payne and Matthew Rhodes are producing.
The movie, which Manafort also wrote, revolves around the relationship dynamics of a group of suburban teens on the last day of school in 1999. Heard will play a cool "stoner" chick who is looking for direction and meaning in her life. A shoot beginning next week in Wilmington, N.C., is being planned.
Smith, Muccino reteam for 'Tonight, He Comes'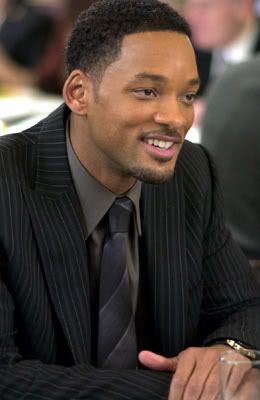 Helmer Gabriele Muccino is reteaming with Will Smith for Columbia Pictures' action drama "Tonight, He Comes." The two recently wrapped the drama "The Pursuit of Happyness" for the studio.
Penned by Vince Gilligan and Vincent Ngo, "Tonight" centers on a tortured superhero who crash-lands in Sheepshead Bay, Brooklyn, and tries to transform himself by romancing an alluring housewife, causing chaos in the city.
Akiva Goldsman and Michael Mann are producing alongside Smith and his Overbrook Entertainment partner, James Lassiter. Jonathan Mostow, who previously was attached to helm the film, and Richard Saperstein are executive producing. Sony's Jonathan Kadin and DeVon Franklin are overseeing for the studio. Muccino will begin prepping "Tonight" after he finishes postproduction on "Happyness," which is scheduled for a Dec. 15 release.
The studio is eyeing an early 2007 start date for "Tonight."
Myers Will Tangle with ROBOT UPRISING
Paramount Pictures has signed Mike Meyers to star in the comedy HOW TO SURVIVE A ROBOT UPRISING.
The story centers on a technical administrator who has the thankless job of sounding warnings against the growing presence of robots and researching ways to keep those robots from taking over.
The script by Thomas Lennon and Ben Garant is based on a manual written by Daniel H. Wilson, a doctoral candidate at the Robotics Institute of Carnegie Mellon University.
EDITOR'S NOTE: FAR BE IT FROM ME TO MAKE FUN OF A MOVIE BASED ON AN INSTRUCTION MANUAL. NOT SINCE THAT MOVIE-BASED-ON-A-THEME-PARK-RIDE TURNED OUT MUCH BETTER THAN EXPECTED.
Selleck discharges Magnum
After years and years and years of trying to get a "Magnum P." movie off the ground himself – and at one stage, with his friend, author Tom Clancy, penning the script – Tom Selleck, the actor who shot to fame in the role of Thomas Magnum, has perceptibly been so burnt by the studio who are now planning to make their version of his trademark TV show, that he wants nothing to do with it. Yep, that includes doing one of those superfluous cameo appearances.
Though the studio originally intended on bringing Selleck back to reprise his role as the Hawaiian-shirt loving playboy, they've now balked on the idea, and instead decided to cast a much more bankable lead.
At the moment, it seems George Clooney or Vince Vaughn might get the role.
"
I won't be in it and I won't be doing some stupid cameo
", Selleck tells
The Irish Examiner
, whilst plugging his latest telemovie, CBS's "Jesse Stone: Death in Paradise".
EDITOR'S NOTE: I'D RAZZ HIM ABOUT BEING BITTER, BUT IN THIS CASE, I'D SAY HE'S TOTALLY JUSTIFIED. (JUST CAUSE YOU'RE BITTER, DON'T MEAN YOU ARE WRONG, EH?)
Any sequels in your future, Jase?
Speaking to the gang at
JoBlo
, Jason Statham said there's a possibility we might be seeing super-Frank return to action-ville tin the near future.
Yep, "Transporter 3" is in the cards.
EDITOR'S NOTE: I FELL DOWN AND COULDN'T REACH MY REMOTE. TWICE. (ONCE FOR "TRANSPORTER 1" AND ONCE FOR "TRANSPORTER 2"). AND FOUND MYSELF MUCH MORE ENTERTAINED THAN I EXPECTED. (OF COURSE, I'M PRETTY EASY....)
"
People keep saying "when are you gonna do another one
?"
Luc (Besson, co-writer and co-producer of the 'Transporter' films) wants to do another one; I want to work with Luc. You don't want to give people too much of one thing, you know you eat ice cream every day, you're gonna get bored of it. But Luc said he's got an amazing idea for part three, so if it's a great story…in my eyes we can improve on the last one so much."
EDITOR'S NOTE: OK, YEAH. I MEAN, I'M EASY, BUT THERE IS AN

AWFUL

LOT OF ROOM OVER-HEAD TO MOVE UPWARD WITH THESE FLICS.
This second bit, in which he mentions the apparently-full-speed-ahead sequel to "The Italian Job" fits in with what I've heard about the project recently – that it's looking less and less likely to happen day-to-day, if only because of the task of regrouping the high-calibre cast.
"
That's a little bit more complicated because there's a lot more people's schedules to run together, so I don't know how that's gonna play out, but I'm good friends with Charlize (Theron) and Mark (Wahlberg), Seth (Green) and Mos (Def), and they all want to do it, so yeah, it would be great. For me, it's not like working". EDITOR'S NOTE: TRUTH TO TELL,

MUCH

OF ACTING IS LIKE NOT WORKING. (I MEAN, COMPARED TO A REAL JOB THAT IS BORING AND YOU HATE IT AND SUCH. TAKE IT FROM A BITTER REAL-WORLD DENIZEN).
Morgan Freeman as a black Santa Claus?
Halle Berry has just wrapped filming on "Perfect Strangers", her new thriller with Bruce Willis –and has already been locked into another pic, a family Christmas pic that'll team her with Morgan Freeman.
Writer-director John Le Marre tells
MTV
that it's "
like 'One Flew Over the Cuckoo's Nest' meets 'K-Pax.'...
EDITOR'S NOTE: HOPE THEY SPIFF UP THE PR FROM THIS BEFORE THE RELEASE DATE. (FOR THE MTV/HIPHOP IMPAIRED).
Freeman plays a mental patient at a Harlem hospital psychiatric ward who believes himself to be Santa Claus. And Halle Berry plays the psychiatrist who's evaluating him. When Freeman's character breaks out of the hospital and heads into a Toys R'Us, Berry's character wonders whether he might be telling the truth.
The film will shoot in the Summer and be sent out to theatres in cans Summer 2007.
EDITOR'S NOTE: THIS IS FOR A SUMMER RELEASE? DOESN'T SOUND KINDA CHRISTMASY? JUST ASKIN.....
007 babe now a Fugitive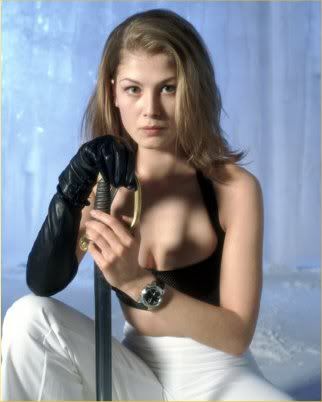 Beautiful ex-Bond babe Rosamund Pike ("The World is Not Enough") is gearing up for a little bit more 'kiss, kiss, bang, bang' with "Fugitive Pieces", a new film from veteran telly director Jeremy Podeswa (TV's "Commander-in-Chief").
Stephen Dillane ("Welcome to Sarajevo") Ayelet Zurer, Rade Sherbedgia ("The Saint"), Ed Stoppard, Rachelle Lefevre, and newcomers Nina Dobrev and Robert Kay will co-star.
The film, which will shoot in Toronto, Canada and the islands of Hydra and Lesbos in Greece with production wrapping June 20, 2006, is based on the critically acclaimed and international best seller by Anne Michaels.
It tells of Jakob, a Jewish-Polish boy who witnesses the massacre of his family in the Second World War. He is found and saved by a Greek archeologist, Athos, who smuggles the boy to his island home in Greece where he raises him as his son. The two ultimately move to Toronto where Jakob, now an adult with a traumatized heart, is at last healed by a woman's love.
"
It is almost unbelievable to me that we are actually beginning principal photography after all this time in development. It is a small miracle that we have managed to pull together the resources to make it,
" said Podeswa.
"
To finally be able to bring Anne Michaels' lyrical and powerfully moving novel to the screen is tremendously gratifying,"
said producer Robert Lantos ("Where the Truth Lies").
In addition to "Die Another Day", Pike has also appeared in the likes of "Pride and Prejudice" and "Doom". She is currently filming "Fracture" with Anthony Hopkins and Ryan Gosling.
Celeborn joins the Hulk for Romulus
Leaving the pricey epics behind for a stint, to do some deep and meaningful's, New Zealand actor Marton Csokas ("Lord of the Rings", "The Bourne Supremacy") has joined popular Oz export Eric Bana for "Romulus, My Father", the directorial debut of actor Richard Roxburgh ("Van Helsing").
The film, also starring Franka Potente, Kodi Smit-McPhee and Jasek Komen.
The movie, currently shooting in Maldon and Baringhup, is based on Raimond Gaita's critically acclaimed memoir describing Romulus's eventful life in the face of his beautiful wife Christina's struggle with mental illness. It is a story of impossible love and adversity, but ultimately one that celebrates the unbreakable bond between father and son.
EDITOR'S NOTE: YEAH. OK. AND FRANKE POTENTE! YAY!
Alda's After The Champ/Joins the Rod Lurie drama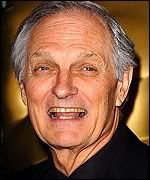 The cast of Rod Lurie's boxing-based drama
Resurrecting The Champ
is getting even bigger.
Already aboard are Josh Hartnett, Samuel L Jackson,
Cold Case's
Kathryn Morris and
Alias
' Rachel Nichols.
Now that list has grown to include Alan Alda, who last appeared in cinemas in Scorsese's
The Aviator
. He's also been busy on TV, playing a Republican presidential hopeful on
The West Wing.

EDITOR'S NOTE: GOOD CAST. (WELL, EXCEPT FOR THAT SCREEN-SPEED-BUMP, JOSH HARTNETT).
Lurie plans to kick off shooting in June.
Angelina Jolie eyes Atlas Shrugged/Another team-up with Brad Pitt?
Hollywood never stops scanning the bookshops and getting out its library card to try and find new material for movies. And Lionsgate has dusted off a 1957 tome long considered to be practically unfilmable. But then, they said that about
Lord Of The Rings
until a certain Mr Jackson proved otherwise.
No sign of Pete this time, though – but Brad Pitt and Angelina Jolie are apparently tempted by roles in a film version of US novelist Ayn Rand's
Atlas Shrugged
.
Rand's novel is a bleak tale of American economic collapse, strife and civil war set in a chaotic future. Controversial but also beloved, it has had a long road to the screen. Producer Al Ruddy went to great lengths to try and get it made during the 1970s and early '80s, with the likes of Clint Eastwood and Robert Redford said to be interested in snagging parts. But with Rand retaining script approval, nothing ever quite worked. Then came 1982 and Rand's death, which freed Ruddy up to keep trying. He finally gave up in 1999 after a US TV miniseries fell through.
In 2003, Howard and Karen Baldwin, two producers who are now riding high after the success of
Ray
, snapped up the rights. Their original plan outlined two films, but Lionsgate won't stretch to that. And if they do snag Pitt and Jolie, the actors will be taking a hefty pay cut to appear. But they're hopeful – the current power couple are both big fans of Rand's work. But can something that depressing be filmed in a post 9/11 world?
EDITOR'S NOTE: SOUNDS LIKE IT MIGHT RESONATE (OR BE TOO CLOSE TO HOME?)
Lionsgate is about to find out.
Brody And Lohan Are Speechless/Starring in an indie comedy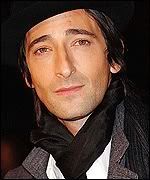 Lindsay Lohan's campaign to appear in every indie film currently being produced continues apace. She's signed up to star in
Speechless
alongside Adrien Brody.
EDITOR'S NOTE: YUM.
The comedy was previously known as
The Guided Man
and follows an introverted type (Brody) who is asked to give a speech at a friend's wedding and ends up hiring a service that lets someone else (Lohan) speak through him.
Based on a story by L Sprague De Camp in 1952, the film will be directed and co-written by
Saved
director Brian Dannelly, who is penning the script with regular writing partner Michael Urban and Steve Adams, who worked on the original adaptation.
Valette Hears CALL

Alcon Entertainment, Intermedia, and Kadokawa Pictures USA have set French director Eric Valette to helm the English-language remake of Japanese supernatural horror film CHAKUSHIN ARI (ONE MISSED CALL).
Andrew Klavan adpated the original screenplay which centers on a college student whose friends begin receiving cell phone messages from the future in which they hear themselves being murdered. When she receives her own death message, the coed has three days to change her fate.
EDITOR' NOTE: AND WOULDN'T YOU KNOW IT....IT'S DURING

FINALS

PREP!
Andrew Kosove, Broderick Johnson, Jennie Lew Tugend and Lauren C. Weissman and Scott Kroopf will produce.
A REASON

NOT

TO GO TO NYC:
EDITOR'S NOTE: AT LAST....A REVIEW THAT DOESN'T MAKE WE WISH I COULD TAKE AN IMMEDIATE TRIP TO THE BIG APPLE. (ALL THAT ENVY AND COVETOUSNESS WAS GETTING QUITE WEARYING).
The Wedding Singer

By Frank Scheck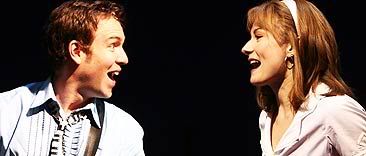 Bottom line: How much 1980s nostalgia can you stand?

Al Hirschfeld Theatre,New York(Runs indefinitely)
Your fondness for 1980s nostalgia might get pushed to the breaking point in "The Wedding Singer," the new Broadway musical adaptation of the hit 1998 Adam Sandler-Drew Barrymore film comedy.
This highly unnecessary musicalization, produced by the same folks who brought you "Hairspray," throws in as many jokey references to that much-maligned decade as it can, and your appreciation of it will depend on your tolerance for endless jokes about such emblems of the era as A Flock of Seagulls and "Flashdance."
EDITOR'S NOTE: SO 80'S NUTS/DWEEBPALS FRANK AND BETHANY (WHOM WE LOVE, DESPITE THEIR TASTES HAVING BEEN FORGED IN THAT TASTE-DEPRIVED ERA) SHOULD ENJOY THIS. AND THE REST OF US CAN CLEAN OUR BATHROOMS OR PRUNE OUR AZALEA BUSHES, OR SOMETHING!
Singing comedian Stephen Lynch takes the Sandler role as Robbie Hart, the maturity-deprived suburban New Jersey wedding singer who falls in love with Julia (Laura Benanti), a beautiful waitress preparing for her impending nuptials to her obnoxious fiance, Glen (Richard H. Blake).
Looking on with varying levels of bemusement are the pair's friends and relatives, including Robbie's fitness and sex-obsessed granny (Rita Gardner), his bandmates (Kevin Cahoon, Matthew Saldivar), and Julia's sexpot friend Holly (Amy Spanger).
What made the film work as well as it did was its two leads' off-kilter comic charm. Sadly, neither of their stage counterparts comes close to providing an approximation. Lynch is a likable and engaging performer, but he lacks Sandler's aggressive edge and comes off mainly as bland.
Benanti, whose mature beauty makes her seem too old for her role (she's only 26, however), lacks the daffy air of eccentricity that would make her attraction to her co-star more credible.
Lynch loses points, by the way, for adopting a flattering short haircut rather than the more period-appropriate mullet sported by Sandler in the film.
Chad Beguelin and Tim Herlihy's book, adapted from the latter's screenplay, is utterly formulaic in its plotting and characterizations and filled with comedic cliches from beginning to end. Such gags as Robbie's grandmother talking about sex or doing a rap number seemed tired even in the decade-old film. Whatever cleverness there is in the show stems more from the production design than the text, such as the views of Newark as seen from a revolving rooftop restaurant, the game of Pong projected on the curtain just before the second act, and the often hilarious costumes designed by Gregory Gale.
Not helping matters is the musical score by Matthew Sklar and Chad Beguelin, which mainly consists of a series of bland rock and pop-style numbers that all too accurately recall the numbing banality of '80s-era pop music.
Director John Rando ("Urinetown") tries mightily to provide a wild comic exuberance to the proceedings, but the staging seems mostly haphazard. Several of the supporting performers do offer amusing turns, most notably Cahoon, as the gay band member who has modeled himself after Boy George and Spanger, who provides some real sexual sparks with her erotic striptease in the number "Let Me Come Home."
The show did seem to please the audience,
EDITOR'S NOTE: IT'S NOT LIKE WE CAN TRUST

AUDIENCES

TO KNOW WHAT'S GOOD FOR THEM, RIGHT?!
and there might be enough Jersey tourists who will be delighted at its gentle sending up of their home state. But "The Wedding Singer" seems unlikely to provide New Line Cinema with another screen-to-stage-to-screen transformation a la its hugely successful "Hairspray
MISC. ITEMS:
NARNIA DVD Sweepstakes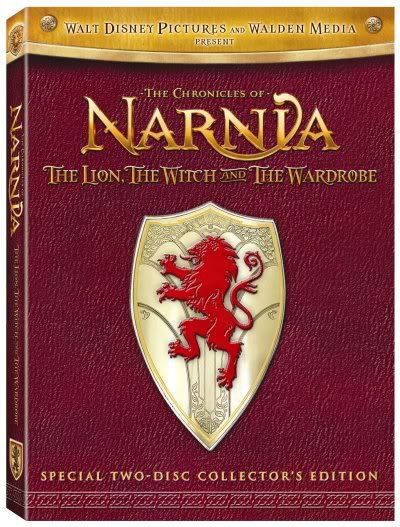 Walt Disney Pictures and Walden Media present THE CHRONICLES OF NARNIA: THE LION, THE WITCH AND THE WARDROBE DVD Sweepstakes. Disney has decided to celebrate the success of the DVD by offering a sweepstakes for fans of the film.
One Grand Prize winner will receive a one of a kind replica of the Narnia Wardrobe.
50 First prize winners will receive a Narnia Gift set that includes Pete's Sword Letter Opener, Narnia One Sheet Reproduction poster, Narnia Original Soundtrack and a Narnia Battle of Beruna Deluxe action figure pack.
Contestants can enter at
http://www.narniasweeps.com/
to win these amazing prizes
FROM THE LAND OF POTTER:
Girlguiding interview with Rowling
Earlier this month,
we told you
that Girlguiding Scotland, an organisation which help girls and young women to achieve their goals, would be interviewing 100 successful female members of the group. EDITOR'S NOTE: I KNOW GIRL GUIDING IS VERY SIMILAR TO GIRL SCOUTING. ARE THEY ALIGNED ORGANIZATIONS? I CAN'T REMEMBER.Jo Rowling is among them and her interview can now be seen at the
Girlguiding website.
JK Rowling - Author
Joanne Rowling is a writer and the creator of much loved wizard Harry Potter, she now calls Edinburgh her home. Joanne was a Brownie and a Guide.
How would you describe Scotland to someone who had never been?
It is one of the most hauntingly beautiful places in the world, the history is fascinating, the men are handsome and the whisky is delicious. But don't eat the macaroni pies.
Career…
Because of the huge fame of the Harry Potter novels - and therefore great expectations surrounding them, how do you stop that from impacting how you develop the story or characters?
I am very protective of my characters and the storyline; I stick fiercely to what I believe is right for them even if I know that it will make some fans unhappy (for instance, some of the romance in book six disappointed readers who were hoping for other pairings).However, resisting this kind of pressure is not as difficult as you might think, because I did a lot of planning in the seven years between having the idea for the Potter books and the publication of 'Philosopher's Stone', so I have a kind of map to keep me on track.
What was the best thing about being a teacher?

I remember the laughs I had with my favourite classes. One of my best memories is being presented with flowers by 4F of St. David's in Dalkeith after our last lesson together. Neither before nor since have flowers meant so much to me, and if you'd met 4F, you'd know why.
Guiding...
Do you think Hermione has the right skills and attributes to become a good Guide?

I can easily imagine Hermione in the Guides, given that she's resourceful, highly motivated and eager to learn. She might be a little over-competitive when it came to interest badges, though.
EDITORS' NOTE: OH YES. THERE WAS ALWAYS A TROLLOPE IN EVERY TROOP WHO HAD 10,000 BADGES WRAPPING ALL THE WAY AROUND HER SASH. (YES...I'M STILL BITTER, AFTER ALL THESE YEARS. BUT BITTER WORKS FOR ME).

Which was the interest badge you were most proud of getting?
First Aid. I've never needed to make a sling since, but I'm on constant standby.
Being a woman…What is the greatest gift your mother gave you?
She was the one who read to us when we were little, filled the house with books, loved discussing her favourite novels and never sat down without something to read, so I would have to say a love of literature. However, she also taught me how to make a decent Yorkshire pudding.
What is it about Jane Austen's writing that you admire? If you could have met her - what would you ask her?
Virginia Woolf said that of all great writers, Austen was 'the most difficult to catch in the act of greatness.' Praise of her writing rarely conveys its extraordinary quality, but I think her characters are vividly alive, she had a wonderful facility for dialogue, a dry and sometimes scathing sense of humour and she crafted seamless plots with such lightness of touch it appears effortless. And speaking as someone who loves to pull the wool over her readers' eyes, nobody has ever bettered the twist Austen managed in 'Emma' (I won't give it away in case you haven't read it).If I met her I would have to ask her how she managed to concentrate while sharing a room with her sister and mother, though I might have to point out that a toddler and Teletubbies is worse!

What's important to her...
What is the funniest or most ridiculous thing you have read about yourself in the press?
That I had a diva-style tantrum because the wallpaper in my hall wasn't exclusive enough. I haven't got wallpaper in my hall, it's painted. And I don't think I could muster an eye-roll over wallpaper, let alone a tantrum.
If you wrote your autobiography - what would you like its title be?
'Tell them I'm Dead, I'm Trying to Write'. Self-explanatory, I think.
If you won a million pounds to give to a charity - which one would it be and why?
Probably
Medicins sans Frontieres
(Doctors without Borders), a charity that sends medical personnel into areas of extreme poverty and disease, or where natural disasters have occurred. I first heard of them when I was working for Amnesty International; they were always some of the first people on the ground whenever trouble occurred.
Reaching new heights after Harry Potter
Best known as Hogwarts' headboy Percy Weasley, Chris Rankin has just made his major theatrical debut in a national tour of
Wuthering Heights
. The up-and-coming actor spoke to Caroline Harrap about life on the set of the Harry Potter movies, and why he still has to pinch himself to believe it's all real...
When Chris Rankin decided to watch an episode of
Neighbours
instead of doing his GCSE revision, little did he guess what a huge impact it would have on his life.
But, just by chance, he happened to catch the end of
Newsround
, and in the final item on the programme, they mentioned that the makers of the new Harry Potter films were holding open auditions for the cast.
With nothing to lose, the aspiring young actor, who was at secondary school in Norwich at the time, decided to apply and, lo and behold, two auditions later, he was chosen to play pompous prefect Percy Weasley.
"I just couldn't believe it
," says the 22-year-old. "
In fact, I still can't believe it now...
EDITOR'S NOTE: ALTHOUGH, AT THIS POINT, IF YOU WERE BRITISH, AND HAD ANY ASPIRPATIONS TO BE AN ACTOR, AND YOU WEREN'T IN AT LEAST ONE OF THE HP FILMS, I THINK YOU'D BE STARTING TO FEEL LEFT OUT. (IT MAY COME DOWN FROM BUCKINGHAM PLACE ANY DAY NOW THAT EVERY BRITISH CITIZEN IS

REQUIRED

TO BE IN A HARRY POTTER FILM. JUST TO ROTATE IT AROUND AND KEEP IT FRESH).
"It's almost six years to the day since I found out I'd got the part, and I'm still trying to get my head around it!
"
We start filming the next one in two weeks' time, and it's always the same; I look around at all those great British actors, like Michael Gambon (Dumbledore) and Julie Walters (Mrs Weasley), and think to myself, 'what on earth am I doing here - why did they pick me?'.

"I didn't even go to drama school!

"To be honest, I spend most of the time thinking, 'I really shouldn't be here...'"


Getting the role of Percy, the bossy older brother of Harry's best friend Ron, has certainly been a dream come true for Rankin.
Incredibly, his only previous experience of acting had been treading the boards with his local youth theatre.
"I was always quite a shy sort of person, so I took up acting as a way of overcoming that
," says Rankin, who lives with his mum, an English teacher, in Norwich.
"I found that when I was playing other people, I just felt more confident.

"But I never imagined it would lead to this!"
As the self-important Percy, Rankin has certainly had his fair share of amusing scenes in the films.
Right from day one, he's been busy bossing everyone around, first as a prefect and eventually as headboy at Hogwarts.
Now it's all set to go a bit dark side in the fifth film,
Harry Potter and the Order of the Phoenix
, which is due for release next year, as the power starts to go to his head.
"Over the course of the films, he's gone from being a stuck-up, poncey prefect to quite a nasty piece of work
,"
says Rankin.
"My character didn't appear in the last film but, when he makes his return in the next one, he starts to become really obnoxious.

"By that stage, of course, he's working for the Ministry of Magic and he's become so power-hungry that he'll step on anyone to get where he wants.


"And let's just say that the Minister for Magic, Mr Crouch, has his shoes well and truly kissed!"
Not surprisingly, Rankin has a whole host of hilarious anecdotes about life on the set of the movies...
Like the time when Daniel Radcliffe changed the language on Robbie Coltrane's mobile phone into Turkish - naturally, the well-known actor, who plays Hagrid in the films, was unable to turn it back because he couldn't understand the instructions.
Then there was the incident when identical twins James and Oliver Phelps, who play Fred and George Weasley, decided to secretly swap characters in one of their scenes, without anyone else ever being any the wiser.
EDITOR'S NOTE: SO THEY REALLY

ARE

FRED AND GEORGE!
"It sounds like a clich?, but it really is just one big happy family,"
says Rankin.
"Everyone knows each others' names - from the producer to the main characters to the people who make the tea.
"
I remember on the very first day of filming, when the car came to pick me up, there in the back was a nine-year-old Emma Watson looking excited and terrified in equal measure.

"Since then, of course, I've got to know Emma, Daniel (Radcliffe) and Rupert (Grint) really well - when you're all stuck in a studio, just outside Watford, for several weeks in a row, you end up spending quite a lot of time together.


"I think they're all brilliant actors and they've coped with the whole fame thing amazingly well.
"As the big brother in the film, I can't help feeling really rather proud of them all."
In spite of all sorts of bribery, followed by various forms of blackmail, Rankin refuses, however, to give any clues as to how the books will end.
In fact, he says that the cast are as much in the dark as anyone about the future development of the plot.
"On the few times I've met J K Rowling, I've tried to coax it out of her, but she honestly wouldn't tell us anything
," he groans.
"
Obviously, for my part, I'm hoping that Percy's descent into evil will continue, and by the end, he'll be Voldemort's second in command, or something like that.
EDITORS' NOTE: PERCY ISN'T EVIL. AND HE DIDN'T DESCEND SO MUCH AS OVER-REACH. HE'S FROM A POOR FAMILY AND IT'S MADE HIM ANXIOUS TO SUCCEED, TO PUT SOME DISTANCE BETWEEN HIMSELF AND POVERTY. HE JUST (HOPEFULLY TEMPORARILY) LOST THE FOREST FOR THE TREES AS FAR AS HOW HE GETS TO HIS GOALS.

"Like everyone else, though, we'll just have to wait and see!"


Not surprisingly, since appearing in the Harry Potter films, Rankin has been inundated with offers of work.
Last year, he played the role of Waring in BBC drama
The Rotter's Club
adapted from Jonathan Coe's best-selling novel, and, more recently, he filmed a pilot for a new satirical comedy sketch show,
Days Like This
, from the writers
of Not the Nine O'Clock News
.
He has also appeared on
Hell's Kitchen, Smile, SMTV, Ministry of Mayhem, Blue Peter, CBBC Xchange
and
Newsround
- to name but a few.
In the theatre, as well as a few low-key roles, including with his own production company, Painted Horse Theatre, which he formed in 2004, he's also starred in several pantos.
Now, in the latest string to his bow, he has just made his major theatrical debut in a national tour of Emily Bronte's
Wuthering Heights.
Featuring a host of well-known names, the show also stars Michelle Hardwick (Lizzie Kennoway in
The Royal
), Tony Scannell (DS Roach in
The Bill
), Robert Beck (Gavin Ferris in
Emmerdale
) and Barny Clevley (Will Davies in
Hollyoaks
).
"
Funnily enough, I found out about Wuthering Heights on the same night I discovered they wanted me for the next two Harry Potter films,"
says Rankin.
"Needless to say, a fair few drinks were had in the pub that evening!"
So far, he says he's loving every moment of appearing in this classic work of English literature - even if he doesn't get to play the legendary hero of the story.
His character, Edgar Linton, is the one that Cathy marries, only to be shunned in favour of Heathcliff.
"
Poor Edgar, who is this weak, rather sickly sort of fellow, falls madly in love with Cathy
," says Rankin, who is single at the moment.
"She, on the other hand, is this wild, wonderful creature who runs around the moors at night.
"My character eventually dies of a broken heart when he realises that she couldn't actually care less about him and is really in love with Heathcliff.
"Ultimately, it really is an amazing love story - unfortunately, just not for my character!"
The tour continues through to August, after which, Rankin will be returning to the Harry Potter set full time to complete the rest of his scenes.
So what does the future hold for him when it's all finally over?
"There are all sorts of things I'd like to do
," says Rankin.
"I'd love to do some more theatre and television, and one day, I'd really like to try my hand at directing.

"To be honest, though, I just feel so lucky to have had this opportunity, and as long as I'm employed then I'll be happy."
EDITOR'S NOTE: YEAH. THE ACTOR'S MOTTO.
Interview with Jason Isaacs

EDITOR'S NOTE: HELLO

GORGEOUS

!
At the
2006 Empire Awards
, the magazine caught up with the actor who plays Lucius Malfoy and he spoke a little about the Harry Potter movies as well as his beloved blond wig.
And how's Harry Potter going?
I don't know, they started without me. Like most things in my life. I haven't even read the script yet. To be honest, I don't know what happens in it. I know that I'm meant to end up in prison – that's no great secret.
Will Malfoy be coming back for film 5?
Oh I don't know, you'll have to ask David (Heyman, Potter producer), I hope so, I can't bear the idea that somebody else would get to wear my Paris Hilton wig, but you never know.
You have a strange relationship with your wig then?
I do, well the wig is on time-share with Paris Hilton and she comes round.

EDITOR'S NOTE: YOU HAVE NOW SAID THE WORDS 'PARIS HILTON' TWICE. YOU ARE A VERY HANDSOME MAN, BUT WE HAVE RULES. YOU ARE ON PROBATION, BUB.

It takes a lot longer to prise it off me at the end of the day because I fancy myself as the lead singer of Sweet. Nah, it's not very long, they're all terribly slick with it. I miss it. I like the wig. I'm not a man who gets to disguise, I look pretty much the same in everything I do except for Harry Potter and I get to wear a fabulous wig.
So is Good finally happening?
Yes, Good is back on. Last year we had the actor, a fantastic actor, but we didn't quite have all the money. We had almost every piece but literally the bit that funded the mobile phones until the giant cheque arrived, but then it all collapsed because Hugh (Jackman) had to go off and do X-Men 3 and I had a shoot as well. This week we've got all the money. We haven't as yet got the actor but there are a number of people who want to do it.
What is it about the project that's kept your interest?
Oh it's a phenomenal script. It was an amazing play, it's a great, great script and it's new and different and we now have a new and fabulous director. Ostensibly it's about Germany in the 30s but it's not really, it's about what am I doing when civil rights around me are being suspended? Because they are. What do Americans do when they ignore the patriot act, how much of a fuss am I making about people being locked up in Belmarsh? About people kind of falling under the welfare radar? So it's incredibly contemporary – I don't know about you but I spend my life making moral compromises that I blind myself to, that I'd rather not think about, that I'm terrified my children will ask you about. "Why do we have a big car?" "Why do we have all the lights on?"
So it's a chance to focus on all those issues?
It's very easy to make films about that period that are about victims and they make me feel safe. It's very easy to make films generally in which you think "Well I'm not a bad guy, I'd be the good guy" but this is a film about how good people got swept up and ended up being at the heart of that repulsive regime and you look in the mirror and hopefully it will be provocative and end up in you policing yourself. We should all be policing ourselves each day, I'd hate to see what I'd find.

UNCLE GEORGE LOVES US, AND WANTS US TO HAVE FUN:
LucasArts & Indiana Jones Whip Interactive Entertainment Forward
This just in from LucasArts:
"SAN FRANCISCO, CA – April 27, 2006 – LucasArts announced today that Indiana Jones' first expedition on Xbox 360™ video game and entertainment system from Microsoft and PlayStation®3 will feature the revolutionary euphoria behavioral-simulation engine from NaturalMotion Ltd., creators of the award-winning Dynamic Motion Synthesis (DMS) technology.
For the first time ever, euphoria enables interactive characters – from Indiana Jones himself to the foes he pulverizes – to move, act and even think like actual human beings without the limitations of traditional animation. Characters move and adapt realistically to their given situations on the fly, resulting in a series of experiences and payoffs that will never be the sametwice.
As one of only two publishers with early access to the technology, LucasArts is well advanced in integrating euphoria into Indiana Jones' 2007 next-generation adventure.
Imagine a swaying rope bridge. With euphoria in action, characters visibly attempt to balance themselves, their feet stumbling, their arms flailing, and their hands reaching for security as the unpredictable movements of the bridge threaten to send them plummeting to their doom. Perhaps they all survive. Perhaps they all fall. The use of euphoria means the action isn't scripted – it's simulated – so you'll never be able to predict exactly what will happen, no matter how many times you've experienced a certain scenario.
"
With euphoria, A.I. drives character behaviors so that there's a different payoff every time. The depth of this character interaction gives us true next-gen gameplay that you simply couldn't do with earlier generations of hardware
," said Peter Hirschmann, vice president of product development at LucasArts. "
We've been working with NaturalMotion since 2004 to help bring their groundbreaking technology to games, and there's no better character to demonstrate it than Indiana Jones."
"We have big plans for euphoria, and we are absolutely thrilled to be able to show it off in the first next-generation release from LucasArts
," said Torsten Reil, CEO of NaturalMotion. "
LucasArts is an excellent partner with a real passion to raise the bar for next-gen games, and we look forward to working with them to apply euphoria technology to its games for years to come."
LucasArts will demonstrate euphoria in action when it debuts its next-generation Indiana Jones game on May 10-12 at the E3 Expo in Los Angeles, CA."
EDITOR'S NOTE: IS EVERYBODY ELSE HUMMING THE INDY THEME SONG RIGHT NOW? (OR IS THAT JUST ME.....???)
A MUST-HAVE FROM THE STAR WARS SHOP:
New Gentle Giant Release Now at StarWarsShop
Just in from Gentle Giant at StarWarsShop:
Mos Eisley Cantina Bookends
-- Finally, a new set of bookends for fans who like to show off their collection of literary Star Wars works.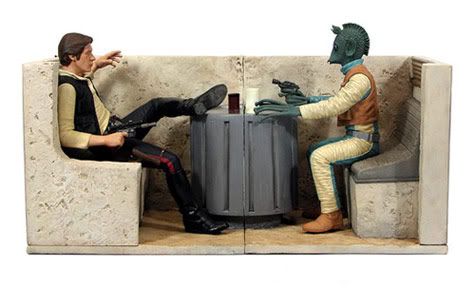 Believe it or not, there hasn't been an officially licensed set of Star Wars bookends since the early 1980s -- and those early, somewhat unrefined pieces (produced by Sigma Ceramics) of 20-odd years ago can't even begin to approach the exquisite detail of Gentle Giant's new cantina set, which pits the roguish Han Solo against the unsavory bounty hunter Greedo. Fans can decide who shoots first in this scenario.
EDITOR'S NOTE: TOO DARN COOL! (NO ROOM ON MY STAR WARS BOOKSHELVES FOR BOOKENDS, THOUGH. SO VERY MANY

BOOKS

!)
MORE POSTING AS THE (UGH) DAY-JOB PERMITS, DWEEBPALS. PATIENCE, YOUNG PADAWANS (AND GREAT REST OF YOUR WEEKEND!)