STAR WARS....nothing but STAR WARS
Star Wars - Shortened: Online

The compressed Star Wars Saga, which was specially commissioned by Sky TV, is going to be hosted in part online at the
Sky Movies website
.
From August 21, "60 Second Star Wars" - the climax of the show - will be made live and freely available. Stay tuned for more updates.
Editor's Note: Woohoo!!!
'Star Wars' Going HDCinemax to Offer All Six Films
in HD for the First Time

The "Star Wars" universe is about to make the jump to high-definition.
Cinemax has made a deal with Lucasfilm to offer all six "Star Wars" movies in HD for the first time.
Editor's Note: More woohoo'ing!!!
The Time Warner-owned, premium movie cable channel plans to premiere the films in November and launch a national marketing campaign.
The release is certain to thrill "Star Wars" fans, who have helped the franchise earn about $4 billion at the box office worldwide. The two most recent "Star Wars" titles, "Revenge of the Sith" and "Attack of the Clones," have separately run on HBO and Cinemax in hi-def. Fox has also aired "Clones" in HD. But the original trilogy has never been available in the format, and offering all the films together on one network is without precedent. Last year, Spike TV announced a deal to acquire all six films in an exclusive basic cable contract, but the run doesn't kick in until 2008. Also, Spike TV does not currently offer an HD channel. Of the various incarnations of the films, Cinemax will run the same special-edition versions that were most recently released on DVD. Terms of the deal were not available, but Cinemax typically plays films several times over three months during an initial run. A run on sister network HBO will almost certainly follow.
Several tentpole titles, such as "War of the Worlds" and "Mr. & Ms. Smith" recently premiered on Cinemax before running on HBO as part of a corporate strategy to help boost Cinemax's profile and strengthen its brand as a movie destination.
Editor's Note: Blah blah blah blah HBO corporate stuff....

ALL SIX STAR WARS MOVIES IN HD

...blah blah blah. That's what I basically took from that article. You?
Boba Fett eNovella Available Now
In case you'd forgotten, the Traviss-penned online-only novella
Boba Fett: A Practical Man
is now available
at Randomhouse.com
.
It's also listed on Barnes & Noble's website for August 28th, but for the time being this is the only way to find out what Fett was up to prior to his appearance in
The Unifying Force
.
BEHIND THE BIKINI
How the most famous Brass Bra in the Galaxy came to be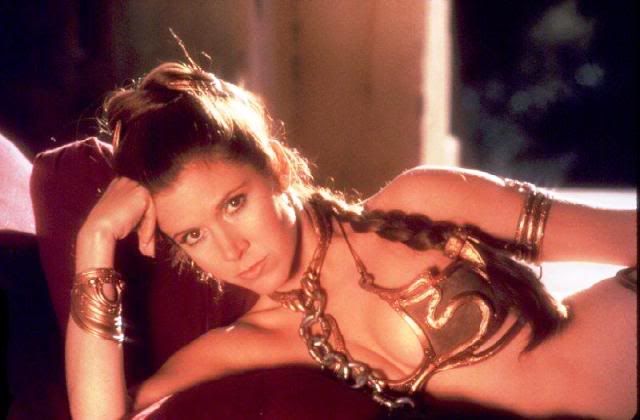 It was Princess Leia's Organa's most memorable wardrobe choice -- albeit chosen by Jabba the Hutt -- the brief brass bikini worn while chained to the bloated gangster in
Return of the Jedi
. Developed in sketches by Nilo Rodis-Jamero, it was actually the ILM Model Shop that was tasked to construct the real costume worn by actress Carrie Fisher.
"
Nilo was doing sketches, and I had seen what he was planning,
" recalls Lorne Peterson, veteran ILM modelmaker who has worked on all six Star Wars films. "
Incidentally, at the same time, someone I went to college with happened to sit beside me at a café who I hadn't seen in something like 18 years. In striking up an old friendship, I realized that he was a sculptor, and many of his own private sculptures were very much like Princess Leia's outfit."
That sculptor, Richard Miller, joined ILM for
Jedi
, and stayed on to work on many other films, including the Star Wars prequel trilogy.
"
An interesting aside is that one of the moldmakers, when he realized he was going to get to do the body-casting of Carrie Fisher... he talked about it every day,"
recalls Peterson. "
And somewhere in Production, at the last minute, they changed and had another moldmaker do it, much to his chagrin. If he had just kept his mouth shut and not been so enthusiastic, they would have let him go through with it!"

VES slates date for f/x kudos
(Muren to receive lifetime achievement award)
The Visual Effects Society will hold its VES Awards on Feb. 11. Venue shifts to the Kodak Grand Ballroom at Hollywood & Highland.
Society also announced that nine-time Oscar winner Dennis Muren will receive lifetime achievement kudos.
Muren, a veteran of George Lucas' Industrial Light & Magic, took Academy visual f/x honors for "The Empire Strikes Back," "Return of the Jedi," "E.T.," "Indiana Jones and the Temple of Doom," "Innerspace," "The Abyss," "Terminator 2" and "Jurassic Park." He has also received a Sci-Tech Oscar.
Society executive director Eric Roth said demand for tickets has outstripped the capacity of the previous venue, the Hollywood Palladium.
The Visual Effects Society presents awards in 21 categories. Rules, voting procedures and timetables for this year's kudos have yet to be announced.
Editor's Note: ooooo....new mini toys! ooooo......
Star Wars Miniatures: Bounty Hunters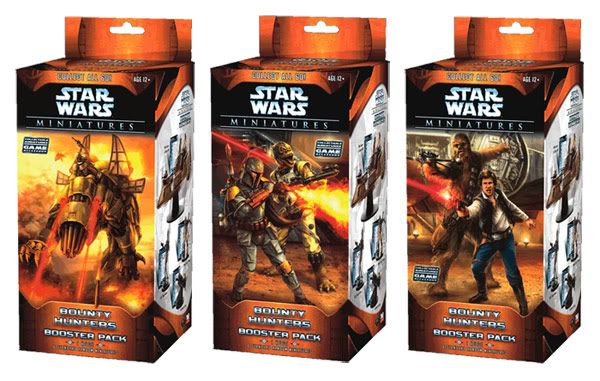 Get ready to hire some of some of the most inventive and fearless bounty hunters (and other scum and villainy) from across all eras of the saga with the
Star Wars Miniatures: Bounty Hunters Booster Pack
due to hit shelves this September.
The Booster Pack components include seven randomized miniatures with statistics cards, including one huge figure. This exciting set focuses on fringe non-aligned characters including characters like Dengar, 4-LOM, Jango Fett and Tamtel Skreej, and includes huge figures like the Rebel Snowspeeder and Basilisk War Droid.
There are 60 unique miniatures in the Bounty Hunters set. All miniatures packages are randomized and made up of figures of varying rarity: very rare, rare, common, and uncommon miniatures. These miniatures can be used to play skirmish-level or mass-battle combat scenarios or to add dimension to Star Wars roleplaying games.
Release Date: September, 2006
Editor's Note: Ok...this next one is
fairly odd. Even by OUR standards. But it IS about toys and it IS about Star Wars so.....
Toy Laundry Day

To many, customizing is like Western medicine. Invasive. The job can't be done without a sharp knife and a piece of thread. This is the popular approach mostly because of conditioning. Let's face it; we've spent the last decade buying $20 Hasbro figures, so who cares what you do to it, right? No one can argue that permanently destroying $20 mass-produced action figures in an attempt to create movie accurate 1/6 scale representations of characters we all love is a feasible option considering what we had to work with.
Let's not beat around the bush here.
While not everyone is willing to say it aloud, the Hasbro 12" line left a heck of a lot to be desired. Sure they were great children's toys that had enough quality to interest adult collectors, but at the end of the day they were just great children's toys that had enough quality to interest adult collectors.
That all changed when Sideshow Collectibles introduced us to their interpretation of the 12" Star Wars figure. Astute readers will notice that the sentence said "figures" not "action figures". That's a very important thing to remember when looking at the Sideshow collection. They aren't creating $20 mass-produced action figures meant to be played with by kids between the ages of 3 and 8; they are making collectible figures for adults. What's more, they are making high quality 1/6 scaled replicas of the Star Wars characters we love. Granted, as such, these figures are a bit more money. In some cases they are three times as expensive as Hasbro's toys. That said, do you really want to do something invasive when tweaking them, or do you want to look toward the world of alternative customizing. Not unlike alternative medicine, we can replace the sharp knives and pieces of thread we've grown up with and find a way to alter our collectibles without damaging them.
These tutorials are meant to allow collectors the freedom to tweak their 1/6 scale figures without doing anything that will damage them. Basically speaking, you are altering them, not customizing them.
Editor's Note: Altering, customizing....quibbling.
And because of the quality already being offered by Sideshow Collectibles, you can truly turn an excellent figure into the quintessential 1/6 scale character replication you have always wanted!
There are a total of three tutorials below - one for folks who will be using "low" sinks, commonly found in bathrooms. The second tutorial is the same as the first, but tailored for people who will be using "high" sinks, or those typically found in kitchens. The final tutorial is a look at how you can make your 12" Anakin even more movie-accurate!
Editor's Note: The REAL fun is to go check out these links. It's sort of like toy PORN. (it's basically pictorial demonstrations of how to play with naked dolls). Enjoy.
But not too much?
http://www.rebelscum.com/features/laundryday/lowsink/
http://www.rebelscum.com/features/laundryday/highsink/
http://www.rebelscum.com/features/laundryday/aniarm/
Hasbro's Comic-Con Follow-Up: Star Wars Toys Revealed
For those that missed some of the Hasbro displays at Comic-Con a few weeks ago, here's a recap of some of Hasbro's toy reveals:
3.75" Figure Battle Packs
Back by popular demand, the 2007 3.75" Figure Battle Pack assortment will be launched in Fall 2006 with three memorable Star Wars scenes (look for these in stores in November):
Battle Above the Sarlacc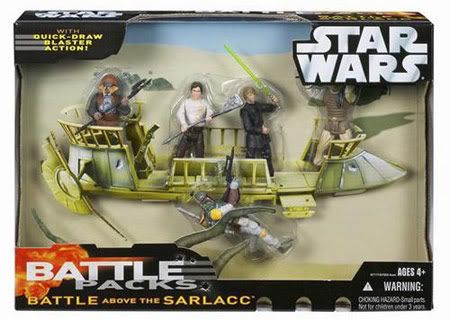 Luke Skywalker has escaped his scheduled execution in the Great Pit of Carkoon, home of the terrifying Sarlacc. Boba Fett temporarily captures Skywalker using his rope-firing wrist gauntlet. The Jedi and his friends, however, have luck on their side, especially when Han Solo accidentally activates Fett's backpack and sends him tumbling into the Sarlacc's digestive system!
Sith Lord Attack
Editor's Note: Lookie Lookie, Oddbob, another Mauliesweetie for your collection!
Never in its long history have such powers clashed within the walls of the ancient Theed Royal Palace. Three warriors, each a master of lightsaber combat, contest for victory at the heart of the palace, their battle raging along the treacherous edge of a melting pit hundreds of meters deep. For the first time in a thousand years, the light and dark sides of the Force have joined in conflict.
Jedi vs. Darth Sidious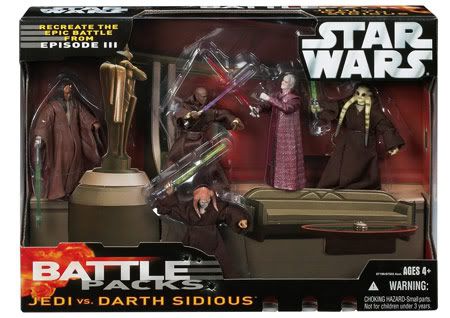 Here, in a lavish Senatorial office atop one of the tallest buildings on Coruscant, the endgame of the conflict between Sith and Jedi begins. Revealed as a Dark Lord of the Sith, Chancellor Palpatine vaults across his desk with the uncanny speed of a master in the Force, his lightsaber blazing to life. Its blade carries the swift death of no less than three Jedi. Even the great Mace Windu will be fought to a standstill in this, the first battle in a conflict that will end with the extermination of the Jedi.
Star Wars Commemorative Tin Collection
Also received with great excitement, Wave 1 of the Star Wars Commemorative Tin collection was revealed (including a sneak-peek at the Wal-Mart exclusive Cantina Band Tin which will be available in December). There will be six tins available at most toy stores beginning this October, the first three of which are available now for pre-order at StarWarsShop. Each one commemorates one of the six Star Wars movies and includes four 3.75" figures plus a collector tin.
Episode I: The Phantom Menace Commemorative Tin Collection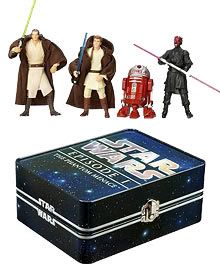 Episode II: Attack of the Clones Commemorative Tin Collection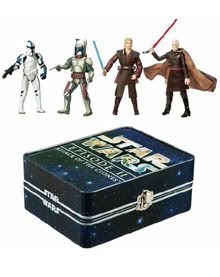 Episode III: Revenge of the Sith Commemorative Tin Collection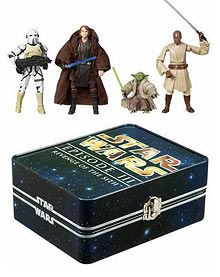 Unleashed Battle Packs
For those that have fallen for the Unleashed 2" figure Battle Packs, there are four more packs to look forward to in 2006; look for these in stores starting in October:
The Master Jedi
The New Empire
Darth Vader's501st Legion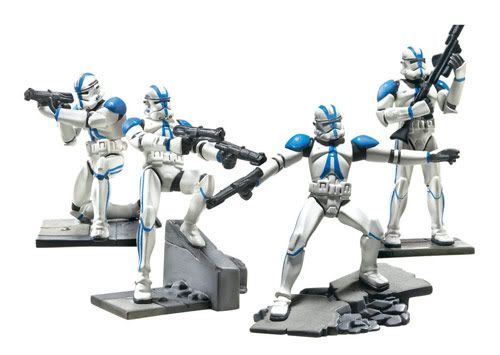 Palpatine's Shock Troopers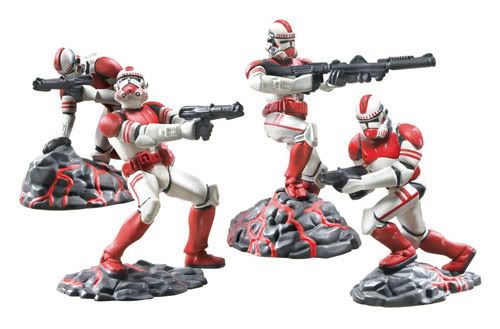 New Lightsabers

Finally, a lightsaber that operates just like the ones in the movies -- springing to life at the touch of a button.
Editor's Note: Ooooo! But can it slice thru stuff? Huh???!!!
Each lightsaber comes equipped with the spring-activation feature as well as lights and sounds:
Force Action Luke Lightsaber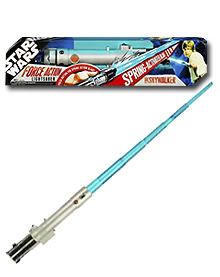 Force Action Obi-Wan Lightsaber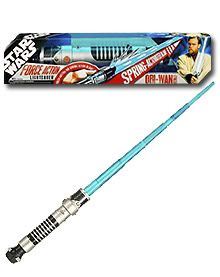 Force Action Darth Vader Lightsaber
Also revealed at Comic-Con was the new
Republic Commando figure 7-pack
, which is currently available at StarWarsShop by itself or bundled with the exclusive
Lucas Family Collection.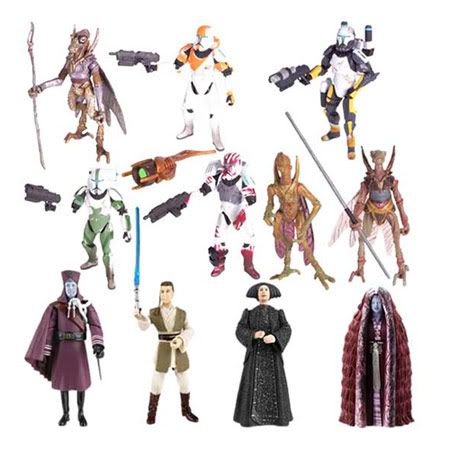 And don't forget the
25-pack of StarWarsShop-branded Star Cases for just $29.99!
Your Top Ten Favorite Females of the Star Wars Saga

Princesses and queens rule, but not your typical "damsel in distress" girls, thank you very much. Bantha Tracks readers love tough heroines.
Editor's Note: YESSSS!
It might not surprise you that your fellow readers voted the ever-cool Princess Leia as their favorite female of all Star Wars time, and that Padmé Amidala is a not-too-distant second place.
However, the ranking of the third, fourth, and fifth place winners might surprise you, not to mention Femme Fatale Number Nine!
Your Top Ten Favorite Females of the Star Wars Saga:
Adi Gallia.
Her exploits in the Clone Wars cartoons, more so than the movies, helped earn the Jedi Master a place on the list.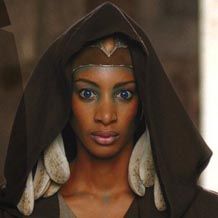 Jira
. You love her, and we won't argue.
Editor's Note: Ok. Umm..... ???

Barriss Offee.
Padawan or not, you're fans of this lovely Jedi.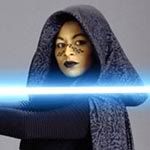 Shmi Skywalker.
Anakin's mother and friend of Qui-Gon Jinn.
Editor's Note: I wondered about that last bit. "Friend"? (Qui-Gon, you sly one. The Living Force INDEED)!
Jaina Solo.
You wisely included heroines from the Expanded Universe, and Jaina's courage and talent helped her score well.
Editor's Note: What's not to like? She's a perfect blend of all the snarkiness of BOTH of her parents.
Aayla Secura
.
Thought she'd score higher, didn't you? We did.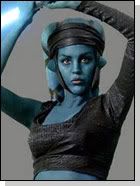 Shaak Ti

.
The Jedi Master not only knows how to get things done, you describe her as "so darned cute."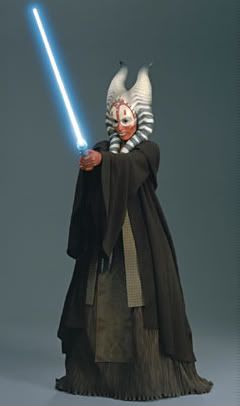 Mara Jade.
The kick-butt, Skywalker-wannabe assassin from the Expanded Universe.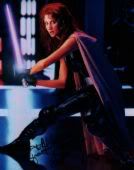 Padmé Amidala
. Voters felt almost as passionately for Padmé as for our number one female.
Editor's Note: She might have gotten a few more votes if she hadn't abandoned her kids and the galaxy there at the end?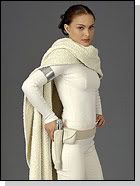 Your Number One Favorite Female of the Star Wars Saga:
Princess Leia Organa Solo.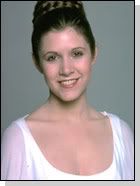 The majority of readers agree that the diminutive Leia not only kicks butt, but also gives fans, female and male alike, a great Sci-Fi role model.
Editor's Note: Yes she does. And for girls/women of a certain age (number withheld at QOTD's request...ahem...) she was very important in presenting a strong female character that more than kept up with the boy characters.
EDITOR'S NOTE: And now....yep.....the pics ----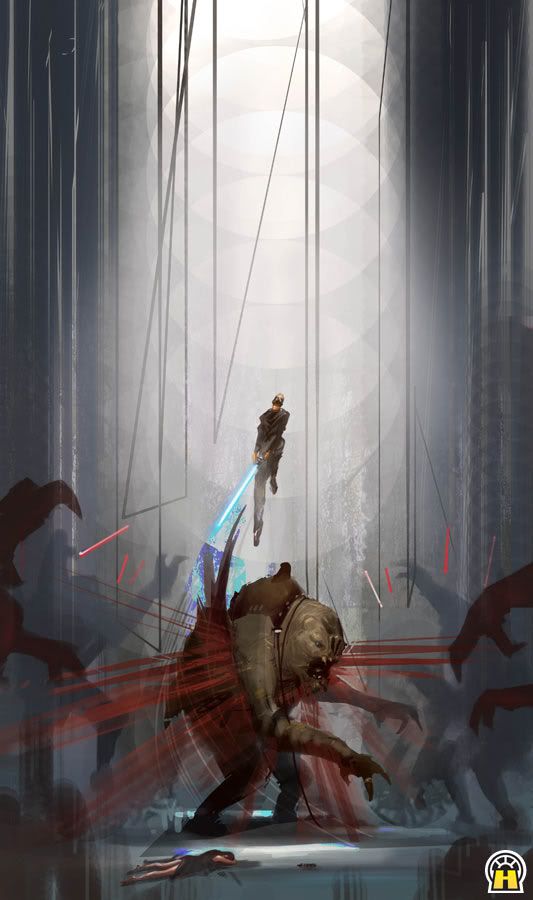 Sneak Peak 2007 - No Way Out But UP - Sometimes, you can never have enough manpower to surround a Jedi.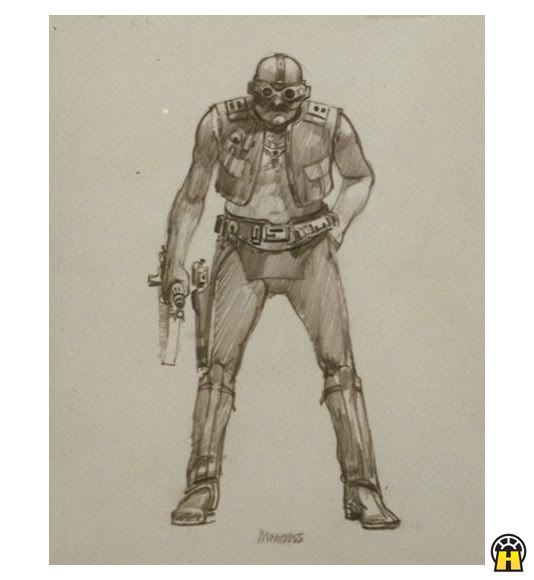 The character of Montross appeared in the earliest iterations of the Star Wars story but was discarded. He resurfaced, decades later, as part of Jango Fett's expanded universe backstory.

Editor's Note: OddBob lives in his neighborhood! (oh..wait....that's MonTROSE).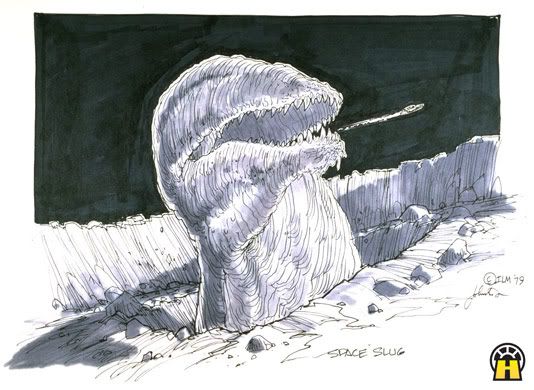 Some of the earlier sketches of the space slug had it appear more reptilian in nature, as in this piece by Joe Johnston.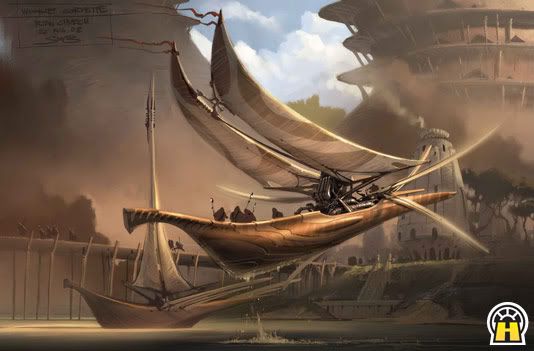 Wookiee Water Craft -A Wookiee flying catamaran comes in for a lake landing in this painting by Ryan Church.