A couple of Reviews to help plan your weekend
Editor's Note: And in the 'just-another-service-we-offer' category, a couple of nice reviews for things on my personal must-see list for this weekend. (I just

skimmed

the Pirates review, since I like to see the films first....)
Pirates: Dead Man's Chest

By Kirk Honeycutt
Bottom line: Once again Johnny Depp shines in this movie series disguised as a theme park ride.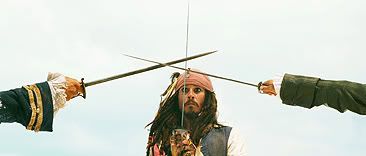 Like the Disneyland ride that inspired the movie series, "Pirates of the Caribbean: Dead Man's Chest" rolls from one envelope-pushing special effects sequence to another with little connective tissue.
The filmmakers seem cheerfully resolved that narrative never get in the way of buccaneer fun.
Cannibals, sword fights, a sea monster, tavern brawls, supernatural sailors and harrowing escapes hit the screen in such bewildering profusion that all sense of purpose is swallowed up in this heady boys' adventure run amok.
There is, in fact, only one purpose: Give Johnny Depp room to perform the Great Lounge Act of the Seven Seas.
Editor's Note: GREAT Line!!! Bravo!
Anticipation is huge for the middle film in this projected pirate trilogy, so "Dead Man's Chest" should equal if not surpass the $656 million worldwide gross of 2003's "The Curse of the Black Pearl."
Most of the crew has reunited under the helm of producer Jerry Bruckheimer and director Gore Verbinski, including Depp, Orlando Bloom and Keira Knightley, as the second and third films were shot simultaneously in Caribbean locales.
Depp is less a swashbuckler than a swishbuckler
Editor's Note: LOL! Bravo again!
as he prances and preens through the movie with a bemused scowl on his face and the devil-may-care attitude of a hero who knows things will turn out well. He is the comic gel that holds the whole enterprise together. The performance is a total delight that somehow combines Bugs Bunny, Peter Pan and Charlie Chaplin.
"Dead Man's Chest" revolves around a blood debt Captain Jack Sparrow (Depp) owes to Davy Jones (Bill Nighy), the legendary fiend aboard his ghostly ship, the Flying Dutchman. To escape this fate, Captain Jack must recover a key that will open a buried chest containing his nemesis' still-beating heart.
Others want to seize this chest, however, most particularly the East India Trading Co.'s Lord Beckett (Tom Hollander). He imprisons Will Turner (Bloom) and Elizabeth Swann (Knightley) before their wedding on trumped-up charges so that Will is motivated to beat Captain Jack to the prize. Along the way are encounters with Will's father, Bootstrap Bill (Stellan Skarsgard), who long ago lost his soul to Davy Jones; a blackened-tooth Jamaican soothsayer, Tia Dalma (Naomie Harris); and Mercer (David Schofield), Beckett's informer in ne'er-do-well disguise.
Many characters are unearthly creatures with extreme physiologies -- essentially bloated, decaying, barnacle-encrusted corpses of dead sailors arisen zombielike to terrorize the sea.
Their leader, Davy Jones, is the movie's most amazing creature. His head is that of an octopus whose many tentacles wiggle, glower and reach out ominously as he rages against all living beings. This imagery gets repeated in his pet sea monster, Kraker, a giant version of his head.
Nighy does a great job of getting across his tormented character despite his face being hidden behind special effects. Knightley, who gets lovelier with each picture, makes a stout-hearted heroine, adept at physical action yet demure when need be. Bloom, though, is too much in earnest as if he were playing Errol Flynn rather than a comic version of same.
If one wants to carp about such things, this family adventure has morphed into something decidedly odd, though perhaps it fits the zeitgeist: The film overflows with as much gleeful sadism as a PG-13 rating can contain. Birds pluck eyes from living captives, a father must whip the flesh from his son's back, Captain Jack is prepared for roasting, and the threat of rape clearly looms over Elizabeth as she languishes in prison.
The whole pirate stew is flavored with moral fuzziness. The movie views pirates, who rob and murder on the high seas, as exemplars of fun-loving freedom; the East India Trading Company -- admittedly an imperialistic global corporation but nevertheless one that wants to rid the seas of homicidal criminals -- represents the forces of repression.
This production is a vast, expensive, sprawling affair that never feels out of control thanks to Verbinski's assured direction. Dariusz Wolski's cinematography superbly admires Rich Heinrich's lavish sets, while Hans Zimmer's busy though effective score -- he makes nice use of organ music -- pumps the action.
The film also marks the debut of a snappy new logo for Walt Disney Pictures that gives Sleeping Beauty's Castle a glittering cityscape in which to shine.
PIRATES OF THE CARIBBEAN: DEAD MAN'S CHEST
Buena Vista Pictures
Walt Disney Pictures in association with Jerry Bruckheimer Films
Credits: Director: Gore Verbinski
Screenwriters: Ted Elliott, Terry Russio
Based on characters created by: Ted Elliott, Terry Russio, Stuart Beattie, Jay Wolpert
Producer: Jerry Bruckheimer
Executive producers: Mike Stenson, Chad Oman, Bruce Hendricks, Eric McLeod
Director of photography: Dariusz Wolski
Production designer: Rick Heinrichs
Music: Hans Zimmer
Costume designer: Penny Rose
Editors: Craig Wood, Stephen Rivkin
Cast:
Captain Jack Sparrow: Johnny Depp
Will Turner: Orlando Bloom
Elizabeth Swann: Keira Knightley
Norrington: Jack Davenport
Davy Jones: Bill Nighy
Gov. Swann: Jonathan Pryce
Pintel: Lee Arenberg
Ragetti: MacKenzie Crook
Lord Beckett: Tom Hollander
Bootstrap Bill: Stellan Skarsgard
Tia Dalma: Naomie Harris
MPAA rating PG-13
Running time -- 151 minutes
Brotherhood

By Barry Garron
Bottom line: You'll find a dramatic thrill on this Irish hill.
10-11 p.m. EST Sundays
Showtime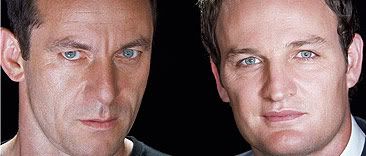 Jason Isaacs, left, and Jason Clarke are brothers on different sides of the law.
Let's get it out the way right now, the blurb that will be quoted after this review is run:
"
If you see nothing else this summer, watch 'Brotherhood.' "
While I never consciously try to arrange a review so that quotes can easily be lifted, "Brotherhood" deserves every boost it can get. It's that good. No, it's better.
Editor's Note: wow. Of course, these folks also liked "The Sopranos" and "Sex in the City", two shows I had little or no use for, so caveat emptor, I guess.
This new Showtime series has it all: fine acting, superb cinematography, nimble directing and a fascinating world full of ethical ambiguities and constantly shifting moral ground.
Editor's Note: Jason Isaacs. Did anyone say anything after "Jason Isaacs"?
Blake Masters, series creator and writer of five of the 11 episodes, including the premiere, doesn't shrink from the dilemma of problems without solutions and compromises without acceptance; he embraces them. What's more, the gray area his characters inhabit is perfectly matched to the muted colors of their environment, the well-worn Irish area of Providence, R.I., known as the Hill.
As the title suggests, "Brotherhood" is about two brothers. The younger sibling, Tommy Caffee (Jason Clarke), is a family man with ideals and a sense of community that helped win him a seat in the Rhode Island House of Representatives. The independence he prizes, ironically, turns out to be his most valuable bartering chip in the scratch-my-back legislative halls.
The older brother, Michael Caffee (Jason Isaacs
)Editor's Note: yummy yummy yummy.,
has been a thug since he was a schoolboy. Fearing for his life, he left the area seven years earlier. In the premiere, he suddenly reappears, ready to resume his stealth ascent to the top of the criminal ladder.
Tommy's wife, Eileen (Annabeth Gish), fears Michael's presence, and with good reason. The seemingly perfect politician's wife, deep down she yearns for escape. Then there's Rose Caffee (Fionnula Flanagan), Tommy and Michael's mother, the neighborhood matriarch whose fierce maternal instinct lets her overlook and excuse anything Michael does. With eyes half shut, she continues to be proud of both her boys.
There are other memorable characters, too, nearly all of them remarkably textured for supporting players and particularly well-cast. Together, they reflect a reality far more complex than is usually seen on TV. It's a reality that speaks to the collision of interests, the dispersal of power and the impossibility of effective compromise. When a series comes along with all that, you owe it to yourself to watch.
BROTHERHOOD
Showtime
Mandalay Television
Credits:
Executive producers: Blake Masters, Henry Bromell, Elizabeth Guber Stephen
Co-executive producers: Nicole Yorkin, Dawn Prestwich, Phillip Noyce
Director: Phillip Noyce
Writer/creator: Blake Masters
Directors of photography: Ernest holzman, Ron Fortunato
Production designer: Chad Detwiller
Editors: Terry Kelley, Anthony Redman, Neil Travis, Adam Wolfe
Original score: Jeff Rona
Set decorator: Kyra Friedman-Curcio
Casting: Carolyn Pickman, Mele Nagler, Matthew Barry, Nancy Green-Keyes, Pat McCorkle
Cast:
Michael Caffee: Jason Isaacs
Tommy Caffee: Jason Clarke
Eileen Caffee: Annabeth Gish
Rose Caffee: Fionnula Flanagan
Declan Giggs: Ethan Embry
Pete McGonagle: Stivi Paskoski
Freddie Cork: Kevin Chapman
Mary Rose Caffee: Fiona Erickson
Moe Riley: Billy Smith
Carl: Rob Campbell