Why should THURSDAY be any different? Odds-n-Ends. AGAIN
EDITOR'S NOTE: WHO SAYS WE ALWAYS HAVE TO BE ORGANIZED, RIGHT?!
MORE MISHMASHING ----
FIRST UP.....MORE WHINING FROM SOMEONE (

ANY

ONE) EVEN PER

IPH

ERALLY INVOLVED WITH "THE DAVINCI CODE":

Group Calls for Label on CODE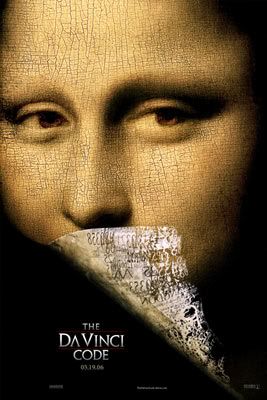 The Roman Catholic group Opus Dei has asked Sony Pictures to put a disclaimer on the upcoming movie
The Da Vinci Code
stressing it is a work of fiction.
EDITOR'S NOTE: THE PEOPLE WHO NEED TO BE TOLD THIS, AREN'T GOING TO GET IT.
AND THE

REST

OF US HAVE JUST HAD OUR PREVIOUS OPINIONS OF OPUS DEI (
WASN'T HE A CHARACTER IN "BLOOM COUNTY"
?) CONFIRMED.
Such a disclaimer would be a welcome show of respect towards the church, the conservative group said in a letter posted Good Friday on its website.
"
An eventual decision of Sony in this direction would be a sign of respect towards the figure of Jesus Christ, the history of the Church, and the religious beliefs of viewers
," the group said in the letter.
EDITOR'S NOTE: IF SONY DOES A LETTER, DOES OPUS DEI REALLY THINK THIS WILL BE A SIGN OF RESPECT? OR EVEN ACKNOWLEDGEMENT THAT THEY CARE ABOUT JC ET AL? IT WILL BE SONY SAYING
"THANKS, GUYS, FOR THE FREE PUBLICITY! AND YOU ARE....????"
Opus Dei objects to its portrayal in Dan Brown's best-selling novel
The Da Vinci Code
, where it is seen as a secretive group that has worked for centuries to obscure truths about Jesus Christ.
An Opus Dei member is the main adversary in the thriller. Opus Dei and other Christian groups also have objected to the book's premise that Jesus Christ married Mary Magdalene and they had a child and their bloodline survives to the present day.
EDITOR'S NOTE: OPUS DEI SHOULD BE MORE CONCERNED ABOUT THEIR OWN PRIESTS TAKING THIS TO HEART, THAN THE REST OF US HEATHEN. I MEAN, IF CELIBACY IS JUST AN

OOPSIE

ON THE PART OF THE CHURCH, WON'T ALL THOSE PRIESTS AND NUNS FEEL SILLY!?
They fear that many readers are taking the fictional story as truth.
With the movie starring Tom Hanks due to premiere at Cannes in May, Opus Dei is among the groups trying to disclaim the message of
The Da Vinci Code
. It had earlier called for the film to have an "adult only" rating.
EDITOR'S NOTE: RULES OUT EVERYONE

I

KNOW. MAYBE THEY SHOULD HAVE A 'NO CATHOLICS' POLICY?
Its website devotes a page to disproving both historical and modern references made in
The Da Vinci Code
. Other websites, such as
thetruthaboutdavinci.com
and
davincioutreach.com
, also debate the issues.
Sony Pictures is also supporting a Web site,
thedavincidialogue.com
, where interested people can read expert opinions about issues raised by the book and movie.
Sony has not said whether it will include a disclaimer on the movie.
Sony Pictures always viewed the movie as "
a work of fiction ... a thriller, not a religious tract
,"
EDITOR'S NOTE: YEAH. THAT'D BE A BIG, OLD

DUH

!
spokesperson Jim Kennedy told Reuters. "
We believe the filmmakers are going to deliver an exciting movie that will delight audiences, not offend them."

CANNES CAN CAN:
Linklater, Kelly and Coppola in Cannes lineup
PARIS -- The 59th edition of the Festival de Cannes announced its official selection Thursday under the sign of renewal.
Of 19 films In Competition, only a few are from directors who have contested the Palm d'Or previously, in contrast to last year's lineup dominated by Cannes regulars.
U.S. cinema is represented by Richard Linklater's "Fast Food Nation," an ensemble drama featuring Patricia Arquette, Ethan Hawke and Greg Kinnear; Richard Kelly's comedy musical thriller "Southland Tales," starring the Rock, Seann William Scott, Sarah Michelle Gellar and Mandy Moore; and Sofia Coppola's biopic "Marie-Antoinette," starring Kirsten Dunst and Jason Schwartzman.
EDITOR'S NOTE: WOW. THAT SECOND ONE SOUNDS LIKE SOMETHING IT'D BE GREAT IF WE COULD GET SOME

OTHER

COUNTRY TO CLAIM.
Mexican director Alejandro Gonzalez Inarritu's drama "Babel," starring Brad Pitt, Cate Blanchett and Gael Garcia Bernal, also made the cut.
British hopes for the Palm d'Or will rest on Andrea Arnold's drama "Red Road," starring Natalie Press, and for the eighth time on Ken Loach, whose film about Irish republicanism, "The Wind That Shakes the Barley," also is In Competition.
A LITTLE BIT OF POTTER:
Nicholas Hooper to score OOTP
HPANA
reports today that Nicholas Hooper, one of the UK's leading media composers, is set to compose the soundtrack for the
Order of the Phoenix
movie.
In 2004, he won the Best Original Score BAFTA for
The Young Visitors
and was nominated several other times for the prestigious awards.
This has yet to be confirmed by Warner Brothers so stay tuned for more.
EDITOR'S NOTE: JUST AS LONG AS IT'S NOT THE HACK THAT SCORED

GOF

(
WHOSE NAME ESCAPES ME AT THE MOMENT
).
MOVIE NEWS:
If I Had A Hammer...Handyman comedy pitched to DisneySource
Disney is ever on the search for a new spin on family comedy. And the Mouse House thinks it's found one in Alan Freedland and Alan R Cohen's pitch
Jack Of All Trades
.
The story revolves around a married doctor who likes the easy life a little too much. When he hires a handyman to take care of all the jobs that his family needs doing, his paranoid brain starts making him worry that this new arrival is slowly replacing him.
"We're both married with kids, and this is that twisted version of the fantasy of hiring someone to do stuff around the house
," Cohen told Variety.
There's no director attached yet, but Adam Shankman – director of
Cheaper By The Dozen 2
and the man busy shooting
Hairspray
– is producing.
Legendary Finds PARADISE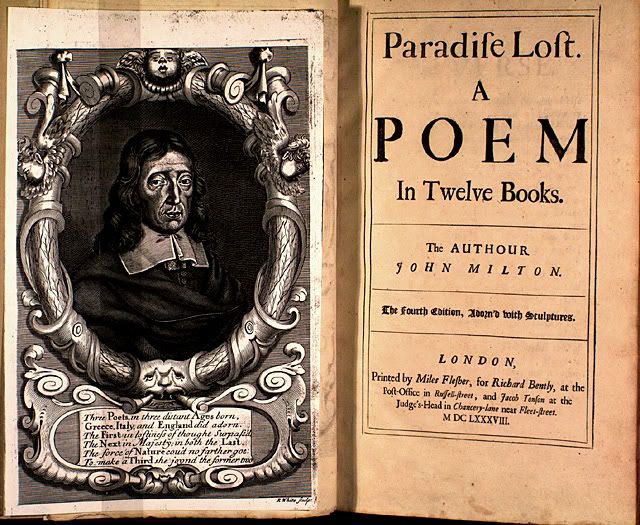 Legendary Pictures has picked up the script PARADISE LOST by Byron Willinger and Phil DeBlasi.
Based on John Milton's epic poem, the story revolves around the fall of man and the classic battle of good vs. evil, telling along the way the story of Satan/Lucifer, the angel who tries to overthrow God, and the temptation of Adam and Eve and their expulsion from the Garden of Eden.
EDITOR'S NOTE: OH IS

THAT

ALL?!
Scott Derrickson has been hired to develop the script and direct. Stuart Hazeldine is currently rewriting the screenplay.
Fishburne Will Become PREY
Laurence Fishburne has been set to star in PREY. Jerrold Brown wrote the script and James Marsh will direct.
The psychological thriller centers on a man who sets out on a solo hunting expedition in the middle of winter and severely injures his leg. He is rescued by a mysterious trapper with secretly sinister intentions.
EDITOR'S NOTE: AND THE MYSTERIOUS MAN IS PLAYED BY KATHY BATES?
Mark Amin, Robin Schorr and Cami Winikoff will produce. Gina Marcheschi, Dave Brown and David Levine will executive produce.
Filming will begin this fall.
Marshall's 'Rule': dark comedy


By Tatiana Siegel
Garry Marshall has signed on to direct the dark comedy "Georgia Rule" for Morgan Creek Prods. Jane Fonda, Felicity Huffman and Lindsay Lohan are in negotiations to topline.
Penned by Mark Andrus ("As Good as It Gets"), the story centers on a rebellious young woman (Lohan) who is sent by her dysfunctional mother (Huffman) to spend a summer with her grandmother (Fonda).
There are two male roles still to be cast.
Morgan Creek's James G. Robinson is producing alongside Michael Besman. Morgan Creek's Guy McElwaine and David Robinson are executive producing alongside Peter Guber.
"
This is Garry Marshall's kind of movie
," James Robinson said. "
He can deliver the mail with this type of movie."
EDITOR'S NOTE: DELIVERING THE MAIL WITH MOVIES IS A

GOOD

THING, RIGHT?
Morgan Creek is eyeing a late August start date, likely in Los Angeles.
Oz marches to 'Funeral' with SKE
Frank Oz will direct "Death at a Funeral," a farcical comedy written by Dean Craig and being produced by Sidney Kimmel Entertainment. Matthew Macfadyen ("Pride & Prejudice"),
EDITOR'S NOTE: YUM.
Peter Dinklage ("The Station Agent")
EDITOR'S NOTE: ACTUALLY, ODDLY YUM TOO.
and Ewen Bremner ("Match Point") have been cast in the ensembler.
"Funeral" follows a dysfunctional British family
EDITOR'S NOTE: IS THERE ANY OTHER KIND?
as they gather to mourn the passing of their patriarch. But when a man threatens to expose the patriarch's secret unless he is paid a princely sum, the man's two sons try to do everything to keep the secret from leaking to the guests, and what should be a heartfelt good-bye turns into a calamity.
Turturro wedded to Baumbach pic
John Turturro has signed on to star in the untitled Noah Baumbach project at Paramount Pictures' new specialty division. Jack Black, Nicole Kidman and Jennifer Jason Leigh already have boarded the dramedy.
Turturro will play the husband of Kidman's character.
EDITOR'S NOTE: CAUSE PEOPLE WHO LOOK LIKE KIDMAN MARRY PEOPLE WHO LOOK LIKE TURTURRO ALLLLLLLL THE TIME. RIIIIIIIIIIGGGGHT.
The story is being kept under wraps, but it is described as a multigenerational story in the same vein as Baumbach's recent effort, "The Squid and the Whale."
Warner Turns on LARKLIGHT

Warner Bros. Pictures has picked up the rights to Philip Reeve's upcoming children's book, LARKLIGHT. The book will be published this November.
This is the first book of a Victorian-era space-adventure trilogy in which a brother and sister team with a band of renegade space pirates to save the world from destruction at the hands of a madman.
EDITOR'S NOTE: I

SO

WANTED TO DO THIS AS A KID, BUT MY BROTHER WOULDN'T CO-OPERATE. (WHAT A WEENIE!)
Denise Di Novi will produce. No screenwriter is attached yet
When You're Good To Mamma/Abba musical to be filmed

If you're one of the millions of people who have laughed, cried, shimmied and sung along to Abba musical
Mamma Mia
in a theatre somewhere in the world, then you'll be delighted to hear about a planned film version. Everyone else can just go and seek treatment for that nasty bleeding eyes and ears problem.
EDITOR'S NOTE: IF YOU ARE NOT IN THE SECOND GROUP, YOU'RE PROBABLY READING THE WRONG DWEEBLETTER. (
BUT WE HAVE SOME LOVELY ANDREW LLOYD WEBBER PARTING GIFTS FOR YOU
!)
Tom Hanks' Playtone company has struck a deal with
Mamma Mia
producer Judy Cramer and writer Catherine Johnson to turn their undisputed money-maker into a movie. Apparently the pair was won over by Hanks' treatment of
My Big Fat Greek Wedding
.
The story of
Mamma Mia
follows a girl preparing for her wedding. After years of not knowing who her true father is, she decides to invite the three most likely suspects to her nuptials. It's the basic plot on which the producers – which include original Abba longhairs Benny Andersson and Bjorn Ulvaeus - hang 22 of their hits.
EDITOR'S NOTE: I GUESS THE UPSIDE OF THIS IS, THERE ISN'T EXACTLY A 'CLASSIC' HERE THAT THEY CAN RUIN?
"
The time felt right. The partnership with Gary and Tom helped everything to fall into place,"
Craymer tells Variety. "
We've never had stars in the show, the music has always been the star, but we are certainly thinking about names as we take this from the stage to the screen."
So yes, sometime in late 2007 you'll get the chance to dance in a cinema. And risk being pelted with buckets of cola and cheesy nachos.
EDITOR'S NOTE: "ROCKY HORROR" FOR THE NEW MILLENIUM!
Harris Is Gone, Baby Gone/Ed co-stars in Ben Affleck's film
Ben Affleck has nabbed himself a major talent for the cast of his directorial debut
Gone, Baby Gone
.
Ed Harris has signed up for the adaptation of Dennis Lehane's novel, which the 'Fleck will start directing in May. The
A History Of Violence
star will be playing a slightly more law-abiding role this time, as a cop in the story which focuses on two private investigators hunting for a kidnapped four-year-old in Boston's seamy underbelly. Michelle Monaghan (about to light up the screen again in
M:I-3I
) and Casey Affleck have already agreed to play the 'tecs.
Josh Lucas in talks for Batman?
The internet was partly responsible - since they flew the flag for his casting, way before he was on the studio's radar - for Warner going with Christian Bale for "Batman Begins", and now, you online casting whizzes may have just helped cast the sequel.
Josh Lucas tells
MTV
that he has been in talks with Warner about playing the role of D,A Harvey Dent in the "Batman" sequel. This all started when internet scuttlebutt suggested Lucas ("The Hulk") was linked to the role – which he wasn't. It seems your suggestion/BS/rumour/speculation/ led to such a meeting.
"
I had heard that, when I was doing press on 'Glory Road
,' " Lucas said of rumours he would play Dent (and alter-ego Two-Face) in the sequel/s. "
Some of the people started asking about that, and [back] then I didn't know anything about it. I went and talked to Warner Bros. about it, because they're making it, and obviously I would love to do it. I think it's a great character. I like that someone could go from being bad to good and back and forth and light and dark, but also I think [series director Christopher Nolan] did an amazing job. And Christian Bale did an amazing job too. Christian and I did 'American Psycho' together, so it'd be like a reunion of sorts." ...

EDITOR'S NOTE: THAT WOULD ACTUALLY BE PRETTY GOOD CASTING, HUH?



From 007 to the Devil?
According to
TheHollywoodNews.com
, the new Jimmy Bond, Daniel Craig, might be sprouting a couple of horns for his next film role.
The site says Craig is circling "I, Lucifer" a film based on the book by Glenn Duncan. Craig would play the lead, the 'horny' devil himself.
In the film, Craig's Devil is offered one last shot at redemption by God: Live out a blameless life as a human, and all is forgiven. Lucifer doesn't plan on taking up the offer, but he is keen to 'trial' it for a month – just long enough put a body through as much drug, sex and other multiple vice excess as possible in a month. Thing is, Lucifer starts to enjoy his new life and wonders whether he should consider taking up God's offer, after all?
Ewan McGregor is in talks to play the man, a failed British author, whose body Lucifer takes residence in.
EDITOR'S NOTE: EWAN MCGREGOR AND DANIEL CRAIG TOGETHER? YUMMY! (
AND SOUNDS LIKE YET ANOTHER CHANCE FOR NOT-SO-YOUNG-ANYMORE EWAN TO WAVE HIS....UMM...FLAG. IT'S BEEN A COUPLE OF MOVIES SINCE WE'VE SEEN FULL-FRONTAL-OBI-WAN, HASN'T IT?
).
The film will be directed by "Superman Returns" writer Dan Harris. Harris and partner Mike Doughety, along with David Logan, adapted the book.
Silver Goes To War/Joel calls up Sgt Rock
Joel Silver, flush with the success of
V For Vendetta
(well, maybe not flush, but at least pretty happy) is taking charge of another comics property.
Sgt Rock
is a World War Two-based adventure series that kicked off in a 1959 issue of DC's
Our Army At War
. But he became so popular that the company renamed the title after him in 1977 and it ran until 1988.
The film has been slowly chugging through the development minefield at Warner Brothers, with such notable names as
LA Confidential's
Brian Helgeland, John Milius, David Peoples and Steve De Souza (
Judge Dredd
) having fallen in the line of duty while trying to adapt the comic.
John Cox is the latest writer to sign up – and he's working from a treatment by Danny Bilson and Paul De Meo, who were responsible writing
The Rocketeer
back in 1991.
Avary Sits in DRIVER's Seat
Roger Avary has been signed by Rogue Pictures to adapt Atari's video game DRIVER for the big screen.
The story centers on a getaway driver for hire, the best in the heist biz, who is put to the test on a job.
Jeremy Bolt, Paul W.S. Anderson, Bernd Eichinger and Robert Kulzer will produce
TV NEWS:
HBO orders second helping of 'Big Love'
"Big Love" just got bigger.
HBO has greenlighted a second season for its drama series about a polygamist family, the network said Wednesday, just halfway into its rookie year.
"
We all just felt the show was really solid and only getting better
," HBO president of entertainment Carolyn Strauss said. "
It's gathering momentum with subscribers and critics
."
"Love" will go back into production in August in anticipation of returning to the air sometime next year. The number of episodes has yet to be determined; the opening order was 12.
Elvira Looks For Someone to Fill Her Big... Shoes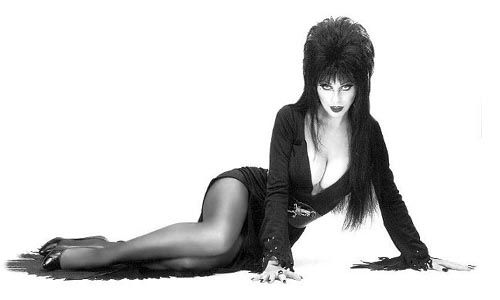 Elvira, Mistress of the Dark (aka Cassandra Peterson) is hoping to find an heir to her throne via a new reality show she trying to set up.
Peterson and her manager have teamed with reality TV producers Stuart Krasnow and FremantleMedia North America to "
pitch an unscripted project featuring contestants competing for a one-year contract to portray the character in various personal appearances."
THR reports, the contestants "
would be put through elimination challenges designed to parody some of the most popular reality shows but with a macabre twist."
Her manager also noted they are working on a possible animated series as well as a film, which would feature Elvira, about the back story of Halloween.
EDITOR'S NOTE: AND CONTINUING FROM THE ABOVE ITEM IN OUR ON-GOING SERIES "

SIGNS OF THE UPCOMING APOCALYPSE

".......
Jagger targeted for ABC comedy
Rock great Mick Jagger is in negotiations to appear in ABC's untitled Burnett/Beckerman comedy pilot, sources said.
The Donal Logue-starring project, from Touchstone Television, revolves around a group of blue-collar guys in New York who decide to rob a celebrity (Jagger).
Originally, the project was shopped around with the cheeky title "I Want to Rob Jeff Goldblum," but Jeff Goldblum, who has his own pilot at NBC, was never attached. After the script was picked up to pilot in December, the show's creators, Rob Burnett and Jon Beckerman, zeroed in on Jagger as the celebrity at the center of the show.
Jagger would only appear in a few scenes, and his name is not expected to be in the title of the single-camera project, sources said. But he is crucial to the plot line as the target of the planned robbery and is mentioned numerous times in the scenes that already have been filmed.
DVDs with the taped pilot sans Jagger's scenes already have started floating around.
If the pilot is picked up to series, Jagger would continue to appear as the plot to rob him develops.
With the deal for the Burnett/Beckerman project, Jagger is poised to join another British rock star, Elton John, in the ABC/Touchstone comedy fold this season.
John executive produces the single-camera half-hour pilot "Him and Us."
Earlier this week, Jagger and the Rolling Stones wrapped the spring leg of their world tour supporting the 2005 album "A Bigger Bang," which covered North and South America, Japan, China, Australia and New Zealand. The European portion of the tour begins next month.
DVD AND SUCH NEWS:
KINGDOM OF HEAVEN Ridley's Cut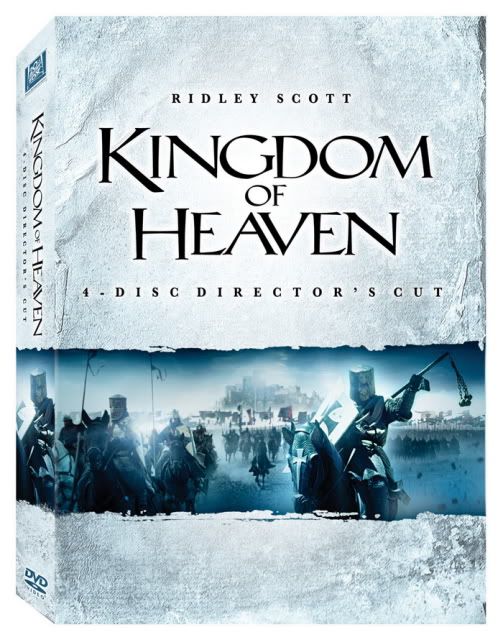 On May 23, 2006 Fox Home Entertainment will release Sir Ridley Scott's KINGDON OF HEAVEN as an all-new four-disc collector's edition.
An epic tale of brutal idealism and passionate warfare, KINGDOM OF HEAVEN Director's Cut delves deeper into the personal philosophies, moral ambiguities and political principles behind the bloody Crusades with an entirely new cut of the film.
In addition to almost an hour of new and innovative footage, the comprehensive four-disc collection also features thorough bonus materials, including audio commentary by Scott and his illustrious production staff, as well as historical information, insights into the meticulous recreation of medieval times and an extensive examination of the film's theatrical development.
The cast includes Orlando Bloom (
Lord Of The Rings
trilogy), Liam Neeson (
Batman Begins

EDITOR'S NOTE: ALL THE MAJOR MOVIES NEESON HAS MADE, AND THIS IS THE ONE THEY REFERENCE?
), Jeremy Irons (
Reversal Of Fortune
) and Eva Green (
The Dreamers
).
The KINGDOM OF HEAVEN Director's Cut four-disc DVD collection will be available for the suggested retail price of $34.98 U.S./$46.98 Canada.
This Collector's Edition of KINGDON OF HEAVEN will feature the director's cut of the film along with hours of extras – including a six-part tour from conception to completion of filmmaking.
The KINGDOM OF HEAVEN Director's Cut DVD is presented in widescreen with English DTS and Dolby Surround 5.1 stereo sound, as well as Spanish Dolby Surround sound and French and Spanish subtitles.
Programming includes:
Disc One
Introduction by Sir Ridley Scott
Director's Cut – Feature Part One
Audio commentary by Sir Ridley Scott, writer William Monahan, executive producer Lisa Ellzey, film editor Dody Dorn, visual effects supervisor Wes Sewell and first assistant director Adam Sommer
The Engineer's Guide story notes (text & images)
Disc Two
Director's Cut – Feature Part Two
Audio commentary by Sir Ridley Scott, writer William Monahan, executive producer Lisa Ellzey, film editor Dody Dorn, visual effects supervisor Wes Sewell and first assistant director Adam Sommer
The Engineer's Guide story notes (text & images)
Disc Three
The Path To Redemption Documentary – Part One
Development Part I: Good Intentions (featurette)
'Tripoli' Overview and Gallery (text & images)
First Draft Screenplay By William Monahan (text)
Story Notes (text & images)
Location Scout Gallery (images)
Pre-Production Part II: Faith And Courage (featurette)
Screen Tests (video & commentary)
Cast Rehearsals (video)
Costume And Weapons Design (featurette)
Production Design/Conceptual Art/Costume Galleries (text & images)
Production: Spain Part III: The Pilgrimage Begins (featurette)
Creative Accuracy: The Scholars Speak (video)
Storyboard Comparisons (multi-angle video & images)
Photo Galleries (text & images)
Disc Four
Path To Redemption Documentary – Part Two
Production: Morocco Part IV: Into The Promised Land (featurette)
Unholy War: Mounting The Siege (video)
Storyboard Comparisons (multi-angle video & images)
Photo Galleries (text & images)
Post-ProductionPart V: The Burning Bush (featurette)
Deleted And Alternate Scenes (video & commentary)
Sound Effects Suite (video & audio)
Visual Effects Breakdown (video & commentary)
Release Part IV: Sins And Absolution (featurette)
Trailers And TV Spots (video & commentary)
ShoWest Presentation (video) Press Junket Walkthrough (video)
Japanese And London Premieres (video)
Poster Explorations: Domestic And International (images)
The Director's Cut And DVD Campaign (video & images)
EDITOR'S NOTE: MAKES ME FEEL BAD THAT I STILL HAVEN'T WATCHED ALL THE EXTRAS ON THE LAST TWO STAR WARS MOVIES. I MEAN...WHEN THEY GO TO ALLLLLL THIS TROUBLE, AND EVERYTHING. (YES YES YES, HANGING MY HEAD IN SHAME).
EDITOR'S NOTE: AND NOW, AN INTERVIEW CONTAINING SPOILERS. WELL, SPOILERS FOR ME, WHO IS ALMOST A WHOLE SEASON BEHIND ON "SMALLVILLE" AND KNOWS SPOILERS ARE THE PRICE WE PAY FOR NOT KEEPING UP.

NICE INTERVIEW WITH JOHN SCHNEIDER:
Exclusive Interview : John Schneider





Though his on-screen son could be probably get here a little quicker, a four-hour trip isn't stopping "Smallville" star John Schneider from coming to meet his fans down under. Schneider, who before the role of Johnathan Kent on the hit Superman prequel series was Bo Duke on TV fave "Dukes of Hazzard", is the special guest at this year's Supernova Convention, held later this month in Queensland.
In this Exclusive Interview, Schneider explains how he snagged the role on
Smallville
, why he's had more dates with airliners than he's had with his own wife the last couple of years, and what he's up to now.
I have to ask John, how did it feel when you were told your character would be [leaving] "Smallville"?
I felt actually pretty good. There really is a need for Jonathan to go away, for there to be a need for Clark to become Superman. I think it was the right thing to do…. I was a little surprised that it happened when it did…I thought it would be one of the last things that would happen…. not like the sixth thing out of eight, or ten….
I was actually trying to recall when he moved on in the comics
It happened at different times in different versions. There's no wrong or right time, or wrong or right time to do it. Premature I think, but other than that…
Do you miss the gang from the show?
You know, I miss my family more than I miss the guys on the show, so I'm glad to be able to be back with my family – hanging out at the house, having a hot tub with the kids. That's really more what it's about. Case in point: When my nephew had his first football game, I was actually in a scene in Vancouver where Clark had his first football game. I had to miss my own nephew's football game, to be there.
How did you get involved in the series primarily?
Oh, they asked and I read the pilot and thought 'Oh gosh, this would be great'. At first, I didn't think it would be that great of an idea, because Superman had been done so many times, but after I read it there was no denying this was going to be a shining light in the Superman legend
.
Were you familiar with the comics?
Familiar with the television show, kinda familiar with the comics, and actually, I'd listened to the radio show quite a bit. In the radio show, he didn't have any parents at all – he was already grown, educated and had a job at the Daily Planet.
It would have been pretty important that you had chemistry with Annette O'Toole and Tom Welling, in particular?
Oh yeah…. but you spend that much time together you're going to have some kinda of chemistry. Chemistry or not, you're going to have something. But we do, we get along really great. Helping Tom [as Clark] grow in the pilot was something that caused the chemistry early on.
How similar are you to Jonathan Kent?
Totally. I'm a very loving, but strict parent. You'd find a lot of similarities between Jonathan Kent and John Schneider. They had fun on Smallville, and I have fun with my kids as well – I think you need to play with them, as much as you correct them. But, I'm a parent; I'm not a pal
.
My 26-year-old wife thinks you're the ants-pants. Whereas most girls swoon over Tom Welling, she's got it going on for John Schneider
.
Is that right? Ah, good for her! You have a smart wife [Laughs]
EDITOR'S NOTE: SMART WIFE INDEED. BUT MUST WE CHOOSE? I MEAN, THERE ARE 7 WHOLE DAYS IN A WEEK. AND I HAVE TWO HANDS.
It was filmed in Vancouver. So were you flying back home every week?
Twice a week. It's a two-and-half-hour flight, but you've gotta do it when the planes fly…. and if you're working at Six O'clock on a Thursday, you've got to leave your house at 5:30 on a Wednesday night, so it might as well be a twelve-hour flight.
One of my favourite episodes of "Smallville" was the one that served as a reunion for you and your "Dukes of Hazzard" co-star Tom Wopat.
I liked that. I thought that was cute. He [Wopat's character] was the one that got me into the Senate race to begin with, so you can say it was kinda him that eventually did me in. [laughs]
Was that one of the original cars from "Dukes of Hazzard" that he drove in that episode?
No, no…it belongs to a guy up there where we filmed…. Though, I guess it could have been one of the cars from the old days – I've heard that as well. It sounds good to say it was, let's say it was.
Did you see the film version of "The Dukes of Hazzard"?
My gosh….it was terrible! It wasn't Dukes…. it was true to whatever it was; I just don't know what that was!
What have you been doing since "Smallville"?
Working on my movie, it's called Collier and Company. It's about cars, and trying to get back with my wife and kids. It's about an ex-race car driver trying to go legit, his wife doesn't want him to race because she thinks it's unsafe, so he becomes a car salesman. How he acquires his inventory is by racing people pink for pink though, so ends up doing something even far more dangerous. So he pretends he's not racing, and she says 'Oh, come on. You're full of crap'. So working on that right now.
So what's the release plan for it?
The big screen. And the best thing to say about Collier and Company is that it's everything that the Dukes of Hazzard movie should've been, and wasn't.
Who's in that with you?
Just friends, a bunch of friends. One guy from Dukes is in it – his name is Mickey Jones, he was BB Davenport. Great character actor, great guy. The only people who are involved in Collier and Company is people who just want to do a good movie that everybody can watch.
Any ideas for future projects?
I have scripts that I have written over the past 28 years, and if Collier and Company turns a profit, I'm going to make 'em all. I'll be busy the rest of my days, and I'm hoping that's the case because I don't want to get on a plane and fly twice a week to Vancouver anymore. [Laughs]

THE STUFF THAT'S LEFT (NEWS):
Video game sales down 8 percent in March: NPD

U.S. video game sales declined for the seventh straight month in March, falling 8 percent to $499 million, amid a rocky move to new console technology, market research firm NPD Group said on Tuesday.
Sales of titles for Microsoft Corp.'s next-generation Xbox 360 console, which was the first new console to be released when it shipped in November, contributed $96 million to the month's total.
NPD measures nearly two-thirds of retail sales in the United States and makes projections for the remainder of the market. Its March data excludes sales of PC games.
Hardware sales fell 31 percent in March to $220 million, on weakened sales of current generation consoles like the original Xbox, Sony Corp's PlayStation 2 and Nintendo Co. Ltd's GameCube.
Sony's new PlayStation 3 and Nintendo's Revolution are slated to hit stores later this year.
Hard-core gamers, who are first to pick up new systems, are delaying other purchases ahead of the Sony and Nintendo console releases.
Shortages, like those seen after the release of the Xbox 360 are not uncommon, and could again dampen sales following the debuts of the PlayStation 3 and Revolution.
"
Things are likely to get worse before they get better
," said NPD video game analyst Anita Frazier.
"Kingdom Hearts II," a PlayStation 2 title from Square Enix Inc. was the best-selling game in March, according to NPD.
Xbox 360 titles rounded out the top three. UbiSoft's "Tom Clancy's Ghost Recon Advanced Warfighter" was the second-best seller, followed by Take-Two Interactive Software's "The Elder Scrolls IV: Oblivion."
The Entertainment Software Association, a video game trade group, put U.S. sales of video game hardware and software at $7.3 billion in 2004 -- a figure that rivals Hollywood box office revenue.
EDITOR'S NOTE: WHICH WAS

ALSO

DOWN LAST YEAR, YES?
EDITOR'S NOTE: LEST YOU ALL BE PUT OFF BY THE TITLE OF THIS NEXT ITEM, I AM

NOT

A PORN PROPONENT. THIS ONE IS INCLUDED BECAUSE IT TALKS ABOUT SOME NEXT STEPS ON THE TECH FRONT.
Porn Industry Again at the Tech Forefront
Downloads for TV will be offered. Hollywood may be looking at its own digital future.
By Dawn C. Chmielewski and Claire Hoffman, Times Staff Writers
April 19, 2006
A top producer of hard-core porn will start selling downloadable movies that customers can burn to DVD and watch on their TVs, illustrating how Southern California's multibillion-dollar adult entertainment industry may again set the technological pace for Hollywood.
Letting people burn downloaded movies is considered key to the growth of online distribution.
Despite the proliferation of fast Internet connections, most people still want to watch movies on television but lack an easy way to get them off the computer. Plus, hard drives can store only so many space-hogging movies.
Hollywood has resisted burnable discs that can be watched on televisions because they fear piracy. It also doesn't want to alienate retailers, which sell most of its DVDs.
But if history is any guide, the online experiment by adult entertainment giant Vivid Entertainment Group will be watched closely by mainstream studio chiefs.
"
The simple fact is porn is an early adopter of new media
,"
EDITOR'S NOTE: BLESS THEIR FUZZY LITTLE HEARTS. IF THEY

HAD

HEARTS, THAT IS.
said Paul Saffo, director of the Institute for the Future in Palo Alto. "
If you're trying to get something established … you're going to privately and secretly hope and pray that the porn industry likes your medium."
Los Angeles-based Vivid will start selling burnable movies May 8 through online movie service CinemaNow. Marina del Rey-based CinemaNow last fall launched an adult service that it uses to experiment with features that might eventually become mainstream — such as pay-per-minute movie rentals and the ability to save favorite scenes.
EDITOR'S NOTE: EWWW. SO YOU CAN EDIT OUT ALL THAT EXRANEOUS EXPOSITION?
Vivid, producer of such titles as "Bad Wives" and "Generation Sex," will offer 30 downloadable videos for about $19.95 apiece that include everything that is on a standard DVD — cover art, scene navigation, bonus material and deleted scenes. The finished disc will be copy-protected to deter piracy.
Despite their obvious differences, adult and mainstream entertainment companies face similar pressures in the Internet age. Both are grappling with how to deliver content securely and reliably to devices in a variety of ways, whether it's prepackaged on DVD for TVs or sent wirelessly to cellphones.
Both also want to capitalize on digital delivery methods but can't afford to undercut their retail partners: big-box stores such as Wal-Mart Stores Inc. for the major studios and mom-and-pop video shops for the porn producers. They also fear online piracy, which the music industry partly blames for its lackluster sales.
Historically, the porn industry has adopted new technologies more nimbly than Hollywood.
EDITOR'S NOTE: THERE'S A FLEXIBILITY JOKE IN THERE, I GUESS?
It embraced home video in the late 1970s, allowing people to bypass seedy theaters and watch the movies in their living rooms.
EDITOR'S NOTE: SOFAS COVERED IN PLASTIC, I HOPE?
Mainstream studios, by contrast, fought home video all the way to the Supreme Court before making it one of the most profitable pieces of their business.
In the same way, porn producers were among the first to recognize the potential of the Internet, offering streaming video long before high-speed Internet connections made it practical.
This month, several major Hollywood studios agreed to sell movies online through CinemaNow and rival service Movielink. Although consumers can download and keep a copy of "King Kong," "Brokeback Mountain" and "Good Night, and Good Luck," the DVDs they make play only on computers.
The ability to deliver content over the Internet that can play in any DVD player is "
the holy grail,"
said Richard Doherty of market research firm Envisioneering Group."
Everybody wants to find something that sticks
," he said. "
We've got a billion devices ready to play these. Making it compatible with that, and the convenience of electronic delivery, is a proven, desired business model which should stick and grow."
EDITOR'S NOTE: NOT GOING TO THE BAD PLACE. NOT GONNA DO IT........
All the major Hollywood studios contacted for this story declined to comment.
In addition to Vivid, other porn companies including Chatsworth-based Red Light District plan similar services. Michael H. Klien, president of LFP Internet Group, the online distribution arm for the publisher of Hustler magazine, said the company was interested but still evaluating the new DVD technology.
CinemaNow Chief Executive Curt Marvis declined to identify the makers of the technology used by the company, which is partly owned by Microsoft Corp. A spokesman for Microsoft, which powers many online video efforts, said that although the company marketed similar DVD-burning software, it was not involved in the Vivid deal.
"In a perfect world, it is a technology that could be accepted by traditional content providers
," Marvis said. "
They might be a bit slower to adopt it because they always are."
The Internet solves two of the porn industry's biggest challenges: distribution and privacy.
Wal-Mart and Blockbuster Inc. won't sell porn. Nor do most customers relish the embarrassment of browsing in the back room of their local video store for porn.
"
Those are the two reasons we'll always be in the forefront
," Vivid Co-Chairman Bill Asher said.
"We have to."
Sex is big business. The porn industry's main trade publication, Adult Video News, estimated global 2005 sales at $12.6 billion. But that figure is difficult to verify because porn companies are private and closely held. As with Hollywood, DVDs account for the largest piece of the porn industry's revenue — 34%; for mainstream studios, they account for nearly 50%.
Porn producers say changes in zoning laws around the U.S. have forced adult movie stores to the margins of commerce — usually in industrial or commercial zones — pushing more consumers online for their flesh fix. The Web offers a cornucopia of content without the stigma.
"Three years ago, DVDs were responsible for 90% of our income
," said Vivid's Steven Hirsch, who founded the company in 1985 with David James. "
This year, it will account for 30% of our sales. With the Internet there is no distributor between you and the consumer, so you can keep a larger part of the revenue stream."

EDITOR'S NOTE: AND NOW....FOR SOMETHING COMPLETELY UNRELATED (AFTER I HAD A LITTLE BATH).....
Philips' technology could force TV ad viewing
SAN JOSE, Calif. -- In this era of easy ad skipping with TiVo-like video recorders, could television viewers one day be forced to watch commercials with a system that prevents channel switching?
Yes, according to Royal Philips Electronics.
A patent application with the U.S. Patent and Trademark Office says researchers have created a technology that could let broadcasters freeze up a channel during a commercial, so viewers wouldn't be able to avoid it.
The pending patent says the feature would be implemented on a program-by-program basis.
Devices that could carry the technology would be a television or a set-top-box.
Philips acknowledged, however, that the anti-channel changing technology might not sit well with consumers
EDITOR'S NOTE: UMMM.....YA

THINK

?!
and suggested in its patent filing that consumers be allowed to avoid the feature if they paid broadcasters a fee.
EDITOR'S NOTE: DONT' WE ALREADY

DO

THAT? ISN'T IT CALLED

CABLE

?
On Wednesday, company officials issued a statement that noted the technology also enables the opposite: allowing viewers to watch television without advertising.
EDITOR'S NOTE: WELL YOU JUST

KNOW

THE EMPIRE IS GONNA OFFER MORE THAN THE REBELLION. (OR USE STRONG-ARM TACTICS OR SOMETHING).
Nielsen group set to study sample quality
Nielsen Media Research's Council for Research Excellence
EDITOR'S NOTE: I'M GUESSING THEY GOT TO NAME IT THEMSELVES AND NO OUTSIDE VOTES WERE TALLIED?
is embarking on its first study of the quality of its research samples from which ratings are derived, the company said Wednesday.
The council will scrutinize "non-response bias" in Nielsen's national and local samples for both People Meters and diary measurement, specifically to determine whether there are differences in viewing habits between households who consent to be in Nielsen's samples vs. households who decline. The study is expected to take two years and cost more than $1 million.
EDITOR'S NOTE: AT THE END OF WHICH, NIELSEN WILL DECLARE ITSELF TO HAVE BEEN RIGHT FROM THE GET-GO. THESE WERE NOT THE DROIDS YOU WERE LOOKING FOR, PAY NO ATTENTION TO THE LITTLE MAN BEHIND THE CURTAIN, MOVE ALONG, MOVE ALONG.....
THESPY STUFF:

Three Days of Rain
By Frank Scheck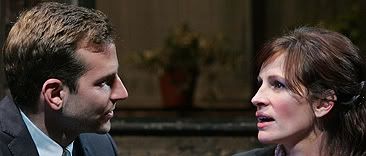 Bottom line
: America's sweetheart, live and in the flesh.
EDITOR'S NOTE: AND LOOKIE, LOOKIE! IT'S WILL TIPPIN! (FOR YOU "ALIAS" FANS).
Bernard B. Jacobs Theatre, New York
Through June 18
There's a refreshing if calculated modesty to this production marking movie star Julia Roberts' stage debut on Broadway.
A revival of a fairly obscure Richard Greenberg play that was seen off-Broadway in 1997, "Three Days of Rain" is far from a star vehicle. It is, instead, a thoughtful, low-key drama that allows this stage newcomer to test her theatrical chops in a not-too-risky manner.
The result, as often is the case when a major movie star dares to tread the boards, is respectable but less than overwhelming.
While the actress delivers a reasonably effective performance opposite co-stars Paul Rudd and Bradley Cooper, the star wattage so evident on the screen doesn't seem, at least in this case, to transfer to the stage.
EDITOR'S NOTE: WHY IS IT THAT WHAT MAKES A GREAT STAGE ACTOR GREAT VERY OFTEN

DOES

TRANSLATE BEAUTIFULLY TO THE SCREEN, BUT THAT WHAT MAKES A SCREEN TALENT ENTICING SO RARELY WORKS THE REVERSE FEAT?
Essentially two interrelated one-acts, the play concerns siblings Walker (Rudd) and Nan (Roberts) and their best friend Pip (Cooper), whose fathers were renowned architectural partners years earlier. Set in 1995 in a decrepit Manhattan loft (authentically rendered by Santo Loquasto), the first act depicts the reunion of the trio as they attempt to cope with the legacies of their parents, mostly in the form of an inherited house and a journal left by Walker and Nan's father, Ned.
Said journal isn't exactly explanatory, as it includes such enigmatic passages as the phrase that gives the play its title.
It's clear that the aptly named Walker is somewhat adrift in life, with his exasperated sister having settled into the role of reluctant caregiver. Faring much better is the happily easygoing Pip, who has become a soap opera star in spite of his self-admitted limited acting abilities. The talky and rambling first act doesn't give Roberts much to do except glower and express consternation, and indeed she doesn't come across particularly well.
Cooper, on the other hand, displays a genuinely charismatic stage presence in his animated turn and practically runs away with the proceedings.
EDITOR'S NOTE: YAY, BRADLEY!
The far more entertaining second act takes place in 1960, with the performers now playing the roles of the parents.
Roberts' Lina is a hard-drinking Southern belle type who is described at one point as being like
"Zelda Fitzgerald's less stable sister
,"
EDITOR'S NOTE: GIGGLE.
Rudd's Ned is a stuttering, socially maladroit architect, and Cooper's Theo his less-talented partner.
Although Lina is romantically involved with Theo, she hooks up with Ned one rainy evening in a way that will affect the lives of all concerned.
Roberts, here playing a more emotionally expressive and joyous character, is allowed to showcase more of her infectious personality, and you can feel both her and the audience loosening up with relief. While she doesn't quite approach the brilliance of her predecessor in the role, Patricia Clarkson, she delivers a relaxed and affecting turn, as does the similarly more animated Rudd.
Under Joe Mantello's direction, the play still doesn't quite coalesce in a compelling fashion, but it does offer some poetically resonant moments along the way.
No doubt it never would have seen the light of day on Broadway without the participation of its famous star. As with her Playbill bio, the briefest of the three performers, it's to be commended more for its humbleness than its impact.
EDITOR'S NOTE: AND TO CLOSE OUT TODAY'S EDITION, AN ACTRESS STRIKES BACK AT THEATER'S NOTORIOUSLY BAD PAY SCALE ----
Actress pleads guilty to covering up TV investment scam
A Minnesota actress admitted Wednesday she covered up a scam that authorities say bilked $5.5 million from scores of people who thought they were investing in a television series about the Department of Homeland Security.
Alison Ann Heruth, 41, of Oakdale, Minn., pleaded guilty to one felony count of making false statements to the FBI and the Internal Revenue Service about the scam headed by Hollywood producer Joseph Medawar, the U.S. Attorney's Office said.
Under a plea agreement, federal prosecutors dropped two counts of failing to report or stop a felony. Heruth, who left the courtroom sobbing,
EDITOR'S NOTE: TOO MUCH? HAMMY?
could face up to three years in federal prison when she is sentenced July 17