Back with a Vengeance --- Movie News
EDITOR'S NOTE: STILL A BIT FRANTIC....BUT I'VE LET DOWN MY 'PEEPS' LONG ENOUGH.
FIRST UP, HERE'S A LINK TO A TRAILER FOR A HARRISON FORD MOVIE. ONE THAT HAS A GREAT CAST AND LOOKS LIKE IT MIGHT NOT STINK (
JUST FOR SOMETHING NEW AND DIFFERENT FROM OUR MR. F
)
TRAILER FOR NEW HARRRISON FORD MOVIE:
http://progressive.stream.aol.com/aol/us/moviefone/movies/2005/
firewall_024117/firewall_trlr_01_uiywer_dl.mov
A Spider-Man 3 Villain Revealed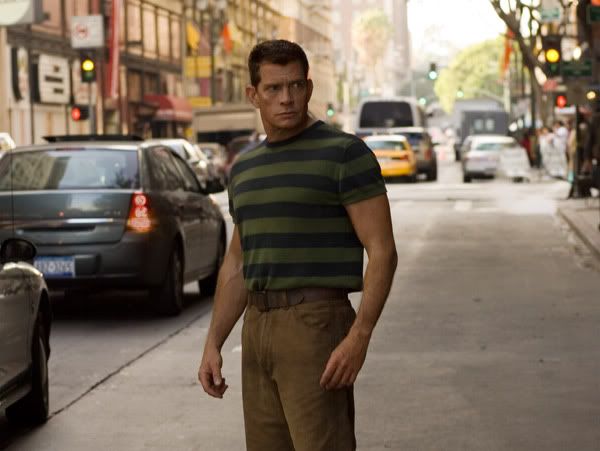 Thomas Haden Church as Flint Marko
EDITOR'S NOTE: MR. CHURCH HAS BEEN WORKIN OUT, EH?!
Good enough to bottle though?
Three beauties are battling for the chance to do time in a sandy bottle.
Jennifer Garner, Kate Hudson and Lindsay Lohan are the top three contenders to star in the film reimagining of the vintage "I Dream of Jeannie", says The Los Angeles Times.
When it was first announced, both Keira Knightley and Jessica Simpson were reportedly the faves to Genie-up.
The movie, to be directed by Gurinder Chada ("Bend it Like Beckham"), has taken so long to get off the ground because the studio can't decide on which actress they like best and what direction they want the film to go. EDITOR'S NOTE: SHOULDN'T YOU GET A SOLID SCRIPT FIRST? THEN WORRY ABOUT ACTRESSES? WHEN WILL THEY LEARN......?
It's a Boy for Diane Keaton
Now here's an interesting (read : odd) match – Diane Keaton and Jon Heder.
The Mother of the Bride and Napoleon Dynamite look set to team up as mother and son in "Mama's Boy" for Warner Independent Pictures, says The Hollywood Reporter.
The story centers on a self-absorbed man in his late 20s (Heder) who still lives at home with his mother. The man's world turns upside down when his mother starts dating and considers booting him out of the house.
Tim Hamilton will direct "Mama's Boy" from a script written by Hank Nelken
Spielberg remaking Sugarland Express?
If you can't beat 'em – join 'em.
He won't do a sequel to "E.T", he won't even plonk a firecracker under Indiana Jones's cheeks to get it moving – but he will remake one of his first films. Because, um, well, he can.
According to Development Hell, Steven Spielberg announced at a Q&A at the University of Southern California this week that he plans to remake his film, "Sugarland Express" at some point.
The movie, an early addition to Goldie Hawn's CV, was Spielberg's second film and was a true story about a husband and wife trying to outrun the law.
In the meantime, the bearded one says he's busy working on "Indiana Jones 4" and "Jurassic Park 4", the former of which he hopes to also have an IMAX version of.EDITOR'S NOTE: SIGN OF THE APOCALYPSE WHEN COUSIN STEVE IS RECYCLING IDEAS?
Schrieber on Batman Begins 2 and Rainbox Six
Though he claims not knowing anything about it - he may have been told to stay zipped, because I've heard otherwise - actor Liev Schrieber told fans on his official site that he would indeed consider playing Harvey Dent/Two Face in the upcoming "Batman Begins" sequels.
"Yes. Write your congressmen now! Sounds like fun to me", says the "Manchurian Candidate" star. "Again, I seem to be the last one to hear because I know nothing about it".
Schrieber, who played John Clark in the book-cum-movie "The Sum of All Fears", also said he'd like to reprise that role for the film "Rainbow Six" should it happen. "Haven't heard a thing but would be thrilled to play him again if the elements were right", he says. EDITOR'S NOTE: HE WAS THE BEST THING ABOUT "FEARS". (IMHO....)
Sith has his Revenge with Poker
A film we mentioned a few months back has found a home.
"Star Wars" trio Nick Gillard, Samuel L.Jackson and Hayden Christensen have teamed for "Poker Night", a new film which Gillard directs, and the former fallen Jedi co-star.
Icon Entertainment Intl. has acquired worldwide rights to "Poker Night," a thriller centers on a rookie detective (Christensen) who wakes to find himself strapped to a chair in a dim and filthy basement. Cop's faceless abductor is a vicious serial killer who is mercilessly torturing his captive both physically and mentally. EDITOR'S NOTE: GILLARD DIDN'T GET TO TORTURE HAYDEN ENOUGH DURING STUNT AND SABER PRACTICE? (SOME SORT OF KINKY FANTASY THING, NICK?)
LET'S PAUSE FOR A SEC WHILE ODDBOB PULLS HIMSELF BACK TOGETHER....
EWW.....AND THE REST OF US.....
Stunt co-ordinator extraordinaire Gillard will helm from a screenplay by Greg Francis. Marina Grasic, John J. Kelly, Francis and Tove Christensen are producing.
Robocop back on duty
A couple of days back, CHUD mentioned that ol' Alex Murphy might be getting a good oil and grease with a "Robocop" (1987) remake.
As far-fetched as it sounds, it's right on the money.
According to the site, producer Michael De Luca and Sony are behind the retool, which will again tell of a young police officer whose resurrected as a heavy-weighing robot on the police payroll.
Like it or loathe it, it's coming.
I had the opportunity to talk to some of the gang involved in that original classic, and they confirmed that there are talks to reinvent the OCP wheel.
"There's been discussions at Screen Gems about a RoboCop picture ever since negotiations began to acquire MGM several years ago. As yet no writer has been hired but things are inching forward in that direction", says our reliable source. EDITOR'S NOTE: WOO. HOO.
Shue Fits for THE NUMBER 23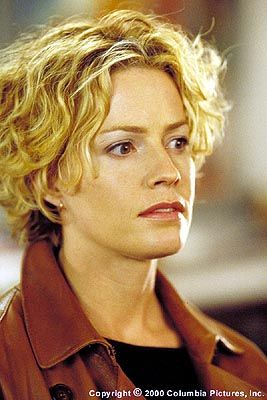 New Line Cinema has signed Elisabeth Shue to star opposite Jim Carrey in the psychological thriller THE NUMBER 23.
The story centers on a man who comes into contact with an obscure book titled "The Number 23." As he reads it, he becomes increasingly convinced that the book is based on his own life. His obsession with the number 23 starts to consume him to the point that he soon realizes that the book forecasts far graver consequences for his life than he could ever have imagined. EDITOR'S NOTE: TRUE CONFESSION TIME......I REALLY LIKE JIM CARREY IN HIS NON-COMEDY ROLES. THERE. I'VE SAID IT. (HANGING HEAD IN SHAME AND LIMPING AWAY.....)
The script was written by Fernley Phillips. Joel Schumacher is directing.
Olin, Howard & Robards are AWAKE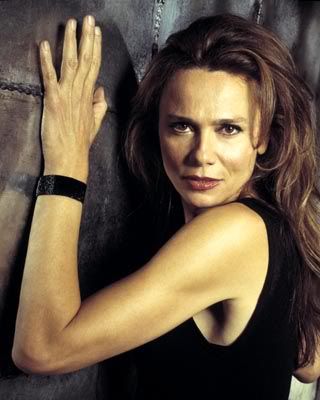 EDITOR'S NOTE: YEAH, IT'S AN "ALIAS" PROMO SHOT. WHICH IS LIKE POURING SOME SALT IN THE WOUNDS OF "ALIAS" FANS WHO MISS MOMMY-DEAREST. (ME, FOR INSTANCE). BUT SHE IS A GREAT LOOKIN WOMAN. AND I WOULD KILL FOR THOSE BICEPS AT MY AGE (WHICH IS SIMILAR TO OLIN'S....MINUS THE GREAT ARM MUSCLES).
GreeneStreet Films and the Weinstein Co. have signed Lena Olin, Terrence Howard and Sam Robards to star in AWAKE. They join a cast that already includes Hayden Christensen and Jessica Alba. EDITOR'S NOTE: WOW. SUPER FAB CAST!
The psychological thriller centers on a victim of "anesthetic awareness," in which a patient remains awake but paralyzed during surgery. EDITOR'S NOTE: OUCH.
Joby Harold will direct from his script.
'Freedom' rings for Staunton Imelda
Staunton has signed on to play opposite Hilary Swank in Paramount Pictures and MTV Films' drama "Freedom Writers." The project marks one of Staunton's first high-profile roles since she earned critical raves and an Oscar nomination for last year's "Vera Drake."
She also will appear in Universal Pictures' upcoming children's fantasy "Nanny McPhee." EDITOR'S NOTE: AND HARRY POTTER 5?
Based on a true story, "Freedom Writers" centers on a teacher (Swank) at a gang-infested Long Beach, Calif., school who is faced with the daunting task of teaching freshman English to a racially diverse class of teenagers. Staunton will play a colleague of Swank's character. EDITOR'S NOTE: HAVEN'T WE SEEN THIS MOVIE BEFORE. DIDN'T IT HAVE EITHER MICHELLE PFEIFFER OR JAMES OLMOS IN IT? (BOTH...IN DIFFERENT VERSIONS?)
Cornwell has 'House' plan at Warners
Australian newcomer Peter Cornwell is in negotiations to direct "The Dionaea House," a horror thriller that David Heyman is producing for Warner Bros. Pictures.
Written by Eric Heisserer, the story centers on a married man who has grown apart from his old friends. When one of them commits a double murder-suicide, the men feel compelled to investigate, eventually stumbling upon an evil force that perpetuates itself through tract housing. EDITOR'S NOTE: NOT ENOUGH THAT THOSE HOUSES ARE UNATTRACTIVE. NOW THEY'RE ALSO A VORTEX OF EVIL. I GUESS THAT WON'T DO MUCH FOR REAL ESTATE PRICES, HUH?
Marc Rosen and Ali Bell are overseeing "Dionaea" for Heyday. Kevin McCormick is shepherding the project at the studio.
Panettiere to Bring it
Universal has signed actress Hayden Panettiere, best known for her role in "Racing Stripes", to lead the charge of the next "Bring it On" sequel, says MTV.
Called "Bring it On Yet Again" the film takes a white-out to the first two films and jots a new template in over it. Again, there's two rivals, the difference this time is that they're not both vying to be 'cheerleading' champions, but instead, win a place on a new TV special featuring a big-name singer.
Tony Gonzalez is the choreographer of the film, Blake Angier, Rihanna and Solange Knowles co-star. EDITOR'S NOTE: ZZZZZZZZZZZZZZZZ.
Grant to Helm KINCAID
Fox 2000 has hired Darren Grant to direct the adaptation of the online comic VENUS KINCAID.
The story centers on a female African-American government agent who finds herself shrunken down to a teenaged girl but retaining all of her special sleuthing skills.
KINCAID was created by online animation team the Love brothers (Jeremy, Maurice and Robert). Lori Lakin is writing the script.
Morgan Goes PSYCHO for Universal
Universal has hired screenwriter Chris Morgan to adapt the comic book THE PSYCHO for the big screen. The comic was created by Dan Bereton and James Hudnall.
PSYCHO is set in a world where individuals attain superpowers by taking an unpredictable and potentially lethal drug. A rogue CIA agent who risks insanity and becomes a "psycho" himself in order to rescue his girlfriend and expose a political conspiracy.

The President involved with Bobby
Emilio Estevez has roped in – and I'm not at all surprised – father Martin Sheen to play a role in his Bobby Kennedy biopic "Bobby".
Estevez, who has worked with his father on several films including "The War at Home", has asked his pop to play a wealthy East Coast financier staying at the hotel with his wife (Helen Hunt).
Also just signed for the film are William H. Macy, Helen Hunt, Christian Slater, Joshua Jackson and James Marsden.
Meanwhile, Martin Sheen has also agreed to work with his other son, Charlie. He'll play the father of a neighbour in Sheen's sitcom "Two and a Half Men".

SANTAKID is Coming to Town
New Line has hired Seth Bass and Jonathan Tolins to adapt James Patterson's children's book SANTAKID, for the big screen.
The story centers on the 10-year-old daughter of the billionaire who's acquired ownership of Santa Claus. After the girl receives an imperfect doll as a gift, she sets out to save Santa and make Christmas more perfect.
Gold Circle Wraps Around CREATURE FEATURE
Gold Circle Films has picked up the pitch CREATURE FEATURE from writers Greg Erb and Jason Oremland.
The story follows on Kevin Ackerman, a 13-year-old budding Wes Craven. Together with his crew of small-town friends, he has made dozens of low-budget horror films featuring his monster props. But after he finds and uses a mysterious old camera, the monsters spring to life. EDITOR'S NOTE: YEAH. SEE, YA JUST GOTTA KNOW THAT'S A RISK WHEN YOU'RE PLAYING WITH PROPS FROM OLD HORROR FLICS. I'VE SEEN IT HAPPEN TIME AND AGAIN......
Ward Takes on GUARDIAN Duty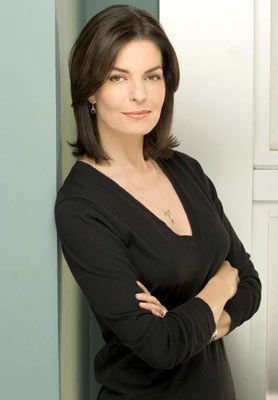 Touchstone Pictures has set Sela Ward to star in THE GUARDIAN. She joins a cast that already includes Kevin Costner and Ashton Kutcher. EDITOR'S NOTE: SHUDDER. A CAST LIKE THAT, I START TO FEEL THEY'RE JUST TOYING WITH ME. (POOR SELA....)
The action drama centers on a legendary rescue swimmer who is grappling with his troubled marriage and his relationship with a rebellious Coast Guard enlistee, to be played by Kutcher.
THE FUGITIVE's Andrew Davis is directing.
Disney is ENCHANTED with Adams
Walt Disney has hired Amy Adams to star in ENCHANTED, a CG animated and live-action film.
Adams will play a princess-in-waiting who's banished by an evil queen from the cartoon world of Andalasia to the hardened world of present-day New York. The movie turns to live action, and so does the princess. She attempts to navigate the city, find true love and save herself. EDITOR'S NOTE: OOOOO.....I HOPE IT ALL WORKS OUT.
Barry Sonnenfeld and Barry Josephson will produce. Kevin Lima is directing from a script by Bill Kelly.
Sykes, Wilson Join EX
Regency Enterprises has set Wanda Sykes and Rainn Wilson to join the cast of SUPER EX. The film stars Luke Wilson and Uma Thurman.
EX centers on a man who learns that his girlfriend is a superhero and breaks up with her when she becomes too controlling and neurotic. She then uses her powers to torment and embarrass him. EDITOR'S NOTE: NOW WE'RE TALKIN PROPER USE OF SUPERPOWERS! (YOU GO, GRRRRRL!)
Arnett is JEFF THE DEMON
New Line has set Will Arnett to star in the comedy JEFF THE DEMON.
DEMON centers on a pair of high school losers who find a book that allows them to summon a power from the netherworld. The demon helps them win every battle and right every wrong in their lives, but they quickly find that further problems ensue. EDITOR'S NOTE: MAKE DEALS WITH A DEMON AND YOU DON'T SEE THAT COMIN?
James Bobin will direct from a script by Tom Scharpling and Joe Ventura.
Snipes, Van Peebles Face HARD LUCK
Wesley Snipes and Mario Van Peebles will star in the "quirky thriller" HARD LUCK.
The film follows three converging story lines involving bootleggers, a serial killer and drug dealers. One story centers on a former drug dealer who is trying to go straight comes across a stash of stolen drugs and another focuses on a middle-aged suburban housewife who hides a sadistic and vicious streak. EDITOR'S NOTE: IT'S NOT HER FAULT; SHE LIVES IN A TRACT HOUSE.
Cybill Shepherd will also star in the film. Van Peebles will direct and produce.
Liman is a JUMPER
New Regency has set Doug Liman to direct JUMPER, which is an adaptation of the Steven Gold's novel. The company is planning a trilogy of films. Jim Uhls will rewrite a script by David Goyer.
The story centers on a teenager who discovers he can teleport from one place to another. The young man learns he can "jump" when he escapes his abusive father
Univeral Has a MISSION
Universal Pictures picked up the remake rights to the Hong Kong action film CHEUNG FO. Dario Scardapane will write the script for THE MISSION. Peter Berg will direct.
The story is set in San Francisco & Las Vegas and follows a group of criminals who bond as bodyguards for an aging crime boss. Their brotherhood is tested when one of them breaks ranks.
Johansson Goes Gladiatrix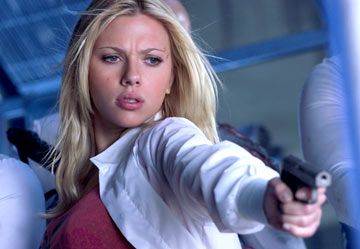 Scarlett Johansson will star in AMAZON, a film to be financed by Signature Pictures. The actress will play a gladiatrix from 200 B.C. who exacts vengeance on an army that destroyed her homeland.
The idea for the movie came from a discussion between Johansson and Alex Kurtzman & Bob Orci while they were working on THE ISLAND. EDITOR'S NOTE: I'M GUESSING THEY HAD A LOT OF TIME ON THEIR HANDS WHILE LESSER LIGHTS WERE RE-JIGGERING THE SCRIPT FOR "THE ISLAND"?
Dirk Blackman and Howard McCain will write the script. EDITOR'S NOTE: JUST KEEP IT AWAY FROM MICHAEL BAY.The film is being described as something between THE SEVEN SAMURAI and THE WILD BUNCH.
Stiller is Guarded About MUSEUM
20th Century Fox is in talks with Ben Stiller to star in A NIGHT AT THE MUSEUM. As previously announced, Shawn Levy is directing.
The family comedy centers on a goodhearted but bumbling security guard (Stiller), who works at a museum of natural history and accidentally brings down an ancient curse that causes the animals and insects on display to come to life. EDITOR'S NOTE: UNFORTUNATELY, IT ALSO CURSES AUDIENCES TO KEEP HAVING TO WATCH BEN STILLER MOVIES. (FIE ON THOSE EVIL ANCIENT CURSES!)
Production will take place in Vancouver. The film is scheduled for release in the fall of 2006.
Brosnan to Play "Baddie"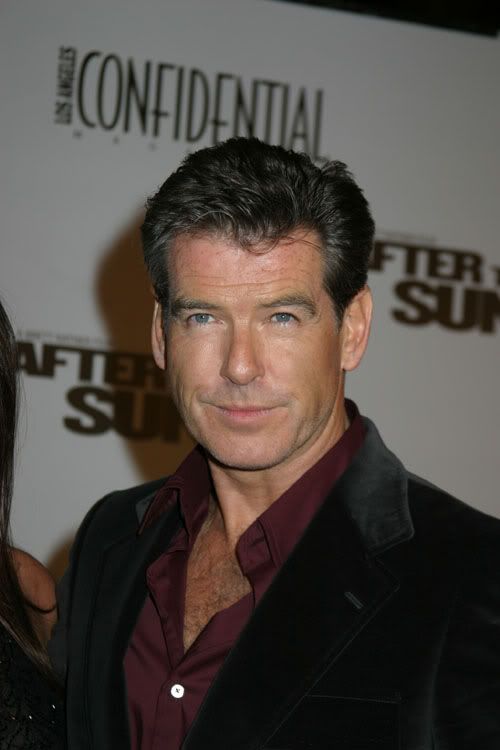 Pierce Brosnan has been cast as the bad guy in the thriller BUTTERFLY ON A WHEEL.
The story follows a happy couple with a seemingly perfect life whose daughter is abducted. Over the course of a day, the kidnapper dismantles the family's lives with brutal efficiency.
William Morrissey wrote the script. Mike Barker will direct. Icon, Irish DreamTime and Infinity Feature Canada will produce.
Filming will take place in Canada and Chicago.