Can't EVER have too much HARRY!
EDITOR'S NOTE: BETWEEN GOF, THE MOVIE, RAPIDLY COMING UPON US, AND CASTING NEWS FOR OOTP, THERE IS SO MUCH HP STUFF IT'S ALMOST

TOO

MUCH.
NOT THAT THAT IS REALLY POSSIBLE....

TOO

MUCH HARRY POTTER?!
The Dark Mark is over my house
The Polvadore family in Nacogdoches, Texas have spent the last few days constructing a real-life Dark Mark.
EDITOR'S NOTE: YES, THEY NO DOUBT HAVE TOO MUCH TIME ON THEIR HANDS. BUT GOSH DARN IT AIN'T THEY

OUR

KIND OF TIME-WASTERS!?
The model, which looks great at night, is four by five feet and was made out of green rope lights. They have positioned the eerie Mark seven feet above their house.
Check out a pic below: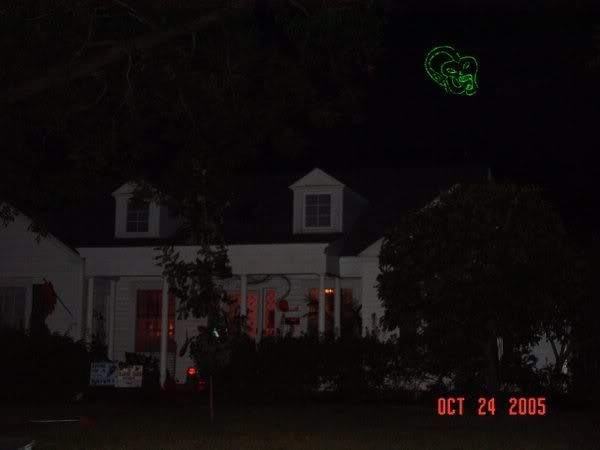 GOF's PG-13 rating justified
Today, an article published by USA Today discusses the
Harry Potter and the Goblet of Fire'
s PG-13 rating in the United States.
After a viewing of the film, they offer explanations as to why it was given this rating:
A 'Goblet' of intense images


By César G. Soriano, USA TODAY
LONDON — Just as Harry Potter is growing up in J.K. Rowling's series of phenomenally popular books, the screen version of the young wizard isn't entering quietly into his adolescence.
Judging by the first look at the finished film at a screening for journalists Friday night,
Harry Potter and the Goblet of Fire
more than earns its PG-13, the first in the series to receive that rating.
EDITOR'S NOTE: FINALLY....DWEEB

SMUT

!
In the USA, PG-13 carries with it a caution for parents and warns that some material may be inappropriate for children under 13.
Goblet
is cited for its sequences of fantasy violence and frightening images.
Says director Mike Newell: "
Audiences that began with No. 1 and are now 14, 15, 16 years old will kind of want to know you are not infantilizing the situation. These are not children's books; these are adult stories."
Among the more frightening scenes in the fourth Potter installment, due in theaters Nov. 18:
• A giant man-eating snake.
• An implied murder.
• The graphic destruction of the Quidditch World Cup campsite at the hands of the dark-hooded, skull-faced Death Eaters.
And that's just the first 15 minutes.
Goblet
features the first appearance by the evil Lord Voldemort,
EDITOR'S NOTE: YES, I KNOW..."FEAR OF THE NAME ONLY INCREASES FEAR OF THE THING ITSELF"....BUT LET'S PAUSE A SEC WHILE WE ALL SPIT OVER OUR SHOULDERS. (
BOB....SPIT AWAY FROM THE KEYBOARD NEXT TIME
).
played by Ralph Fiennes, and culminates in a graveyard battle between Harry and Voldemort that includes a torture scene.
Other scenes that may be of concern to parents include creepy spiders crawling on schoolchildren, fire-breathing dragons, monstrous mermaids, a character nearly suffocated by vines and a near-drowning. The film also contains mild profanity, sexual innuendo and the death of a main character.
Producer David Heyman says he was pleased with the rating. "
It will be good for a slightly older audience, and it shows that we've been faithful to the material,"
he said Saturday at a news conference to promote the Warner Bros. picture, one of the most anticipated films of the holiday season.
EDITOR'S NOTE: GOF IS REALLY THE FIRST OF THE HP BOOKS THAT TAKES A MUCH DARKER TURN. I THINK THE PG13 RATING IS A GOOD SIGN THAT THEY FILMMAKERS ARE BEING TRUE TO THE MATERIAL.

Goblet
"
is a different kind of animal. It has evolved
," says Newell. Dumbing down the books would have been patronizing to fans who have grown up and matured alongside Potter, Newell says.
Whether the film is too scary for children under 12 depends on the child's disposition, says star Daniel Radcliffe.
"
If you are a very sensitive 10-year-old, you probably couldn't see it, but then again, if you are a very resilient 5-year-old, you could,"
he says.
EDITOR'S NOTE: I HAVE SAID IT ALL ALONG....THIS BOY IS NOT A 16 YEAR-OLD; HE'S A VERY OLD MIDGET.
"
What's great is there is all the intensity, and that's fantastic. I think people would have been disappointed if we had pulled away from that. At the same time, you have got a lot more comedy. It is the funniest of the films so far. There is a nice balance of light and shade."
Goblet of Fire: 156 minutes long
Veritaserum
has independently confirmed the fourth Harry Potter movie's running time as being 156 minutes and 25 seconds; this includes thirteen minutes of credits which are filled "with bits of humor".
EDITOR'S NOTE: DRAT....NOW THE RIFFRAFF WHO DON'T USUALLY KNOW ENOUGH TO STAY FOR THE CREDITS WILL BE SULLYING OUR SENSE OF SUPERIORITY ABOUT IT. (DARN THOSE RIFFRAFF).
AND BY THE WAY....ZOWIE! THE MOVIE IS MORE THAN 2 AND A HALF HOURS LONG (INCLUDING CREDITS)! GLAD TO SEE THEY ARE NOT TRYING TO SHOE-HORN THAT GREAT BIG BOOK INTO 2 HOURS.
Heyman discusses OOTP casting
Harry Potter producer David Heyman spoke a little with
VTM
yesterday, following the Junket in London.
He said "
we are in negotiations with Imelda Staunton
" for the role of Dolores Jane Umbridge in OOTP, although she announced last week on ITV she would indeed play the part.
The producer also said that Luna Lovegood auditions were going "...
really well. Early days yet, but we're, you know, we're meeting, and look forward to finding her. We've seen lots of girls - a couple thousand... We scour."
Order of the Phoenix filming to stay in UK?
There have been rumors and speculation in past months of a possible set move to the Czech Republic because of costs, among other things.
Today however, The Times reports that filming for the fifth Potter movie will indeed stay in the UK. This decision was made because of "
the cost of relocating the extensive sets and talent overseas."
The British Film Industry is also thrilled to hear the news
Live from the London GOF Press Junket
MuggleNet, Leaky, and a bunch of other sites and press representatives are on a conference call at the moment, where we'll be listening in on and participating in a conference with Dan Radcliffe, Rupert Grint and Emma Watson, followed by one with Clemence Poesy, Robert Pattinson, Stanislav Ianevski and Katie Leung, and finally a third conference with Mike Newell and David Heyman.
UPDATE: The conference has now concluded, lasting just over two hours.
Our notes from the show (first brought to you live as they occurred in conjunction with
Leaky
) can be found below:
Interview with Dan Radcliffe, Rupert Grint, and Emma Watson:

Emma:
There has been a lot of speculation about whether we're going to outgrow our parts but it works out really well because each one takes about a year.
Dan: There is always this thing of, 'Will you get too old for your part?' People play a lot younger than they actually are in real life. I don't think it's as big an issue as a lot of people make it out to be.

Dan doesn't like iPods becuase he's obsessive about having the actual CD and sleeve.

Dan, joking about whether the kids would fall into wild Hollywood lifestyles: "I'm planning on buying 20 Porsches and crashing them all just for the extravagance!" The kids don't go to the parties they're invited to most often; Dan feels like he's "fooling people" because it's this massive thing (the film) and yet he's so low-key he feels like he's tricking everyone.

Emma loved all the arguing in the film - she thought it was realistic of the characters.

Mike Newell treated them like adult actors, say Emma, where in other films they could "get away with more," says Dan.

Emma, on walking down the stairs at the Yule Ball: "I didn't know there were so many ways you can walk down stairs until that day."

Rupert says he thinks he'll continue acting for his career.
Emma doesn't want Harry Potter to be the last thing she does; she loves getting on stage and reacting to a live audience.
Dan loves acting and was trying to figure out what the attraction was: he has no idea. He says it's something to do with power, because you have a character and it's up to the actor to determine how the character is seen. He says he has a huge passion for acting and is "maybe" interested in eventually directing because he's been inspired by the directors he's worked with so far.

Dan: "Me and Harry are not very good with women. I've got better now. But I think any man ever who says he has never had an awkward moment with a girl is a liar. He's either a liar or he's delusional."

Dan: "The thing with Harry and Ron is that they are the worst dates in the world with these two poor girls!" Afzhan, his date, is also one of his best friends. "You have sort of the ballroom casualties who are outside weeping because the night has gone so horribly."

Emma: "Including Hermione!"

Emma on the Yule Ball: "I loved doing it because I can relate to what she goes through. I so know that frustration where guys can be so insensitive....Hermione is so insecure about herself and she's never really had any attention from a guy before that when she sees Viktor looking at her it's like, 'Is that guy really looking at me?' ... She does not know what's happening to her and she gets caught up in this whirlwind."

Emma, on what she wants to see happen in book seven: "For goodness sake, Hermione and Ron just need to get it together! It's just been so long now!"
EDITOR'S NOTE: AMEN, GIRLFRIEND!
Interview with Clemence Poesy, Robert Pattinson, Stanislav Ianevski, and Katie Leung:
Stan: "Krum is the world's David Beckham...I think he's got two sides: very sporty, very concentrated, but also he's got a big heart." Ianevski wants to continue acting.

Clemence: "[Fleur] is the kind of girl we've all had in our school. Miss Perfect, kind of annoying at the end, but always well-dressed."

Pattinson: "It's impossible to hate [Cedric]. He's good at sports, and very athletic; he kind of vaguely takes Harry under his wing and they get closer as the film draws to a close."

Katie: "[The role] has brought out a lot of confidence in me."



Interview earlier with Director Mike Newell and Producer David Heyman:


David Heyman is happy with the 12A rating because he doesn't feel they're children's books, and calls it a "generous, smart, funny thriller."

Mike Newell, much to WB's chagrin, says the movie has all the elements of a great Bollywood film.

Two years ago, Mike Newell met with Jo Rowling and they discussed the moral challenges inherent in the book and how important it was for Harry to stand on his own morality.

Mike Newell: "I can't stand myself sometimes." He hates his work, all the time, he says. "I always hate the end result, and this time, and it may be a very bad sign, this time I don't hate it. This time I think it's what I tried to do, what we all tried to do, which was to make this wonderful, terrifying thriller ride. So it pleases me very much."
Dan Radcliffe likes to do his own stunts; he'll go to the gym several times a week during lunch and has become a "jock," says David Heyman.
Jo has not seen the film yet but will soon.

Jo Rowling OK'd putting Barty Crouch in the first scene. "Oh, that could have happened, yes," she said when they called her to ask about it.

Mike Newell: Jo Rowling is not "the best returner of a phone call I've ever come across" but is very sweet and available, and gives the filmmakers the freedom they need to make their own work.

David Heyman calls her "the most generous of collaborators."


Heyman: Kloves to Return for Sixth Script
A quick note from today's press junket that we hadn't yet snipped for you:
According to Executive Producer David Heyman, Steve Kloves, who wrote the script for the first four films, is going to return to script
Half-Blood Prince
:
DH: ...
He is a fantastic writer, who manages to bring a keen sense of character, and really understands the voice of the actors he is writing for. He can write with great emotion, and at the same time, also a great humor. He is not doing the fifth, because he is writing another project for me called, "The Curious Incident of the Dog in the Night-Time," which I hope he will direct. However, he read the sixth book and couldn't stay away, and so he's gonna come back and write the sixth.
Mike Newell:
Oh, great! Oh, that is good!
DH:
Yeah, I know it's great
. (laughter)
Michael Goldenberg is writing the fifth. He is another writer, who, actually, I talked to about the first film, and he's doing a fantastic job. You can never make a good film out of a bad script. You most certainly can make a bad one out of a good one. But, he does have a good script. And, I really believe that Steve Kloves, on each of the four films, has given us a really good script. He's also a man, in my perspective, who writes without ego. He's someone who... It's great when you sit in the script meeting with him, because you can say anything - and he's thought through everything - it doesn't mean that he doesn't defend what he has, but he does it in a way which explains the reason why he has done what he has done. But, it's always open to changes. He also has an encyclopedic knowledge of the world, and clearly, he and Jo are very much on the same wavelength.
EDITOR'S NOTE: YAY! KLOVES WILL BE BACK! (AND HERE'S HOPING GOLDENBERG LIVES UP TO KLOVES IN THE MEANTIME)
Weasleys to Host Kids' WB! Halloween Event
James Phelps (Fred Weasley), Oliver Phelps (George Weasley), and Bonnie Wright (Ginny Weasley) will be hosting "
HARRY POTTER'S SPELLBINDING SECRETS SATURDAY
" on October 29.
The actors will take viewers on a "Trick-or-Treat" adventure behind the scenes of the Harry Potter films while they host the entire Kids' WB!'s Saturday morning lineup (8 a.m.-12 p.m. ET/7-11 a.m. PT).
Here's an excerpt form the official press release:

Kids' WB!
, which received special access to the Harry Potter movie sets in London, "treats" viewers to special effects "tricks" as the network goes behind the scenes into the magical world of the Harry Potter films.
Kids' WB! and the Weasleys will unmask how the movie makers created some of the magic and how the special effects bring various movie scenes to life.
Join the Weasleys as they reveal the movies' spellbinding secrets - including how the actor who plays Peter Pettigrew was turned into a rat; how a half-eagle/half-horse mythical creature came alive on screen; and how the triple decker Knight Bus managed to squeeze its way through London traffic!


Reuters Photos
There was a photocall today, and Reuters has the new photos of some of the cast members, here. Enjoy!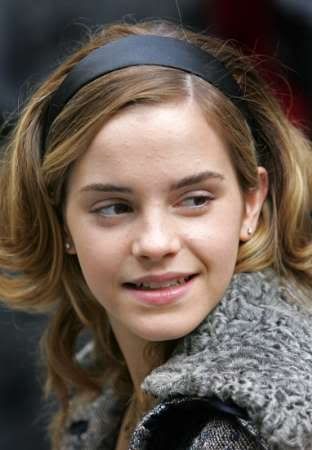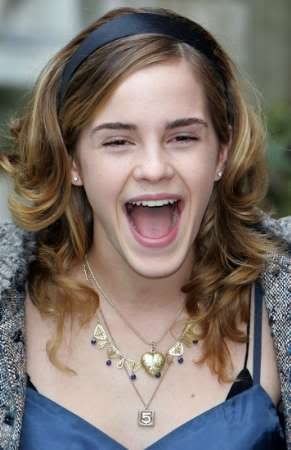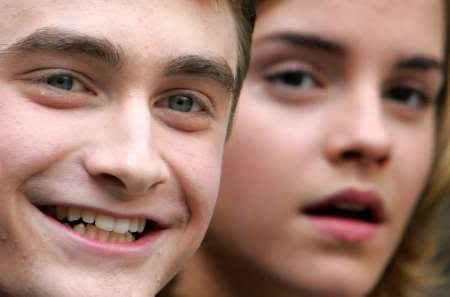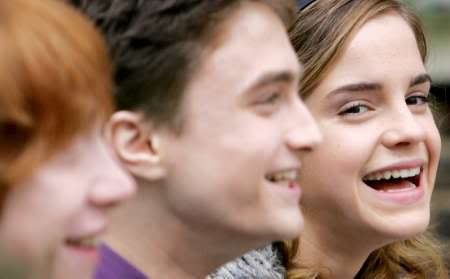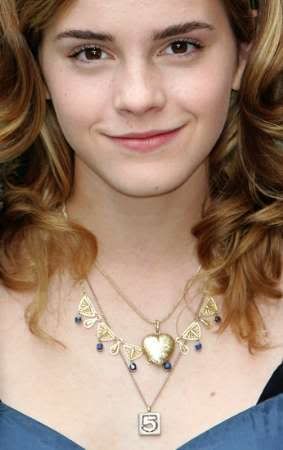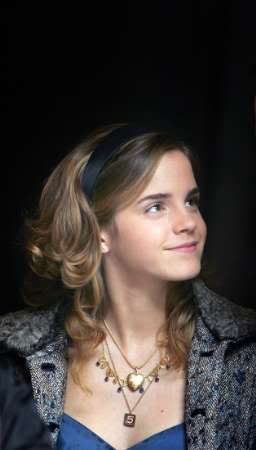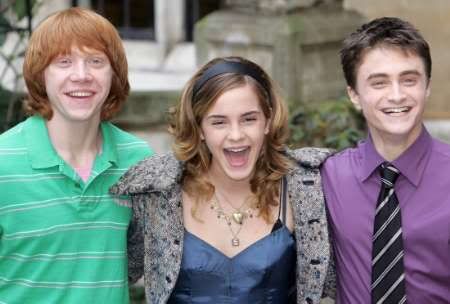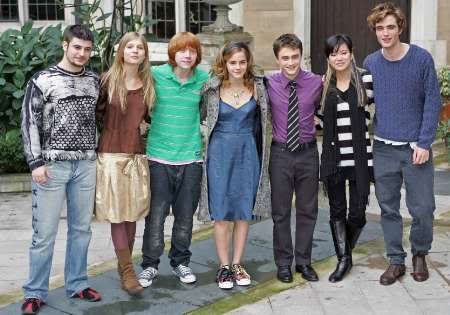 British actors (L to R) Stanislav Ianevski who plays Viktor Krum, Clemence Poesy who plays Fleur Delacour, Rupert Grint who plays Ron Weasley, Emma Watson who plays Hermione Granger, Daniel Radcliffe who plays Harry Potter, Katie Leung who plays Cho Chang and Robert Pattinson who plays Cedric Diggory in the forthcoming film "Harry Potter and the Goblet of Fire" attend a photocall in London October 25, 2005.
EDITOR'S NOTE: AND HERE'S MORE GOF PICS. I THINK, AT THIS POINT, WE CAN LINE THEM UP IN ORDER AND RECREATE THE MOVIE IN STILL PICTURE FORM. (NOT COMPLAINING; I'M A GLUTTON FOR GOF PICS).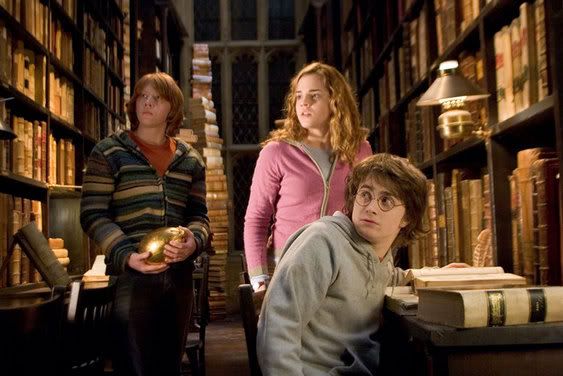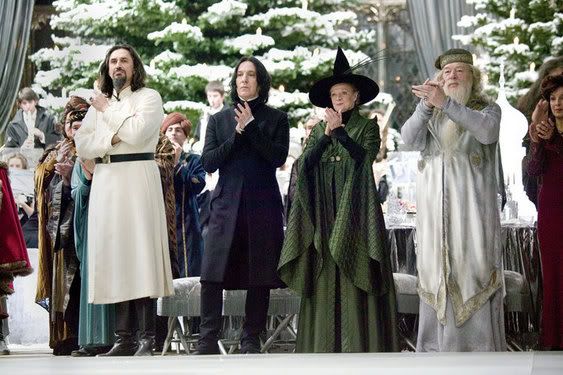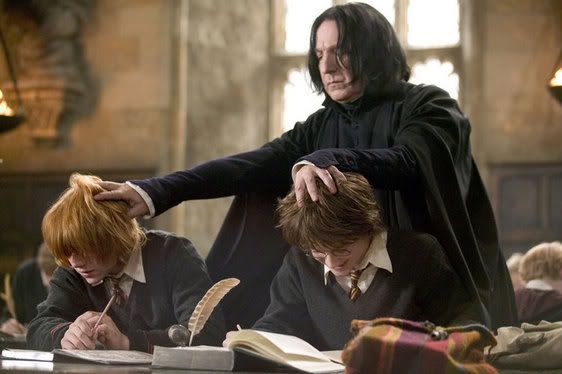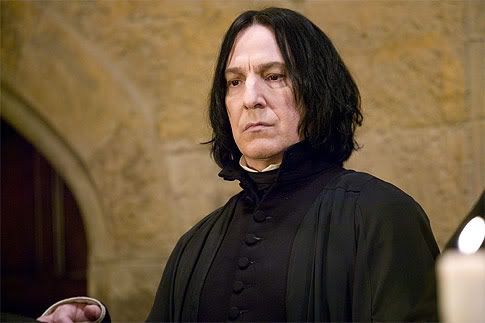 EDITOR'S NOTE: HE'S ALWAYS BEEN A TAD CREEPY. BUT EVER SINCE BOOK 6, HE GIVES ME THE TOTAL GOOSEBUMPS!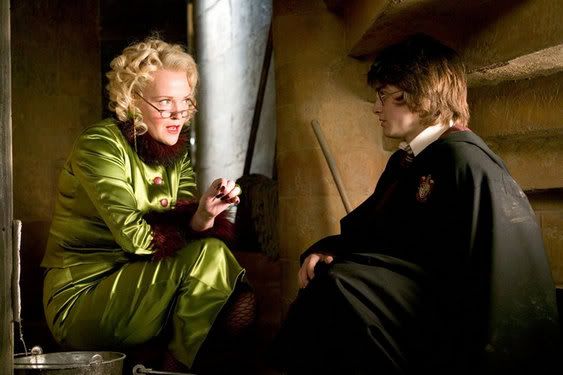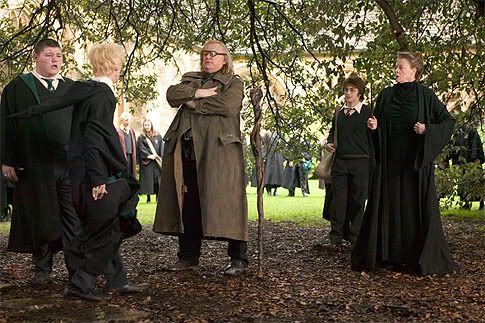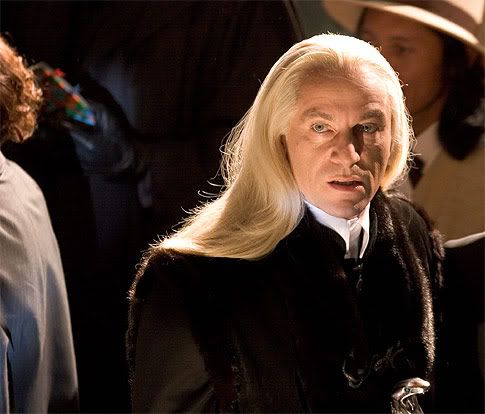 EDITOR'S NOTE: THIS RIGHT HERE IS WHY EVIL HAS A FIGHTING CHANCE AT VICTORY....YUMMY YUMMY YUMMY. EVIL CAN BE SOOOOOO YUMMY.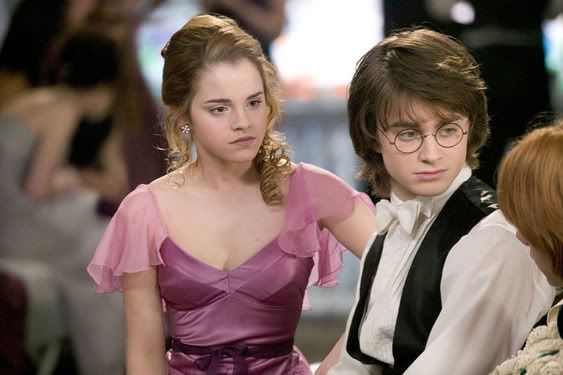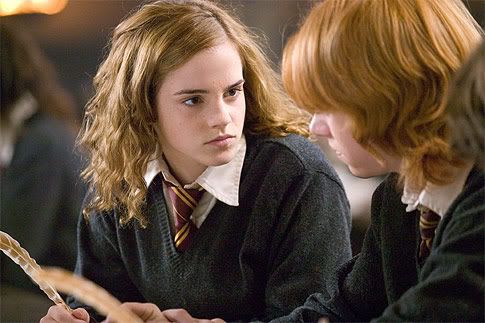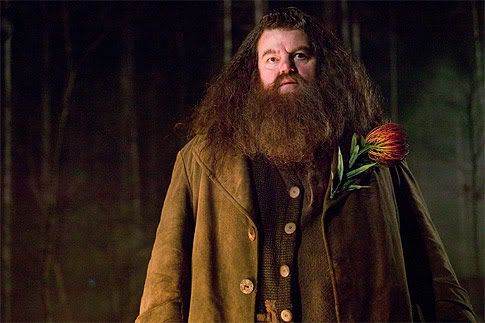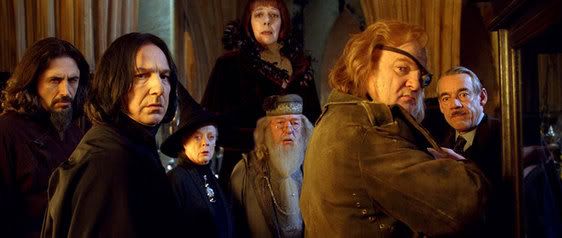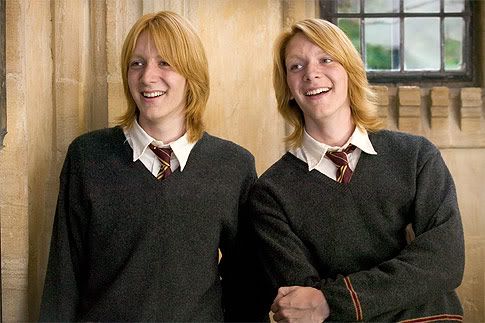 EDITOR'S NOTE: THEY ARE GEEKY-LOOKING, BUT SO CHARMING AND CUTE, HUH?!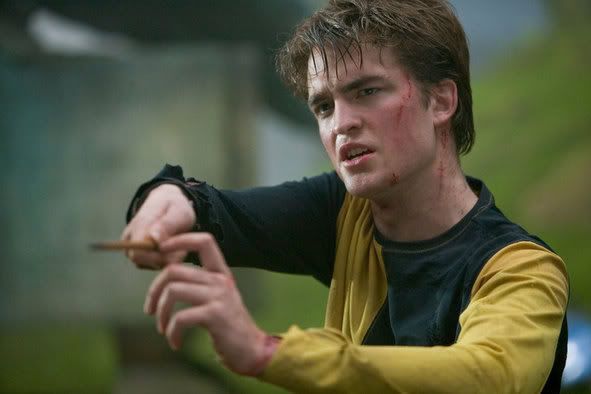 EDITOR'S NOTE: THE NEXT THING THAT HAPPENS AFTER THIS PIC IS NOT GOOD, HUH? (SHUDDER.....)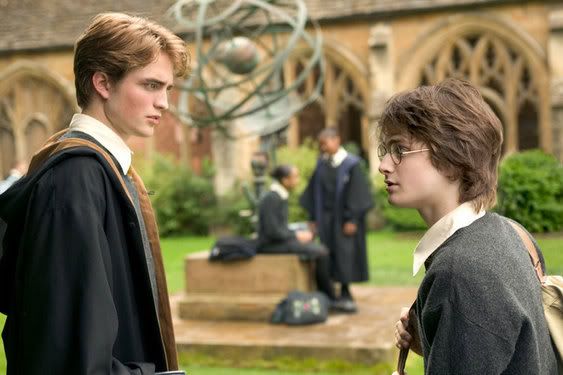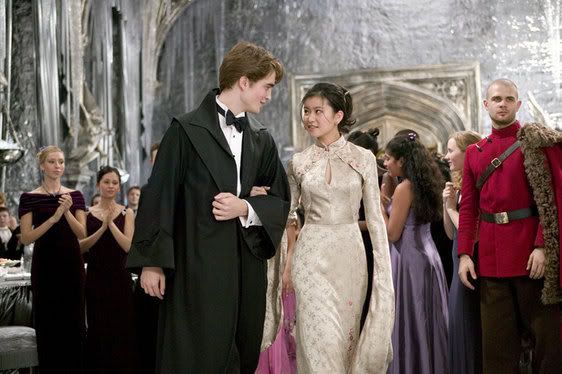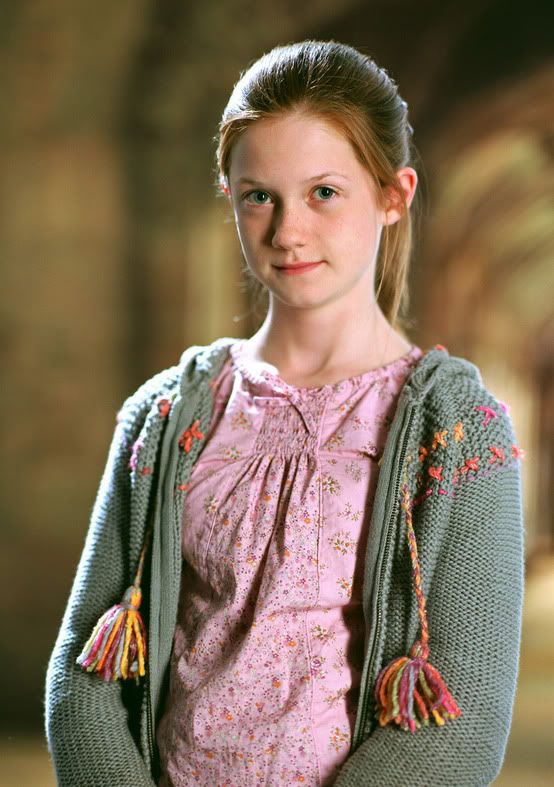 EDITOR'S NOTE: SHE IS ADORABLE. SURE HOPE HARRY LIVES LONG ENOUGH TO HAVE REALLY CUTE KIDS WITH HER.