Dweebing without borders
EDITOR'S NOTE: I SAY LET GO. FREE-RANGE DWEEBING.
LET'S FACE IT. SOME THINGS JUST CAN'T REALLY BE PIDGEON-HOLED. (AND WE ARE

DWEEBS

, SO WE KNOW ALLLLLLLL ABOUT THAT, EH?)
August 2, 2005
Where Superheroes Go for Industry News
By GEORGE GENE GUSTINES
Fans of comic books know Batman and Spider-Man, and they know Wizard.
But Wizard is not a superhero with a top hat, a magic wand and a talking rabbit as a sidekick. It is a glossy monthly magazine devoted to comics, filled with news, features, profiles and price guides.
In its own way, Wizard has become as important to the comic book industry as the caped crusader and the amazing arachnid. Readers learn the inside scoop on various comics. Creators brag about making Wizard's list of hot writers and artists. Comics spotlighted in the magazine are almost guaranteed a boost in sales.
Since it was formed 14 years ago, the company behind the magazine has evolved into the Wizard Entertainment Group, with a focus that has widened to include anime, toys and trading cards. It publishes several magazines, sells exclusive merchandise and holds conventions around the country.
Wizard World shows are "
the one place where all these competing companies can come together to meet the fans,"
said Gareb S. Shamus, 36, the company's founder and president, from his office in Midtown Manhattan. Mr. Shamus is particularly proud of these conventions, which require considerable preparation time by the staff.Wizard World Chicago, the company's biggest show, begins on Thursday.
EDITOR'S NOTE: THIS IS AN OLD NEWS ITEM, MEA CULPA. SO I THINK THIS WOULD HAVE BEEN THURSDAY ABOUT 3 WEEKS AGO?
The guests of honor are two of the most popular creators in comics: Frank Miller (a writer and artist of several comics, including "The Dark Knight Returns" and "Sin City," the film version of which he co-directed) and Jim Lee (an artist who has catapulted books like "Batman" and "X-Men" to stellar sales).
Next month the show moves to Boston, and in November it goes to Texas.
EDITOR'S NOTE: WE GET A WIZARD WORLD!!! ZOWEE! (

JUST WENT TO THE WEBSITE. NOVEMBER 4-6 IN ARLINGTON

)
In October, Wizard will produce "Toy Wishes on Tour," a display of the hottest Christmas toys, at 12 malls around the country.
The company also made preliminary plans for a major show in Atlanta next year, but news of that convention recently caused a stir among comics aficionados and professionals. A printed announcement indicated that the Wizard show would be held June 30 through July 2, the same time as the Heroes Convention in Charlotte, N.C., which will celebrate its 25th anniversary next year.
Many creators posted online comments supporting the Charlotte show. They included the novelist Greg Rucka, the writer of several series for DC Comics.
"It's galling
," Mr. Rucka wrote on his Web site,
gregrucka.com
. "
Several industry pros have already weighed in on the subject of a WW-Atlanta boycott in favor of Heroes Con. I'm with them on this.
"
Taking a stand against Wizard is a decision that must be weighed heavily. Favorable coverage in the magazine often gives books a lift - in "buzz" or sales.
"
It's always been a great selling tool for us
," said Joe Quesada, editor of Marvel Comics.Brian K. Vaughan, the writer of several comic book series for Marvel and DC, echoes the sentiment. "
Having my goofy picture show up in Wizard's 'Top 10 Writers' list every so often has contributed to getting more challenging projects,
" he wrote in an e-mail message.
"It helped to convince editors and publishers that my work is both popular and relatively commercial."
(The Hollywood Reporter recently reported that Mr. Vaughan's "ExMachina" has been optioned by New Line Cinema.)
Mr. Shamus explained that there was a lot of behind-the-scenes work in setting up a convention, including creating materials to generate excitement about dates or locations.
"
Anything that may have existed was solely for the benefit of working with other companies,"
he said. The Atlanta show will now wait until 2007.
Mr. Shamus has accomplished a lot is his rise from comics enthusiast to collectibles professional. Wizard has a monthly circulation of about 185,000. Its other magazines, ToyFare, Anime Insider and Inquest Gamer, have a combined circulation of about 238,000. There are also special publications, like the biannual Toy Wishes magazine and Black Bull, the comic book division.
EDITOR'S NOTE: EVEN IF YOU ARE NOT ALL THAT INTO TOY COLLECTING,

TOYFARE

IS ONE OF THE FUNNIEST MAGAZINES AROUND. SNARKY ON STEROIDS.
The passion for collectibles began when, as children, Mr. Shamus and his brothers collected sports cards. Then one brother decided to sell the cards, including those of his siblings. Sensing a potentially lucrative market, the boys' parents opened the Wizard of Cards and Comics, now Toy Wiz, in Nanuet, N.Y., about 20 years ago.
After graduating from the University of Albany, Mr. Shamus and Pat McCallum, the manager of the store, started a newsletter. It was only eight pages, but it sparked the idea for a magazine.
Developing Wizard required a parental loan, the recruiting of store employees to help out and assistance from magazine industry friends, who developed logos and production schedules. The first issue came together in July 1991. Mr. Shamus gave away copies at the San Diego Comic-Con.
"It was amazing how many people didn't want it
," he said. "
It was very humbling
."
But he kept pushing.By issue No. 7, sales were at their lowest. Then Image Comics was founded by some of Marvel's most popular creators, who decided to forgo corporate-owned comics to create, control and profit from their own characters.
"
We had all the exclusive news
," Mr. Shamus recalled."
I flew out to California for the inauguration,"
he added. "
The photo that I physically took became the de facto Image founders shot."
Today there is considerably more staff to handle photography.
Roughly 75 employees are located at Wizard's two-story headquarters in Congers, N.Y. The building has a large warehouse and offices for accounting and circulation on the second floor. Editorial is on the ground floor in work spaces crammed with comics, posters and toys.
Mr. McCallum, who helped create the original eight-page newsletter, is the editor. He is one of several employees who have been around since the beginning.
It would be easy to rest on what has been accomplished, but Mr. Shamus focuses on the future.
"I always feel that there's something more we could be doing
," he said. "
It's 'What are we going to do next?'
"
EDITOR'S NOTE: YESTERDAY WIZARD MAKES GOOD. TOMORROW,

THE DWEEBLETTER

? (SIGH…….)

Research reveals spiritual journey of Tolkien fans
Donald MacLeodSaturday August 6, 2005
Guardian Unlimited
Tolkien fans do not just watch the films and read the books again and again - they are on a spiritual journey and doing their best to forget the ending, says an international study that voyaged to many lands to bring back wisdom and understanding.
EDITOR'S NOTE: AS WE SUSPECTED. NEED TO GET OUT MORE.

Led by a wizard from out of the west, Martin Barker, of the University of Wales, Aberystwyth, the team explored reactions to the film Lord of the Rings III in 20 countries.

They found devotees reread the books, but tried to convince themselves they were seeing the story for the first time (although not knowing one of the most drawn-out and self-indulgent endings in cinema history must be a plus in the case of Lord of the Rings).

EDITOR'S NOTE: SNICKER……



"

Not knowing the plot or the ending means they can experience as much of the full emotions and tension as possible and their pleasure is increased

," says Prof Barker, whose project was funded by the Economic and Social Research Council.

EDITOR'S NOTE: ISN'T THIS WHY SERIAL KILLERS KEEP MURDERING PEOPLE?



Fans felt the movie was more than just an escape, but it was more important and enjoyable to those who work in jobs where they feel they have little control over their lives.

EDITOR'S NOTE: DONCHA HATE IT WHEN THE STEREOTYPE FITS?



Prof Barker said: "

And we found that the highest levels of enjoyment and importance came from those who saw watching it as going on a spiritual journey. It was not just 'entertainment', but a source of inspiration. It offered a sense of moral lessons that they want to apply to their own lives, if they can."

EDITOR'S NOTE: AND BY SO DOING, PROVE ALL THE PEOPLE MAKING FUN OF THEM RIGHT.



The study, conducted in 13 different languages, had almost 25,000 responses - hugely greater than any previous piece of audience research. It allowed in-depth analysis by age, sex and occupation, as well as revealing how the final blockbuster film in the Tolkien trilogy mattered to different people in various countries.

"

Our research is very unusual in trying to open up what is normally taken for granted: how does fantasy, and in this case film fantasy, matter to people? How does a story which is very English in origins appeal to people in countries as different as Italy, Slovenia, China and Columbia?"

said Prof Barker.

EDITOR'S NOTE: ACTUALLY.....SNARKING ASIDE....THESE ARE VERY INTERESTING QUESTIONS. ALTHOUGH I WONDER IF LOTR IS SO SPECIFIC IN ITS PECULIAR FAN-ATTACHMENT AS TO NOT QUITE ANSWER THE QUESTIONS RELATIVE TO THE BROADER FANTASY/FILM FANTASY GENRE AS A WHOLE GOES?



The professor added: "

It appeals to both men and women. Even though many women have thought of this as a male genre - something in the film makes it work very powerfully with female audiences."

EDITOR'S NOTE: WELL, THOSE HOBBITS SURE ARE CUTE. AND LEGOLAS…..YUM! (OH, AND ARAGORN)!



Those people, a large proportion of them older women, were also most likely to have read and reread the books, he added.
EDITOR'S NOTE: YES, AND THEIR

CATS

KNOW THE BOOKS BY HEART TOO. (SIGH….)
People in creative jobs enjoyed the film more than expected, although the study points out that they looked for different things - going beyond "superficial" meanings to try to discover something deeper.
The study found that many young girls saw the film with their best friends, and liked the way it showed friendship, especially through the character of Sam. By contrast, there were men - dubbed in the study "lonely epic males" - for whom viewing the film was a very private experience.
EDITOR'S NOTE: '

LONELY EPIC MALES'

MAKES IT SOUND SO MUCH BETTER THAN '

PATHETIC LOSERS LIVING IN THEIR MOMS' BASEMENTS'

DOESN'T IT? (LET'S ASK HARRY KNOWLES WHICH

HE'D

PREFER. GIGGLE).
An unexpectedly large number of unskilled manual workers had read the books. Prof Barker added: "
The coming together of moral and emotional audience reactions to films is in line with some other research, suggesting a surprising changing role for today's cinema.
"
However, our findings that audiences make such conscious efforts to reread the books and watch the film again as if they had not done so before, was completely unexpected. We are now exploring its significance,"
he added.
EDITOR'S NOTE: NOT MUCH ELSE TO WATCH? NOTHING ON THE TUBE? AFRAID OF THE LIGHT?

Guardian Unlimited © Guardian Newspapers Limited 2005
Make Your Own Damn Movies!
Lionhead Studios and Activision, Inc. announced the addition of THE MOVIES Online, a community website where aspiring moviemakers can upload and share their motion pictures created with THE MOVIES on the internet.
Located at www.themoviesgame.com, the site will launch a virtual film festival for aspiring film-makers when the game ships this fall. Members of the site will also find a host of competitions, Awards Ceremonies, a Prop Shop and additional downloads that will help extend their gaming experience with The Movies.
One of the features that is unique to THE MOVIES, is that you can make your very own films. With over 7000 scenes, 45 sets and countless costume combinations, Lionhead Studios is expecting to be flooded by a whole host of varied and entertaining motion pictures by all you would-be filmmakers out there.
EDITOR'S NOTE: OK…THIS SOUNDS SERIOUSLY COOL!!!
THE MOVIES Online has been designed so that gamers get an extra dimension to the game. Every uploaded movie will be given its very own movie page where gamers will be able to post their ratings and comments. THE MOVIES Online and THE MOVIES are connected by an interface that allows players to upload movies from within the game, see which movies they've already uploaded and track their success online.
People will also be given their own unique Studio page, where they will be able to upload the movies they have created. Each movie uploaded to their Studio page will feature its own sub page and will function as a hub for all visitors to view these cinematic creations and post their comments and scores.
Players that show the most promise and receive the highest ratings will soon find that their reputation grows very quickly. What's more, the better their reputation becomes the more virtual online credits they'll earn to buy new upgrades and extra content to help make their movie-making experiences more enjoyable than ever.
THE MOVIES KEY FEATURES:
• Become a Movie Mogul of Legend - Design your own studio and run it from the early days of cinema through present day and beyond in Story Mode, by managing studio resources, investing in R&D and maximizing box office success by staying one step ahead of the competition.
• Make your own movies - Make movies that appeal to the masses in Story Mode or in Sandbox Mode where you can jump into any era and create your dream movie.
• Control the destiny of your cast and crew - Fire and hire them, turn unknowns into movie stars, and take full creative control over script selection and the content of the movies you'll create.
• Play it again and again - Over 30 hours of continuous gameplay, thousands of exciting movie characters, and limitless options allow you to vary just about everything, including the violence, romance, and realism - all mixed with world events that affect audience tastes and expectations.
• Show the world your talents - Post your movies to the web for all to see.
EDITOR'S NOTE: SO. HOW MUCH DOES ALL THIS GROOVY'NESS COST, I WONDER?

Yippee-Kai-Yay PALz
Palisades Toys has added a section for its upcoming DIE HARD PALz at PalisadesToys.com.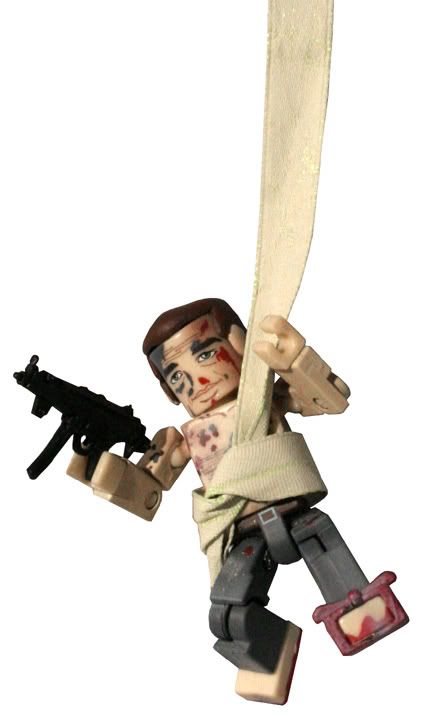 EDITOR'S NOTE: YET ANOTHER MOVIE THAT JUST

SCREAMS

'ACTION FIGURES'?

The DIE HARD Trilogy features a New York Cop named John McClane who always seems to be at the wrong place at the wrong time.
In fact, on three separate occasions, McClane finds himself the only person with the ability to stop the plans of international criminals, thieves and mercenaries. Reluctantly, our trusty man in blue rises to accept his role as a hero.
Series One of Palisades' DIE HARD PALz–-featuring characters from the fast paced original movie–-will be comprised of over 10 characters, including John McClane, Sgt. Al Powell, Holly Generro, terrorist mastermind Hans Gruber,
EDITOR'S NOTE: AN ALAN RICKMAN ACTION FIG! I AM SO THERE, BABY!
and blonde haired terrorist Karl—just to name a few.
Die Hard PALz will be presented in a blind-box package and displayed in a four-color, die-cut counter display containing 16 individual pieces. These will be arriving at retailers everywhere this fall.
The ratio for Die Hard PALz is as follows:
John McClane – 1:8
Karl – 1:8
Tony – 1:8
Hans Gruber – 1:8
Sgt. Al Powell – 1:8
Holly Generro – 1:8
Yippee-Kai-Yay John McClane – 1:16
"Showdown" Hans Gruber – 1:16
Argyle – 1:32
Ellis – 1:32
Agent Johnson – 1:64
Special Agent Johnson – 1:64
Ho-Ho-Ho Tony – 1:64
"Showdown" John McClane – 1:64
Christopher Lee Joins Rhapsody For An Eloquent Metal Ballad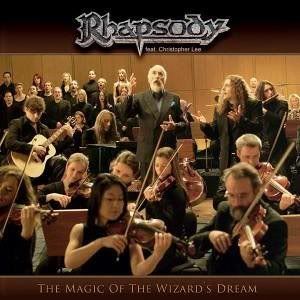 Containing 8 tracks in a limited edition digi-pack pressing, the Italian epic metal band Rhapsody has released an EP titled
The Magic of the Wizard's Dream
, which proffers a stunning new take on the highlight track from the band's latest album,
Symphony of Enchanted Lands II: The Dark Secret.
That 2004 release was given a strong measure of class through narration from actor Christopher Lee, who laid the groundwork for the album's epic tale of mythic fantasy, a continuation of the mythic story, "The Emerald Sword Saga," that the band began with its first album, Legendary Tales, in 1997.
After the recording, Lee, being a talented singer possessing a rich bass/baritone voice, expressed some misgivings that he was about to narrate for the album in a role of a wizard king but not sing at all, laid the ground for what was to come next -- a re-recording of the album track "The Magic Of The Wizard's Dream", this time as a duet that would feature the rich and expressive singing voice Christopher Lee with the band Rhapsody, supported by a Cologne string orchestra and some other guest musicians.
"
With Mr. Lee's command of over 12 languages it was a pleasure not a problem to record the song in the four different languages English, German, French and Italian
," the band expressed on its web site. A video was shot in High Definition filmed by noted director Neil Johnson featuring a 40-piece orchestra and a 20-piece choir, but no word is out yet on the availability of the video (it is not included on the EP).
Lee's classical baritone voice is beautifully harmonized with that of Rhapsody's frontman, Fabio Lione (formerly of Athena, Labyrinth and Vision Divine). The EP includes the song performed in four different languages (English, Italian, French and German), and includes both the original album version and a version with Lione and Lee backed by a full orchestra. In addition, two previously unreleased tracks are included, "Autumn Twilight" and "Lo Specchio D'Argento" both very well suited for the collection.
Christopher Lee also joined Rhapsody on stage for this year's Earthshaker Fest 2005, held in Geiselwind, Germany last month, performing the new single live.
EDITOR'S NOTE: I DON'T REALLY HAVE ANY IDEA WHAT THIS ITEM WAS ALL ABOUT. (THIS MIGHT BE DUE TO THE BLOODY MARY BEING ESPECIALLY STRONG TODAY). BUT WHO

CARES?!

CHRISTOPHER LEE IS STILL

ALIVE

…..AND HE

SINGS

!!!
Three 'Titanic' DVD editions set sail Oct. 25
Three different editions of "Titanic" will be released Oct. 25 on DVD, Paramount Home Entertainment and 20th Century Fox Home Entertainment were set to announce Friday -- but only one will be available for U.S. consumers. EDITOR'S NOTE: SORRY TO TEASE YOU LIKE THAT, ANDREW.
A three-disc "special collector's edition" of the world's biggest movie will only be issued in the U.S., Japan and Korea, said Thomas Lesinksi, president of worldwide home entertainment at Paramount Pictures. "Titanic" fans in Europe, Australia and Latin America will get to choose between a two-disc special edition and a four-disc "deluxe collector's edition". EDITOR'S NOTE: I'M BETTING THAT THE SHIP SINKS....VERRRRRY SLOWLY....NO MATTER WHAT EDITION YOU BUY.

EDITOR'S NOTE: AH, THE TIMES WE LIVE IN.......
Book-banning attempts up 20%
Attempts to have library books removed from shelves increased by more than 20% in 2004 over the previous year, according to a new survey by the American Library Assn.
Three books with gay themes, including Maya Angelou's "I Know Why the Caged Bird Sings," were among the works most criticized.
The number of books challenged last year jumped to 547, compared to 458 in 2003, with the library association estimating four to five unreported cases for each one documented.
According to the ALA, a challenge is "a formal, written complaint, filed with a library or school requesting that materials be removed because of content or appropriateness."
National organizations such as the American Family Assn. have been involved with library challenges, but far more complaints come from individual parents and patrons, according to the ALA.
The ALA study was to be released Friday in anticipation of the 25th annual Banned Books Week, which runs Sept. 24 to Oct. 1 and is co-sponsored by the ALA, the American Booksellers Assn. and others. Gorman acknowledged that few books are actually banned, adding that Banned Books Week is a "catchy name.

New SERENITY Reaver Figure
Diamond Select Toys has released an image of the new 6" Reaver figure based on the characters from the upcoming Joss Whedon film SERENITY.
EDITOR'S NOTE: WELL AIN'T HE PURTY?! EVERY SMALL CHILD SHOULD HAVE HER ONE OF THESE BABIES!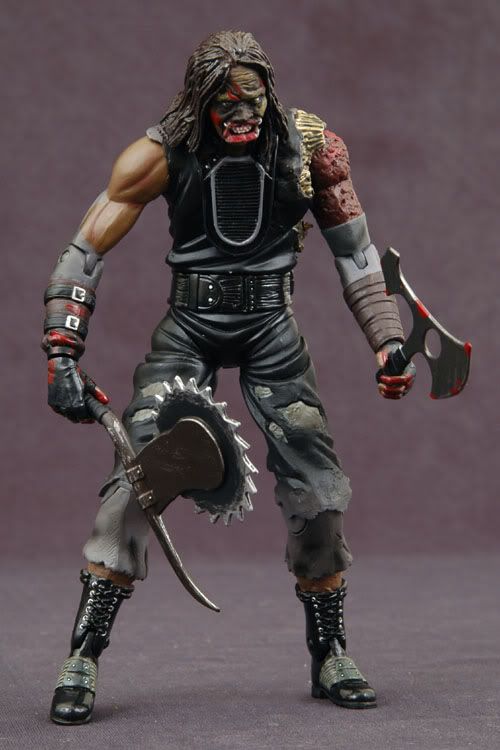 The film centers around Captain Malcolm Reynolds, a hardened veteran (on the losing side) of a galactic civil war, who now ekes out a living pulling off small crimes and transport-for-hire aboard his ship, Serenity. He leads a small, eclectic crew who are the closest thing he has left to family – squabbling, insubordinate and undyingly loyal.
When Mal takes on two new passengers—a young doctor and his unstable, telepathic sister—he gets much more than he bargained for. The pair are fugitives from the coalition dominating the universe, who will stop at nothing to reclaim the girl. The crew that was once used to skimming the outskirts of the galaxy unnoticed find themselves caught between the unstoppable military force of the Universal Alliance and the horrific, cannibalistic fury of the Reavers, savages who roam the very edge of space. Hunted by vastly different enemies, they begin to discover that the greatest danger to them may be on board Serenity herself.
The figure will have fourteen points of articulation. It arrives in stores this week. EDITOR'S NOTE: I DON'T THINK I'LL BE COLLECTING THE TOYS. BUT SINCE I'VE BEEN WATCHING THE DVDS FROM THE ONE-SEASON TV SERIES (THANK YOU AGAIN, DWEEBPAL ANDREW) I AM REALLY LOOKING FORWARD TO THE MOVIE. SHOULD BE A LOT OF FUN.
KING KONG Deluxe Chess Set
What next, lunch boxes?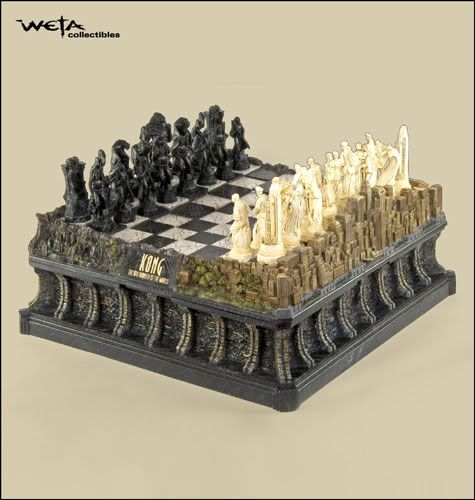 Alter Ego Comics is currently taking pre-orders for Weta Collectibles' KING KONG chess set.
As described on their site, "the primal savagery of Skull Island clashes against the urban sophistication of 1933 New York as man and monster battle for supremacy on the chessboard." EDITOR'S NOTE: SOMETIMES I WORRY ABOUT THE PEOPLE WHO WRITE MARKETING COPY. ARE THEY TRULY HAPPY? DID THEY NOT GET ENOUGH LOVE AS CHILDREN? DO THEY BELIEVE ALL THE SILLY THINGS THEY WRITE? (AND HOW CAN WE HELP THEM PAST THAT?)

The set is sculpted by Weta Workshop's Mary Maclachlan, Gary Hunt and Ben Hawker. It will ship in December and is priced at $403.75.

EDITOR'S NOTE: YES, I'VE BEEN SAVING THESE NEXT ITEMS FOR A WHILE. (WHEN DID "CHARLIE AND THE CHOCOLATE FACTORY" OPEN?) SUE ME.

My life as an Oompa
Rusty Goffe
Wednesday July 27, 2005




'There are only three of us left' ... Rusty Goffe as an Oompa Loompa

I was one of the original Oompa Loompas in Willy Wonka and the Chocolate Factory, filmed in Munich in 1970. At that time, there weren't many British actors who were short (I am 4ft 2in), so six of the actors were British and they used one Maltese actor, another from Turkey, one from Germany, and one woman. There were 10 of us in all. The director Mel Stuart sometimes got very frustrated telling us what to do in English and then trying to explain to the Maltese, German and Turkish actors what he wanted as well.

When we first arrived in Munich the choreographer Howard Jeffrey showed us these amazing dance routines, but he had to change them to suit our short legs. The Oompa Loompas went on to do various other TV, film and stage shows, but there are now only three of us alive. Some of the Oompa Loompas were very old - one was in his 70s back then. It was only since the fantasy films came of age, when they wanted little people to portray goblins, elves and robots, that a lot of short people gave up lucrative day jobs to be in the movies.

Unfortunately, the only work they can get nowadays is Snow White and the Seven Dwarfs pantomimes at Christmas. Everybody is using computer graphics. Even the new Chocolate Factory uses just one man - a very good actor called Deep Roy - for all the Oompa Loompas. He will be cloned by computers so it will look as if there are about 300 Oompa Loompas, to be as faithful as possible to the book, in which there are hundreds and hundreds of them, apparently from a Pygmy tribe in Africa.

I haven't seen the new movie yet. Tim Burton can be very dark and there must be many dark moments in it. Wonka is a part very few actors could play. Gene Wilder was fantastic. But I also love Johnny Depp's work. I would say that in the 1970s and now in 2005 they got the only actor in each era who could play it. EDITOR'S NOTE: AGREED. WELL PUT.

I was in the first Star Wars film as a Jawa in the desert, I have played in Mel Brooks' History of the World: Part 1, I've been a goblin in two of the Harry Potter films, I've done Flash Gordon and Willow. Looking back, Willy Wonka was my first and favourite film.

One of the songs we sang in the movie was called Pure Imagination and that, to me, sums up Roald Dahl. He will be remembered as a classic children's writer. EDITOR'S NOTE: GOOSEBUMPS. AND SWEET. (AND THERE MIGHT NOT BE A LOT OF WORK FOR 'LITTLE PEOPLE', BUT HE'S BEEN IN ALL THE BEST MOVIES, EH?)

How are squirrels trained to act?
EDITOR'S NOTE: GIVEN SOME OF THE HUMANS I'VE WORKED WITH (USING THE TERM 'HUMAN' SOMEWHAT LOOSELY), SQUIRRELS SHOULD BE A PIECE OF CAKE.
By Tom Geoghegan BBC News Magazine
Forty squirrels were trained to crack nuts in the new film Charlie and the Chocolate Factory.

How?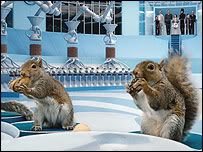 Even with sophisticated computer-generated technology available, director Tim Burton refused to take any short cuts with the famous Nut Room scene in Roald Dahl's novel.

It had to be as life-like as possible, Burton decided, which meant squirrels cracking and sorting nuts on a conveyor belt.

In the film, they are seen sitting on stools testing the quality of the nuts until their work is rudely interrupted by one of the humans, in an action they take strong exception to.
Some of the squirrels were hand-reared and required bottled milk on set, and others came from squirrel rescues or private homes.

Steve Vedmore, an animal trainer from Brynmawr, south Wales, worked for eight weeks on the film.

The American Humane Society insists that for every animal you use as a hero you have two back-ups, like a human actor has a double Steve Vedmore, animal trainer

Because of a confidentiality agreement with Warner Bros, he can't reveal exactly what happened on set but, having worked with squirrels before, he says some are easy to train and some aren't. EDITOR'S NOTE: AGAIN THOSE EERIE PARALLELS WITH THE 'HUMAN' ACTORS.

"The placid ones are good to handle and other ones are aggressive, so we use them as runner animals if we can run them from A to B because they're not good for human contact. They bite." EDITOR'S NOTE: IN MY DEFENSE, THAT ONE DIRECTOR HAD A GOOD BITE COMING.

Training is based on food rewards, so the squirrels got nuts when they did what was required. EDITOR'S NOTE: FELLOW THESPS IN THE READING AUDIENCE….RAISE YOUR PAWS (UMM…HANDS) IF YOU'D GLADLY WORK FOR FOOD!?

"You shape their behaviour so if you're running them from A to B - which could be 100m - you put catching boxes inches away so they run into the box and get a reward. Then you put the box further and further away." EDITOR'S NOTE: OH. WAIT. THAT SOUNDS COMPLICATED.

Some worked harder than others, while some filled up on nuts very quickly and then lost interest, he says. EDITOR'S NOTE: LOL! YES, THE HUMAN/SQUIRREL COMPARISON THING MIGHT BE GETTING OLD, BUT PLEASE….THIS IS TOO TOO REAL! (BY THE BY, IS THIS THE FAULT OF THE ACTOR/SQUIRREL? OR MAYBE THE SCRIPT IS DULL? THE DIRECTION UNINSPIRED?) GIGGLE…..SNORT……

Animal stand-ins
Some of the work is one trainer with one squirrel, but on occasions 10 squirrels are released on a task. This means the aggressive ones have to be released first to stop them attacking others in the pursuit. EDITOR'S NOTE: OK, WELL THIS SOUNDS MORE LIKE THE AUDITION THAN THE PERFORMANCE. (I DON'T CARE HOW I GET CAST, AS LONG AS I GET CAST. IF THE OTHER ACTORS ARE WOUNDED, YOU WON'T MATCH MY TEETH TO THE BITE MARKS, IS ALL I WILL SAY)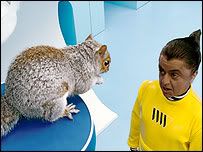 All the animals are given names and can be further identified if their fur is clipped in a harmless way, says Mr Vedmore.

"You categorise animals and one could be a good A to B runner but not a hero animal, which is a trick one doing the most intensive work. EDITOR'S NOTE: AND ONE SQUIRREL IS MOSTLY T&A? (TMI?)

"The American Humane Society insists that for every animal you use as a hero you have two back-ups, like a human actor has a stand-in or double that does the running, so you don't burn any one animal out." EDITOR'S NOTE: AS I SUSPECTED; THE SQUIRRELS HAVE A BETTER UNION THAN THE PEOPLE.

Mr Vedmore, who has trained animals for 30 years, says he hasn't come across an animal that can't be trained. EDITOR'S NOTE: INCLUDING PEOPLE?

They have very acute hearing, so noises backstage can sometimes be a problem. For the movements squirrels are physically unable to do, special effects computers are used to simulate the action.

Starring role
For the film, the squirrels were used for 10 months, including training, but Mr Vedmore has yet to see his work on screen.

The American Humane Society supervised the training to make sure no animal was made to do anything which might cause it distress. After filming the squirrels were either returned to their owners or adopted by Birds and Animals UK until their next role, because by law, rescued grey squirrels cannot be released into the wild.

Craig Redmond, of the Captive Animals' Protection Society, says: "We always have concerns whenever animals are used in commercials or films, and given the computer technology around these days, I find it surprising the film decided to use live animals."

He says that some animals suffer during training, filming or when trying to adjust to life afterwards. EDITOR'S NOTE: WELL, THERE'S ALWAYS A BIT OF A LET-DOWN AFTER THE ADRENALINE RUSH OF THE CREATIVE PROCESS. (AND THEN THEY STOP TAKING YOUR CALLS, AND NO MORE FREEBEES AND…..OH….I'M SORRY. SQUIRRELS. RIIIIIIGHTTTT).