Is it Wednesday ALREADY?!
EDITOR'S NOTE: A SMIDGEON OF HODGEPODGE'ING, BEFORE I RE-IMMERSE INTO LUCAS-LAND.
FIRST UP, A REVIEW FOR THE HITCHHIKING FANS:
That "Hitchhiker's" hits the nail on the head to the extent it does should come as great relief to fans.
The Hitchhiker's Guide to the Galaxy
By Michael Rechtshaffen
Opens Friday
Arthur Dent fans need not panic.
After succeeding splendidly first as a BBC Radio series, then as a five-book "trilogy" and a subsequent TV series, Douglas Adams' beloved "The Hitchhiker's Guide to the Galaxy" has taken that tricky leap to the cinema with largely pleasing results.
While the long-awaited movie version has some trouble sustaining the blissfully ironic, witty irreverence that was the Adams sensibility, the fact that it hits the nail on the head to the extent it does should come as great relief to the legions of fans who had reason to be dubious following the author's death in 2001.
That Monty Python-esque target demographic, the one also responsible for making "Spamalot" a big, fat Broadway hit, should reward the Touchstone Pictures release with stellar though less than astronomical boxoffice, followed by some very smart DVD business.
Using Adams' own second draft as a blueprint, screenwriter Karey Kirkpatrick ("Chicken Run") and innovative music video director Garth Jennings remain true to the highly distinct brand of sci-fi satire that would go on to influence the likes of "Men in Black" and "Ghostbusters."
For those unfamiliar with the Babel Fish, Vogons and Pan Galactic Gargle Blasters that occupy the "Hitchhiker" galaxy, the movie actually begins back on Earth, where everyman Arthur Dent (perfectly cast everyman Martin Freeman, late of "The Office") is fighting a losing war with a bulldozer that's about to raze his home.
Coincidentally planet Earth also happens to be minutes away from total annihilation in order to make way for a hyperspace freeway, and Dent, still wearing his pajamas, is rescued in the nick of time by his best friend Ford Prefect (Mos Def) who's really an alien who has just been posing as an out-of-work actor.The two briefly stow away on a spacecraft belonging to the highly bureaucratic, bad-poetry-reading Vogons, before ending up on the Heart of Gold spaceship, which was stolen by the energetic but rather dim President of the Galaxy, Zaphod Beeblebrox (Sam Rockwell channeling George W. Bush, Bill Clinton and assorted rock stars).Much to Dent's surprise, Beeblebrox is accompanied by comely astrophysicist Trillian (Zooey Deschanel), who went by the name of Trish McMillan back when he met her at a costume party.
And that's just for starters.
Also along for the metaphysical mash-up is Marvin, a chronically depressed robot (ideally voiced by Alan Rickman
)EDITOR'S NOTE: OH YAY! (
ONE OF MY SLOGANS: RICKMAN. ALWAYS A GOOD THING
),
rather crazed intergalactic missionary Humma Kavula (John Malkovich) and Magrathean planetary construction engineer Slartibartfast (Bill Nighy), who has overseen the building of a back-up planet Earth.
Jennings, creatively blending bits of CGI with old school FX and Jim Henson's Creature Shop, gets the tone down cold, but like a number of other novice feature directors who cut their teeth on videos, the inspired sequences don't always effectively link together to form a cohesive, involving whole.
Still, there is much to appreciate here, from the terrific casting (heard but not seen are Helen Mirren as the voice of the Deep Thought computer and Stephen Fry providing the amiably glib narration) to production designer Joel Collins' fanciful sets and especially the rousing musical number, "So Long & Thanks For All the Fish," performed by some very wise dolphins who manage to get out while the going's good.
EDITOR'S NOTE: I DON'T KNOW MUCH ABOUT THIS REVIEWER (SO I DON'T KNOW IF WE CAN TRUST HIM), BUT YOU HITCHHIKING FANS COULD LOOK ON THIS WITH CAUTIOUS OPTIMISM?
ONE THING HE DOESN'T MENTION....IF YOU'VE HAD ZERO EXPOSURE TO THE DOUG ADAMS UNIVERSE (
SAD CONFESSION FROM THE QOTD, BUT THERE YOU ARE
), I WONDER IF YOU'LL ENJOY THE MOVIE AS MUCH AS (MORE THAN? LESS THAN?) THE DIE-HARD FANS?
THIS JUST IN:
SERENITY TRAILER:
http://www.apple.com/trailers/universal/serenity/
EDITOR'S NOTE: COOL TRAILER FOR THE "SERENITY" MOVIE. (WHICH DOESN'T OPEN UNTIL SEPTEMBER, SO THAT GIVES ME PLENTY OF TIME TO RENT THE DVDS OF THE TV SHOW AND WORK MY THRU).
HARRY POTTER'ING:
JKR to attend opening of Roald Dahl Museum
The Telegraph
is reporting that authors JK Rowling, Philip Pullman (His Dark Materials series), Jacqueline Wilson and possibly Johnny Depp will be attending the long-awaited opening of the
Roald Dahl Museum
in Buckinghamshire, England on June 10th.
EDITOR'S NOTE: ROALD DAHL..... AND ALL THOSE OTHER COOL FOLKS TOO!
NO OFFENSE TO OUR CATHOLIC DWEEBS, BUT.....
New pope lashes out at HP books
John Paul II praised the books for teaching moral lessons, but the new Pope Benedict XVI has allegedly
blasted
the Harry Potter books for "undermining the soul of Christianity".
Nicknamed "God's Rottweiler" and known as a hardliner on enforcing orthodox church doctrine, Benedict says he is grateful to
Harry Potter: Good or Bad
author Gabriele Kuby for revealing the hidden agendas behind the books.
He says, "
It is good that you explain the facts of Harry Potter, because this is a subtle seduction, which has deeply unnoticed and direct effects in undermining the soul of Christianity before it can really grow properly."
EDITOR'S NOTE: GOOD THING POVERTY AND OTHER WORLDWIDE INJUSTICES ARE ALL TAKEN CARE OF, SO WE NOW HAVE TIME TO FOCUS ON THE

BIG

ISSUES.
Update:
Apparently, this was said two years ago when he was still Cardinal Ratzinger.
POA coming to HBO in June
The HBO channel in the US has started announcing that it will begin showing Harry Potter and the Prisoner of Azkaban this June. Look for it on your upcoming TV Guides.
TELEVISION NEWS:
STAR TREK: ENTERPRISE - CAST AND CREW GATHER FOR THE FINAL VOYAGE

EDITOR'S NOTE: SNIFFLE....



STAR TREK: ENTERPRISE, the latest chapter in the STAR TREK legacy is about to take its final voyage this May and will be the first time in many years that there will be no STAR TREK airing on television.
Paramount and UPN held the series finale wrap party for the cast and crew at the Hollywood Roosevelt Hotel in Hollywood, California recently.
Upstairs in the hotel the entrance was lined with photographers, electronic press and reporters to capture the moment and get the final interviews from the cast and producers about the ending of STAR TREK: ENTERPRISE.
Walking into the party were the stars: Scott Bakula (Capt. Jonathan Archer), John Billingsley (Dr. Phlox), Dominic Keating (Lt. Malcolm Reed), Anthony Montgomery (Ensign Travis Mayweather), Linda Park (Ensign Hoshi Sato), along with Executive Producers Rick Berman and Brannon Braga. Along with guest stars Vaughn Armstrong (Admiral Forrest), Jeffrey Combs (Shran), Gary Graham (Vulcan Ambassador Soval), Brent Spiner (Dr. Arik Soong), Peter Weller (John Frederick Paxton), Brian Thompson (Admiral Valdore). Also attending the party was Manny Coto (producer), Herman Zimmerman (production designer), Michael and Denise Okuda (wrote the STAR TREK Encyclopedia's), Garfield and Judith Reeves-Stevens (writers), and LeVar Burton (director).
Other guests included Eugene "Rod" Roddenberry, Chelsea Field, and Nzinga Blake.
Unfortunately, Conner Trinneer was in Australia at a STAR TREK Convention, and Jolene Blalock was absent from the party.
EDITOR'S NOTE: BECAUSE THIS IS A FULL-SERVICE DWEEB'BLOG, HERE IS A PICTURE (
FROM THE WRAP PARTY
) OF BRANNON BRAGA AND RICK BERMAN.
PLEASE PRINT IT OUT, TACK IT TO A WALL, AND THEN THINK OF FUN THINGS TO THROW AT IT. (

DWEEB FUN FOR THE WHOLE FAMILY

!)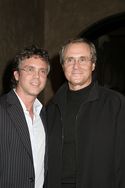 No summer break for Bravo
Bravo will launch eight new series between now and Labor Day, its most aggressive season schedule ever, according to the network.
Included are a reality series featuring singer Bobby Brown and his wife, Whitney Houston, titled "Being Bobby Brown"; separate comedy/reality shows featuring comedians Howie Mandel and Kathy Griffin; "Situation: Comedy," a Sean Hayes-Todd Milliner 10-episode series that will follow two newcomers into the world of producing a sitcom; "Sports Kids Moms & Dads"; and a new reality series from Bravo and IMG titled "Battle of the Network Reality Stars," based on the 1970s-'80s series.
EDITOR'S NOTE: IN OTHER WORDS, NOTHING THAT REALLY DEMANDS YOU SIGN UP FOR THE PREMIUM CHANNELS, EH?
Bravo is adding about 25% new original programming every year since NBC Universal purchased the network three years ago. The channel said there are more than 30 series and specials in development or production over the next 18 months.
MOVIE NEWS:
Duchovny Knows Supernatural SECRET
David Duchovny has signed on to star with Lili Taylor and newcomer Olivia Thirlby in THE SECRET for direct Vincent Perez.
The supernatural drama centers on the emotional triangle among a 16-year-old girl, her mother and her father. After the mother is killed in an accident, her spirit inhabits the daughter's body.
EDITOR'S NOTE: OK, I LOVE MR. DUCHOVNY, BUT DOESN'T THAT PLOT DESCRIPTION SOUND A BIT CREEPY? AND NOT IN A SUPERNATURAL/CREEPY WAY, BUT IN A OLDGUY/YOUNGGIRL KIND OF WAY? EWWW.....
It is based on the 1999 Japanese film HIMITSU. Luc Besson will executive produce.
Denzel Has DEJA VU
Denzel Washington has agreed to star in DEJA VU for director Tony Scott and producer Jerry Bruckheimer.
EDITOR'S NOTE: YAY! THINGS GOING BOOM LOUDLY!
In the Touchstone Pictures film, Washington will play an FBI agent with the ability to travel back in time. He falls in love with a woman as her murder approaches.
The romantic thriller was written by Terry Rossio and Bill Marsilli.
BIRDS to fly Again in Remake
Michael Bay's Platinum Dunes is teaming up with Peter Guber's Mandalay Pictures to mount a "remake" of Alfred Hitchcock's THE BIRDS for Univeral Pictures.
EDITOR'S NOTE: HITCHCOCK....AUTEUR GENIUS. BAY, MTV HACK. YEAH,

THIS

IS A MOVIE THAT REALLY

BEGGED

TO BE RE-DONE BY A LESSER LIGHT.
This new film would be based on the short story by Daphne Du Maurier, which inspired Hitchcock's version.
Huston, Haas, Spiner try out indie 'Material'
Anjelica Huston, Brent Spiner and Lukas Haas have joined the cast of "Material Girls," which is set to star sisters Hilary and Haylie Duff. Martha Coolidge is directing the film, which began principal photography April 18 in Los Angeles.
EDITOR'S NOTE: INTERESTING CAST....EXCEPT FOR THE LEADS. (
SNICKER
)
In the comedy, which follows a pair of cosmetics heiress sisters who lose their fortune in a questionable scandal, Huston will portray the owner of a rival cosmetics firm trying to wrest control of the girls' company. Spiner will portray the CEO of the besieged company, and Haas is the head of a free legal clinic to whom the girls go to for help.
Mustang killed during 'Flicka' filming
EDITOR'S NOTE: AWWW...WHIMPER
The broken-neck death of a mustang during filming of the movie "Flicka" led city animal control officials to ban future use of wild horses during the remake of the 1943 movie classic "My Friend Flicka."
The horse was killed Monday during filming at the Hansen Dam Equestrian Center in the San Fernando Valley.
The Animal Services Department shut down the shoot after learning of the death.
"
The horse reared up, got caught in the lines and, when it fell down, it broke its neck. We told them no more wild horses at this shoot,"
Animal Services Department spokeswoman Capt. Karen Knipscheer said.
The department issues animal-use permits to the film industry.
The Fox 2000 "Flicka" production office referred calls seeking comment to 20th Century Fox, which said the film crew didn't use wild horses. Fox spokeswoman Carol Sewell's office said a studio statement was expected later Tuesday. The Animal Services Department was investigating the death.
"
One horse, pursued by guys on horseback, spooking the hell out of him, tripped on his rope and went down. The other horse kicked him in the head, that's what it looked like to me,"
said witness Roland Vincent, 59, who was hoping to be used as a cowboy extra.
The 20th Century Fox remake of "Flicka" stars country music star Tim McGraw. It's scheduled for release in February
SAHARA's Writers to Adapt DOG
Platinum Studios has hired SAHARA's writers Joshua Oppenheimer and Tom Donnelly to write DEAD OF NIGHT, which will be based on the Italian comic series DYLAN DOG and inspired by events in two DYLAN DOG graphic novels.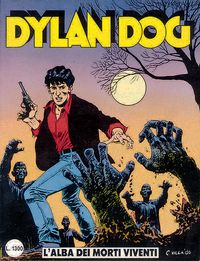 The graphic novels centers on an ex-cop turned private investigator, who is one of the few living humans to know the truth about the supernatural beings that exist on the fringes of the modern world. He takes on cases involving vampires, werewolves, zombies, and other strange creatures -- sometimes as adversaries, and sometimes as clients. He always gets his man—alive, dead, or undead.
EDITOR'S NOTE: GIGGLE.
The film is budgeted at $35 million.
Sean Bean Climbs on SILENT HILL
TriStar Pictures has signed actor Sean Bean to star in SILENT HILL.
Bean will play the husband of a mother (Radha Mitchell), who along with her daughter look into the secrets of an abandoned town.
Christophe Gans is directing.
EDITOR'S NOTE: LET'S ADD ANOTHER LIST TO OUR CELEB LISTS (
LIKE THE 'AGE-INAPPROPRIATE' LIST, AND THE 'SWITCH' LIST, AND THE 'SEXY BALD GUY' LIST
). HOW ABOUT THE '

SOBADTHEY'REGREAT

' LIST. SEAN BEAN, IS ONE OF MY TOP FIVE ON THIS ONE!
DA BIZ AND ODDSNENDS:
Crest widens large-screen 3-D market
Large-format movie screens could benefit from a new 3-D digital mastering service poised to debut this week.
The new digital postproduction service devised by Crest National,
EDITOR'S NOTE: I'M GUESSING THIS HAS NOTHING TO DO WITH TOOTHPASTE?
a Hollywood-based digital media facility, remasters original 3-D 70mm film prints so they can be projected in 3-D but from a single digital cinema projector.
Crest is unveiling its 3-D D-Cinema Mastering service with a screening of "Bugs!" at the Large Format Cinema Assn. conference Thursday at the Universal City Hilton. The screening represents the first time a native 70mm 3-D film will be shown in 3-D on a digital projector in 2K resolution
EDITOR'S NOTE: IT ALL JUST KEEPS GETTING BETTER AND BETTER!!!
Tech CEOs want DTV 'date certain'
The leaders of some of America's biggest names in high technology are calling on Congress to
approve legislation
that sets a "date certain" for the switch to digital TV.
EDITOR'S NOTE: WHICH I GUESS WE'RE ALL PRETENDING WE DIDN'T ALREADY HAVE, SINCE NO ONE IS GOING TO QUITE MAKE THE ORIGINALLY SET DATE?
In a letter to
House Commerce Committee Chairman Rep. Joe Barton, R-Texas
, and the committee's ranking member Rep. John Dingell, D-Mich., the CEOs of nine companies -- including Intel, Hewlett-Packard and IBM -- called on Congress to set a date when broadcasters will be forced to end their analog transmissions.
"
Continuing failure to bring the DTV transition to an end will adversely impact our economy, our public safety and our position as a global innovation leader,"
the CEOs wrote under the auspices of the
Computer Systems Policy Project
.
"We urge you to establish in law a firm and binding date certain for completing the DTV transition as soon as possible,"
the CEO told the lawmakers, according to a copy of the letter mailed today that was obtained by The Hollywood Reporter.
The letter was signed by Intel Corp. CEO Craig Barrett, Hewlett-Packard Co. president and CEO Mark Hurd, Unisys Corp. president and CEO Joseph McGrath, IBM chairman and CEO Samuel Palmisano, NCR Corp. director and CEO James Ringler, Dell president and CEO Kevin Rollins, Applied Materials president and CEO Mike Splinter, EMC Corp. president and CEO Joseph Tucci and Motorola chairman and CEO Ed Zander
EDITOR'S NOTE: SEE, WE HAD A DATE. BUT SINCE THE GOVT. KEEPS WAFFLING, THE CORPORATIONS WON'T COMMIT. IT'S LIKE A TUG-OF-WAR, WITH THE CONSUMER....AS USUAL...CAUGHT IN THE MIDDLE
Universal Studios, stars homes in package deal
For the price of one ticket, fans of Hollywood can see where the stars work and where they live thanks to a new deal from Universal Studios Hollywood and a leading Los Angeles sightseeing company.
The "Ultimate Hollywood Adventure," unveiled Tuesday, includes admission to Universal Studios Hollywood and tickets to Starline's "Movie Stars' Homes" two-hour tour of Hollywood landmarks.
The itinerary shuttles guests past the Beverly Hills and Bel-Air "hideaways" of such stars past and present as Halle Berry, Nicolas Cage, Barbra Streisand, Elvis Presley and Frank Sinatra, according to a release.
"
This is the first ticket package that allows guests a combined experience of the stars' homes and the studios where they work, thoroughly immersing them in the glamour of Hollywood
,"
EDITOR'S NOTE: UMM...WOOHOO?
Don Skeoch, senior vp marketing and sales at Universal Studios Hollywood, said in a statement.
"The package is truly in keeping with Universal's tradition of taking guests behind-the-scenes of the movie-making industry
."
The package is priced at $85 for adults and $66 for children ages 3-11) and includes ticket vouchers for both attractions valid through the end of the year.
EDITOR'S NOTE: THERE IS A SUCKER, BORN.....ETC......
Starline Tours, established in 1935, is located at the Grauman's Chinese Theatre in the heart of Hollywood.
RealNetworks to give away music to boost sales
RealNetworks Inc., facing intense competition from file-swapping networks and from Apple Computer Inc., will give away 25 songs for free each month as part of a new service that seeks to entice music-lovers to pay for more tunes.
Users who download RealNetworks' new Rhapsody software will get to select the 25 songs from a library of more than 1 million tunes, the company said Tuesday.
"
We believe that once consumers experience Rhapsody and share it with their friends, many people will upgrade to one of our premium Rhapsody tiers,"
Rob Glaser, chairman and chief executive of RealNetworks, said in a statement.
EDITOR'S NOTE: THEY DON'T KNOW ME AND MY TIGHTWAD FRIENDS, NOW

DO

THEY??!! (
BWAAHAAHAAAHAHA
)!
For $9.99 a month, users will get an unlimited number of songs each month. For another $5, they can transfer the tunes to selected portable music players. The prices and features are comparable with those Napster Inc. recently began to offer a portable service.
Giacchino is LOST
SoundtrackNet reported on the April 18th recording sessions for TV's LOST and ALIAS, composed by THE INCREDIBLES' composer Michael Giacchino:
"
Today, at the O'Henry scoring stage in Burbank, composer Michael Giacchino had a double-session for two of television's biggest shows: LOST and ALIAS. His music for LOST used a 33-piece orchestra, conducted by Tim Simonec.
The episode, which will air on May 4, will be the first one airing after a three week hiatus which follows a dramatic episode in which a lead character was killed off.
The cues (which for internal purposes contained amusing pun-like names) contained a variety of musical styles, all within the palette that Giacchino established at the start of the season. There are plenty of tense musical moments, with dissonant chords, tense string clusters, jungle and Middle-Eastern percussion, and of course, the trademarked trombone falloffs
."
PIRATES Head Online in Summer 2006
Walt Disney has announced that they are developing a new massively multiplayer online role-playing game based on PIRATES OF THE CARIBBEAN.
As of the moment they plan to go live with the game in the summer of 2006. The launch will coincide with the release of PIRATES OF THE CARIBBEAN: DEAD MAN'S CHEST.
EDITOR'S NOTE: SOMETHING PAST SW EP3 TO LIVE FOR!!!
AND SEEMS AS GOOD AN EXCUSE AS ANY TO DROP IN A JOHNNY AND ORLANDO PIC, EH? (
RANDOM YUMMINESS IS ALWAYS A GOOD THING, DON'T YOU THINK
?)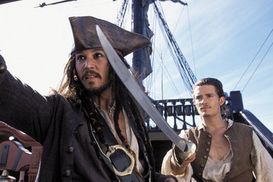 Disney is designing the game "
to be filled with action and humor as players personalize their own pirate character and form their own crews to engage in swashbuckling adventures, most of which involve battles against other crews or the evil undead
." The world will contain over 3,000 islands to visit and explore.
EDITOR'S NOTE: YES, BUT DO WE GET TO EXPLORE THEM WITH ORLANDO AND JOHNNY? (
AND WHAT THE HECK, SAMANTHA,

KEIRA
?)
Switched-On Carlos
Composer Wendy Carlos has announced on her website (http://www.wendycarlos.com/) that she has prepared two CDs of her previously unreleased music, due from the East Side Digital label this May and June.
Rediscovering Lost Scores Vol. 1, due in May, will feature 21 tracks composed for Stanley Kubrick's film of THE SHINING (the final film only featured a few minutes of Carlos' music, composed with Rachel Elkind) as well as three pieces from A CLOCKWORK ORANGE and seven pieces composed for UNICEF films. Rediscovering Lost Scores Vol. 2, due in June, features more SHINING music, six pieces written for TRON, two pieces from her aborted score to the Rutger Hauer sci-fi thriller SPLIT SECOND, and ten pieces from the 1998 futuristic drama WOUNDINGS (aka BRAVE NEW WORLD).
EDITOR'S NOTE: HOPE YOU ENJOYED THIS BRIEF RESPITE, BECAUSE WE'VE GOT

BUCKETS

OF STAR WARS STUFF COMING UP NEXT .